The Azores
Everything You Need to Know Before You Go!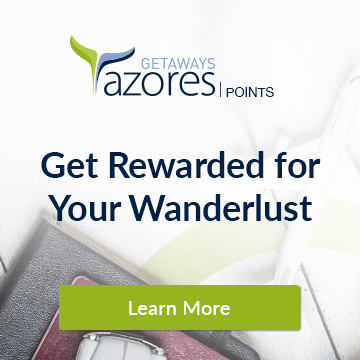 Food & Wine
When it comes to food, the many unique microclimates of the Azores make it possible to produce ingredients that can't be found in most of Europe. There are three things you should know about food in the Azores: it's always fresh, it comes in generous portions, and it comes with a low price tag. From typical Queijadas to the iconic Azorean pineapple, there is a wide range of local delicacies for you to try.
Must-tries:
Cheese:
Fun fact: 50% of Portugal's cheese is produced in the Azores! The Azores' most well-known cheese is actually an aged, spicy, tangy cheese produced on São Jorge Island (Queijo São Jorge) which can be found practically everywhere in the Azores along with a variety of others ranging from fresh, to creamy to flavorful. When it comes to cheese, there's something to please every palate here.

Seafood:
Unsurprisingly, there is no shortage of seafood options available on every menu in the Azores. Most restaurants will adjust their menus according to the fresh catches of the day, but we recommend trying the local Tuna, Wreckfish or "Bacalhau" (Codfish). For the more adventurous seafood lovers, we recommend trying "lapas" (limpets) served up on a hot skillet with plenty of butter, garlic, lemon and spicy red pepper!

Tropical Fruit:
Pineapples, bananas and passion fruit are just some of the tropical fruits growing in the Azores' astoundingly fertile microclimates. On São Miguel Island, you can visit the A. Arruda pineapple plantation to see the fruits growing in greenhouses and purchase pineapple liqueur and other products. You'll be pleasantly surprised by the low acidity of the fruit grown here, one of the many perks of the unique soil and climate conditions of the islands.

Beef:
The Azores are chock-full of happy cows that spend their days munching on the lush, green grass of the endless rolling hills and pastures that blanket the islands, and as everyone knows, happy cows make for excellent beef. If you want to eat like a local, order a "Bife à Regional" that comes served up with roasted garlic cloves, sautéed peppers, a side of fries and topped with a fried egg.

Cozido das Furnas:
A longstanding tradition among the locals, this beloved popular dish is a Portuguese stew (cozido) cooked in holes known as fumaroles that are dug in the hot volcanic soil in Furnas Valley on São Miguel Island. Visit Furnas Lake around lunchtime to catch the local restaurants removing their big stockpots that have been slowly cooking in the geothermal heat since the early morning, then make your way back into town to feast on the delicious contents: a mix of pork, chicken, beef and sausage, along with stewed potatoes, carrots, kale and cabbage.

Carbs, Carbs and more Carbs:
As a historic seat of Portuguese Catholic power, the Azores had many convents back in the day, each producing their own typical pastries that have maintained their popularity and tradition to this day. We recommend trying the fluffy and slightly sweet massa souvada (Portuguese sweet bread), bolos lêvedos, a flatbread that's a sweeter, larger version of an English muffin, and the many varieties of Queijadas that can be found on each of the islands.

Tea:
One of the most unique things about the Azores is that they are home to Europe's only industrial tea plantations, both of which are located on São Miguel island. Gorreana tea factory opened its doors in 1883 which makes it Europe's oldest tea producing factory. Just around the corner from the Gorreana factory you'll find Porto Formoso tea factory which is often described as a working museum. The Porto Formoso factory is keen on preserving the memories and history of tea production in the Azores through its guided museum tours, but the factory itself produces and distributes tea both locally and internationally. Both factories produce black tea (Pekoe, Orange Pekoe and Broken Leaf) while Gorreana also produces Green Tea. Guests of both factories are invited to sip on the regional tea in the beautiful on-site tea rooms that offer spectacular views of the plantations and coastline.