The Azores
Everything You Need to Know Before You Go!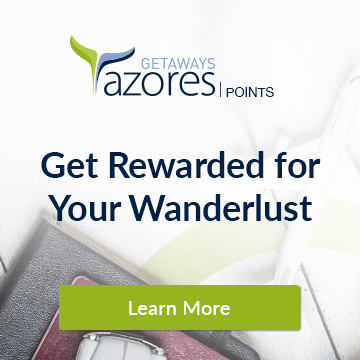 Travel Tips
Getting Here:

While there's really only one major carrier that services the islands, they are only a 4.5-hour flight from Boston. For East Coasters, the Azores are almost easier to fly to than Los Angeles and certainly easier than Hawaii. During peak summer months, travelers can fly direct from Providence, Oakland, and New York, in addition to Boston and Toronto where travelers can fly direct year-round.

Getting Around:

Renting a car at the airport is one of the best ways to explore and get around the island. Most of the islands are small enough to drive around in a day or less, and there is much to see that is only accessed by car.

Public transportation is available, but doesn't run frequently. Taxis are an alternate transportation option, but be sure to carry cash if you plan to use one as most do not accept credit cards.

Climate:

Summer is the most popular time of year for visitors, but the great thing about the Azores is that due to the mild temperatures year-round, there's no such thing as an "off season" here. In general, the climate is very similar to San Francisco's, meaning it's relatively mild year-round but a bit more humid in summer. Average temperatures sit comfortably at about 13C/55F in the winter and 24˚C/75˚F in the summer, so whether rain or shine, winter or summer, the Azores Islands never lose their charm! The islands have several microclimates, depending on whether you're by the sea, at the top of a mountain or at the hot springs, so think layers. Since the Azores are located in the middle of the Atlantic Ocean, the weather can change quickly, so it's good to be prepared for an unexpected rain shower. The locals like to say that in the Azores, you can experience all four seasons in one day, so it's best to leave the house prepared for anything.

Attire:

Dress in the Azores is fairly casual, particularly during the day. Comfortable athletic wear is perfectly acceptable during the day; smart casual dress is recommended for dinner.

What to Pack:

Bathing suits

Water shoes

Sunblock

Sunglasses/sun hat

Power plug adaptor/voltage converter

Camera and/or Camera Phone

Lightweight coat/windbreaker or raincoat

Walking shoes/sneakers (sandals or flip-flops for pool or dinners only)

Comfortable/athletic wear/shorts

Lightweight sack/shoulder bag for walks/hikes

Currency:

The Azores use the Euro, though major credit cards will work and ATMs are widely available. ATMs are found in most of the large villages and towns, while credit cards are accepted in the majority of establishments. If you're flying direct to the Azores, currency can be exchanged at airports, banks and hotels.

Language:

The official language spoken in the Azores is Portuguese, but a majority of the local population is proficient in English, especially in the more tourist-heavy spots.

Voltage:

The Azores uses electricity at 220-240V, 50Hz with European standard Europlug and Schuko plug sockets. If you plan on using electrical appliances that operate on a different voltage, a transformer is required, while appliances that have different plugs will need an adapter.