Must-See Places And What To Visit in Terceira Island, Azores
With patchwork fields crisscrossing the emerald landscape and a cow population that's almost double the amount of human island inhabitants, many describe Terceira's gorgeous scenery as reminiscent of the stunning Irish countryside.
Here's a highlight list of places you can't skip and absolutely must visit during your Azores vacation in Terceira Island.
ANGRA DO HEROÍSMO CITY IN TERCEIRA ISLAND, AZORES
1. Sé Cathedral in Angra do Heroísmo
This main church of the Azores Islands is located in downtown Angra do Heroísmo on Terceira Island. With unique architectural features and an unquantifiable value to the local culture and heritage, this religious temple is a gorgeous sight for Christians and non-Christians, since art truly knows no religion.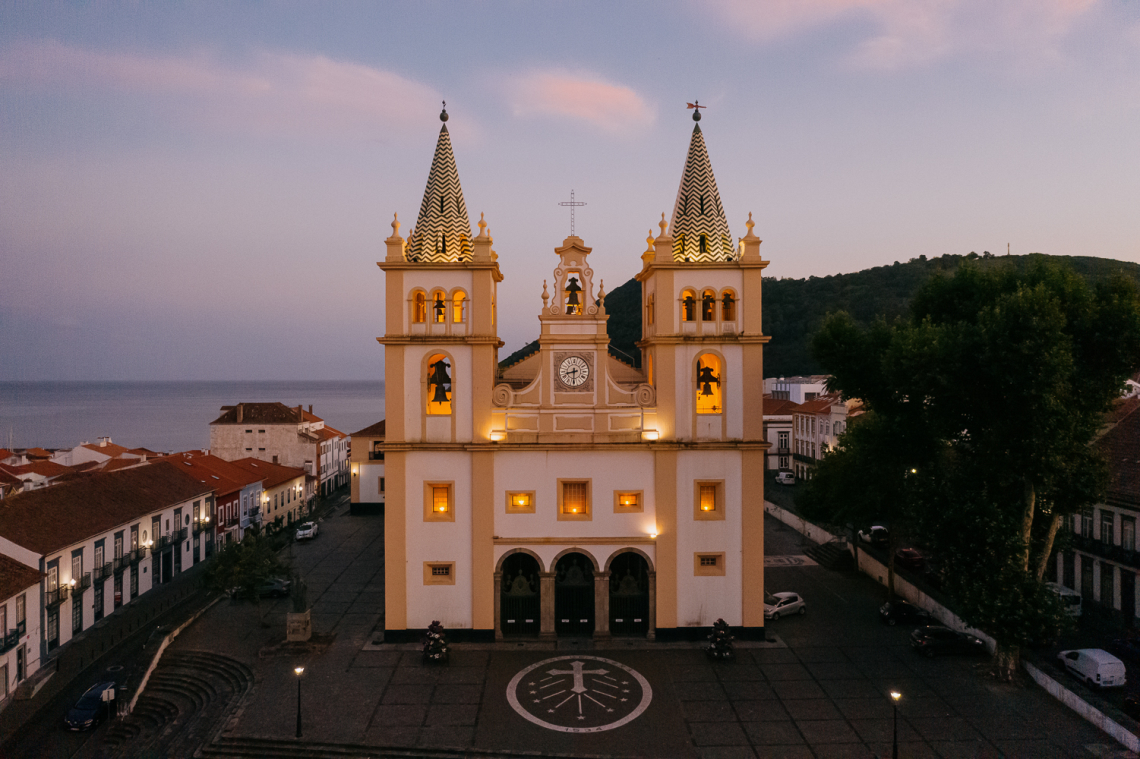 2. Capitães-Generais Palace in Angra do Heroísmo
This palace once served as the official residence of the first general captain who was responsible for the administration of the Azores archipelago back in the olden days. It also served as the royal palace when kings visited this beautiful island. Aside from viewing its unbelievable and picturesque facade, visitors can also explore the museum´s interior, which features important pieces of the Portuguese monarchy history as well as one of the most important hollandaise tiles collections of the 17th century.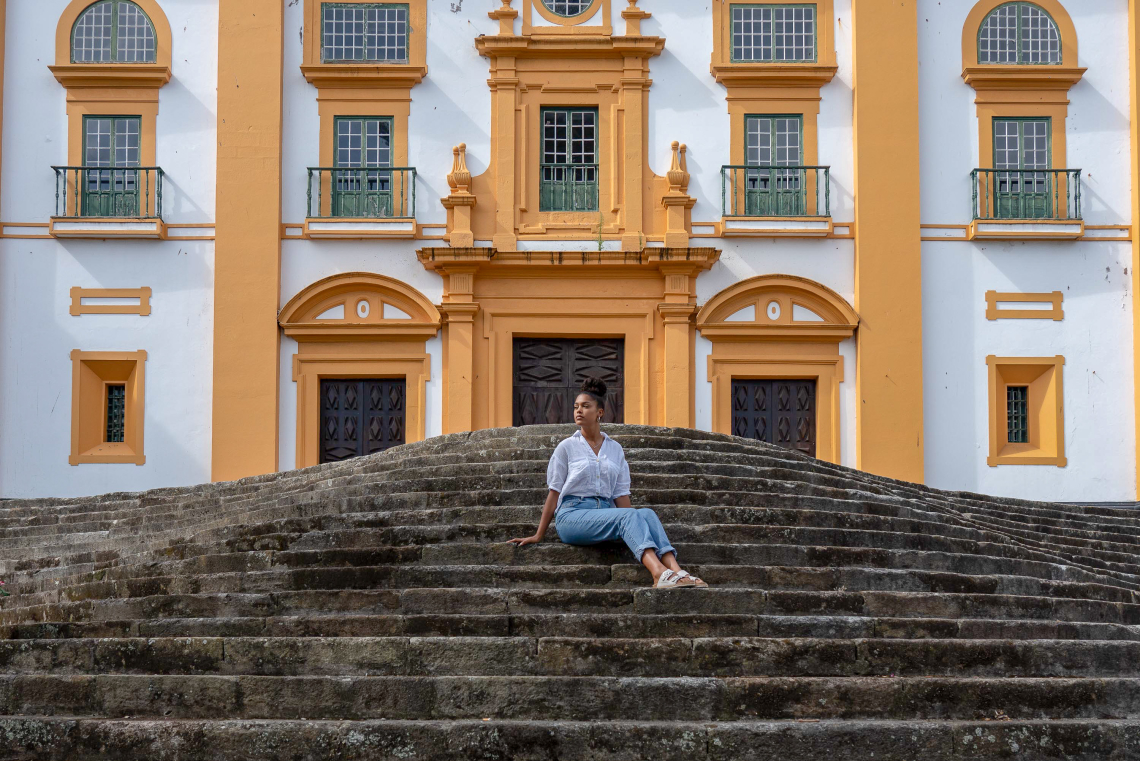 3. Angra do Heroísmo City Streets
The colorful and vibrant streets of Angra do Heroísmo are important to highlight as well since they attribute a very festive and appealing Cuba-like vibe to the city. Appreciate the different rainbow hues of Angra's buildings and houses while simultaneously being enchanted by the awe-inspiring glory of phenomenal architecture.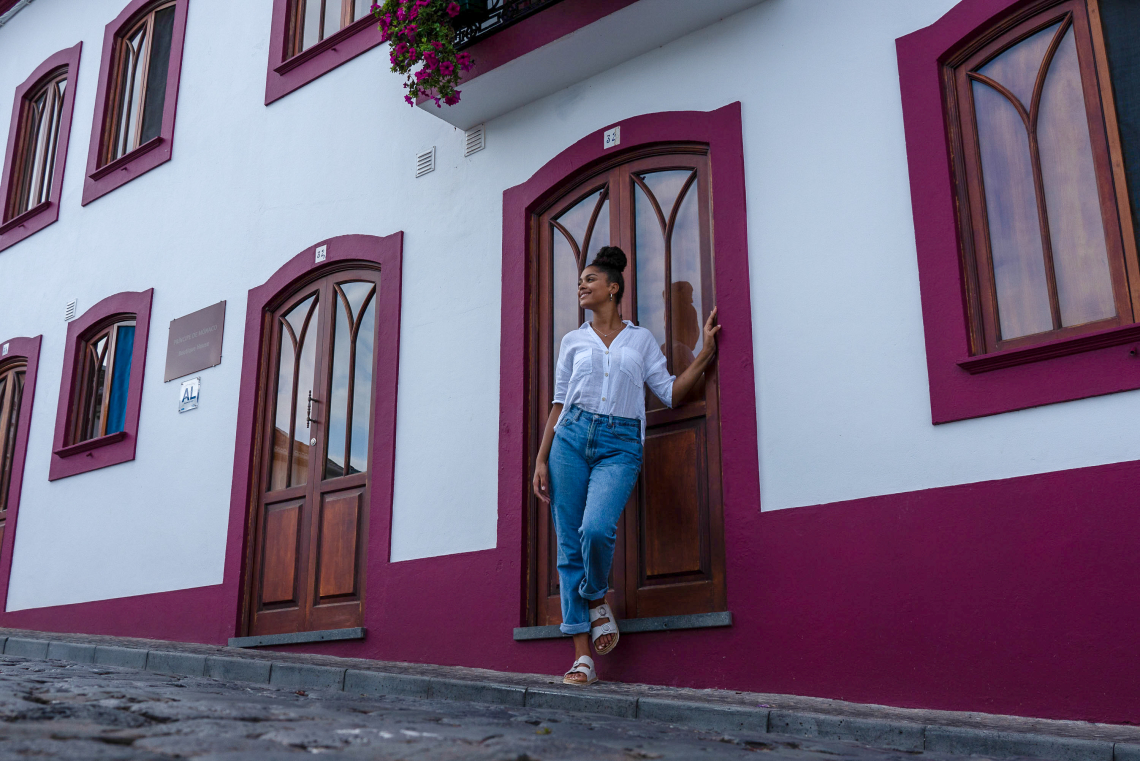 4. Garden Duque da Terceira in Angra do Heroísmo
Take a break from your on-foot discovery of downtown Angra do Heroísmo in Terceira Island, the only Azorean city to be considered a UNESCO World Heritage Site, by having a sit at the Public Garden, a green oasis located in the heart of Terceira's capital. This 19th-century garden has multiple levels of beauty to appreciate, and it also takes you to one of the most iconic viewpoints on the whole island - the Alto da Memória viewpoint.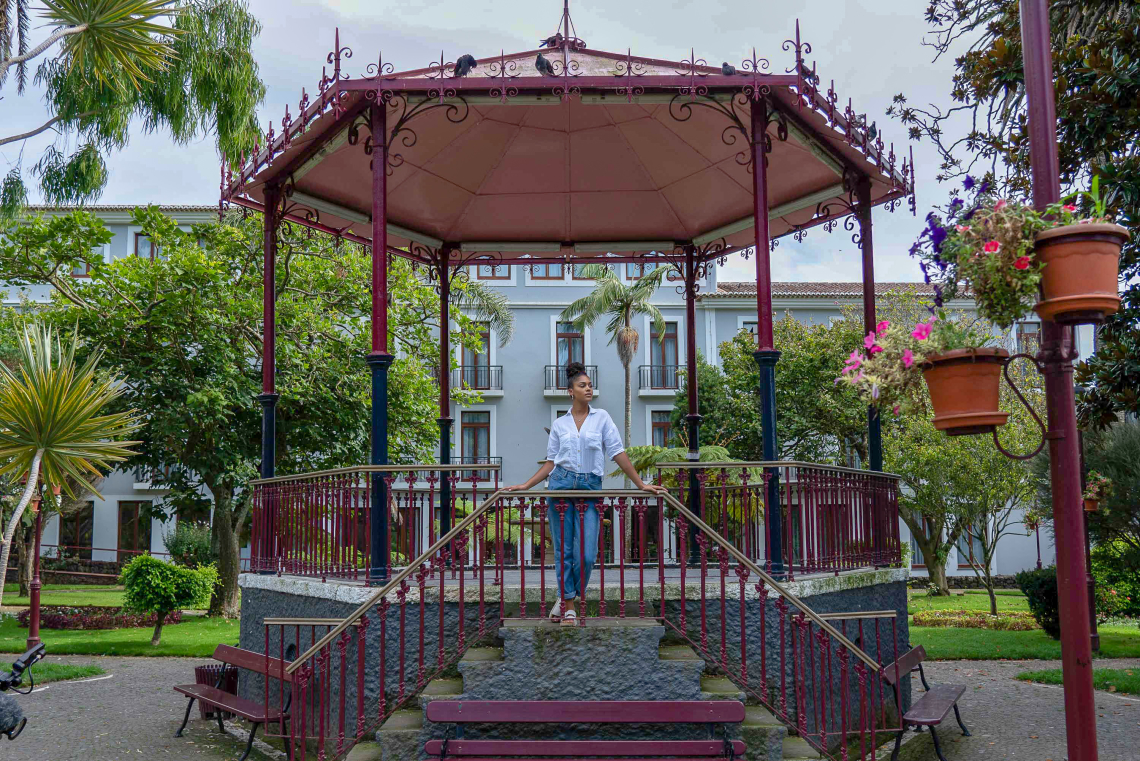 5. Alto da Memória Viewpoint in Angra do Heroísmo
Head to Alto da Memória for the best panoramic view overlooking the only UNESCO World Heritage city of the Azores Islands. This viewpoint is so perfect, it is considered to be Terceira Island's most famous postcard-worthy vista. Once you see it for yourself, you will surely understand why! Fun fact: The obelisk at the site was placed in honor of the passage of King D. Pedro I on his royal visit to Terceira Island. Insider tip: Alto da Memória is an especially great spot to experience the sunset, too!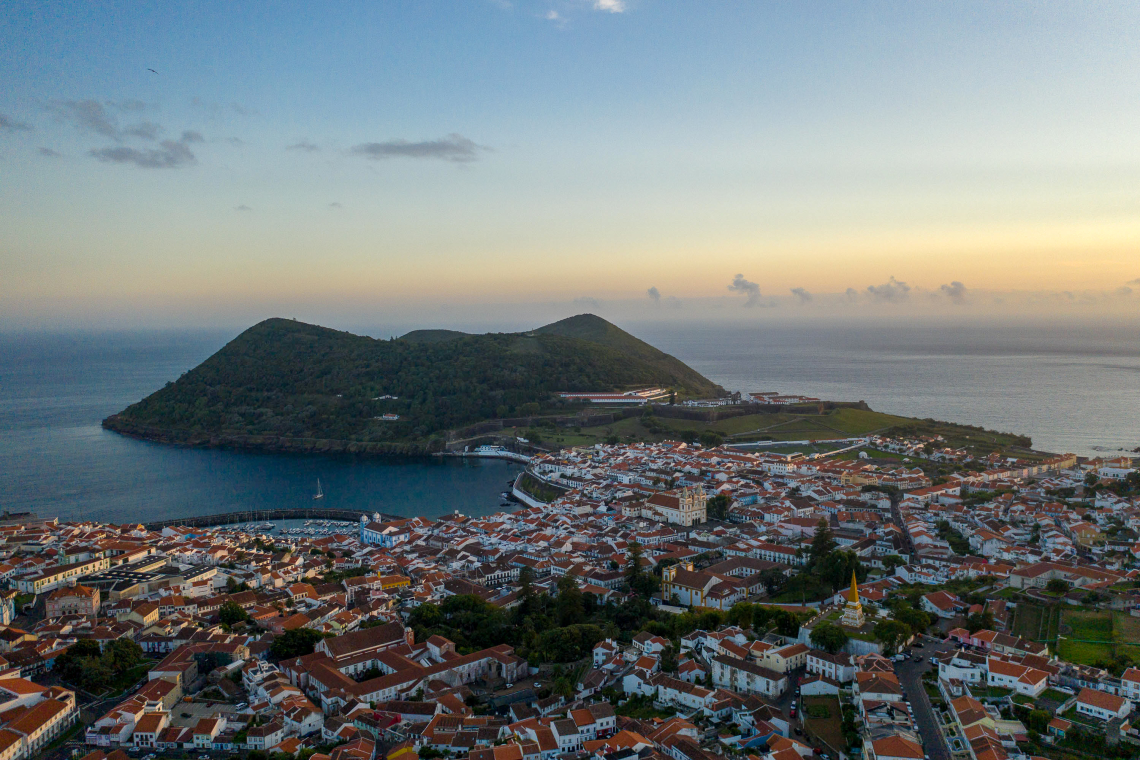 6. Misericórdia Church in Angra do Heroísmo
Located at the top of Angra is another very colorful building known as the Misericórdia Church. Built in the 15th century, it can be visited from 9 am-12 pm and 2 pm-5 pm from Monday to Friday during winter, and from 10 am-1 pm and 2 pm-5 pm from Monday to Friday during the summer, as well from 1 pm-5p m on Saturdays and from 4 pm-6 pm on Sundays.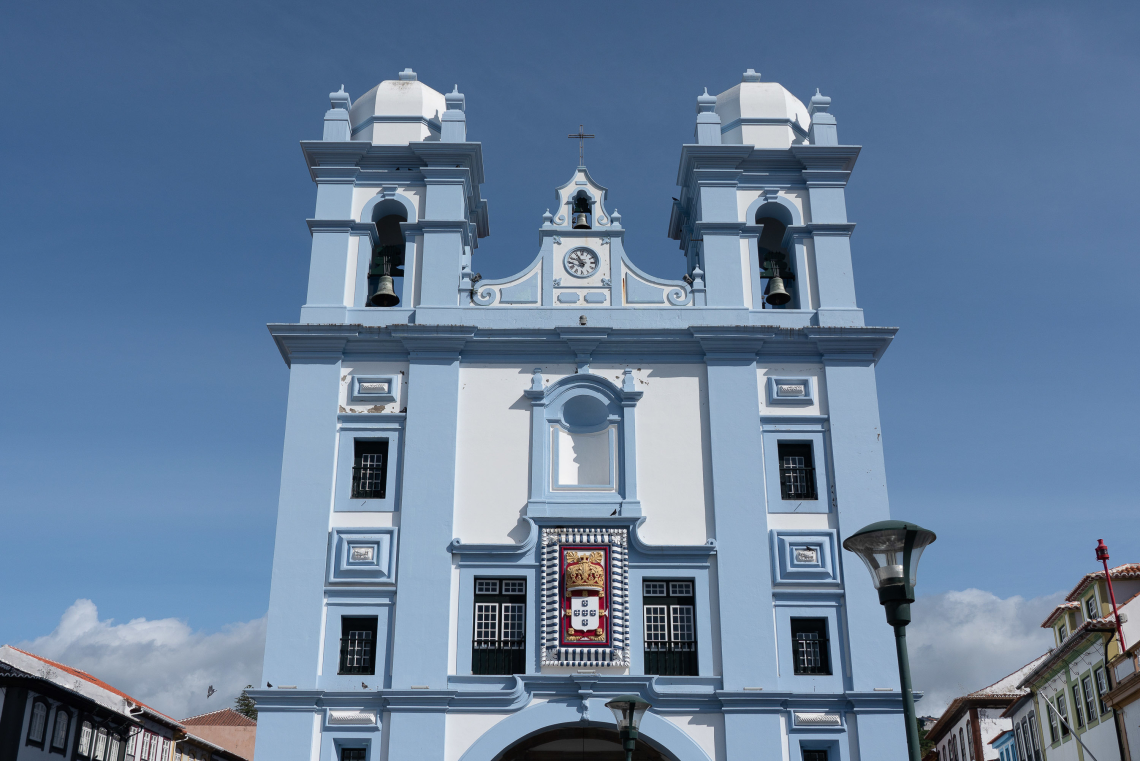 7. Angra do Heroísmo Underwater Archeological Park
Hidden in Angra do Heroísmo Bay's calm, clear waters are mysteries and treasures tracing all the way back to the Islands' original discovery. Unbeknownst to many, this mystical bay was quite an unlucky place for seafaring ships. In fact, since 1552, 74 ships are reported to have been wrecked there, with neither the sailing vessels themselves – nor their onboard treasures – ever being found!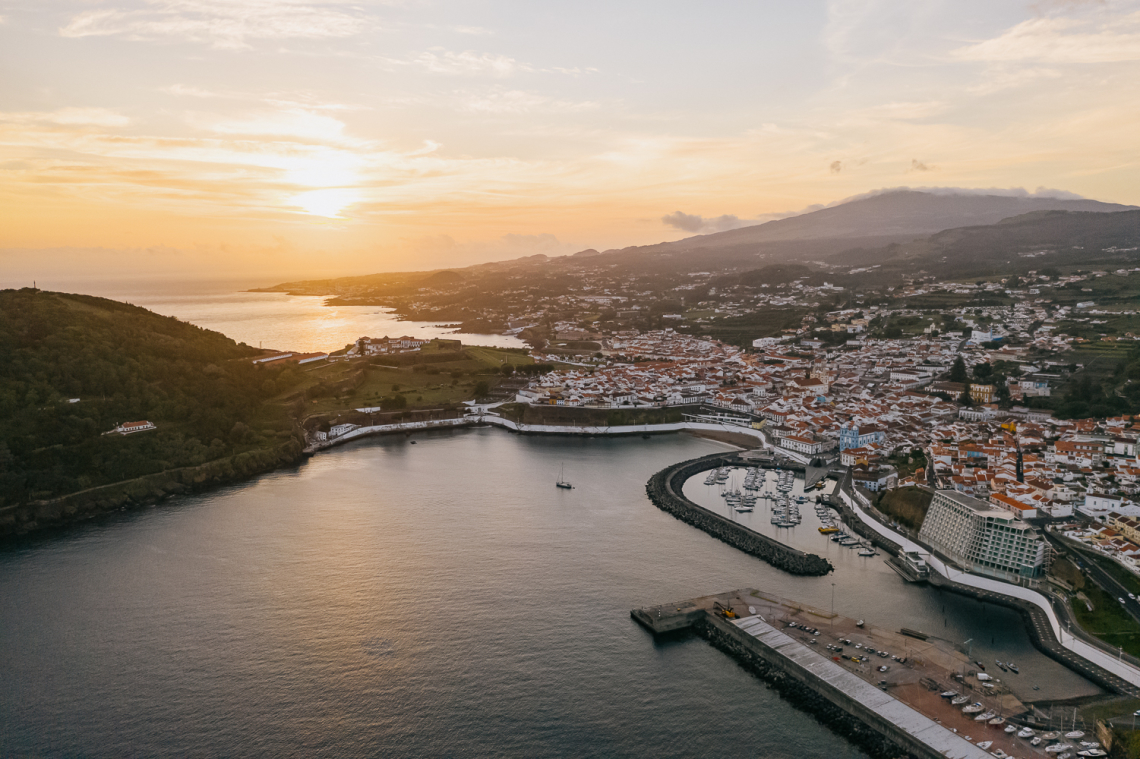 8. Prainha in Angra do Heroísmo
A lovely small beach tucked on the shore of a UNESCO World Heritage city, the Prainha overlooks Monte Brasil is yet another spectacular sight in Angra do Heroísmo in Terceira Island, Azores that you simply cannot miss.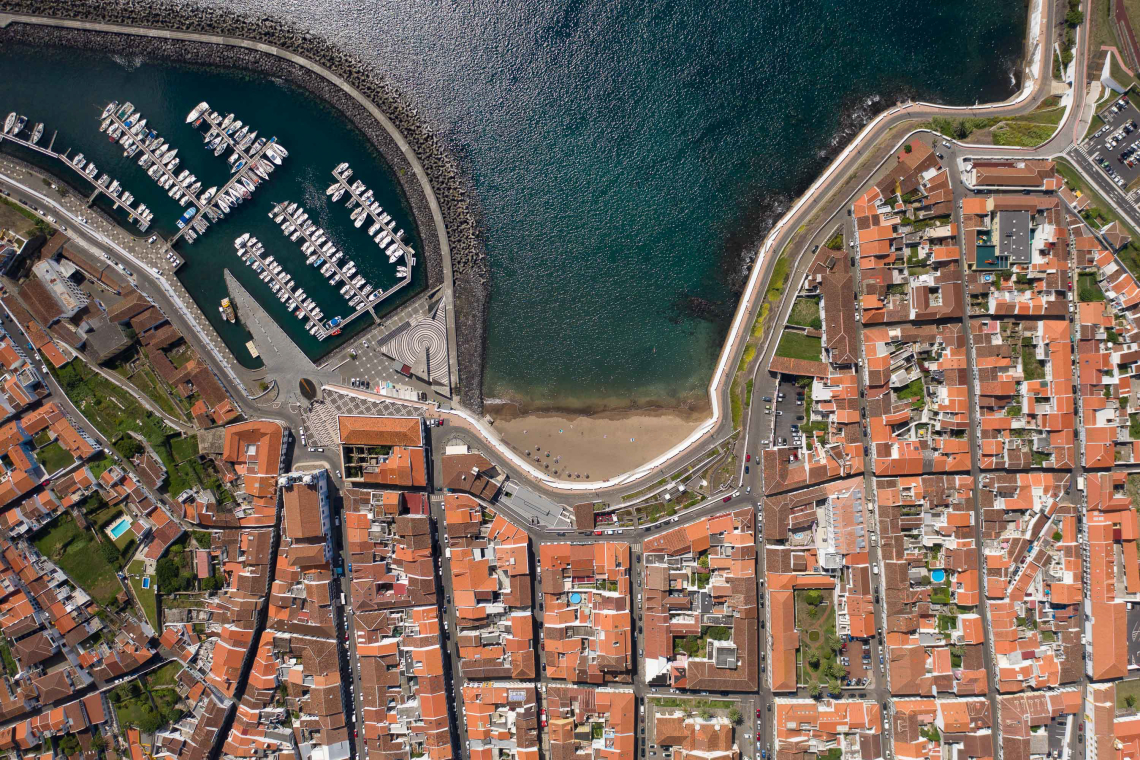 9. Monte Brasil in Angra do Heroísmo
Monte Brasil was created by a volcanic eruption in the sea that ended up getting attached to Angra do Heroísmo city, making it even more beautiful and interesting. You can get to the top of Monte Brasil by car, and once there, you'll be gifted with amazing sea and city views from any of the multiple viewpoints onsite. It is also home to the São João Batista Castle and some wonderful and cute "bambies". Aren't you excited to see it for yourself?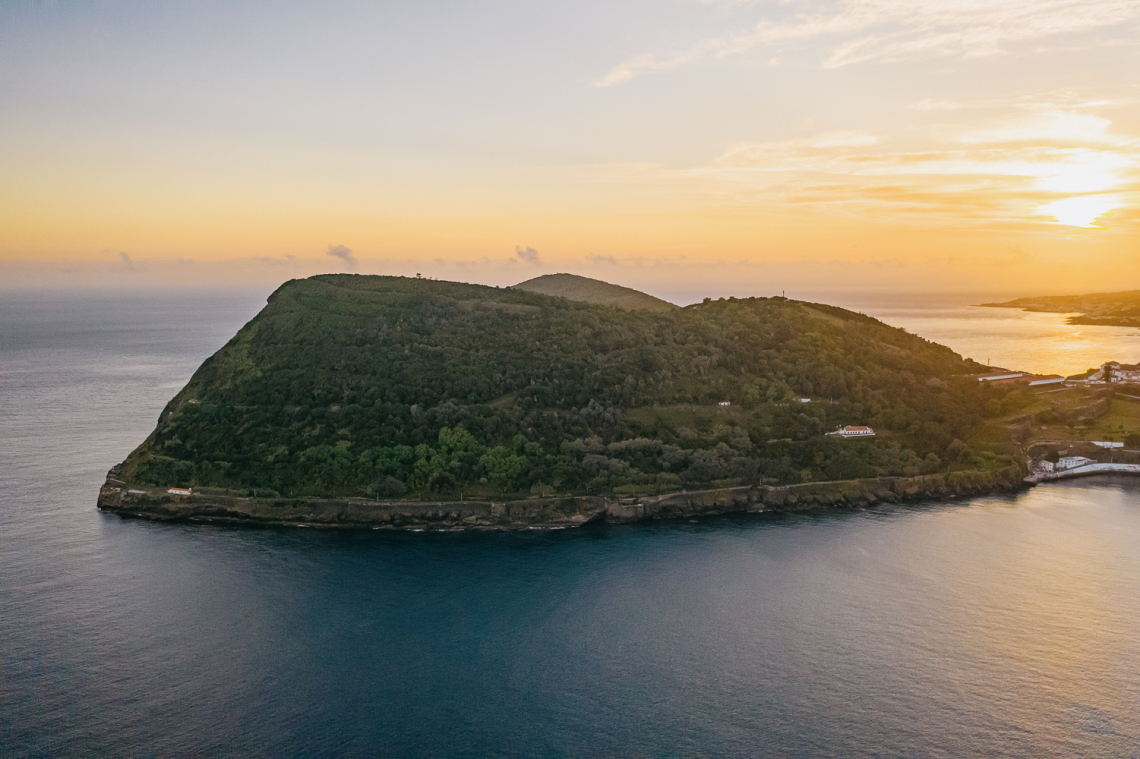 10. Duque de Bragança Farmers Market in Angra do Heroísmo
Get to know the local products of the island with a visit to the local farmers market in downtown Angra do Heroísmo. Smell the enticing aroma of the fresh ingredients and get to meet the actual local growers of such flavorful fare. After all, it is always good to know where exactly your food comes from!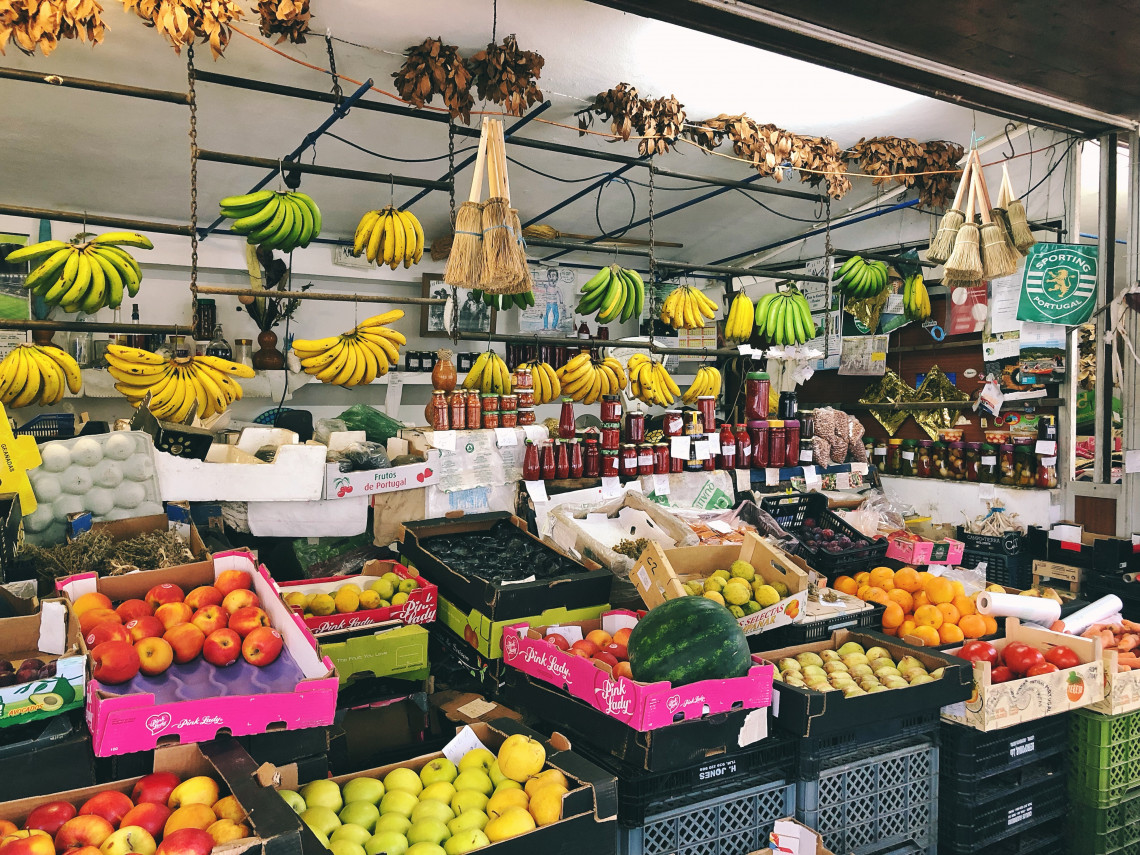 11. Silveira Natural Pools in Angra do Heroísmo, Terceira Island, Azores
There is nothing like diving into the crystal clear waters of Silveira's natural swimming pool! This is especially easy if you're staying in Caracol Hotel, as the pools are just next door! If you're staying at the recently renovated Terceira Mar Hotel, you're only two steps away from this stunning scenery too! Besides the great quality of the water, the views of Monte Brazil offered from this spot are also incredibly beautiful.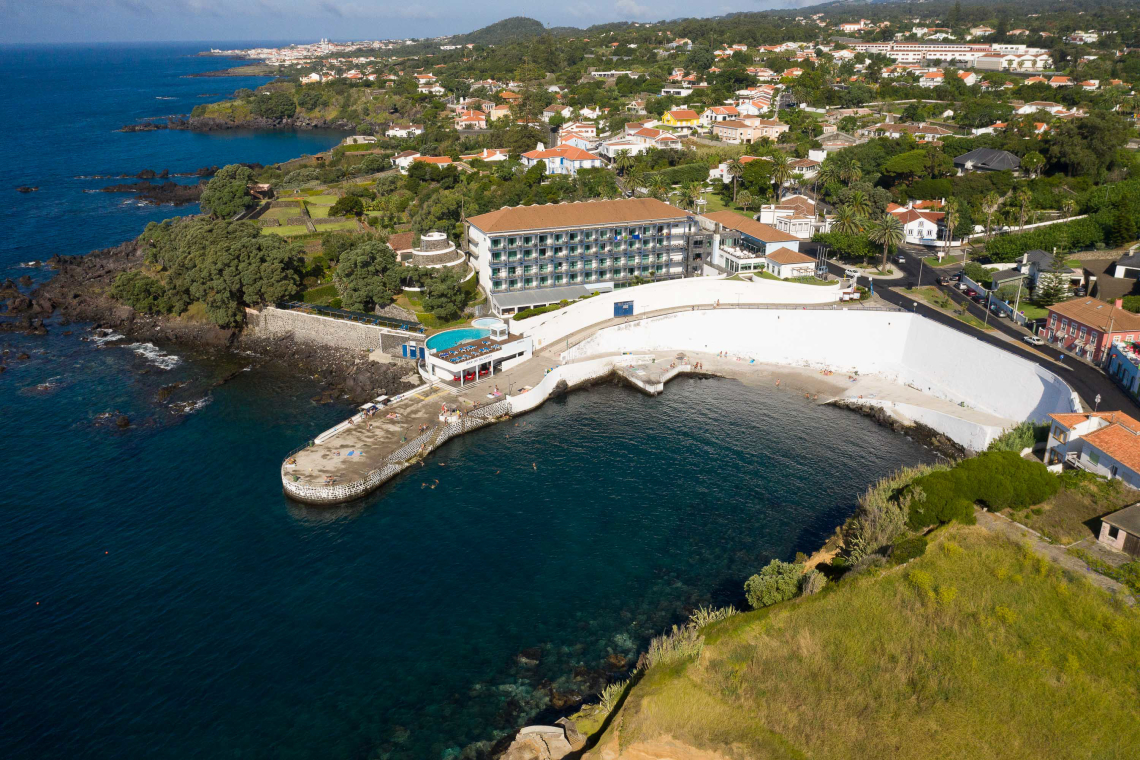 12. Bordados dos Açores Shop in Angra do Heroísmo
Head to Rua da Rocha in downtown Angra for a glimpse into the rich culture of Terceira's traditional embroideries. You'll be amazed by the quality of the work the local embroiderers produce, and you will get to see firsthand the impressive dedication of all who are keeping the unique embroidery traditions of this island alive.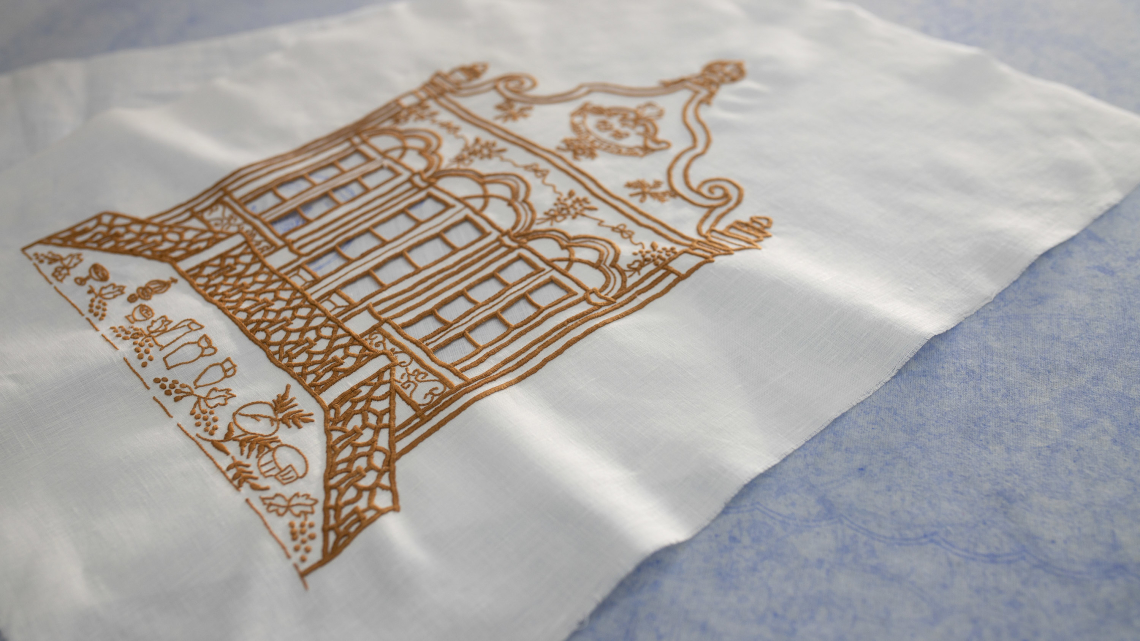 Are you already in love with the Azores? Take a look at our stress-free packages that allow you to book your ultimate island adventure. All our packages are carefully curated by our team of local Azorean Experts so that you don't need to worry about any details – just enjoy your trip!

13. São Bento Pottery in Angra do Heroísmo
A short drive away from downtown Angra do Heroísmo is the São Bento pottery shop, a traditional pottery shop where you'll have the chance to get an up-close glimpse of how the island´s signature alcatra clay pots are made!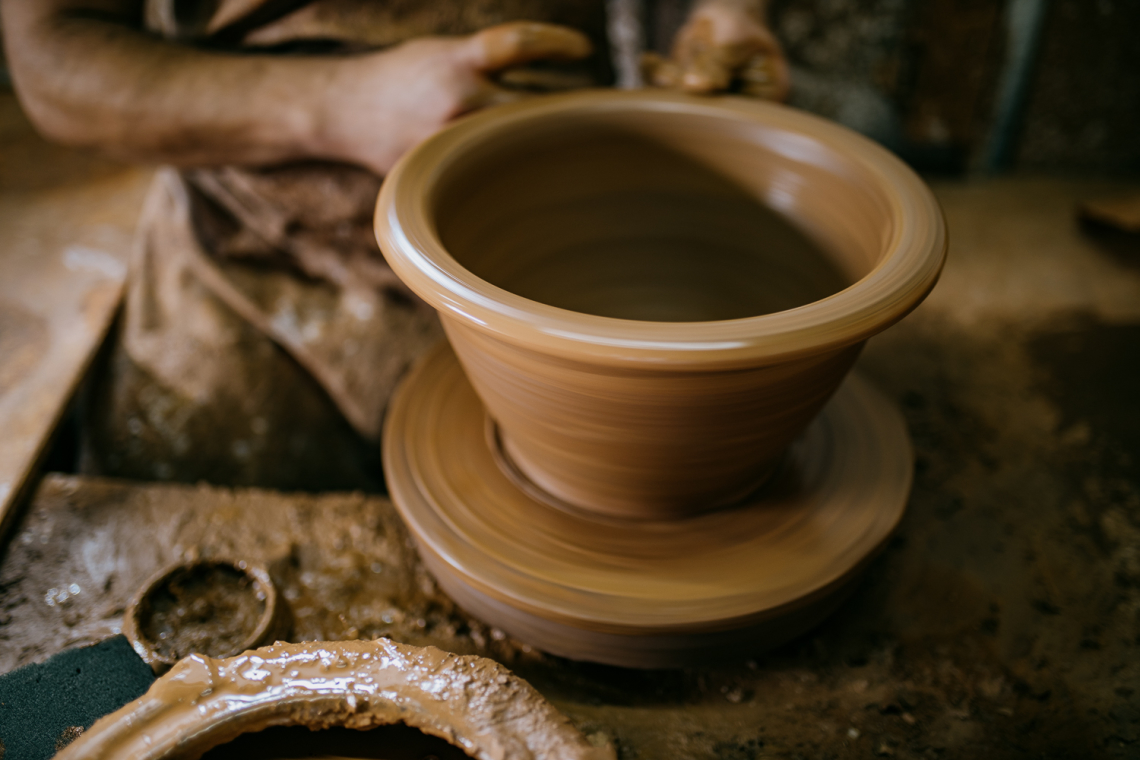 WEST OF TERCEIRA ISLAND, AZORES
14. Ponta do Queimado Viewpoint
A surprise viewpoint on the northwest side of Terceira Island, the Ponta do Queimado viewpoint engages all the senses. This is especially the case at sunset time when the outstanding coastline dazzles the eyes even more.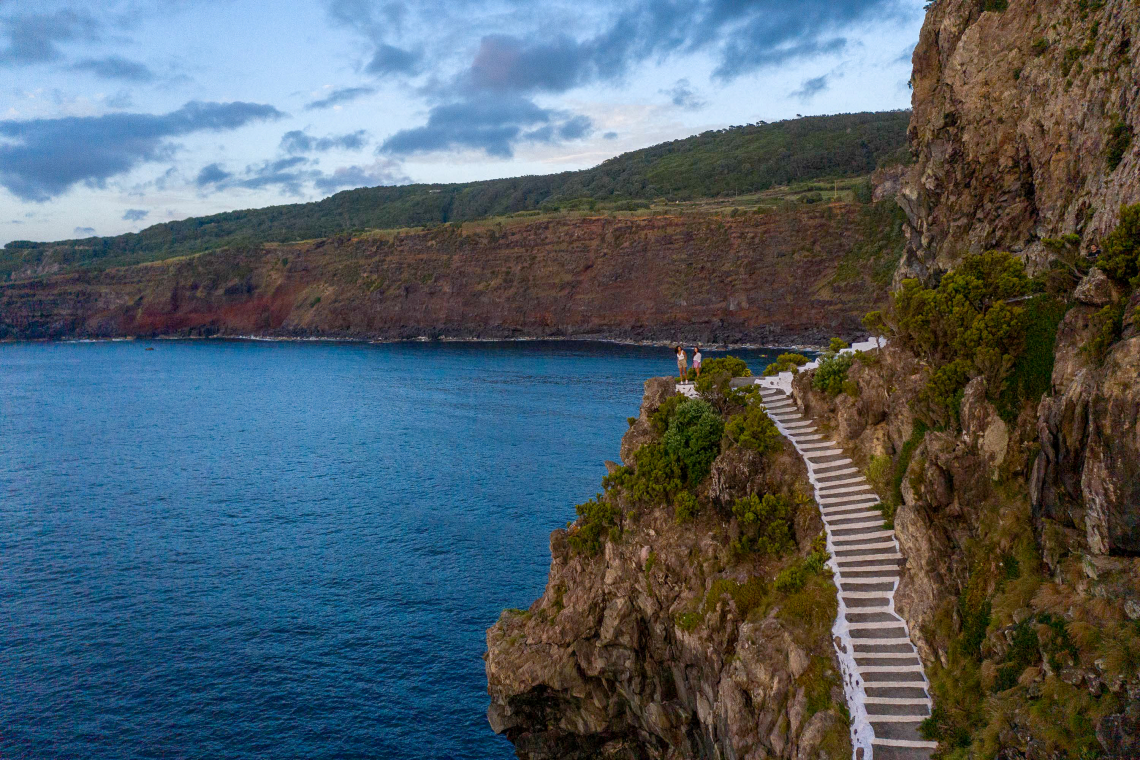 15. Vaquinha Cheese Factory in Terceira Island, Azores
As you descend down to the southwest, make sure you book a visit to Vaquinha Cheese Factory. Originating in Terceira Island, the Queijo Vaquinha is a deliciously creamy, buttery-soft cheese. Manufactured locally by an Azorean family, this cheese is the product of a friendly business that awaits to welcome you for a tour, where you will get a chance to roll up your sleeves and get your hands in the mix while learning exactly how this magnificent cheese is actually made!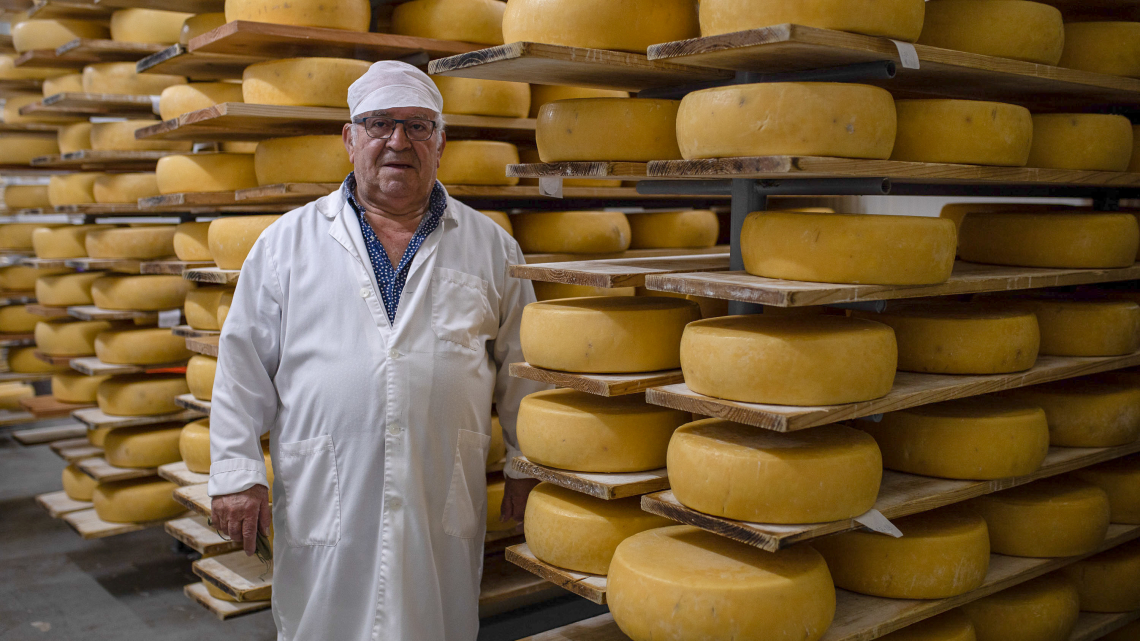 16. Azulart Pottery in Terceira Island, Azores
Don't skip a cultural visit to Azulart Pottery for a chance to get to know the local artist who makes such beautiful pieces and paints the island's most beautiful tiles by hand. And did we mention that this is a great shop to buy a traditional and original souvenir to take home with you?!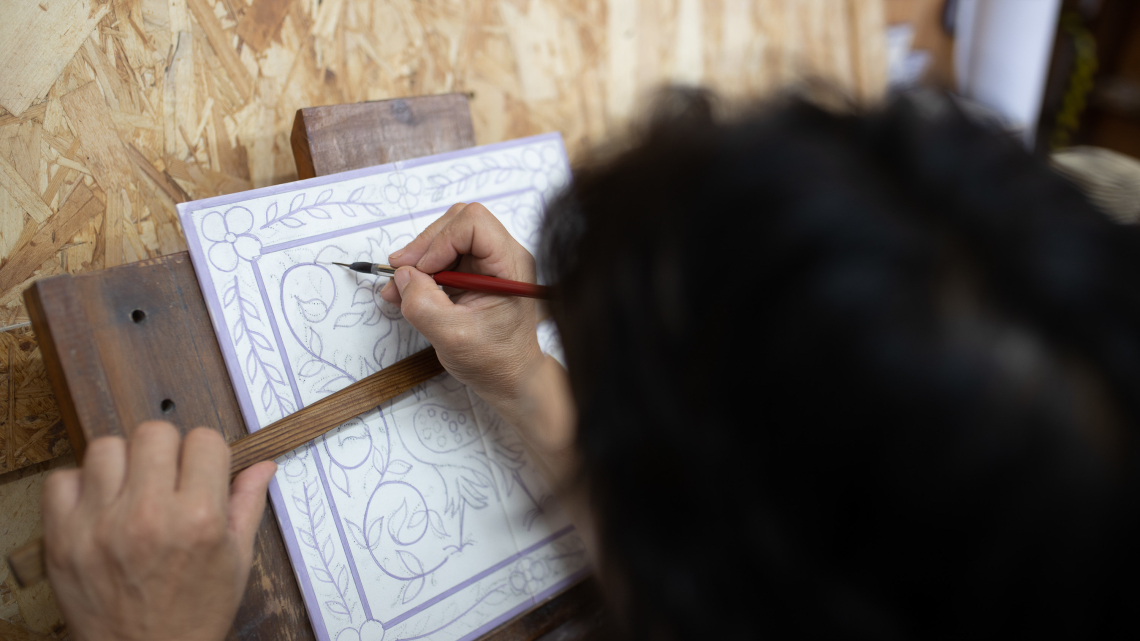 NORTH OF TERCEIRA ISLAND, AZORES
17. Biscoitos Natural Pools in Terceira Island, Azores
One of the island's most famous natural swimming pools for locals and visitors alike, the incredible scenery left by volcanic lava here is simply amazing. With different sets of natural pools and a great infrastructure, Biscoitos Pools are a sight not to be missed during your Azores vacation to Terceira Island.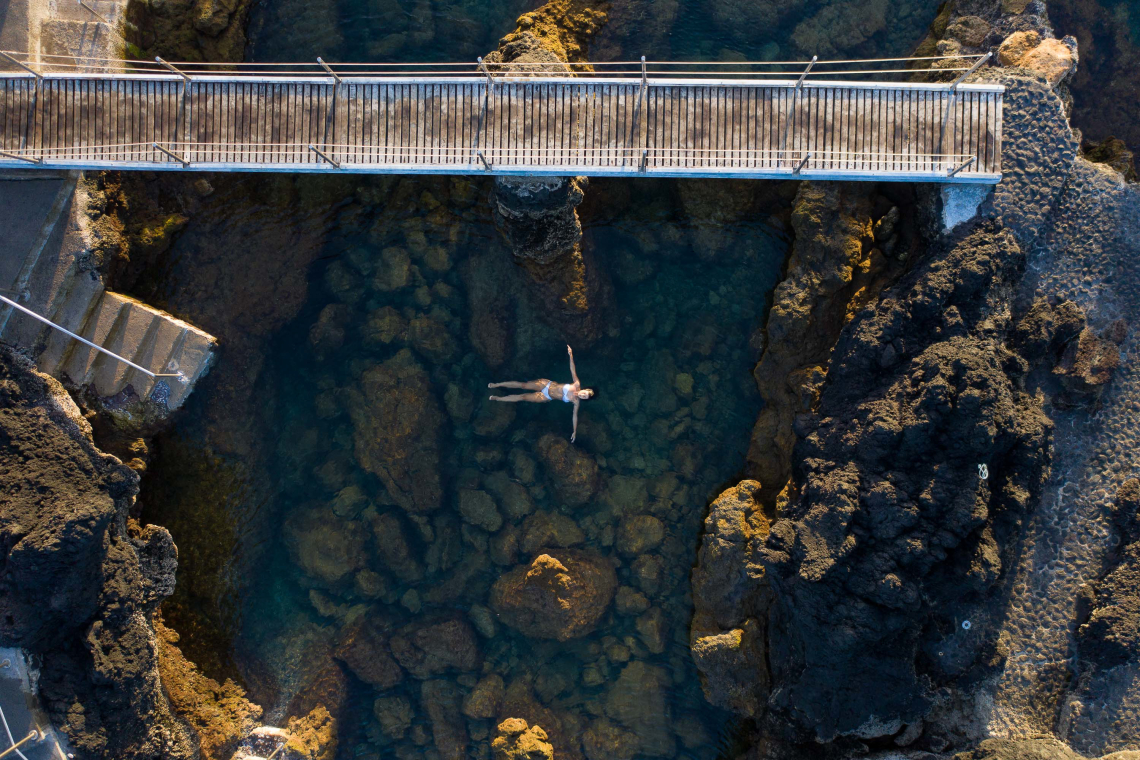 18. Wine Museum
After taking a look at the local fields where grapes grow separated by walls of volcanic stone – just like in Pico Island where the landscape of the vineyards is a UNESCO World Heritage Site – it's time to visit a local winery and sip on some delicious wine. Head to the wine museum, where you will try some different wines and tour the wine museum room for a better understanding of the wine production history in Terceira Island. Also to look forward to? Sitting outside – right next to the vineyards – while drinking a great Verdelho.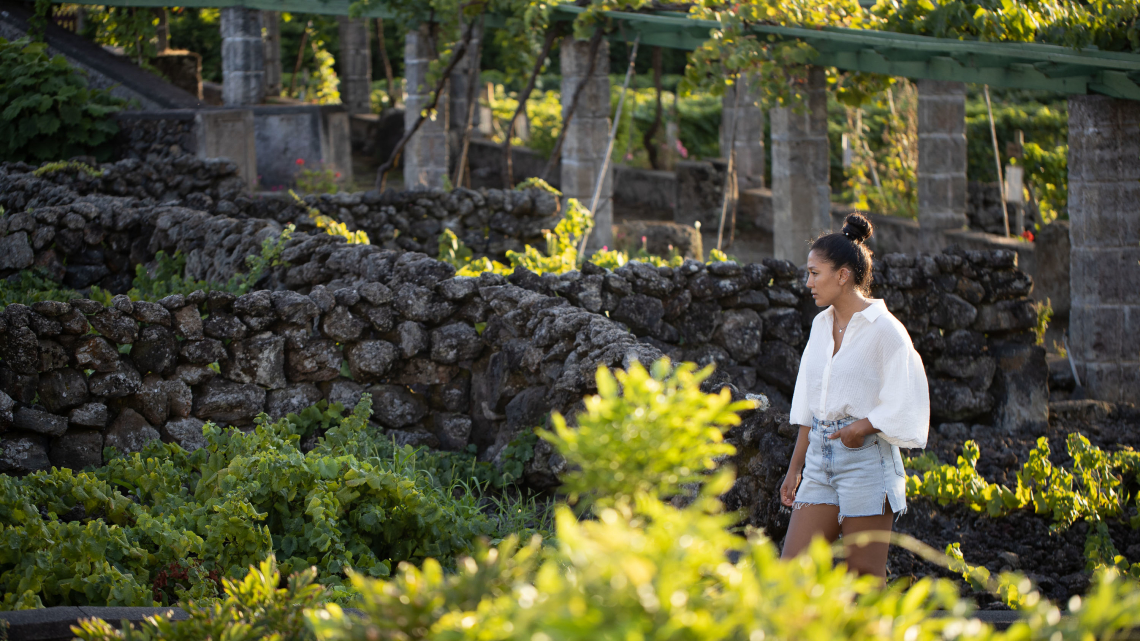 EAST OF TERCEIRA ISLAND, AZORES
19. Facho Viewpoint
Head to this viewpoint to enjoy the best panoramic view over Praia da Vitória city and its multiple beaches as far as the eye can see.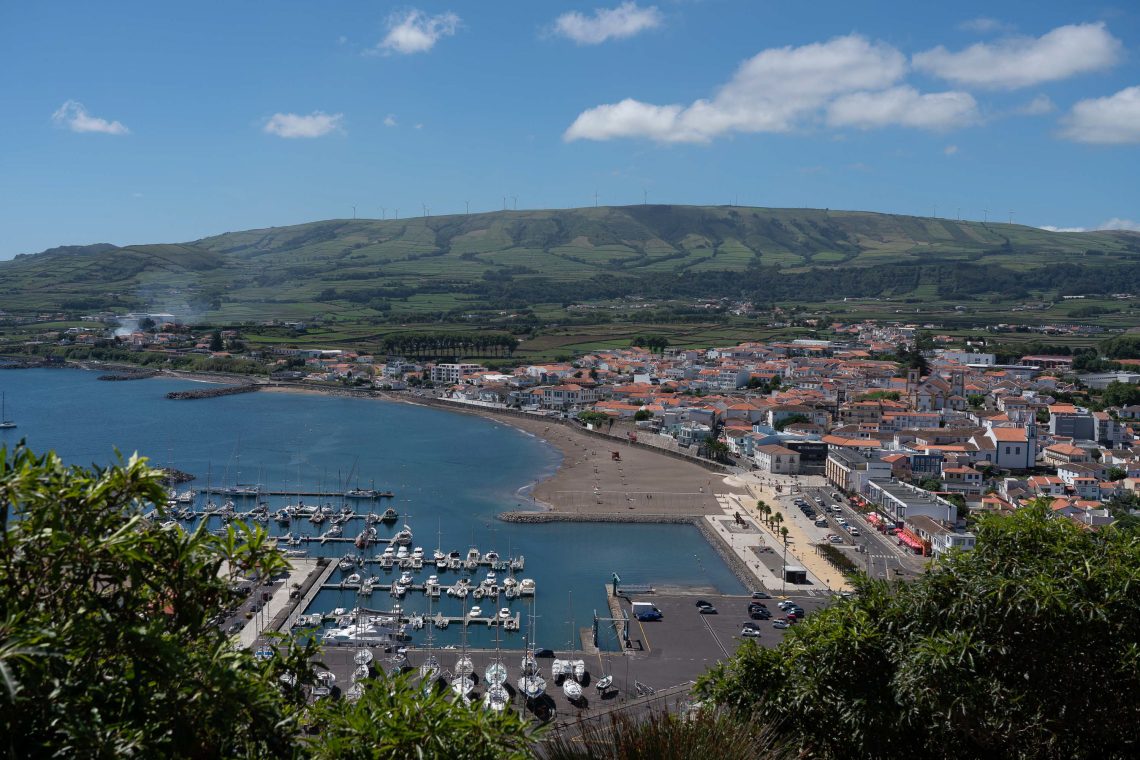 20. Império da Caridade
You'll see these gorgeous little Holy Spirit chapels spread all over the island. They are just one of the things that make Terceira Island so special and unique, as you won't find them on any other island! We are highlighting the Império da Caridade in Praia da Vitória specifically because it is just so beautiful!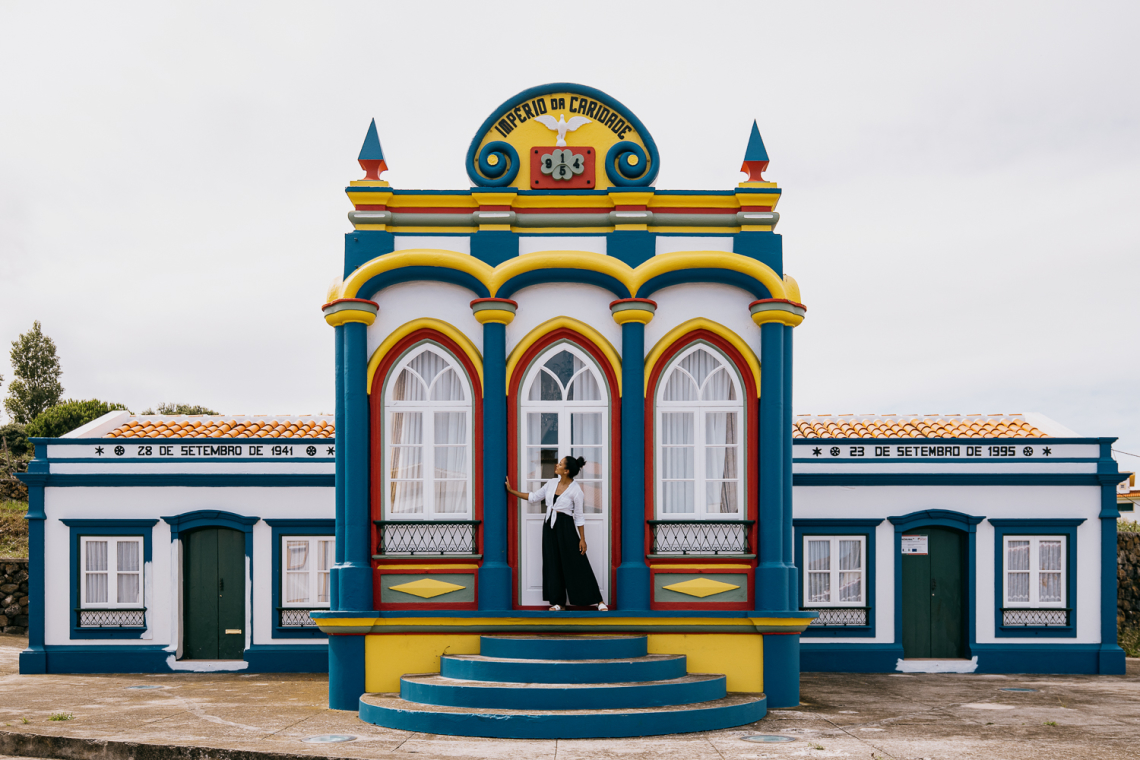 21. Serra do Cume in Terceira Island, Azores
As you move further from the shore of Praia da Vitória toward the center of the island, you will reach the most iconic viewpoint of Terceira Island, Serra do Cume. This patchwork landscape is the signature of Terceira Island, and the green views presented, which span as far as the eye can see, explain why.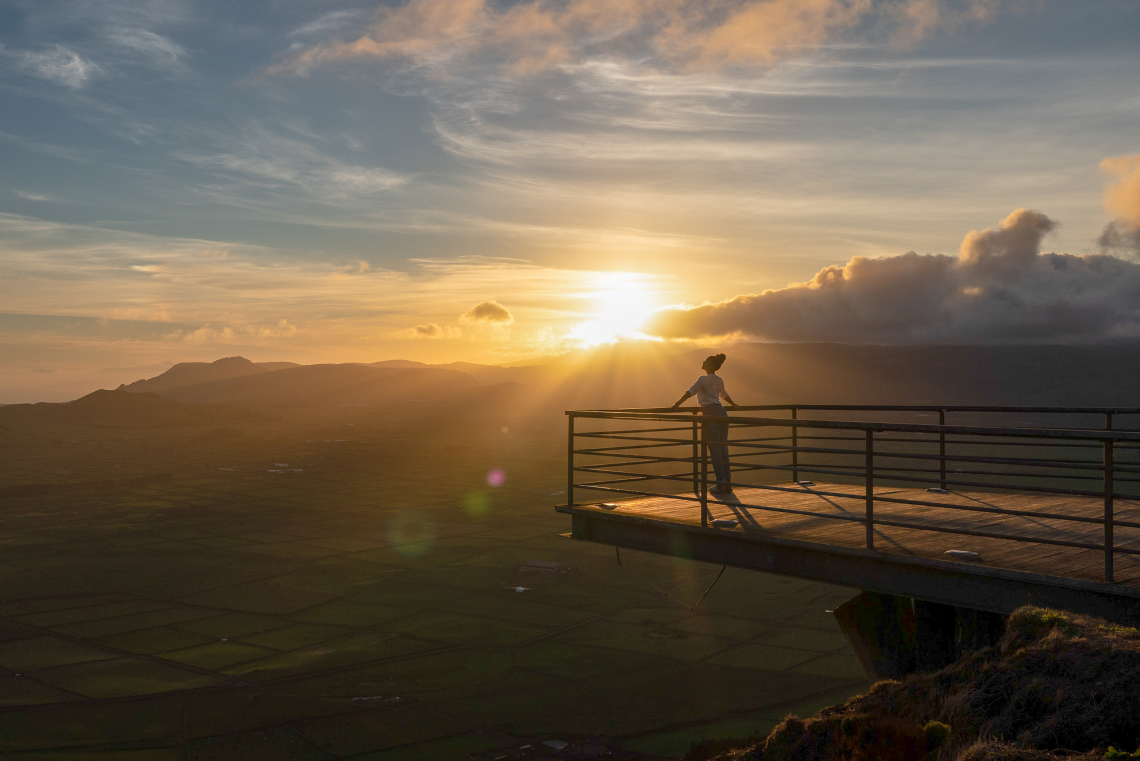 22. Serretinha Natural Pools in Terceira Island, Azores
In the southeast area of the island, the Serretinha natural swimming pools overlooking the Cabras Islets in the horizon are one of the best swimming spots in all of Terceira.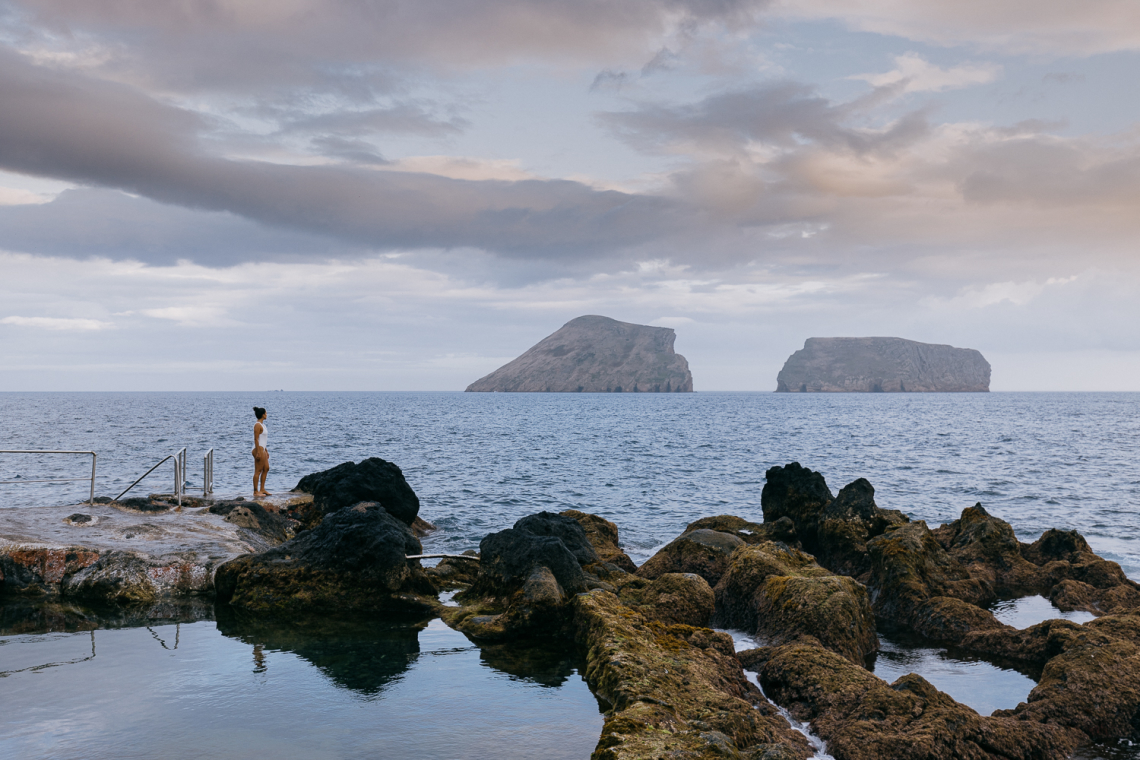 CENTER OF TERCEIRA ISLAND, AZORES
23. Algar do Carvão in Terceira Island, Azores
Descend 90 m (300 ft) down into one of the only volcanoes in the world that you can actually enter and explore! Algar do Carvão is an ancient lava tube and volcanic chimney that was formed approximately 3,200 years ago, making it quite a sight to behold. This popular spot is a natural reserve with limited visiting hours, so be sure to plan ahead and put it at the top of your must-visit list.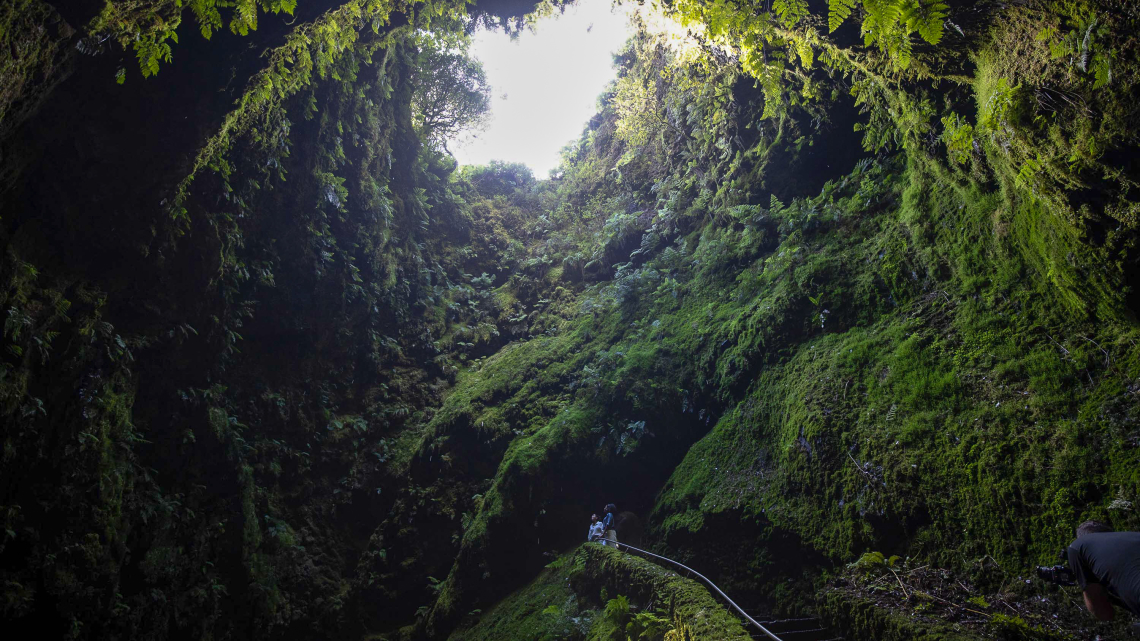 24. Gruta do Natal in Terceira Island, Azores
The lava tube of "Gruta do Natal" makes one marvel with its succession of narrow and long corridors and the different shapes and colors that take over the walls, floor, and ceiling – all of which transform the cave into a truly mystical place.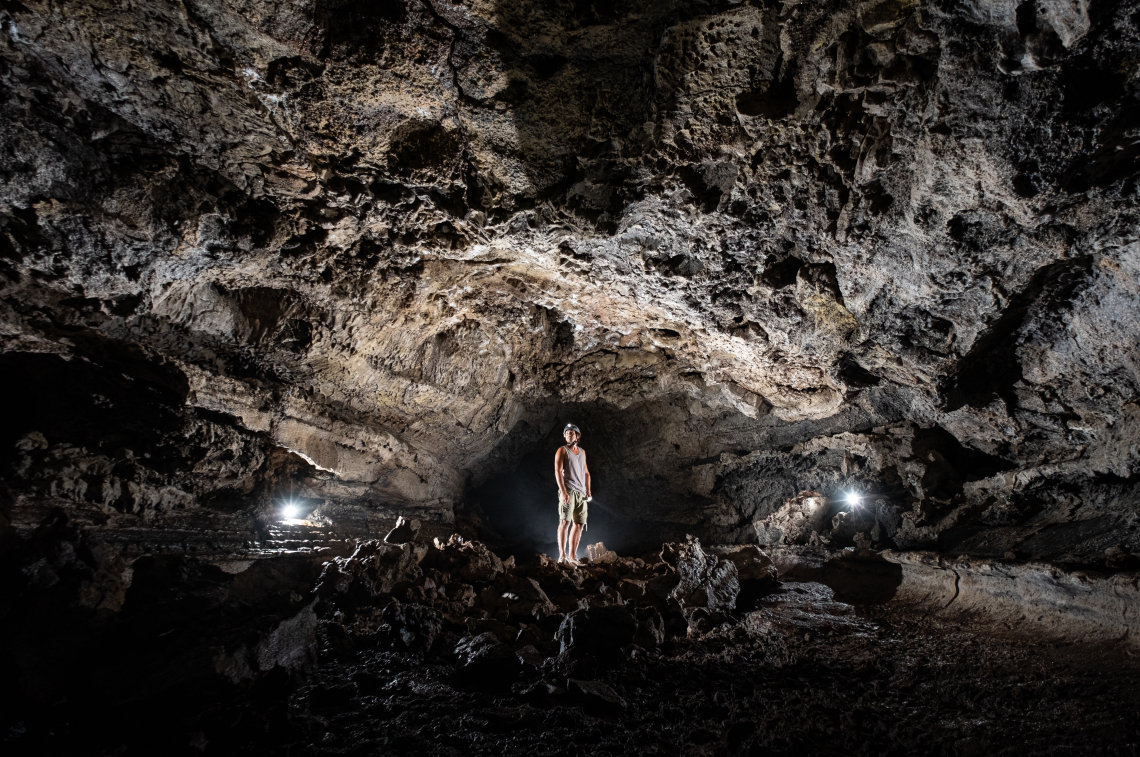 25. Furnas do Enxofre
On the surface, the "Furnas do Enxofre" (Sulphur Pits) is an eloquent testimony of the power of the Azorean volcanoes. The landscape is dominated by fumaroles surrounded by reddish-colored terrain, which contrasts perfectly with the green of the mosses and other lush vegetation in the surrounding area. The atmosphere is hot and filled with a peculiar smell... of sulfur, or course, which only adds to the mystical aura.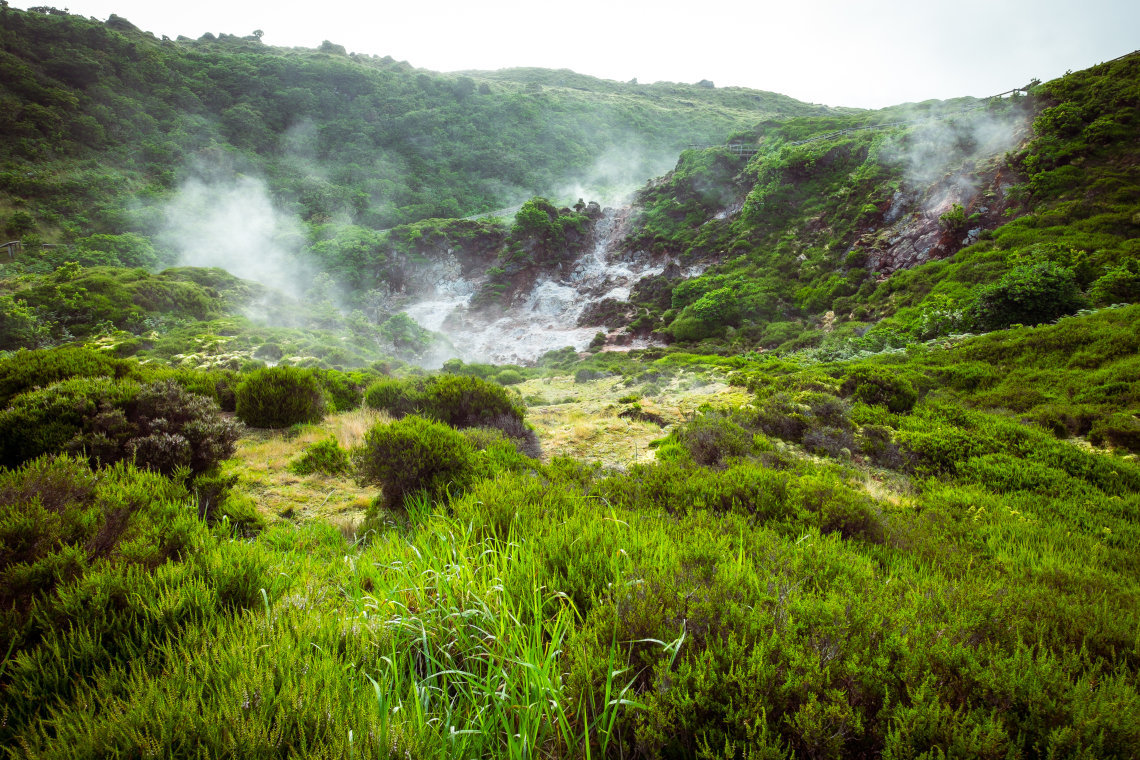 Discover the Azores at Your Own Pace: Tailor-Made Trips for a Customizable Island Adventure
If you're looking to explore the Azores at your own pace, we have got you covered. Our team of specialists will work with you to create a custom-made trip that suits your preferences and budget. Whether you want to dive into the thriving marine life, hike through stunning volcanic landscapes, or relax on secluded beaches, our tailor-made packages offer the flexibility and freedom to discover the Hawaii of Europe at your own pace. So why wait? Contact us today and let us help you plan an unforgettable trip to the Azores!