Experience the Wonder of the Azores on a Whale and Dolphin Watching Excursion
The Azores Islands are known for their unparalleled beauty and biodiversity, adored by outdoor adventure enthusiasts and nature lovers alike. But what people may not know is that the Azores is also one of the fastest-growing whale-watching destinations in the world. Located in the Atlantic Ocean between Portugal and North America, the Azores are a permanent home and natural point of passage to more than 20 different types of whale and dolphin species, making the islands one of the world's largest whale sanctuaries. The Azores' winning combination of unique volcanic origins, deep waters off the coast, and mild air and sea temperatures from the Gulf Stream makes the archipelago the ideal location for visitors to come and spot a wide array of species on a whale-watching adventure.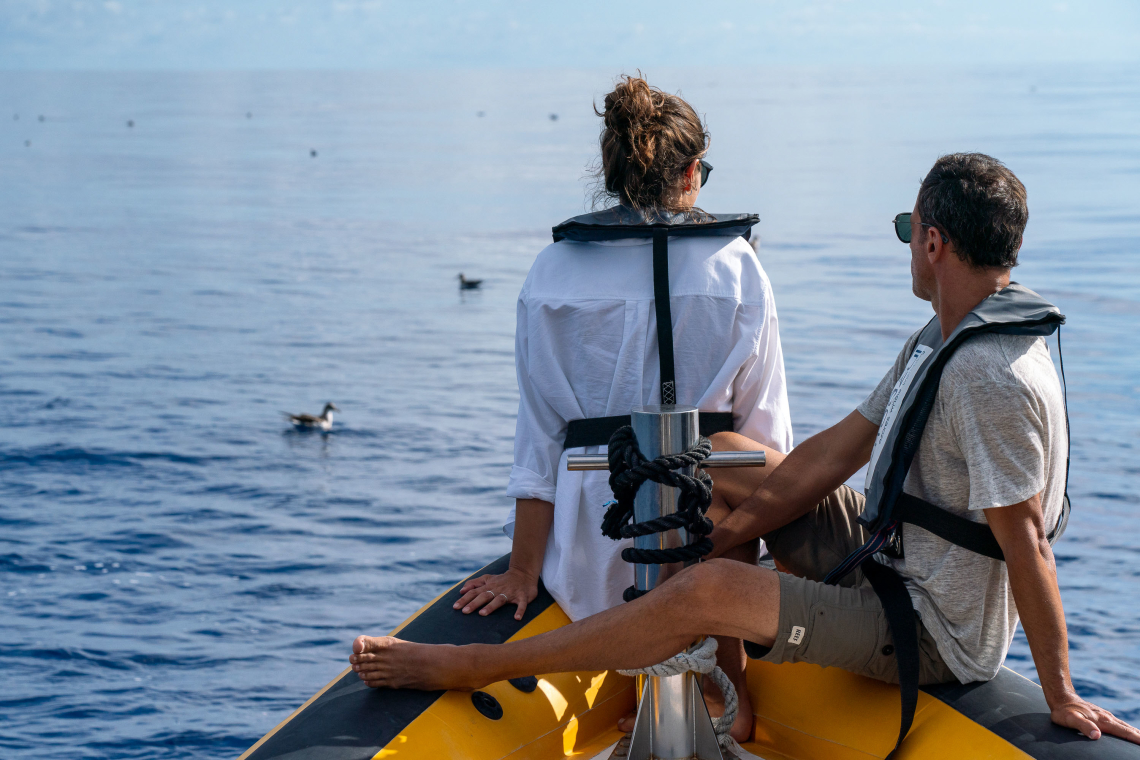 What Kind of Sea Life Can You Spot on a Whale and Dolphin Watching Excursion in the Azores?
Sperm Whales, Common Dolphins, Bottlenose Dolphins, Atlantic Spotted Dolphins, and Risso's Dolphins all call the Azores home year-round. Some other species also pass through the islands during certain seasons, including Pilot Whales and Striped Dolphins, which come around the spring months, and Blue Whales, Minke Whale, Fin Whales, and Sei Whales, which pass through during their summer migration.
The Azores' waters are also home to many other birds and animals. For instance, visitors to the islands can expect to encounter sea turtles, Manta rays, ocean sunfish, whale sharks, and Cory's shearwater, the most abundant seabird in the Azores (with a very distinct call!)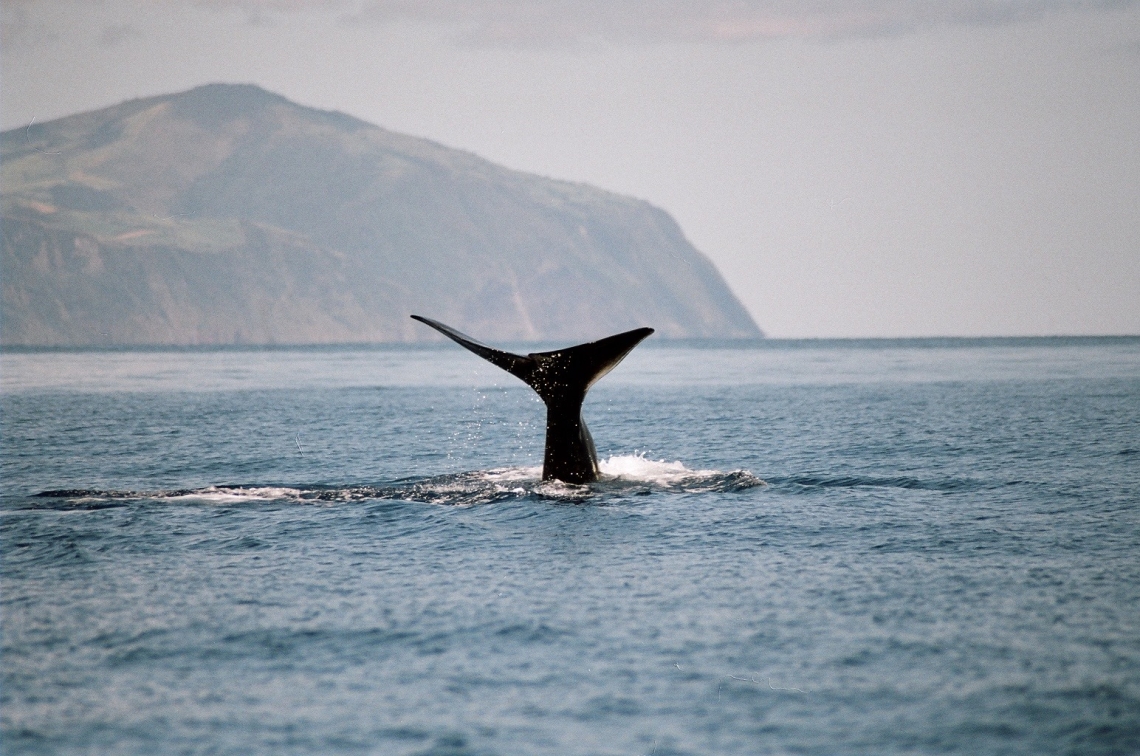 What is the Best Time of Year to Experience Whale and Dolphin Watching Excursions in the Azores, Portugal?
Most people believe that whale and dolphin watching is only possible during the summer months, but this is a common misconception! Due to the Azores' mild temperatures year-round and the large number of species that call the archipelago home, it's possible to venture out on a whale and dolphin-watching excursion and spot some exciting wildlife any time of the year. If you're specifically interested in observing spotted dolphins, sperm whales, sei whales, bearded whales, or fin whales, the summer is the best season for you to visit. Blue whales can be easily spotted at the end of winter, while spotted dolphins, striped dolphins, and pilot whales pass through during the spring months. No matter what season you choose to visit the Azores, you'll always be able to spot some new friends at sea.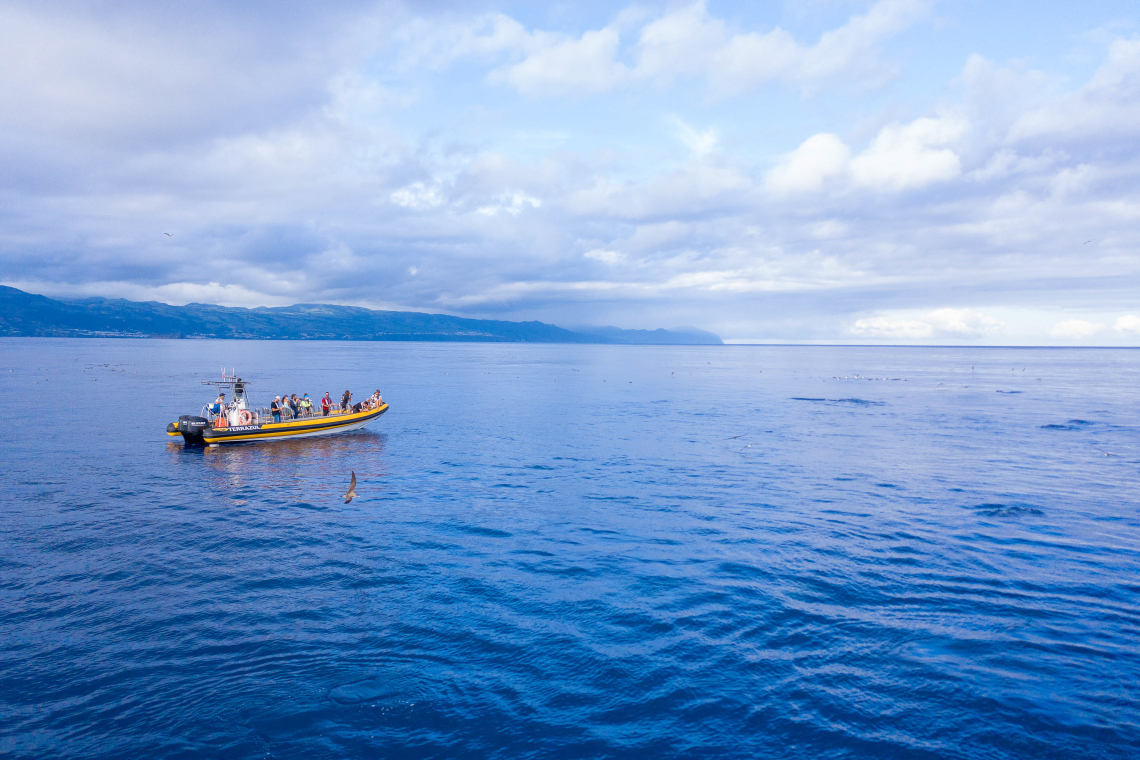 Are Whale and Dolphin Sightings Guaranteed During Excursions in the Azores, Portugal?
Since the Azores is home to a variety of both resident species and species that migrate through the islands at various times each year, visitors can expect to spot whales and dolphins 98% of the time they venture out to sea. In fact, the spotting rate in the Azores is so high that many tour operators will refund tickets if no dolphins or whales are spotted!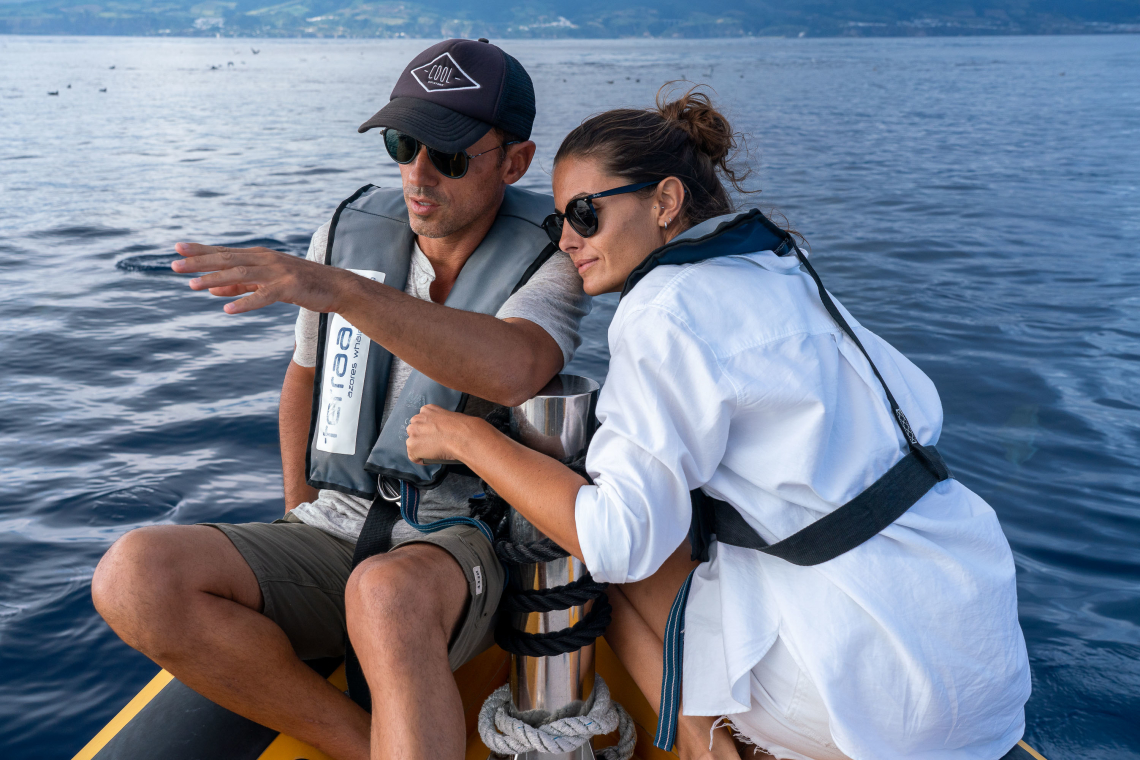 What Should You Know Before Embarking on a Whale and Dolphin Watching Excursion in the Azores, Portugal?
Local tour operators and government agencies work together to ensure that the species of the Azores remain safeguarded by setting guidelines and safety rules for all observers to follow.
While whale and dolphin watching, the following is prohibited:
Chasing, disturbing, or feeding whales and dolphins;
Swimming with whales;
Polluting the sea;
Making noise;
Having more than three boats at once in the same spot;
Navigating alongside the whales and dolphins at any distance less than 50 meters (100 meters if there are baby whales or dolphins present).
Whether you are young in age or young at heart, and regardless if it is winter, spring, or summer, the Azores is the perfect destination for all adventurers who wish to experience the thrill of viewing the cetaceans of the Azores up close on a whale-watching boat trip.
Are you already in love with the Azores? Take a look at our stress-free packages that allow you to book your ultimate island adventure. All our packages are carefully curated by our team of local Azorean Experts so that you don't need to worry about any details – just enjoy your trip!

What now?
Now that we've given you a great introduction to these two types of oceanic adventures, we'll further break down specific offerings that each of the islands offers, including both whale watching and dolphin watching. This way, you know exactly what to do based on where your visit takes you and which sea animal you are wanting to spot most.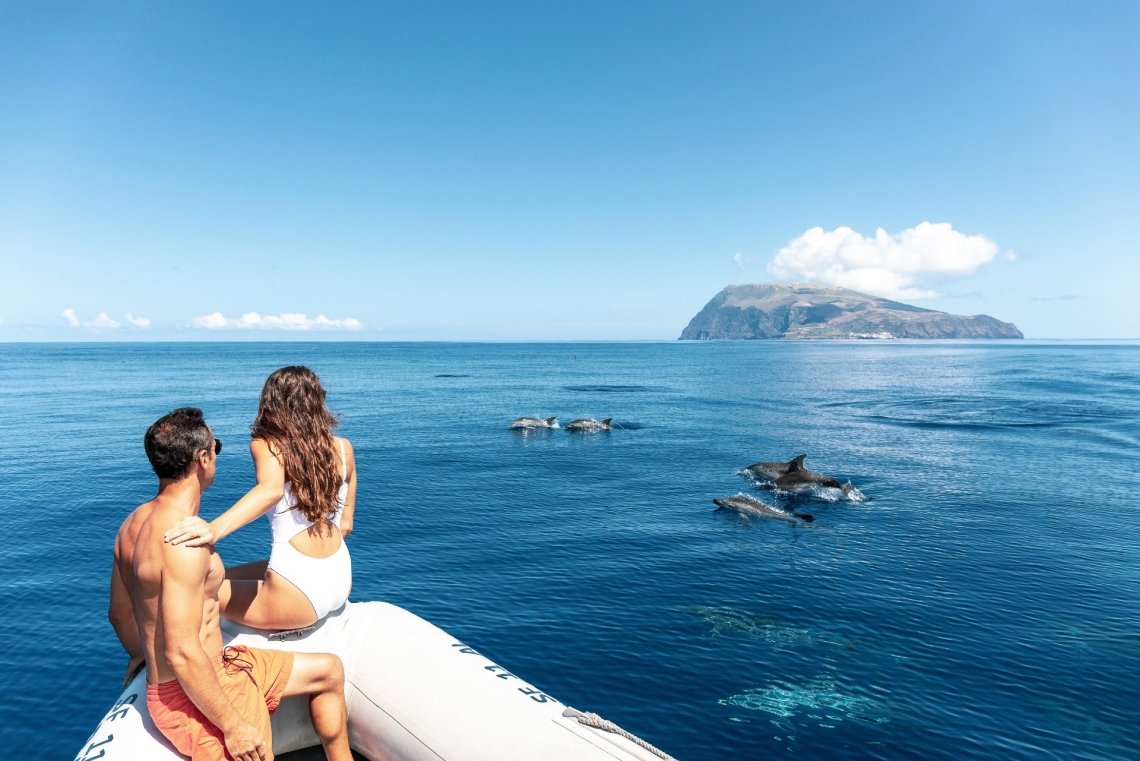 What Can You Expect During a Dolphin Watching Excursion in the Azores?
While whale watching is most often spoken of, visitors mustn't miss the equally thrilling adventure that is dolphin watching. In fact, dolphin watching sometimes isn't just watching: Many tours in the Azores even give you the chance to get in the water with the sea creatures and actually swim with them! Imagine having the once-in-a-lifetime opportunity to swim with Risso's dolphins, bottlenose dolphins, Atlantic spotted dolphins, striped dolphins, rough-toothed dolphins, and many more — all of which are common to the Azores— in their natural habitat.
You can look forward to all of this and more in the Azores Islands, whether your visit finds you seeking Pico dolphin watching encounters, Terceira dolphin watching excursions, Faial dolphin watching tours, Pico dolphin watching trips, or São Miguel dolphin watching treks, you are sure to find an adventure frolicking with these friendly mammals with your name on it, year-round.
And if whale watching is more your style, why not opt for an Azores whale watching holiday? While we honestly can't decide on the absolute best Azores island for whale watching (each island offers such amazing adventures!), we can offer some incredible tips on the best selections on each. Keep reading for all the inside details on the best whale watching for each Azores Island.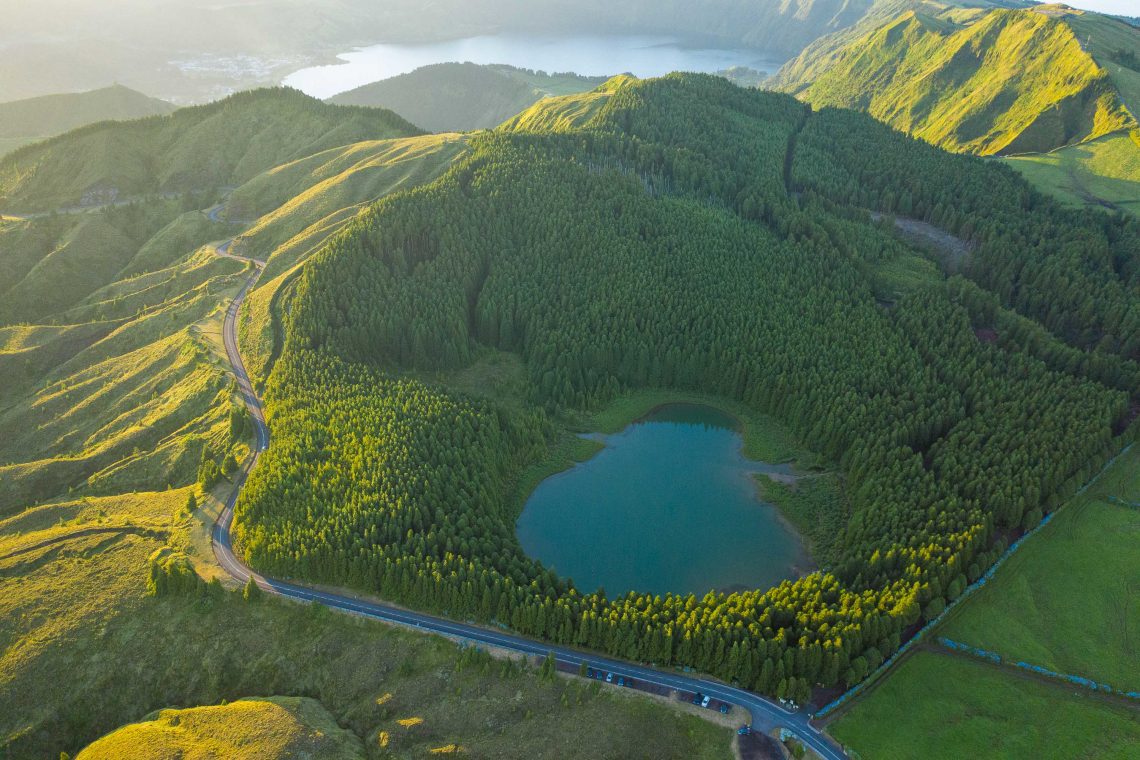 What Are the Best Whale Watching Experiences in São Miguel, Azores?
São Miguel, the largest of the Azores islands, offers visitors the opportunity to experience whale watching departing from historic and scenic Ponta Delgada harbor. If you'd especially like to spot blue or fin whales, São Miguel is your best bet. There are also most tour operators located on this island, meaning you can have your pick among a multitude of different tour options, including different types of whale-watching boats and vessels. Dolphin-watching tours are also an option in Sao Miguel, so don't forget that!
Whale Watching in Terceira, Azores
Terceira Island is known for its rich cultural roots as well as its amazing whale-watching opportunities. Terceira is home to the official UNESCO Heritage Site, Angra do Heroísmo, which provides the perfect and awe-inspiring backdrop as you depart on your whale-watching adventure! Imagine getting to see myriad varieties of whales in their wild and natural habitats, coming back ashore, and getting the chance to let yourself be carried away by the sights and sounds of this picturesque World Heritage Town. It's a can't-lose scenario.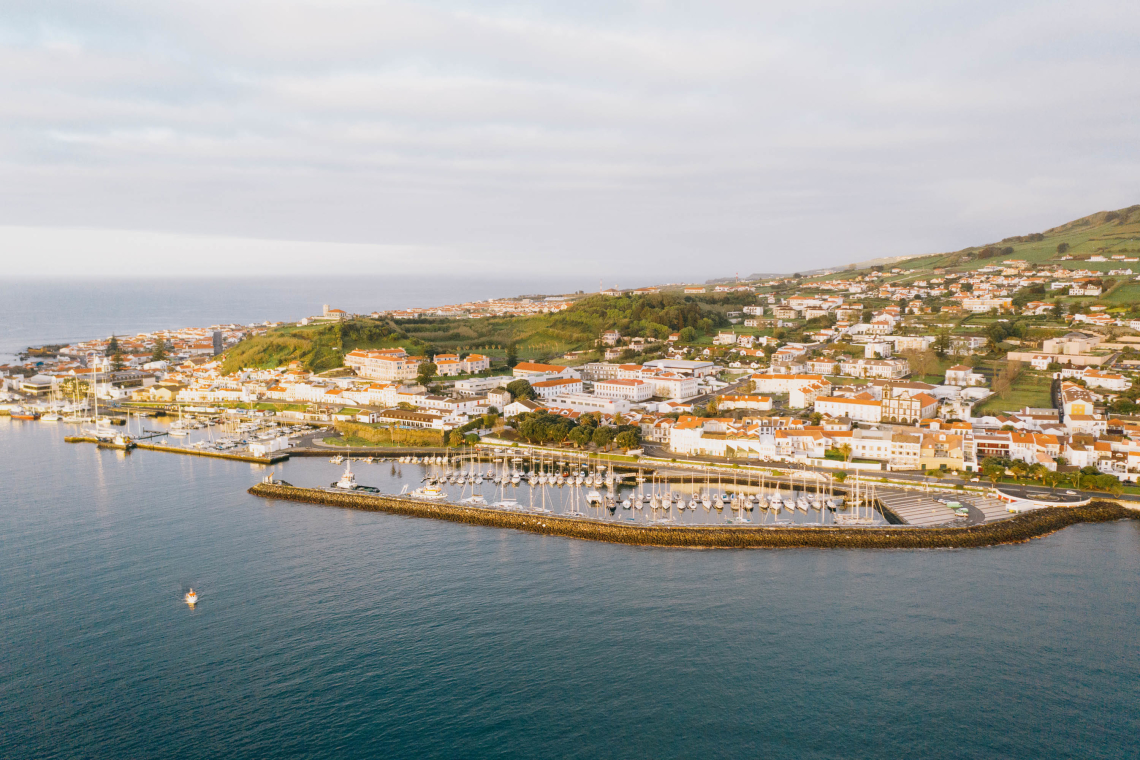 Whale Watching in Faial, Azores
Faial Island has long been known to be one of Europe's best destinations for whale watching. The Atlantic waters surrounding the island feature a wide range of whale species, including sperm whales, blue whales, fin whales, and more various times throughout the year. As well as hosting a wealth of whales, the charming capital town of Horta and its historic architecture will be sure to charm you just as much as the sea creatures. And don't forget the dolphins while you are in Faial either, as local operators offer many dolphin-watching excursions to delight you as well.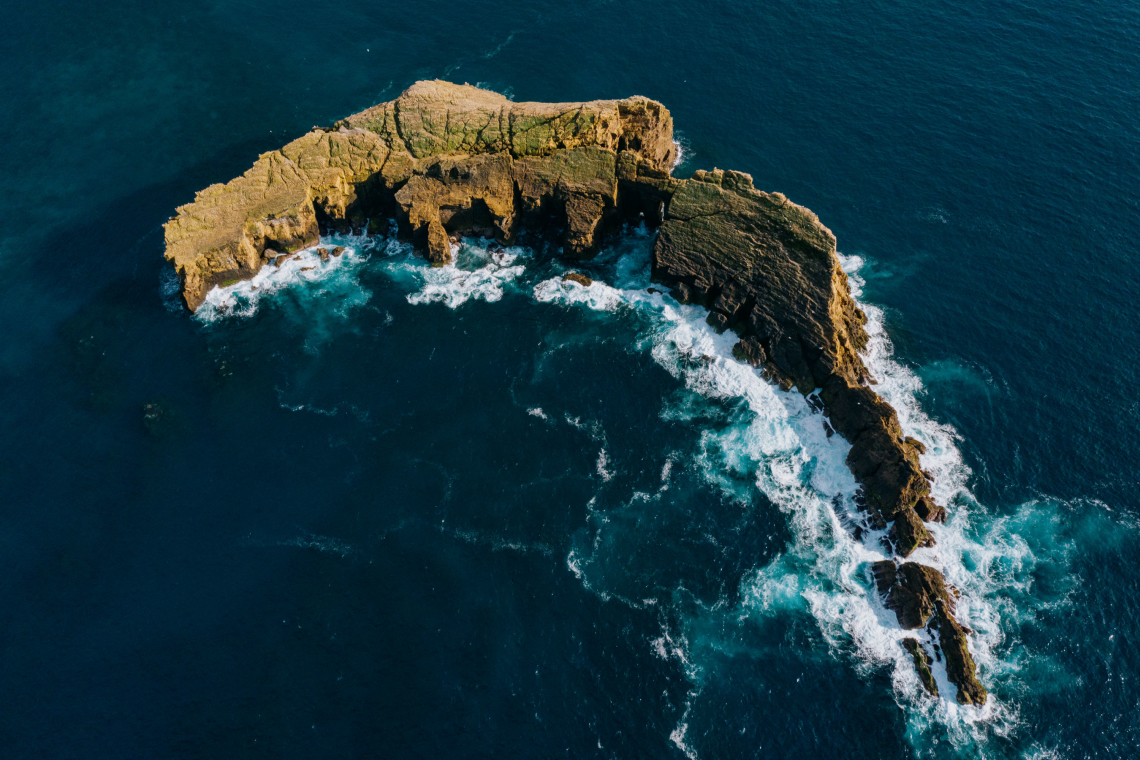 Whale Watching in Pico, Azores
Pico is a fascinating island famous for many things, including its vast UNESCO-protected vineyards, which produce the Azores' signature wine. Pico whale watching is also primo, with the island boasting an amazing Marine Protected Area known as Ilheus da Madalena (Islets of Madalena) that offers a literal playground for abundant marine life. Plan your whale-watching tour right, and after getting a gander at the great whale, stop by a local Pico cafe or vineyard and enjoy a sip — or many — of some of that famed island wine.
Discover the Azores at Your Own Pace: Tailor-Made Trips for a Customizable Island Adventure
If you're looking to explore the Azores at your own pace, we have got you covered. Our team of specialists will work with you to create a custom-made trip that suits your preferences and budget. Whether you want to dive into the thriving marine life, hike through stunning volcanic landscapes, or relax on secluded beaches, our tailor-made packages offer the flexibility and freedom to discover the Hawaii of Europe at your own pace. So why wait? Contact us today and let us help you plan an unforgettable trip to the Azores!