What to eat in the Azores
Top Azores' Foods You Must Try on Your Next Visit
The Azores Islands are an epicurean delight for foodies. The archipelago's many unique microclimates, abundant water supply, and the volcanic nature of the islands make it possible to offer a large variety of delicious dishes. Based on a rich and hearty, peasant-style of cooking, Azorean cuisine is so scrumptious, it will leave you asking for seconds.
Here are some of the best regional dishes not to be missed on your next trip to the Azores:
What to Eat in the Azores: STARTERS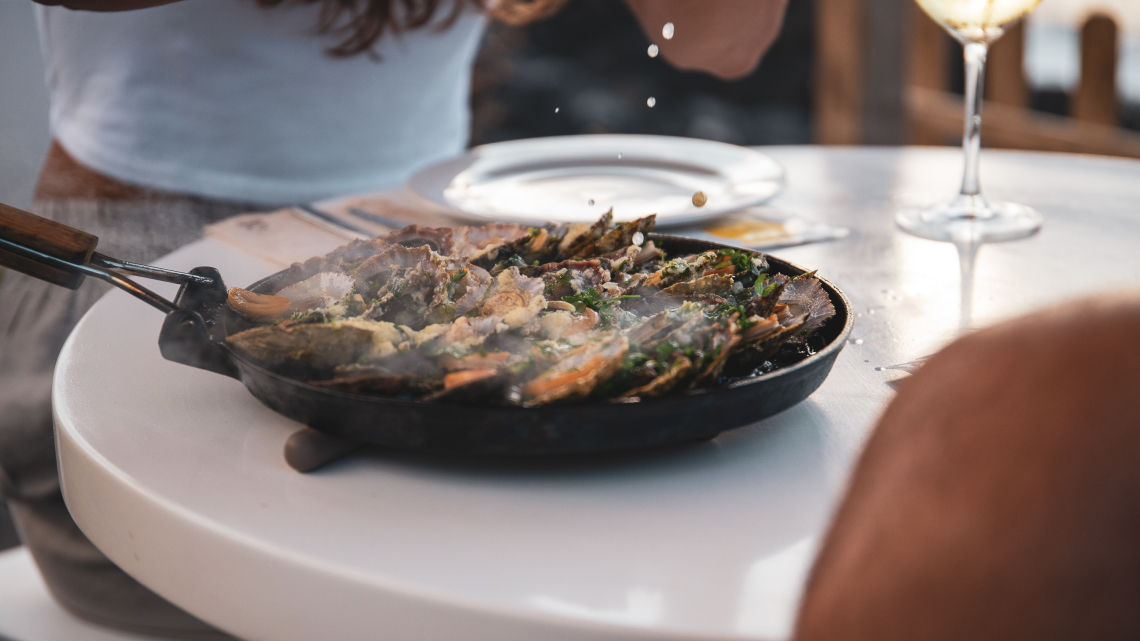 Seafood of the Azores, Portugal
It should come as no surprise that the Azores Islands, which are surrounded by cool Atlantic waters, offers regional cuisine choices featuring an abundance of seafood options. While visiting, make sure you try the lapas (limpets), which are usually served grilled in a butter, garlic, and spicy red pepper sauce, or you can opt to just have them raw with a sprinkling of fresh lemon. You should also try a type of barnacle known as cracas, which is sneakily disguised and can easily be mistaken for chunks of rocks. These nautical delicacies are definitely distinct, as they're boiled in seawater then served chilled. Another good option is a local variety of lobster called the cavaco, which is known to be very delicate and tender.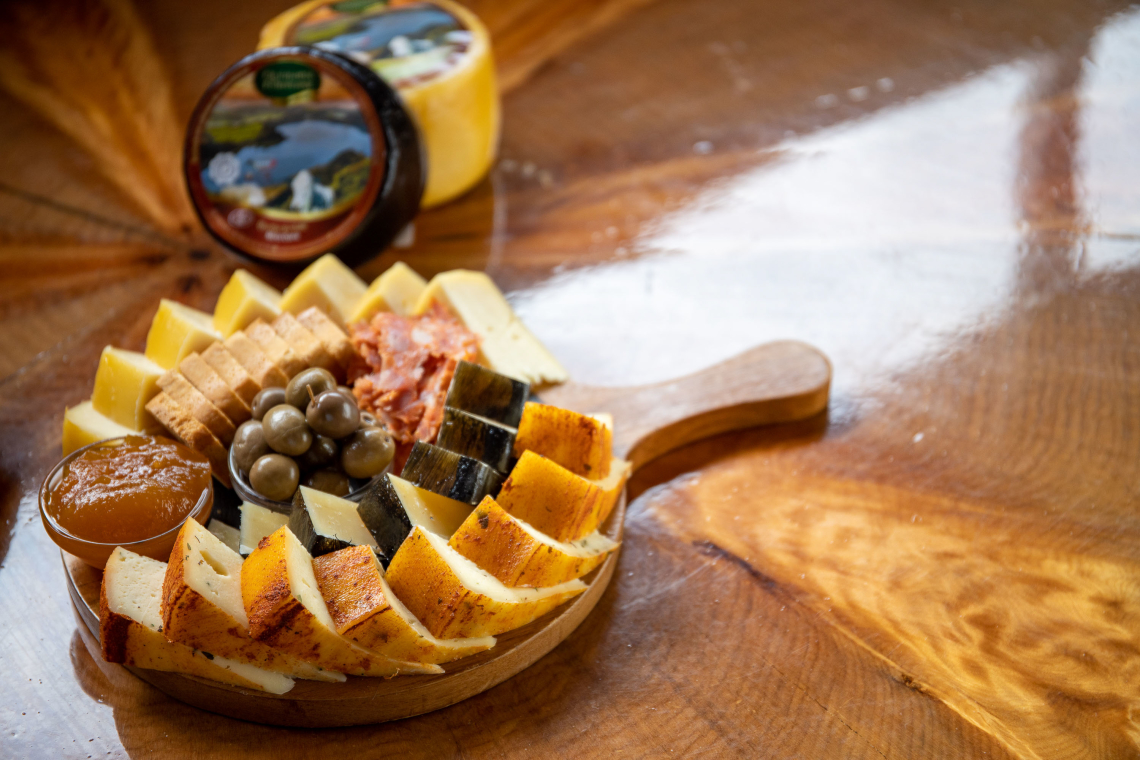 Cheese of the Azores, Portugal
Cheesemaking has been a time-honored Azorean craft since the first Flemish settlers arrived in the Islands more than 500 years ago, and upon your arrival, it won't take long to see signs of the Azores' predilection for dairy everywhere.
The number one cheese of the Azores is the famous Queijo de São Jorge. The cheese is so beloved, it has been granted with the Protected Designation of Origin status. The queijo is aged for months until it reaches a yellow color and a semi-hard consistency. When sampling this Azores favorite, you can have it on its own or pair it with a local jam and cold meats.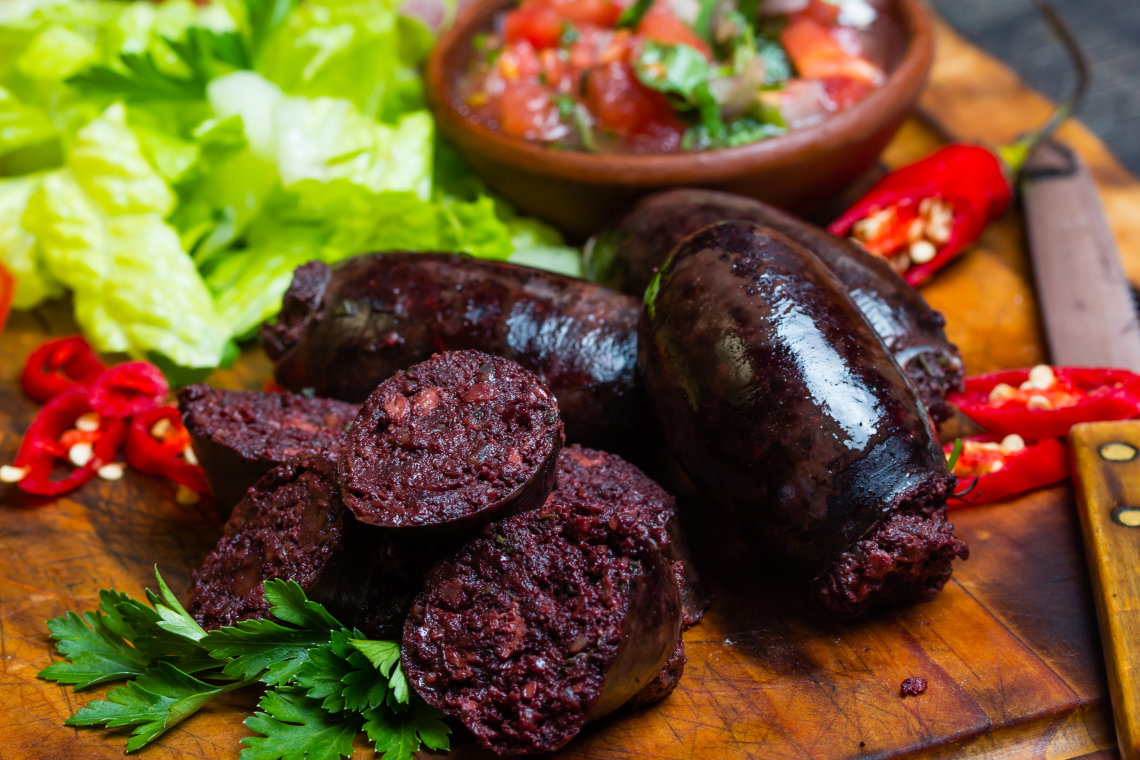 Morcela (blood sausage) of the Azores, Portugal
Although the name may sound strange, this regional delicacy is actually quite tasty. Try the blood sausage with pineapple, and you're in for a special treat.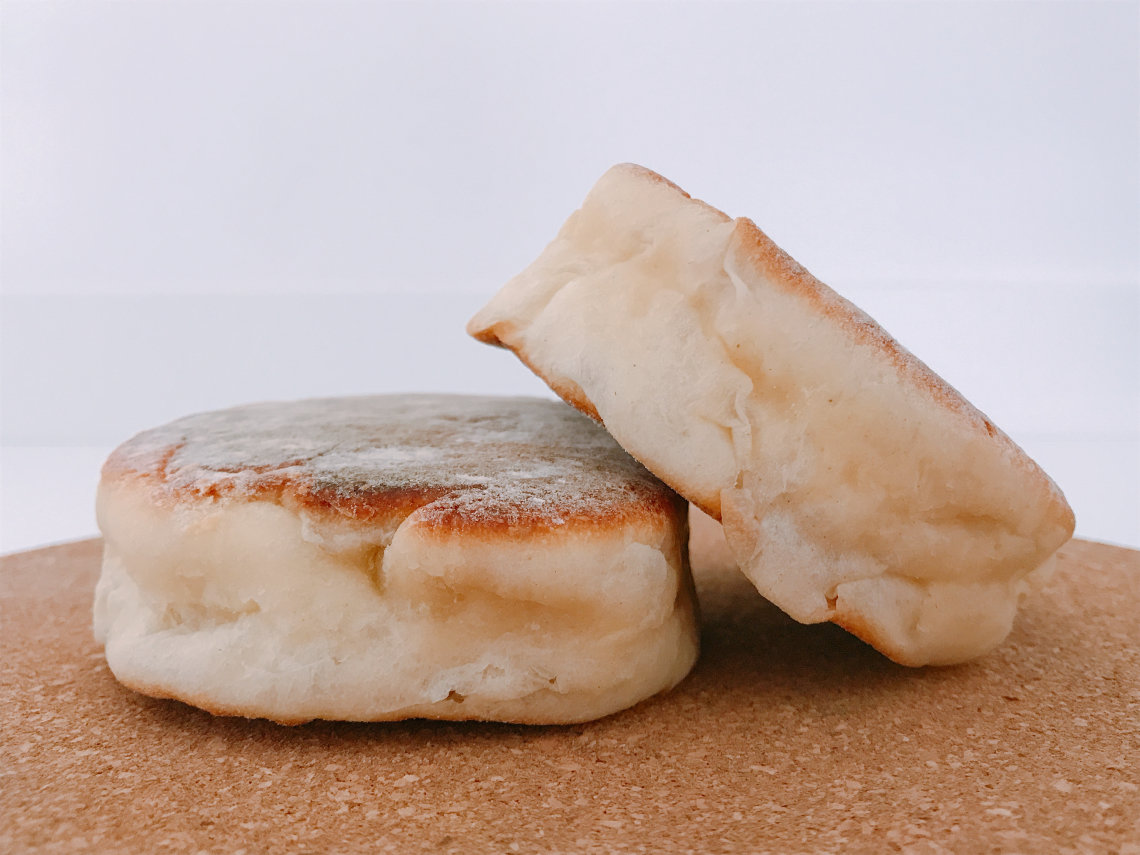 Bolo Lêvedo of the Azores, Portugal
These versatile, slightly sweet Portuguese style English muffins originally hail from Furnas and are a favorite among locals and visitors alike. Whatever way you choose to have them, with jam, cheese, or even with burgers, they are sure to satisfy.
What to Eat in the Azores for a Main Course:
STARTING WITH SEA FLAVORS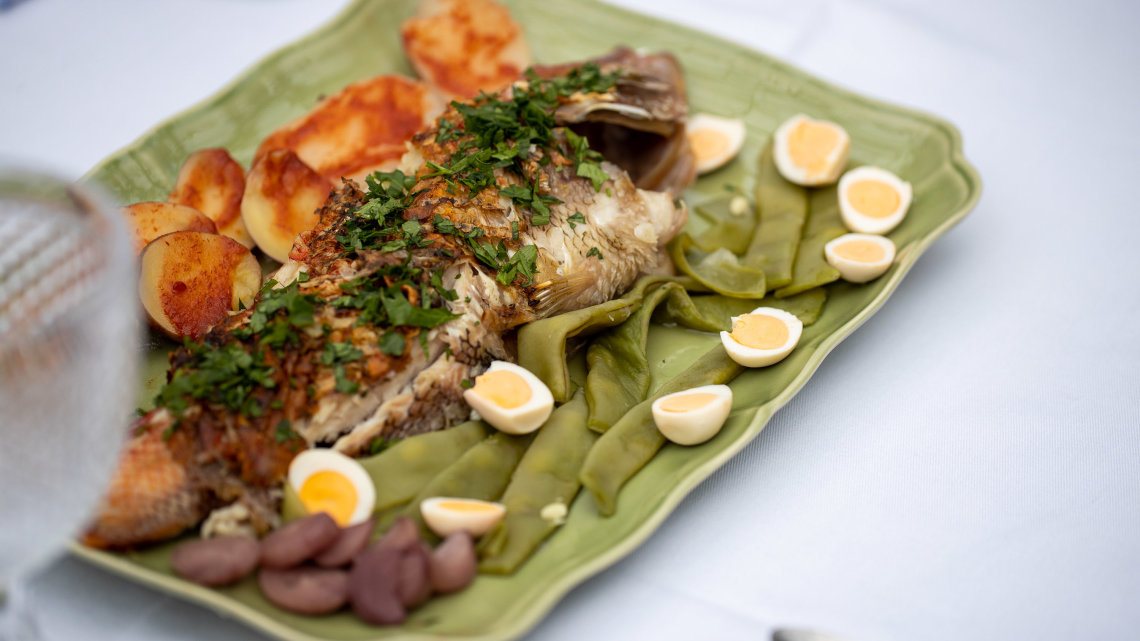 Fresh Fish of the Azores, Portugal
If you love fish, then the Azores is the perfect place for you. With an abundance of marine life literally surrounding the island archipelago, there is no shortage of options, leaving you to sample a variety of fresh fish on your next visit. With a list of near endless choices, among which include jack-guelly, grouper, forkbeard, eel, barracuda, tuna, and more, you will surely find your perfect catch of the day. Also make sure you try a delicious tuna steak, as the Azores is world-famous for its tuna. In fact, tuna from the Azores is so good, it's even shipped to the iconic fish-market in Tokyo.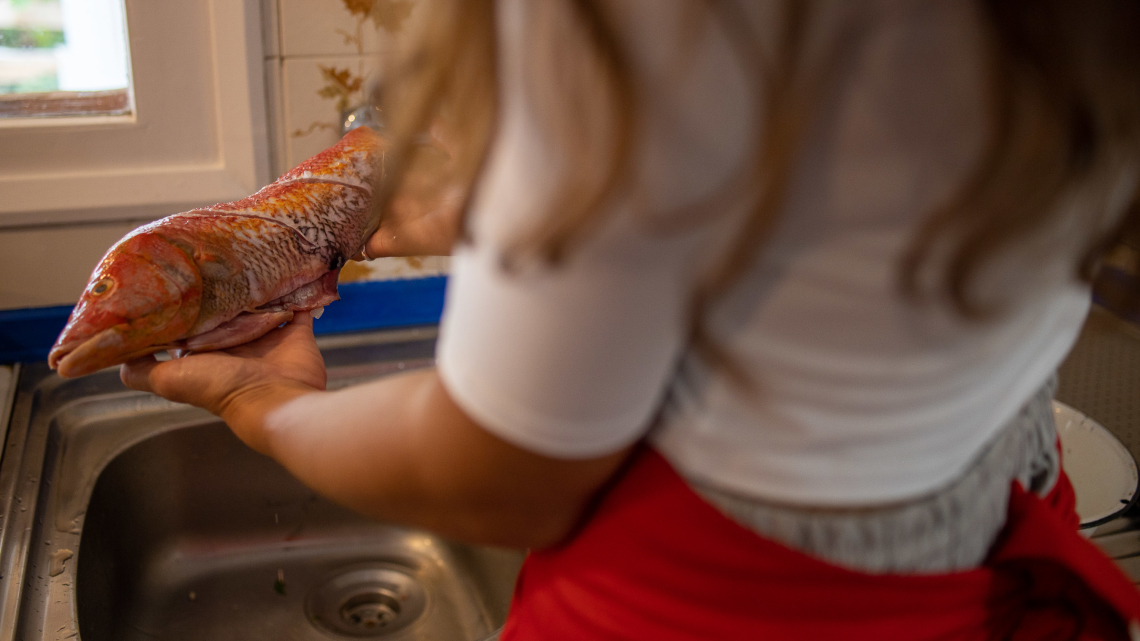 Fish Stew of the Azores, Portugal
As the islands are entirely surrounded by the ocean, it is only natural that many Azorean dishes contain fresh, tasty fish. For example, the typical Azorean fish stew contains different types of fish, such as grouper, hake, ray fish, and skate. The fish is cut into small pieces and cooked with white wine, spices, peppers, tomatoes, potatoes and onions. The end result? A simple yet satisfying stew that is nothing short of scrumptious!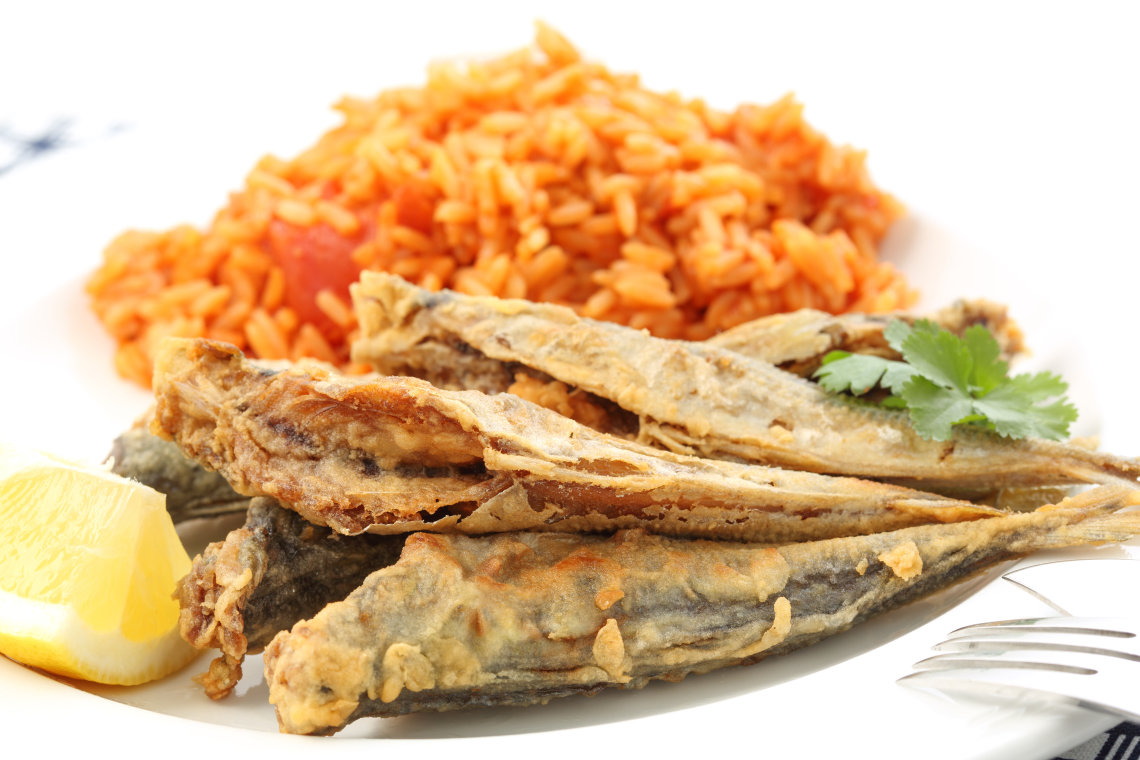 Chicharros (Fried mackerel) of the Azores, Portugal
The traditional way to cook mackerel is to batter-fry it, but the Azorean way is much more interesting, and delicious! In the Azores, diners can look forward to eating the whole fish- tail, head, bones and all! Although this may be out of your comfort zone, go ahead and give it a try! It's beyond yummy, especially because the sweet fish are served with a spicy molho de vilão sauce, made from a very typical Azorean condiment called massa de pimento, which is a spicy, salty, and sweet pepper paste.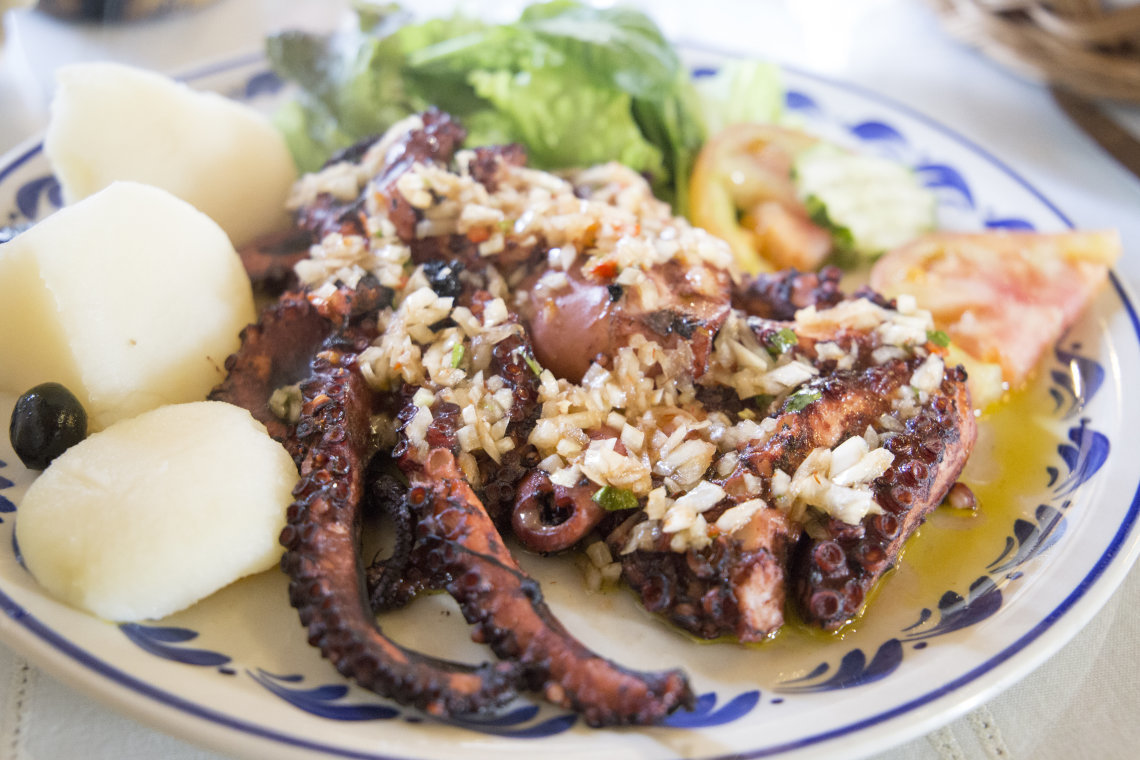 Octopus of the Azores, Portugal
Try the roasted octopus coated in red wine and spices. The octopus is tender and the roasted potatoes and wine sauce are simply delightful.
What to Eat in the Azores for a Main course:
OPTIONS FOR BEEF LOVERS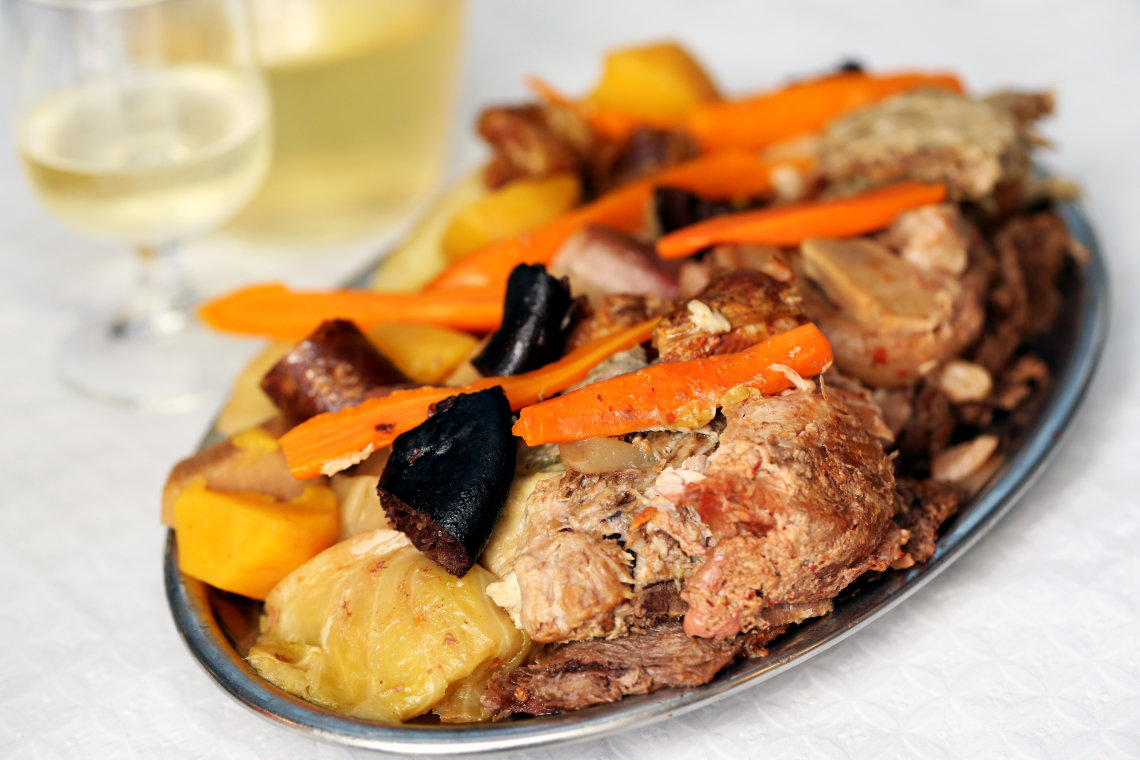 Cozido das Furnas of the Azores, Portugal
The most famous dish from São Miguel Island is the beloved Portuguese stew known as cozido, or in this case, Cozido das Furnas. The hearty and robust stew, consisting of a hodgepodge layering of cuts of pork, beef, chicken, sausages and vegetables, is cooked in underground holes known as fumaroles. These holes are dug in hot volcanic soil located right next to the beautiful and scenic Furnas Lake. Once your stew has been simmered and cooked to perfection by the natural heat, enjoy it with some Portuguese red wine to complete the feast.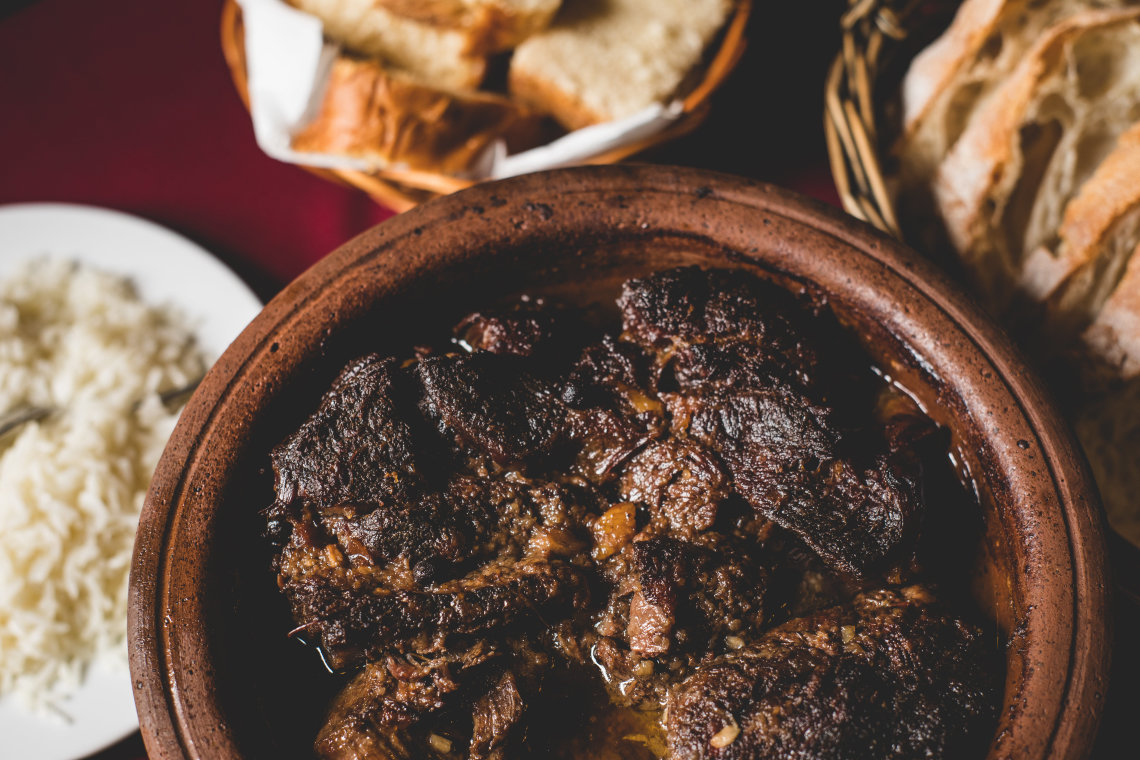 Alcatra of the Azores, Portugal
The most famous dish from Terceira Island is Alcatra, a pot roast-style beef rump slow-cooked in a clay pot and paired with red wine, onions, garlic, cloves, and black peppercorns until it's mouthwateringly tender and falling right off the bone. For an absolutely authentic Azores meal experience, be sure to pair your creation with massa sovada (traditional Portuguese sweet bread).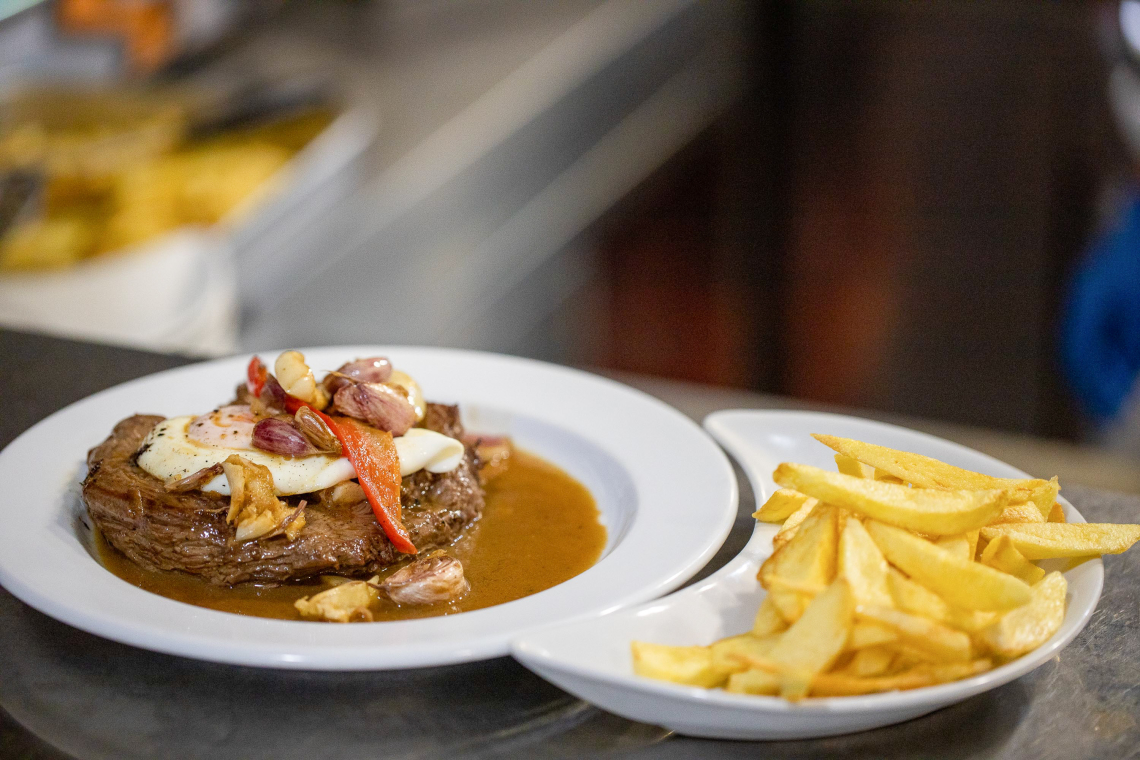 Regional Beef Steak of the Azores, Portugal
Like the happy dairy cows you'll find on all the islands, Azorean cows destined for the plate lead idyllic lives grazing on green grass, which means you can get some delicious grass-fed beef on the islands. Have your steak with roasted garlic gloves, sautéed red peppers and French fries (Bife á Regional) and you will be dying for more.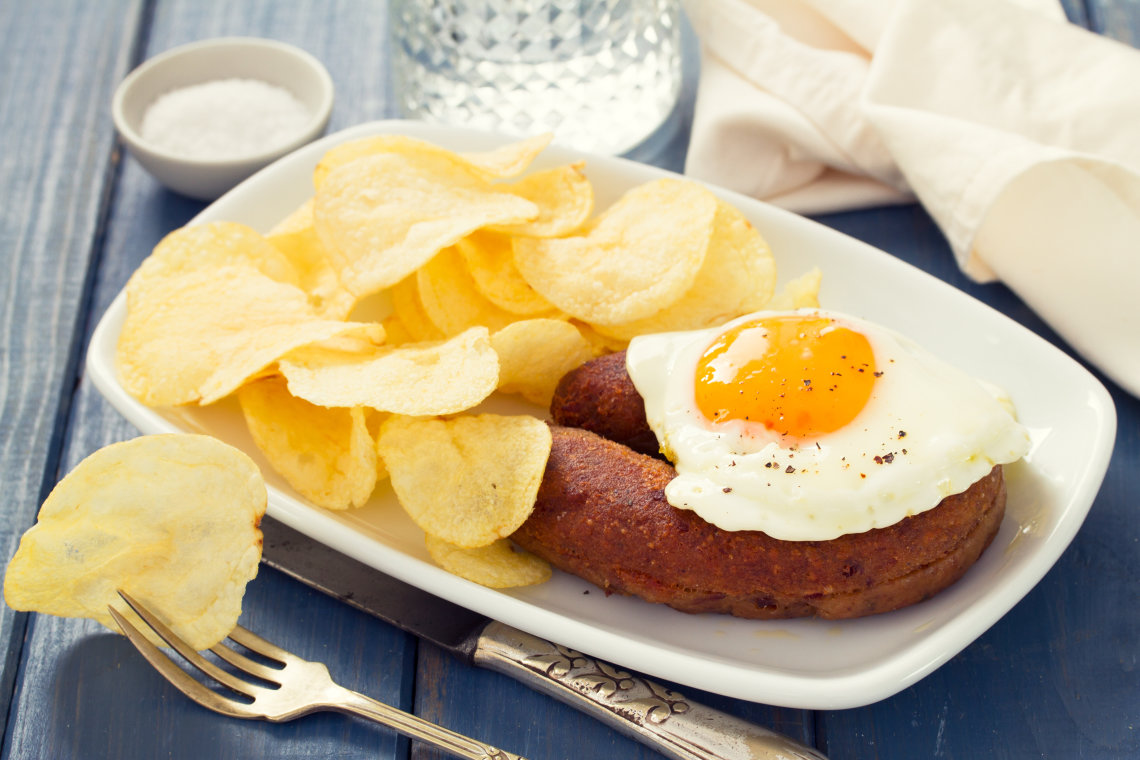 Alheira of the Azores, Portugal
This decadently flavorful dish is a typical sausage from the island of Santa Maria, made with veal, duck, chicken, quail or rabbit. Alheira is a delicious, flavorful, and Insta-worthy option sure to please any palate.
What to Eat in the Azores:
CAN'T SKIP DESSERT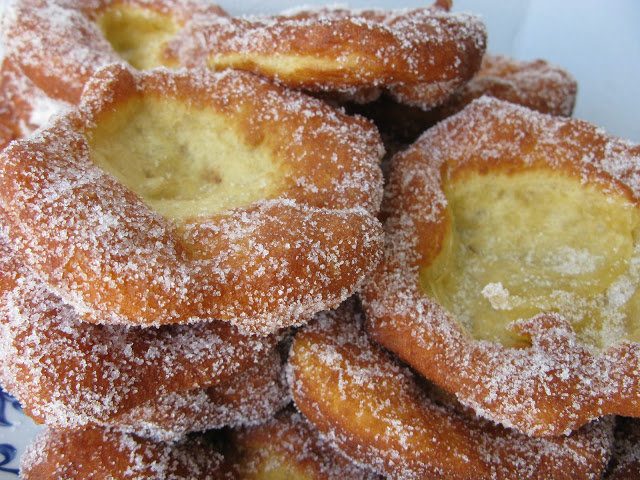 Malassadas of the Azores, Portugal
These sweet sensations feature round balls of dough that are deep-fried to perfection, then generously rolled in granulated sugar. They are particularly popular during Carnival season, but they are so adored you can easily find them year-round. For those with a penchant for the sweeter things in life, they are an especially delicious treat! The Azores' malassadas must be on your sampling list when visiting the Islands.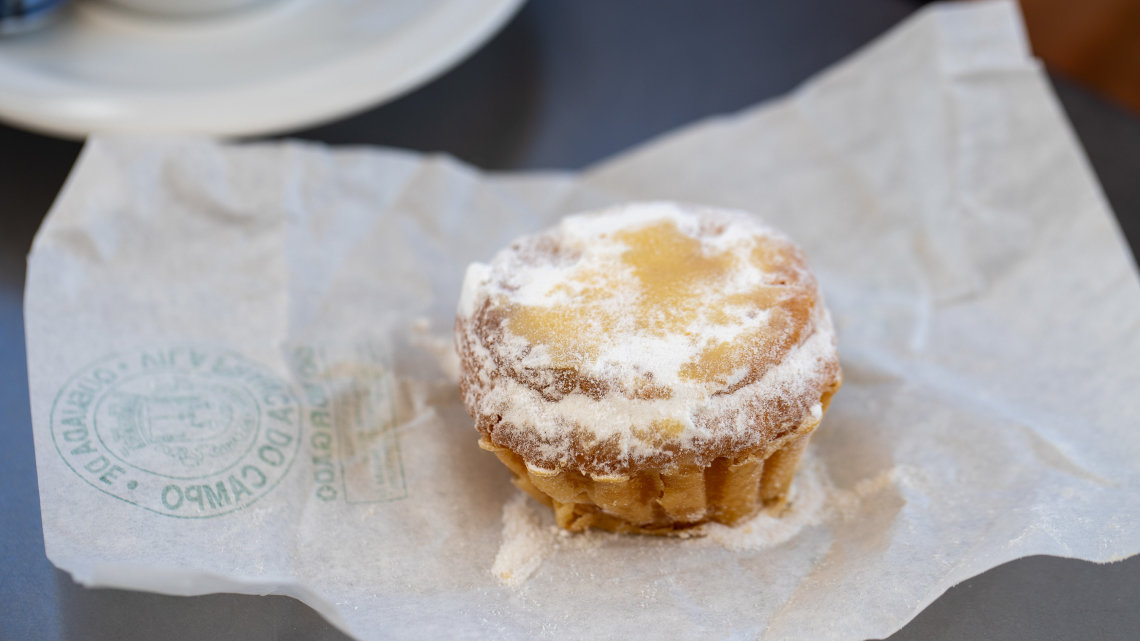 Queijadas da Vila of the Azores, Portugal
These mouthwatering, round-shaped queijadas will have your tastebuds dancing, and keep you coming back for more and more, so make sure you buy a whole box at least! These yummy creations are originally from Vila Franca do Campo in São Miguel Island, and you can still go and visit the factory and sit at the local cafe that first brought them "to life". While enjoying your experience, you will certainly savor the treats, but can also soak up a sweet taste of local Azores Islands history and culture.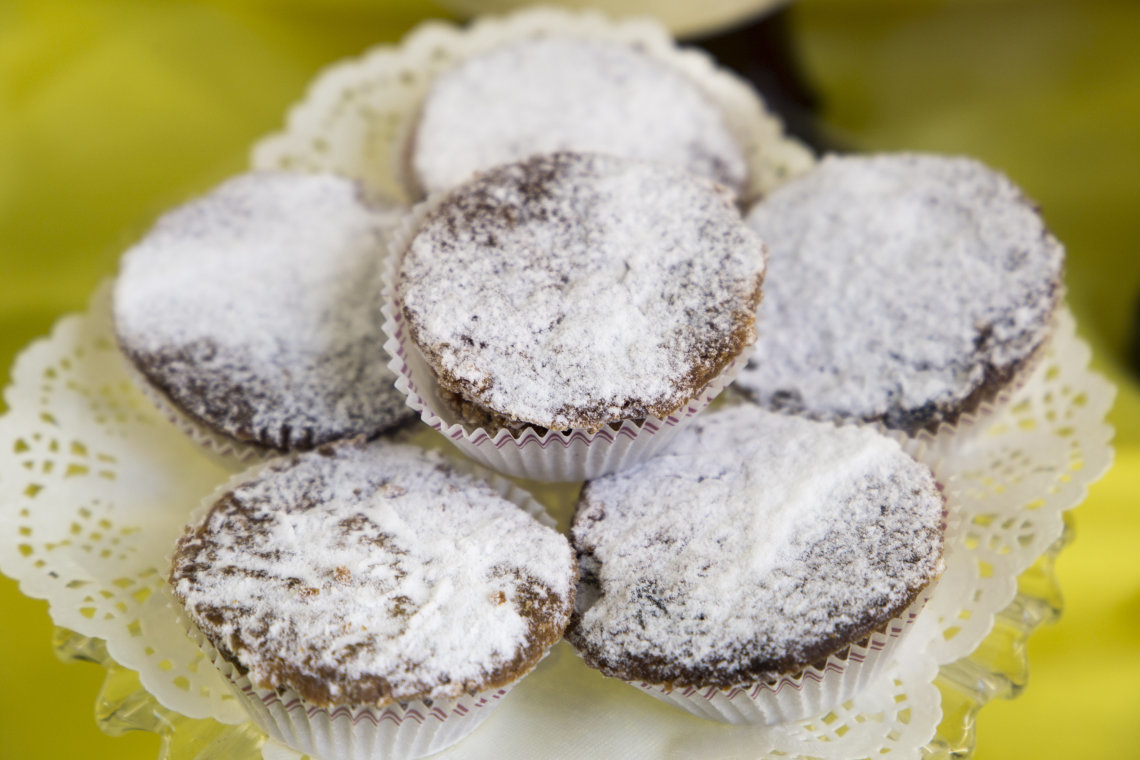 Queijadas da Dona Amélia of the Azores, Portugal
Originally named "Indianos" or "Bolo das Índias" for the ingredients that were brought from the Orient during the spice trades, these dainty cakes were given a royal name to honor the revered Queen, who was said to be a real fan of the flavorful dessert. The dense, semi-soft pastry, which can be made into a full-sized cake or sold as the more common queijadas, is made with eggs, honey, cinnamon and corn flour, then lightly dusted with confectioner's sugar. Raisins and molasses are typically added for flavor, making the pastry's distinct flavoring similar to that of gingerbread.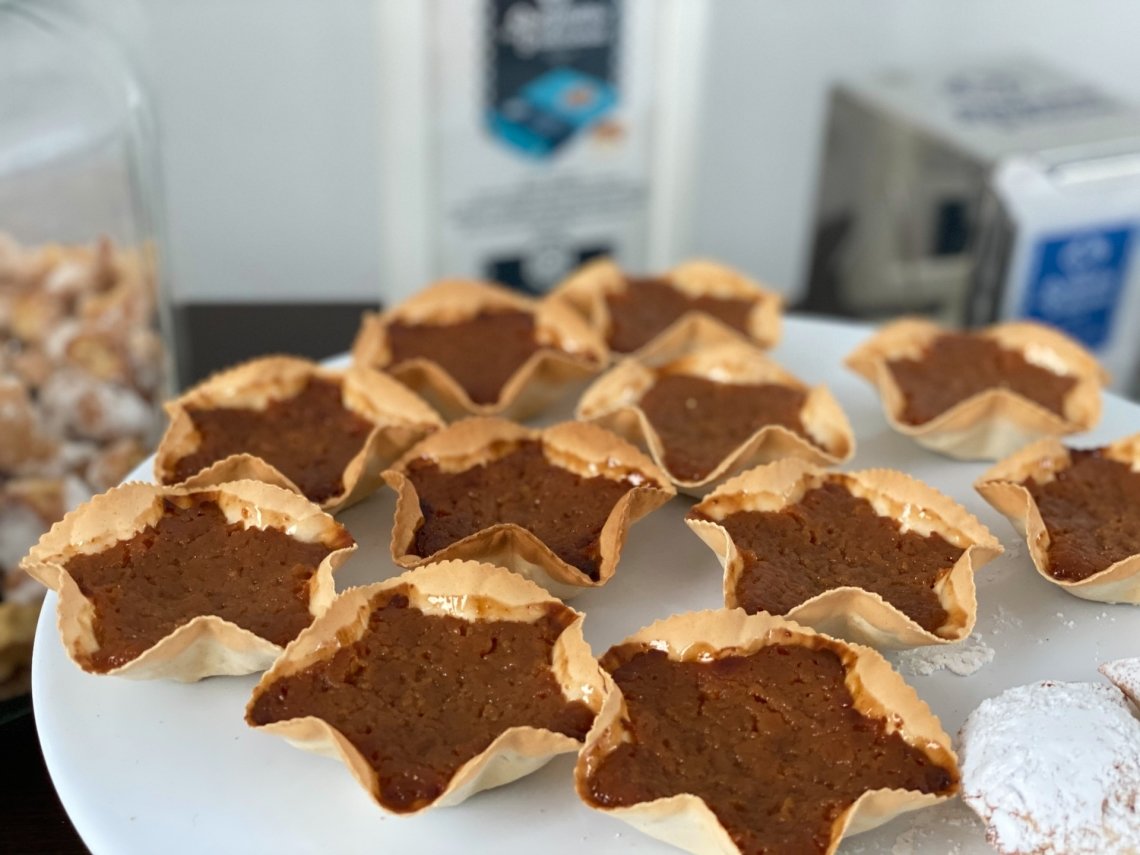 Queijadas da Graciosa of the Azores, Portugal
Made in the small island of Graciosa, these delicious, star-shaped milky sweets are a local favorite, earning them a place on our list of top dishes of the Azores.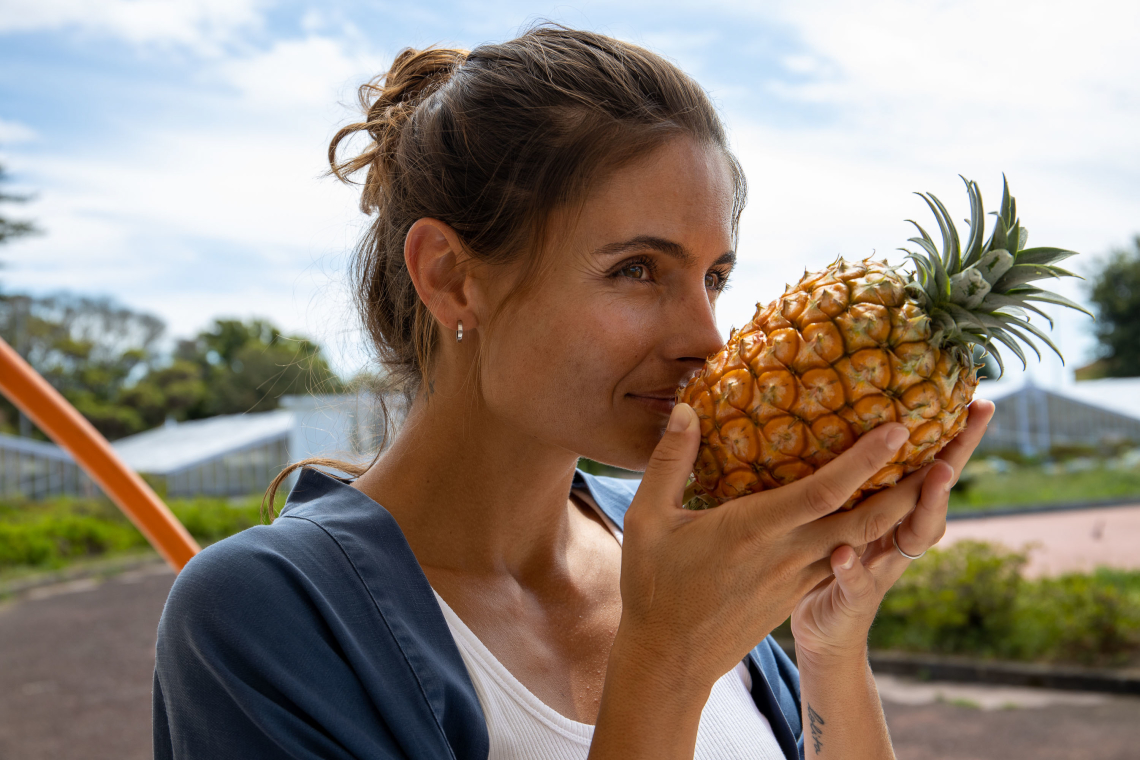 Pineapple of the Azores, Portugal
Pineapples (or ananás), bananas, guava, cherimoyas and passion fruit are just some of the tropical fruits that grow in the Azores' astoundingly fertile microclimates. On São Miguel Island, the largest of the nine isles, you can actually visit a pineapple plantation to see the fruits growing in greenhouses. Even better? You can sample some of these divine "golden desserts" of Mother Nature while you're there, too.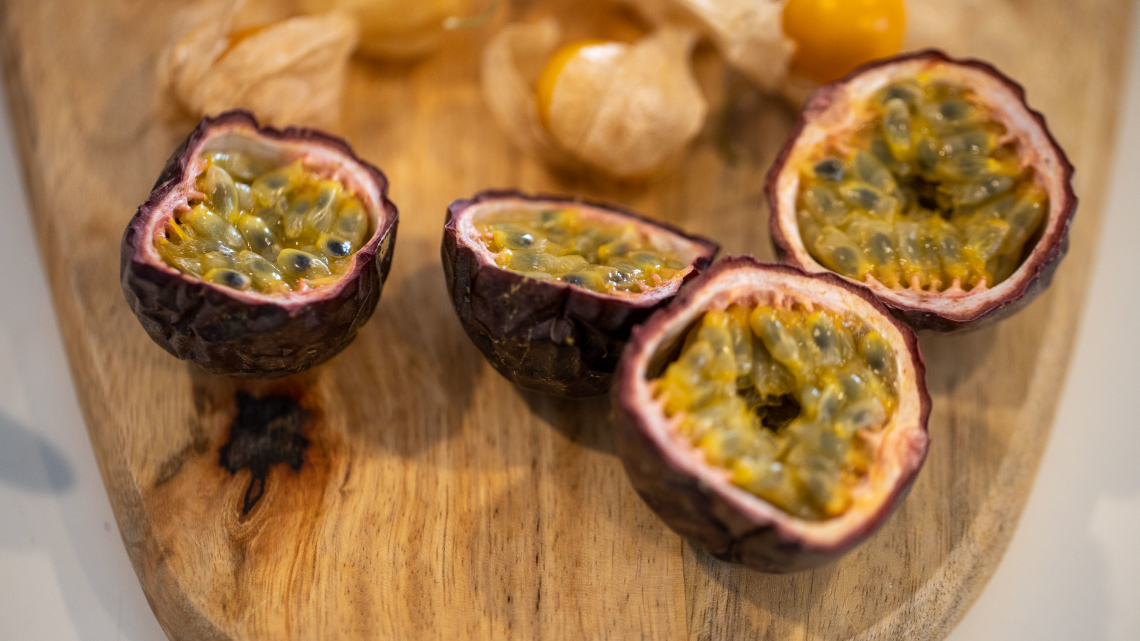 Passion Fruit of the Azores, Portugal
Among the tropical fruits that grow in the Azores Islands is an especially beloved exotic passion fruit! The perfect amount of sweet and tart of this rare fruit definitely lives up to its name, as after one bite, you will be an avid, and passionate, fan of this particular passion fruit!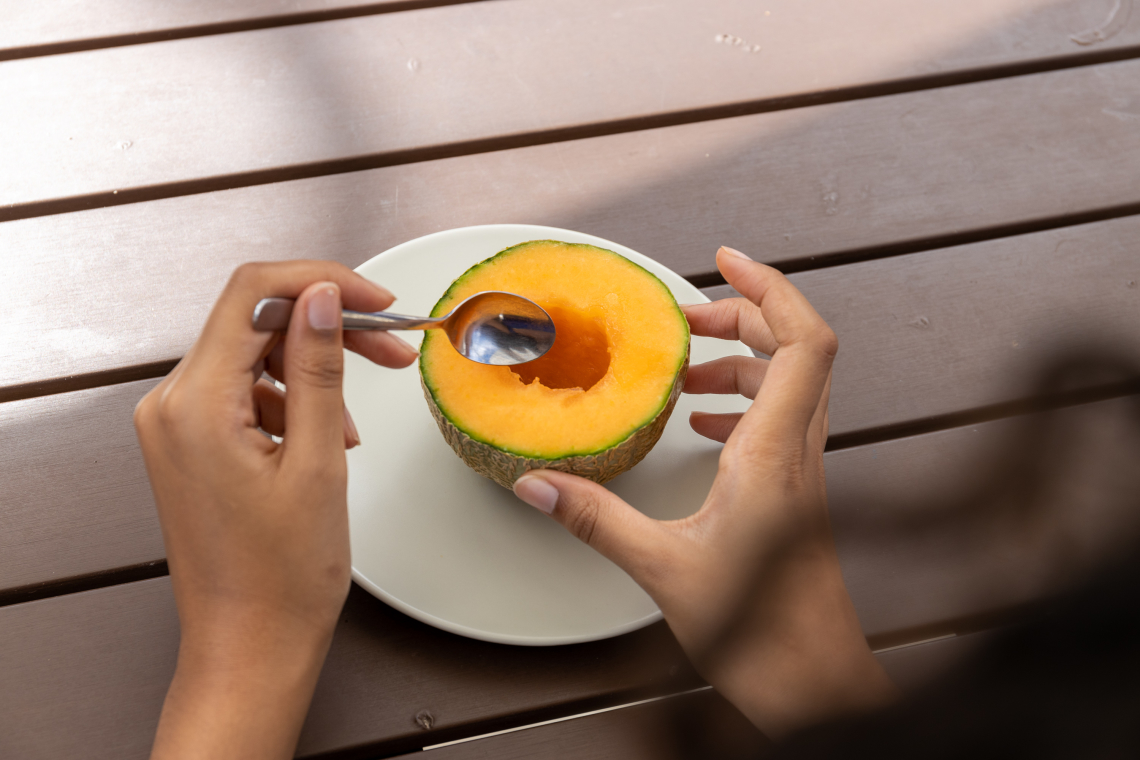 Meloa of the Azores, Portugal
This rare find is an intriguing fruit that grows exclusively in the island of Santa Maria. The reason it is only found in Santa Maria is due to the island's hotter and drier climate, which allows the fruit to grow, thrive, and ripen to perfection. Fruit lovers will adore this particular pick, as the meloa is magically sweet, always super fresh, and absolutely delicious!
TO DRINK IN THE AZORES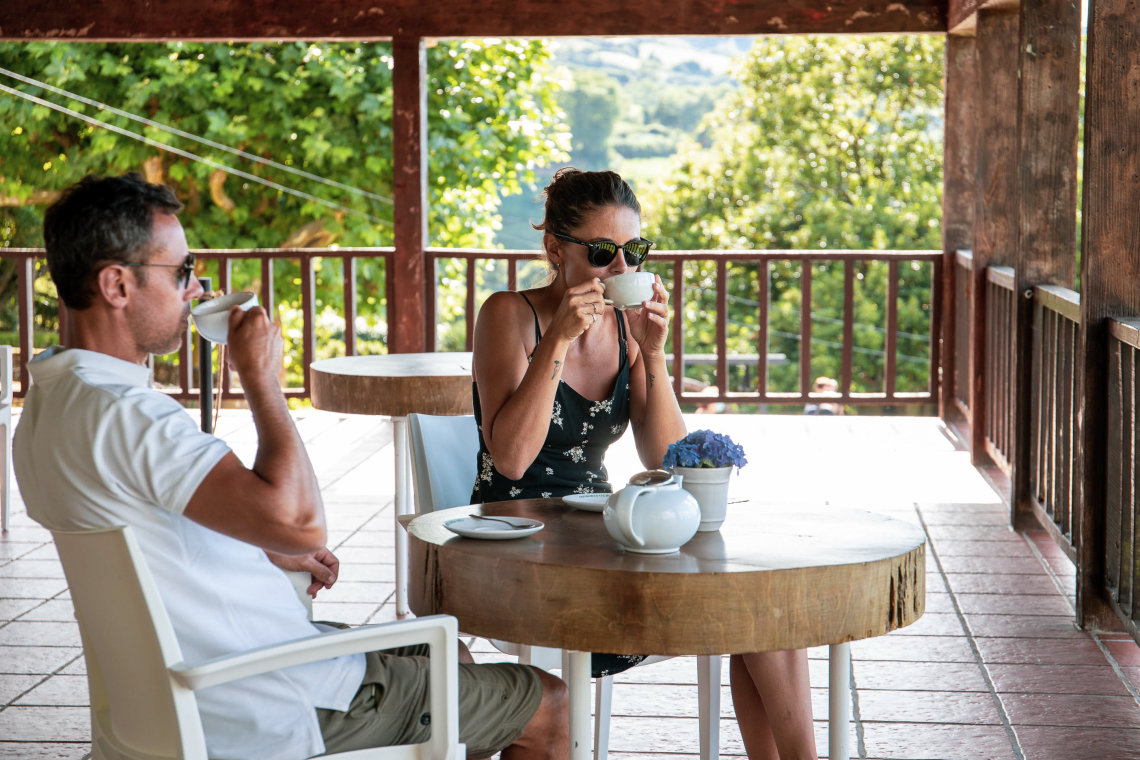 "Chá" (Tea) of the Azores, Portugal
Did you know that the Azores is home to the only commercial tea plantations in Europe? In Ribeira Grande on São Miguel, you can actually visit the two oldest tea producers, Chá Gorreana and Chá Porto Formoso. While visiting these time-honored locales, you can tour the factories to see their vintage equipment at work and even sample signature Orange Pekoe and green tea varieties grown right onsite.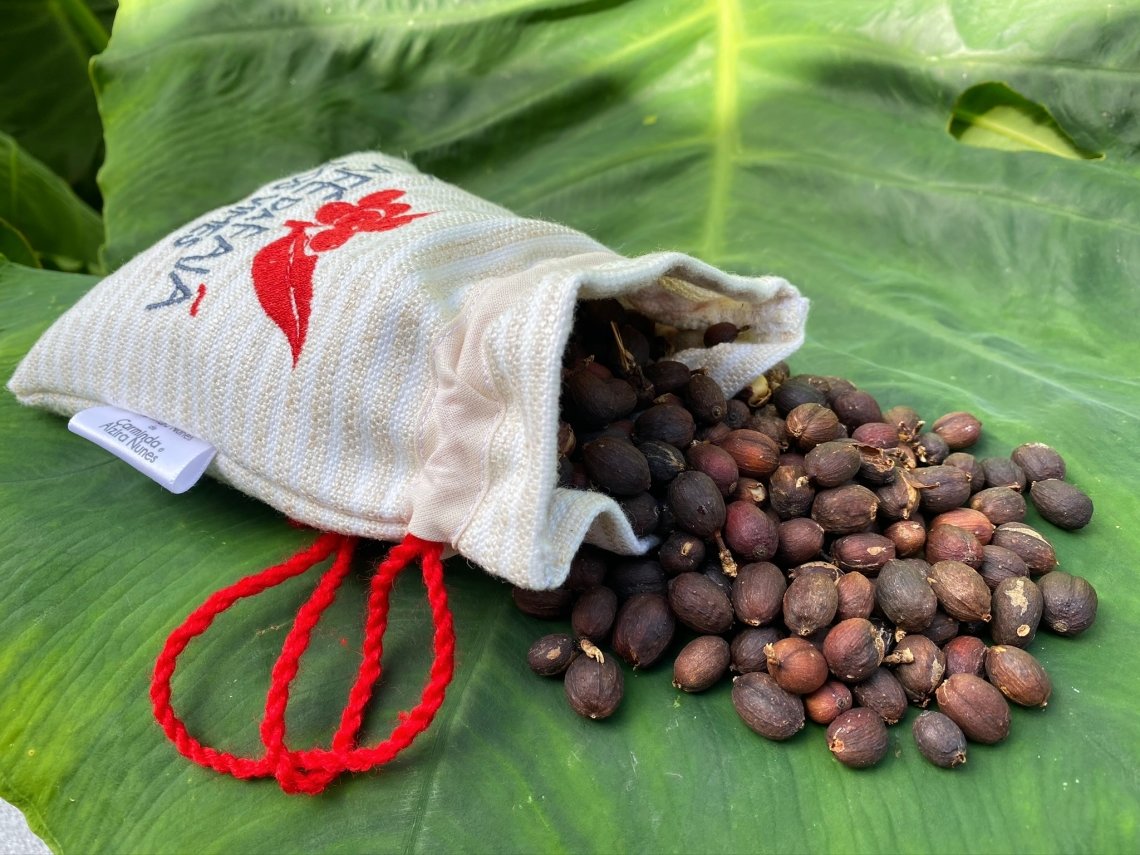 Coffee of the Azores, Portugal
São Jorge Island is home to one of the few European microclimates where coffee beans grow well. Fãja dos Vimes is the epicenter of this small production region of Arabica beans. If you're in the area, you must try some espresso made with local beans and take a look at the plantation located behind the Fajã's only coffee shop.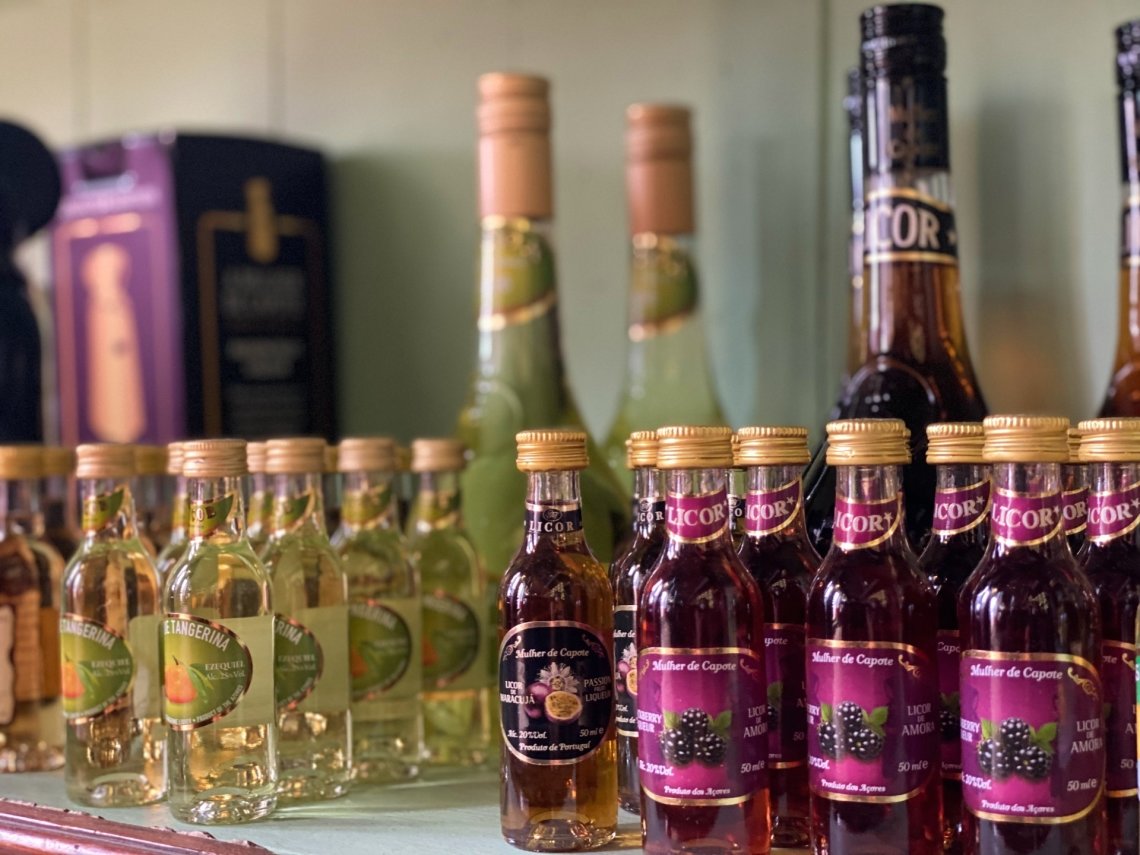 Liqueurs of the Azores, Portugal
No trip to the Azores would be complete without trying some of the delicious and potent local liqueurs, which are distilled from lemon, tangerine, blackberries, passion fruit, pineapple and more. In Ribeira Grande, you can even go on a tasting tour of an actual distillery, making for both a delicious and educational experience.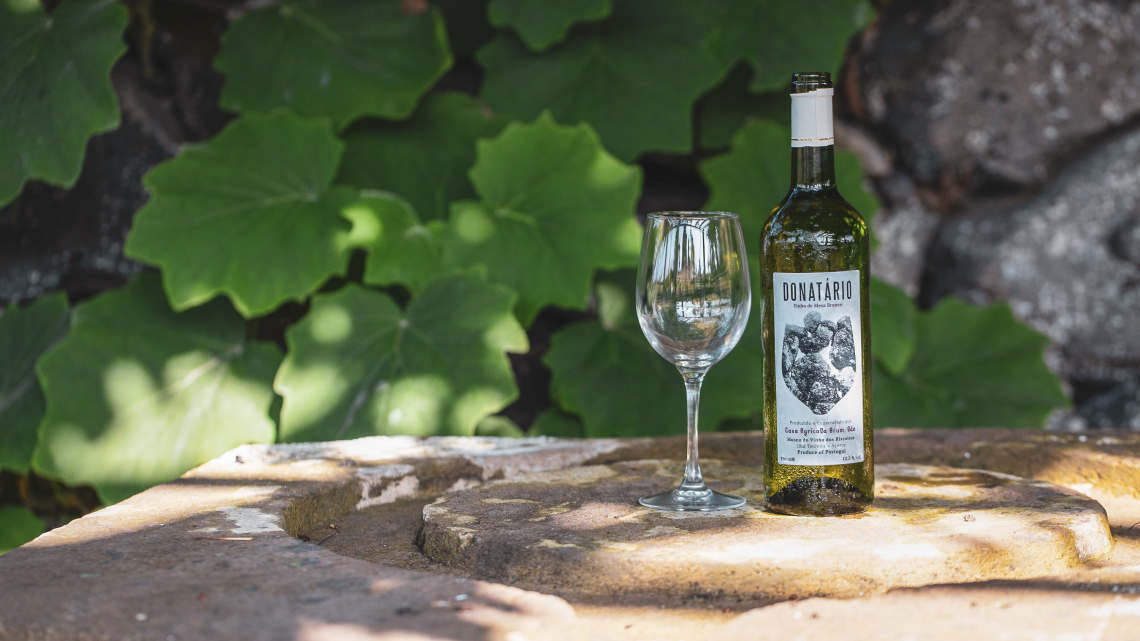 Wine of the Azores, Portugal
It may surprise you to learn that the Azores produces some great wines, particularly the white wines of Pico Island. Pico wines are of the highest quality, and are grown in a very interesting way: in currais (stone- walled vineyards). If you're in Pico, make sure to visit Criação Velha, where you can learn all about the island's winemaking history and sample a variety of local wines and spirits. Terceira, Graciosa, and São Miguel islands also produce some great wine, so be sure to add sampling and select sips from those three isles as well!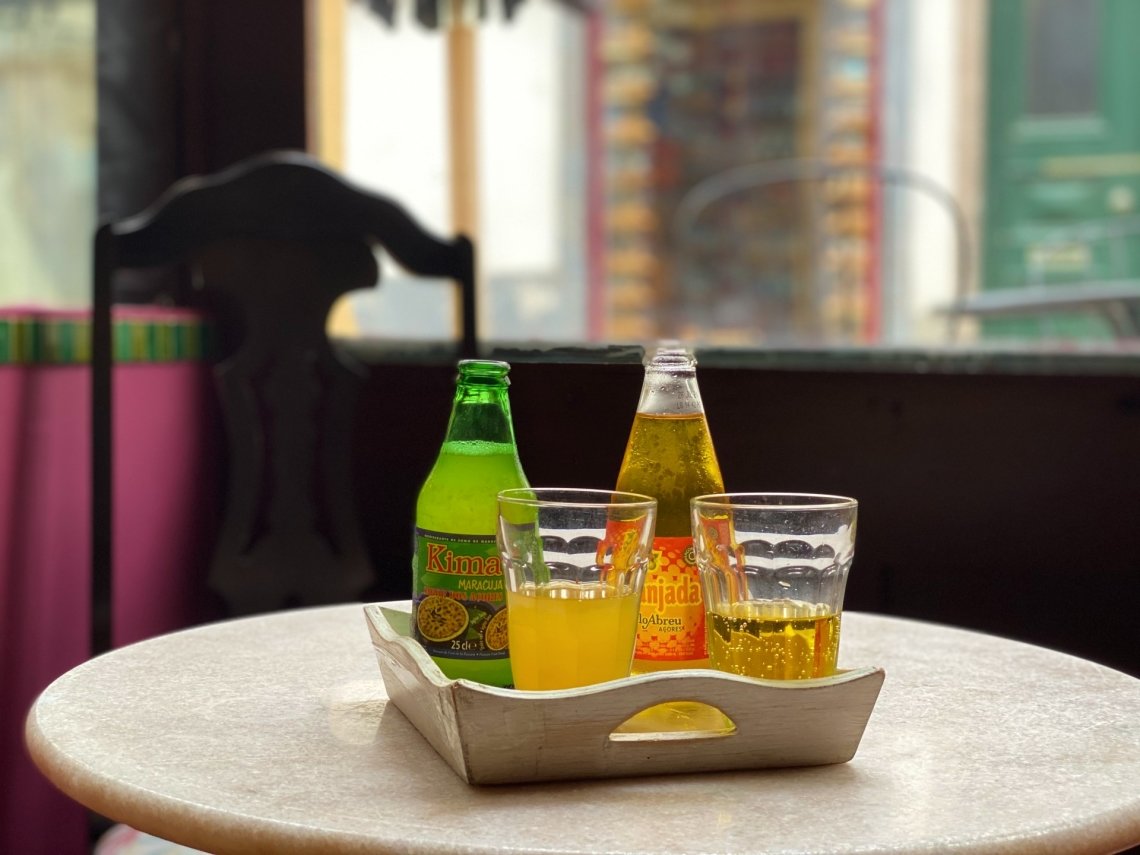 Local Juices of the Azores, Portugal
If you're not a wine lover, no problem at all. You will still be equally dazzled by the locally produced juices. Two favorites are Laranjada, made from oranges, and Kima, made from the islands' exotic passion-fruit.
As you can see, your taste buds will thank you when you come to the Azores! In fact, we wager they'll scream with sheer joy.