Everything you need to know about visiting the Azores now
We don't know about you, but after enduring months of lockdown, confinement, and travel bans, the first thing we'll want to do once it is safe is to get outdoors, breathe in fresh, pure air, and stretch our legs. Fresh air, sunshine, and the spiritually and physically healing properties of nature have never been more treasured than they are right now, and the Azores is a destination that provides all those essentials in one dreamy islands escape. But before you book your tickets and pack your bags for paradise, here are some important details you should be aware of regarding traveling in the COVID-19 era.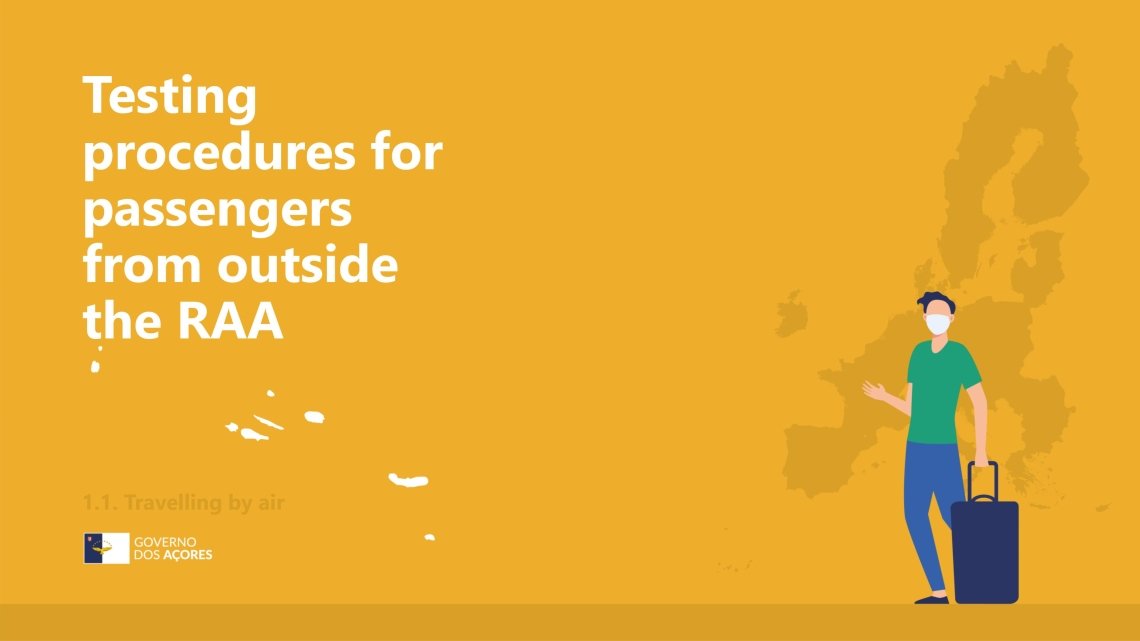 Negative COVID-19 RT-PCR Test
Visitors heading to the Azores from areas considered to be regions of active community transmission, or with active transmission chains of the SARS-CoV-2 virus, must provide pre-boarding proof of a negative test for SARS- CoV2 made within 72 hours prior to arrival. Digital or paper format is accepted as long as it is issued by a certified national or international laboratory. Boarding will be denied if this proof is not presented.
Click here to find out the few exceptions of this mandatory proof of negative test.
For Visitors Staying for 7 or More Days in the Azores
Visitors that plan to spend 7 or more days in the Azores will be required to take a SARS- CoV2 RT-PCR test on the 6th day of their stay. Visitors should contact the health authority of the municipality in which they will be staying to find out more information about where their test will be administered. Simple and easy to follow instructions will be provided to each visitor upon their initial arrival at the airport, so there is no need to worry that you won't know what to do next! The cost of the sixth-day test is covered by the Azores Government.
We advise you to go online and fill in this Health Form upon arrival in the Azores.
For Visitors Staying for 13 or More Days in the Azores
For visitors that plan to spend 13 or more days in the Azores, you will also be required to take a SARS-CoV2 RT-PCR test on the 12th day of your stay.
Traveling from Madeira or Mainland Portugal to the Azores
The same rules for travel to the Azores from Mainland Portugal or Madeira apply, but one difference is that you can take a SARS-CoV 2 RT-PCR test for free when these are your specific origins. Click here to find out which approved and certified labs partnered with the Azores Government for this matter.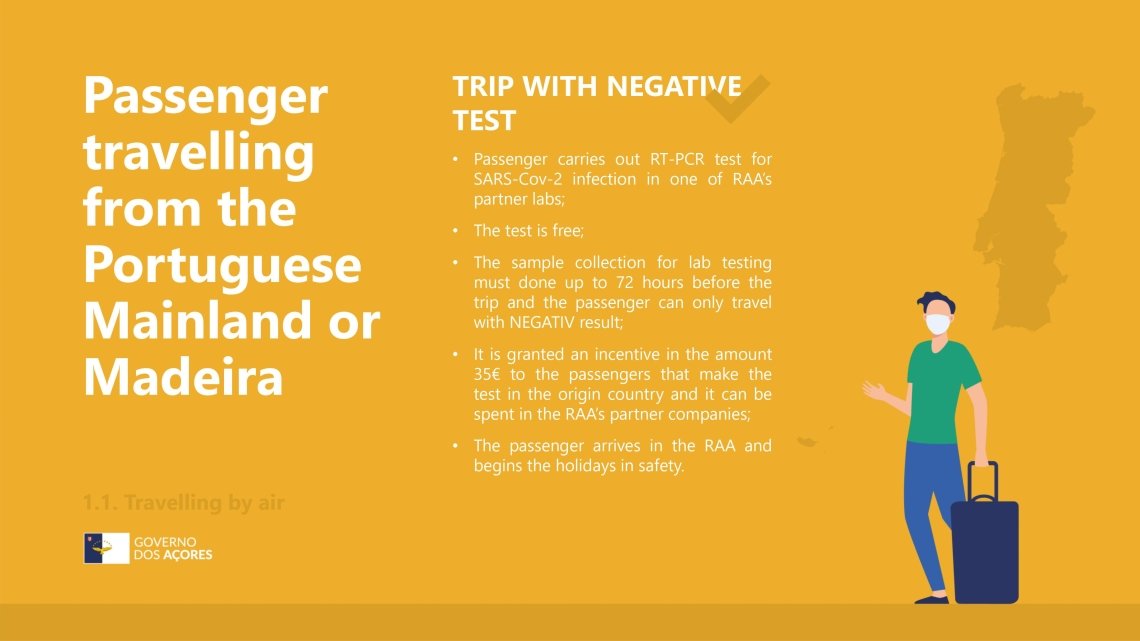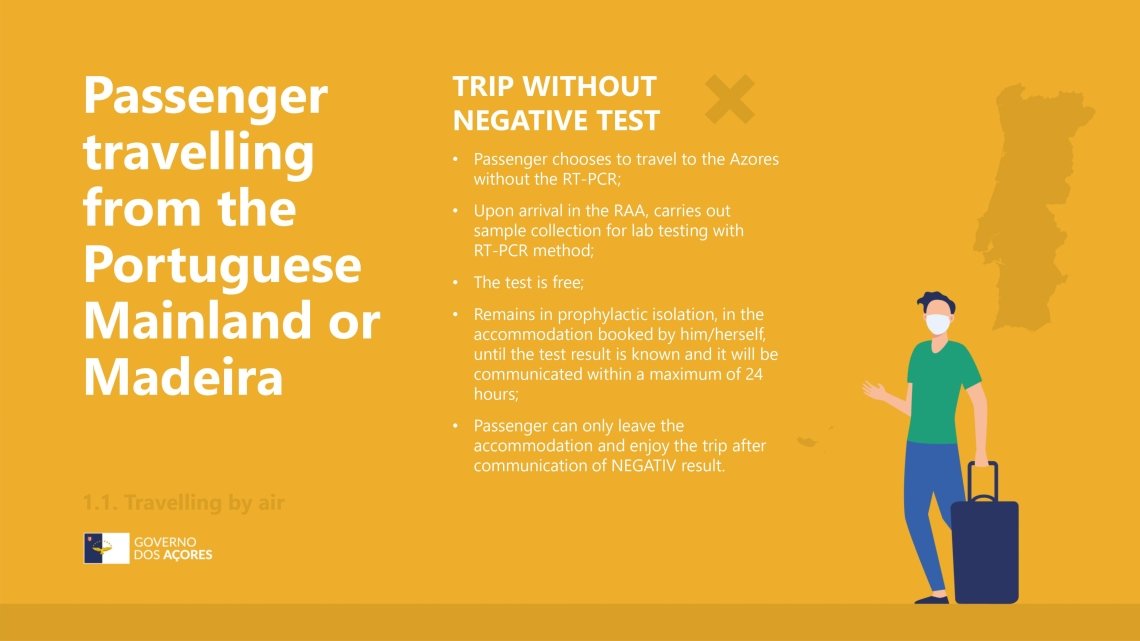 TO SUMMARIZE: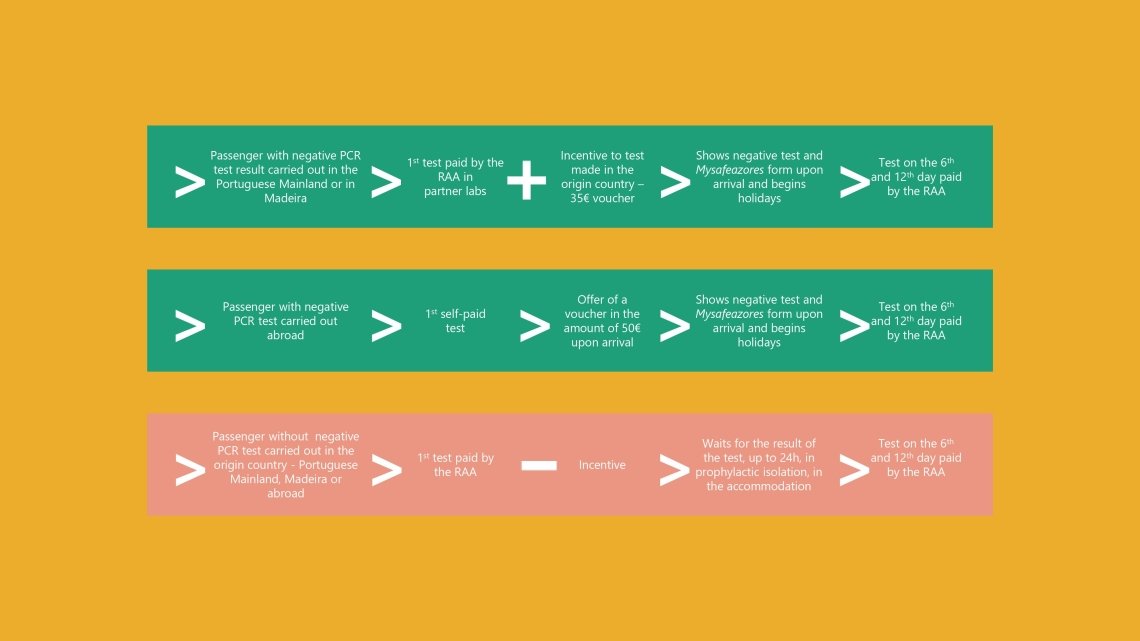 Inter-Island Travel Between the Azores Islands
Passengers boarding flights at the airports of the Azores Islands that are classified as high or medium risk, where active community transmission exists, which are bound for any of the other islands of the Azores archipelago* must present proof in digital or paper form of a document issued by a certified national or international laboratory attesting to a negative result to a SARS-CoV-2 screening test. This test must be performed by the approved RT-PCR methodology and taken within 72 hours before the flight departs.
We advise you to go online and fill in the Health Form upon arrival in the Azores.
Click here to find out which approved and certified labs have partnered with the Azores Regional Government for this specific purpose.
IMPORTANT NOTE: This information changes quickly, so make sure you check for current COVID-19 numbers and data regarding any new legislation on the official website here.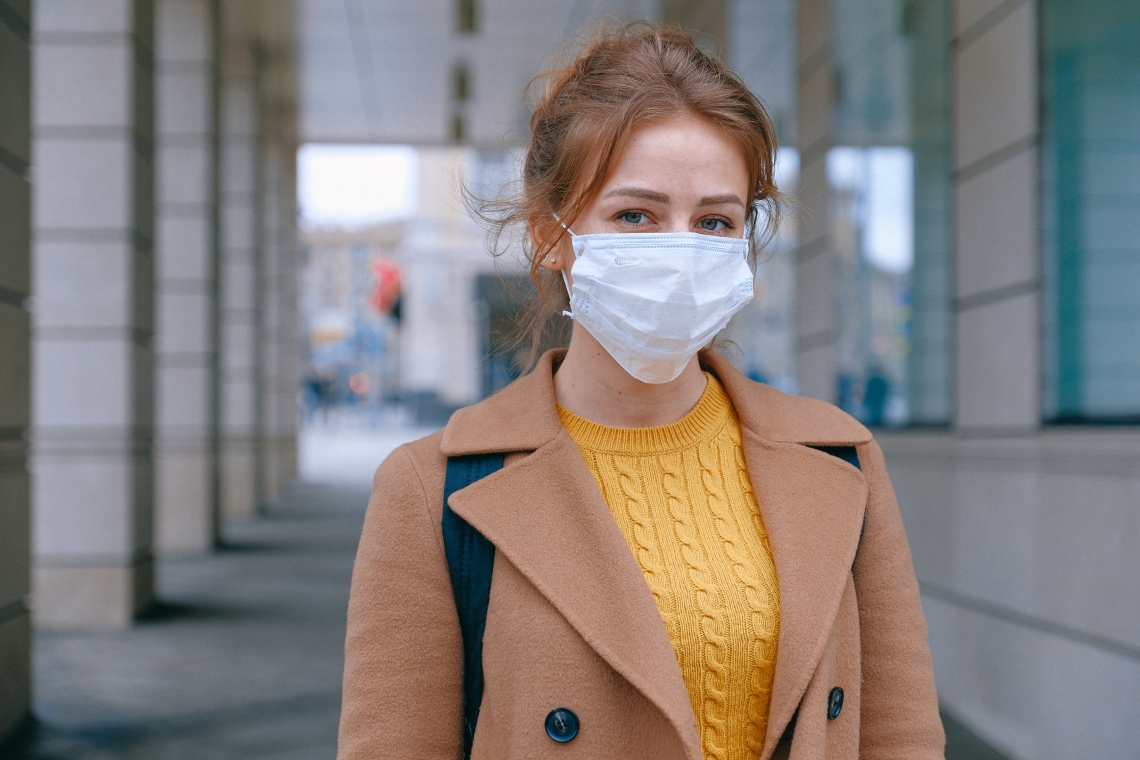 Important Information for What to Expect During Your Azores Vacations Now
Mask Requirements
It is mandatory to wear a mask in all enclosed and outdoor public spaces while vacationing in the Azores.
Temperature Screening
It is mandatory to have your temperature checked at the entrance of some public places throughout the Azores Islands, such as shops, hotels, restaurants, etc.
Don't Forget to Use Common Sense and Take COVID-19 Precautions While Traveling
Sanitize your hands regularly and often, especially when entering and leaving public places. Also take care to respect the COVID-19 measures laid out by the government and adhere to respiratory and social distancing etiquette while enjoying the beauty of the Azores.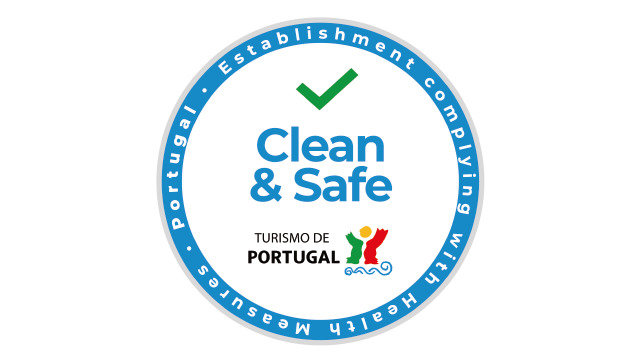 Proud Participant in the Safe Stamp Program
For those worried about traveling to the Azores in the COVID-19 era, it should give you much peace of mind and put you at ease to know that the Azores Islands is a proud participant of the recently launched Global Safety Stamp Program, a worldwide endeavor created to help travelers stay safe by recognizing and ensuring safe travel protocols are adhered to by vendors and establishments in the tourism industry.
The specially designed stamp allows travelers to easily recognize governments and companies around the world that have adopted strict COVID-19 standardized health and hygiene protocols -- all so that you can be confident that you are engaging in "Safe Travel" while vacationing in the Azores.
To receive this literal stamp of approval, eligible companies like hotels, restaurants, airlines, cruise lines, tour operators, attractions, short term rentals, car rentals, outdoor shopping, transportation and airports must prove that they are strictly adhering to all safety protocols. The great news for you when using Azores Getaways as your vacation planner is that we only partner with Safe Stamp approved providers, so you can rest easy knowing that everything about your Azores vacation, from the hotel to the rental car to private tours, activities, and more, are all clean, safe, and have been vetted to ensure your utmost safety.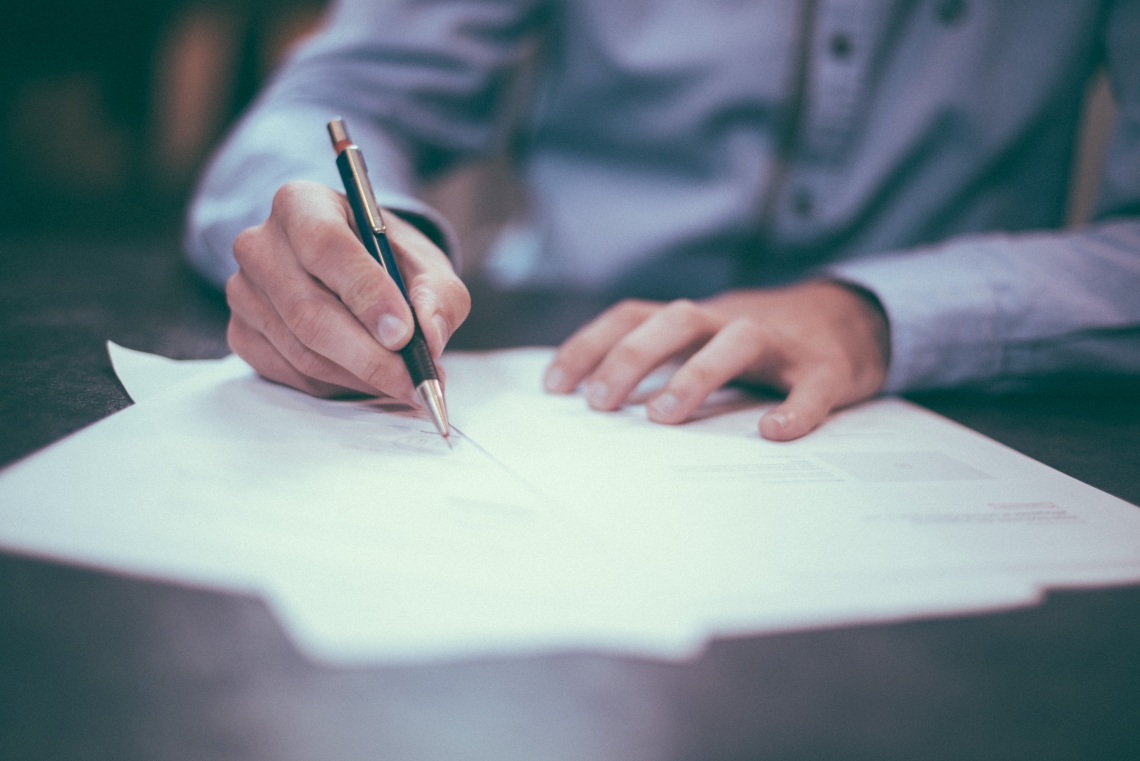 Plan for the Unexpected and Protect Your Trip
We understand that plans can change unexpectedly, especially in this COVID-19 era. Whether it be due to an unexpected positive test, a change in travel restrictions, or anything else COVID-related, you want to be able to have peace of mind that you won't be losing the money you've invested in your dream Azores vacation. Azores Getaways is able to put your mind completely at ease by offering flexible packages and completely refundable packages. By taking these measures and providing our customers with options if the unexpected does occur, you can have confidence in booking with us today. The Islands are calling, and Azores Getaways is waiting to help you answer that call!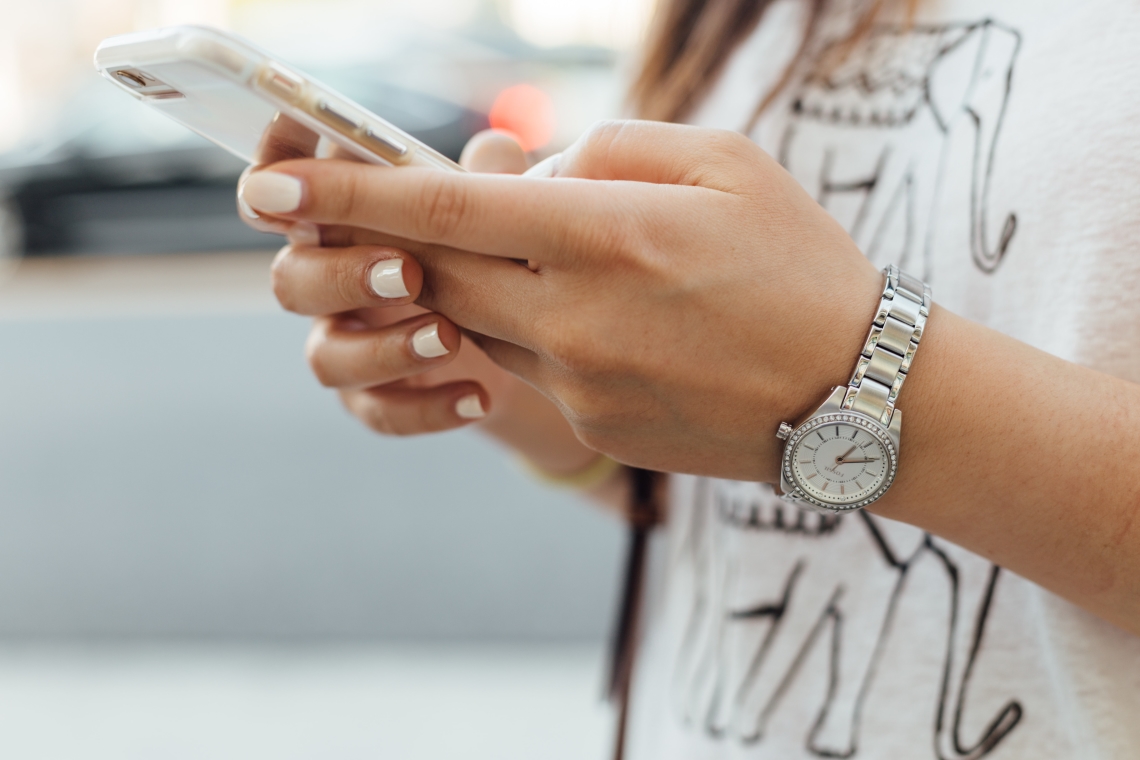 Helpful Contact Information
National Health Line: 808 24 24 24
Azores Health Line: 808 24 60 24