Efficient Inter-Island Transportation: Azores Islands Ferry Service
As the Azores comprise nine distinct islands situated in the middle of the Atlantic Ocean, ferry transportation plays a significant role. However, it's essential to be aware that ferry travel between the Azores Islands can be quite time-consuming, particularly for longer routes. Therefore, unless you have a preference for a leisurely cruise across the Atlantic, we strongly advise considering flights as your primary mode of transportation when visiting the Azores for a more efficient travel experience.
The good news is that there are a couple of exceptions to this ferry service that make visiting multiple islands during a shorter vacation easier, more convenient, and much faster for visitors. If you plan to visit any of the islands in what is known as the Triangle Group of the Azores, which consists of Faial, Pico, and São Jorge, you can easily hop on a ferry for a day trip year-round. In fact, the islands of Faial and Pico are so close to each other that many residents commute to work between the two. While visiting the Azores, you can also travel between the islands in the Western Group, which consists of Flores and Corvo, by ferry year-round (weather permitting).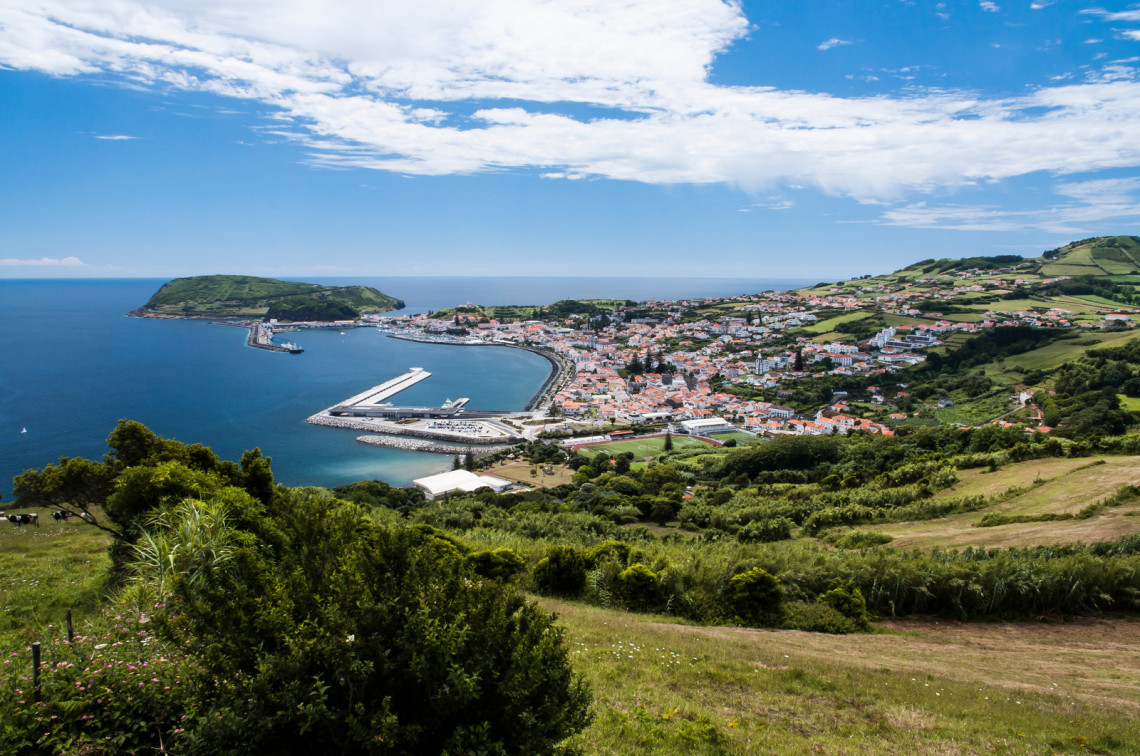 It's worth highlighting that Atlânticoline is the sole ferry company providing inter-island services in the Azores. This article offers valuable tips to assist you in preparing for your Azores trip, especially when it comes to island-hopping:

Exploring Azores: Inter-Island Ferry Routes
Atlântico Line operates a variety of ferry routes in the Azores, with different lines connecting various islands. Here's a summary of their main routes and lines:
Main Routes:
- Faial Island - Pico Island
- Faial Island - Pico Island - São Jorge Island
- Corvo Island - Flores Island
- Faial Island - Pico Island - São Jorge Island - Graciosa Island - Terceira Island
- Faial Island - Pico Island - São Jorge Island - Terceira Island
- Pico Island - São Jorge Island
Line-Specific Routes( Updated in 2023):
- Linha Azul (Blue Line): This route only runs between Faial and Pico Islands. It operates several times a day and it is just a 30-minute trip between the ports of Horta and Madalena.
- Linha Verde (Green Line): Connects Faial and Pico Islands, adding the island of São Jorge (Velas), and a second port on Pico Island (São Roque).
- Linha Rosa (Pink Line): Just like the blue line, the pink line operates only between two islands, in this case, Flores and Corvo Island, and journeys from Santa Cruz das Flores or Lajes das Flores to the Village of Corvo.

Pssst: If you're considering a trip from Flores Island to Corvo Island, opting for a boat tour rather than the ferry is recommended. This way, you'll not only achieve your travel objective but also enjoy the added experience of viewing the stunning coastal waterfalls and a transfer to the impressive Corvo's Caldeirão, learn more!

- Linha Lilás (Purple Line): A seasonal summer line (June to September, on Tuesdays and Saturdays) between Faial, Pico Island, São Jorge, and Terceira Islands.
- Linha Branca (White Line): Another seasonal line that connects the whole central group of the Azores archipelago: Faial, Pico, São Jorge, Terceira, and Graciosa Island from June to October.
- Linha Laranja (Orange Line): A new seasonal line (June 16 to September 17, on certain days of the week) connecting Pico Island and São Jorge Islands.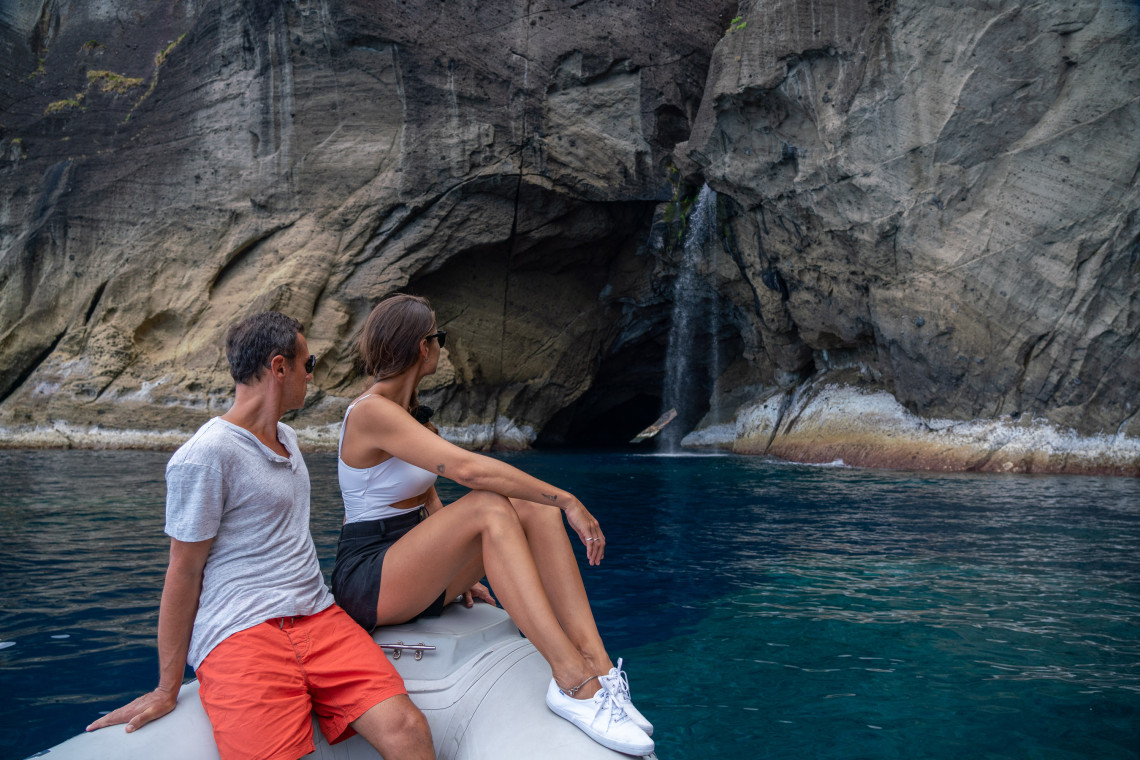 How to Buy Ferry Tickets for Inter-island Trips in the Azores:
For those planning a ferry journey, there are several options for acquiring tickets. One convenient method is to buy them directly at the ferry terminal from the Atlântico ticket counter. If you prefer purchasing tickets on the day of your travel, it's advisable to arrive at the terminal a bit earlier. This approach not only ensures you have sufficient time but also helps mitigate any unexpected issues that might arise.
When planning a round-trip on the same day, it's wise to secure your return ticket beforehand. This precaution helps avoid the inconvenience of tickets selling out later in the day. Additionally, you have the option to purchase your ticket online via the Atlânticoline website, offering a convenient and efficient way to ensure your travel plans are set.
You can also purchase tickets via Azores Getaways. Simply reach out to us by phone or email, and we'll organize an ideal trip for you. We even offer packages that include ferry boat tickets, so you can book your journey with ease and peace of mind. Don't hesitate, plan your trip with us now!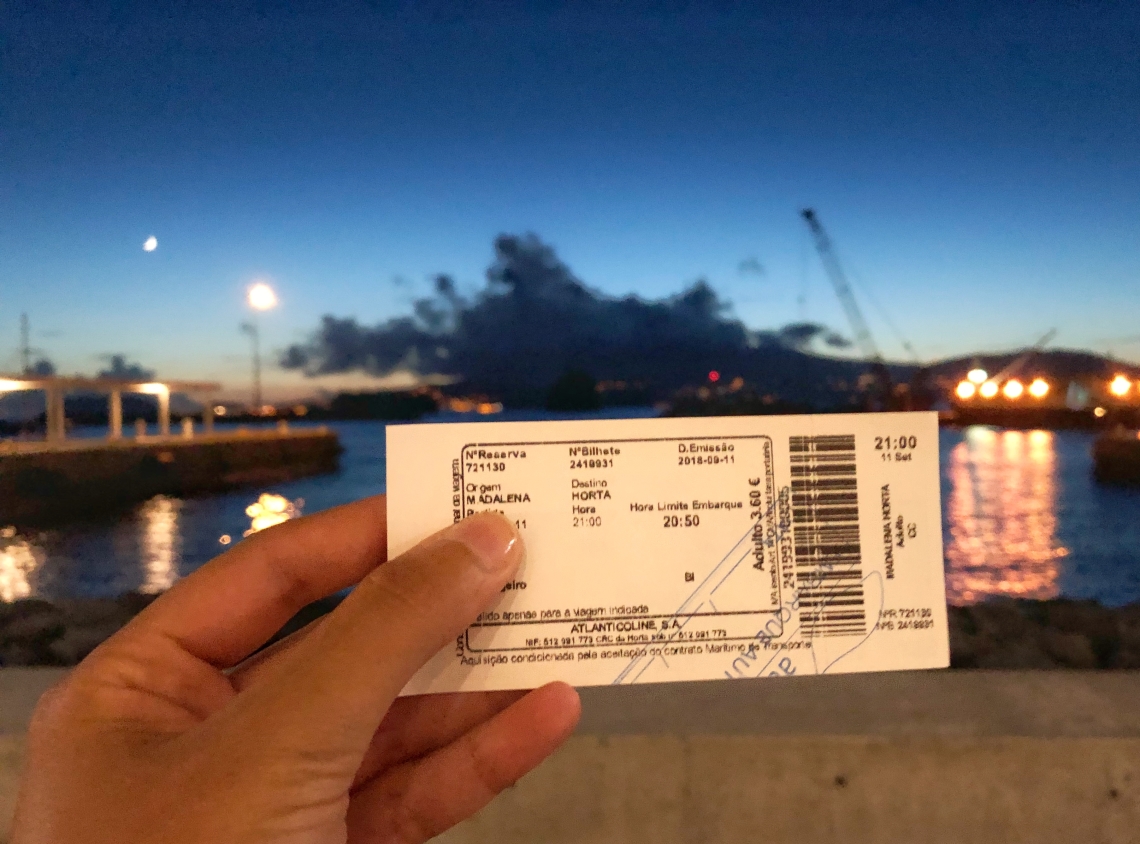 Conditions for Inter-Island Ferry Trips in the Azores, Portugal
Adult Passengers:
If you are 13 years old or older and want to ride the ferry, here is some information specifically for you:
- Documentation required: ID card or passport
- Luggage allowance: 2 pieces up to 25KG each
- Hand luggage allowance: 1 piece up to 6KG
- For refunds, cancellations, and rescheduling:
- Altântico Line Alterations and Refunds
Senior or Handicapped:
- Documents Required: ID card or citizen card. Medical report specifying the degree of incapacity or Armed Forces Card (if applicable).
- Luggage: 2 Pieces up to 25KG each
- Hand Luggage: 1 Piece up to 6KG
Bringing a Car on Inter-Island Ferry Trips in the Azores
Bringing a car on inter-island ferry trips in the Azores is possible on some, but not all, ferries. There are limited spots available for vehicles, typically around 8 or so on the ferries that do allow them, such as on the Green and Blue lines. If you plan to take your car on the ferry, it is essential to book your ticket in advance due to this limited availability.
Furthermore, if you have rented a car and wish to bring it to another island by ferry, you should contact your car rental company beforehand to confirm if this is permissible. It is unclear if there's an additional fee or just approval required, so it's important to inquire directly with your rental company rather than assume it's allowed
Additional Services and Information about Inter-Island Ferry Trips in the Azores
- Baggage check is available at ferry terminals for larger pieces of luggage, so passengers don't need to carry it onboard.
- Most ferries run on time, with a margin of about 10 minutes.
- The ferries are comfortable and offer free WiFi onboard.
- The disembarking process is smooth, with cars being let out first, followed by passengers
- Atlânticoline ferries boast modern amenities and flexible luggage policies.
- Traveling with pets is allowed.
- Personalized assistance is available for people with disabilities, provided the company is notified before the trip


Are you already in love with the Azores? Take a look at our stress-free packages that allow you to book your ultimate island adventure. All our packages are carefully curated by our team of local Azorean Experts so that you don't need to worry about any details – just enjoy your trip!