Discover the Best Azores Island According to Your Travel Style
Curious to find out which is the best Azores island? Often referred to as "Europe's Best Kept Secret", the Azores have become an increasingly popular destination with year-round appeal for travelers. Discover the unique beauty of the Azores with our Azores travel tips! This cluster of nine idyllic islands located 900 miles off the coast of Portugal is an off-the-beaten-path destination packed with natural beauty, striking landscapes, and unique authenticity.
Though the Azores islands share some similarities, each island has its own distinct set of characteristics that set it apart from the rest. What makes each Azores island unique? And, how do you know which Azores island(s) you'll enjoy visiting the most?
We break down each of the nine Azores islands here, with some authentic Azores travel tips for your dream Azores vacations:
Exploring the Eastern Group of the Azores: A Hidden Paradise of Natural Wonders
- São Miguel Island: The Crown Jewel of the Azores
São Miguel Island is the largest island in the Azores and the most populated. As soon as you finally escape for your Azores getaway and visit São Miguel Island, you'll immediately discover why this Azores island is nicknamed ''The Green Island of the Azores''. São Miguel's lush landscapes and rolling, verdant hillsides inspire and awe everyone who experiences them, which makes it come as no surprise that São Miguel is the most visited of the Azores islands.
Even though the Azores have never actually recognized Ponta Delgada city in São Miguel Island as its official capital, Ponta Delgada is indeed the economical hub of all of the Azores' islands. Ponta Delgada is special and unique, with old-world architecture and other amazing features that evoke all the charms of Europe, like cobbled streets, sidewalk cafes, and a thriving culinary scene.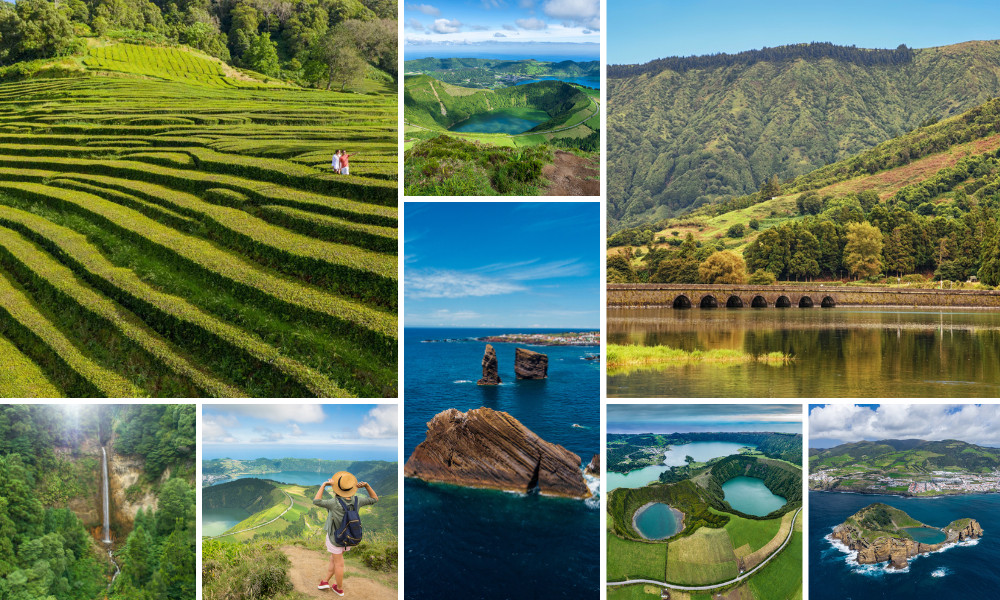 Visitors to São Miguel can also look forward to getting a glimpse at some of the Azores' most iconic viewpoints and famed crater lakes, including the popular tourist destinations of Sete Cidades, Lagoa do Fogo, and Furnas Lake. São Miguel is also a geothermal hot spot, giving you something else to look forward to experiencing, especially on your visit to Furnas Valley. Also among the exciting things you can expect to find on this idyllic island? Warm water to swim in year-round, particularly in one of the natural spas and hot springs found inland, or tucked along the island's stunning, volcanic rocky coast.
SO…
If you're looking for an idyllic Azores Island that is surrounded by unparalleled beauty and unspoiled nature, but still has that slight touch of the modern world for comfort and class, put São Miguel, Azores, on the top of your bucket list! The island offers a great array of tourist attractions to choose from, such as great hotels, delicious local restaurants, and expertly guided tours for every preference and budget. You'll find just the right amount of everything to make for your perfect Azores vacation. You will also never get bored during your stay on this Azores island, as there is so much to do, from outdoor adventures for the active types to tea plantation and pineapple plantation tours, and much more. Whether you prefer staying in the lap of luxury or are planning to be on a more strict budget, São Miguel, Azores, has the perfect fit for any traveler!
Find the best Azores travel deals to São Miguel Island, and start planning your Azores getaway here.
- Santa Maria Island: The Yellow Island of the Azores
Santa Maria Island is the closest island to São Miguel, and it is also considered to be the ''mother island'' of the Azores because it is the oldest of the nine islands! As the saying goes: Great things come with age, and this is definitely the case when it comes to Santa Maria! The island is quite different from any other island in the Azores. Around 5,000 inhabitants call this Azores island home, and they're proud to live in the only Azores island with white sand beaches. Imagine that! The Azores actually have a secret Caribbean look-alike island in Santa Maria.
Santa Maria Island is a bit flatter than the other Azores Islands, giving it that ultimate beach vibe, complete with white sands and warm crystal waters that you can swim in year-round. Also, from a historical standpoint, Santa Maria's seas have witnessed it all! Even Christopher Colombo stopped by on his triumphant return trip after discovering America. Also worthy of note, Santa Maria, Azores, is one of the best spots in Europe for diving due to its perfect location at the doorstep of the Dollarat bank and of the natural reserve of Formigas! Actually, diving with jamantas is one of the most famous tourist activities on this particular Azores island.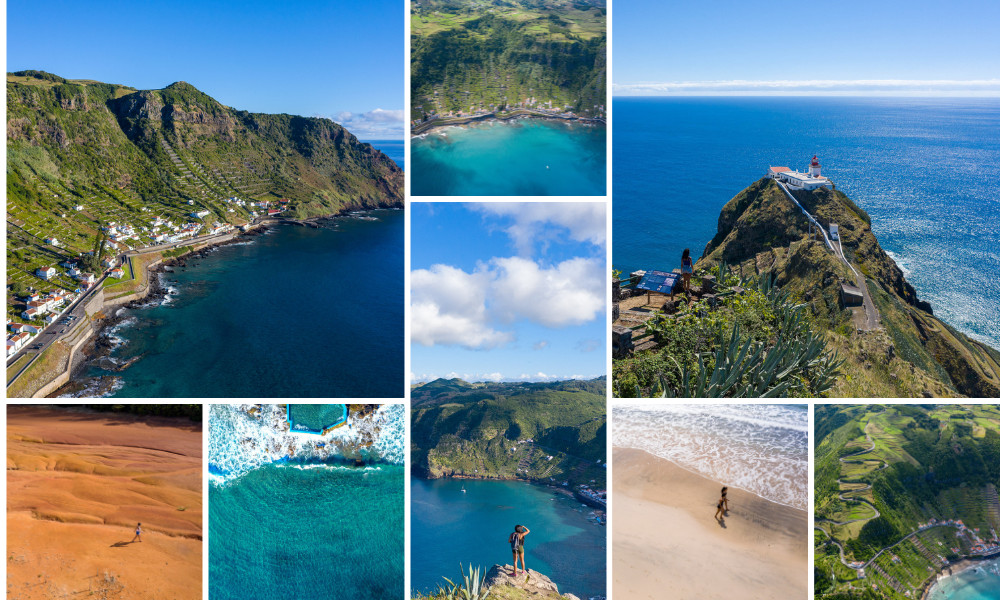 Another interesting fact about this Azores island is that every village has a specific "signature" color, meaning that the houses of every particular village are all the exact same color. This makes for charming and stunning photo ops while visiting. Also during your exploration of Santa Maria Island, you'll want to be sure to snap some photos of the old-world architecture of the houses as well. Pay particular attention to the traditional chimneys, which are Instagram-worthy indeed. But honestly, as you discover all of the countless unique sights in the whole Azores archipelago, you'll want to keep your camera handy! Other famous sights in Santa Maria specifically are the Gonçalo Velho lighthouse, the Aveiro waterfall, and the Poço da Pedreira.
SO…
If you adore white sand beaches and crystal clear, warm waters, you'll find that and more in Santa Maria - your ultimate quaint beach retreat. If you're a fan of diving? You'll absolutely get that opportunity in Santa Maria. The island, aside from housing the only white sand beaches in the Azores, is also home to the ''red desert of the Azores'', the Barreiro da Faneca, which will make you feel as if you have wandered onto Mars while walking on its eerie and wondrous red terrain.
Simply put: If you're looking for something extra otherworldly and unique, Santa Maria is the island for you to check out!
The Central Group of the Azores: Exploring the Enchanting Islands in the Heart of the Atlantic
- Terceira Island: The Lilac Island of the Azores
Terceira Island is a favorite among travelers who fly out of Boston to the Azores or from Toronto to the Azores. Not only is it closer, but it is also a very unique island, where you can spend a full week at least without ever getting bored or running out of new things to do and see. There's a reason why people say the Azores have ''Eight islands and an amusement park'', and guess which island they are calling the amusement park? Terceira Island, of course! Now if that doesn't make you want to come and see what all the fun fuss is about for yourself, we don't know what will!
Nearly 56,500 people call this beautiful island home. Terceira is the perfect Azores island for those seeking a relaxing but active vacation, with outdoor adventures galore never more than a 20-minute drive away. Besides its dozens of gorgeous natural swimming pools to dive in during the summer, Terceira Island also has plentiful choices for enjoying yourself during the winter. Terceira Island is also home to the Azores' most iconic patchwork landscapes and to one of the only lava tubes in the world that you can visit and see up-close and personal. Terceira Island is also home to the only official UNESCO city in the Azores Islands, Angra do Heroísmo! Other famous sights that are must-sees in Terceira Island are Monte Brasil, Serra do Cume, and Lagoa das Patas, just to name a few. But there are so many more you won't want to miss!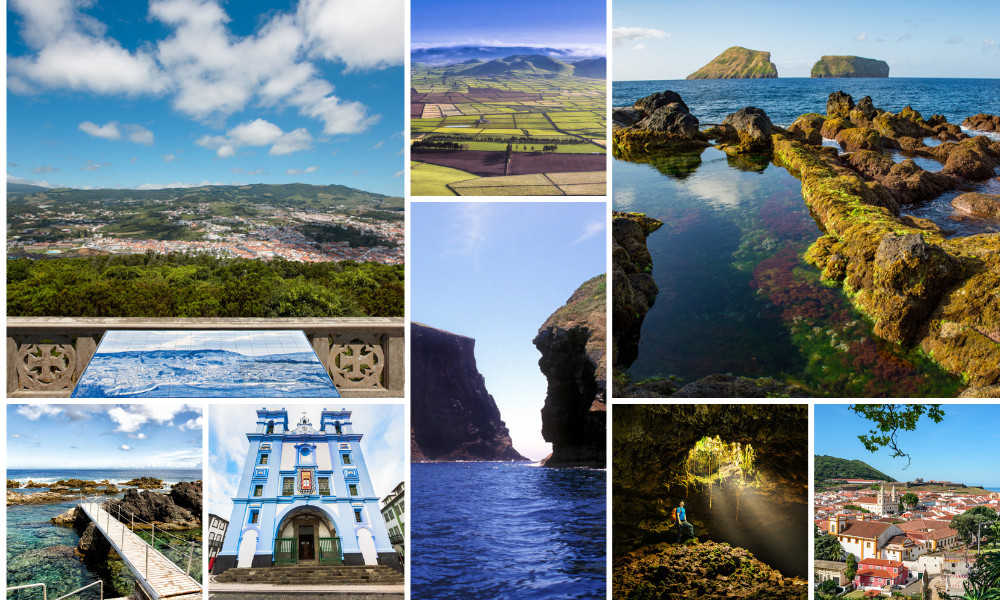 The vibrant culture of Terceira Island also visits the Azores an unforgettable experience. There is always some popular festivity going on in the streets of Terceira Island year-round, and with the locals being so welcoming and friendly, you can always feel free to join in the fun and revelry! You can also look forward to visiting local artisans' shops which will give you a more intimate and personal glimpse into the amazing Azores culture of this particular island. Azores Getaways has its local tour guides in Terceira island, so you'll be assured of being in the best company as you explore further into this unique Azorean world.
SO…
If going inside an actual volcano is something that's on your bucket list, start planning your Azores getaway to Terceira Island with this amazing Azores travel deal! Highlights include the Algar do Carvão, an ancient volcanic cave that you can actually walk inside, and which is home to some of the largest stalactites in the world - all of which will leave you speechless and in utter awe. And if the thought of strolling around city streets that remind you of the colorful and cute thoroughfares in Cuba appeals to you, then Terceira Island and its UNESCO World Heritage city are the perfect fit for you! Angra do Heroísmo is filled with gorgeous Renaissance buildings with colorful facades and quaint, cobbled streets that ooze charm.
Find the best Azores travel deals to Terceira Island, and start planning your Azores getaway now!
- Graciosa Island: The White Island of the Azores
Graciosa Island is home to over 4,000 inhabitants, all of whom are proud to live in such a peaceful and idyllic retreat. The famous and delicate queijadas da Graciosa, one of the Azores' most beloved and preferred sweets, are originally from here. This Azores island also has two spectacular ancient lava tubes to explore: Furna da Maria Encantada and the major landmark of Furna do Enxofre.
Graceful white rocks line the island's captivating coastline, and red-turreted windmills dot the lush landscape. Graciosa's windmills are of Flemish origin, and many of them have been adapted into modern accommodations for those who are looking for an authentic and unique stay while vacationing in the Azores. You'll soon learn just how emblematic these windmills are to this Azores island, and as you stroll around its streets, they will quickly steal your attention. Graciosa is also home to the famed Azorean dwarf donkeys — a species that is rare and actually on the verge of extinction. If you are looking for a once-in-a-lifetime adventure and a unique story.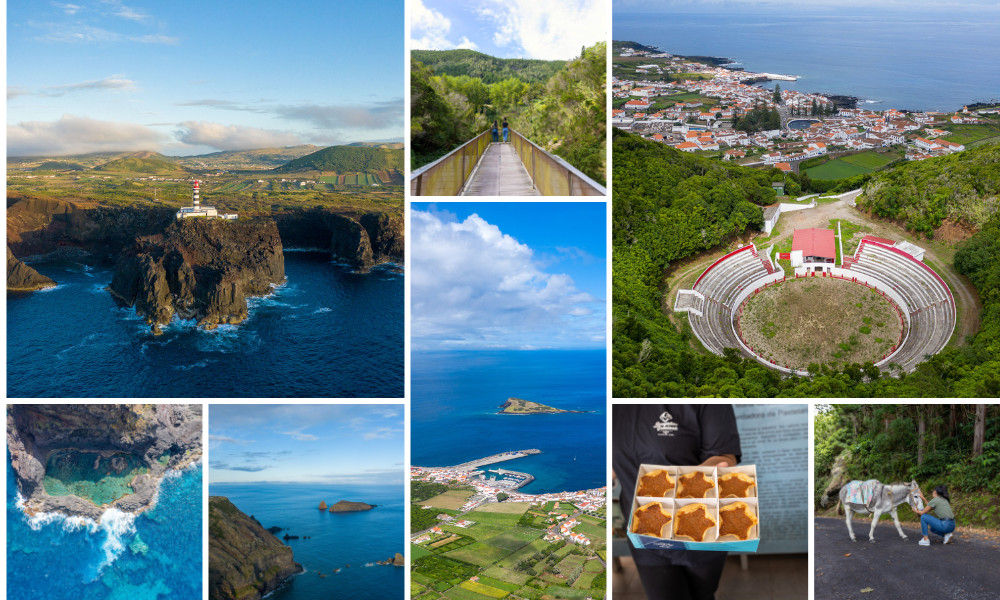 But… that's not all. Graciosa Island is home to a small therapeutic thermal spa known as the Termas do Carapacho. Located in the tiny village of Luz, the inviting thermal waters of Carapacho are packed with beneficial mineral properties and reach a temperature of around 40°C (104°F), making for an ideal environment for a perfectly relaxing and therapeutic bath.
SO…
Graciosa is one of the most underrated islands of the Azores, making it the perfect place if you're seeking to explore a destination that doesn't feel so crowded and touristy. You'll still get to appreciate the beauty of the Azores' nature, have the chance to walk inside an ancient lava cave, and so much more, adventure awaits you around every corner, yet no big throngs of tourists!
- Pico Island: The Grey Island of the Azores
Nine amazing Azores islands emerge from the deep blue of the Atlantic, but Pico Island stands taller than the rest! Pico Island is the Island of the Mountain in the Azores, home to a mystic beauty that attracts visitors from not only those coming from Boston to Azores or Toronto to Azores, but across the entire globe! Nearly 15,000 people call Pico Island home, and they have the gift and unmatched privilege of waking up each morning to some of the best views in all of the Azores: Pico Mountain and glistening ocean vistas as far as the eye can see. In fact, Pico Mountain is Portugal's highest peak, measuring over 7,000 ft tall! At such a towering height, it will come as no surprise that hiking Pico is one of Europe's most popular hiking trails!
Characterized by black volcanic soil, Pico Island is covered with basalt (lava rock)-lined vineyards that are official UNESCO World Heritage Sites. Locals have been producing wine here since the 15th century, and they even have a museum dedicated to the pastime's rich history. Pico's popular red and white wine varieties grow beneath the shadow of the famed Pico Mountain. Pico Island also boasts one of the world's longest lava tubes, where you can get a glimpse of rare stalactites and stalagmites that have been unaffected by outside or artificial light, as well as dozens of natural swimming pools and other sights that will have you dreaming about your Azores trip for quite some time! Other points of interest in Pico Island not to be missed include Lagoa do Capitão, Lajido da Criação Velha, whaling museums, and much more!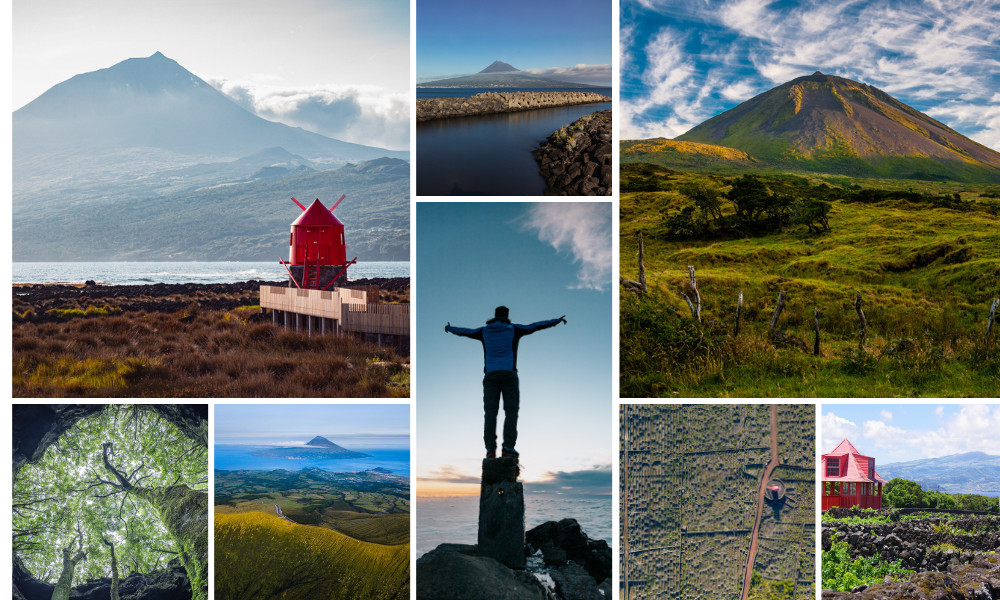 SO…
If the ultimate trekking adventure appeals to you, Pico Island is the perfect place to start your Azores trip. As you reach Pico's summit, you'll be rewarded with the best that Mother Nature provides. Plus, if local spirits and unique island traditions speak to you, the rare island heritage is yet another reason to visit Pico. You can look forward to visiting several wineries to sample the many varieties and discover which is your favorite Pico wine type. You will also learn all about the wine-making process, where you'll see why it is even more special than you think.
Find the best Azores travel deals to Pico Island, and start planning your Azores getaway now!
- Faial Island: The Blue Island of the Azores
Nicknamed the "Blue Island" for its abundance of blue hydrangeas that cover the island like a heavenly floral blanket in the summer months, Faial is home to slightly more than 15,000 inhabitants, all of whom are proud to wake up every day with amazing views to the neighboring islands of Pico and São Jorge.
Faial Island is also the site of the most recent volcanic eruption in the Azores, which took place along the coast of Capelinhos village in 1957 and almost completely buried the nearby lighthouse. Many people lost their homes and livelihoods as a result of the eruption, a dire situation that prompted the Azorean Refugee Act to be signed in 1958 by JFK, authorizing the emigration of those affected. Simply put: The Capelinhos volcano left behind one of the most emblematic landscapes in the whole world!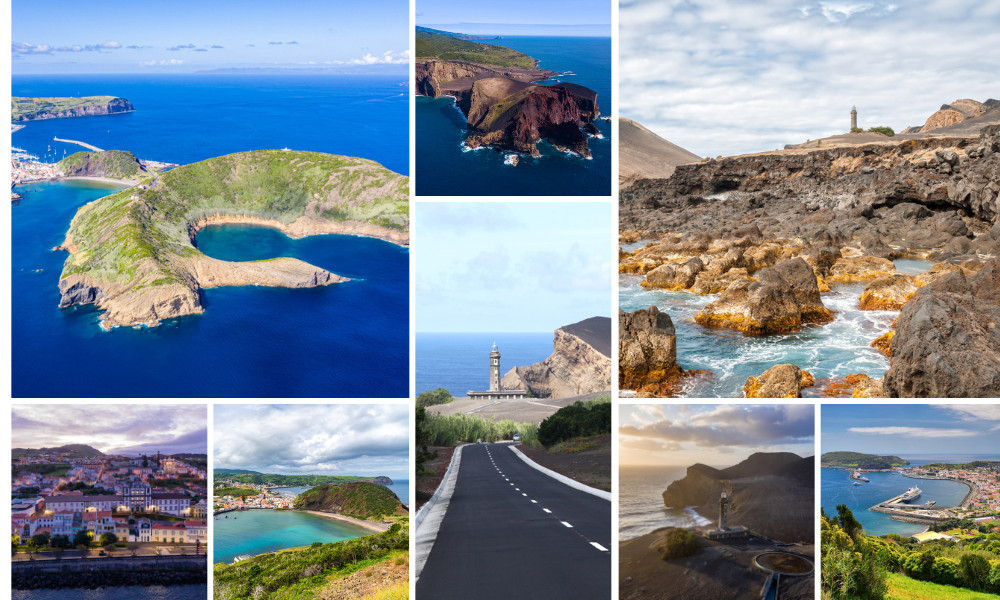 Most famous as a port, Faial historically has been (and remains to this day) a popular stopping point for sailors crossing the Atlantic. The island's main city, Horta, although small, has a modern, cosmopolitan feel, with travelers from all over the globe gathering at the restaurants and bars along the harbor to swap stories and take in stunning views of Pico Island across the bay. In downtown Horta, you'll find the Azores' most famous sailing bar, Peter's Café Sport, which is a must-visit, whether you're a sailing soul or not! Make sure you try the signature gin as you sit back and enjoy the authentic and rustic vibe of the city surrounding you. You can then head to Genuíno's restaurant for the ultimate dining scene and to indulge in the themed menu and appreciate the charming decor. The best part? You'll be gifted with some amazing views over Porto Pim Bay.
SO...
If jaw-dropping volcanic landscapes and natural wonders appeal to you, make sure you include a visit to Faial Island in your Azores trip! Other sights that are must-sees on Faial Island include the iconic and beautiful Caldeira, Praia do Norte, and Almoxarife Beach.
Find the best Azores travel deals to Faial Island, and start planning your Azores getaway now!
- São Jorge Island: The Brown Island of the Azores
São Jorge may be a small Azores Island, but its shape is one of the most iconic of all the islands: São Jorge Island has 53 km of length and 8 km of width. It is home to over 9,000 inhabitants (2011 data), and São Jorge Island's scenery is dramatically beautiful, filled with mountains that tumble into deep ravines, as well as rocky cliffs, crater lakes, and unique fajãs (plains formed by lava flow). These fajãs are rare wonders especially emblematic of this Azores Island, and they make for the perfect, idyllic places to rest and connect with the abundance of Azores' nature that surrounds you. Favorites of both visitors and locals alike are the Fajã dos Cubres, which is accessible by car, and the Fajã do Santo Cristo, which is only reachable by foot or moto. Both destinations are incredibly gorgeous.
The fertile brown soil and dark rock striations in the island lend it its nickname, and this Azores island is a particular favorite among those who love the outdoors and adventure enthusiasts. You can do everything here, from mountain biking to canyoning, hiking, canoeing, and spelunking. Of course, no visit to São Jorge is complete without a stop at the island's cheese factory, where they produce the famed Queijo São Jorge, a robust, aged cheese characterized by its spicy, tangy flavor.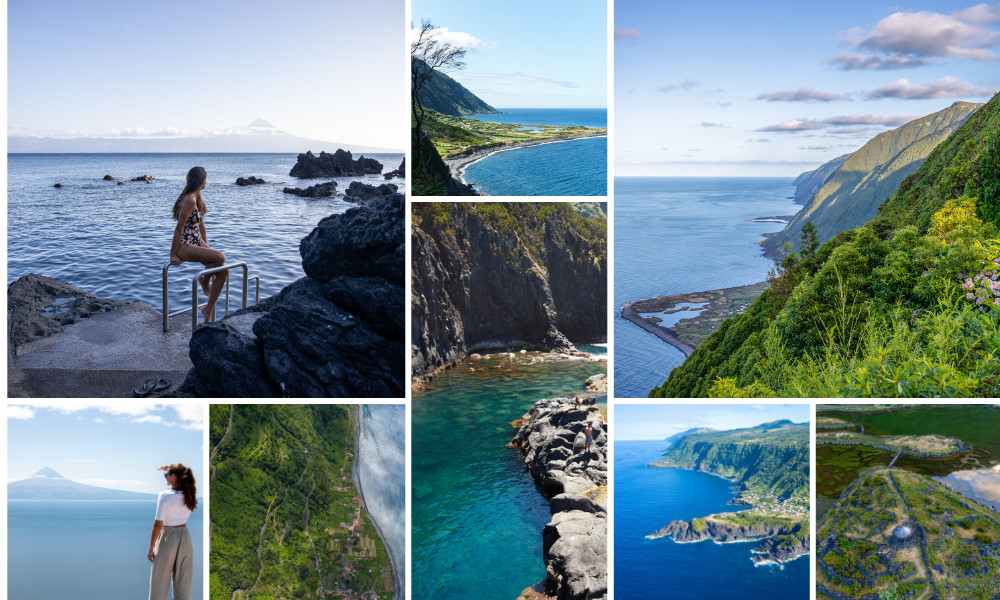 Aside from sampling the tasty cheese, don't skip a visit to Europe's only artisanal coffee plantation in Fajã dos Vimes, Café Nunes, and explore the plantations, where you can savor this delicious coffee as you enjoy the perfect view of Pico Island. You also want to miss the chance to explore the city of Velas on foot, appreciating its traditional architecture and amazing natural swimming pools as you stroll along the main avenue. Make sure you try the local clams caught in the fajãs, as São Jorge is the only island in all the Azores where you'll find this delicious seafood delicacy.
SO…
If you're seeking a lesser-known island, but one that still has an incredible amount of amazing, hidden surprises, make sure you place São Jorge Island on your Azores bucket list. If you're into surfing, let us also confess that some of the best waves can be found in the fajãs' seas. Come enjoy the thrill of the São Jorge hills and connect with its abundant nature, while also indulging in the scrumptious wonders of the island's local cuisine.
Find the best Azores travel deals to São Jorge Island. and start planning your Azores getaway now!
- The Triangle Islands of the Azores: Pico, Faial and São Jorge
You've probably heard about the Triangle of the Azores, but most likely didn't know what it was. It's indeed in Faial, São Jorge, or Pico Island that you have that true sense of living in an archipelago because you have views of the other Azores Islands on the horizon. Due to their geographical proximity, some people go to work on any of the other islands and come back in the evening by boat. So, if you're visiting any of the islands above, you can always plan a day trip to any of the other islands! We suggest that you take some time to explore every one of the nine islands.
The Western Group of the Azores: Exploring the Wild Beauty and Coastal Charms
- Flores: The Pink Island of the Azores
Flores Island is the true definition of a heavenly paradise. The island gets its name (which means Flowers) from its luxurious botanical garden-like landscape covered in goldenrods and pink and blue hydrangeas. Flores Island, situated in the western tip of the Azores, is home to less than 4,000 inhabitants (2011 data), but this small population couldn't live in a more perfect place.
Flores Island is one of the few official UNESCO Biosphere Reserves in the world, which is a protection given for natural landscapes, but that's not the only unique thing about it. This Azores island is known as the ''Island of Waterfalls'', being a favorite of outdoor enthusiasts and nature lovers. The waterfall of Poço do Bacalhau, in Fajã Grande, is perfect to dive in at sunset, when the mountains are illuminated in the background, and the Poço da Ribeira do Ferreiro and its more than 20 waterfalls provide a stunning scenescape that will take your breath away at any time of the day, year-round.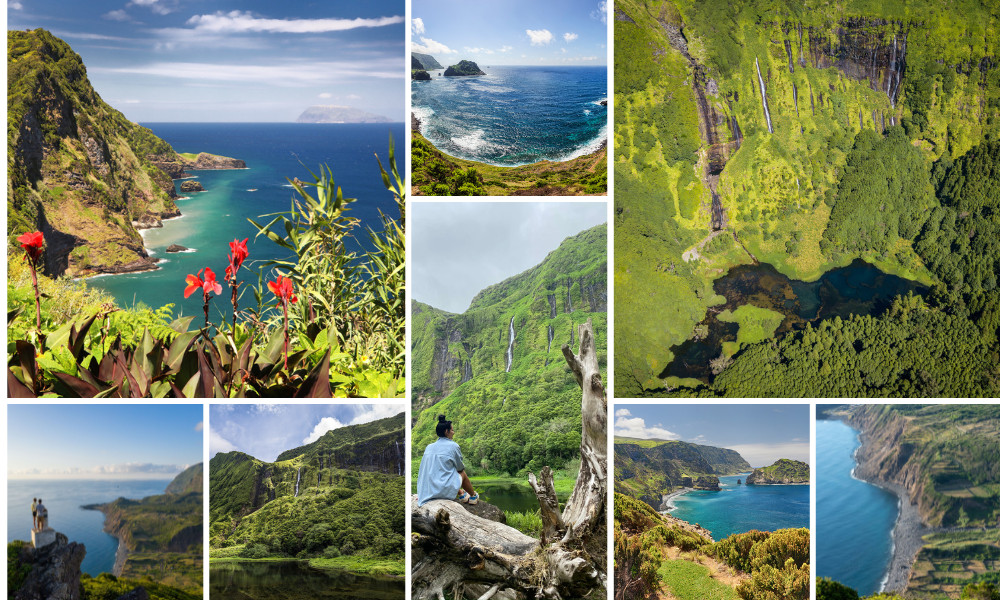 Flores gets a high amount of annual rainfall, which pays off with an abundance of lagoons, deep blue crater lakes, and dozens of cascading waterfalls. This island has a set of seven lagoons for visitors to marvel at and appreciate, as well as several natural swimming pools tucked along the coast - all of which house inviting waters that practically beg you to dive in. A must while visiting the island is to hit the many hiking trails here and enjoy the hidden waterfalls and amazing views of Corvo Island, the smallest of the islands in the Azores.
SO…
If you're looking for an enchanting, wild, and perfect place boasting a wealth of nature and under-the-radar destinations, you just found your Eden in the Azores. Unspoiled, quiet, and not too touristy, this island is simple and authentic. You'll experience nothing but pure peace - and pure air - here!
Find the best Azores travel deals to Flores Island, and start planning your Azores getaway now!
- Corvo: The Black Island of the Azores
The smallest of the Azores, Corvo Island, has only one village, which is home to 400 locals, making it one of the smallest communities in all of Europe, but also one of the only ones where you have that true sense of community and kindness. It's safe to say that living in Corvo is like living in one big family, so if you visit this island, you'll be heartily welcomed as a family as well. What can you expect when you come here? The island's properties are divided by the same black basalt rocks that many of the homes are built out of, and locals still speak in a medieval dialect of Portuguese. Corvo is also a favorite among bird-watchers, as many rare migratory species can be spotted here, as well as divers, who visit the island for its skylit caves filled with submerged lava formations.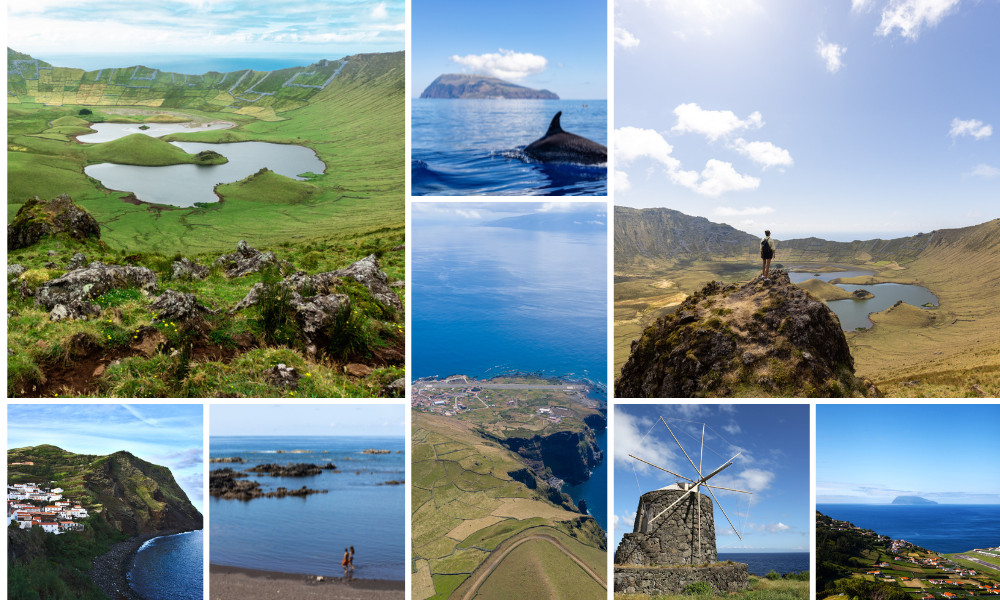 The island's only paved road leads to the breathtaking Caldeirão, a crater that resulted from the island's single volcano of origin. Boasting an impressive 3.7 km (2.3 mi) circumference and 300 m (985 ft) depth, this gigantic crater can be reached by spectacular hiking trails or from the viewpoint above. The crater also has two lakes with a few tiny islets, which locals like to say represent the islands of the archipelago. If you're curious to find out what life in a small island community of only 400 people is like, make sure you put Corvo on your Azores bucket list.
For trip inspiration and vacation ideas, one of the most popular tours that people love taking from neighboring Flores Island is the day trip to Corvo.
Are you already in love with the Azores? Take a look at our stress-free packages that allow you to book your ultimate island adventure. All our packages are carefully curated by our team of local Azorean Experts so that you don't need to worry about any details – just enjoy your trip!