Dive with Jamantas in Santa Maria Island, Azores, and Uncover an Ocean of Adventures
São Miguel Island's closest neighbor island in the Azores archipelago is Santa Maria Island. Also known as the ''mother island'' of the Azores, Santa Maria Island gets its distinct nickname due to the fact that it is the oldest of nine islands. As is the case with each of the archipelago´s islands, Santa Maria is unique from any other island in the Azores. An estimated 5,000 inhabitants consider the Azores island of Santa Maria as their home, and among the most special characteristics that set the island apart from the rest is that it is the only one of the nine islands that boast beautiful, white-sand beaches. It's pretty surreal to step foot on Santa Maria Island in the Azores and actually feel as if you have been whisked away to some Caribbean locale.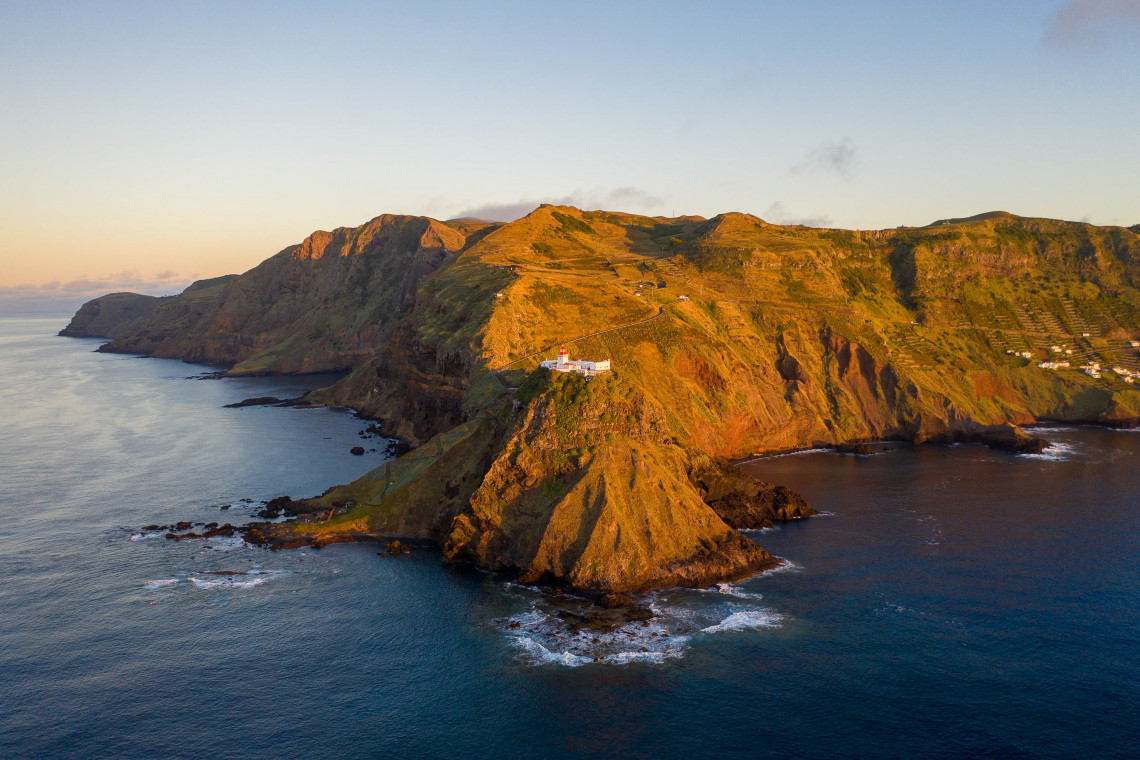 Also lending itself to a Caribbean island feel is the fact that Santa Maria Island is more flat compared to the other Azores Islands, thus completing its sandy beach vibe scene. And did we mention the fact that you can actually swim in Santa Maria Island´s warm crystal waters all year round? Put that in the plus column for the pros of putting this appealing Azores Island on your "Must See" list.
And now, for a fun historical fact about Santa Maria Island: The famed explorer Christopher Colombus actually stopped by this sweet isle away from it all on his route home after discovering America.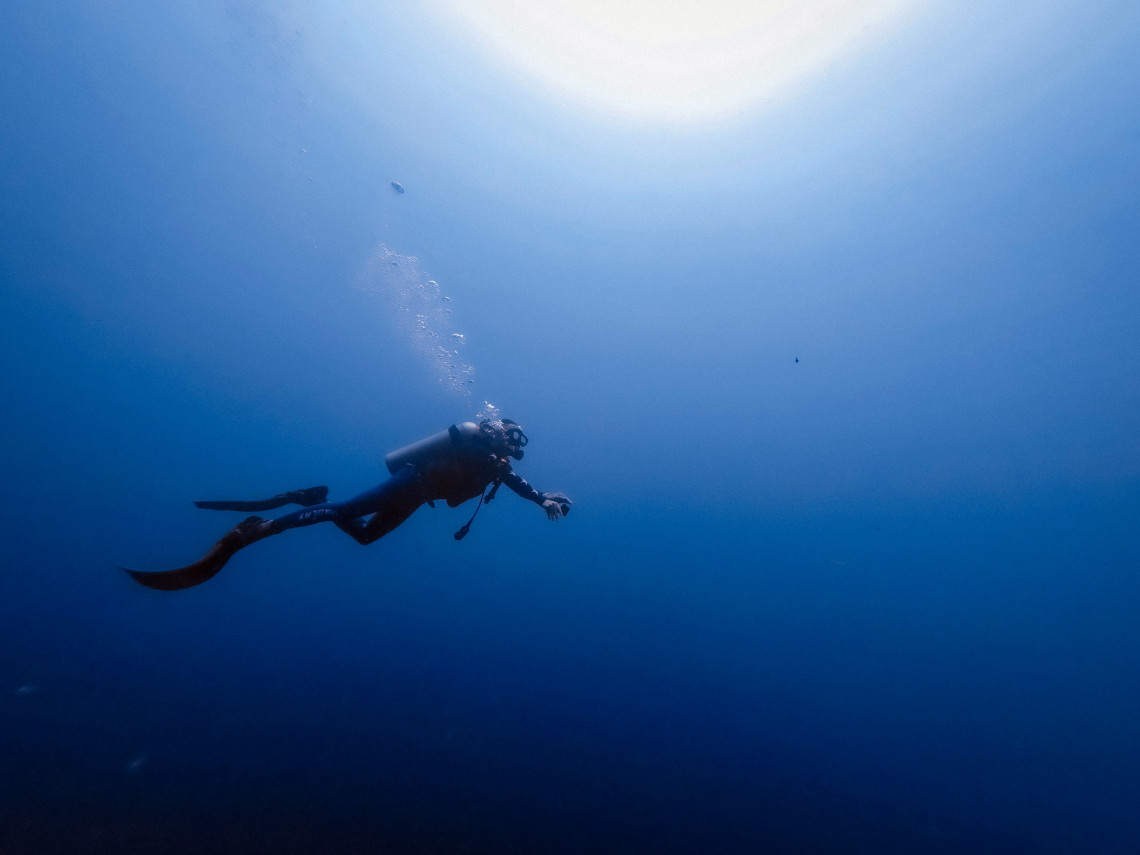 Discover Santa Maria Island: The Ultimate Diving Destination in the Azores
Yet another reason for visiting Santa Maria, Azores, is that it is one of the best spots in Europe for diving thanks to its perfect locale. Specifically, it is at the edge of the Dollabarat Bank and the Formigas Nature Reserve. In fact, tourists come from all over the world to Santa Maria for the chance to go diving on Santa Maria Island with jamantas. Indeed, the activity is so wildly popular that it is fast becoming one of the most famous tourist events in all of the Azores.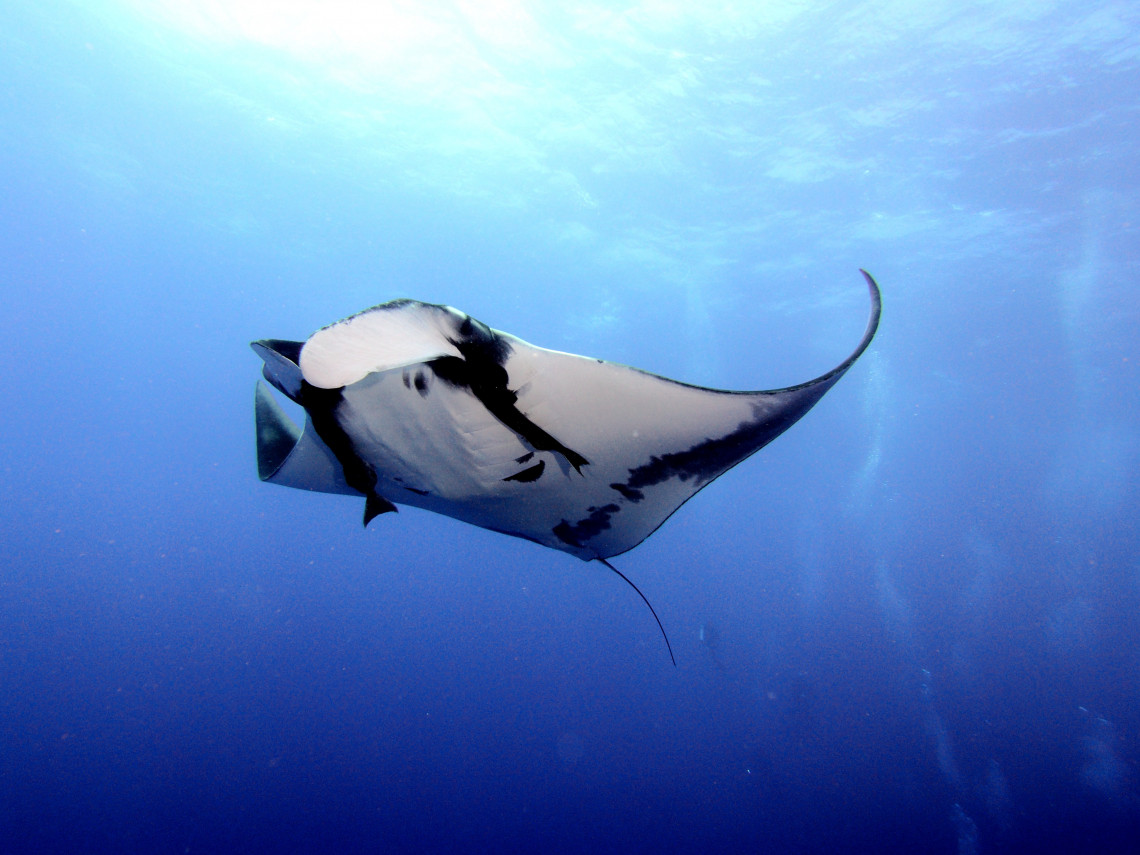 Diving with Jamantas in Santa Maria Island, Azores
Among the most visited and beloved protected areas in the Azores Islands is Ambrósio Reef, located only 3 miles from the coast of Santa Maria Island. Added to the beauty and intrigue of the area, the convenience of reaching it (it is the closest experience to the more remote seamounts that you can get without traveling long distances by boat) also adds to its appeal for visitors.
While diving in Santa Maria Island's waters around this area in particular, divers can look forward to encountering such ocean curiosities as devil rays, schools of large pelagic fish, and much more. Looking for yet another reason to head to this idyllic island to experience diving in Santa Maria? How about the fact that the island is often visited by the largest fish in the world, the whale shark, during the warmest summer months? Imagine yourself swimming through the sparkling blue waters of the Azores —completely surrounded by thousands of tunas! It is indeed unforgettable diving in Santa Maria that cannot be missed. But that's not all!
Some of these amazing creatures actually cross the planet to swim with the manta rays at Santa Maria Island´s Baixa do Ambrósio. In fact, they have become quite the all-stars on the island, as they are known to congregate in vast numbers in the Azores archipelago. Visitors here can have the enchanting opportunity to spectate one of the most amazing oceanic capes in existence: the Azores Islands jamantas and blue sharks. And when coupled with diving in Santa Maria Island, this experience will make your trip to the Azores unforgettable.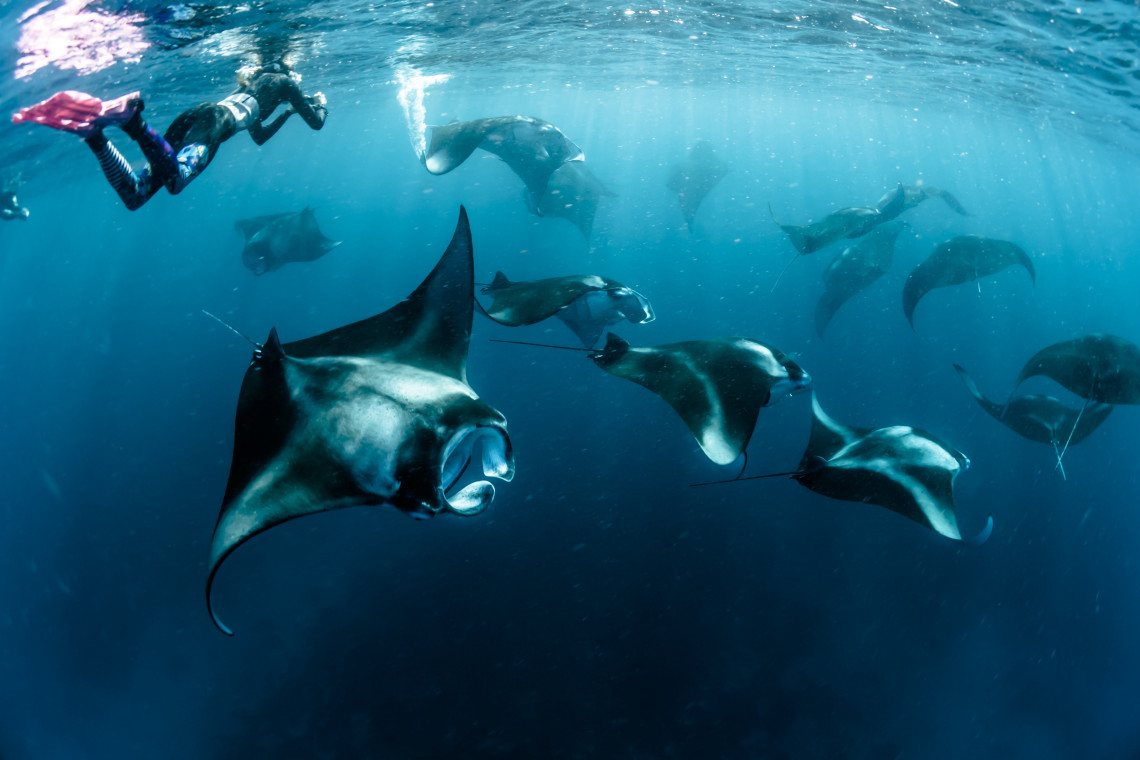 Unveiling the Mysteries: Basic Information About Jamantas (Manta Rays)
Known to be one of the biggest fish in existence, the giant manta ray can reach a staggering width of up to 29 feet, making it far greater in size than any other ray species in the entire world! Can you imagine what it would be like to come upon one of these majestic creatures while out on an underwater adventure diving in Santa Maria Azores? It would be absolutely incredible, which explains why diving is among the most amazing, and the most popular, pastimes in the Azores currently.
But, back to the mantas, Did you know that for years and years — spanning across decades, even — only a single species of manta was known to be in existence? However, scientists have recently split the species into two separate species: the giant manta ray (linked more with the deep ocean scene), and the reef manta ray (linked more with the coast). But you can learn even more about— and see both species up close— while diving in the Azores excursion!
Now, even more, manta facts: Did you know that despite their enormous sizes, giant mantas share one telling characteristic with some of the biggest fish and largest mammals on earth? It's true, as they all are known to nosh on tiny plankton as a source of their main sustenance. Imagine witnessing this while diving on Santa Maria Island, watching as these creatures glide along underwater — their big mouths agape as they filter plankton and other tiny food particles from the surrounding ocean blue. Crazy mental picture, right? But so cool, too! They even have specialized flaps called cephalic lobes that aid them in this plankton-gathering process by directing more water and food directly into their mouths. Again, imagine coming upon such a wild scene while out diving! It's now officially on our Azores To Do list!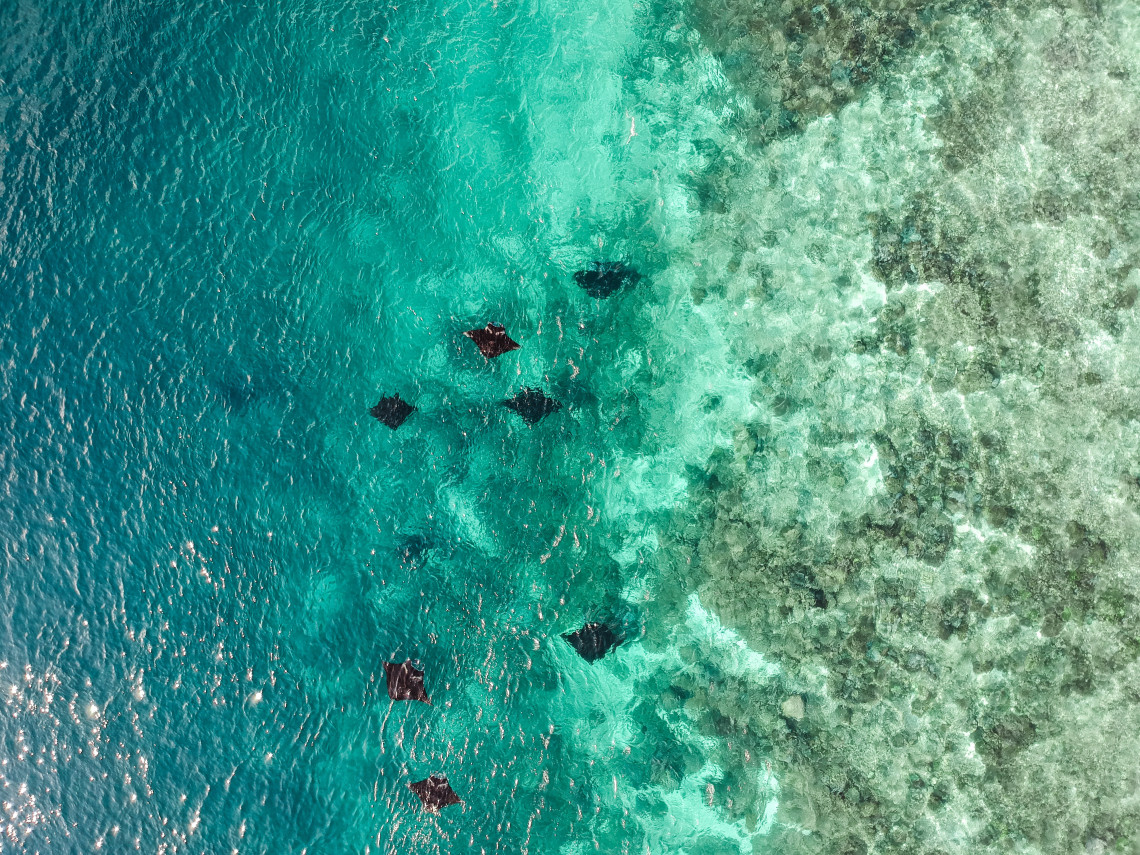 Not only are these special sea creatures a beloved feature of the Azores, but giant manta rays are actually found throughout the entire world, most often gravitating to tropical, subtropical, and temperate waters, where they are most often glimpsed gliding through the deep waters offshore, as well as near productive coastlines.
It is common knowledge that giant mantas go through grueling and lengthy migrations each year, and are even known to sometimes frequent colder waters for brief periods of time periodically. Luckily, as you will experience when diving in Santa Maria — or any one of the Azores Islands for that matter — the waters there are much more temperate and enjoyable, year-round, so taking time to spot this species up close while diving won't have to be an uncomfortable — or frigid — ordeal!
Also a fun giant manta rays fact: Did you know that these creatures usually only give birth to one pup every two to three years? It's true! As for the species' lifespan, giant mantas have been known to live upwards of 40 years, although much is still left to be known about the specifics regarding their actual growth and development process.
While diving adventures in the Azores — especially those led by local and trusted experts — pose no risk to these beautiful creatures, commercial fishing is one pastime that has been a significant threat in the past, and remains so today. While conservation measures have been taken worldwide in many destinations, the demand for manta and other ray species has still skyrocketed, particularly in Asia.
The great news is that the wild popularity of scuba diving and other diving and adventure tourism tours, like those in the Azores and on Santa Maria Island keep up a healthy demand for alive and thriving rays as well. And while the demand for diving in the Azores and diving in Santa Maria Island — as well as diving worldwide — now offers the giant manta a bit more safety and protection, the fact remains that their meat and portions of them that are being used for traditional medicinal purposes continue to pose a significant risk to the species. For this reason, it is vital that scientists remain vigilant and keep closely monitoring the species to avoid any future decline. After all, they are our oceanic neighbors here in the Azores, and are among the highlights of any diving adventure in Santa Maria Island for sure!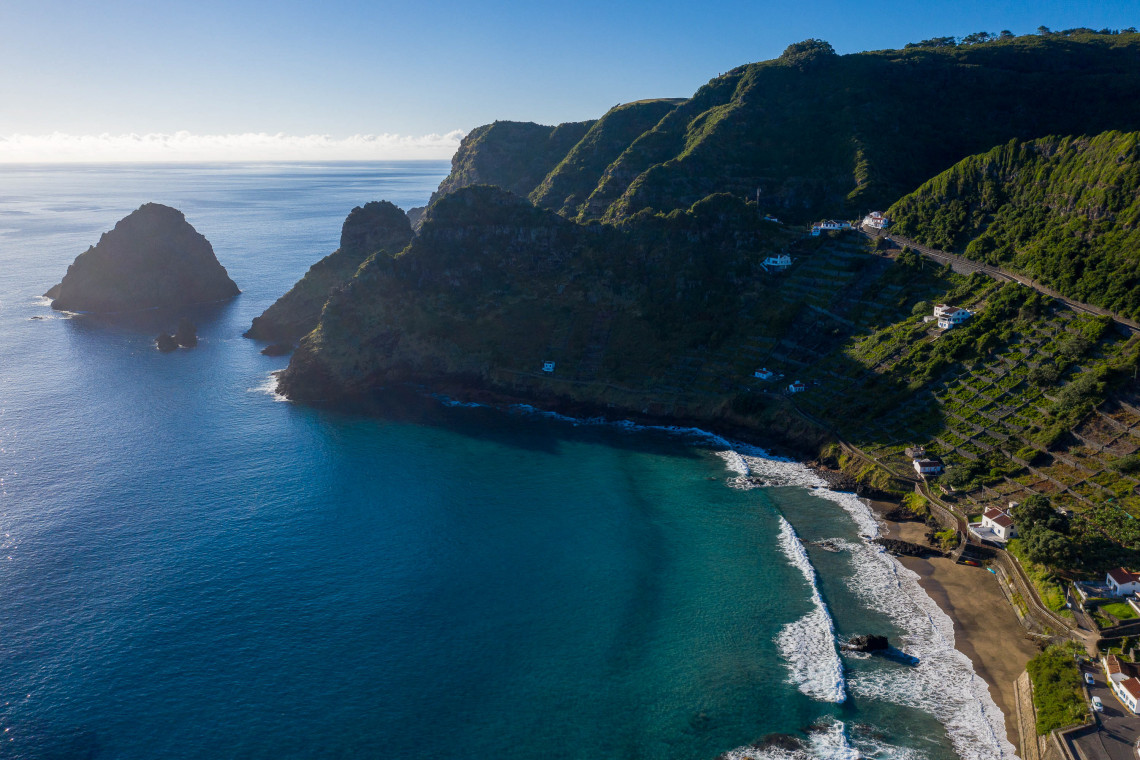 Are you already in love with the Azores? Take a look at our stress-free packages that allow you to book your ultimate island adventure. All our packages are carefully curated by our team of local Azorean Experts so that you don't need to worry about any details – just enjoy your trip!

Beyond Diving with Jamantas: Discover the Mesmerizing White Sand Beaches of Santa Maria, Azores
Stunning São Lourenço Bay, found in the Azores parish of Santa Bárbara on Santa Maria Island, was formed in a volcanic crater and has the unique shape of an amphitheater. A beautiful scene is created at this landmark, as it is surrounded by scenic vineyards on all sides, and even presents a pristine natural pool in its proximity — the only one of its kind on the entire island.
An interesting historical fact involves this sparkling bay, too, as São Lourenço was actually a welcome shelter and safe harbor for ships and fleets of fishermen passing through. As well as providing a safe place to anchor and enjoy port, the harbor also served as a vital water supply stop for the traveling ships´ crews. Even more, the inlet also became an alternate option for those wishing to port in lieu of stopping at Vila do Porto— all the way up until the mid-twentieth century.
Want more historical fun facts about Santa Maria Island and the Azores? How about this interesting tidbit: A fortification that was located at the northern edge of the bay and was known as the Forte da Baía de São Lourenço served as a defense against all sorts of attacks (mostly from pirates and corsairs, which were rabble-rousers and looters known to commonly frequent this particular tucked away island region of the Atlantic). When visiting the Azores today, you can still see trace remnants of the old fort walls.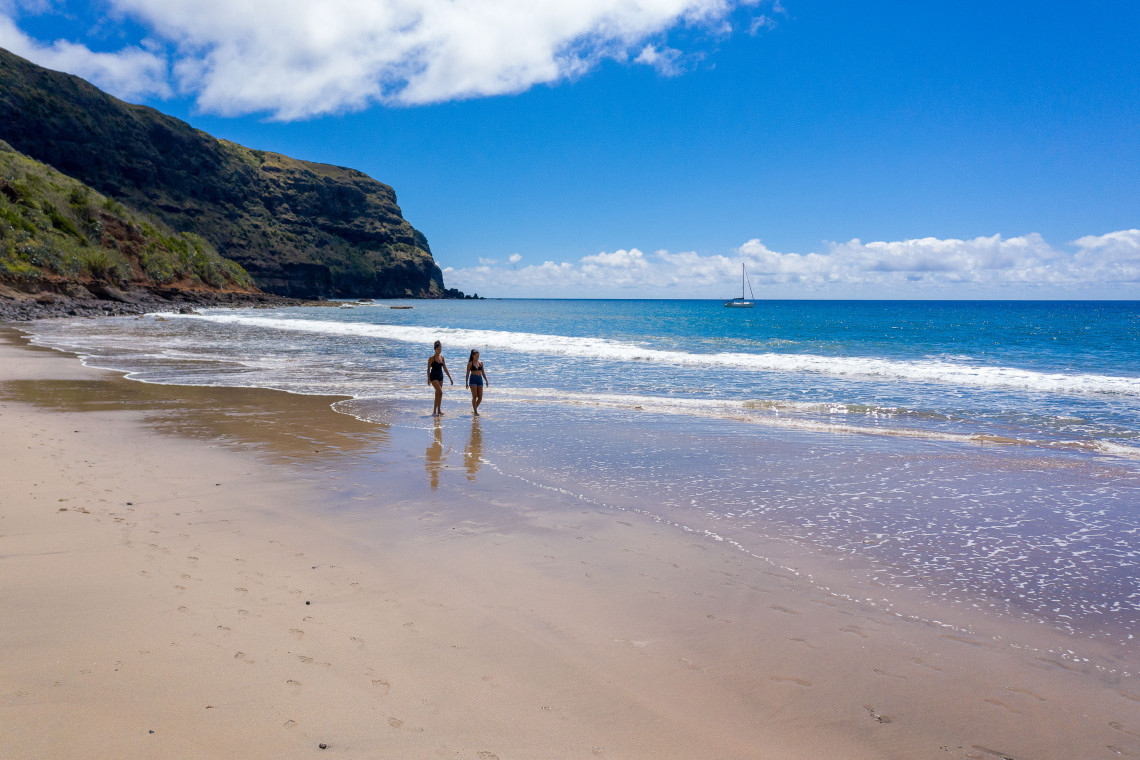 And speaking of stunning beaches, Praia Formosa is known and universally agreed to be the most beloved and best beach on the Azores Island of Santa Maria. This distinct honor has been bestowed upon it mostly thanks to its sparkling, near-white stretch of sandy beach that sits nestled amid a scenic landscape provided by lush green hillsides and captivating seaside cliffs that tower all around it. And don't even get us started on the exciting opportunities to surf that Santa Maria Island affords, as there are indeed plenty!
Dive into History: Uncover Terceira's Underwater Archaeological Park in the Azores
And it may also interest you that one of the Azores' most lush and beautiful islands, Terceira, not only has the best spots for a dive in the Azores, but the idyllic locale also boasts an incredible underwater archaeological park just waiting to be discovered and explored. Combine this exciting and rare opportunity with the highlight nautical tourism activity of Terceira Island diving — specifically, Angra do Heroísmo Diving (which is found in the capital of the Island and considered among the best spots!) — and you have a winning recipe for a wondrous Diving Azores vacation, with a side of educational experience to boot!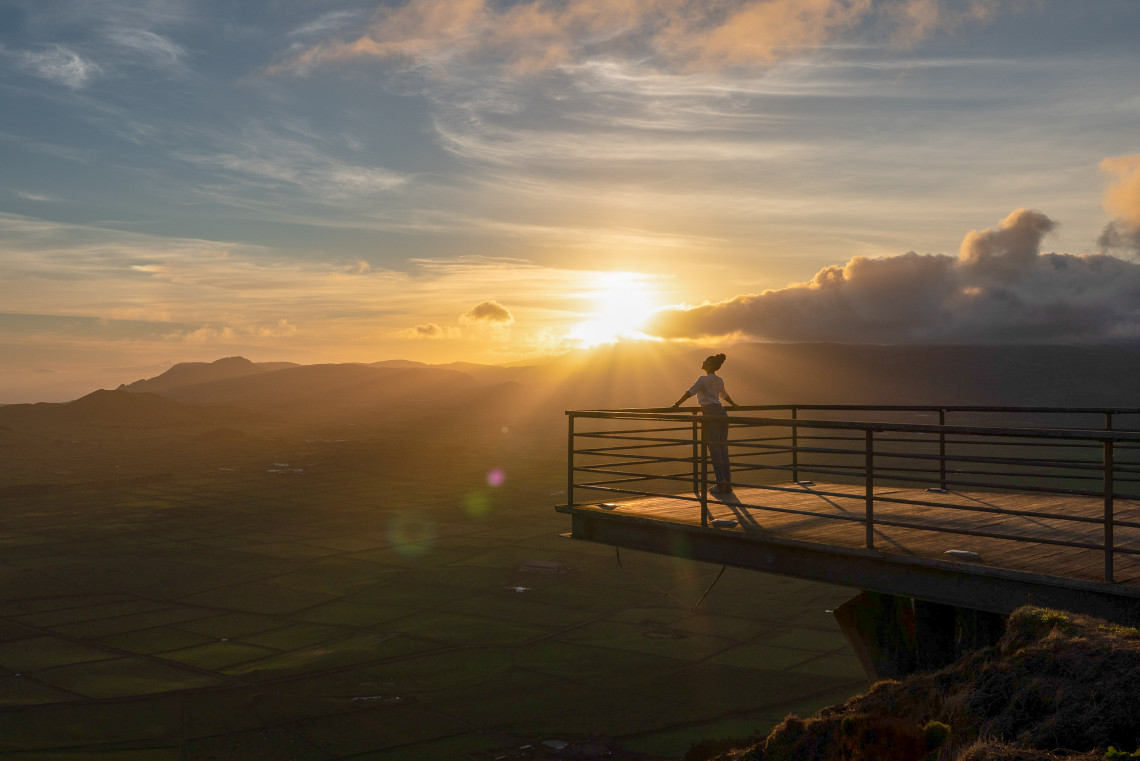 Sounds exciting, right? We are betting you now want to start planning your Terceira Island diving adventure vacation, yes? We are here to help, and the following Azores information will give you all you need to know for making your diving Azores Terceira experience one that will make memories that will last a lifetime.
First things first: The scenes that come to mind when most people hear the Azores Islands mentioned are visions of beautiful natural landscapes, volcanic hot springs, and happy cows grazing in emerald green pastures. While such stunning sights and surroundings absolutely are among the Islands' highlights, which will all await to awe and inspire you — we would be remiss to not share with you that there is so much more this peaceful and pristine natural wonderland has to offer visitors coming here on vacation. What, exactly? Diving Azores, of course!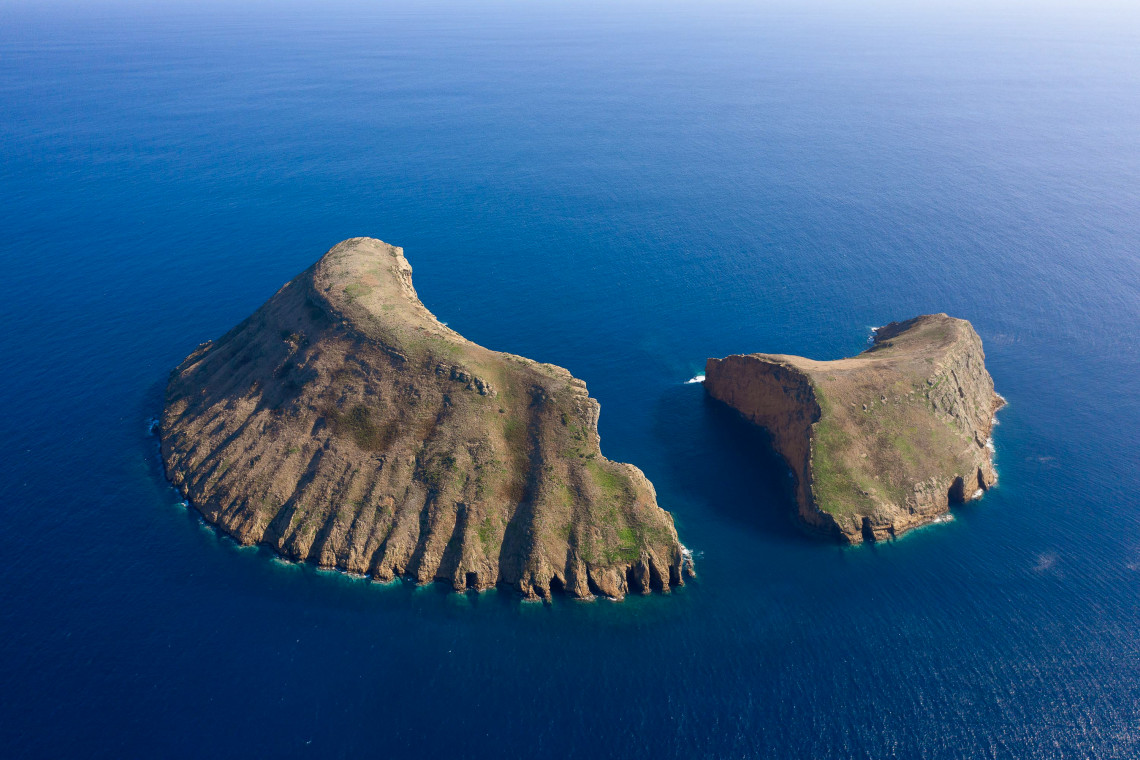 Terceira Island diving is especially incredible, and in addition to the aforementioned unmatched aesthetic beauty that this Portuguese archipelago affords travellers, the culture of the Azores is equally intriguing and rich, and deeply rooted. So, what about it makes it so fascinating and full of wonder for visitors to discover? Well, here in the Islands, visitors will get a peek at (call it a portrait if you will) a more simple way of life — one that will make them feel as if they have stepped back in time, to a place that exists in perfect peace and harmony amid the land and sea.
Visitors will immediately recognize and appreciate how unique is the Azorean culture, marked by an abundance of old-world customs and traditions. Also adding even more awe-inspiring accouterment to the rich Azorean culture are the epic UNESCO heritage sites that are scattered among the various Azores Islands, including a favorite of ours, the Underwater Archaeological Park of Angra do Heroísmo Bay.
We will talk more about this amazing site, as well as delve deeper into the cultural heritage of Angra do Heroísmo, which is the capital of Terceira Island and the only city in the Azores on the official UNESCO heritage list. Jumping right into it: The main attractions related to the cultural heritage of Angra do Heroísmo are the historic center of Angra and the Underwater Archaeological Park of Angra do Heroísmo Bay — which just happens to be the perfect locale for those looking for the absolute best spot to dive in the Azores!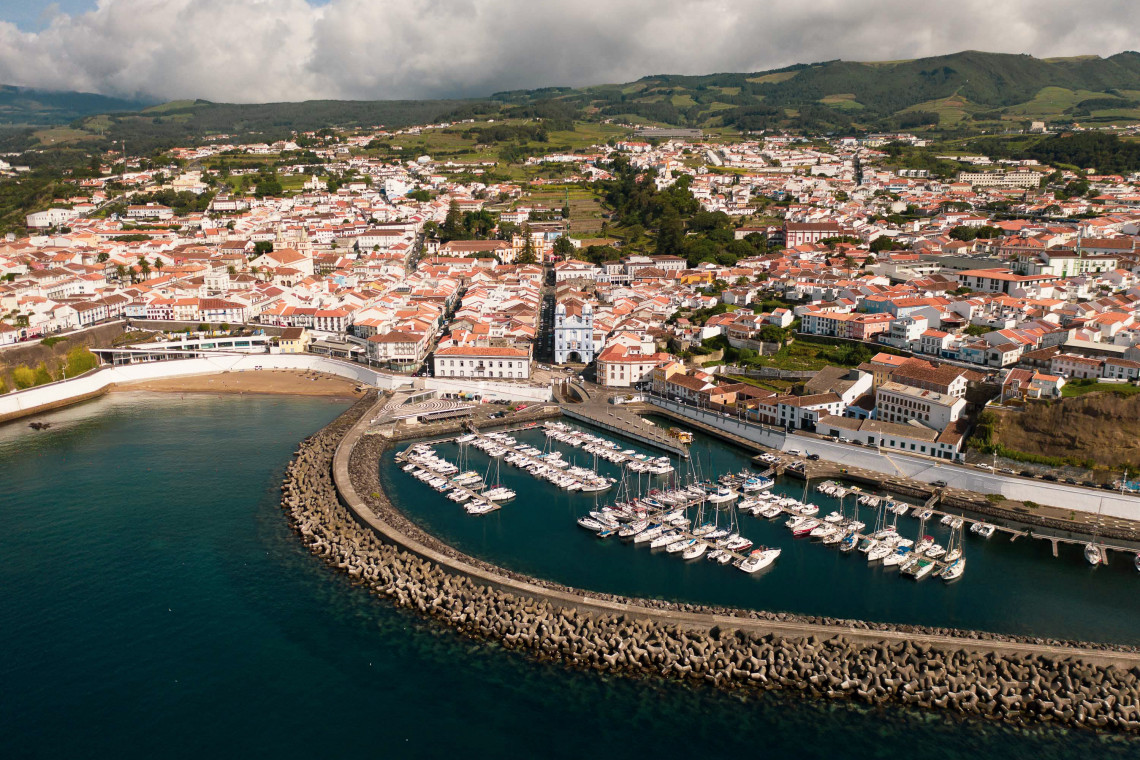 Angra do Heroísmo Underwater Archaeological Park, Terceira Island: Your Ideal Locale for a Dive in the Azores
Angra do Heroísmo Bay boasts calm, clear waters that not only make it a perfect place for Terceira Island diving but also hide intriguing mysteries and ancient lore dating all the way back centuries upon centuries! It's true! Not many people know this interesting fact, but this alluring bay was actually somewhat of a "cursed" locale for passing ships, as since the year 1552, an official count of 74 ships have met their demise among the bay's waters, their booty and prized treasures sinking right along with them—never to be found! Now, that's a reason for heading out on Angra do Heroísmo diving adventure, if we ever heard one (to maybe keep your eyes out for treasure buried at the bottom of the sea en route?!)
Thankfully, nowadays the "curse" of the bay has seemed to be lifted, and it now has become the beloved site boasting an actual underwater circuit that was created specifically for tourists to frequent and enjoy — and they do! The highlights of this circuit include the wrecked steamer ''Lidador'' and the Anchor cemetery. The "Lidador" came from Brazil, and on February 7, 1787, a strong storm caused it to sink into the Atlantic Ocean, where its remains can be visited to this day — resting at a depth of 7 meters. As for the Anchor Cemetery, this is the mystical spot where more than 40 anchors still lay, thus creating a vast amusement park-like attraction boasting myriad marine life. While definitely worth a visit during your Terceira Island diving adventure, it should be noted that this site lies much farther below the surface, and due to this reason, should only be attempted by experienced divers.
Looking for even more reasons to dive into the Azores? Keep reading, as we have plenty!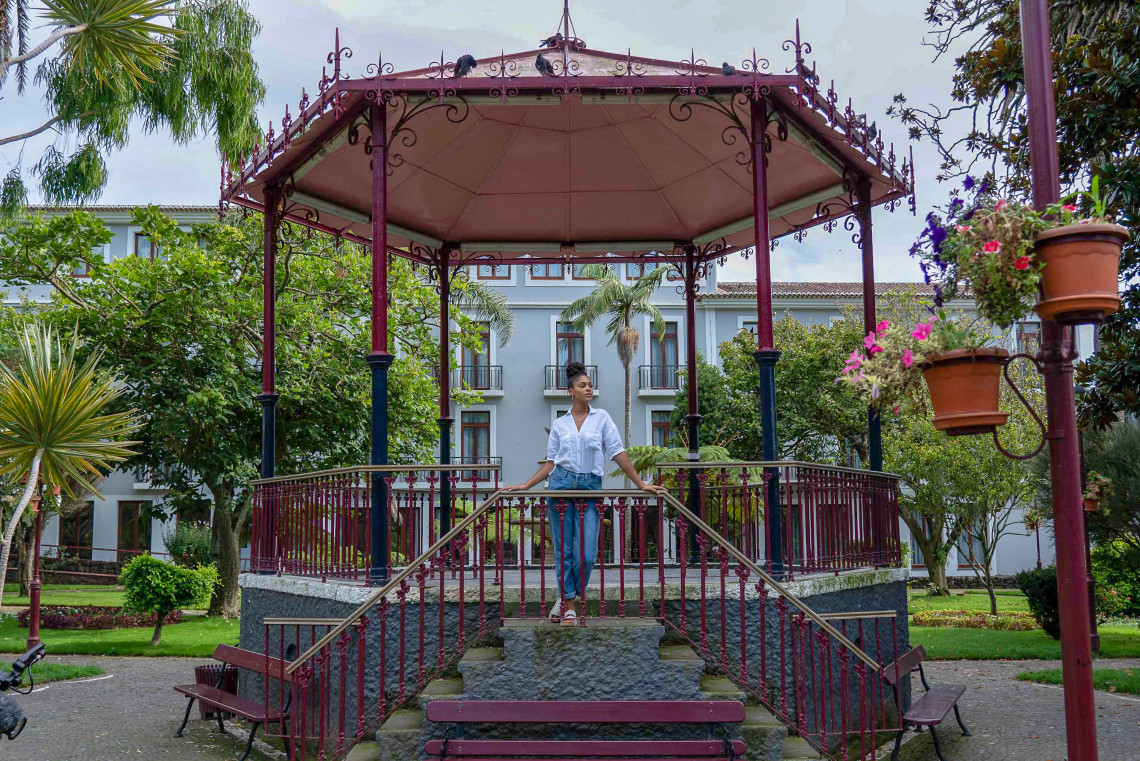 Another Angra do Heroísmo Gem: The Historic City Center
Apart from the historical elements explicitly related to Angra do Heroísmo diving, the capital city's historic center is equally appealing. Simply strolling through the historic center is an experience in itself, and as you meander among its picturesque alleyways and feel its cheery, upbeat energy, your heart will be instantly stolen. As you look around and all of the pretty surroundings, it will also be hard to believe that only about 40 years ago, this peaceful island enclave was mostly decimated by a devastating earthquake (the quake of January 1, 1980), which killed more than 70 locals.
While a sad memory, the evidence of the resilience of the Azorean spirit can be seen in how the Terceirenses — instead of letting this destroy them as well — rebuilt and soldiered on, eventually ending up with what is now a completely resplendent (and reconstituted) capital city — the highlight of which is undeniably the picturesque historic center of Angra do Heroísmo. As they rebuilt, you will see that the islanders took great pains and care to preserve most of its original architectural features, diligence which now allows all visitors to Angra do Heroísmo to get a true taste of its authentic history and culture — both of which are still thriving to this day.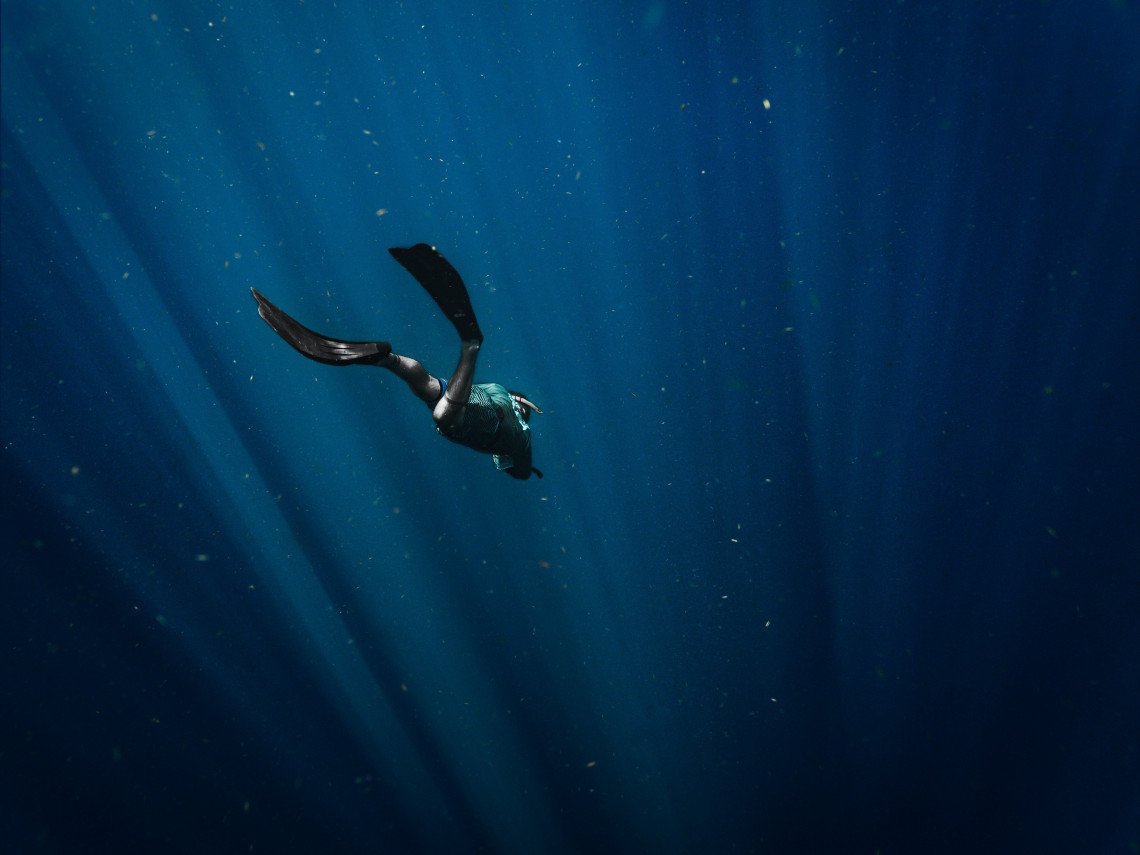 Ready to Plan Your Diving in the Azores and Historic Angra do Heroísmo Adventure?
Now, are you ready to see this incredible cultural capital city for yourself? And what about finally taking that dive in the Azores you have been dreaming about? Reach out to us today and let's talk! Our local team of experts will be more than happy to arrange everything you need for diving the Azores. And as for those who do not necessarily want an Azores vacation experience that centers around a dive in the Azores, yet still want to see that mystical sunken boat we teased above, you can always book this boat tour, allowing you to experience it all — while still staying completely dry!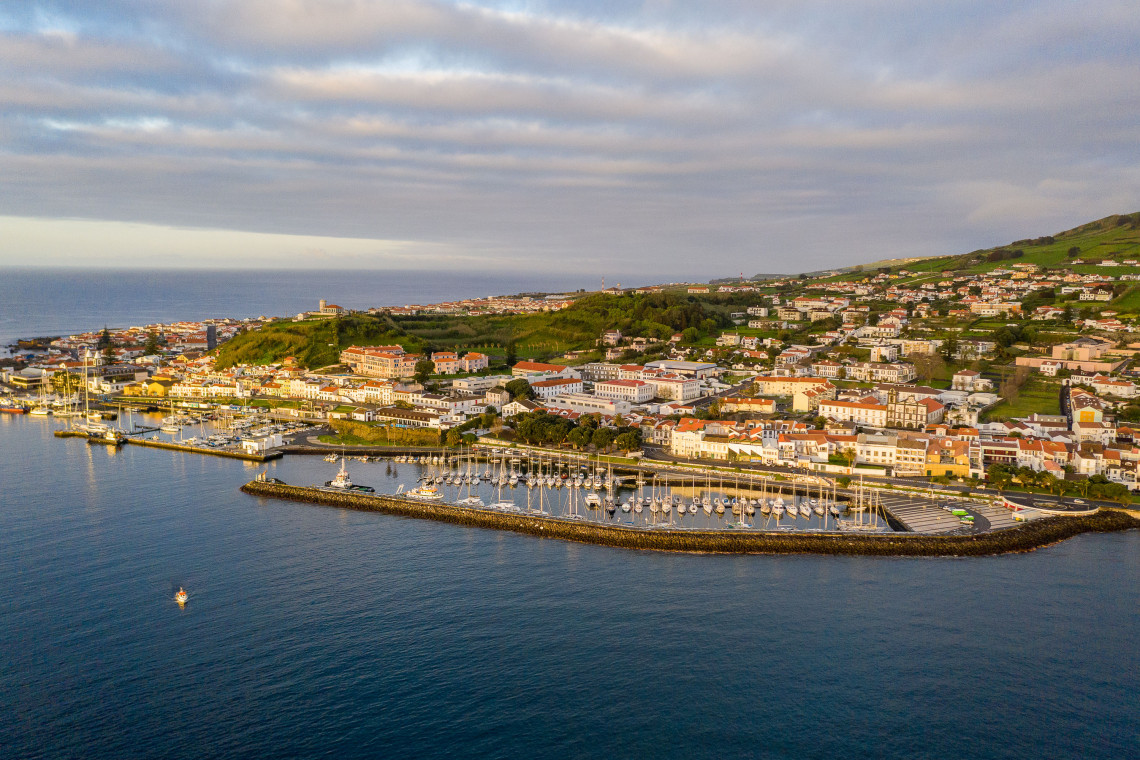 Diving in Faial Island
Faial Island's central location amid the Azores archipelago makes it easy to get to a spot that is excellent for diving. With stunning landscapes that have been shaped by the iconic volcanic eruption of Capelinhos, this natural phenomenon has left behind wondrous remnants making for a stellar seascape of discovery.
The underwater architecture alone is worth a trip to Faial to experience an Azores Island sea dive. Also worthy of note, are the most popular and beloved dive sites that can be accessed from Pico Island nearby — shipwrecks of the Condor and Princesa Alice, as well as Boca das Caldeirinhas, Baia Entre Montes, Canhões de Entre Montes, or Esplamaca Norte — can also be discovered from the shores of Faial.
Discover the Azores at Your Own Pace: Tailor-Made Trips for a Customizable Island Adventure
If you're looking to explore the Azores at your own pace, we have got you covered. Our team of specialists will work with you to create a custom-made trip that suits your preferences and budget. Whether you want to dive into the thriving marine life, hike through stunning volcanic landscapes, or relax on secluded beaches, our tailor-made packages offer the flexibility and freedom to discover the Hawaii of Europe at your own pace. So why wait? Contact us today and let us help you plan an unforgettable trip to the Azores!