Indulge in the Rich and Unique Flavors of Azorean Cheese: A Gastronomic Delight
Cheesemaking has been an integral Azorean craft since the first Flemish settlers arrived on the islands more than 500 years ago, and upon your arrival, it won't take long to see signs of the Azores' dairy predilection everywhere.
Unlike mainland Portugal, which uses plenty of sheep's and goat's milk, the cheese here is produced from cow's milk. In fact, bovines are a common sight in the Azores, which proves a perfect place for them to inhabit, since they can graze here 365 days a year -- the only spot in Europe where this is possible.
On São Miguel, nicknamed "The Green Island," only five percent of its land is allotted for commercial and residential use, thus leaving plenty of space for the cows to spread out and have free reign as they feast to their hearts' content.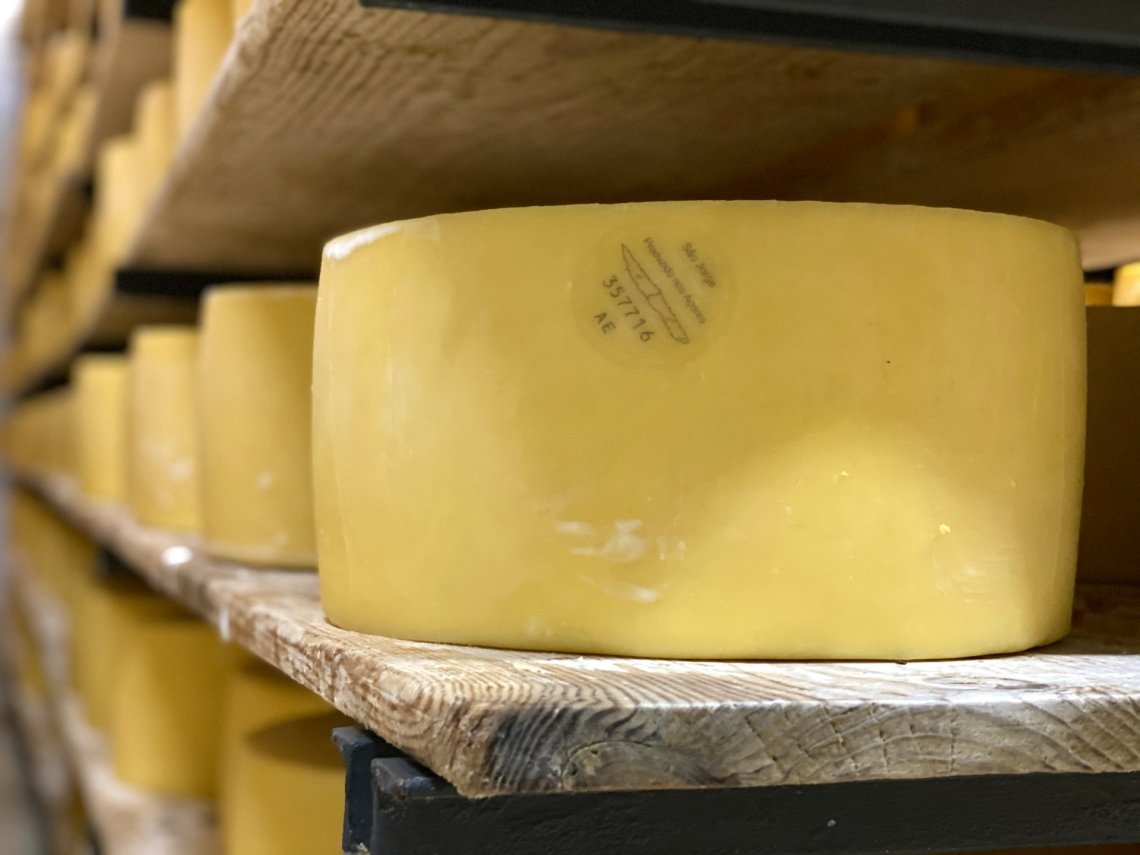 São Jorge Cheese: A Timeless Tradition Preserved on the Enchanting São Jorge Island, Azores
São Jorge Cheese is a tangy, semi-hard, raw cow's milk cheese made on the island of São Jorge. It has a distinct flavor and aroma, with a slightly spicy taste that is not found in other cheeses.
Because of how integral the cheese is to São Jorge, the island itself is often called "The Island of Cheese." The cheese is so good, in fact, that it has been granted a Protected Geographical Status (DOP) certification, given only to food products of particularly high quality that are also an important part of local tradition.
Click here to book your authentic cheese-making experience in São Jorge Island!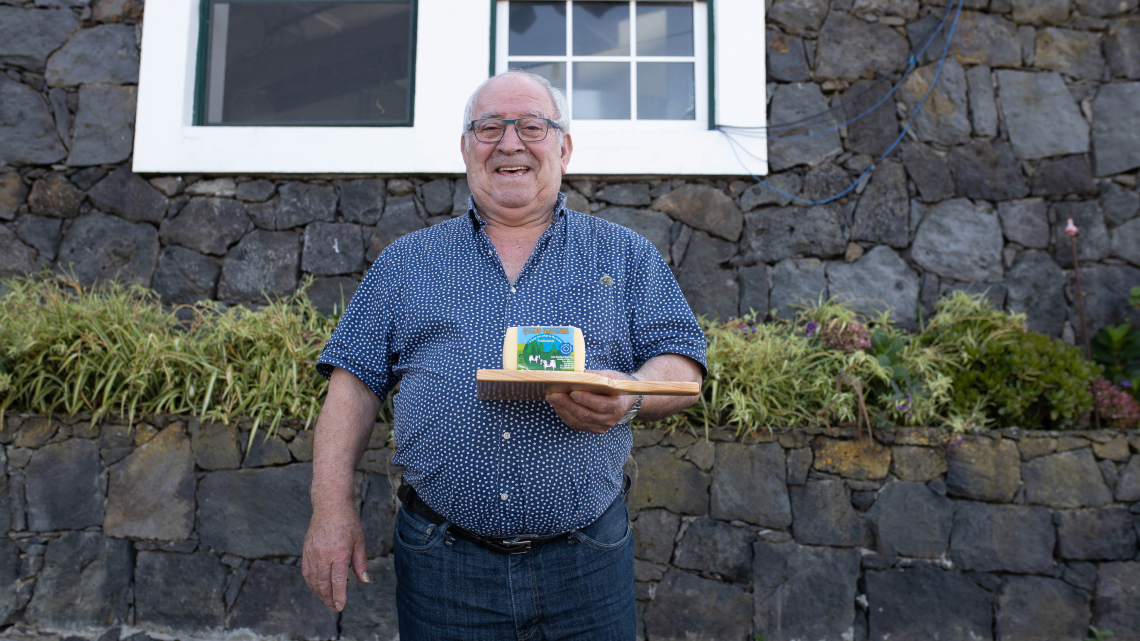 Are you already in love with the Azores? Take a look at our stress-free packages that allow you to book your ultimate island adventure. All our packages are carefully curated by our team of local Azorean Experts so that you don't need to worry about any details – just enjoy your trip!

Discover the Creamy Delight of Queijo Vaquinha on Terceira Island, Azores
Originating in Terceira Island, the Queijo Vaquinha is a deliciously creamy, buttery-soft cheese. Manufactured locally by an Azorean family, this friendly business welcomes you for a tour, where you get a chance to roll up your sleeves and get your hands dirty while learning exactly how this magnificent cheese is made firsthand!
Imagine getting to visit the award-winning Queijo Vaquinha dairy farm and creamery to meet the happy cows of the Azores, tour the factory for a behind-the-scenes look at the cheese-making process from start to finish, and sample some delicious cheese! A dream come true for avid cheese enthusiasts and animal lovers alike, this unique experience is the perfect combination of hands-on learning and tasting.
Click here to book your dairy farm experience in Terceira Island!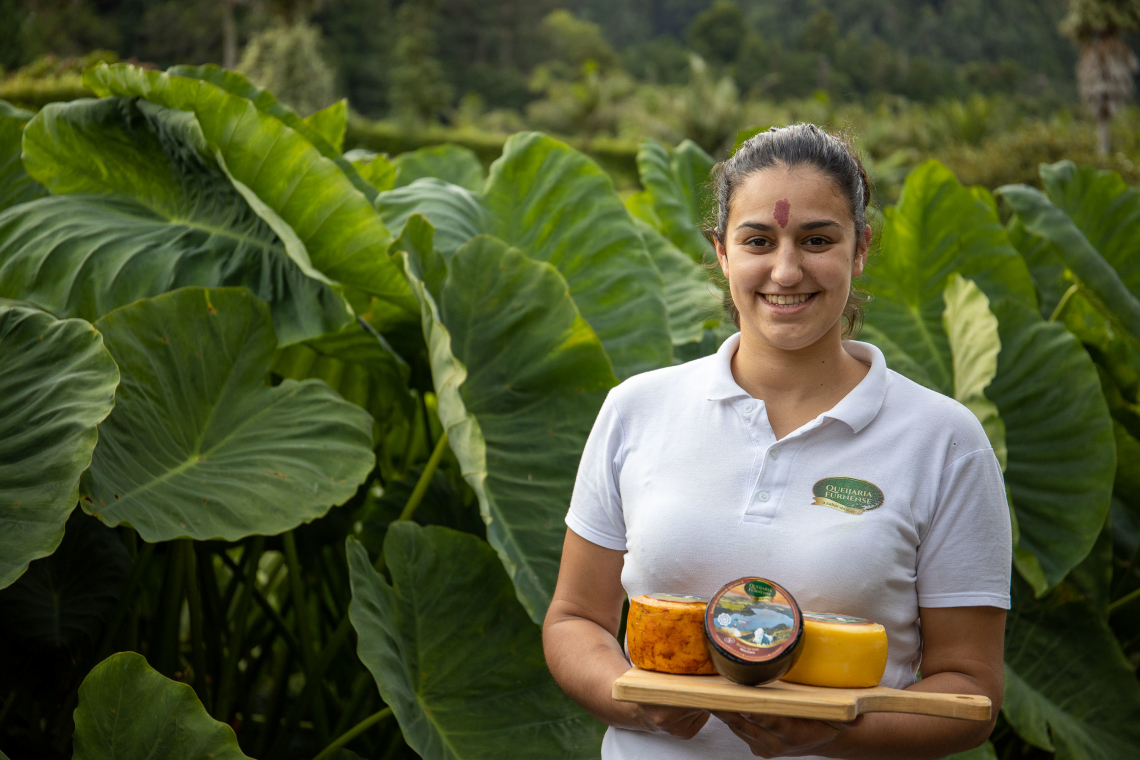 Indulge in Queijo do Vale - Sour Cheese on São Miguel Island, Azores
This cheese is made exclusively in a small, family-run factory that first started out as just a tiny dairy farm. The family's young, entrepreneurial-minded teenage daughter saw an opportunity to innovate a new cheese product using locally sourced Furnas ''sour waters'' for a unique brine and flavor, and the rest is delicious history. The Queijo do Vale is made by hand, and the milk used to fuel its distinct flavor comes straight from the family dairy farm in Furnas, where the cows graze freely and happily amid the lush Lagoa Seca Valley.
Make sure you try Queijo do Vale, now available in four delicious flavors: oregano and garlic, buttery, half cure, and thyme. Although you can certainly purchase Queijo do Vale at various supermarkets, if you're looking for a more authentic cheese experience, make sure you visit the Queijaria do Vale facilities in Rua do Caminho Novo, where you will learn all about this super tasty cheese while also supporting a local business!
For a perfect combination, of culinary adventure, you can book an Azorean cheese & wine experience in magical São Miguel Island!
Now that your mouth is watering after reading about some of the Azores' most famous cheeses, the good news is that there are plenty more to explore. In fact, every island produces its own delicious local varieties. With this in mind, it's safe to say that when it comes to cheese, the Azores Islands have something to please every palate.
Discover the Azores at Your Own Pace: Tailor-Made Trips for a Customizable Island Adventure
If you're looking to explore the Azores at your own pace, we have got you covered. Our team of specialists will work with you to create a custom-made trip that suits your preferences and budget. Whether you want to dive into the thriving marine life, hike through stunning volcanic landscapes, or relax on secluded beaches, our tailor-made packages offer the flexibility and freedom to discover the Hawaii of Europe at your own pace. So why wait? Contact us today and let us help you plan an unforgettable trip to the Azores!