Bike Riding in the Azores: Cycle the Islands of São Miguel, Terceira, and Pico
Not only is the tiny Portuguese archipelago of the Azores known for its unmatched and unspoiled beauty, but this Edenic haven is also home to an impressive abundance of magnificent trails, many of which lend themselves perfectly to Azores mountain biking and other two-wheeling delights—all of which make for unforgettable Azores cycling holidays. Have you ever imagined venturing out on two wheels? Feeling the cool island breeze as you cycle through stunning scenery while discovering dormant volcanoes, enchanted lagoons, black (or white) sand beaches, and unique coastal cliffs? It's all here, waiting to enchant you, in the Azores Islands.
Ready to start planning your perfect bike tour to the Azores? Whether you are looking for an Azores mountain biking adventure or you are wanting more of a casual and less strenuous bike tour of the Azores, these idyllic islands have a trail or road that will suit your fancy. For instance, you can choose to pedal out into the wide-open, lush spaces of Azorean nature, exploring the emerald greens of the islands, or you can opt for a city bike tour in the Azores, which will offer you the unique opportunity to discover our cities that are chock full of historic architecture and evoke the European charm that will leave you smitten.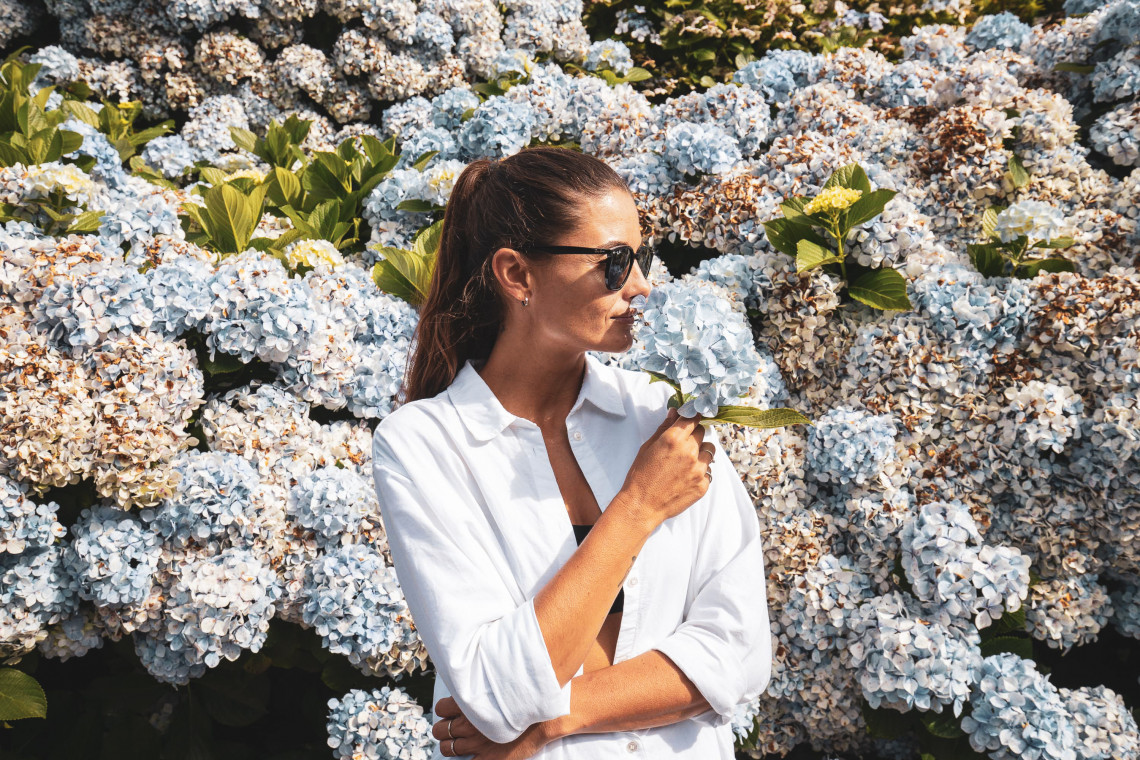 Found scattered among each of the Azores Islands of this ethereal archipelago of Portugal are numerous bike routes, each of which is divided into 3 different types: road, cross country, and enduro. For vacationers planning Azores cycling holidays and not wanting to lug around their own setup, you can easily rent a bike from many local outlets to explore the Islands at your own pace. (Of course, guided Azores bike tours offered by knowledgeable and friendly local vendors are also found in abundance here). But back to renting your own wheels and setting out on your own, which as we said, is easy and stress-free (like most everything in these peaceful, serene islands!) For this article´s purposes, we have narrowed our field down to detailing the specific highlight routes found on the Azores Islands of São Miguel, Terceira, and Pico.
Just to give you an idea, you can cycle around Lagoa das Furnas and Cumeeiras on São Miguel Island. On TTerceira Island, we suggest exploring Monte Brasil for your cycling Azores experience in this lush haven. As for Pico, why not discover the winemaking tradition that this island is so famous for by bike, with an Azores cycling holidays tour of the historic vineyards of Criação Velha?
For those looking to cruise this trio of islands by road cycling, there is plenty of that available on São Miguel, Pico, and Terceira. For those new to the term, enduro Enduro is a type of mountain bike that is characterized by cross-country and off-road track racing, where the descents are timed and the ascents are not. Enduro Azores is fast becoming a popular cycling pastime here and for good reason. Everyone who tries it simply loves it! When we refer to cross country in the Azores, we are speaking of a type of mountain biking in the Azores, which takes place over long distances and covers wild and rough terrain, such as trails and mountains. Unsurprisingly, traversing such a challenge will increase the difficulty, so extreme caution is advised, or even joining an official guided bike tour to the Azores for this type of cycling especially.
In this article, we will focus on Azores' biking via road cycling, which is the most commonly practiced—and safest modality.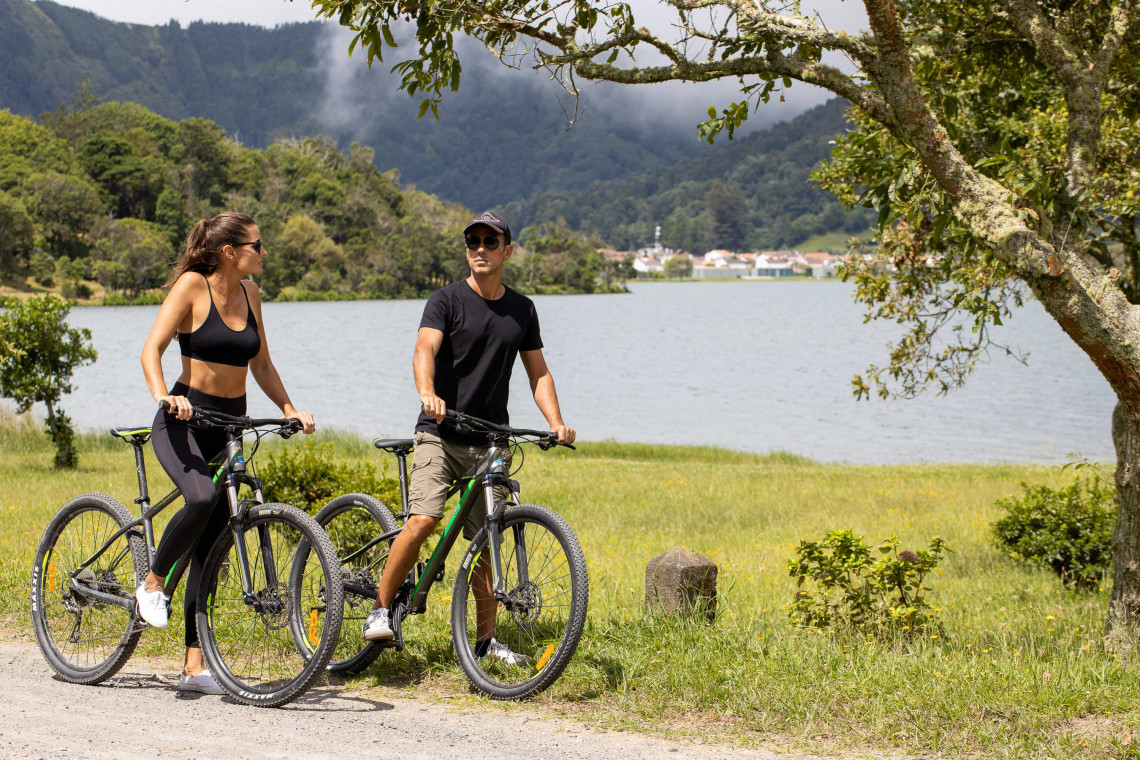 Are you already in love with the Azores? Take a look at our stress-free packages that allow you to book your ultimate island adventure. All our packages are carefully curated by our team of local Azorean Experts so that you don't need to worry about any details – just enjoy your trip!

Volta do Concelho, São Miguel Island
This Azores' biking route connects the main city and capital of São Miguel Island (Ponta Delgada) to Sete Cidades, then follows the north coast of the island and returns right back to the charming capital. Taking roughly 4.5 hours to complete, this bike tour is a perfect addition to any Azores cycling holiday adventure. The route begins in the historic center of Ponta Delgada, next to the iconic landmark, Portas do Mar. You will then follow the route by such lovely highlights as the parish of Santa Clara, followed by Relva and its many vistas, before proceeding to Covoada, where you can then access the famed Vista do Rei, in Sete Cidades by turning left next to the local dairy. From Vista do Rei, you will descend to the charming and tiny parish of Sete Cidades, before quite literally rolling on down the road to Várzea, where you will continue your journey towards the parishes on the north coast of the island of São Miguel, including João Bom, Pilar and Ajuda da Brittany, Remedios, Santa Bárbara, Santo António and Fenais da Luz.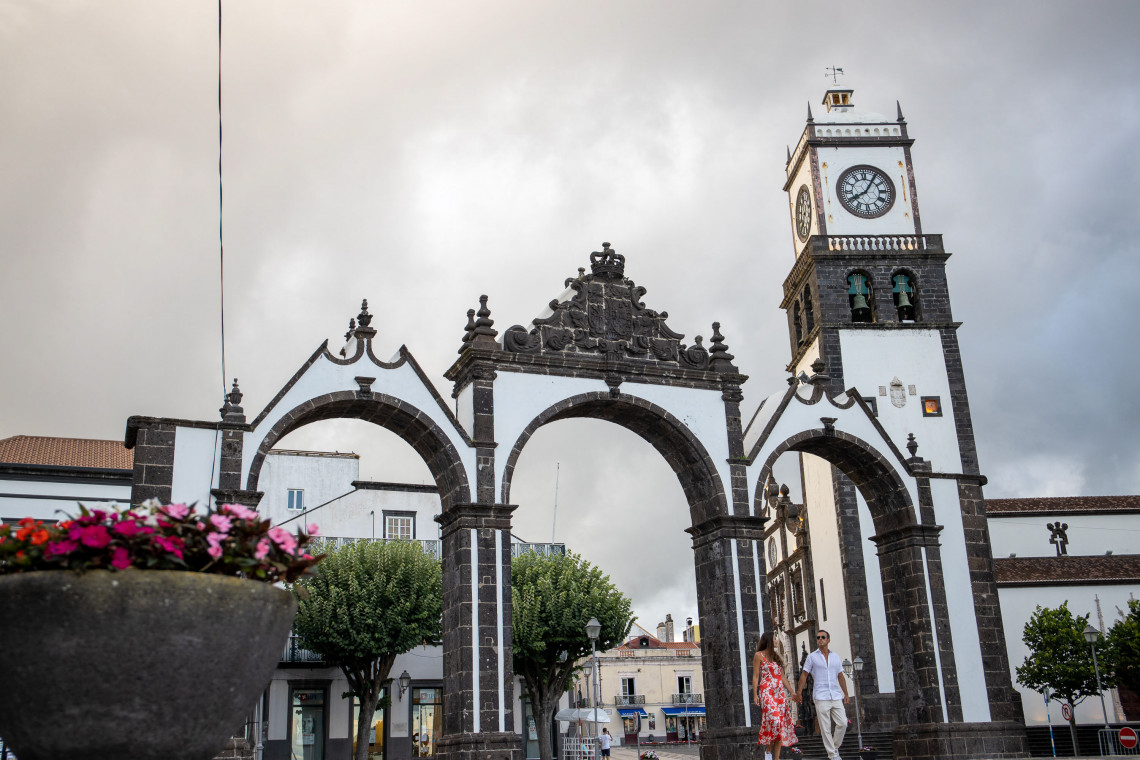 At the km marker 74, this sensational cycling Azores route gently returns you toward Ponta Delgada via the "old path" of Pico da Pedra, which takes you down Avenida Natália Correia and Avenida D. João III. Then, voila! In just a few minutes, you will once again find yourself next to Portas do Mar, right where you first began your cycling Azores adventure! What's even more incredible is that by the end of this route, you will have covered an impressive total of 91.2 km and have "climbed" an elevation of 1771 meters! Good for you! May we suggest rewarding yourself with this incredible feat by taking some time to cool off in the Pesqueiro natural pool, or taking advantage of the numerous bars found nearby in Portas do Mar to purchase a cold drink and relax. You've earned it!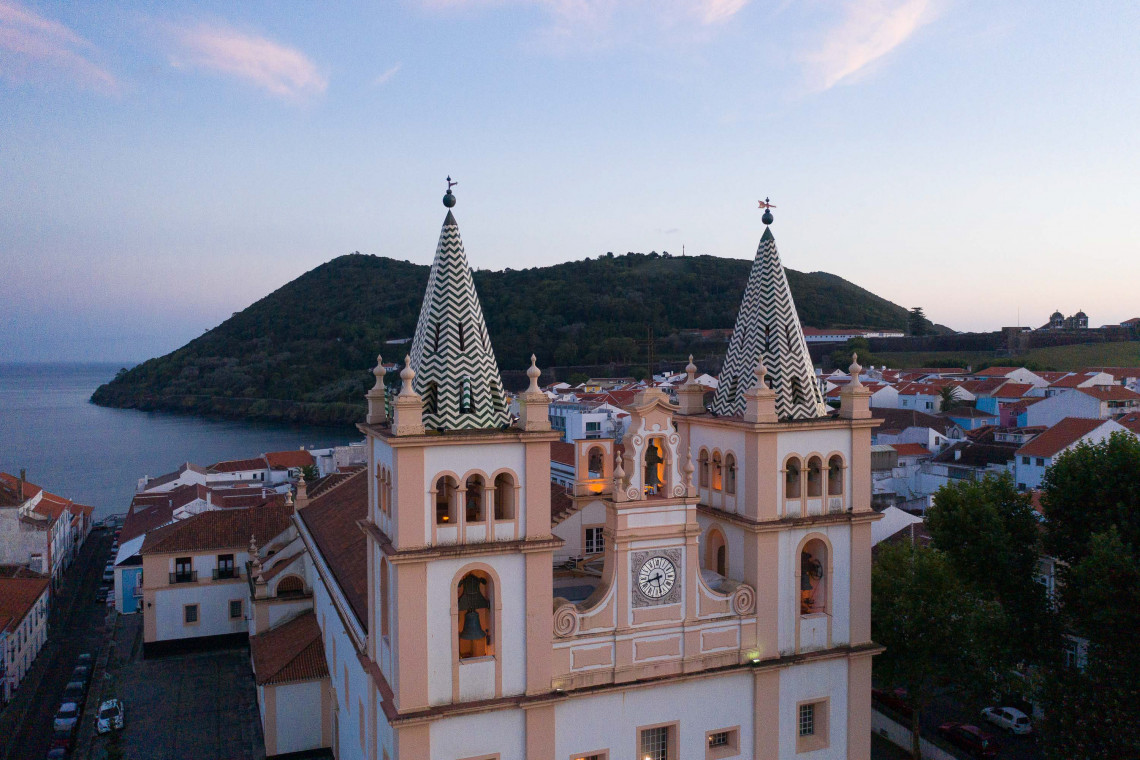 Biking in the Azores: Finding Two-Wheeled Bliss on Terceira Island
This Azores cycling holidays tour winds its way around the lush wonderland of Terceira Island. A stunning circular route that starts and ends in the island capital of Angra do Heroísmo—which happens to be the only city in the Azores inscribed on the UNESCO Universal Heritage list—this route will leave you speechless and with a radiant glow, indeed. Starting at Praça Velha in the historic center of Angra, you will take Rua da Sé, followed by Avenida Tenente Coronel Agostinho. Continuing west at the roundabout, you will arrive at São Mateus da Calheta, which is a cute button, small fishing village, after which you will head to Cinco Ribeiras, an idyllic enclave known and beloved by locals and tourists alike for its bathing area that can only be described as bringing pure bliss. After passing through a trio of charming parishes--Santa Bárbara, Doze Ribeiras, and Serreta)--we suggest you take a break at the Raminho viewpoint to snap a few picturesque photos, relax a little, and soak up the fantastic coastal views of Terceira Island. After you have had your fill of fantasy vistas and stunning scenery (be sure to look to try and get a gander at Ilha Graciosa, to your right, and the other islands of the central group of the Azores, to your left), continue along the cycling Azores route until you reach Biscoitos, where you can choose to take a refreshing dip in the island's most famous natural pools or visit the historic Wine Museum.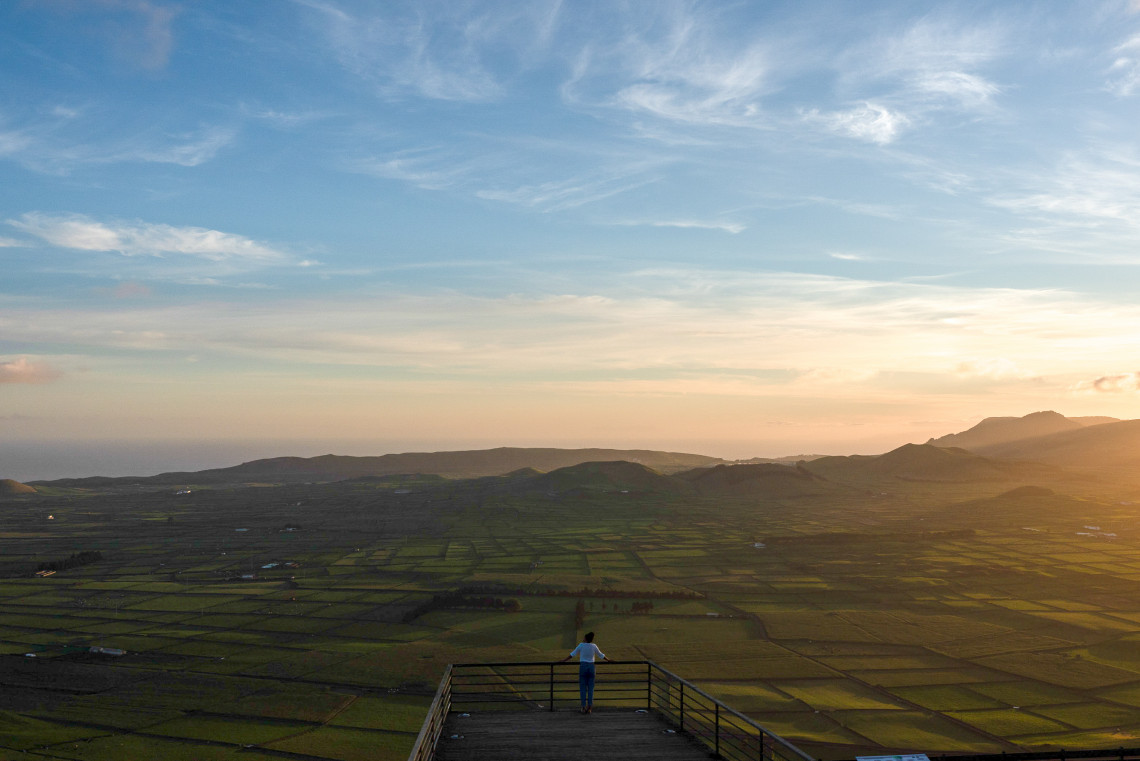 Following your stop here, you will head towards Quatro Ribeiras until you reach Lajes, after which you will turn your attention—and wheels--towards Praia da Vitória, an area known for its breathtaking beaches. After soaking up some sunshine and enjoying watching—or jumping in—some waves rolling in, continue cycling towards Porto Moniz until you start the ascent at Feteira, which will lead you right back to the awe-inspiring, architectural wonder that is the historic center of Angra do Heroísmo. When all is said and done and you have completed your Azores cycling route, you will have ridden approximately 4.5 hours and traversed a total of 80.41 km, having "climbed" an elevation of 1,255 meters! Pat yourself on the back and then take a rest, as we have a discovery bike tour of Lilac Island for our next suggested jaunt!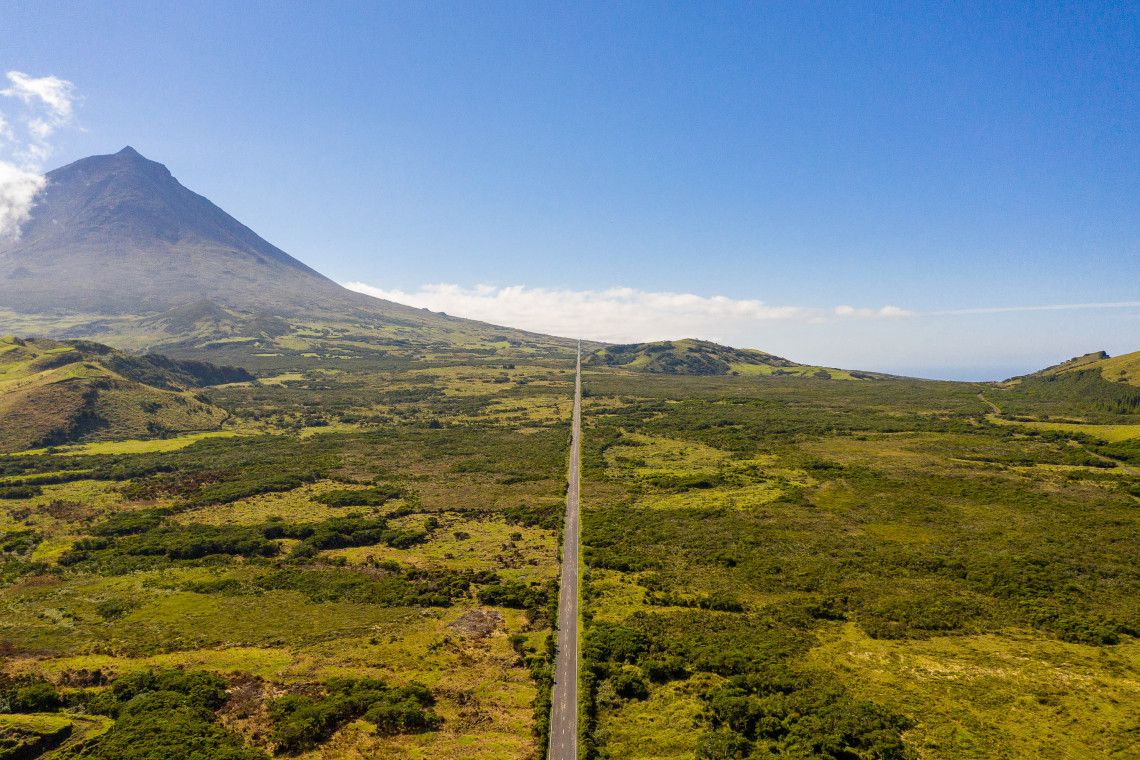 Pico Granfondo: Azores' Cycling in Pristine Pico Island
This road cycling tour starts in Vila da Madalena, next to the maritime station, and will take Azores biking holidays peddlers approximately 7 hours to complete, as it covers an impressive distance of about 144 km and climbs a total elevation of 1,828 meters! The first crossing point of this biking Azores tour is beautiful Barca Bay, home to one of the most famous bars in the Azores, Cella Bar, which is known for its fantastic and unique architecture, as well as for its inviting gastronomic setting. Always following the sea—an astounding route that will offer you endless scenic views as you go--you will next head to Cais do Mourato, an enclave known for its recreational bathing area. The route will then take you on a whirlwind tour of numerous magical towns, including (in order): Cachorro, known for its unusually shaped rock formation; through Lajido, where the wine with the same name is produced and, finally, Arcos.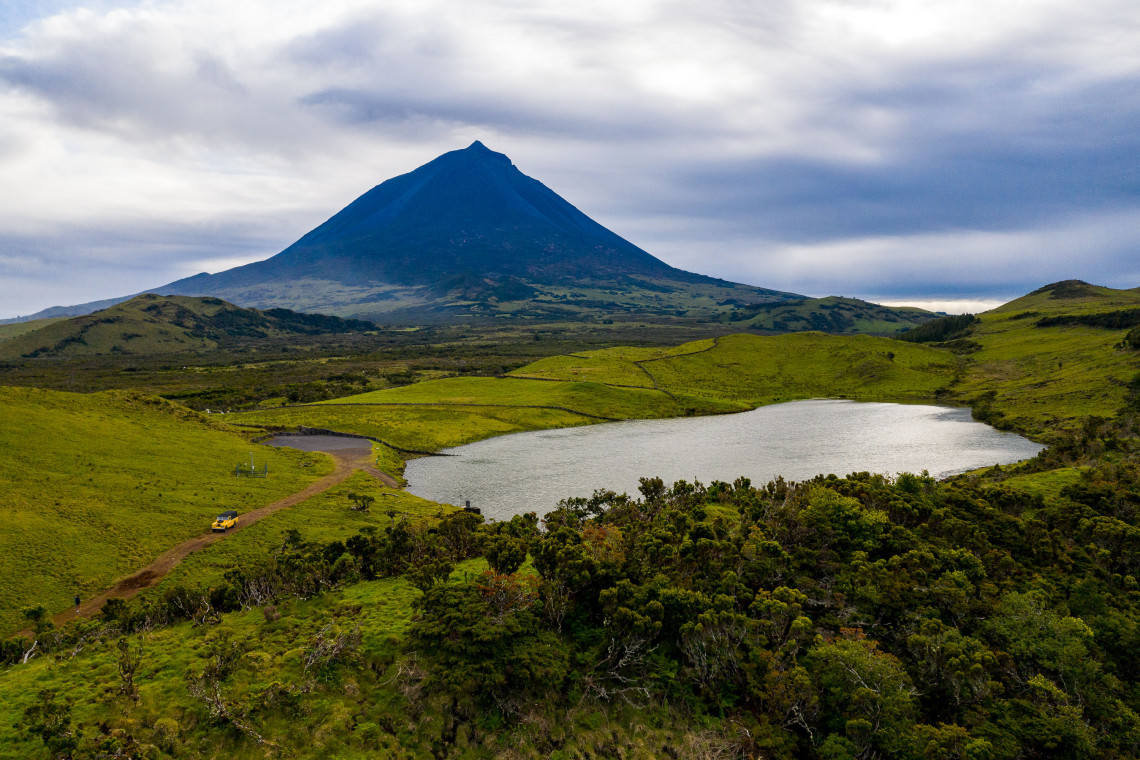 After passing through these towns, you will begin an ascent, turn right towards Madalena, and come upon brand new treasures, including (in order): a visit to the parishes of Santa Luzia, where you can follow the pedestrian path of the Caminhos de Santa Luzia; then on to Corner, Slab, and Bandeiras, where the Church of Nossa Senhora da Boa nova stands out, and finally, Cabeço Chão. Then, still pedaling your heart—and legs—out, you will ascend one of the steepest slopes of this biking Azores route—a slope with an average incline of roughly (pun intended!) 7%. The highest point of the route is reached at 43 km, followed by the famous straight of Pico Island, where you will have the opportunity to soak in the beauty of the natural wonder that is Lagoa do Capitão (at 48 km).
At the end of this famous linear road, you will turn left and start your descent towards the sweet little village of São Roque, where at the 61.5 km mark, you will have the opportunity to enjoy a blissful break in the bathing area belonging to ​​the São Roque pier, where the island's historic Whaling Factory Museum is located. While you are here, we highly recommend taking time to peruse the museum, which will offer you fascinating insights into the whaling past of the Azores.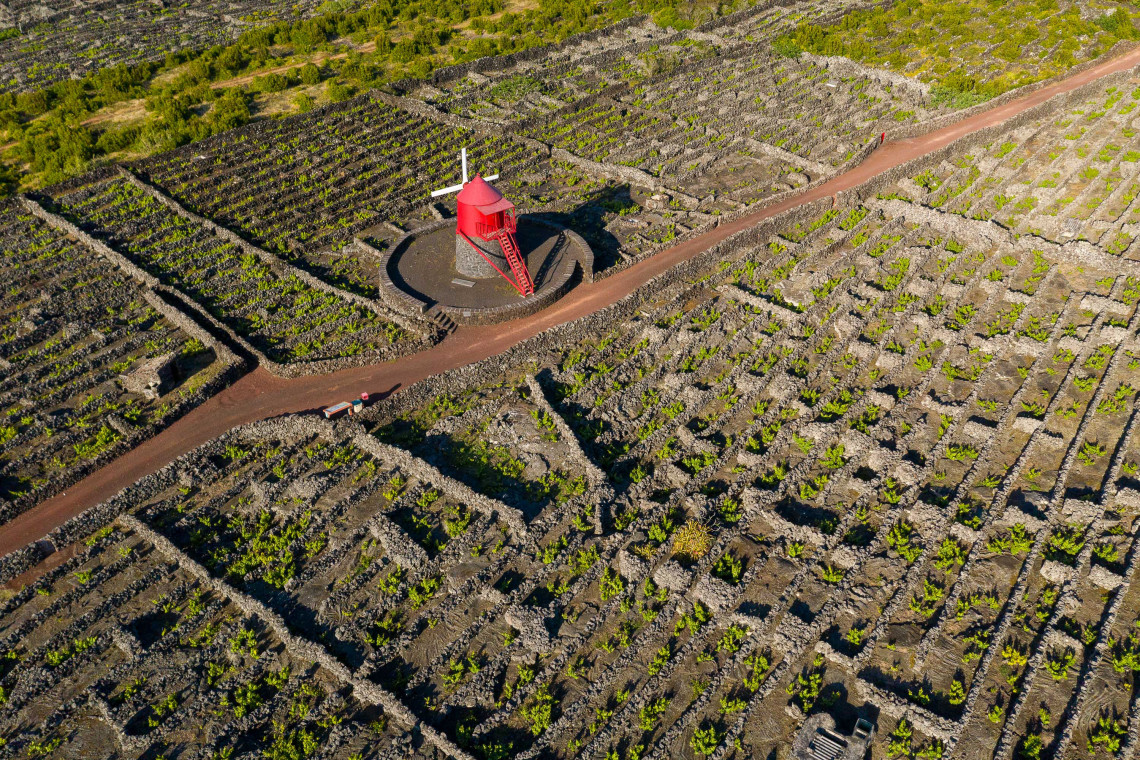 But wait! Your cycling Azores adventure isn´t done yet! You will also pass through the serene and scenic parishes of São Miguel Arcanjo, Prainha de Cima, Piedade, and Altamora, and in the south of the island, the parishes of Calheta de Nesquim (one of the main ports for whale hunting), Ribeira Grande, Pontas Negras, and Ribeira. Finally, you will reach a descent to Lajes do Pico, where the celebration of Whaling Week takes place. Take a deep breath and enjoy this moment in paradise… you may need to pinch yourself here, because this route and the island itself is a dream come true… before heading west and passing through Silveira to Criação Velha, where you will reach the end of this epic bike tour and have the opportunity to enjoy the landscape of the Pico vineyard culture, a UNESCO World Heritage Site, upon your arrival at the village of Madalena.
After you have completed such an epic bike tour, you will surely have been bitten by the biking bug and want to explore even more of Pico Island via cycle. We have excellent news for you! Azores Granfondo is a cycling festival that takes place annually on Pico Island, so now is the time to start planning your Azores cycling holidays to coincide with this extravaganza!
Speaking of planning your cycling adventure in the Azores, there is no time like the present, and we are here to help you create the dream bike Azores itinerary! Enlist the help of our local experts to help you plan your dream getaway today!
Discover the Azores at Your Own Pace: Tailor-Made Trips for a Customizable Island Adventure
If you're looking to explore the Azores at your own pace, we have got you covered. Our team of specialists will work with you to create a custom-made trip that suits your preferences and budget. Whether you want to dive into the thriving marine life, hike through stunning volcanic landscapes, or relax on secluded beaches, our tailor-made packages offer the flexibility and freedom to discover the Hawaii of Europe at your own pace. So why wait? Contact us today and let us help you plan an unforgettable trip to the Azores!