Hot Springs in the Azores: Furnas Village is the Feature Spot
São Miguel Island is home to an exceptional array of mineral hot springs sure to elevate you to unmatched levels of relaxation. The Azores' unique volcanic origins make these islands a thermal paradise, featuring steamy, iron-rich pools tucked amid lush green vegetation and tropical trees, and even a natural ocean pool heated by a volcanic vent and cooled by the ebbing tides of the Atlantic.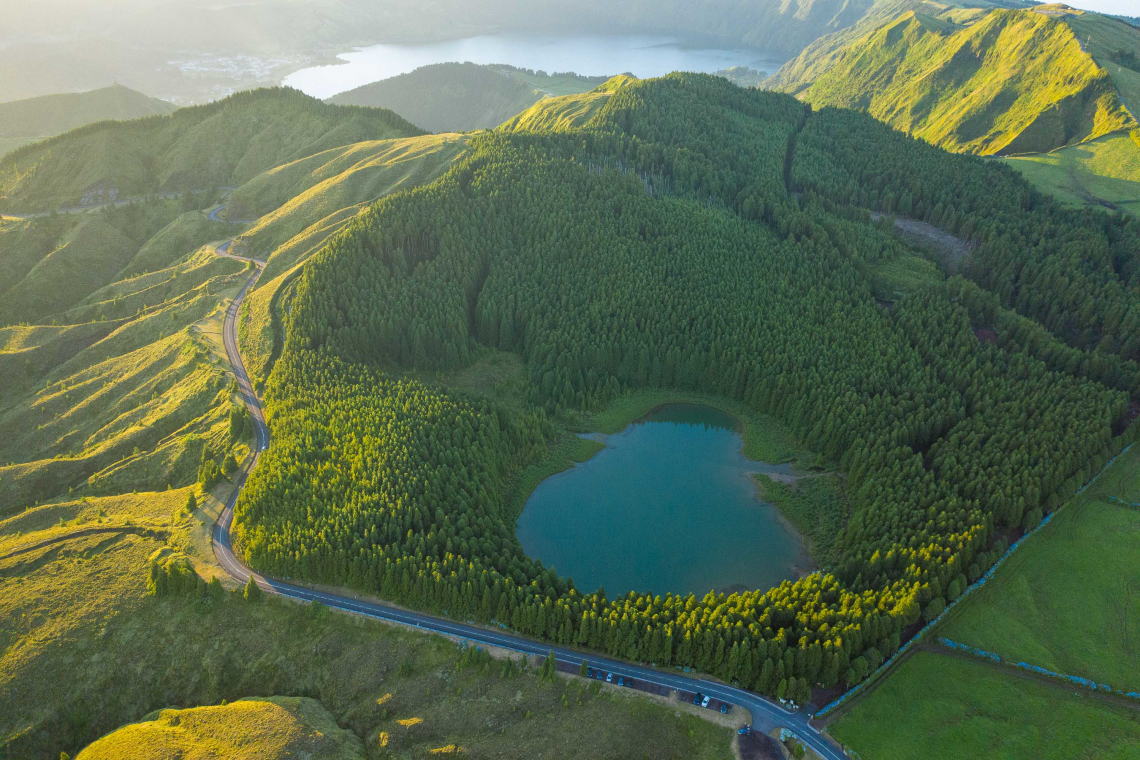 If you're looking for a vacation destination that offers above and beyond your standard sightseeing options, the Azores is the destination you perhaps didn't even know you were looking for. Summer is the most popular time of year for visitors, but the great thing about the Azores is that due to its moderate climate featuring mild temperatures year-round, there's no such thing as an "off-season" here. Average temperatures sit comfortably at about 13°C (55°F) in the winter and 24°C (75°F) in the summer, which means that rain or shine, winter or summer, the Azores Islands never lose their charm and can always be enjoyed! Due to the Azores' location in the middle of the Atlantic, weather can be unpredictable, no matter the season.
Discover The Furnas Village: The ultimate destination for hot springs in the Azores
As the locals like to say, you can experience all four seasons in one day here. But the great news is that no matter the forecast, visitors and locals alike can enjoy the thermal pools of the Azores any time of year, especially in Furnas! Nestled deep in a verdant valley, Furnas village is a thermal water paradise that wows visitors with its jaw-droppingly beautiful aesthetic. Prepare to be blown away by lush volcanic landscapes, bubbling caldeiras, and steaming fumaroles around every corner.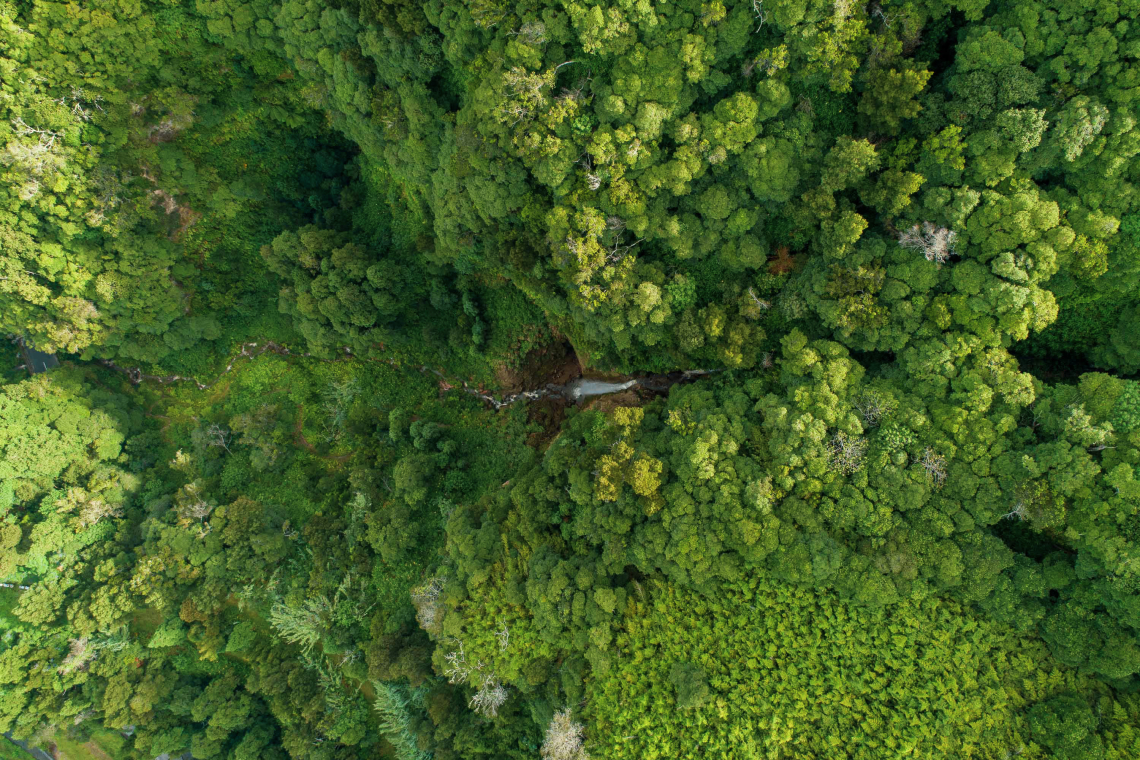 The best way to describe the Furnas hot springs pools is to say they are a mineral water outdoor natural spa where you can indulge in beauty treatments and massages absolutely free! That's right, just when you think it couldn't get any better, you have access to five-star worthy European spa-like waters, without the hefty price tag. Due to the high iron content in Furnas' thermal waters, you can find the equivalent of a natural clay mask within the pool walls that will rejuvenate your skin and make it shine. At the same time, you can get a fantastic massage thanks to the various pools' little cascading waterfalls that slide down your back and shoulders, relaxing and refreshing you as you are serenaded by nearby birdsong from the Terra Nostra garden.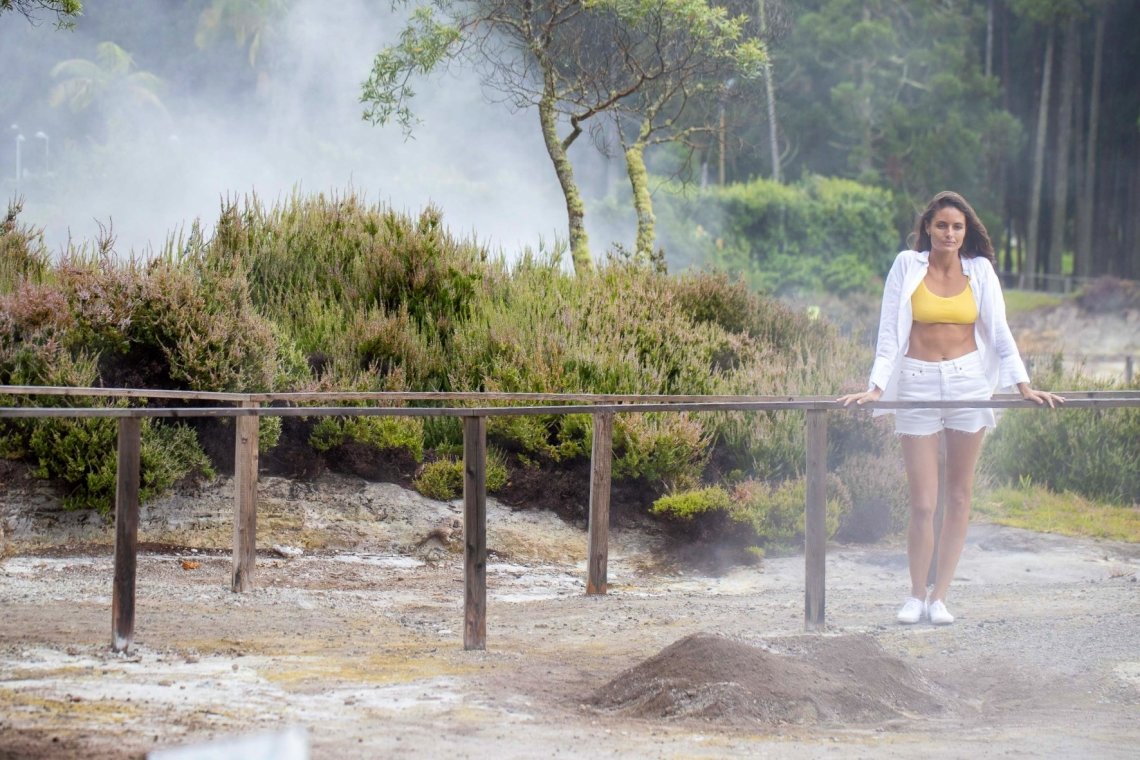 Before you even reach the pools, right as you arrive at Furnas, you will most likely be met with the ''Furnas smell'', as people call it. This unique aroma is sensed the moment you pass the village's parish entrance, and while it may take a few minutes to get used to it, it is noteworthy that this is where the scent is the strongest due to its close proximity to the springs and geysers area nearby. Here, right in the parish entrance, is where locals usually cook corn cobs in geysers, where the water boils them via super high temperatures (you'll witness this and be able to assess the heat by the effusive and magically eerie smoke). But that's not the only place in Furnas village where unusual things happen.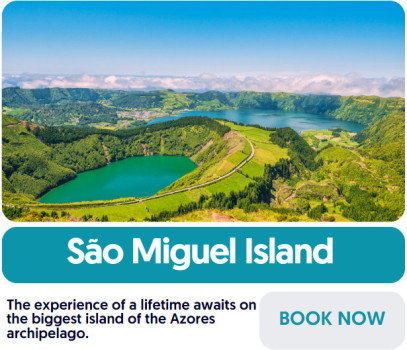 One mesmerizing tradition the people of the Furnas Lake region cherish and still uphold is using the volcano's heat to cook a delicious stew known as ''Cozido das Furnas''. Big pots, piled high with layers of meat, vegetables, and whatever other ingredients you like, are placed into deep underground holes, and about 5 hours later, these pots are pulled back up. The result is a satisfying and flavorful, hearty stew. Of course, you don't have to buy a big pot of stew yourself in order to try this local delicacy, as most restaurants serve specialty cuisine made fresh every day for a very affordable price. So now that you know it is readily available, be sure you try it! Furnas also has other delicious signature items, such as ''bolos lêvedos'' and local cheese made from its iron-rich waters.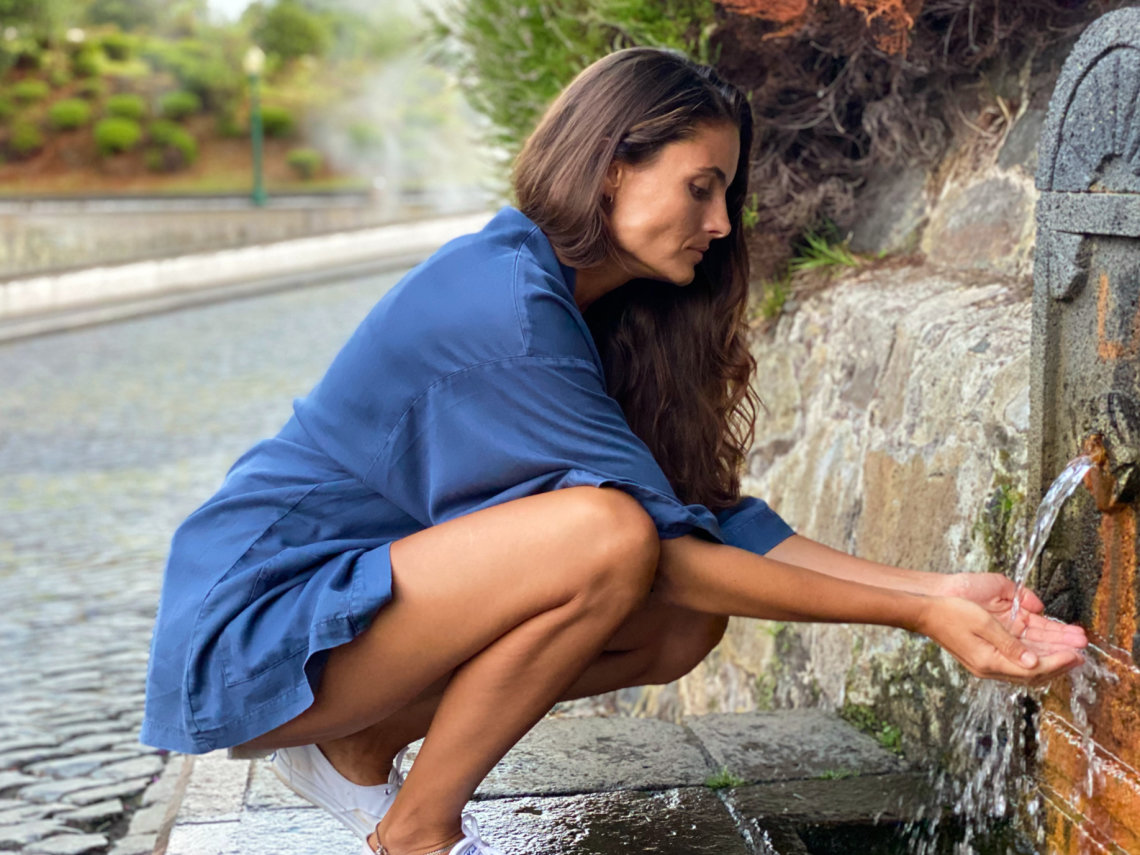 Furnas boasts such an abundance of spring waters that you can even find lovely, charming fountains along the streets where fresh spring water runs nonstop. As you are out and about, sample a taste of them all, then discuss with your friends, family, or significant other which one is the best. There is even one hot water fountain that turns your green tea into purple, if you are up for enjoying some natural and delicious alchemy magic. Are you ready to come experience all of this? Here's all you need to know about São Miguel Island and its heavenly hot springs pools.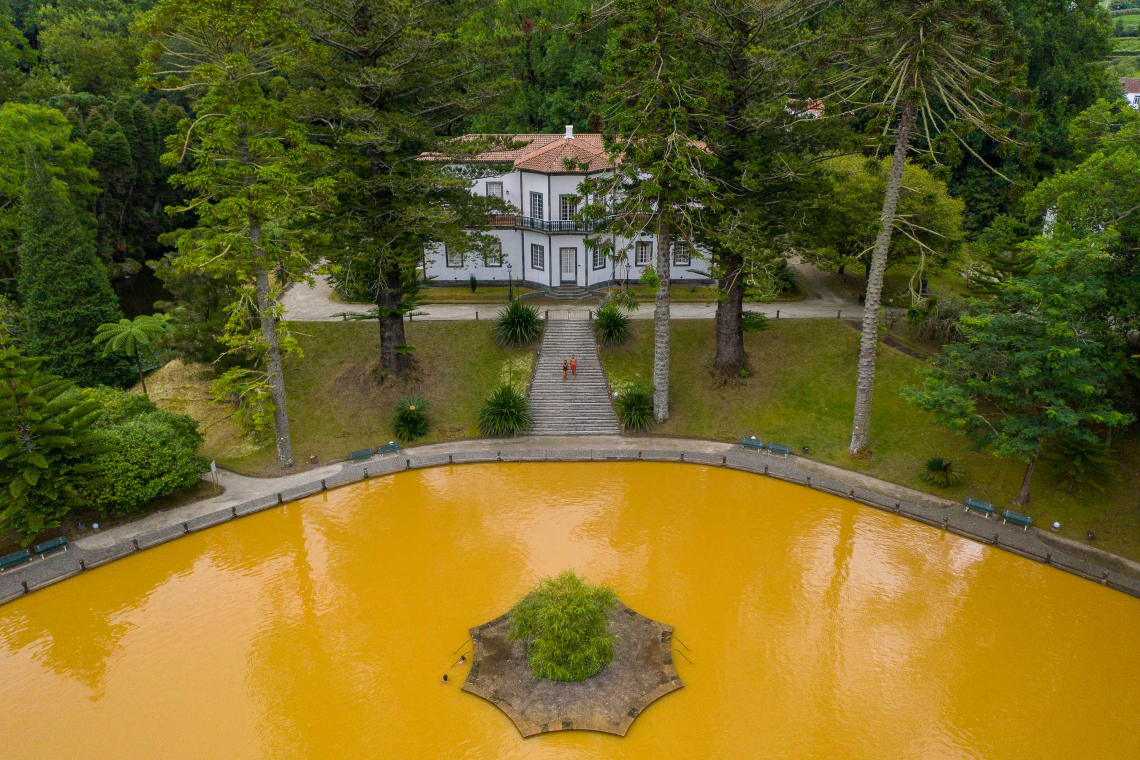 Are you already in love with the Azores? Take a look at our stress-free packages that allow you to book your ultimate island adventure. All our packages are carefully curated by our team of local Azorean Experts so that you don't need to worry about any details – just enjoy your trip!

Terra Nostra Park in Furnas, São Miguel Island, Azores
Terra Nostra Park is one of the Azores' main attractions and with good reason. From its super cool thermal pools to its lavish and rich botanical gardens, Terra Nostra in Furnas village is at the top of every tourist's itinerary.
Its historical centenary garden is world-famous for its indescribable beauty. It is so beautiful, it has even won some international awards. The official area boasts 12.5 hectares of impeccably maintained nature scapes and is filled with exotic vegetation. No matter what season of the year you visit, there are always some type of flowers blooming in Terra Nostra Park. It also offers visitors meandering footpaths lined by little lakes with stones you can cross from one side to another, just to give you an idea of what you can look forward to enjoying inside the park besides thermal bathing.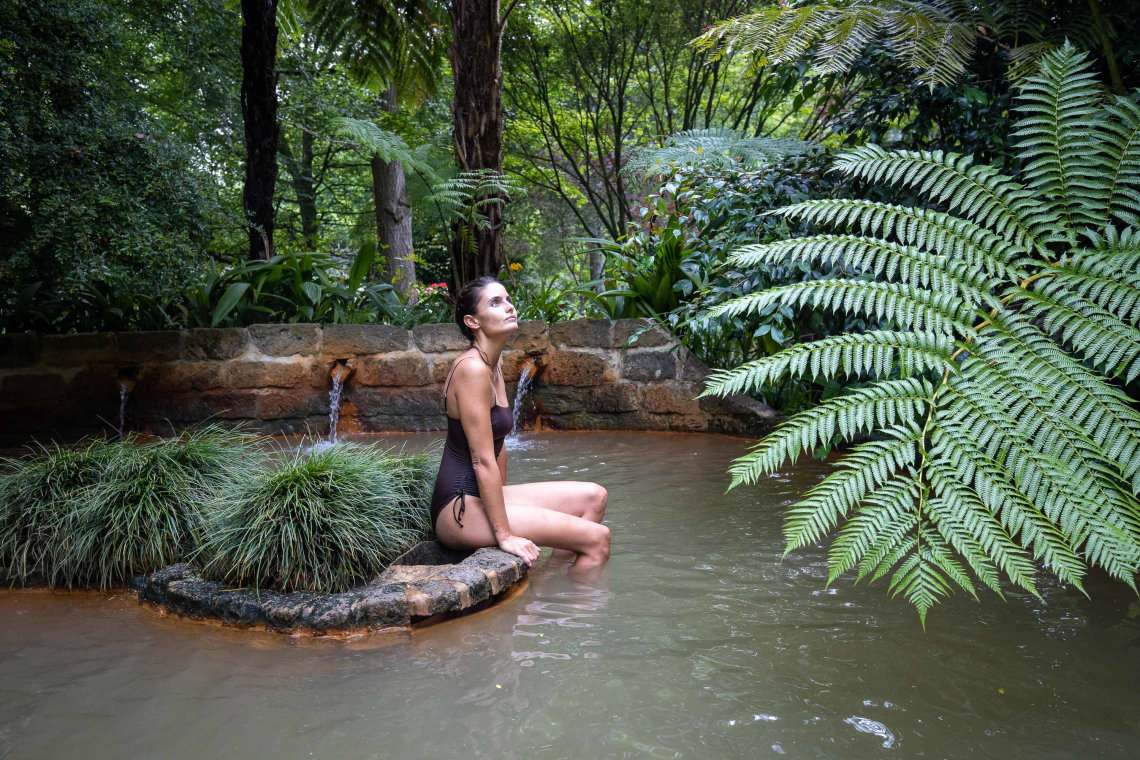 Terra Nostra's main pool is the biggest thermal pool in the Azores, and was once known as ''the tank''. It has been around since 1770, and its water temperature reaches highs standardly between 35ºC and 40ºC. You can swim in this largest earth-toned, iron-water pool, then when you're ready to try something new, simply move on to one of the other two newer-built pools that function like natural jacuzzis.
The guests of Terra Nostra Hotel, which is located on the grounds of Terra Nostra Gardens, have free access to the pools and gardens 24/7, while the park is open to the public all week from 10 am to 6 pm. Make sure you visit this truly magical place!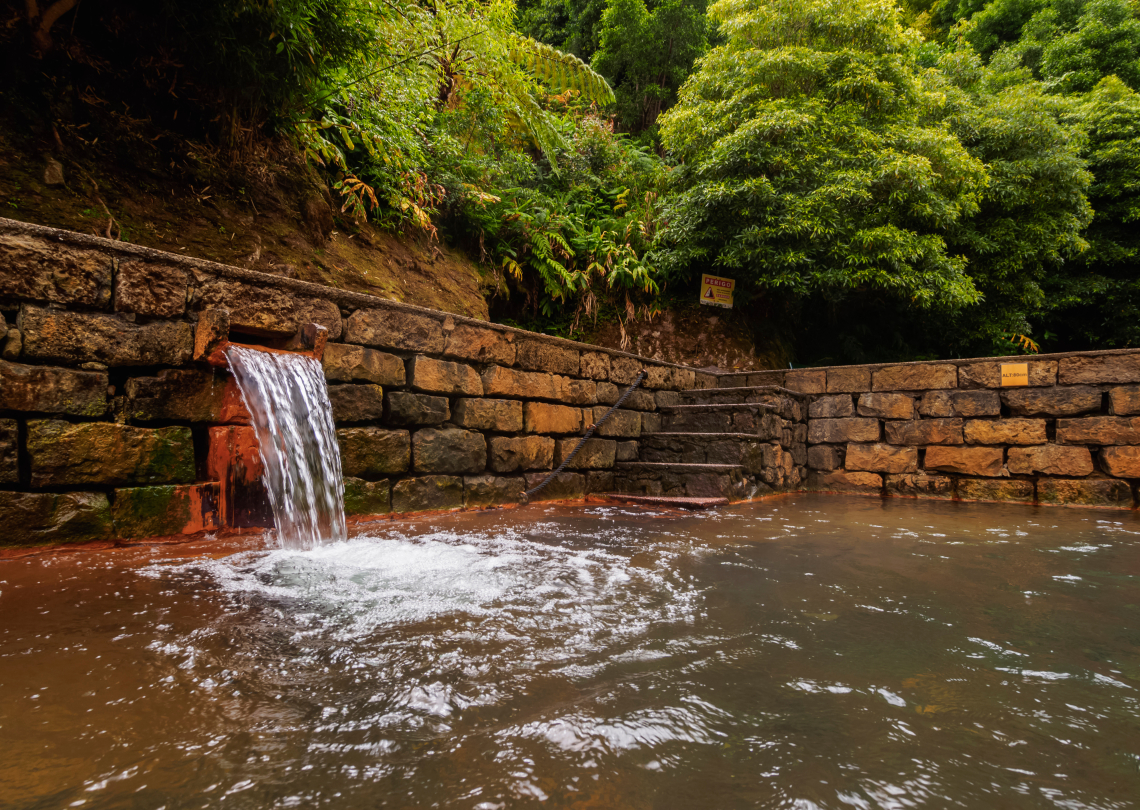 Poça da Dona Beija in Furnas, São Miguel Island, Azores
Also located in Furnas is the lovely Poça da Dona Beija, which offers visitors an exotic and unique array of six natural thermal pools. Each of Poça da Dona Beija's pools rests at different temperatures, making it possible for every single person to find their perfect fit. If you think one pool is a bit too warm for your taste, it is simple to just move on to another cooler pool. No worries, only relaxation! Another great plus about these pools is that they are all shallow, so it's safe to bring the kids or even that one friend who doesn't yet know how to swim. Here, you are free from all stress, enabling you to simply enjoy a relaxing thermal bath without interruptions as you listen to the majestic water running from the river next to Poça da Dona Beija. Doesn't this sound perfect, and like just what you need right now?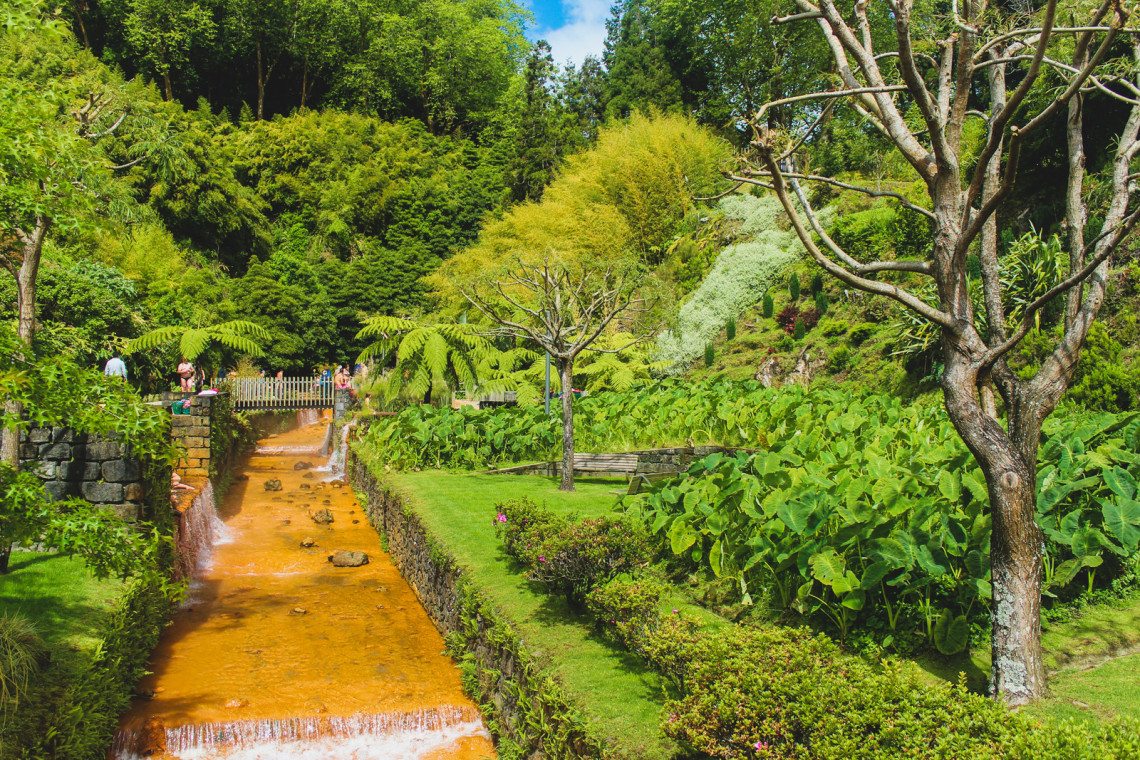 While visiting Dona Beija, don't forget to look in the pool walls for the natural iron clay and use it as a facial mask. Really! It's a thing! In just a few minutes, your skin will feel more supple, soft, and beautiful, guaranteed. And the best part is that you won't pay a cent for this 100% natural Azorean beauty treatment!
Water temperatures here can range anywhere from 25ºC to 39ºC, and you can also visit these pools at night. Poça da Dona Beija in Furnas is open until late, and indulging in the luxurious warmth of these pools under the stars at night is even more mystical and magical! You can visit this heavenly natural spa all week from 7 am to 11 pm.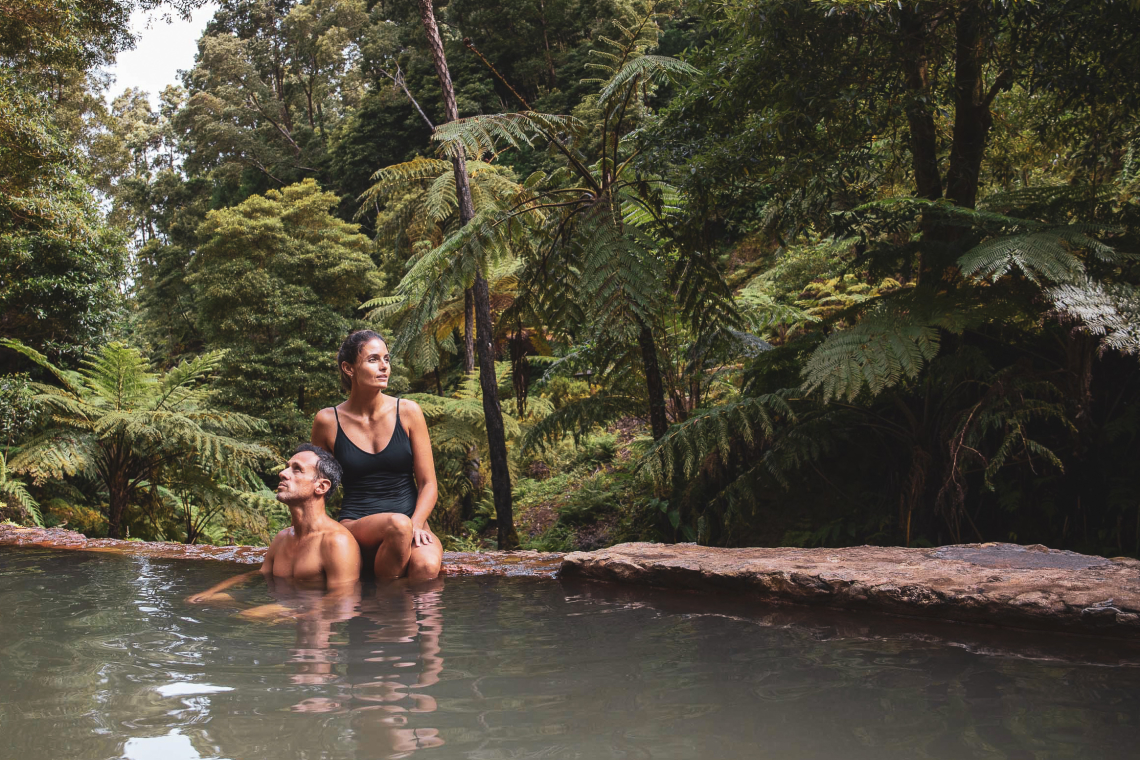 Caldeira Velha in São Miguel Island, Azores
If you still haven't decided if the Azores is your next vacation destination, Caldeira Velha in São Miguel Island just might convince you. It is an official natural monument, and the best thing about this lovely locale is not even the thermal pools (although they are absolutely divine), but rather the verdant vegetation. Visitors will find that Caldeira Velha is so lush and tropical, you'll almost find it hard to believe you are even in Portugal.
For those of you reading who still don't quite know exactly what thermal waters are…we are happy to explain a bit more! Thermal waters are heated by a volcano, and thermal pools are usually fed by nearby springs. Caldeira Velha is the only place where you can actually see the majestic spring "feeding" the luxurious pools, and there's nothing better than swimming right up to it and receiving an invigorating but relaxing, natural thermal massage. This is just another authentic experience you'll be able to have while enjoying the Azores!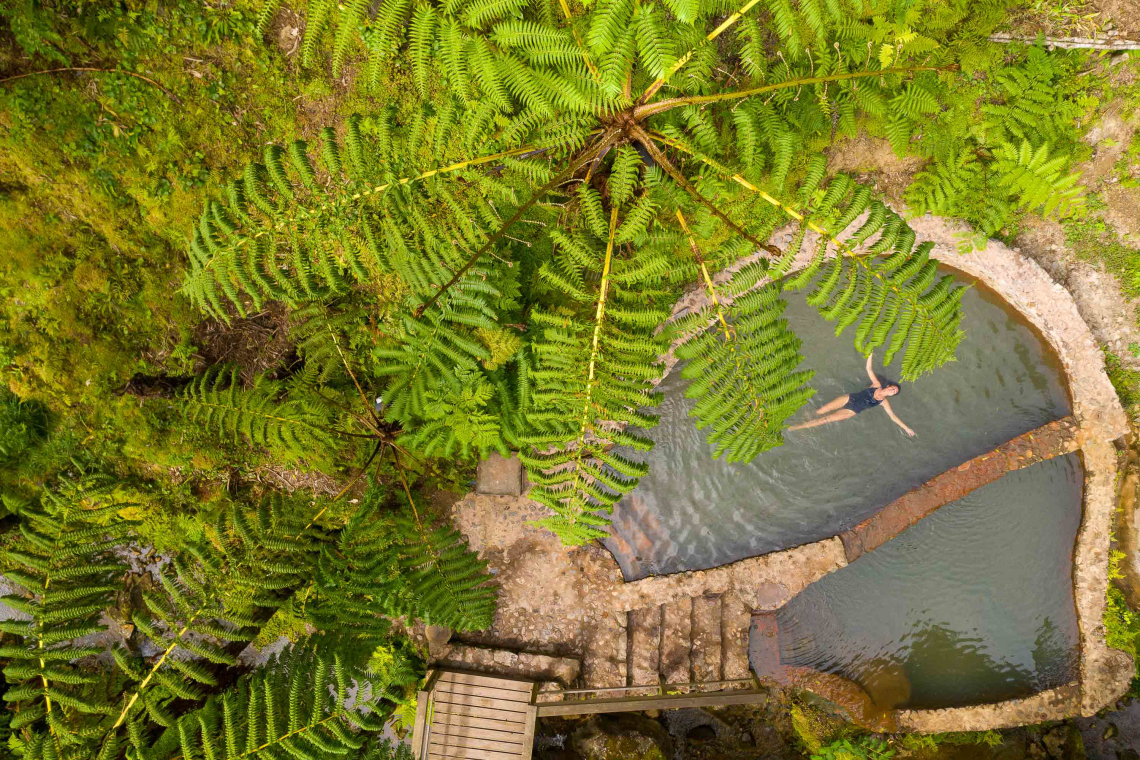 Besides the waterfall pool, Caldeira Velha also has two smaller pools where the water is a bit hotter. This sweet spot is open all week from 9am to 10pm, and it is the perfect place to relax after a visit to the nearby and absolutely stunning Lagoa do Fogo.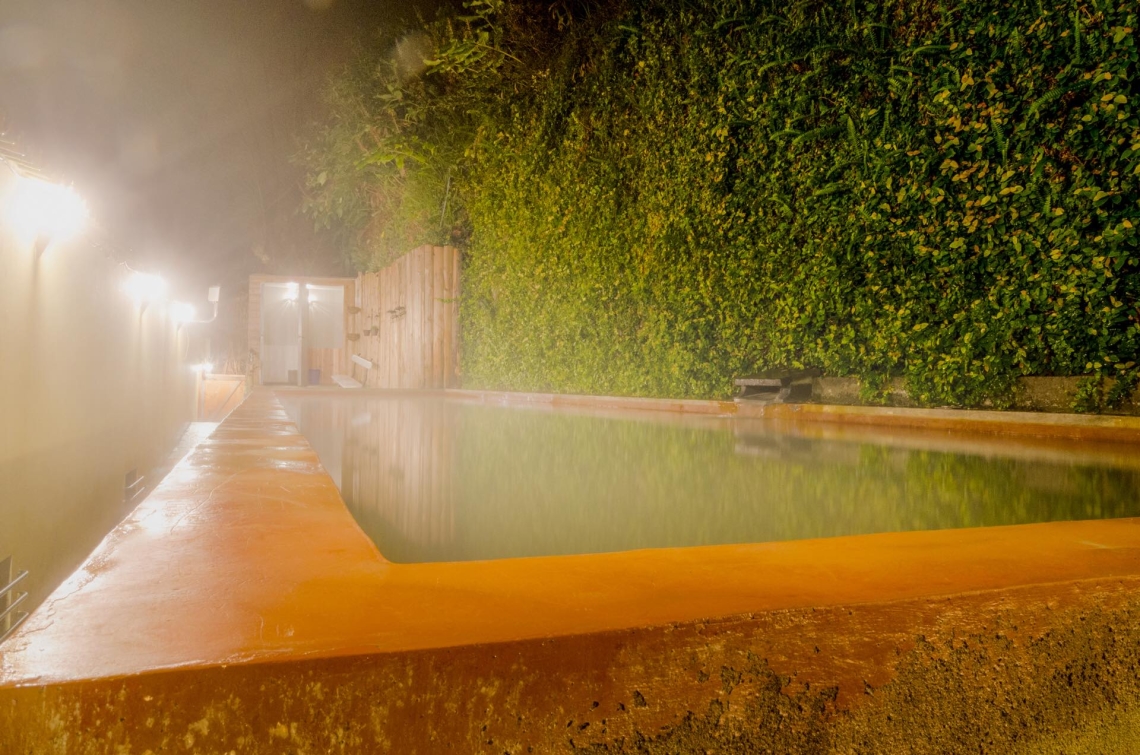 Termas das Caldeiras da Ribeira Grande in São Miguel Island, Azores
Termas das Caldeiras da Ribeira Grande consists of a set of three little thermal pools, but only one is open to the general public unless you book a massage in the Termas spa. The pool that is open to the public is located in the backyard of the 19th-century hotel building, and there is just something about it that makes this pool very special. It's protected by a large wall that blooms with colorful and joyful flowers during spring and summer. The rainbow-colored petals fall and float on the water's surface, making the thermal bath even more ethereal. The best part is that you no longer have to wait for someone to prepare you a bath with fresh petals because at Termas das Caldeiras, you get it as a gift specially readied for you by Mother Nature herself!
Feel free to visit the pools and spa each day during the week from 10 am to 10 pm.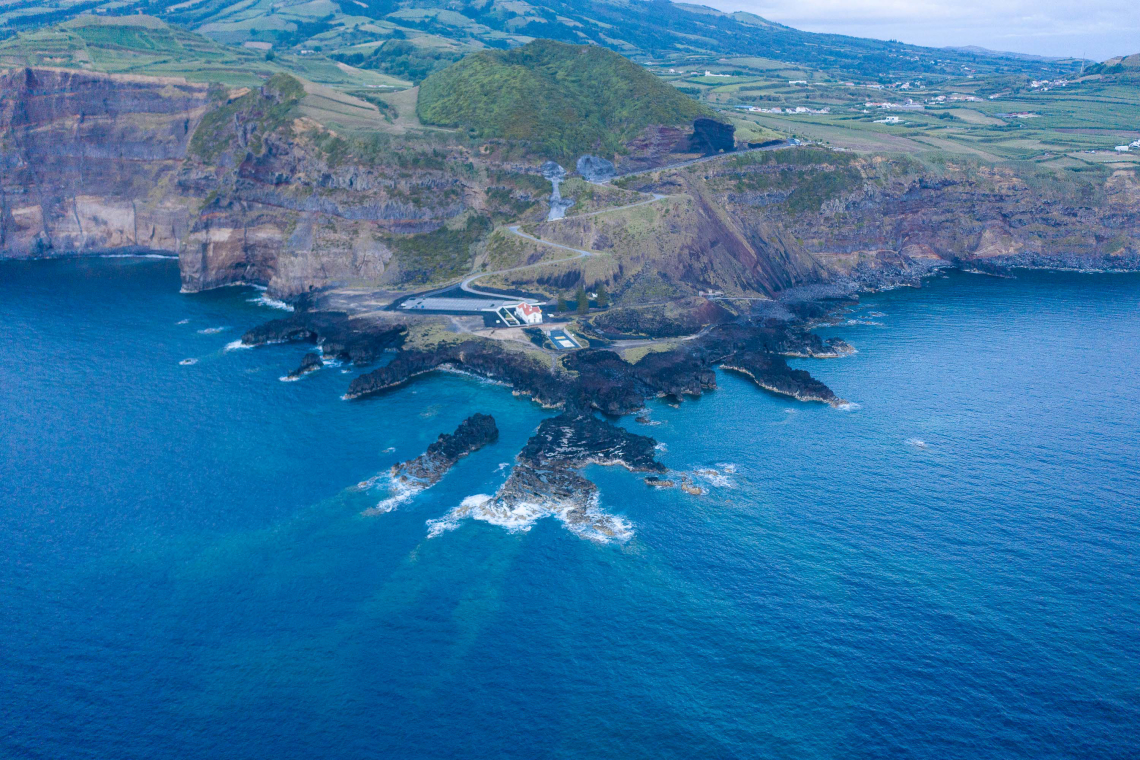 Ponta da Ferraria in São Miguel Island, Azores
The Ferraria thermal pool is unlike any other in the Azores, or even in the world: this is because it is in the ocean. The Azoreans can proudly say they're owners of the world's one and only natural thermal pools. Ponta da Ferraria, found in the southwest of São Miguel Island, is literally the only known place on Earth where there's a volcano underneath that heats a piece of the sea, providing people with the ideal, all-natural place to indulge in a wellness experience.
If you want to try this unique natural pool experience, you should visit Ferraria during low tide. This is because the water can get so hot that the majority of the visitors can't even be inside the water; Even the rocks seem to be smoking! But don't worry, as this is no problem! If this happens, just swim toward the open ocean and refresh yourself with the mild water temperatures offered by the Azores' sea all year. You can also find an in-between spot, where the water temperature is just perfect: not too hot and not too cold.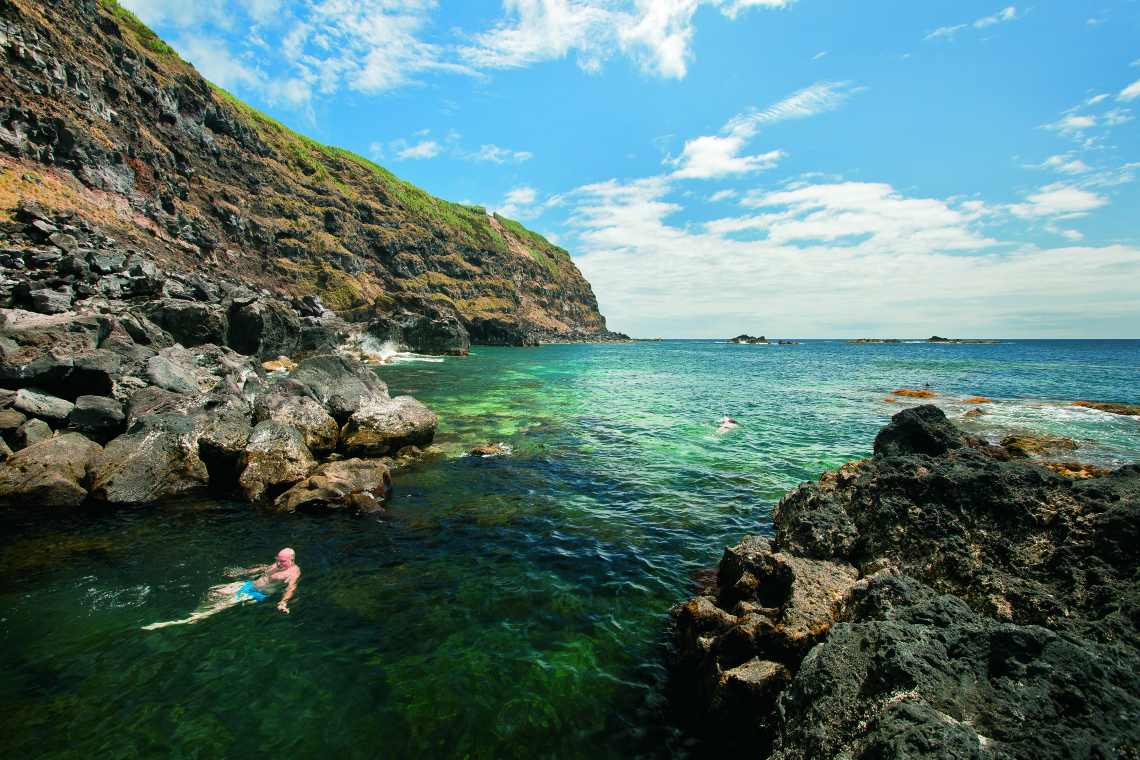 Since Ferraria is the "child" of a volcanic island, you can see the "scars" of its birth. Ferraria is filled with dramatic and interesting rock formations. Even from the parking lot, you can see the captivating coastline boldly cut along the island's south shore. For those seeking more extreme activities, the Azores offers thrilling adventures like rappelling amid radical scenery just like this!
Also found on site is the Termas da Ferraria building, where visitors can enjoy a restaurant, a spa, and a paid-entry, outdoor hot water pool. Note that Ferraria's natural thermal pool is free and has no set restrictions on visiting times.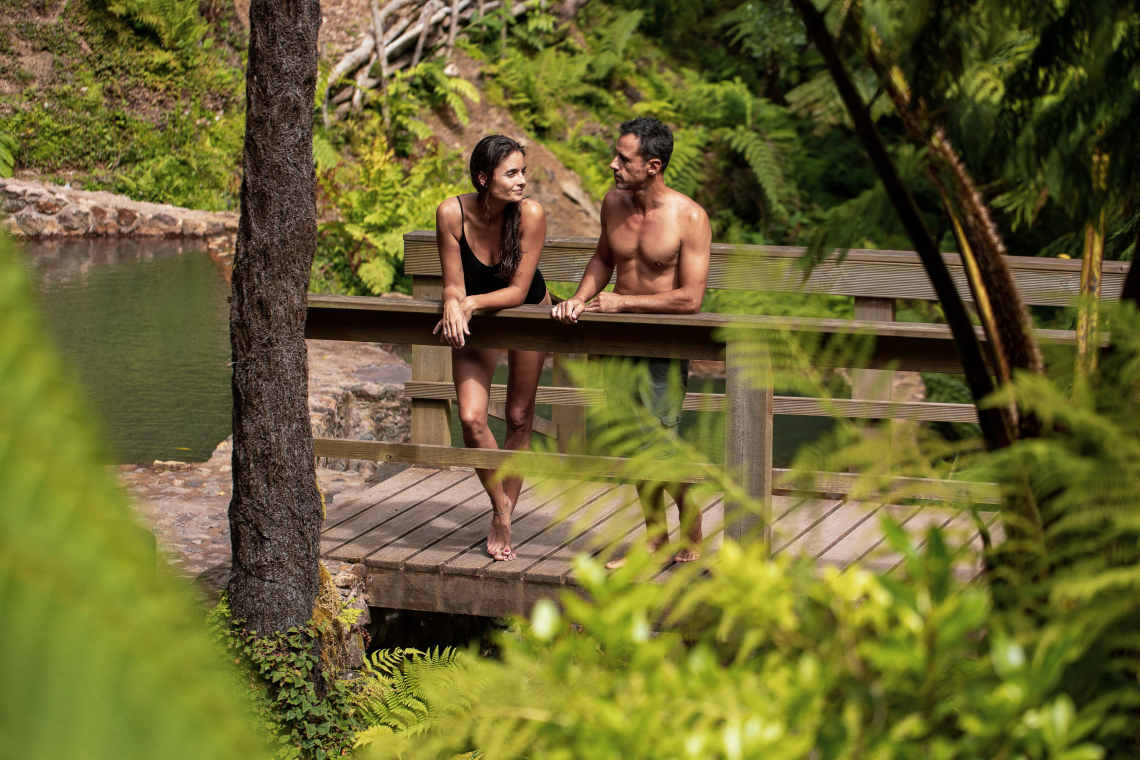 But wait, there's more!
São Miguel isn't the only island in the Azores with thermal baths. That's right - Graciosa Island is home to a small therapeutic thermal spa known as the Termas do Carapacho, located in the tiny village of Luz. The inviting thermal waters of Carapacho are packed with beneficial mineral properties and reach a temperature of around 40°C (104°F), perfect for a relaxing and therapeutic bath.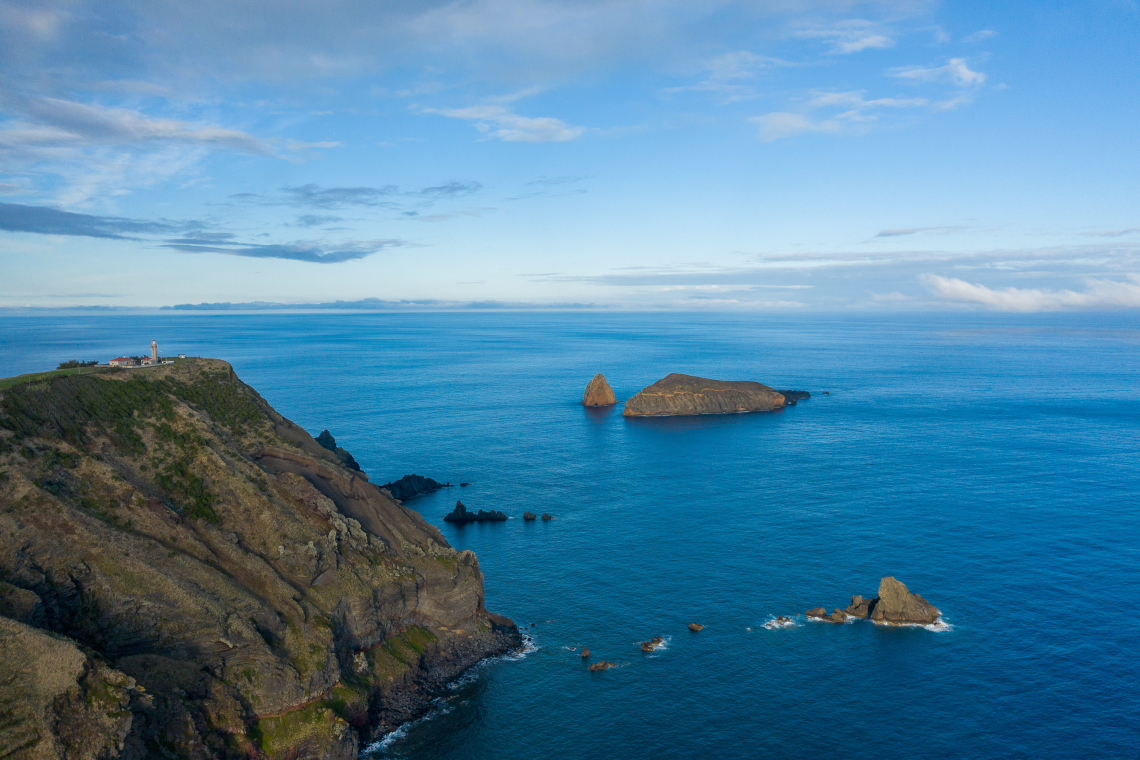 This modern thermal spa offers a wide variety of techniques and services in a cozy and idyllic natural atmosphere, overlooking the ocean and the Baixo Islet. Visitors to Carapacho can also enjoy a swim in the nearby ocean pool with heated thermal water.

The thermal waters of Carapacho are mineral-rich and high in magnesium, chloride, and sodium, perfect for the treatment and prevention of rheumatological disorders, and present other therapeutic benefits for overall health, leisure, and well-being.

The facilities are open Tuesday through Friday from 12 pm to 7 pm, and Saturdays and Sundays from 10 am to 5 pm.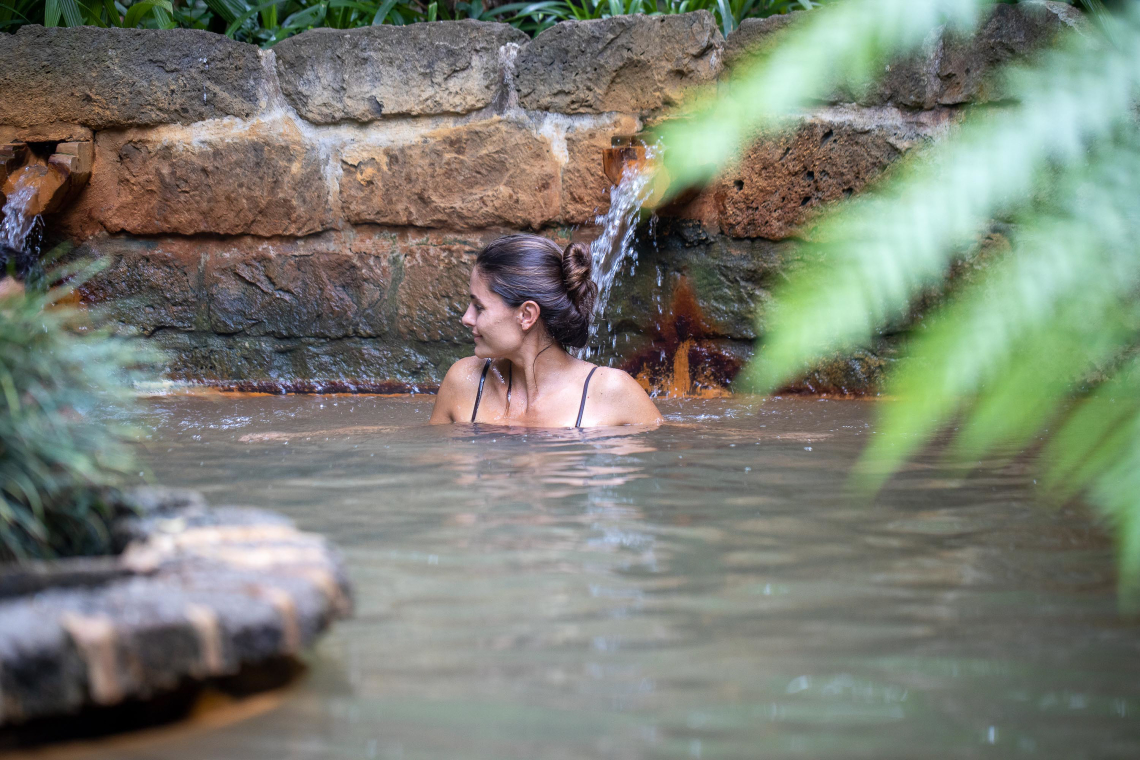 Benefits of the Thermal Waters of the Azores, Portugal
There is almost nothing better for you than the healing benefits offered by thermal waters. Since the beginning of time, thermal waters have been used as a way to recreate the elusive "fountain of youth", and also for all kinds of other beauty and rejuvenating treatments. But what if the Azores' thermal waters are more similar to the fountain of youth than we think? After all, they sure make us feel good, radiating from the inside out. And if you ask any Azorean, they have absolutely no doubt about the healing power of these waters.
In terms of skin treatments, it is a known fact that hot spring baths can help your skin look its best. Hot springs clean your skin, hydrate it, and even help in the cicatrization process. Besides that, these magical waters relieve stress, reduce headaches and pains, treat muscular issues, and even help you sleep better. It's impossible not to feel better after a soak in one of the Azores' thermal pools!
Even the waters from the public fountains found all over Furnas village are said to treat pain. In fact, it is common lore told among the ancient locals that each one of the fountain's waters has a certain healing power: one for hangovers, one for stomach aches, one for gastritis, and so on. Now with that information, the only matter left now is for you to discover which one heals what? And oh what an exciting adventure that will be to discover!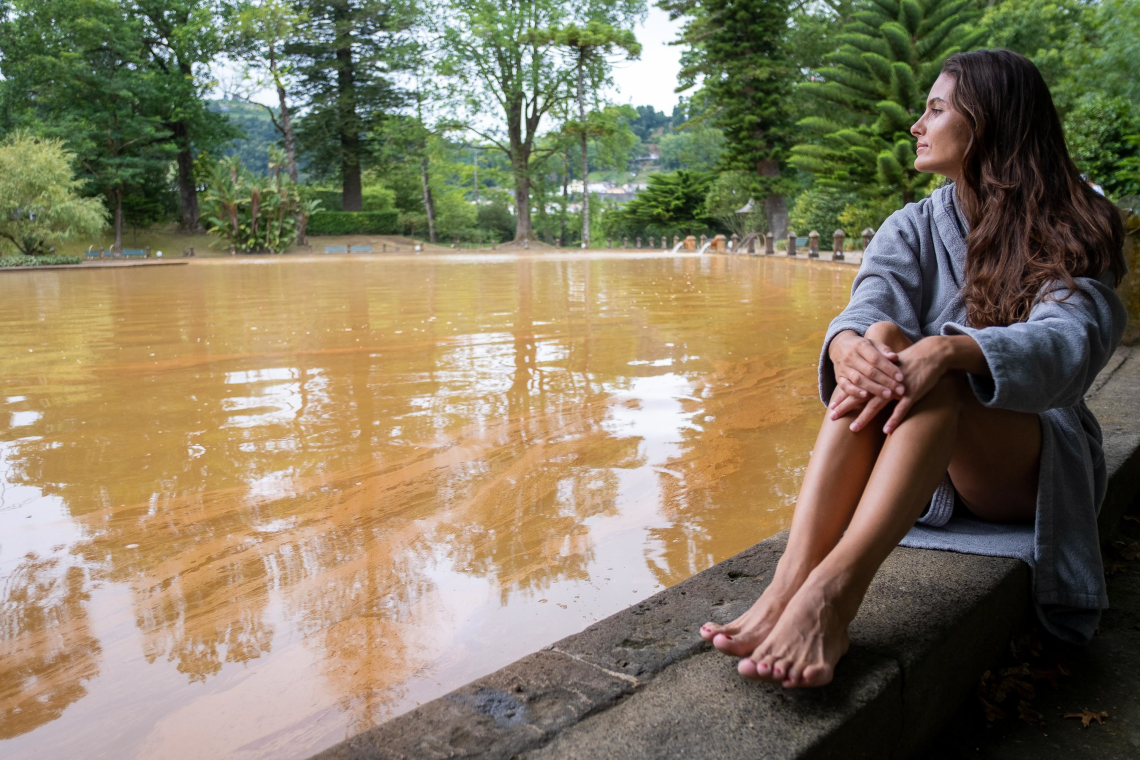 Tips for Your Hot Springs Experience in the Azores
Due to the high iron content within the pools, listed below are a couple of recommendations:
Bring old, dark-colored bath clothes, which you should wash with cold water immediately after bathing;
Don't wear jewelry while bathing, including silver and gold;
If you're pregnant, you should consult your doctor before bathing;
If you have recently dyed your hair, tie it up and keep it out of the water, as the iron in the water can affect the hair color.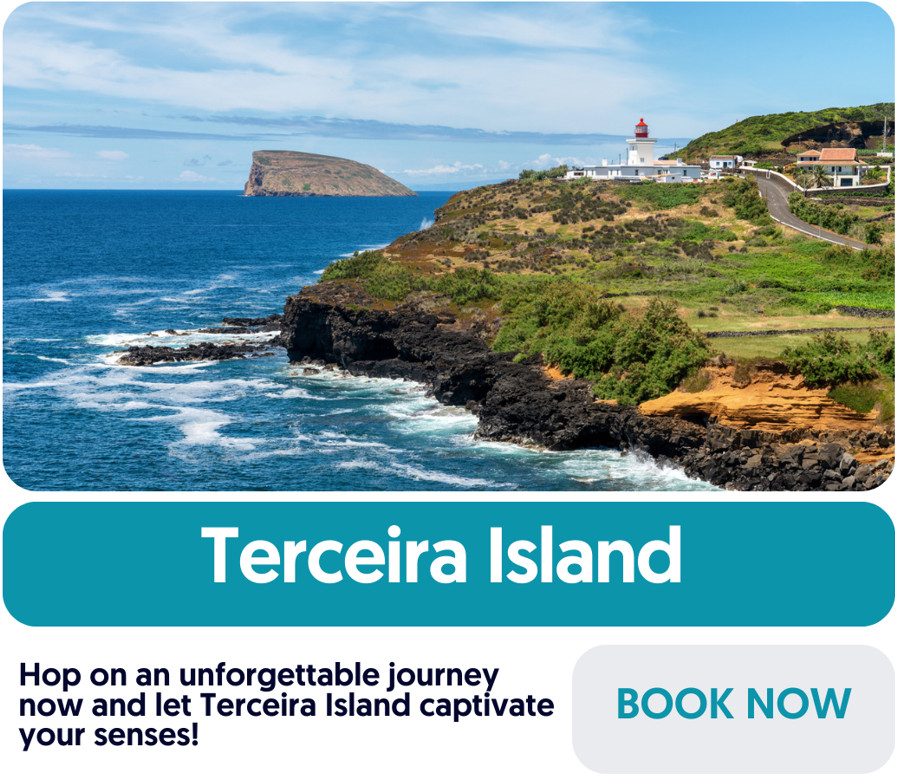 Discover the Azores at Your Own Pace: Tailor-Made Trips for a Customizable Island Adventure
If you're looking to explore the Azores at your own pace, we have got you covered. Our team of specialists will work with you to create a custom-made trip that suits your preferences and budget. Whether you want to dive into the thriving marine life, hike through stunning volcanic landscapes, or relax on secluded beaches, our tailor-made packages offer the flexibility and freedom to discover the Hawaii of Europe at your own pace. So why wait? Contact us today and let us help you plan an unforgettable trip to the Azores!