What is there to visit in São Miguel Island, Azores?
We break it down for you
São Miguel Island is the largest island in the Azores and the most populated, with almost 137,000 inhabitants. As soon as you finally escape for your Azores getaway and visit São Miguel Island, you'll immediately discover why this Azores island is nicknamed ''The Green Island of the Azores''. São Miguel's lush landscapes and rolling, verdant hillsides inspire and awe everyone who experiences them, which makes it comes as no surprise that São Miguel is the most visited of the Azores islands, soon followed in popularity by lovely Terceira Island.
Even though the Azores have never actually recognized Ponta Delgada city in São Miguel Island as its official capital, Ponta Delgada is indeed the economical hub of all of the Azores' islands. Ponta Delgada is special and unique, with old world architecture and other amazing features that evoke all the charms of Europe, like cobbled streets, sidewalk cafes, and a thriving culinary scene.

Visitors to São Miguel can also look forward to getting a glimpse at some of the Azores' most iconic viewpoints and famed crater lakes, including the popular tourist destinations of Sete Cidades, Lagoa do Fogo, and Furnas Lake located in the iconic village of Furnas. São Miguel is also a geothermal hot spot, giving you something else to look forward to experiencing, especially on your visit to Furnas Valley. Also among the exciting things you can expect to find on this idyllic island? Warm water to swim year-round, particularly in one of the natural spas and hot springs found inland, or tucked along the island's stunning, volcanic rocky coast - but before you immerse yourself in these relaxing natural spa here's a list of the most iconic spots to sightsee in São Miguel Island, Azores.
Embark on an unforgettable journey to magnificent São Miguel with our travel guide – created by local experts! Experience the breathtaking landmarks, exciting attractions, and hidden gems that make this Island so special. Start planning your Azorean getaway today for a truly unique adventure you won't soon forget!
WEST OF SÃO MIGUEL ISLAND, AZORES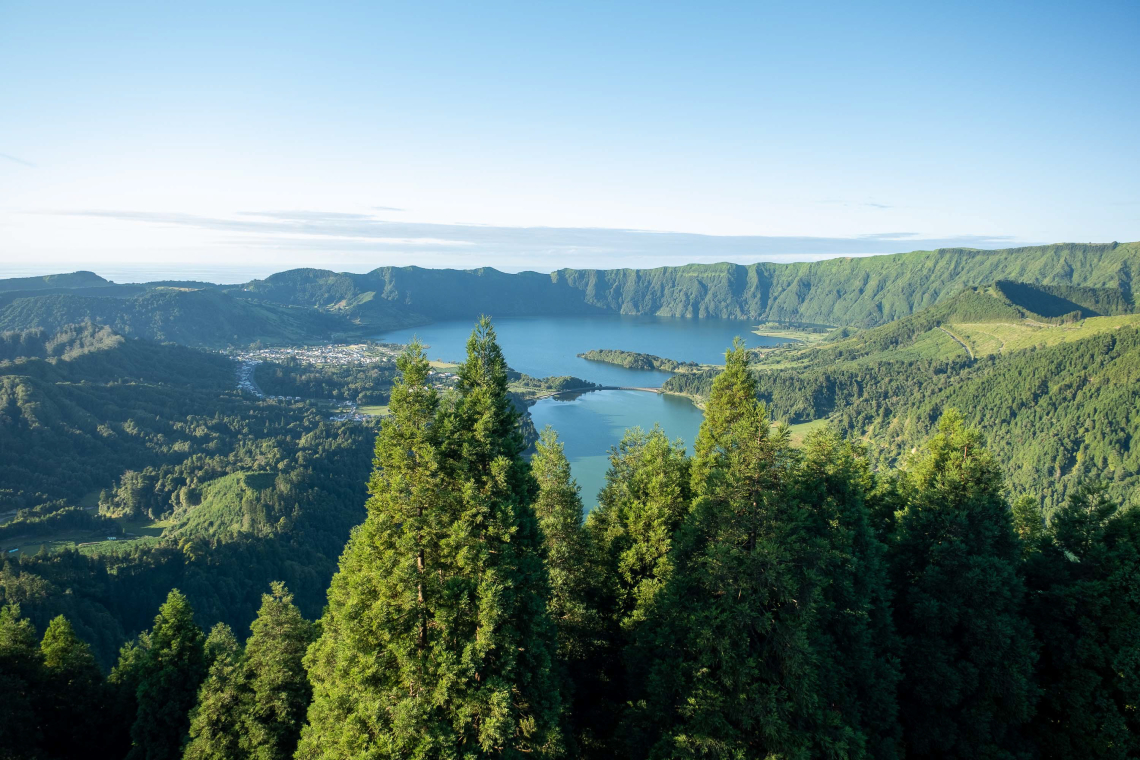 1. Sete Cidades Lake
One of the 7 Natural Wonders of Portugal, this show-stopping crater full of lakes has become one of the most emblematic images of the Azores. To fully appreciate the breathtaking panoramic views over the mystical blue and green lakes, head to the Vista do Rei viewpoint.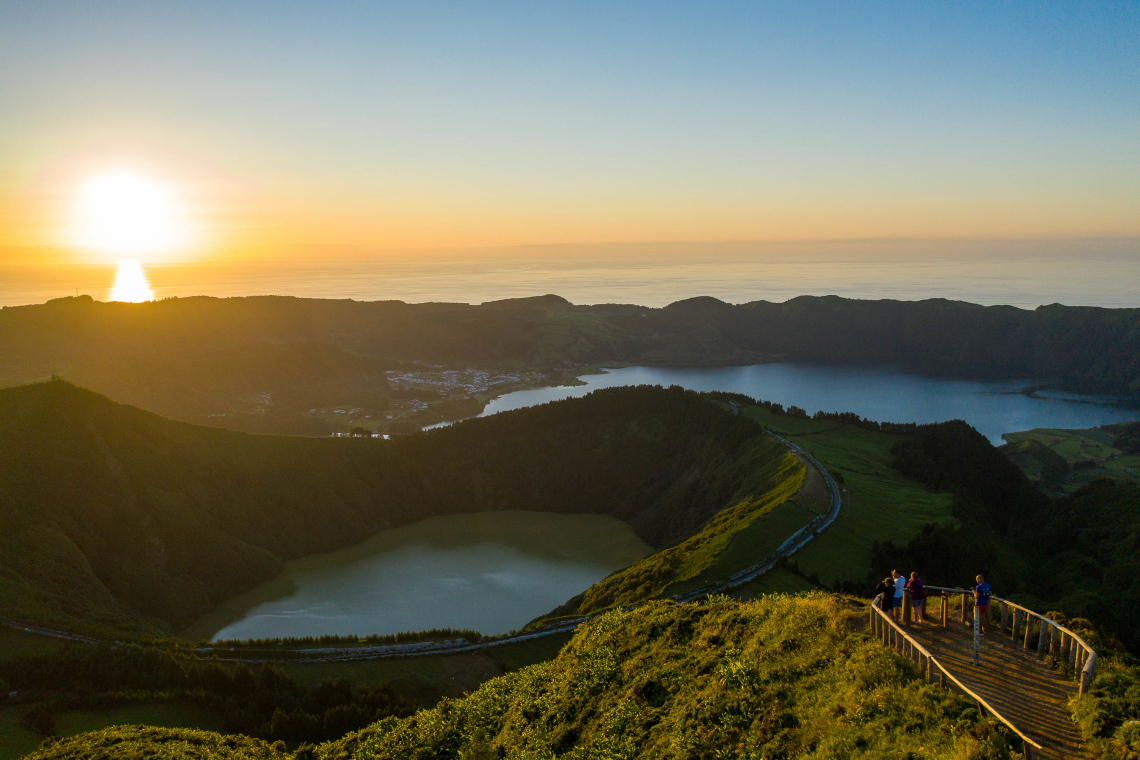 2. Boca do Inferno Viewpoint
Make your way over to the Boca do Inferno for some jaw-dropping 360 views overlooking the Lagoa do Canario and the other lagoons below, Sete Cidades village, and an expansive view of the Atlantic beyond the ridge of the crater.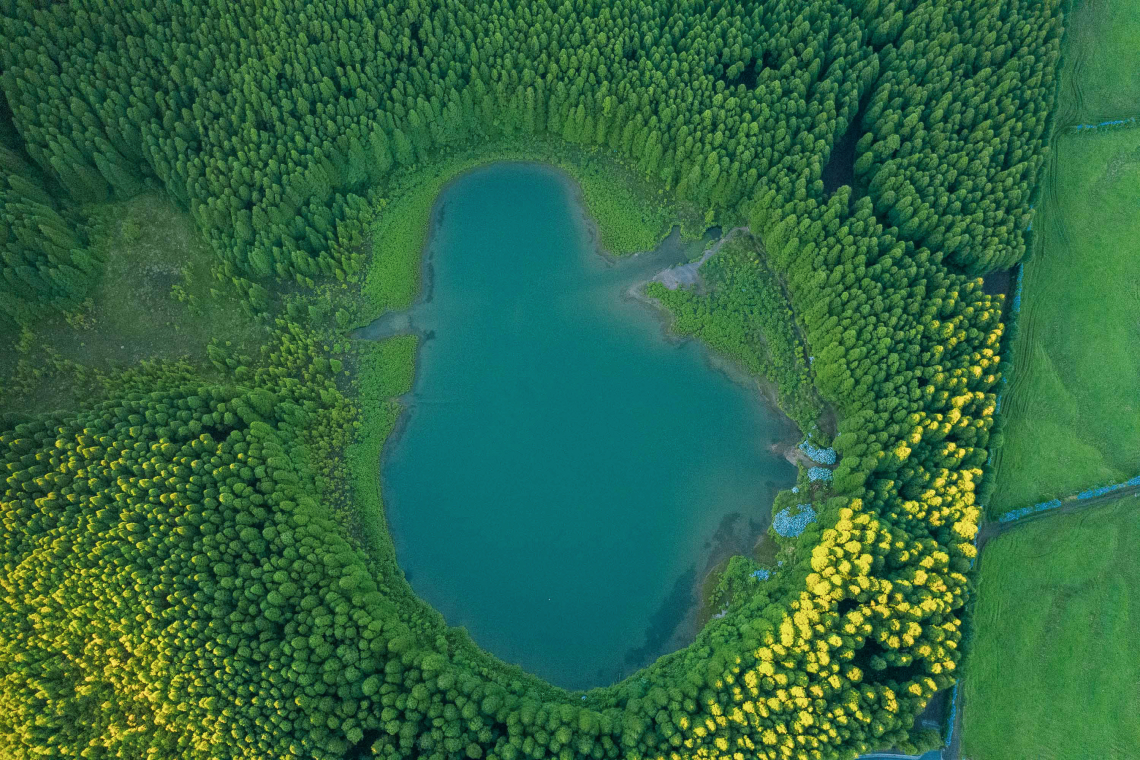 3. Lagoa do Canário
This snapchat logo shaped-lake is located in the same park of the Boca do Inferno viewpoint, so make sure you don't miss it.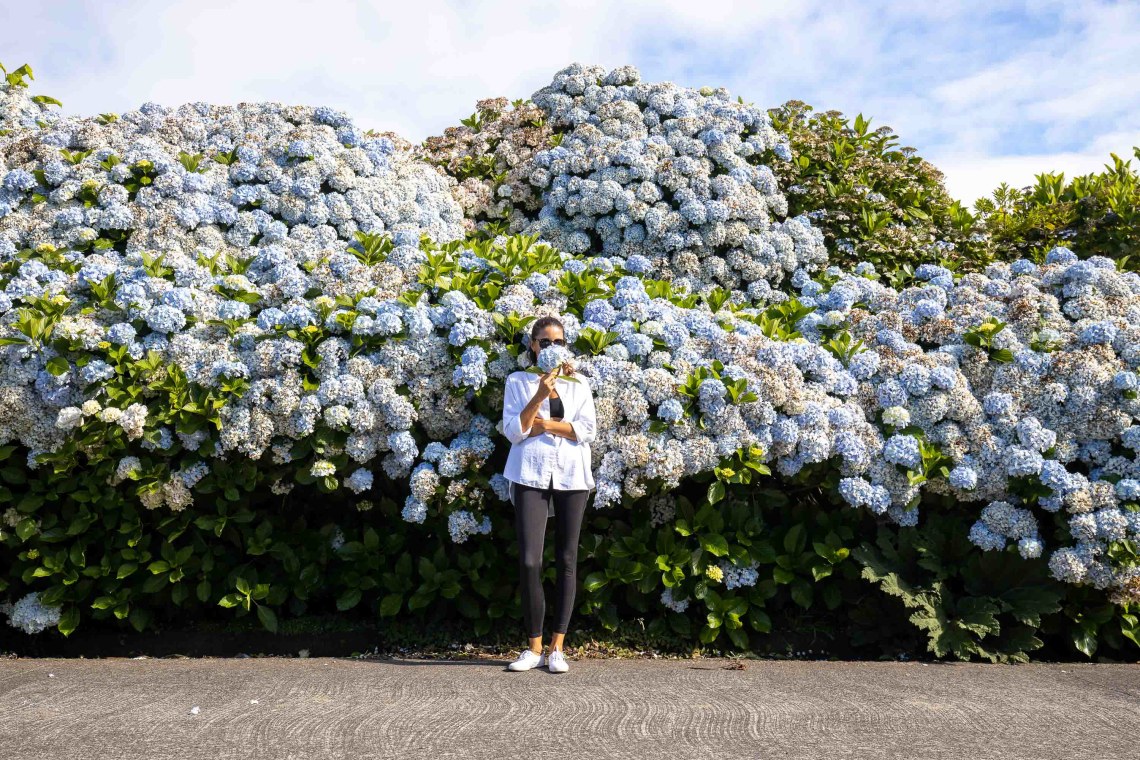 4. Road of Hydrangeas
While descending from the above viewpoints into the village of Sete Cidades you'll come across the Azores' most famous hydrangea-covered road - a mandatory stopping point (with safety) for a quick Instagram photoshoot!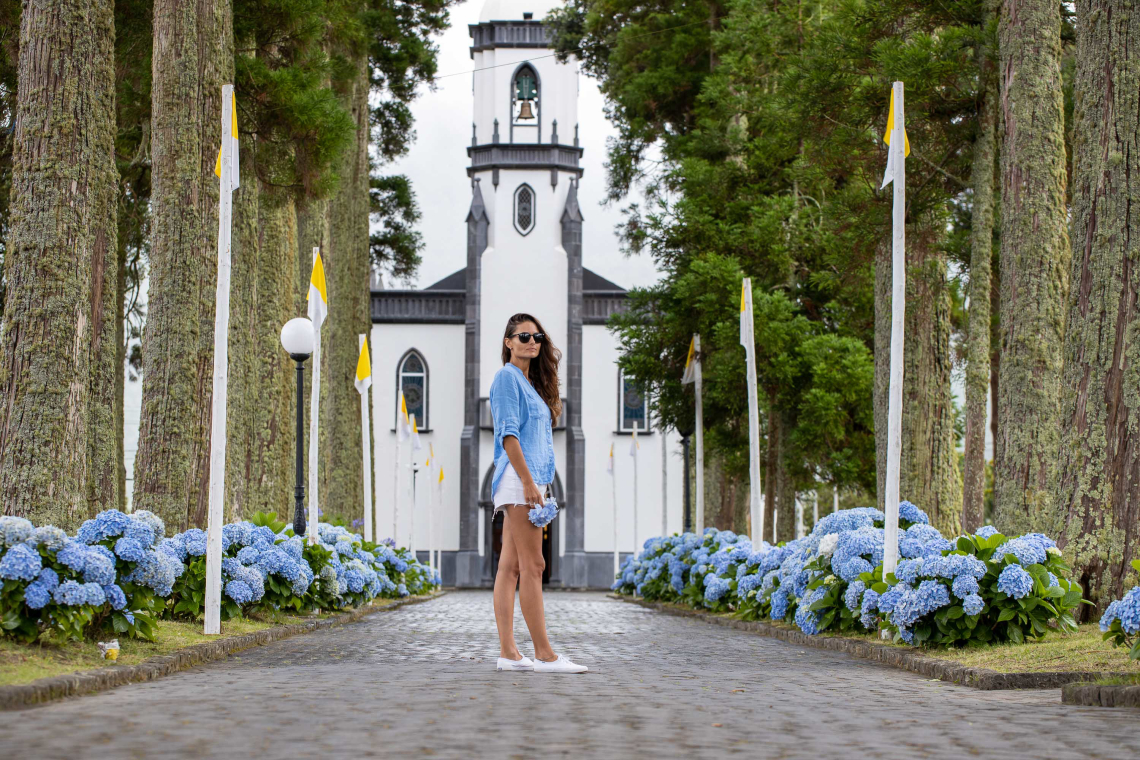 5. Sete Cidades Village
The lake views and the peace that you feel in the air are not the only beautiful things about this quaint little village of São Miguel, Azores. Sete Cidades church of São Nicolau is the cutest chapel in town! Don't you agree?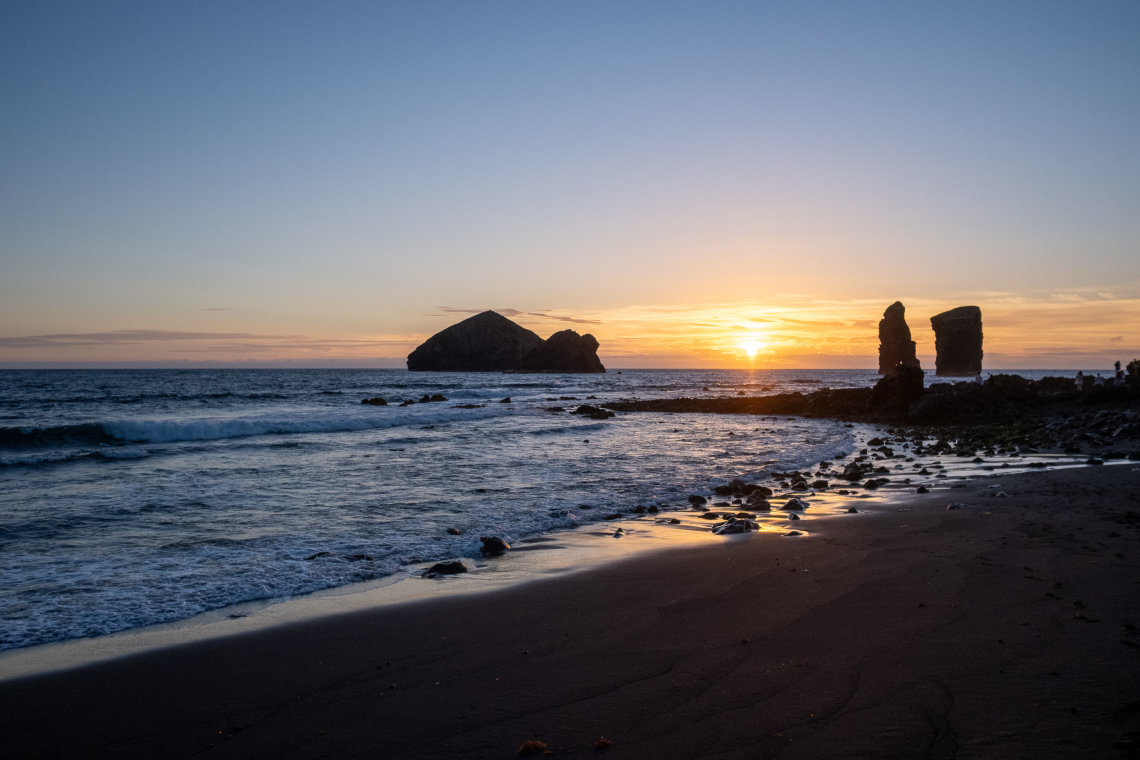 6. Mosteiros Beach
This little fishing village on the island of São Miguel is the place to head to for the best sunset on the whole island! The sun gently setting in between its islets it's one of the most magical sights you'll see in the Azores Islands. This black sand beach it's truly heavenly.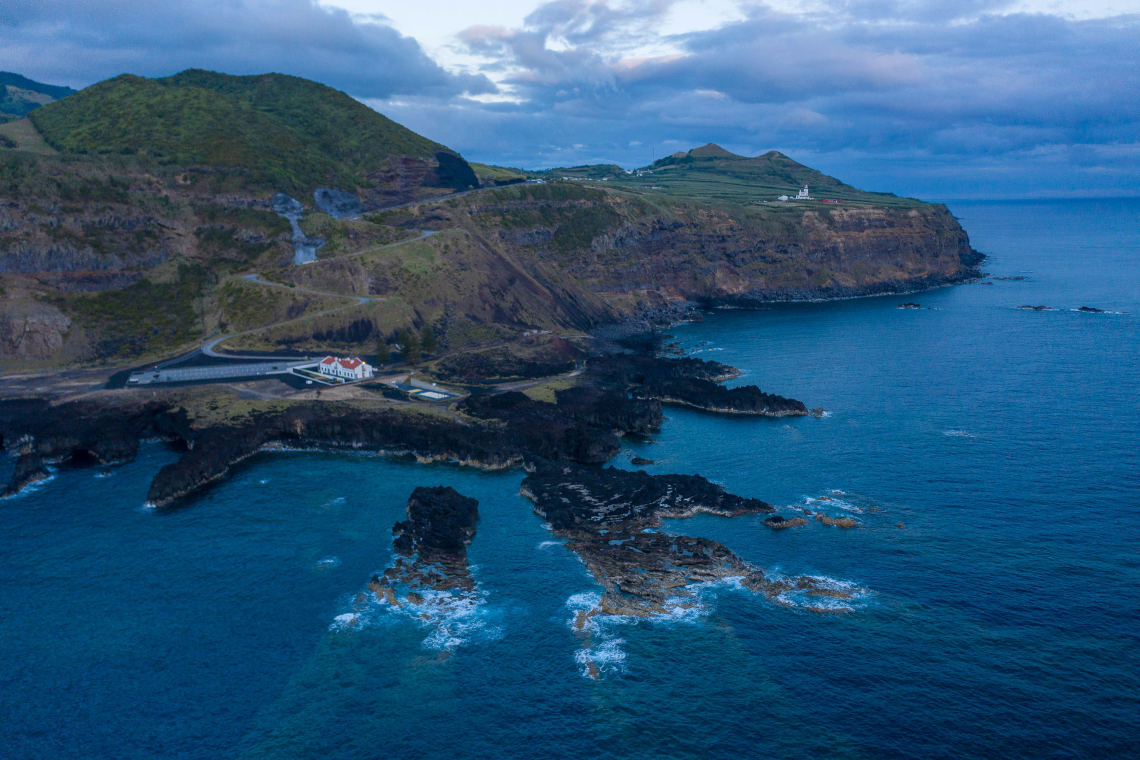 7. Ponta da Ferraria
Ponta da Ferraria is a spa bathing site with therapeutic hot water springs that have been popular among the locals since the 15th century, but the natural pool of Ferraria is different from all the other hot springs on São Miguel Island -- it's located in the ocean! Located on the southwest point of the island, just a short drive from Sete Cidades, Ponta da Ferraria is a totally unique bathing experience. Heated by an underwater current of volcanic vents, this hot spring is heated underwater and cooled by the ebbing tides of the Atlantic. And, the pool is set on the edge of the coastline, surrounded by dramatic cliffs and black volcanic rock formations that will make you feel more like you're on Mars than in the Azores.
CENTER OF SÃO MIGUEL, AZORES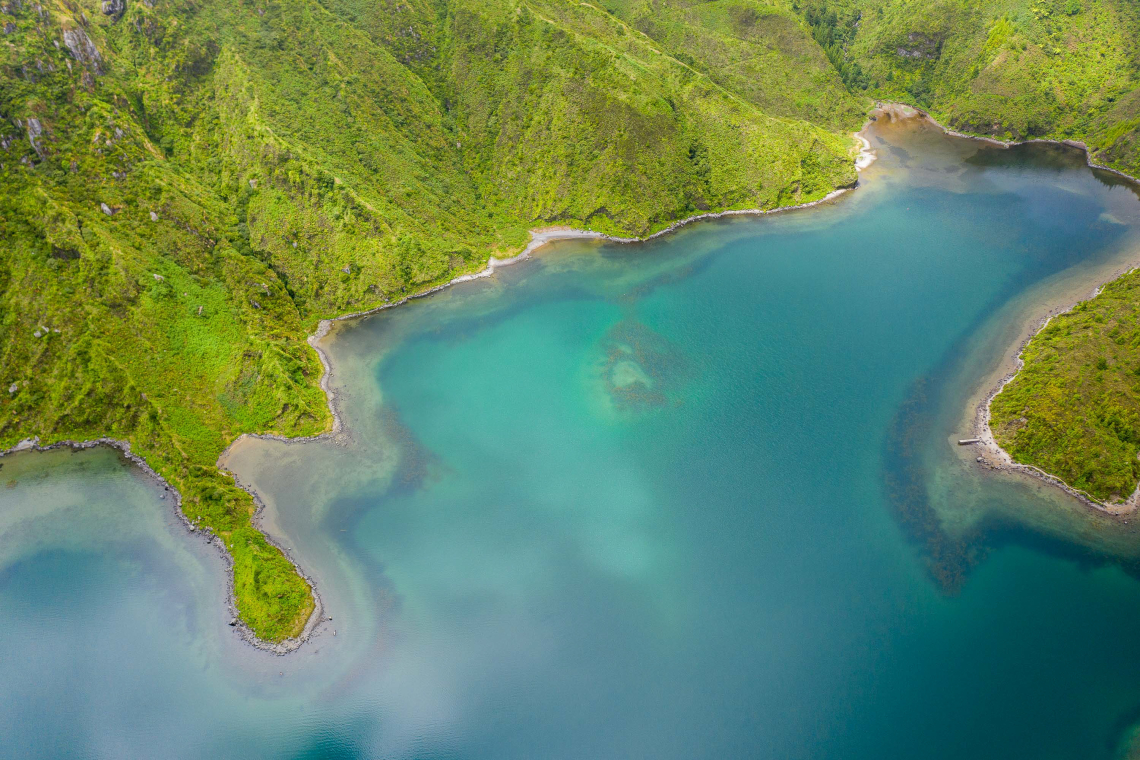 8. Lagoa do Fogo
Lagoa do Fogo, which translates roughly into "Lagoon of Fire", is a crater lake at the center of São Miguel Island. This Protected Natural Reserve sits tucked away atop the impressive Pico da Barrosa, far from the civilization and noise below. Lagoa do Fogo's crystal-clear turquoise waters are surrounded by tall mountain peaks, lush vegetation and white sand on all sides. Take in the magnificent views at any of the viewpoints around the mountaintop, or if you're feeling adventurous, venture out on one of the many hiking trails that take you down to the lake's edge.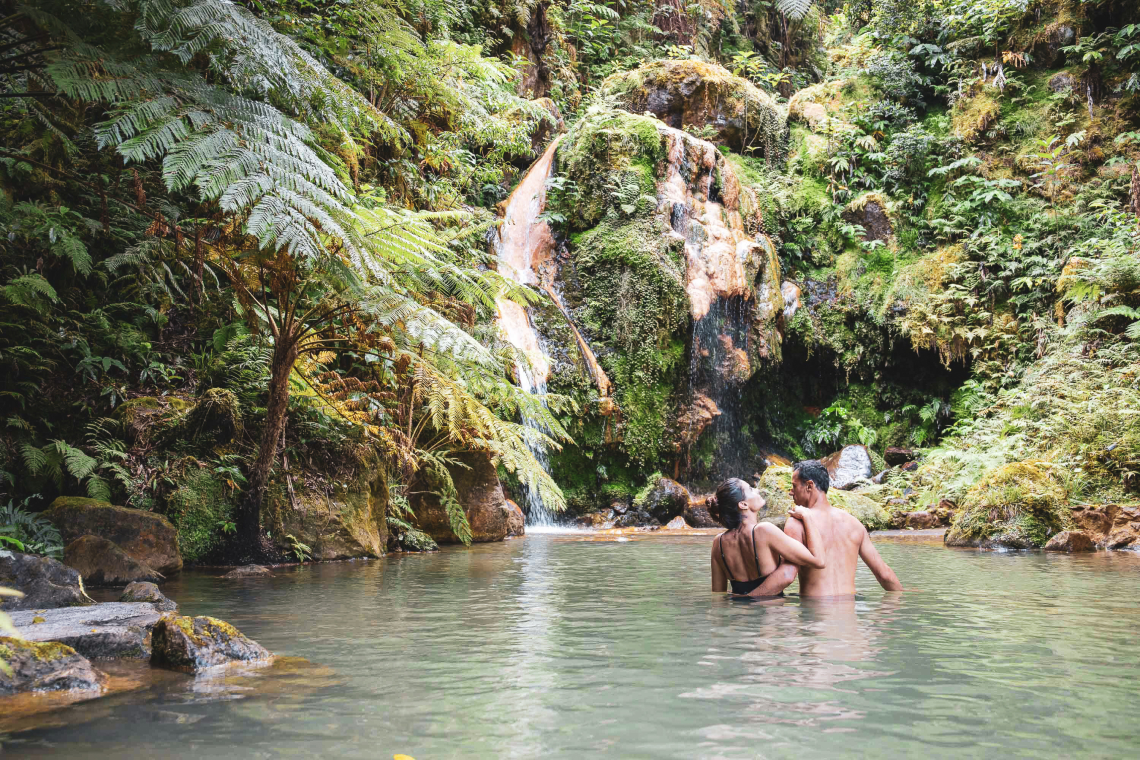 9. Caldeira Velha
Located halfway between the summit of Pico da Barrosa and the city of Ribeira Grande, these hot springs are set under a rainforest-like ravine with towering ferns, making for a very pre-historic feel. Take a dip in the Caldeira Velha hot spring (around 21ºC/68ºF) where you'll be surrounded by lush vegetation and a mystical waterfall before making your way over to the smaller and hotter pools below (around 35ºC/95ºF) for a truly unique, other-worldly bathing experience.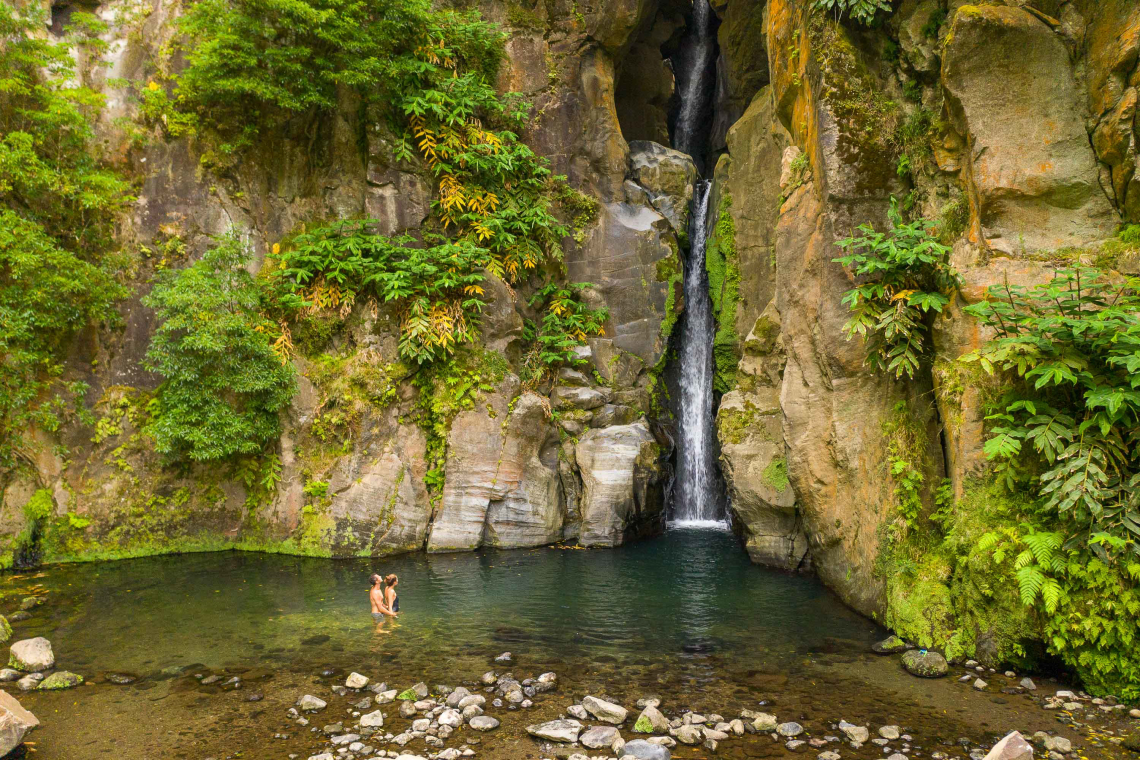 10. Salto do Cabrito
This beautiful and inviting waterfall is located on the hill down from Lagoa do Figo viewpoint. Don't let its angelic appearance fool you because it is also the epic stage of multiple canyoning adventures!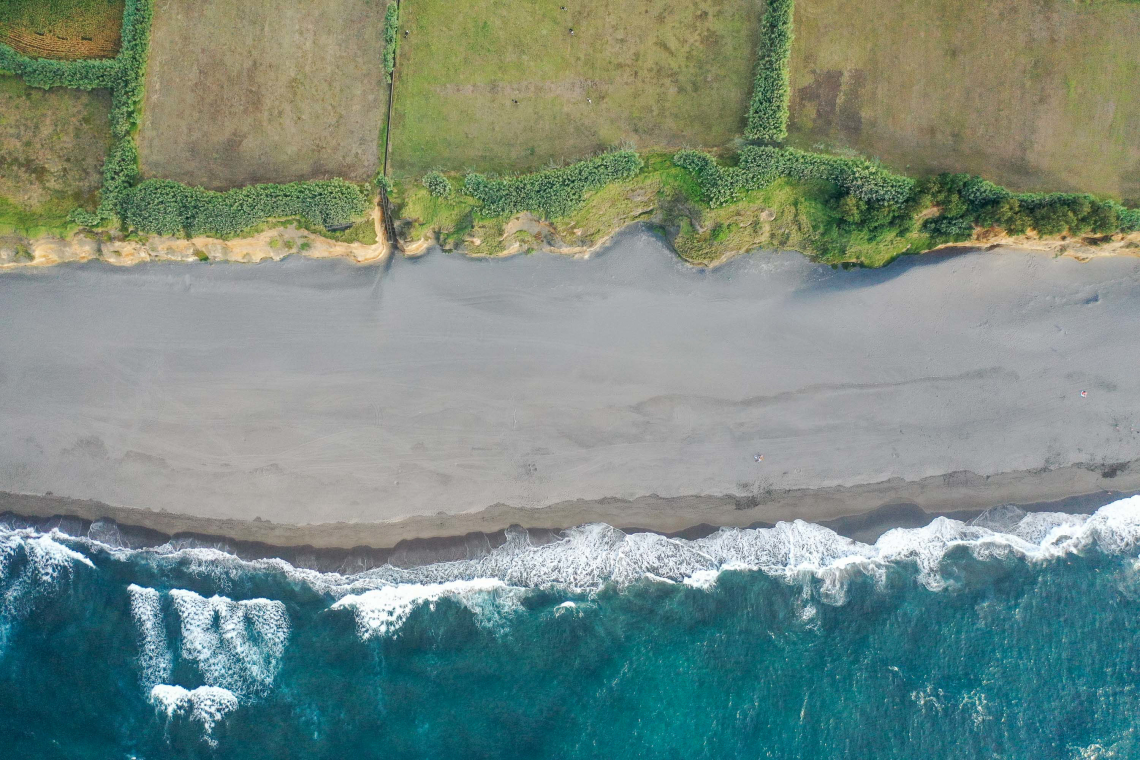 11. Santa Barbara Beach
The Azores' most famous beach for surfing is one located on the north shore of São Miguel Island, the Azores. This long sandy beach is known for its perfect surfing waves, but mainly for the Santa Barbara Eco Beach Resort located at the more distant tip of the beach - meaning guests will have that feeling of almost having a private beach for themselves.
NORTHEAST OF SÃO MIGUEL ISLAND, AZORES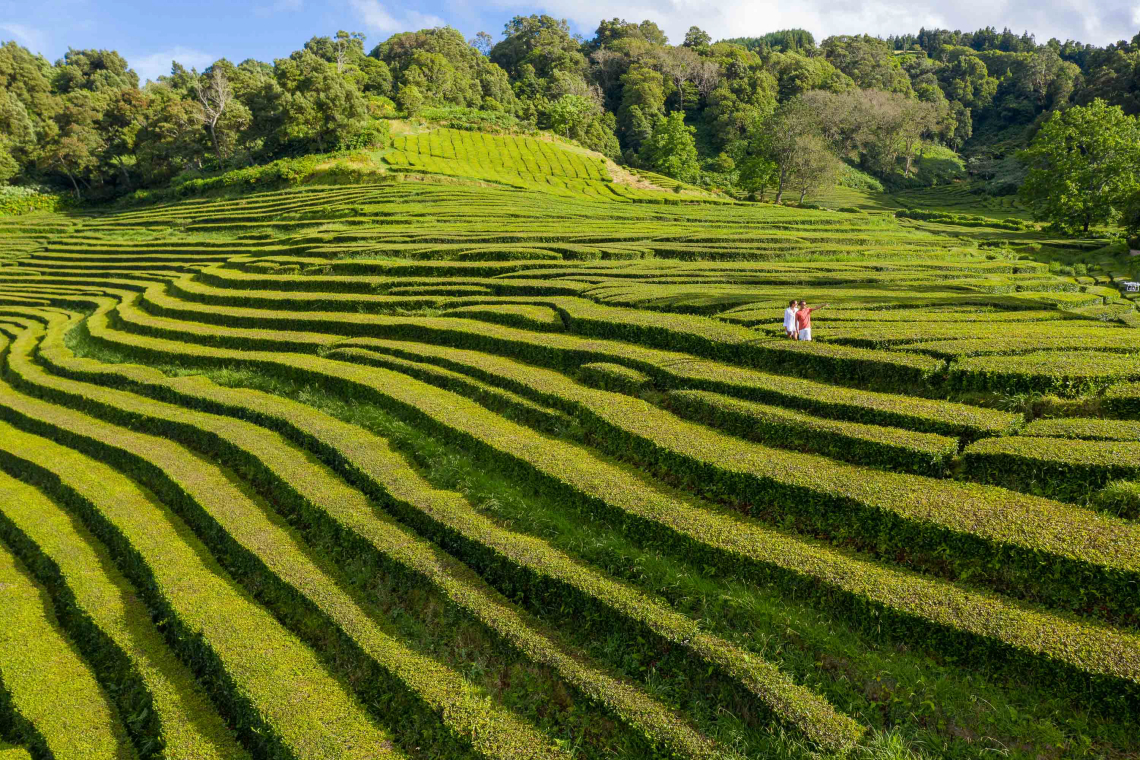 12. Gorreana Tea Plantations
Born in 1883, Gorreana Tea Factory is one of the oldest factories of tea in the whole world. A legacy of great gourmet teas handpicked and produced pesticide-free for 130 years, Gorreana's teas have remained a staple in European pantries for over a century. Still to this day, this factory produces a variety of 100% organic black and green teas and tea infusions. Stroll around these beautiful and iconic tea plantations for an experience you won't forget.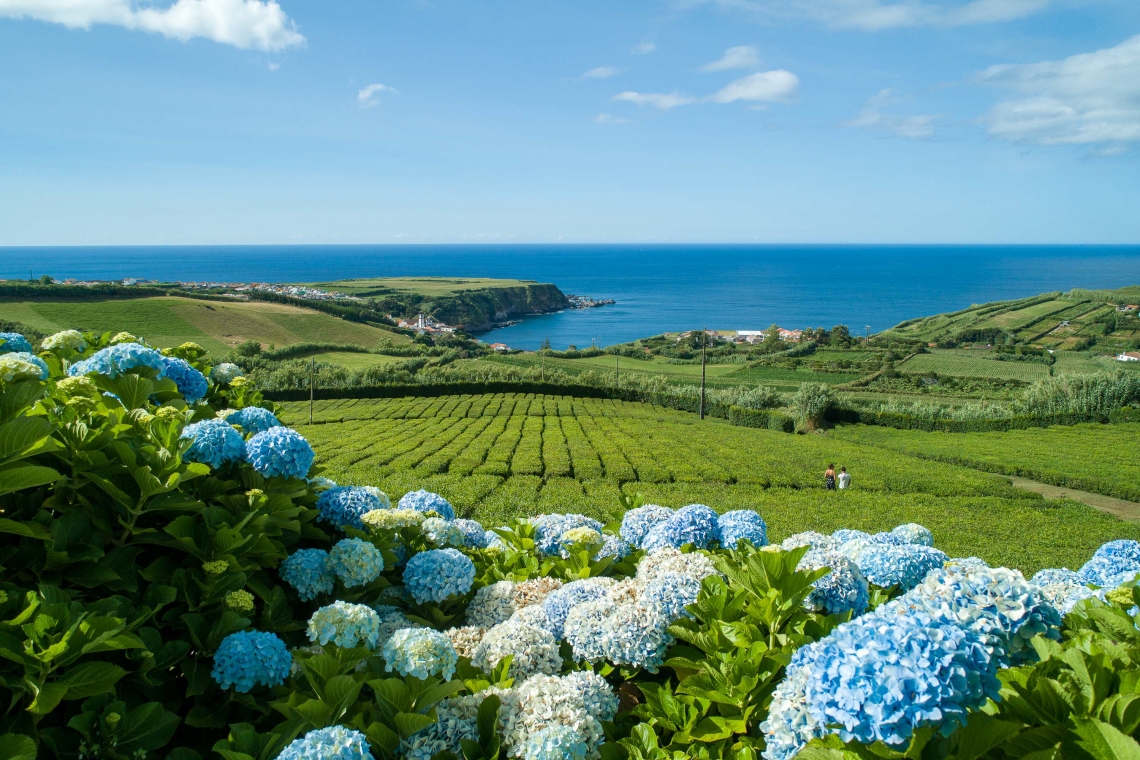 13. Porto Formoso Tea Plantations
Just down the road from Gorreana, you'll find the Porto Formoso Tea Factory. This charming property is still a private home, with beautiful grounds that are open to the public during factory hours, where you can also stroll the tea fields, visit the factory and museum, and enjoy a cup of complimentary tea in the on-site tea room or covered varanda with panoramic views of the property and coast.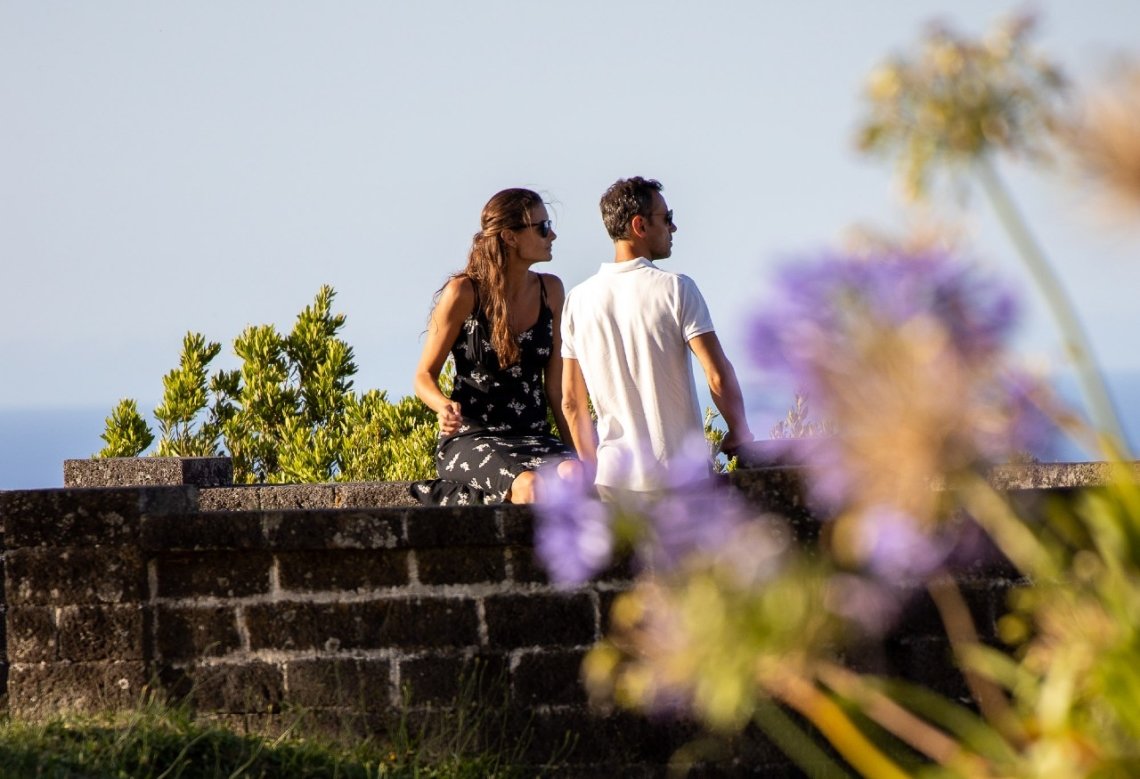 14. Santa Iria Viewpoint
You'll be gifted with the most amazing coastline views and glittering ocean as far as the eye can see. This is one of the most iconic viewpoints in São Miguel Island and a mandatory stop for visitors.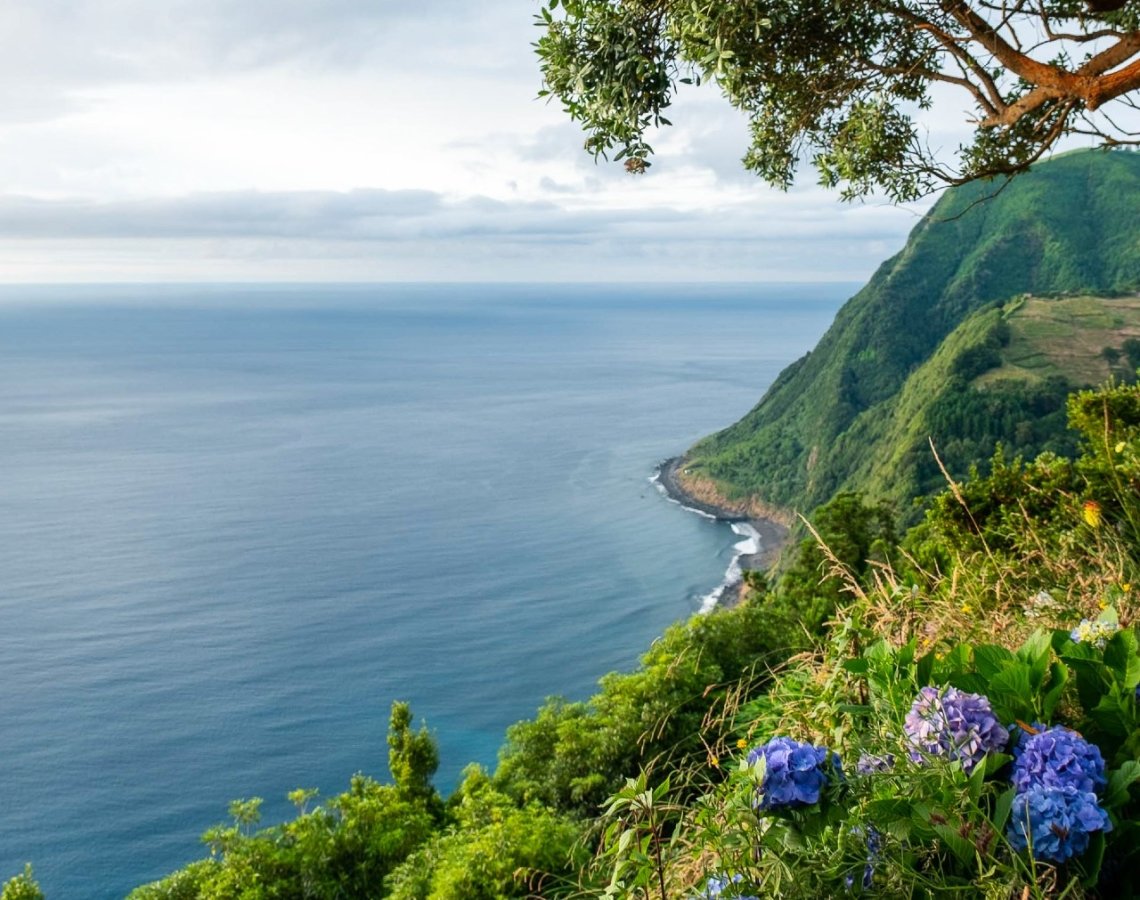 15. Ponta do Sossego Viewpoint
This viewpoint is located in the most remote city of São Miguel Island, the gorgeous and relaxing Nordeste. This viewpoint's literal translation means ''peaceful'' and we think this says enough about it.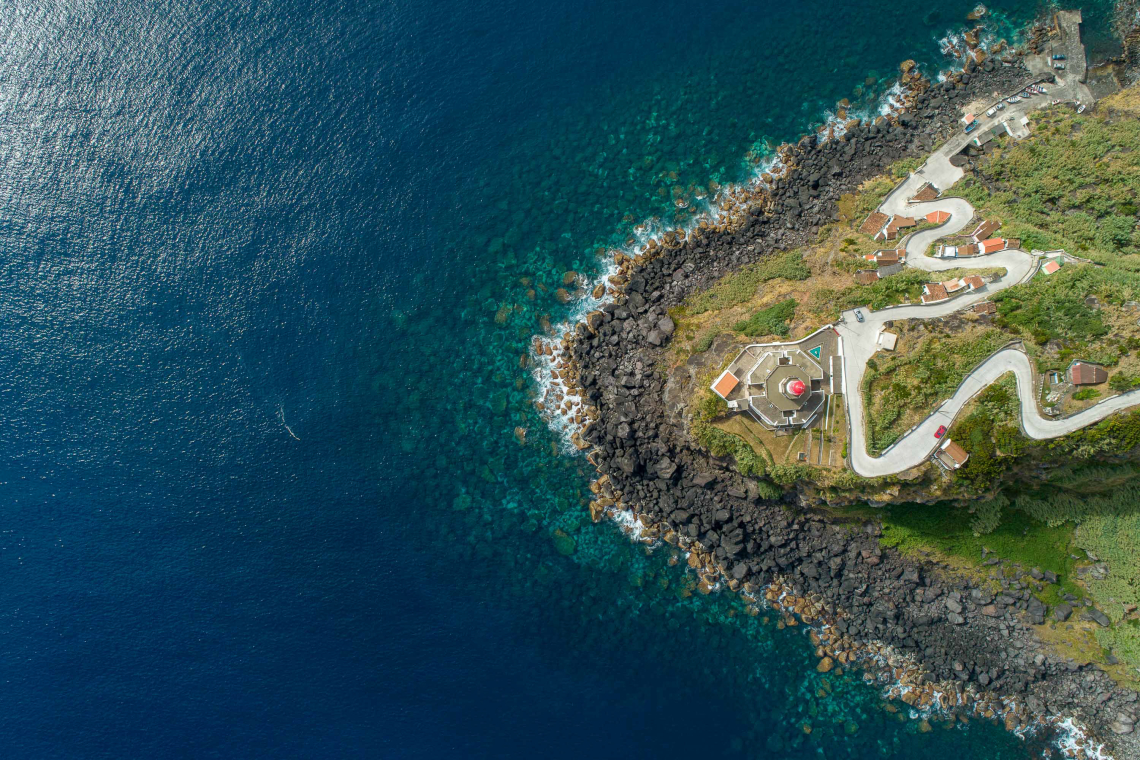 16. Arnel Lighthouse
Azores travel tip for your visit to São Miguel Island: stop the car at the available parking on the site and descend the road that leads to this lighthouse by foot. Located in the extreme northeast of Nordeste village - Nordeste means ''northeast'' in Portuguese, by the way - it was the first lighthouse to ever work in the Azores Islands!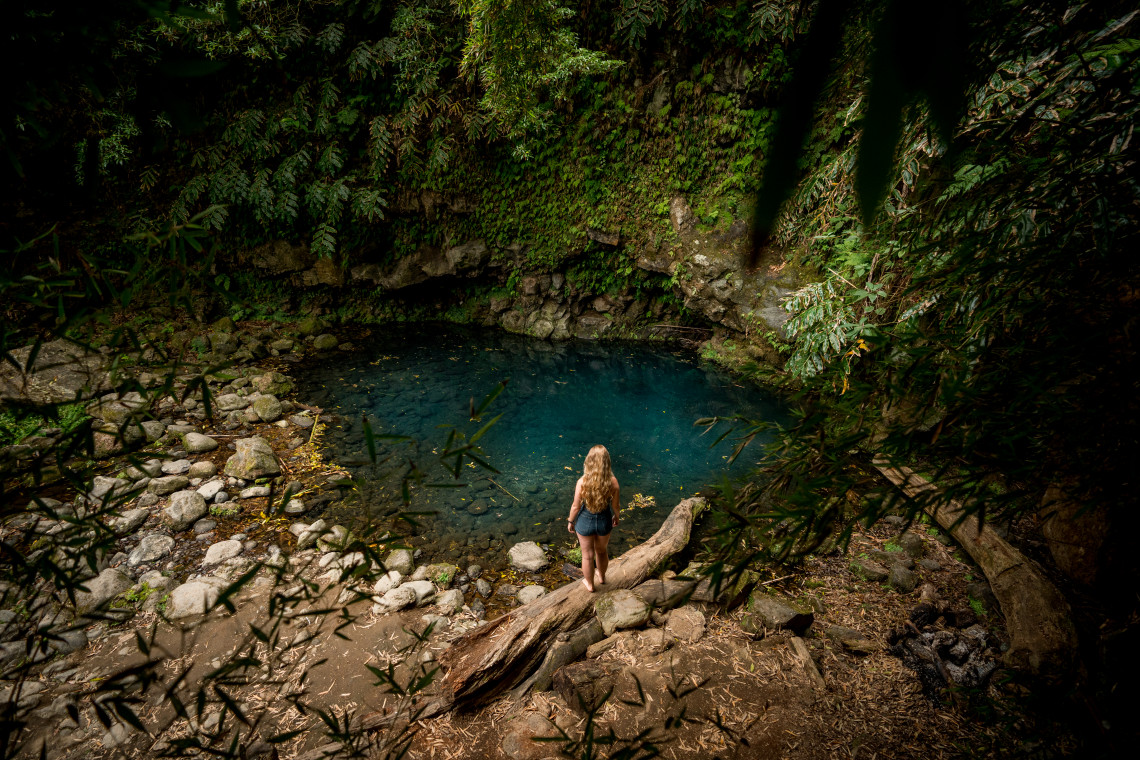 17. Poço Azul
The Nordeste of São Miguel Island, Azores is full of secret gems and Poço Azul is one of them. Hit the Poço Azul hiking trail and discover this little blue lake. It is amazingly blue and its color reason it's a mystery to everyone.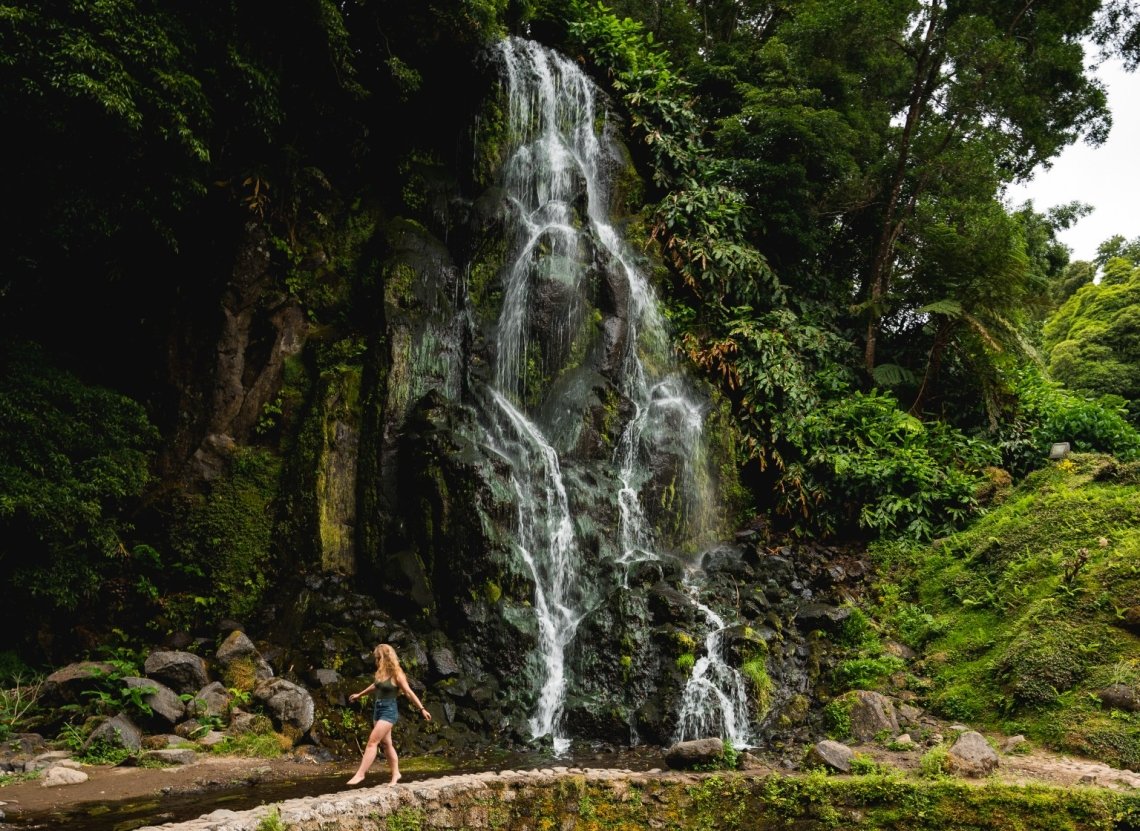 18. Ribeira dos Caldeirões
This natural park of Nordeste includes this gorgeous waterfall - and there's a walkway in front of it meaning you can get yourself in front of the waterfall without getting soaked (time for that photo-bomb session)! It is also one of the best places on São Miguel Island for a canyoning adventure.
SOUTHEAST OF SÃO MIGUEL ISLAND, AZORES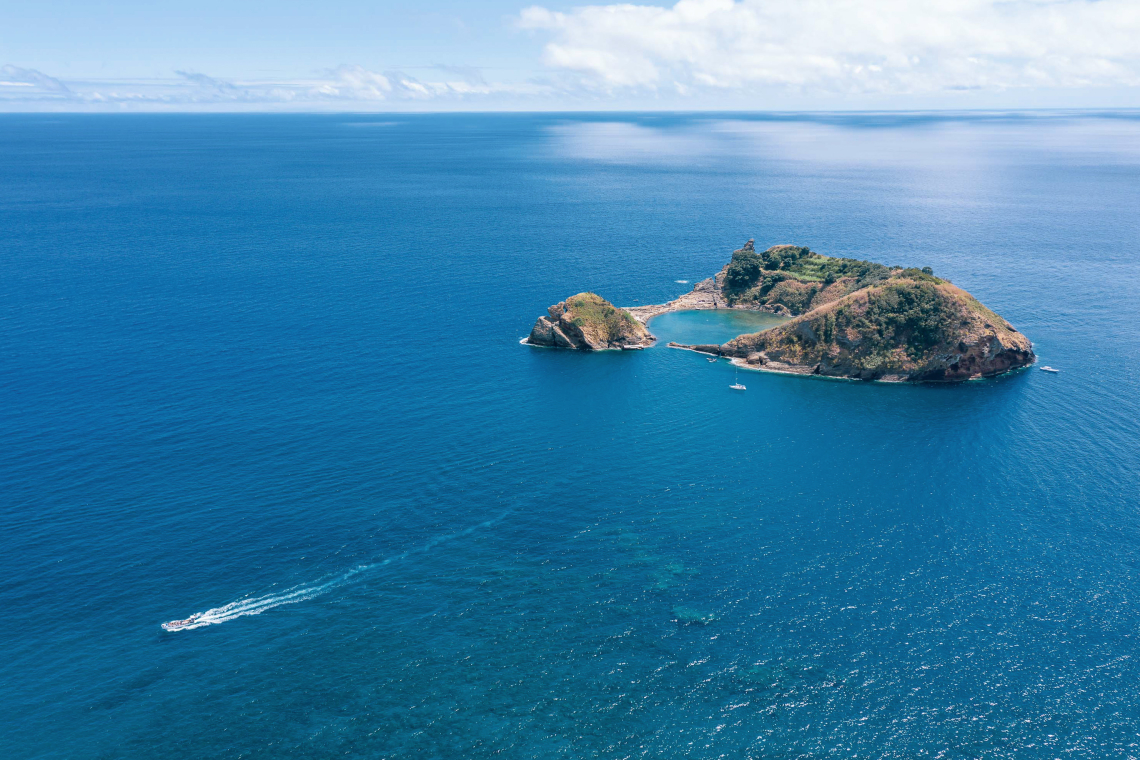 19. Vila Franca do Campo Islet
A picturesque nature reserve located approximately 1km off the coast, the Ilhéu de Vila Franca features a saltwater inlet created by a volcanic crater (perfect for snorkeling!) This little islet is rich in marine biodiversity and home to many unique species. To protect them all, the islet is only open to visitors during the summer months and is limited to 400 visitors per day.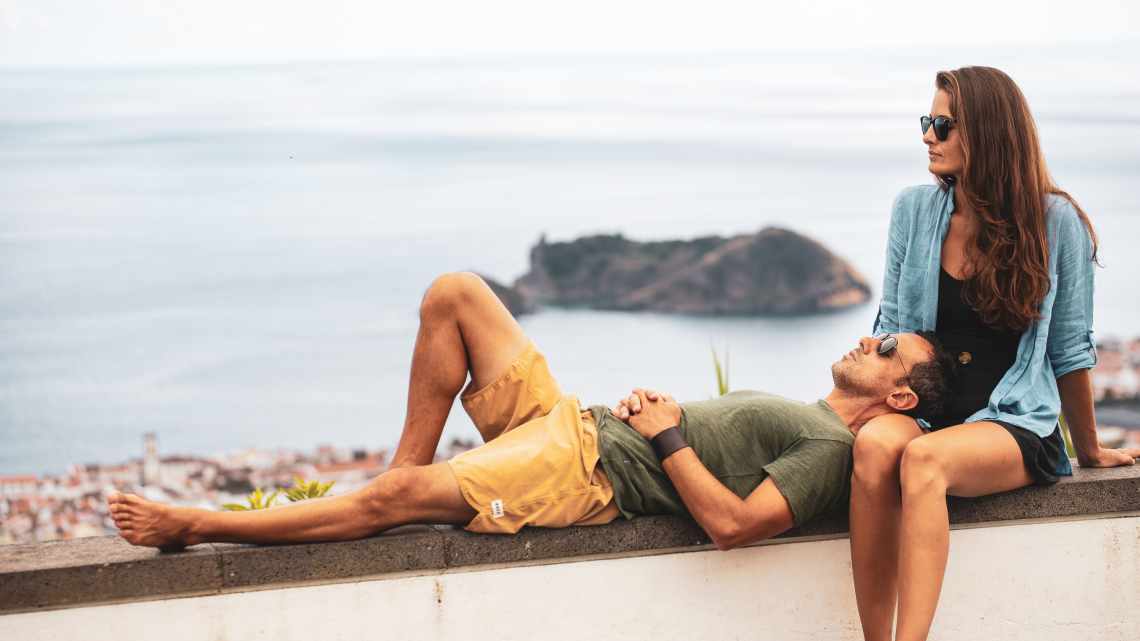 20. Nossa Senhora da Paz Viewpoint
Head to Nossa Senhora da Paz viewpoint on the top of Vila Franca do Campo for the best panoramic view over this part of the island and the islet.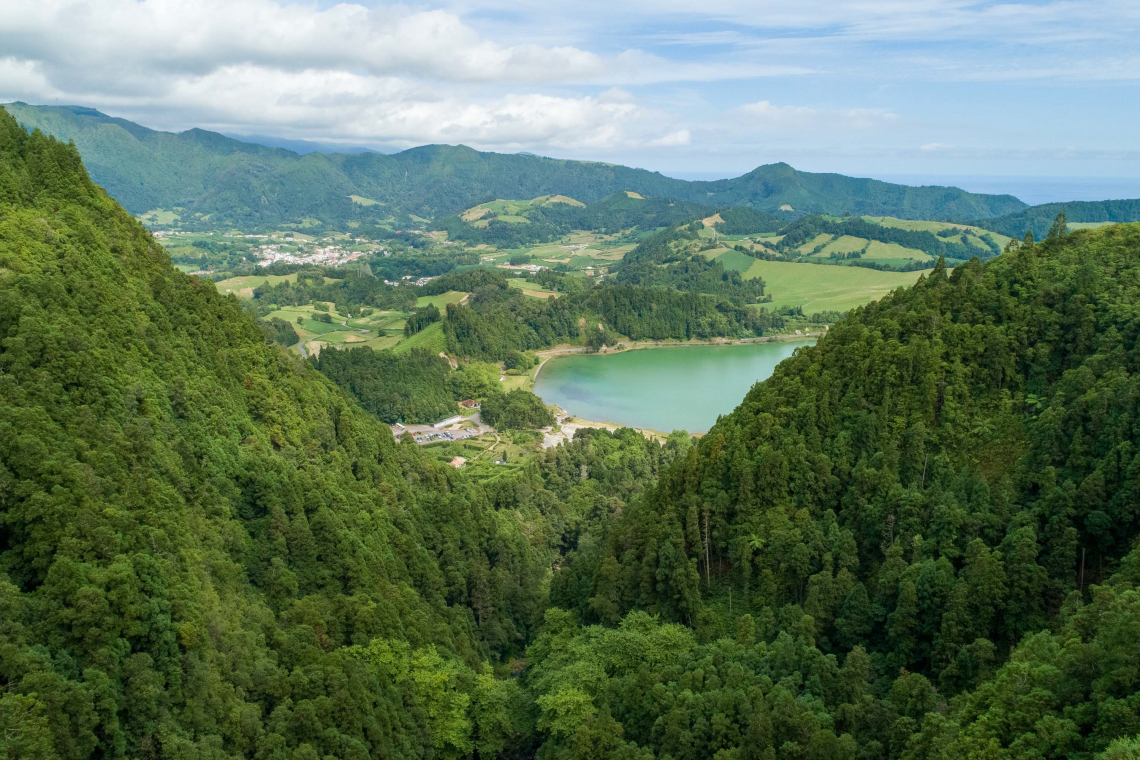 21. Furnas Lake
Furnas Valley is famous worldwide for its bubbling caldeiras and hot springs where visitors can relax with a thermal bath at any time of the year, but this mystical volcanic valley is full of interesting surprises. Visitors can take in impressive panoramic views of the lake and village from the Pico do Ferro viewpoint. Head to the lake for a walk around its perimeter and surrounding parks and gardens, and then watch as restaurant workers pull steaming hot pots of Cozido (a traditional Portuguese stew) out of the fumaroles for lunch.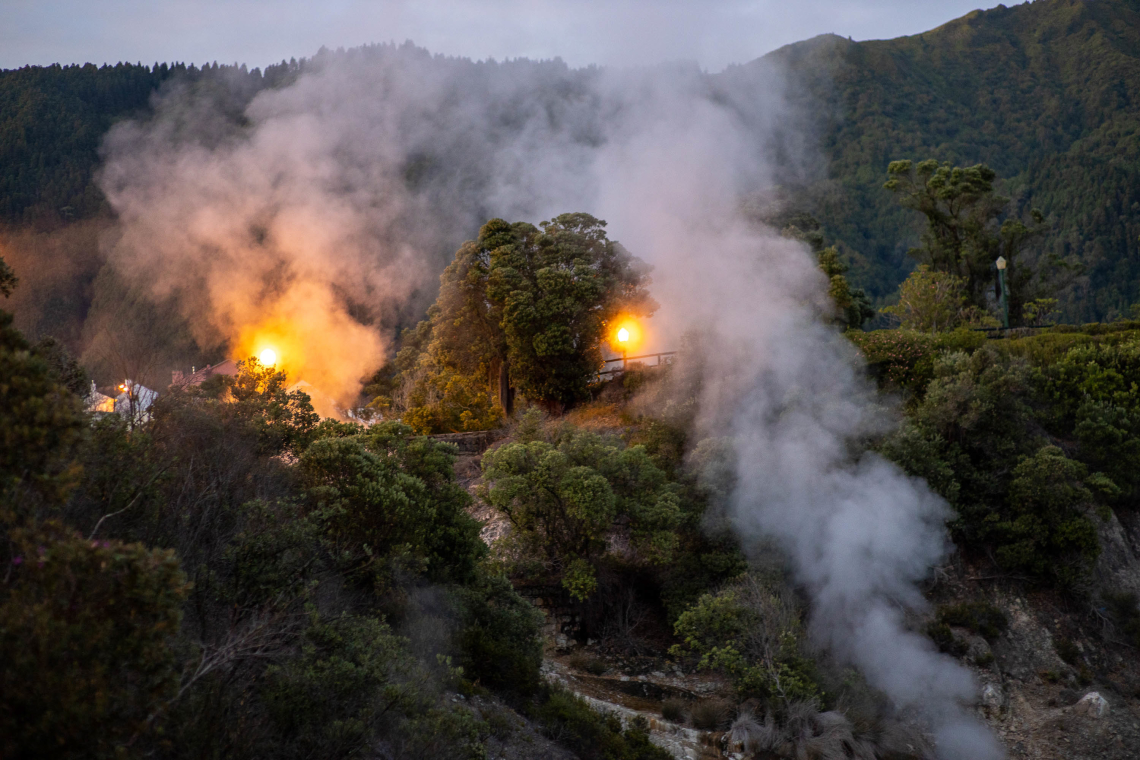 22. Furnas Geysers and Fumaroles
Make your way to the charming village of Furnas to enjoy some cozido, and then take a walk around the center of town to see the bubbling sulfur pits and try the mineral spring water spouting around every corner. Nature here is constantly shifting and changing before your eyes as you watch this dormant volcano breathe with activity all around you.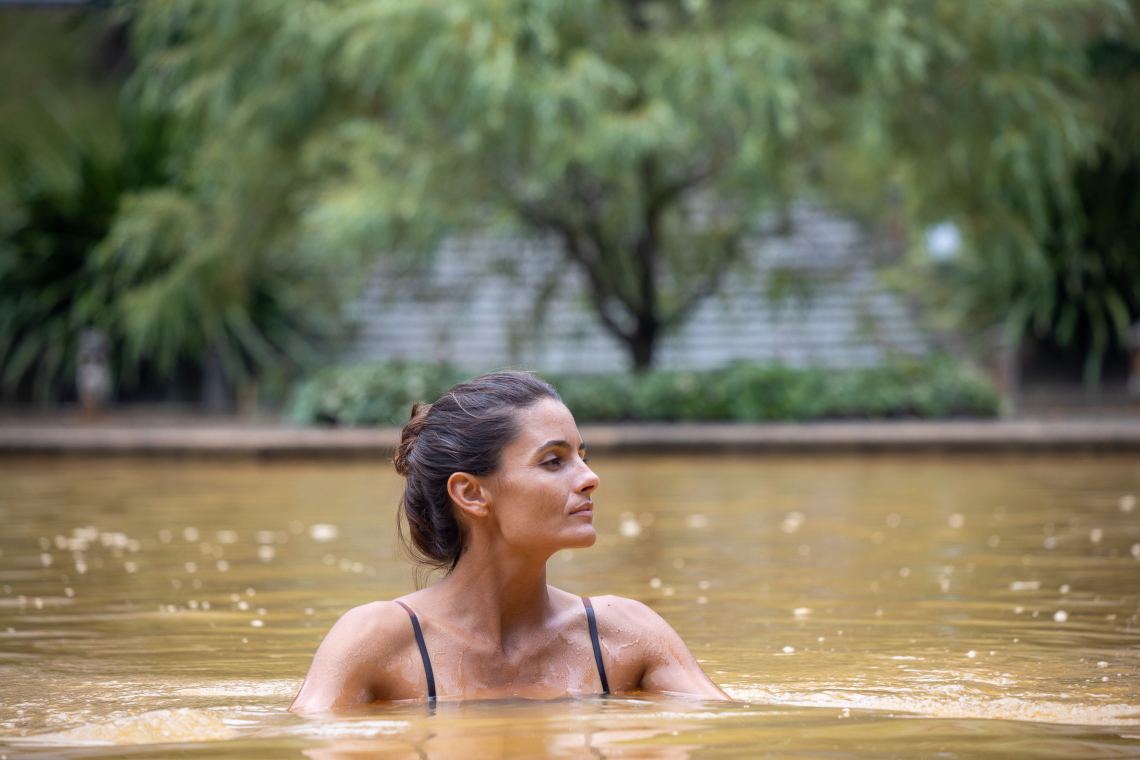 23. Terra Nostra Park
The pièce de résistance of Terra Nostra is of course its large thermal pool. This murky, golden-brown is Furnas' crown jewel and no trip to São Miguel Island is complete without a soak here. The iron-rich mineral waters gushing from the park's natural hot spring source are what lend this pool its yellowish color, but don't let its appearance put you off! The steamy temperatures hover between 35ºC to 40ºC (95ºF to 104ºF) making it the perfect place for a relaxing soak after a vigorous hike or day of sightseeing.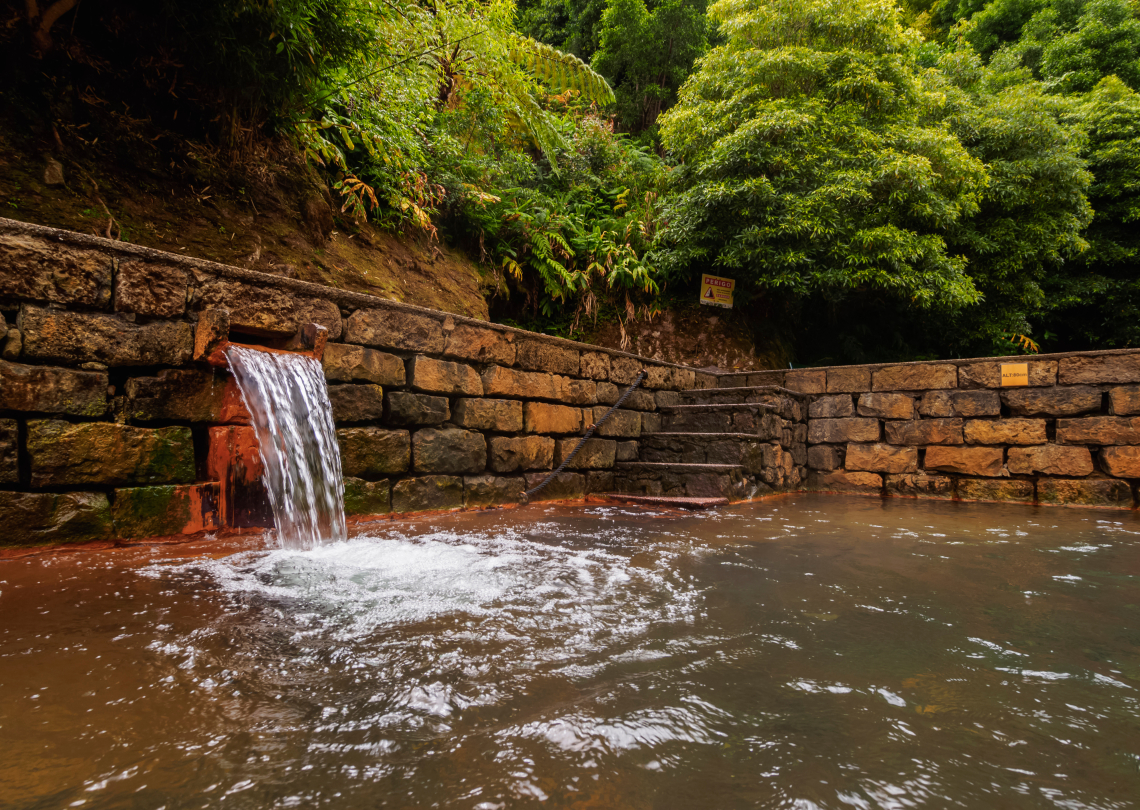 24. Poça da Dona Beija in Furnas
The natural iron-infused hot springs of Poça da Dona Beija can also be located in Furnas Valley. The hot mineral waters are known for their therapeutic benefits, offering a place for tourists and locals to relax and rejuvenate in a beautiful natural setting. The water temperatures vary from 25ºC to 39ºC (77ºF to 102ºF), and the facilities are open from 7am to 11pm for maximum soaking time!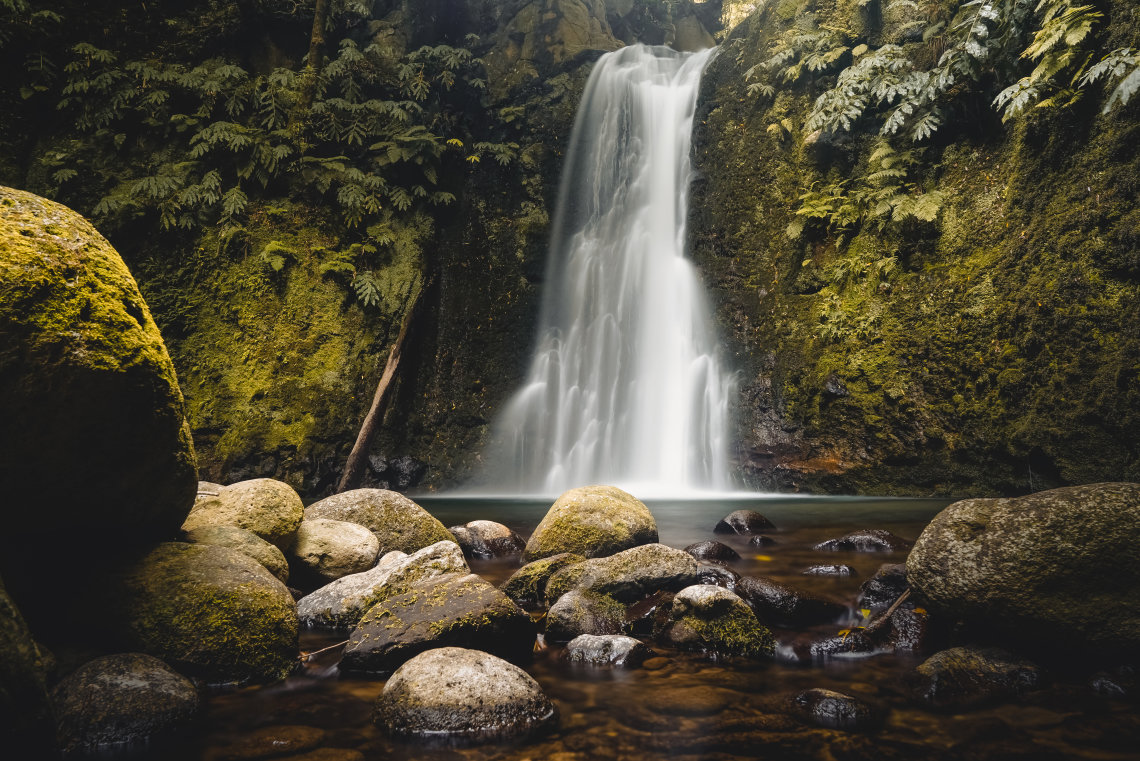 25. Salto do Prego Waterfall
This gorgeous waterfall along the Salto do Prego hiking trail on São Miguel Island always gives us serious jungle vibes. Hit this trail in Faial da Terra, an ancient typical Azorean village, and discover this and other hidden gems of the Azores' nature!
PONTA DELGADA, SÃO MIGUEL ISLAND, AZORES
Ponta Delgada, the main city, is not only the hub of the island but the capital of the Azores. Ponta Delgada evokes all the charms of Europe with cobbled streets, sidewalk cafes, and a thriving culinary scene.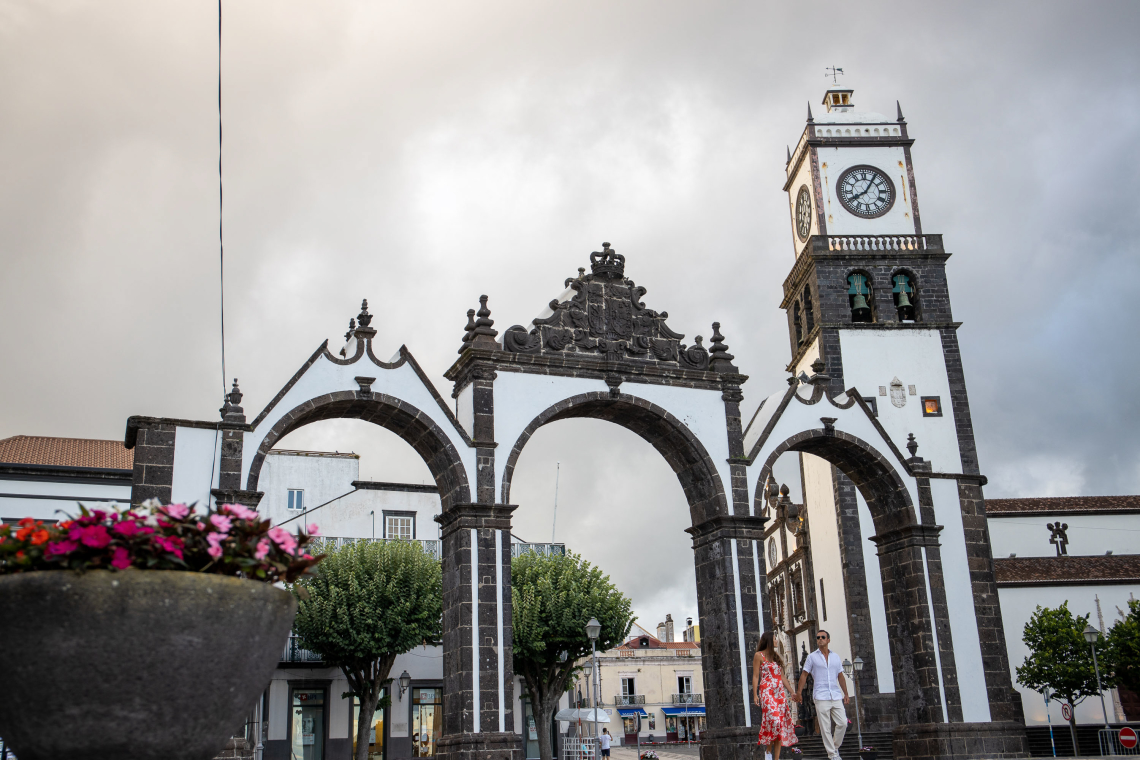 26. Portas da Cidade
The city's welcoming gates! They used to be located in the seafront and were the gates of entrance for people from the ships back in the days. The capital city of the Azores, Ponta Delgada, is a charming little metropolis surrounded in stark contrast by the lush green nature and deep turquoise seas surrounding it. Explore the postcard-perfect Portas da Cidade (City Gates), the Igreja da Matriz just across the street, or take a stroll through the cobblestoned center if you're in the mood to shop, eat and explore.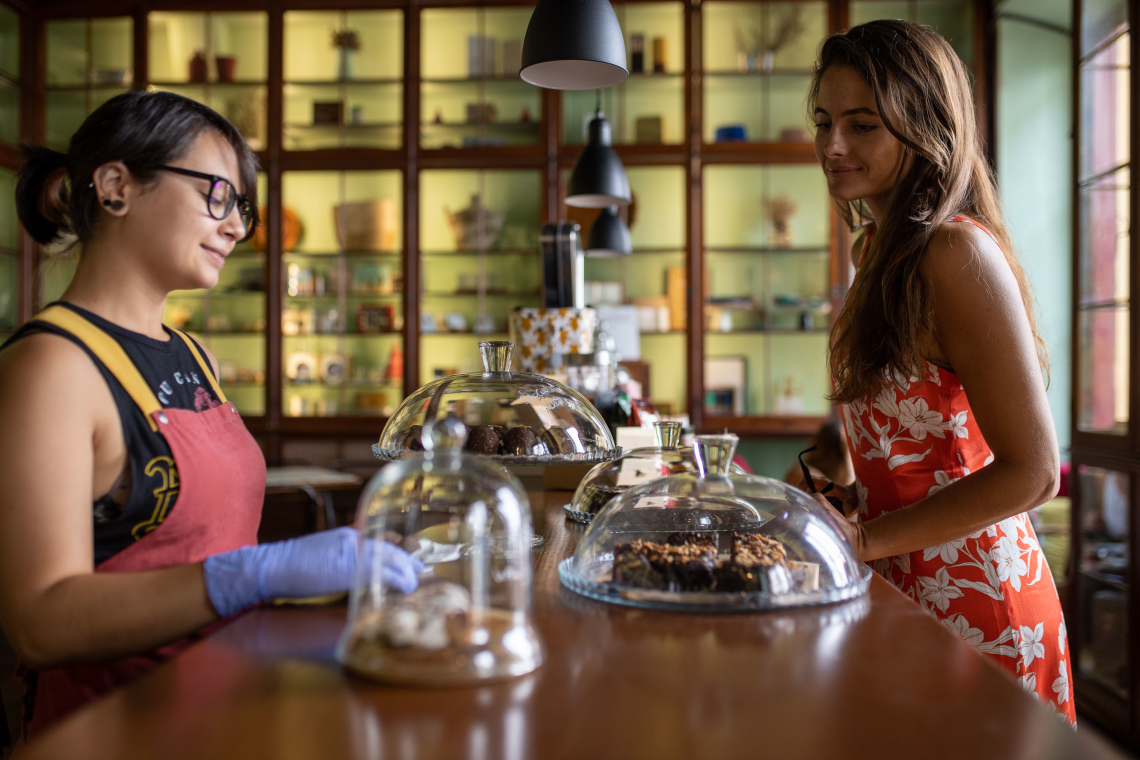 27. Louvre Michaelense
This quaint café is popular amongst tourists and locals. Pop in for a cup of coffee, tea and delicious home-made pastries, or head there for dinner when the space transforms into a restaurant complete with a fabulous cocktail menu. The Louvre Michaelense is unique by design, as it used to be an old-fashioned store and they've left the décor and space exactly as it used to look, making it the perfect backdrop for a photo-op. If you have a sweet tooth like us, let's confess that Louvre Michaelense has the best chocolate cake in town!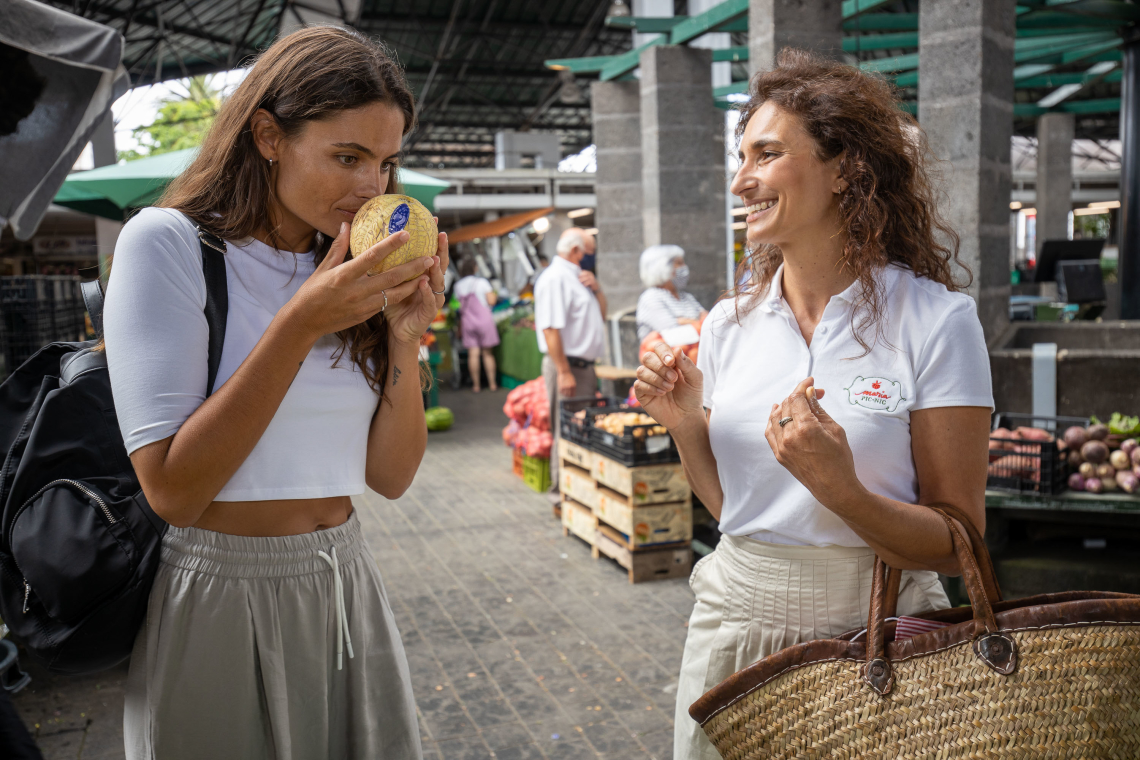 28. Farmers Market
Visit the local farmer market of Ponta Delgada in São Miguel Island for a true sense of the island's crops and exotic fruits! Let the colors, smells and aromas of the Azores products entice you. Azores travel tip: the best place to visit this market is on Saturdays morning!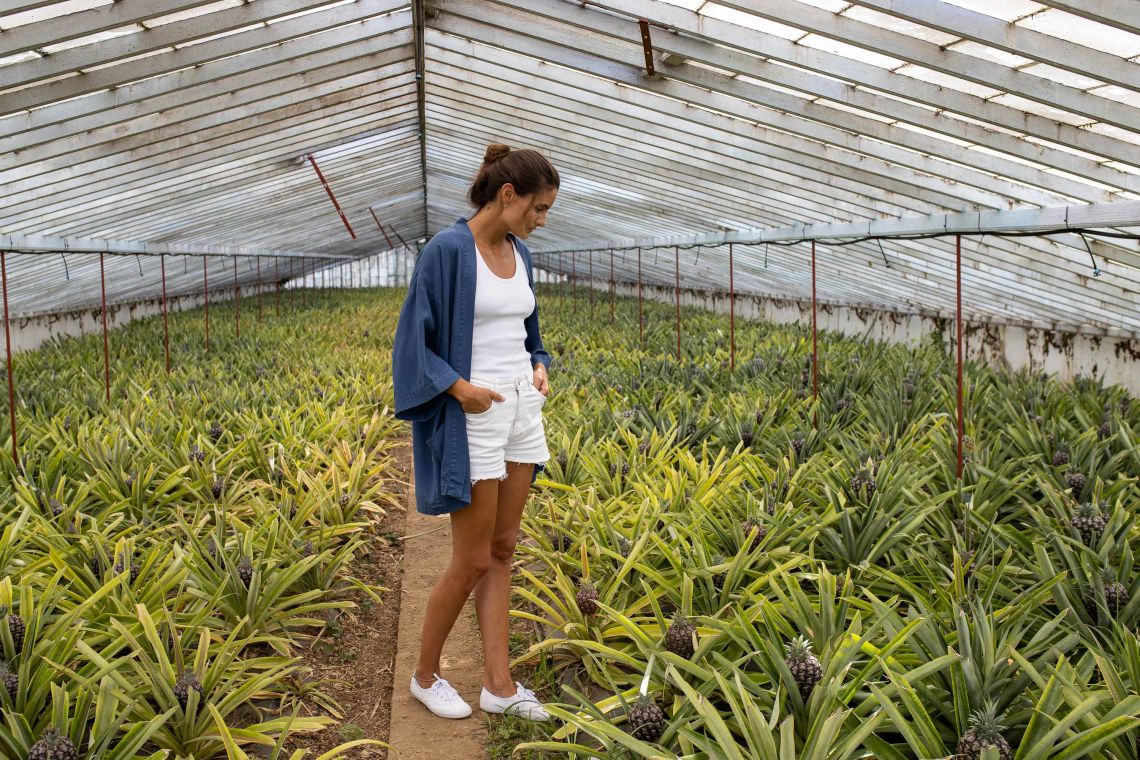 29. Pineapple Plantations
Did you know São Miguel is the only place in the world where pineapples are grown in greenhouses? The unique fertility of the island's soil, coupled with the very precise maturation methods inside the greenhouses, produce small but mighty fruits packed with more sweetness and less acidity than their counterparts around the world. It takes an average of 2 years for each one of these pineapples to fully mature, but in our opinion, it's well worth the wait.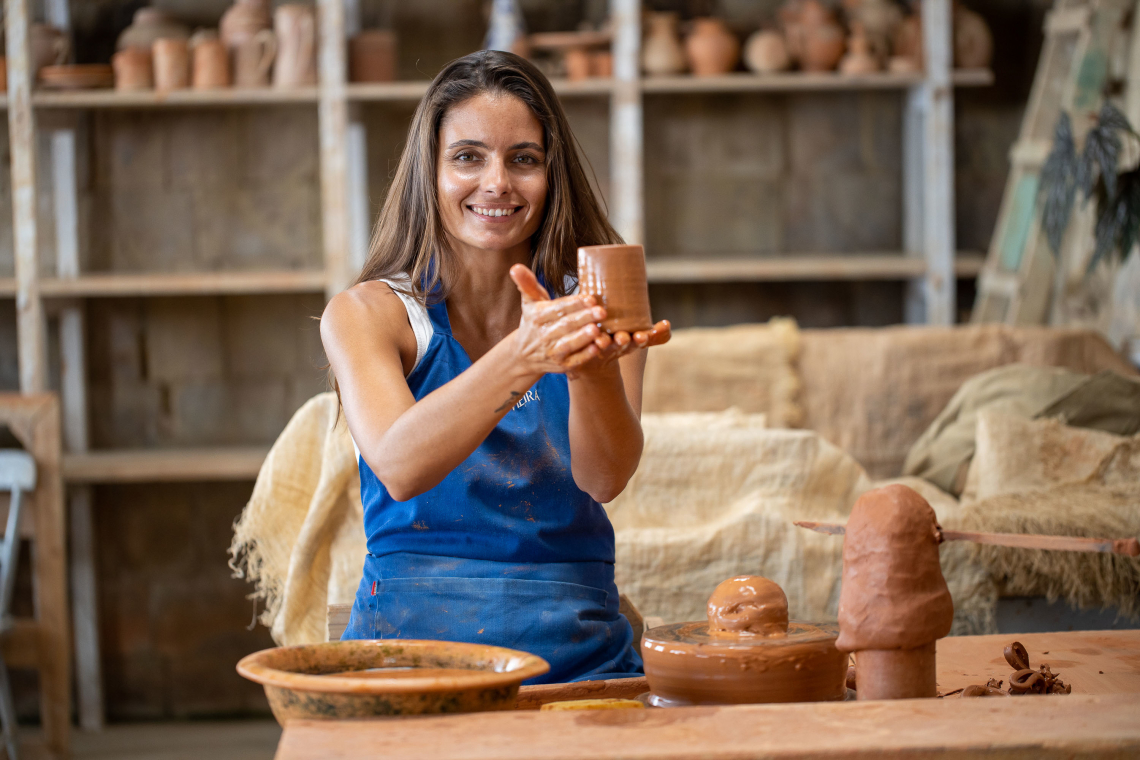 30. Cerâmica Vieira (pottery)
This traditional pottery factory and shop is within the hands of the same family for 155 years! Head to the Cerâmica Vieira, in Lagoa, the neighboring city of Ponta Delgada (10 minutes by car) and tour the factory while learning how these beautiful artisanal pieces are made.