Picture yourself floating in the middle of the crystal clear, deep blue waters of the Atlantic Ocean while a group of wild dolphins flits by, swirling and twirling beside you, below you, and all around you: This is exactly what you can expect when swimming with dolphins in the Azores.
Located in the Atlantic between the coasts of Portugal and North America, the Azores are a permanent home and natural point of passage to a variety of dolphin species, making the islands one of the world's best places for observing dolphins and whales in their natural habitat.
The Azores' winning combination of unique volcanic origins, deep waters off the coast, and mild air and sea temperatures from the Gulf Stream make this Portuguese archipelago the ideal location for visitors to come and spot a wide array of species on an ultimate swimming with dolphins experience.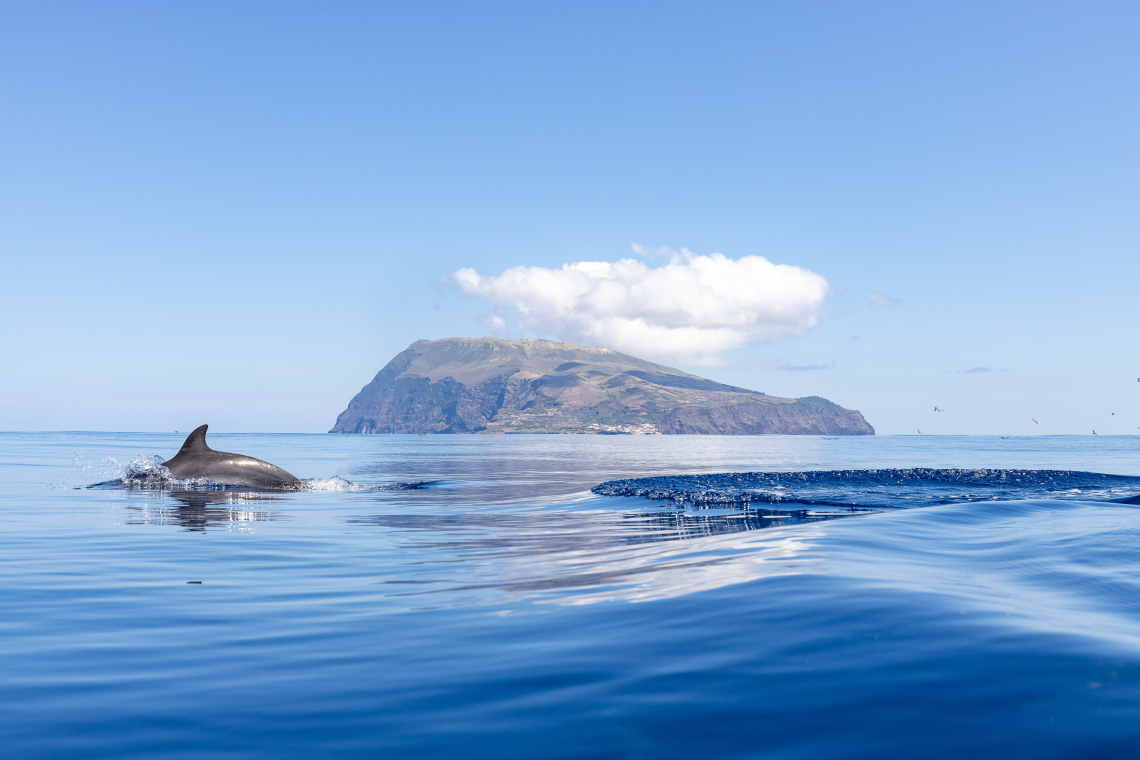 Up-Close Wild Dolphin Encounters
While swimming with dolphins in the Azores, you'll be close enough to hear and observe these magnificent creatures up close and personal! Swimming along with wild dolphins in their natural environment is a unique experience unlike any other. So, what exactly can you expect on your dolphin adventure?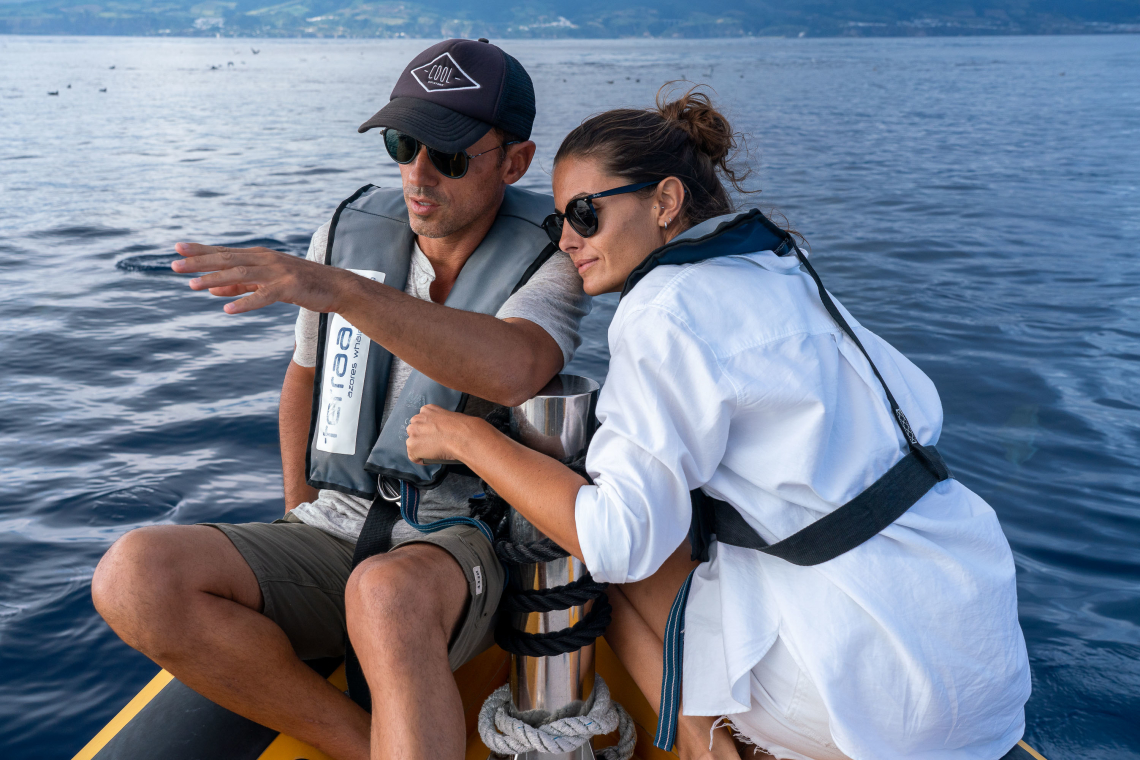 What to Expect
When most people hear the phrase "swimming with dolphins", they picture the shallow waters of a beach and dolphins that are trained or accustomed to interacting with humans. During an Azores swimming with dolphins experience, you'll be taken out in a zodiac boat a few miles offshore to waters that are several hundred feet deep. Once there, you'll be given snorkeling gear to dive right into the mid-Atlantic ocean for an exhilarating Azores swimming experience with wild dolphins!
Put your head underwater to hear their fun and cute whistles and quirky squeaks, and although many wild dolphins in the Azores are shy, don't be surprised if some approach you. After all, they are just as curious about you as you are about them! But don't worry about such an encounter, as everything is perfectly safe and thought out. Specifically, your tour providers will brief you on specific safety procedures, and fill you in on exactly what to expect before you even head out on your dolphin swimming trip.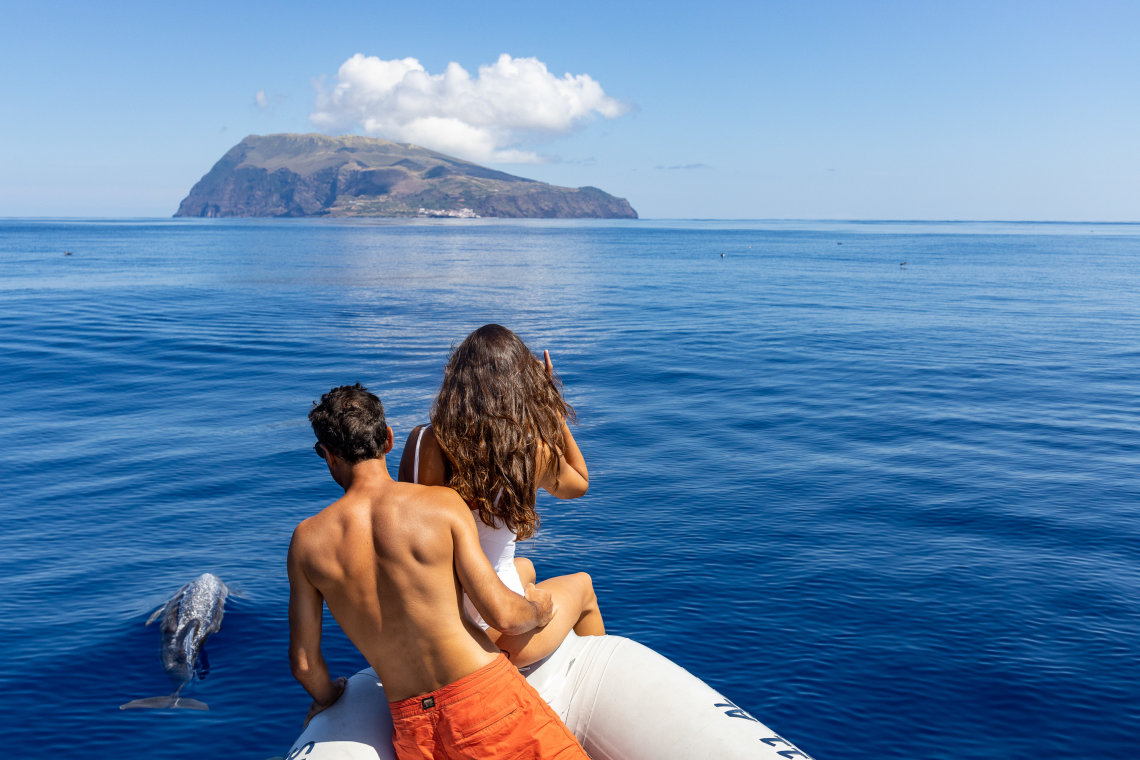 Types of Dolphin Species You Will See
While common dolphins, Bottlenose dolphins and Risso's dolphins call the Azores home year-round, some other dolphin species are migratory and only pass through the islands during specific seasons. Some of these migratory dolphin species include Striped dolphins and Atlantic Spotted dolphins, among others.
It is important to note that on guided excursions in the Azores, you are officially only allowed to swim among five certain species. We will go into further detail about each of these five dolphins species you may expect to encounter below:
Bottlenose Dolphins: These dolphins are the largest dolphin species you will see in while swimming with dolphins in the Azores. In fact, the Bottlenose Dolphins in these islands are known to be even larger than elsewhere.
Atlantic Spotted Dolphins: These dolphins are among the seasonal dolphins that travel through the Azores´ waters only once each year. You can expect to see these beauties arriving in the Azores—newborns in tow—in later June each year.
Common Dolphins: Often seen gliding through the Azores´ waters in large groups up to the hundreds, these dolphins distinct markings (they are known to have an hourglass color pattern that is highlighted by yellow on their hind regions).
Risso´s Dolphins: Next largest in size following the Bottlenose Dolphins, these dolphins are most readily recognized by their round noses. An interesting fact about Risso´s is that the adults´ bodies become dotted with white scars that accumulate throughout their lives. For this reason, by the time they reach old age, many of the species are almost entirely white!
Striped Dolphins: Known for being famously a bit more shy and standoffish, these gorgeous creatures are less inclined to approach visitors too closely during a swimming with dolphins experience. However, the great news is that they are known to porpoise at very high speeds, which means they are the ideal subjects for that perfect Instagram worthy photo!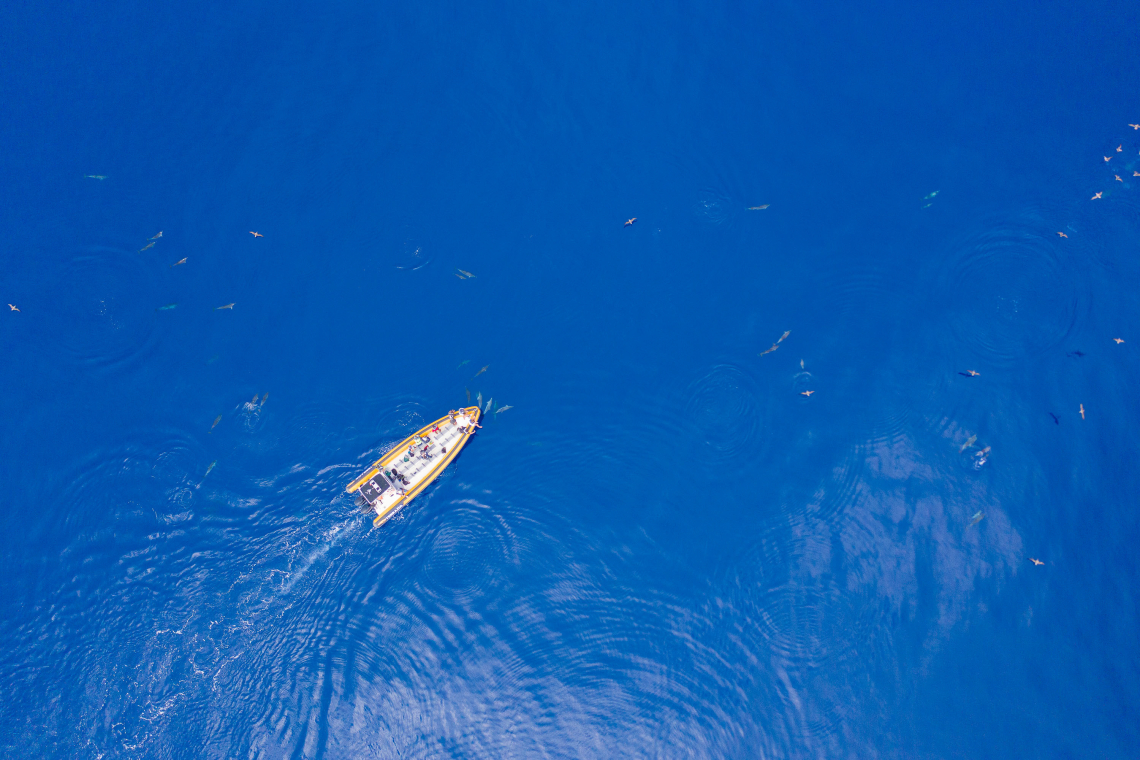 Not Just Dolphins
Although swimming with dolphins is understandably the highlight of dolphin swimming tours, the Atlantic waters surrounding the Azores are also home to a wide variety of other exciting wildlife, including birds and other exotic species. Visitors heading out on a dolphin swimming excursion can also keep their eyes peeled for exhilarating encounters with sea turtles, Manta rays, ocean sunfish, whale sharks, and more. And for bird enthusiasts, you may even get lucky enough to spot a Cory's shearwater, a seabird that is emblematic in the Azores, and which has a very interesting call that you will certainly never forget after hearing it. You have to hear it for yourself to understand, but it is very unusual to say the least!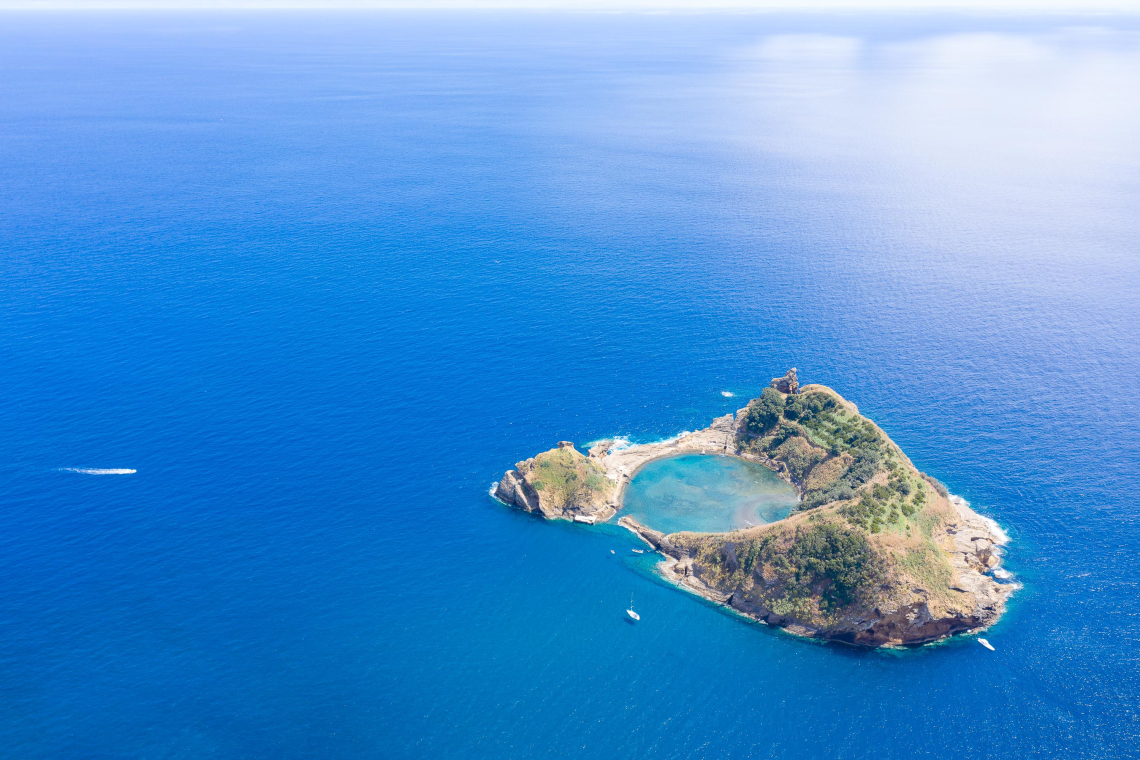 Best Time of the Year
Due to the Azores' mild temperatures year-round and the large number of species that call the Portuguese island archipelago home, it's possible to venture out on an excursion to swim with dolphins in the Azores any time of the year. No matter what season you choose to come and visit the Azores, you'll always be able to spot some new friends at sea.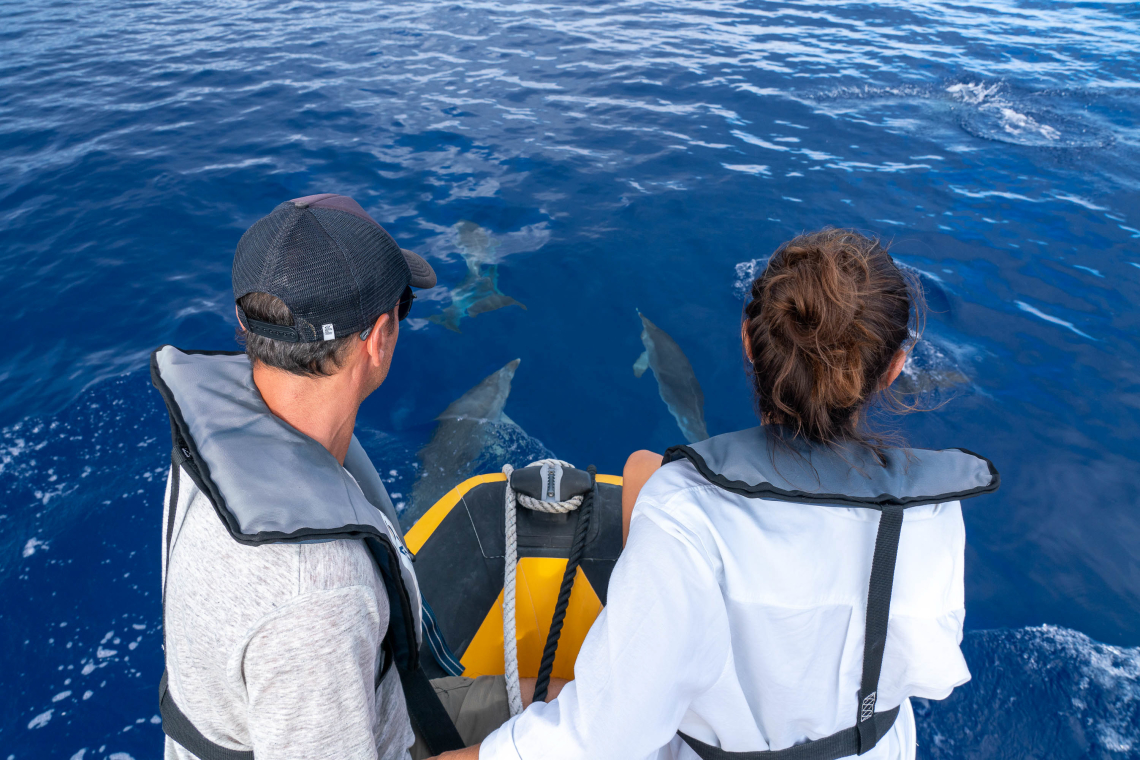 Tips for Your Trip
Swimming with dolphins is permitted in the Azores, but swimming with whales is prohibited
Guidelines set by local environmental agencies forbid touching the wild animals
If you are considering swimming with dolphins during your trip to the Azores, you should be comfortable with swimming in open water in the middle of the ocean
This type of activity is not recommended for young children, or for those with certain health conditions; Check with your tour provider and voice any concerns or questions before booking this experience
Most tour providers will include masks, snorkels, and wetsuits as complimentary gear for this activity, but you can also feel free to bring your own if you prefer!
Whether you are young or old, and whether it is winter, summer, spring or fall, the Azores is the perfect destination for all who wish to experience the thrill of viewing the mystical mammals of the Atlantic close-up on a swimming with dolphins experience!