Fall in Love with the Azores: A Dream Destination Honeymoon
We know planning the dream wedding can be (or sure is) very stressful. Whether you have a specific idea of what you want or rather you want to be surprised, the overall desire is to live the happiest day of your life. Once the ''I do's'' are said, all the stress goes away as you prepare for the next amazing stage of your life: a life together and… the honeymoon!
Planning the honeymoon may not be as stressful as dealing with the wedding details but you sure want to get it right. After all, it's where you'll create the first unique memories of newly wedded couples. How to choose the perfect destination to go to? It's important to take some days after the big event and continue the fairytale in a foreign destination, but where to do it is even more important. Our suggestion is the Azores Islands - but only if you're looking for a unique, unexplored, and unspoiled nature destination.
Azores Getaways has a honeymoon planner ready to start planning your honeymoon in a destination that seems to be taken out of a real-life fairytale.
Here are 10 reasons why you should choose the Azores as your honeymoon destination: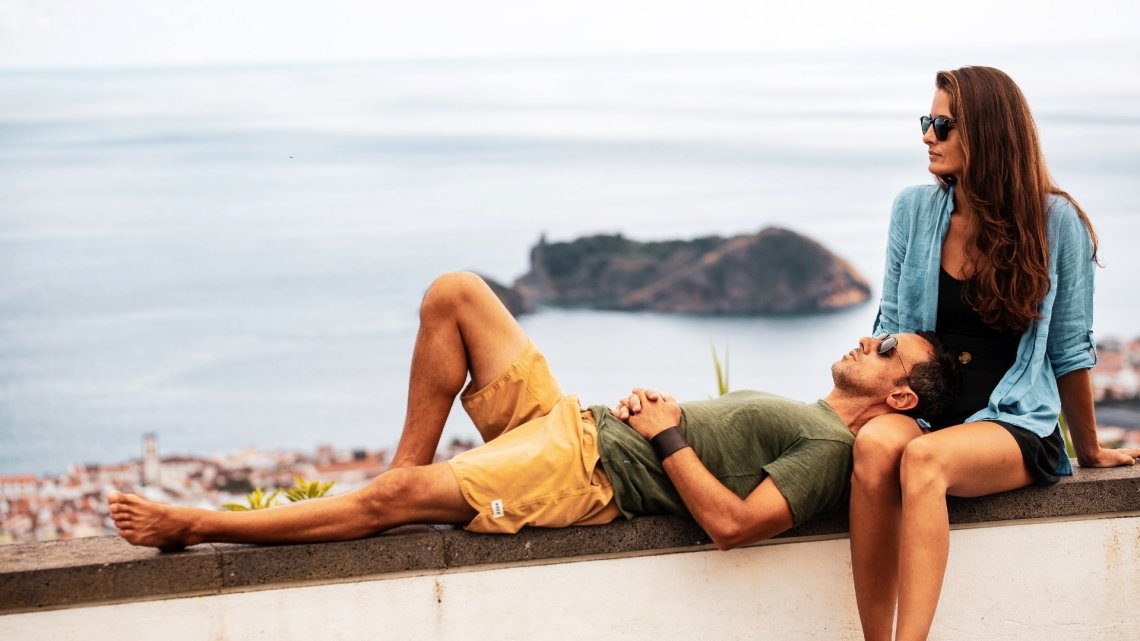 1. The slow pace of life in the Azores gives you plenty of time to date and explore
Explore the alluring attractions of the Azores at your own rhythm. The small size of the islands makes them a perfect place to relax among tropical scenarios of unspoiled nature as you discover a unique world of authenticity. Hit the island's tiny roads and drive slowly, stop at every viewpoint, feel the breeze, and enjoy the first moments of a married couple. Enjoy the slow pace of life with the background sounds of the sea.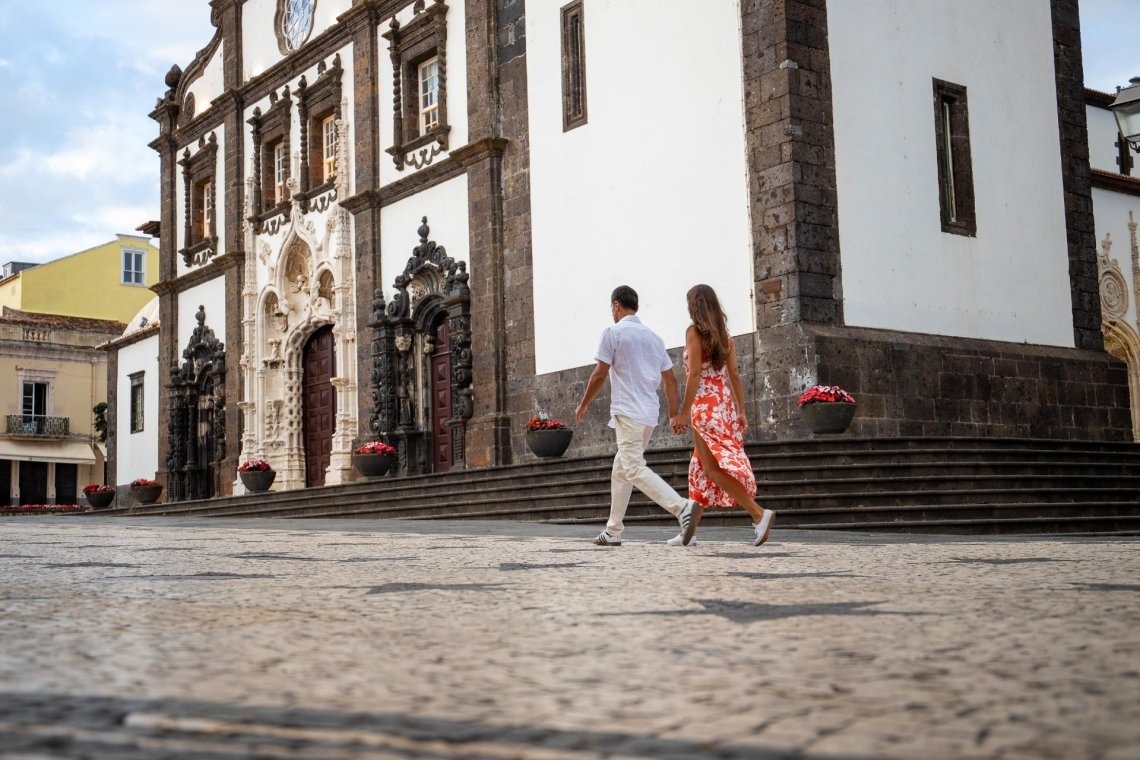 2. There Are 9 Islands to Explore In The Azores
Often referred to as Europe's "Best Kept Secret", the Azores have become an increasingly popular destination with year-round appeal for travelers. This cluster of nine idyllic islands 900 miles off the coast of Portugal is an off-the-beaten-path destination packed with natural beauty, striking landscapes, and tangible authenticity. Though the islands are similar to one another, each has its own distinct set of characteristics that set it apart from the rest. Within the same destination, you get to choose between 9 different natural wonders-- or choose to visit more than one!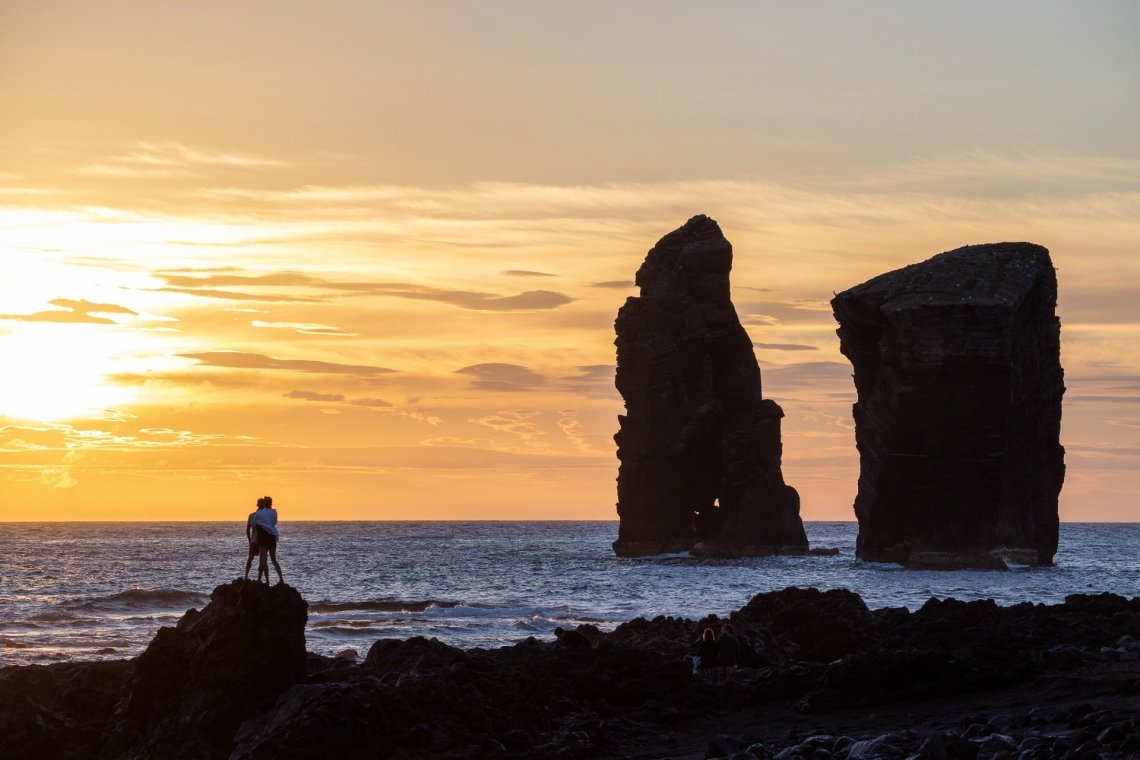 3. The Azores' Sunsets Are Magical
The end of the day in these islands is always something magical no matter what season we're in. A vibrant pink and orange sky appears at the end of the day and leaves nobody indifferent to it. To spice up a bit this romantic sunset we can reveal that each of the islands has a number one spot to assist the sun going down and the night falling with a sky painted with more stars than you ever imagined-- since you're away from the pollution, you'll have the change to appreciate the sky as never before.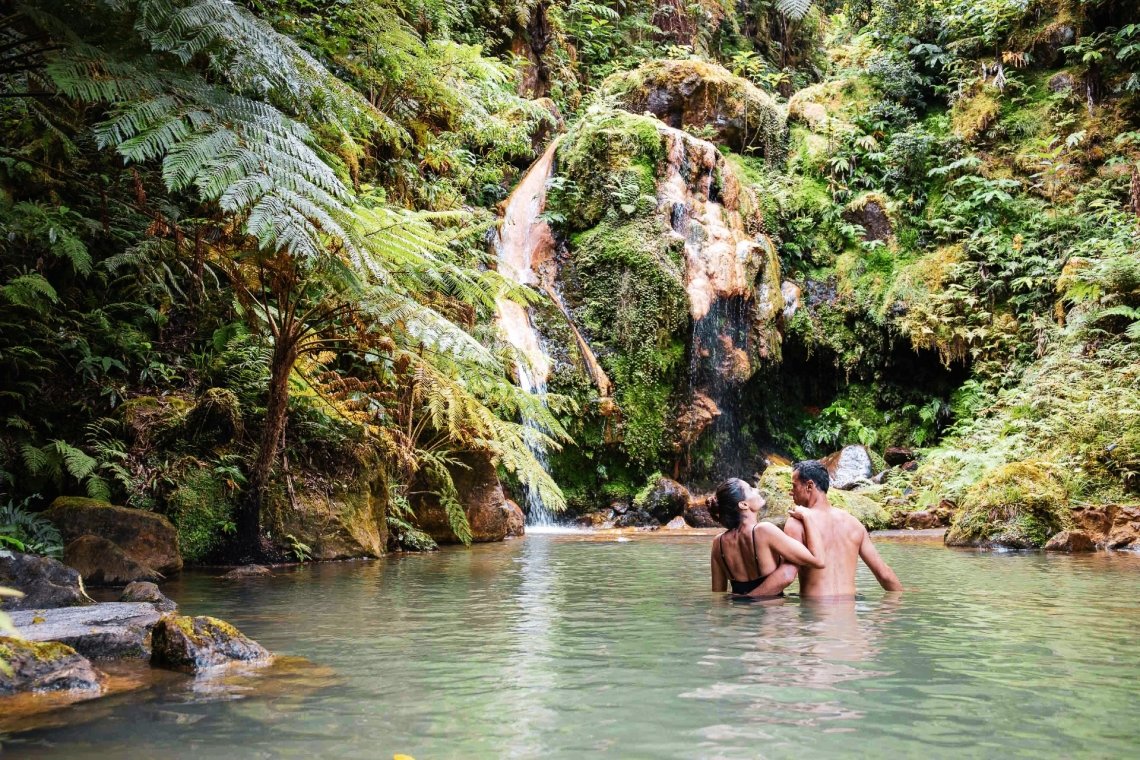 Are you already in love with the Azores? Take a look at our stress-free packages that allow you to book your ultimate island adventure. All our packages are carefully curated by our team of local Azorean Experts so that you don't need to worry about any details – just enjoy your trip!

4. The Azores' Hot Springs Are Unreal And Surprisingly Romantic
The Azores' natural hot springs pools are mainly located on the island of São Miguel - our top suggestion for your honeymoon, tucked away amid lush green tropical vegetation. The amazing set of natural pools of São Miguel Island will induce a whole new level of relaxation and romance! The photos of the Terra Nostra Park speak for themselves. Tip: guests who stay at the Terra Nostra Garden Hotel have access to the hot spring pools and historical garden 24/7!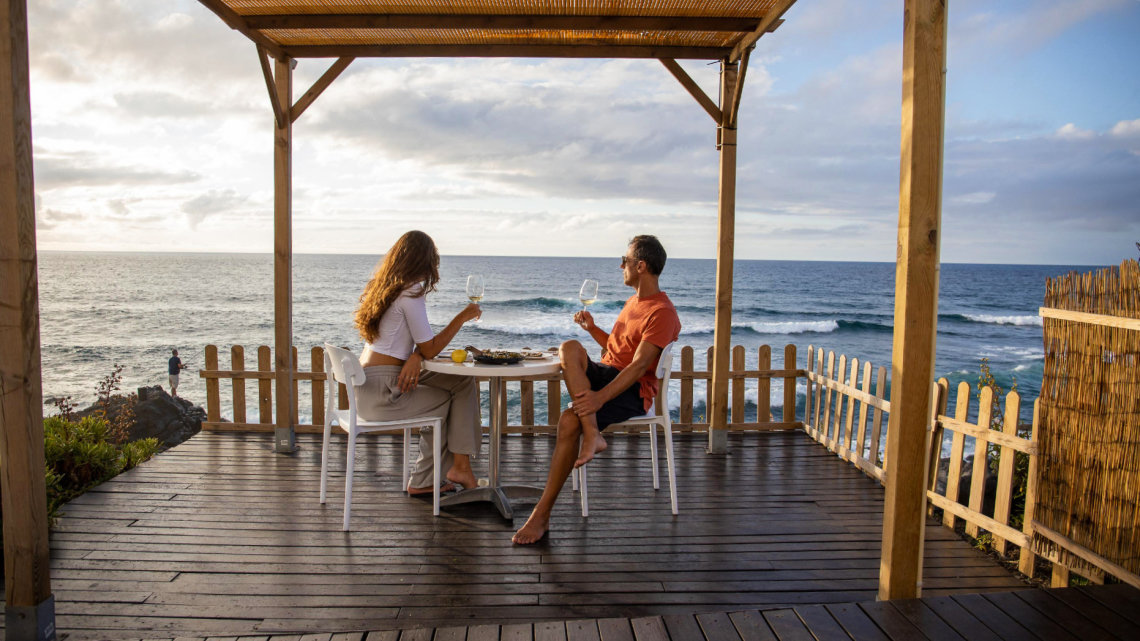 5. The Wine is Great
Since you have a great reason to celebrate you'll also need a great wine to toast-- and you can find it here. The Azores produces some great wines — particularly the whites coming from Pico Island. Pico wines are of high quality and are grown in a very interesting way- in currais (stone-walled vineyards). If you're in Pico, make sure to visit Criação Velha, learn about the island's winemaking history, and sample a variety of local wines and spirits. No matter which island you visit, ask for a bottle of Pico's and celebrate the beginning of the rest of your life.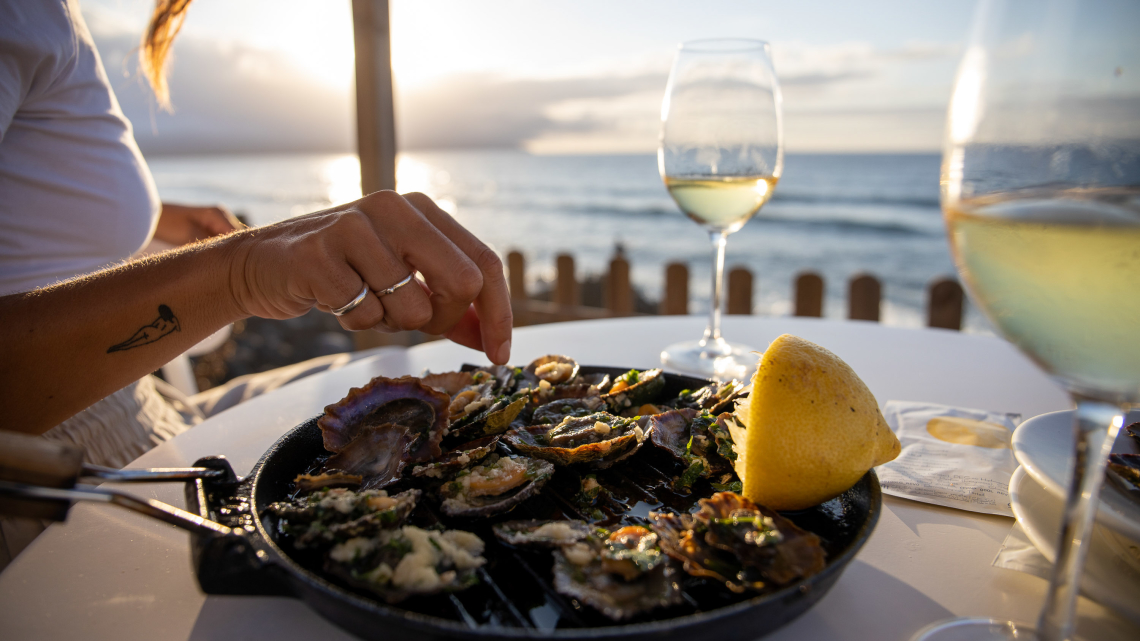 6. The Food Is Even Better
Great company, great wine, and great food. What can you expect from the traditional cuisine of the Azores? Fresh, locally sourced ingredients and simple, authentic flavors without a lot of fuss, cooked with love and served with pride. The Azores Islands are a delight for foodies. The archipelago's many unique microclimates, abundant water supply, and the volcanic nature of the islands make it possible to offer a large variety of delicious dishes. Based on a rich, hearty, peasant-based style of cooking, Azorean cuisine will leave you asking for seconds.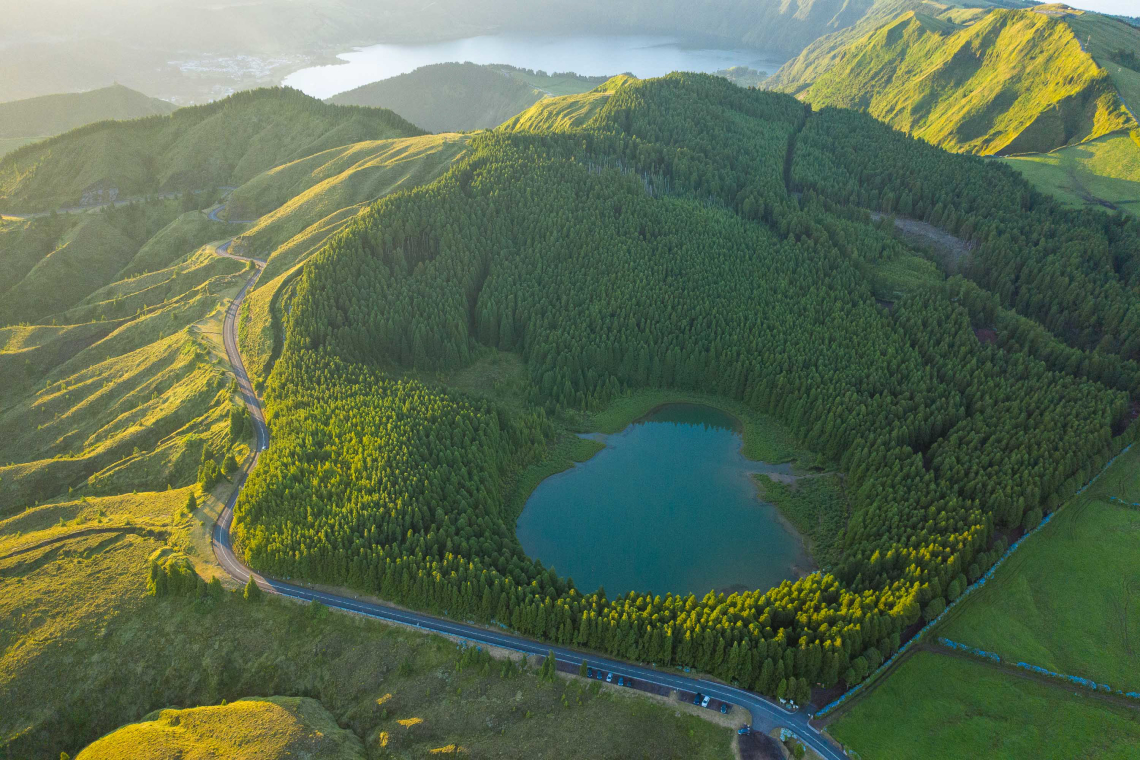 7. The Landscapes Are Unreal (and so are the photos)
The Azores are often described as "Europe meets Hawaii" with a mix of Iceland's striking volcanic landscapes, but those who visit these islands will quickly realize that they are truly unique beyond comparison. Having remained relatively off the radar for decades, the islands remained largely untouched and undiscovered by tourists, perfectly preserving their natural beauty and authenticity. Everyone will be asking you where you took those fabulous photos -- we can guarantee that.
Check here our list of top sights in São Miguel Island and Terceira Island, or a general list of the most famous sights of the whole Azores archipelago.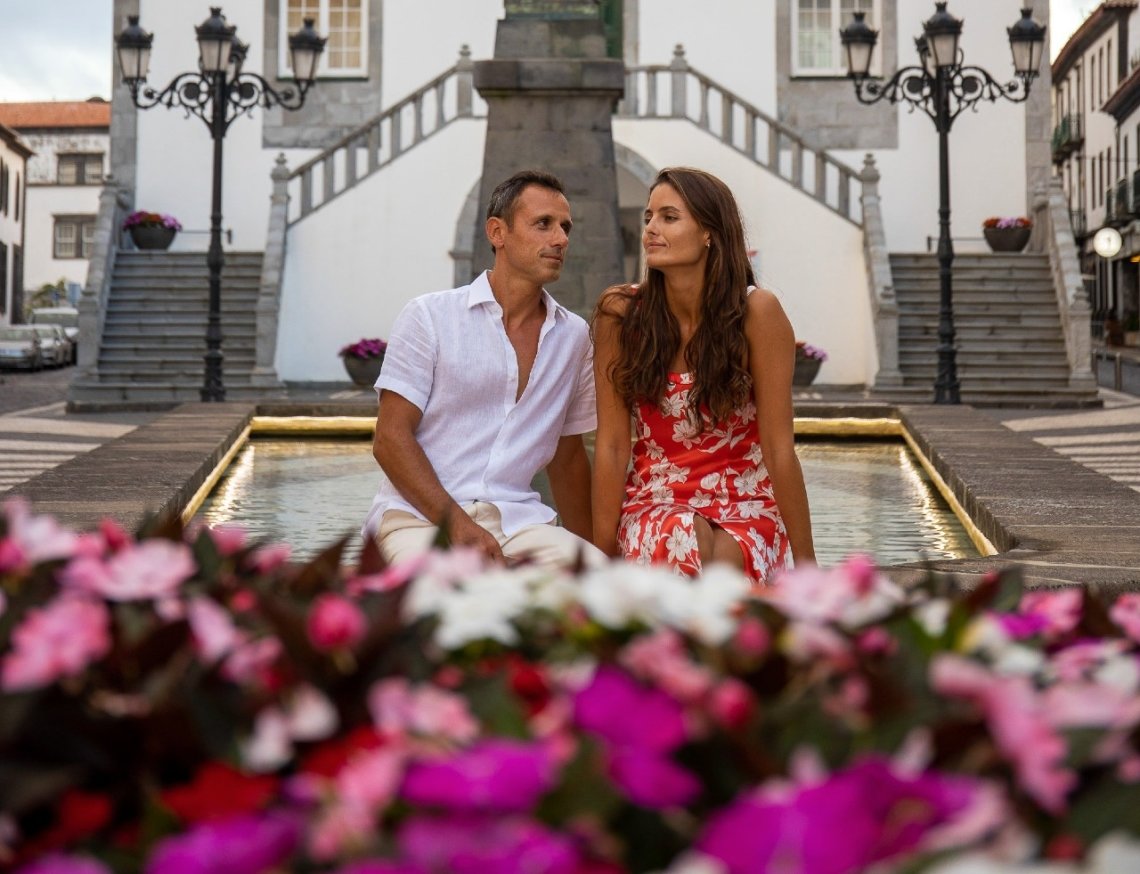 8. The Azores Are a Safe Destination And Everyone is Welcome (LGTB+)
The Azores are an Autonomous Region of Portugal which is by itself one of the safest countries in Europe. Well, the Azores are even safer and a place where it is possible to find values once lost in the world such as trust and people's hospitality. On the smallest island of the archipelago, Corvo, people don't even look at their houses' doors because they totally trust each other and preserve their community's sense of living. The Azores are far from world-armed conflicts and are safe and peaceful natural refugee that almost doesn't even show up on the map. The Azorean community is known for its great hospitality and acceptance, so everyone is welcome to celebrate love regarding sexual orientation.
If it makes you feel safer, during WWII, the Azores served as a base for the Allied forces for a significant time during the Battle of the Atlantic. Recognizing the importance of having a strategic base located between Continental Europe and North America, the American Navy constructed an air base on Santa Maria, which was later relocated to its current home on Terceira, Lajes Field.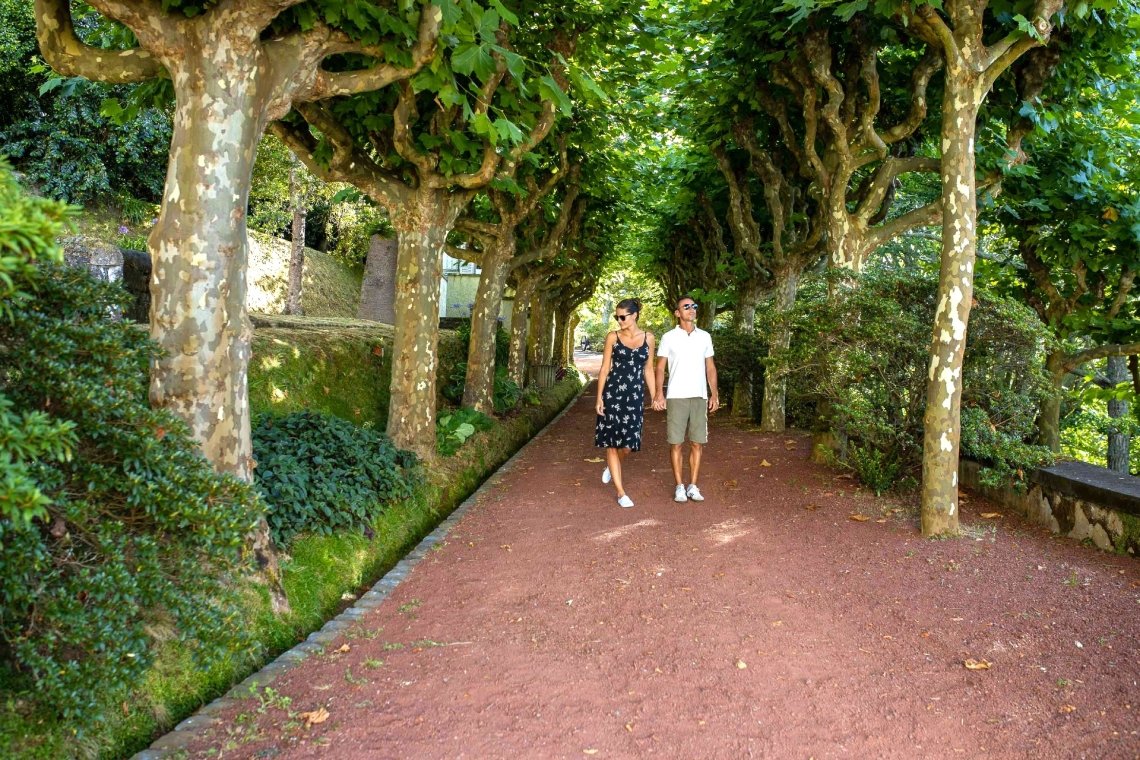 9. Azores Getaways has a Designated Honeymoon Planner For You
You'll have a specific booking agent dedicated to planning your dream honeymoon in the Azores! Since we're local specialists, your honeymoon planner sure knows all the products and services available in the islands, so he'll know what to add to your very special trip. What can you expect from us: a UNIQUE and UNFORGETTABLE honeymoon in a destination that is more than special for itself?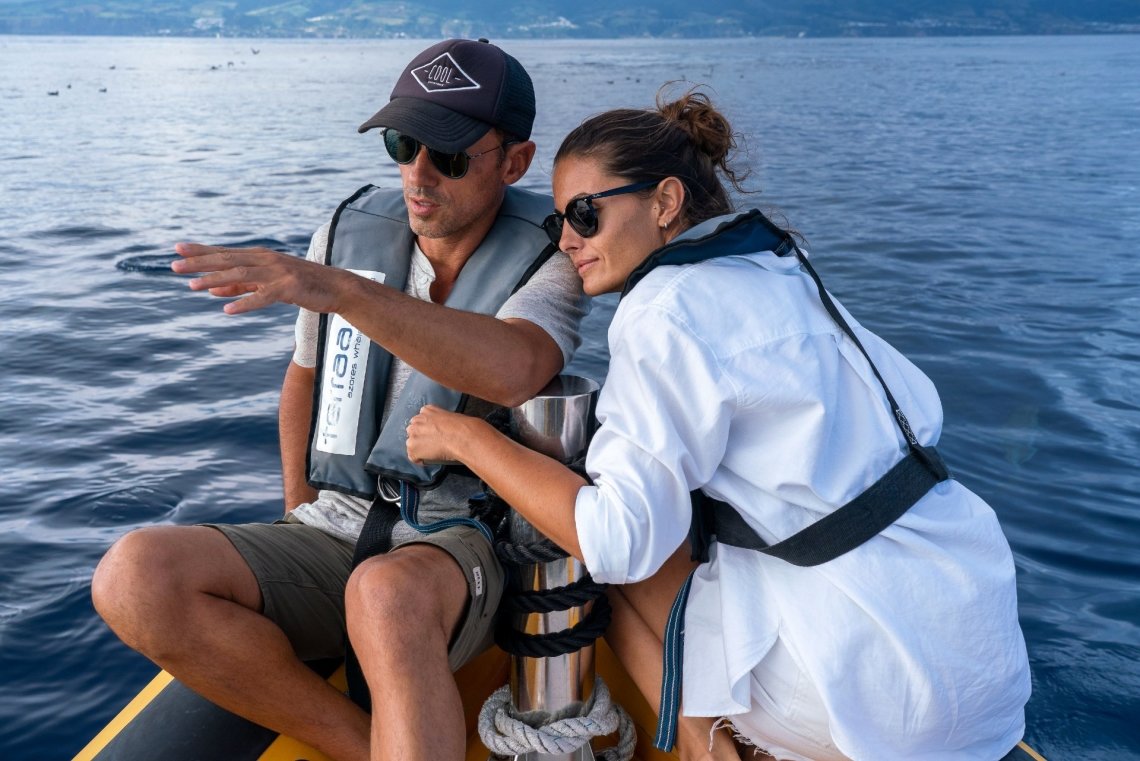 10. Customized Romantic Experiences Awaits in the Azores
To make everything even more special about your honeymoon, your honeymoon planner can set an array of private and romantic experiences to spice up and add some extra fun to your trip. From private boat trips to massages and all kinds of outdoor-related activities, you name it and we set it up for you!
Discover the Azores at Your Own Pace: Tailor-Made Trips for a Customizable Island Adventure
If you're looking to explore the Azores at your own pace, we have got you covered. Our team of specialists will work with you to create a custom-made trip that suits your preferences and budget. Whether you want to dive into the thriving marine life, hike through stunning volcanic landscapes, or relax on secluded beaches, our tailor-made packages offer the flexibility and freedom to discover the Hawaii of Europe at your own pace. So why wait? Contact us today and let us help you plan an unforgettable trip to the Azores!