Discover the Top Trails in São Miguel Island, Faial & Pico
Calling all nature lovers and avid outdoorsmen! If you are a fan of wide-open spaces, fresh air, and gorgeous scenery — and love to nature walk and hike — the Azores Islands are the perfect vacation destination for you. Whether you are looking for a solo Azores retreat or looking for an Azores family vacation, this unique archipelago consisting of nine idyllic islands just off the coast of Portugal is a world-class destination that is an absolute dream for both thrill-seekers looking for their next surge of adrenaline, as well as the more casual admirers of natural beauty seeking a lovely nature stroll in the sunshine.
The amazing thing is that — thanks to the unique volcanic origins of the Azores Islands — this heavenly enclave has naturally created an almost otherworldly — and absolutely serene — setting for visitors to come away from it all and be surrounded by nothing but stunning and vibrant scenery as far as the eye can see. And did we mention that walking in the Azores is among the most popular of all of the activities the archipelago affords? It makes perfect sense with such extreme beauty abounding everywhere. And the best part is that — be it a long, hard hike or a casual wander in the great outdoors — you can find an Azores trail to suit your exact desires and fitness level.
Based on this information, it is no surprise that more and more travelers are beginning to seek out more Azores' information as they dream and plan their ideal Azores walking holidays. We are often asked what is the best Azores island for hiking, and we honestly have to admit that no matter which island you choose to visit, whether it be Pico, São Miguel, Terceira, Corvo, Graciosa, or beyond, you'll always be surrounded by some of the world's most beautiful landscapes, as well as the vast blue Atlantic Ocean.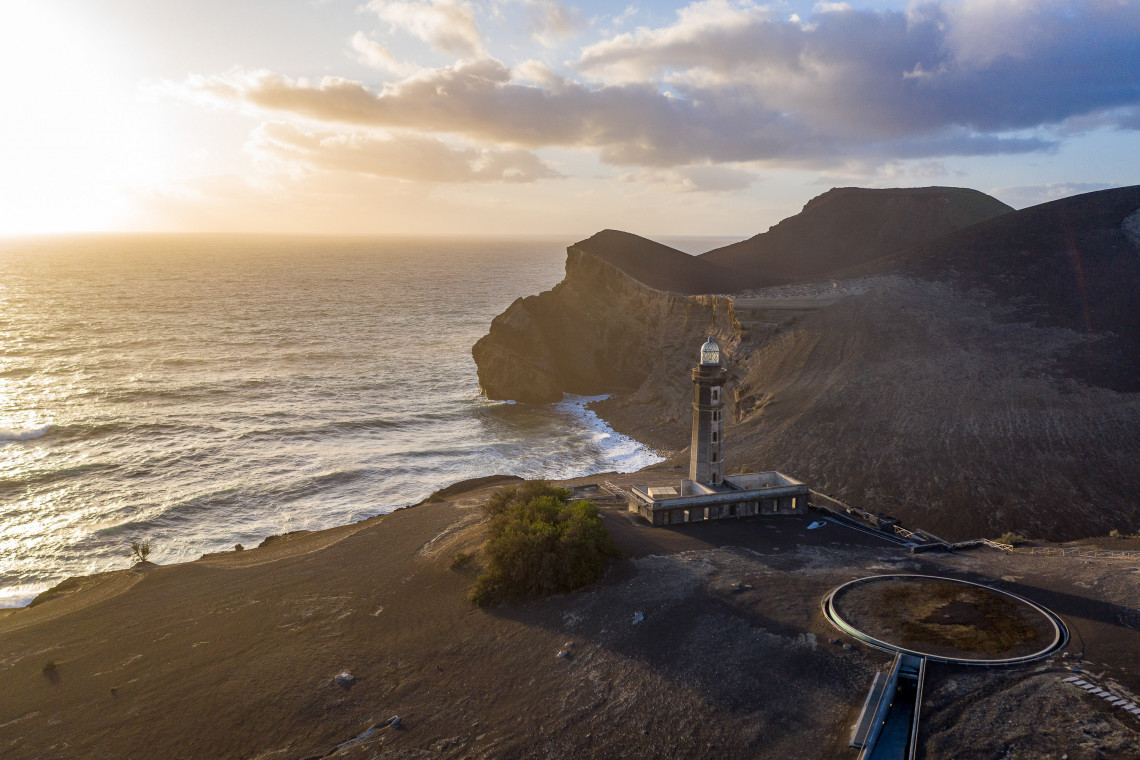 The Azores' Faial Island Is A Heavenly Haven for Hiking Adventures
There is no doubt that in order to experience the absolute best of the Azores Islands' natural wonders, setting out on any of the popular and beloved Azores walking trails and going hiking and nature trekking is THE way to discover all of the hidden gems around the islands. In total, the Azores offer over 60 plus amazing hiking trails that promise to thrill and inspire you — all of which have great conditions for walking safely.
With so many trails to choose from spread throughout the whole archipelago, we wanted to help you out by narrowing down the most amazing treks on each island, so while you are visiting each one, you can have a ready-to-go itinerary of the most heavenly hikes nearby — and there are plenty! That being said, this article will cover the best Azores hiking trails to be found on the magical island of Faial.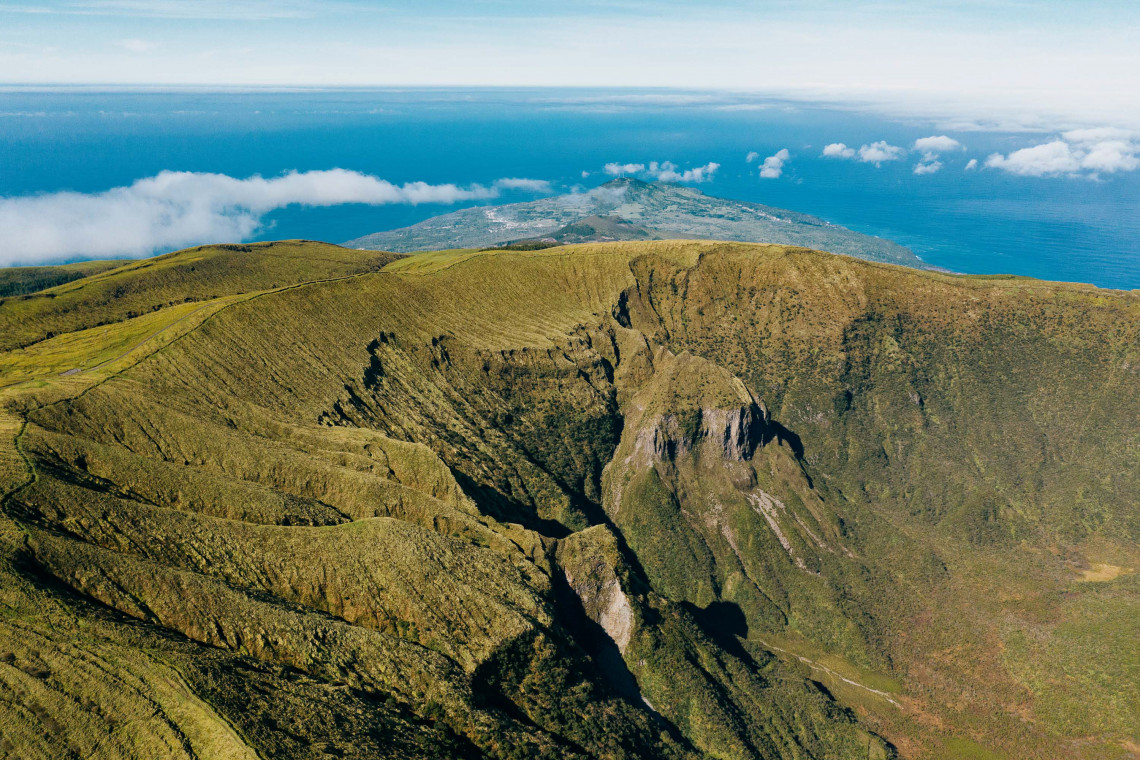 The Basics of Hiking in the Azores: A Guide for Beginners and Enthusiasts
The official Azores hiking trails are divided into three levels of difficulty (easy, medium, and hard), and are classified by the Regional Government of the Azores to help ensure the safety of walkers of various ages and levels of fitness. Another factor that gives hikers peace of mind when embarking on their Faial Azores hikes is that all of the trails on Faial are clearly marked with trail signs to help keep you on track during your trekking adventures. So you never have to worry about getting lost while trekking in the Azores due to a trail being unmarked.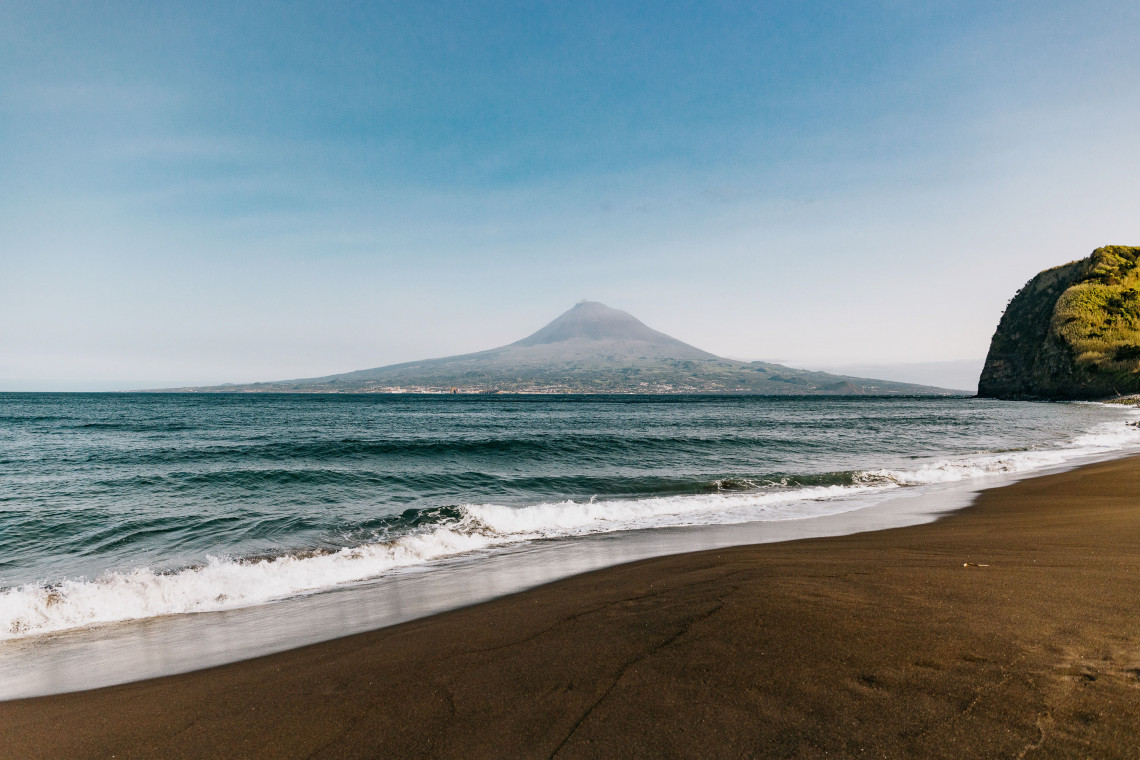 Are you already in love with the Azores? Take a look at our stress-free packages that allow you to book your ultimate island adventure. All our packages are carefully curated by our team of local Azorean Experts so that you don't need to worry about any details – just enjoy your trip!

The Azores: A Year-Round Hiking Paradise Thanks to Its Ideal Weather Conditions
Now that you know the basics about how the trails are classified and well-marked, we have more good news that will tempt you to head out on a trek: the mild temperatures and moderate climate that the entire Azores archipelago enjoys makes hitting the trails a real — and enjoyable — possibility any time of the year, from summer to winter!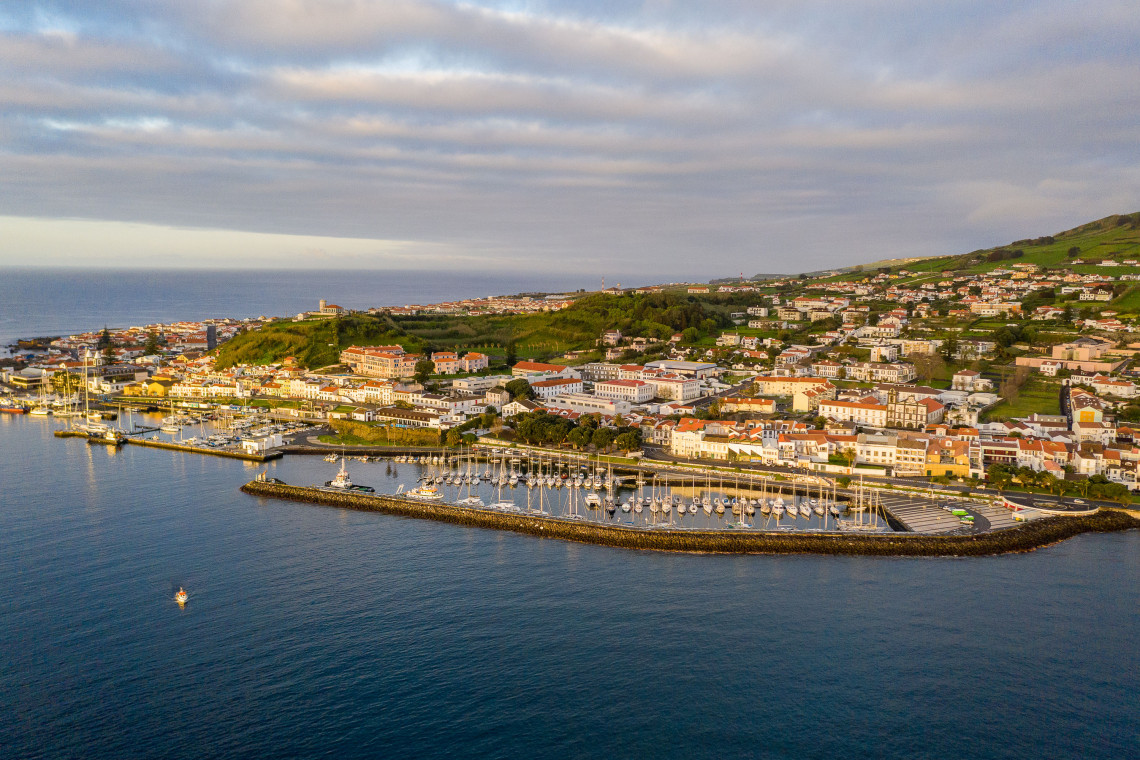 Azores Island of Faial Is a Fantasy Land of Lovely Landscapes
You may be wondering what scenery you can expect to stumble upon as you are trekking your way around Faial Island. You can expect to see a pair of insanely intriguing volcanoes (the dormant Faial Caldeira and Capelinhos volcanoes), lush green landscapes, gorgeous oceanside tide pools, brilliant beaches, and much, much more. Also a fun fact and something you can look forward to enjoying on your Faial hikes: blue hydrangeas blooming as far as the eye can see in season, which actually is why the island is nicknamed the Blue Island!
But the highlight — and most rare — of landscapes you will see on your Faial hikes are the caldeiras Azores are known for. These volcanic remnants are so mystical and awe-inspiring that they really do take trekkers´ breath away. In fact, caldeiras just happen to be one of the key features of several of the top five hikes in Faial, which we have gone into further detail about below, so keep reading to get the inside scoop!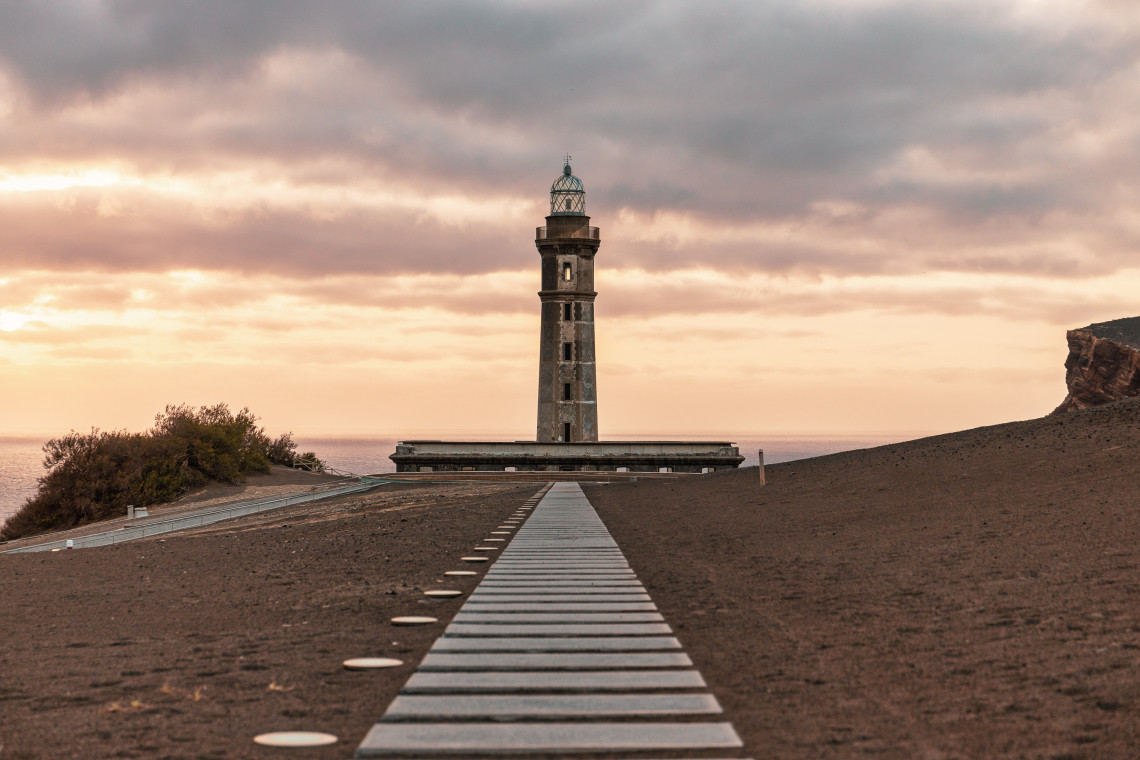 Five Best Hiking Trails in Faial Island, the Azores
While the official trail network is made up of 10 trails, we have listed our top five picks for you here, beginning with Caminhos Velhos, which is a linear trail that is classified as difficult and has a distance of 17.5 km. Definitely not for the faint of heart, this trail begins at the easternmost point of the island and spans all the way to Caldeira via old country thoroughfares called Canadas. Highlights you will see en route include the ruin of the Ponta da Ribeirinha Lighthouse (which was destroyed by the 1998 earthquake), Pedro Miguel Ponds, and of course, the final climax of the Caldeira at your journey's end.
Entre Montes is a circular trail that is classified as easy and spans a much less strenuous 3.4km. The trail can be easily accessed from the town of Horta and offers scenic highlights including the Lira viewpoint, the view of Caldeirinhas, Porto Pim Bay, the city of Horta, and more. Third on our list is 10 Volcanoes, a linear trail that is classified as difficult and is quite lengthy (19.3 km). Starting at the Caldeira viewpoint and ending at the Visitor Center of Capelinhos, this epic route takes you through an astounding 10 volcanoes that all formed the Capelo Peninsula.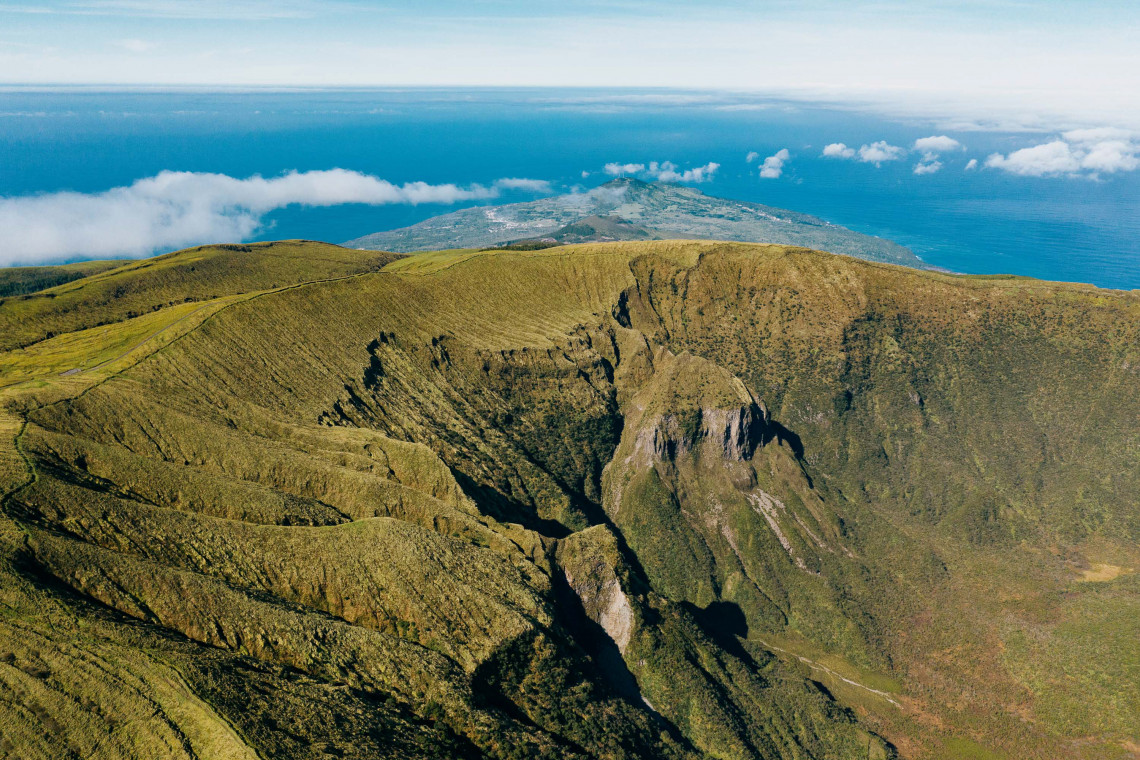 The hiking route known as Rumo ao Morro de Castelo Branco is a circular trail classified as easy that boasts a relatively short length of 3.2 km. The highlight of the trail (as the name hints) is the Castelo Branco Hill. Birdwatchers will especially love this route since it is actually an important nesting site for some species of seabirds.
The route simply known as Caldeira is a quite popular circular route of 7km in length that is classified as easy. If you have ever wondered what it would be like to actually walk along the very edge of a volcano, now is your chance, as that is exactly what this trail allows you to do! Did we mention you can also look forward to a plethora of panoramic views of the whole island? Yep, that too!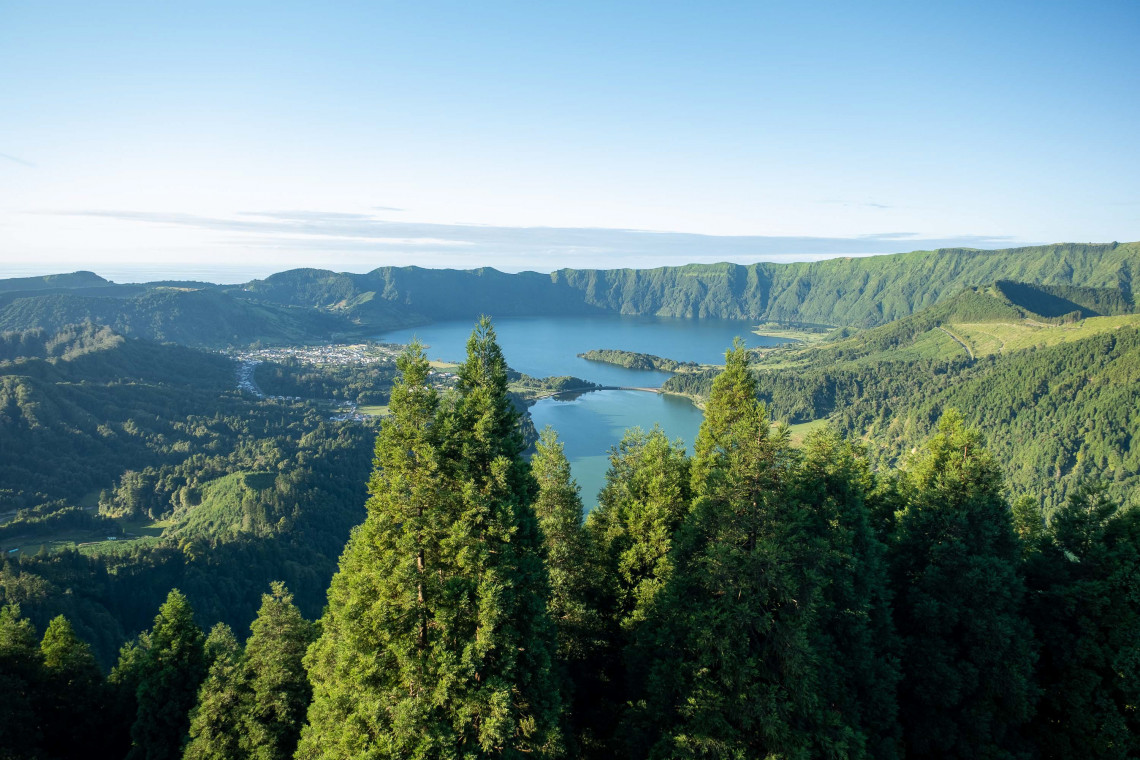 Top Azores hiking trails on São Miguel Island, Azores
We have gathered our top recommended trails to get you started and even included a bit of detail and a short description about each so that you can find the one that best fits what you are looking for, or simply choose the description that most calls to your heart. The good news is that whatever trail you choose from this list — or any on São Miguel Island for that matter — is a winner that will surely steal your heart and have you working up a sweat!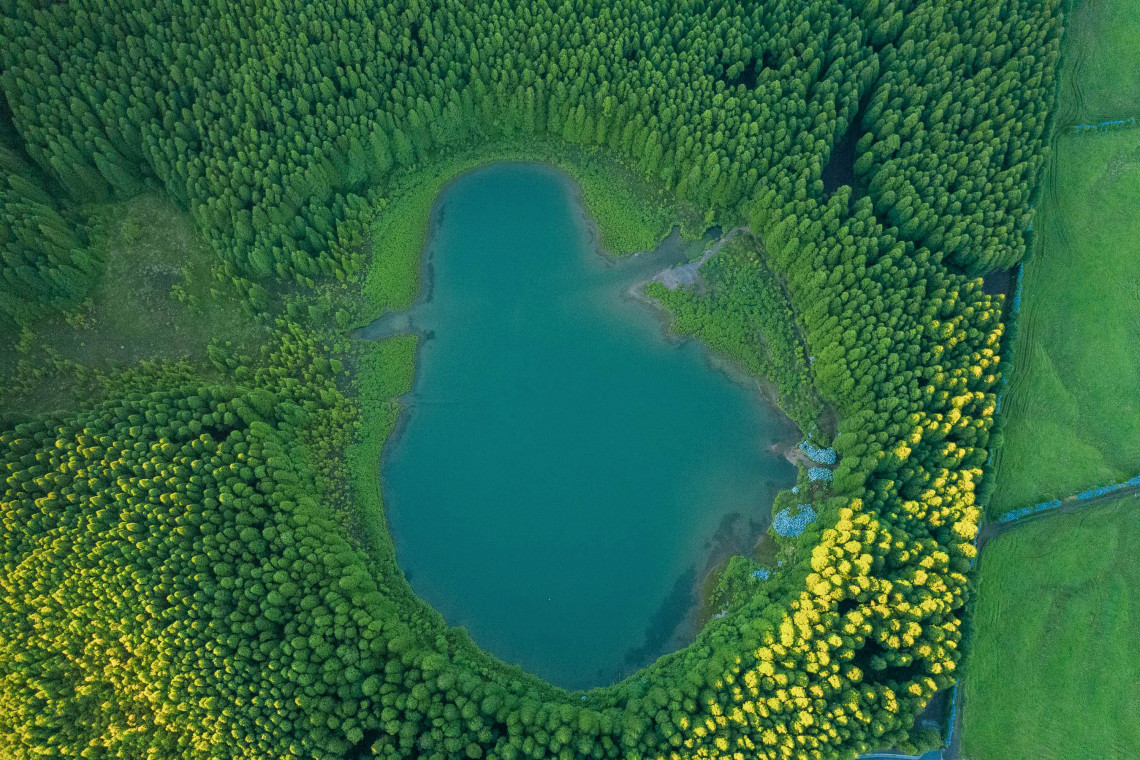 Mata do Canário – Sete Cidades Hiking Trail
Ask anyone who has already visited São Miguel Island and most likely one of the very first things that they will rave about is the stunning Sete Cidades. Indeed, it is one of the Green Island's most beloved treasures and is a spectacular natural landscape riddled with hiking trails, among which this is a popular one. At a healthy distance of just under 12 km total, this trail will take the average hiker around 3 hours to complete. And although it is lengthy, the beautiful hike is filled to the brim with some of the most breathtaking views you will ever see in your lifetime — views of sparkling turquoise lakes, epic overlooks, idyllic mountains, rollings hills, and bucolic pastures and farmland. Even more good news is that the entire route is well marked, ensuring you won't get lost amid all of the lovely landscapes and lakes.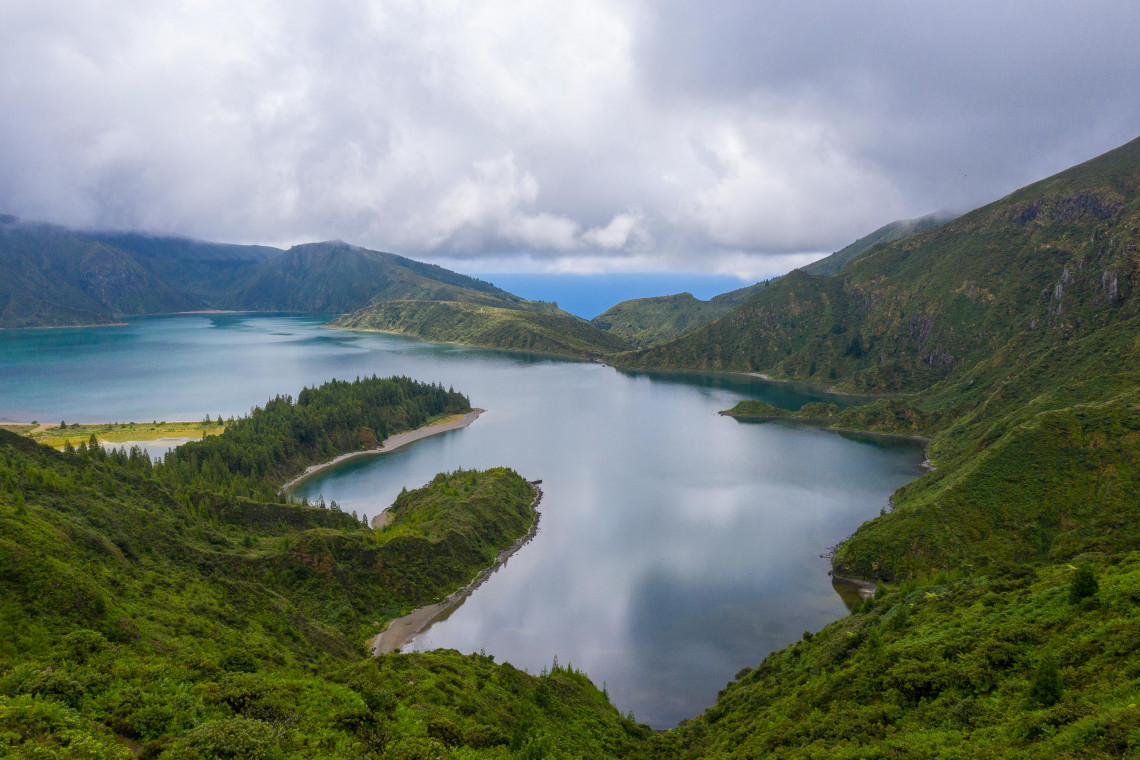 Praia – Lagoa do Fogo Hiking Trail
Also boasting quite a distance for avid hikers to explore, this trail comes in at around 11 kilometers but is a bit more intricate and has a bit higher difficulty level (medium), so it will most likely take the average hiker around 4 hours to complete (round trip). This trail is not for the faint of heart, and its steep incline in spots will definitely make you work for the reward of the views of Lagoa do Fogo offered (which are more than worth the climb). The actual name of the trail — Lagoa do Fogo — translates to "Lake/Lagoon of Fire," which is an apt moniker as it is a volcanic crater lake that is actually a part of the Água de Pau Massif composite volcano. Fun fact: For those who don't know, crater lakes are actually lakes formed due to volcanic activity or a collapse due to a volcanic explosion. Apart from that exciting history, this trail is mesmerizing enough in its own right to justify its spot on our top hikes in São Miguel Island list.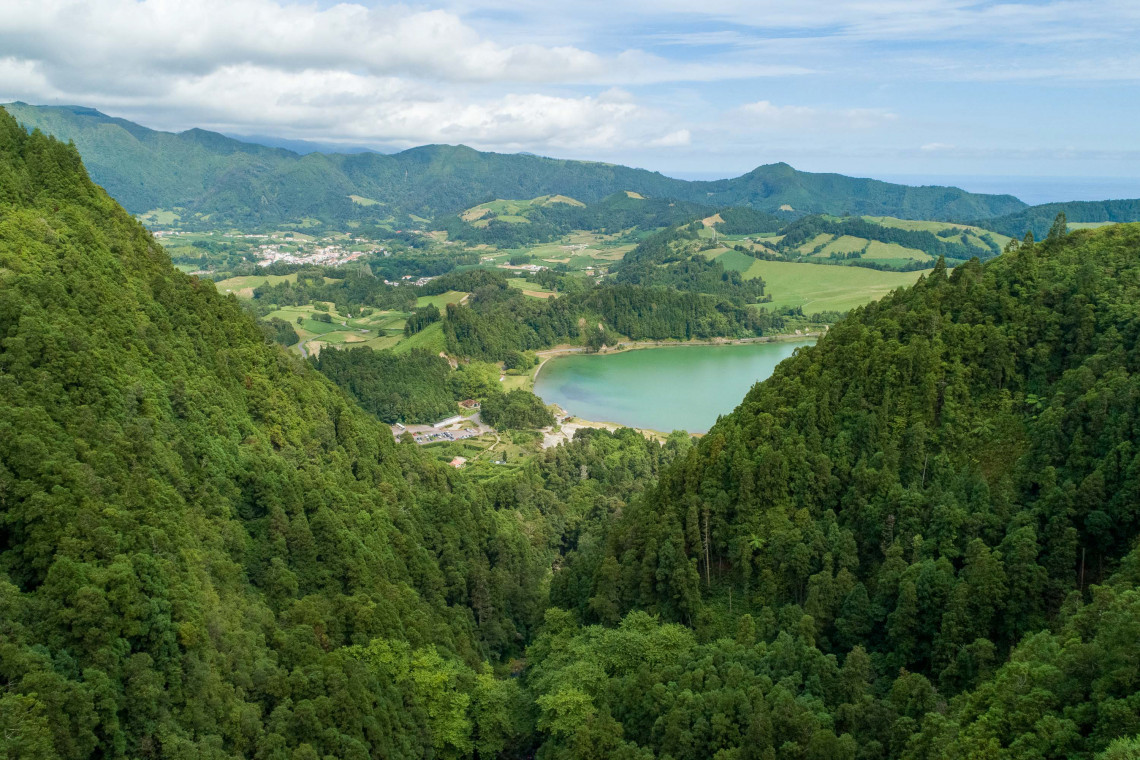 Lagoa das Furnas Hiking Trail
Just under 10 km in length, this is an easy, flat loop trail that begins in the sleepy town of Furnas and winds around the wonderland that is Furnas Lake. With well-marked indicators and easy-to-read signage the entire route, this trail is picturesque enough for even the most avid hikers to enjoy, yet offers an excellent option for those wanting more of a lovely, less intense nature walk amid some of the most gorgeous, fairytale-like landscapes in the world. And speaking of fairy tales, perhaps the highlight of the entire trail (or one of them!) is the romantic, gothic-looking Hermitage of Nossa Senhora das Vitórias that you will pass en route. This absolute gem is a beautiful Neo-Gothic chapel that was built right on the lakeside shore all the way back in the 1800s by a local landowner named José Do Canto in honor of his wife who had recently fallen gravely ill. It's actually quite a romantic story, and Do Canto and his wife are actually buried next to each other in this very chapel.
As you continue walking along the lake, you will arrive at another highlight — Caldeiras da Lagoa — where you will literally see smoke creeping into the sky, being pumped into the air by the volcanic vents. If you are lucky, may even catch some locals taking advantage of the high ground temperatures in the steam vents themselves in order to cook a local favorite dish in the actual ground!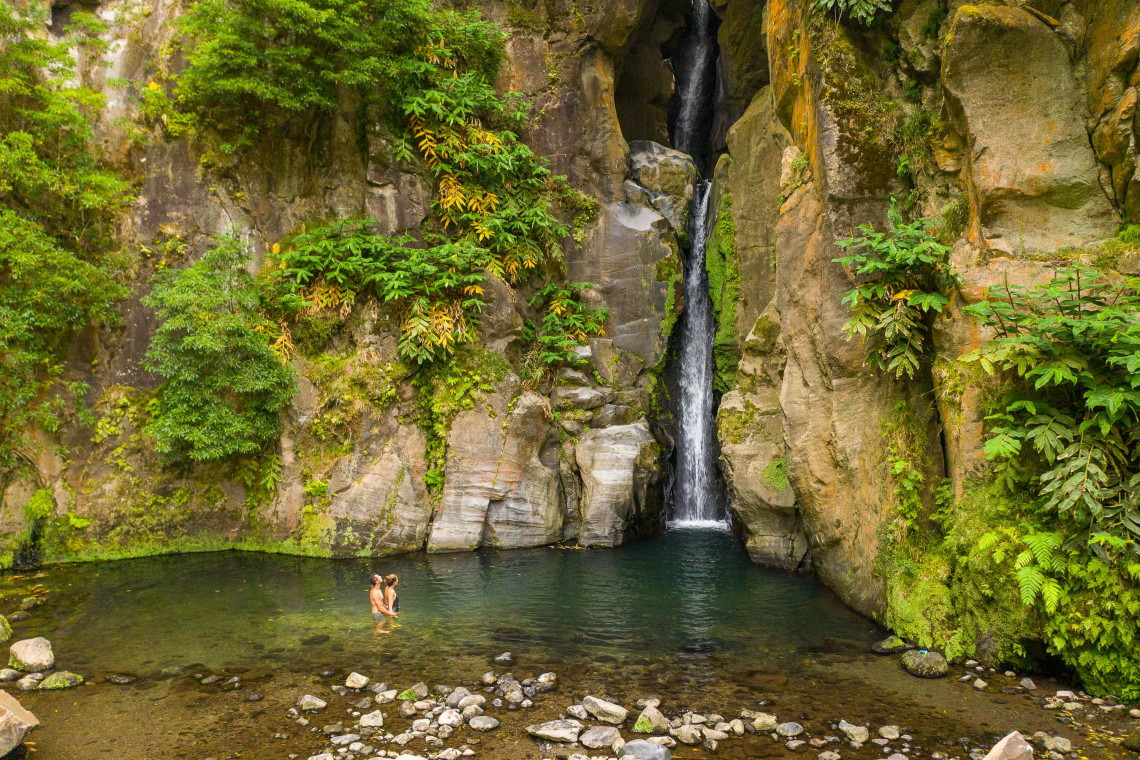 Salto do Cabrito Hiking Trail
A relatively easy trail that is roughly 8.5 km long, this lovely loop includes walking over a metal catwalk that will actually take you over the top of a waterfall for epic and unimaginable birds-eye views! Our favorite thing is how hikers can look down and literally see the water rushing beneath them, cascading down from the gorgeous waterfall to the river that feeds it.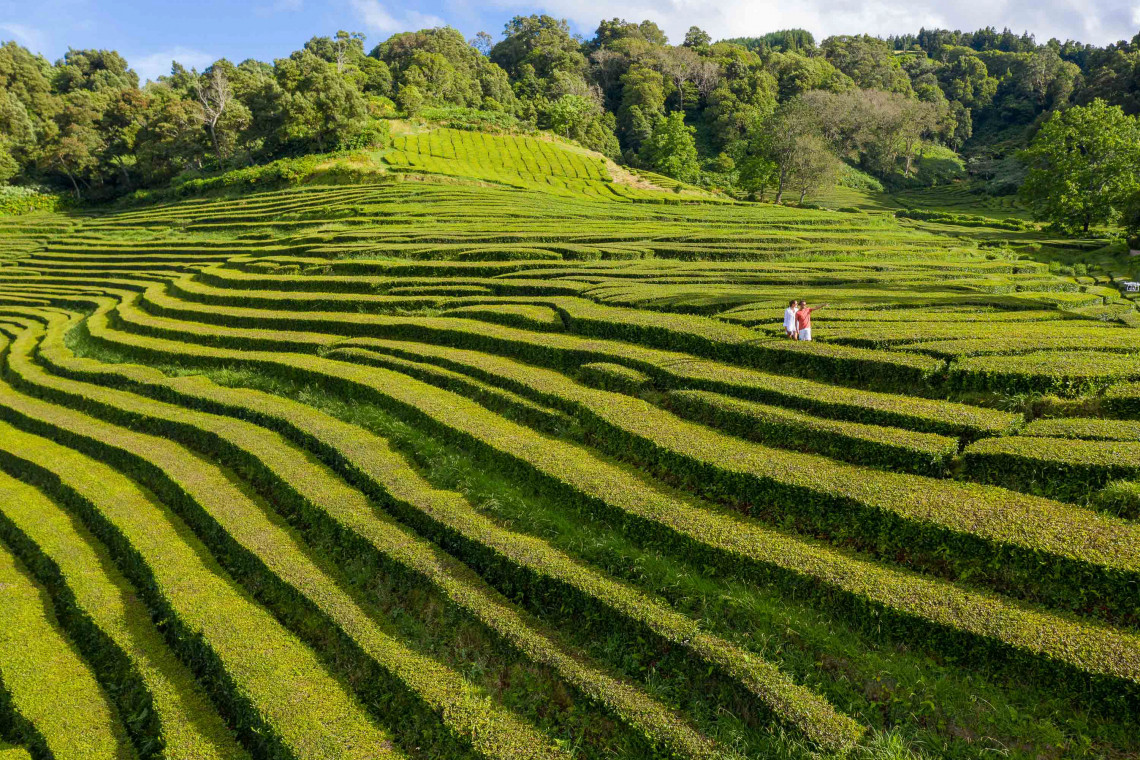 Chá Gorreana Hiking Trail
For those looking for a simple jaunt in nature among some beautiful scenery, while even enjoying a side of delicious tea to boot, this is the trail for you. A short loop trail, this trek is actually on the site of a tea plantation, located right across the road from an actual tea factory that serves piping hot cups of the local brew. So, after strolling among the actual tea fields at the plantation, you can look forward to a rest and local treat as a reward for your hard work!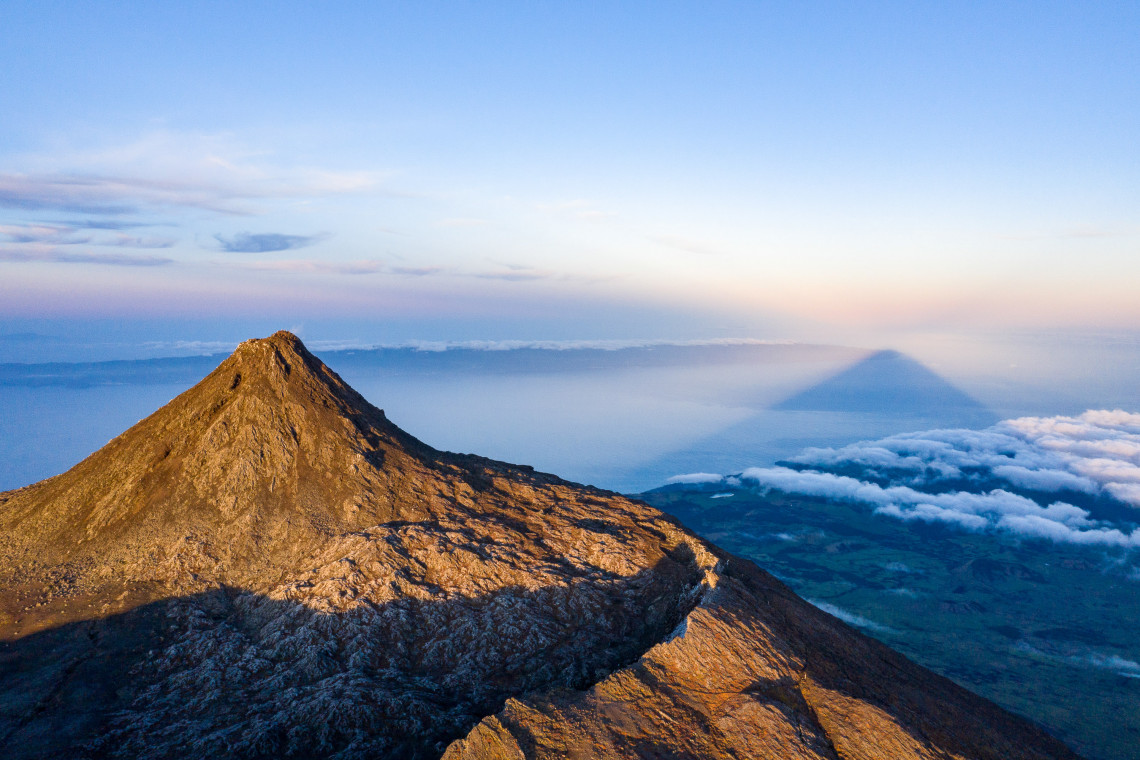 Hiking Pico Gives a Glimpse Into Its History
While hiking Pico is a fun and exciting activity in its own right, getting out in nature and exploring the island's vast array of trails is actually one of the best ways to also get to glimpse into its intriguing history. For instance, did you know that many of the now official Pico hiking trails were originally narrow thoroughfares used by the native inhabitants of the island to go to and from in accomplishing their daily tasks? It may be hard to imagine… with some trails being so high in elevation and quite rustic still, that it makes sense when you know that many times these locals would rely on horses, donkeys, or mules to aid them on their journeys to the market, visiting neighbors, and more.
So, the next time that you are out making your way up, up, up a Pico hiking trail, it will be nice to think of those who have trekked the same route long before, with many of these pathways existing long before any real roads to speak of were even mere thoughts in people's minds.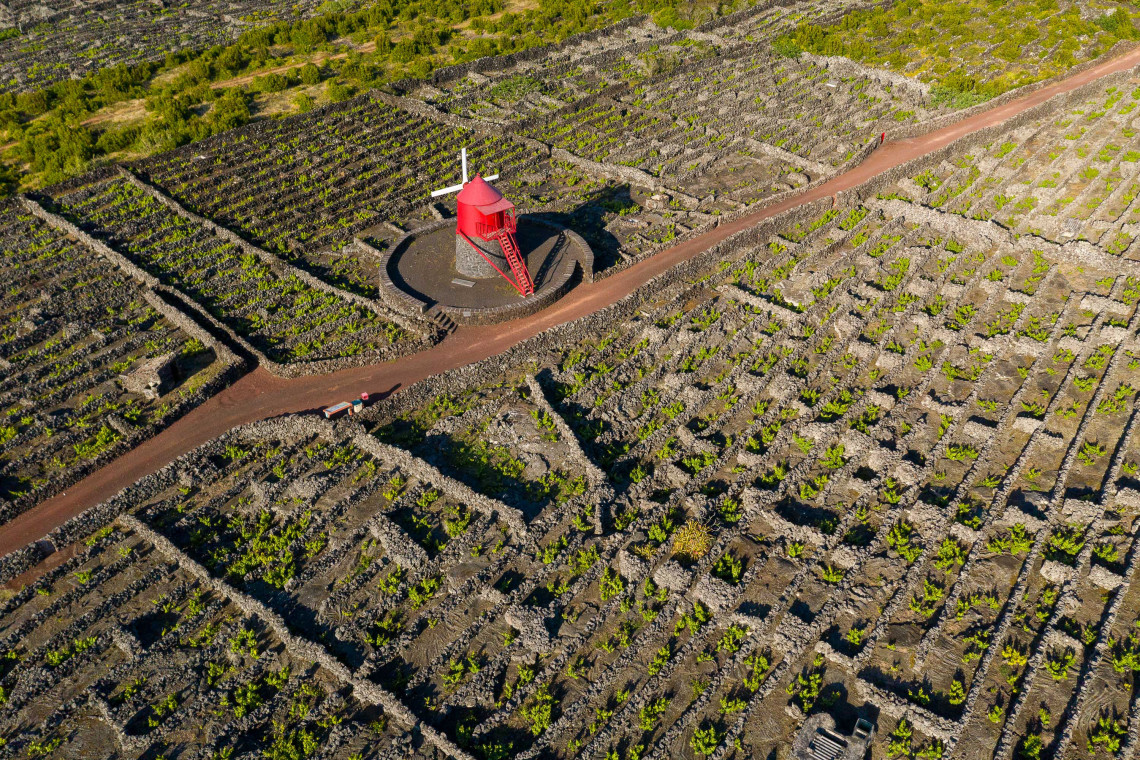 Pico's Unique Terrain and Lovely Landscapes
Moving on from the history of the trails here, you may be wondering what scenery you can expect to stumble upon as you are trekking your way around Pico Island. As it is a volcanic island, Pico´s stark beauty is absolutely unique and captivating. The mere color and contrasts that hikers will see en route during their island walks are hard to describe in mere words, but we will certainly try!
You can expect to see towering mountains, the ruins of vast lava fields (called lajidos by the locals, lush green pastures, glistening lakes filled with sparkling clean waters, and much, much more. Perhaps the highlight — and most rare — of landscapes you will see on your Pico hikes are the caldeiras Azores are known for. These volcanic remnants are so mystical and awe-inspiring that they really do take trekkers' breath away.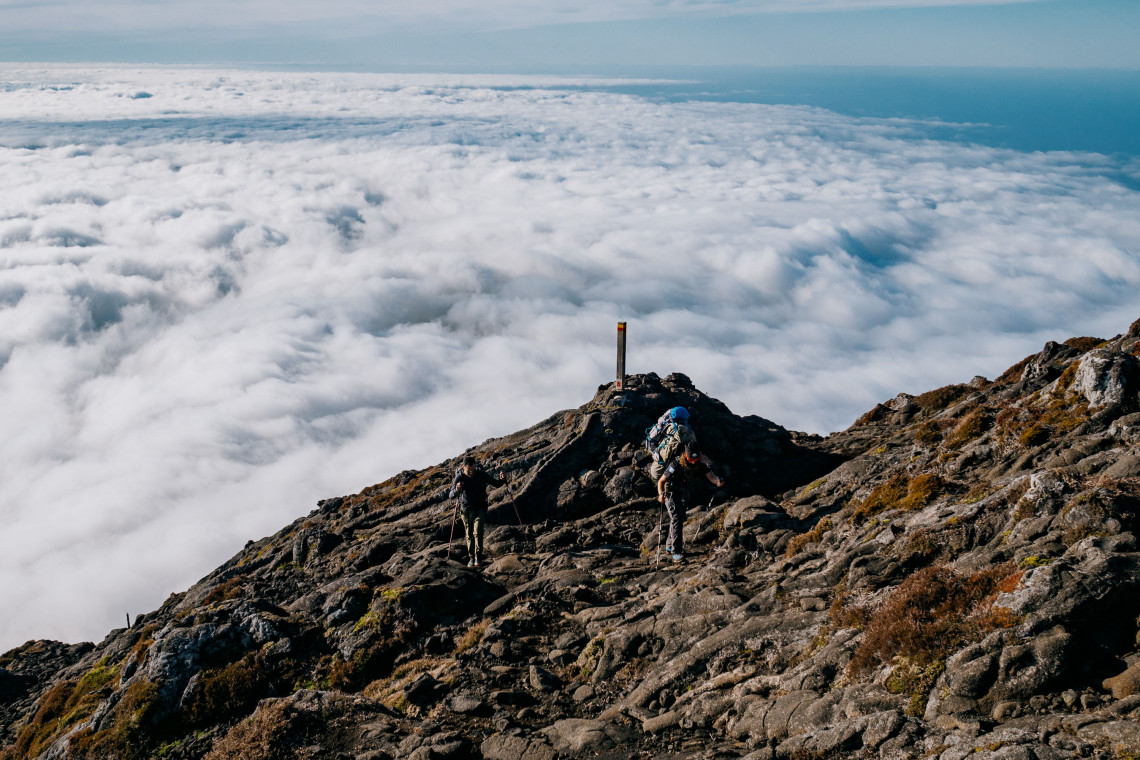 Best Trails in Pico
Pico offers hikers 15 trails in total — each filled with endless and exceptional beauty. Among our favorite hikes among these Pico walking adventures include: the Criação Velha Vineyards hiking trail, Mistérios do Sul do Pico Trail, and Ponta da Ilha Trail.
But no best trails list would be complete without mentioning the most famous Pico trek: Pico Mountain Trail. A fun fact you may not know is that Pico's mountain is actually Portugal's highest point, towering tall at 2.351 meters. Its height causes it to stand out in the middle of everything, and the peak itself is so beautiful that it draws every eye, even those from neighboring islands! You could safely say that Pico Mountain is the symbol of the island and an awe-inspiring one that commands attention!
Climbing Pico's mountain is one the best radical experiences you can have in the Azores, making it the perfect hiking trail for those who seek adventure and thrills. As Portugal's highest mountain, climbing this trail won't be just a physical challenge, but will also be a big psychological and emotional test, too -- all of which makes the feeling once you have completed it comparable to nothing else in the world! Honestly, though, no matter which Pico trail you choose, you will be winning.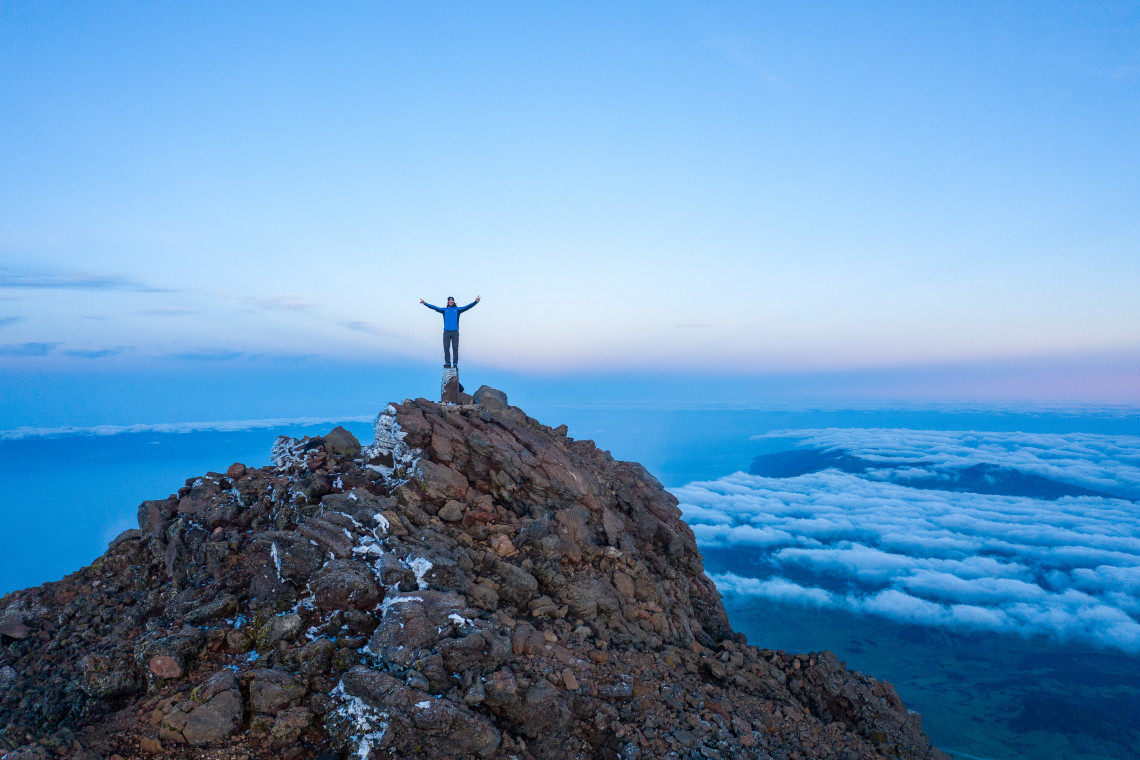 What to Pack for Your Azores Hiking Adventure
To ensure you have the best hiking in the Azores experience, the most important thing to do is come prepared. Here's a short, helpful list of what to pack for your Faial hiking adventure:
Comfortable clothes, weatherproof coat, and hiking boots;


Backpack with water and snacks;


Hiking stick;


Sunscreen, sunglasses, and hat;


Bathing clothes and towel (to wade and swim in the crystal water waterfalls);


Camera.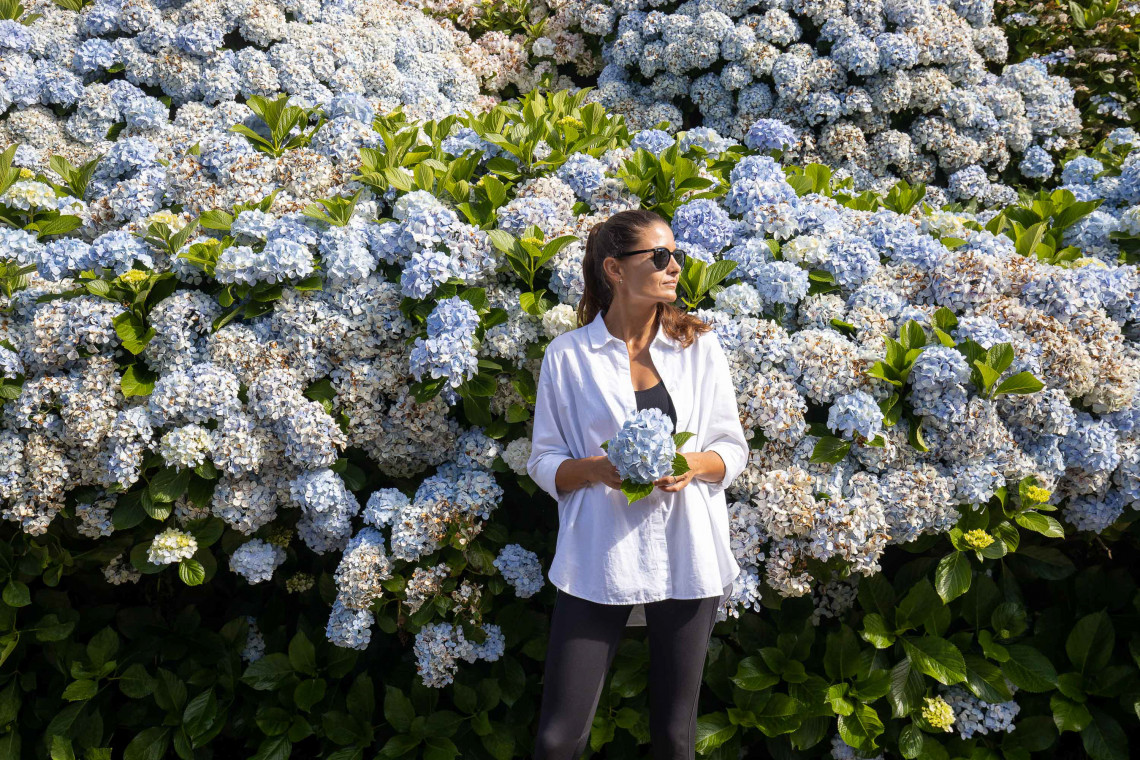 Ready to Start Planning?
With travel getting back into full swing, Azores' prices have never been better! And with excellent new and affordable direct flight offerings from the U.S., Canada, and the UK, there is simply no better time to book your Azores adventure than right now. We are here to help you with any planning and logistics configuring you need in order to make your vacation getaway the trip of a lifetime.
Discover the Azores at Your Own Pace: Tailor-Made Trips for a Customizable Island Adventure
If you're looking to explore the Azores at your own pace, we have got you covered. Our team of specialists will work with you to create a custom-made trip that suits your preferences and budget. Whether you want to dive into the thriving marine life, hike through stunning volcanic landscapes, or relax on secluded beaches, our tailor-made packages offer the flexibility and freedom to discover the Hawaii of Europe at your own pace. So why wait? Contact us today and let us help you plan an unforgettable trip to the Azores!