Welcome to the Furnas Valley in São Miguel Island, Azores
Furnas Valley is the center of São Miguel's unique geothermal activity. Here you can visit two active volcanic sites to see the boiling caldeiras in action, as well as the gorgeous Terra Nostra Park, multiple hot spring pools for soaking and swimming, and the stunning Furnas Lake that's perfectly sized for an afternoon hike-- and, if you time your visit to Furnas Lake just right, you might catch the locals taking their steaming hot Cozido stew out of the ground alongside the caldeiras! From thermal pools to mineral springs, caldeiras to culinary treats, and everything in between: Come explore the majestic and mysterious wonders of Furnas Valley in São Miguel, Azores. Our helpful guide will enlighten your journey around one of Earth's most magical islands!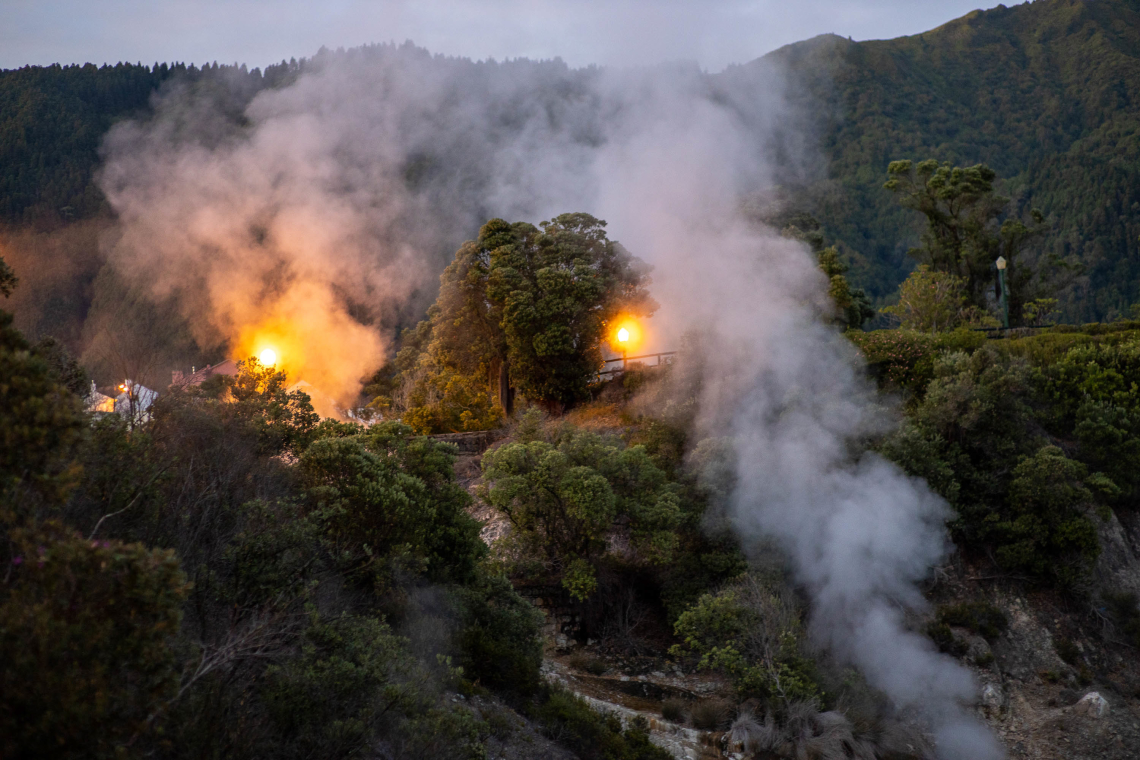 A little town inside a volcanic crater: Furnas in São Miguel Island, Azores
Furnas is a small civil parish with less than 1,500 inhabitants located on the southeast side of São Miguel Island, about 50km (31mi) from the capital city of Ponta Delgada. You can spend a full day here without ever getting bored because there's a lot to visit and learn about. What makes Furnas Valley unique is that the area is actually a dormant volcanic crater. Although the Furnas volcano last erupted in 1630, you can feel, see and smell the geothermal activity all around you in the form of steaming fumaroles, thermal pools and natural mineral springs around every corner. And, let's not forget the tasty treats that get cooked up in all this geothermal heat. The locals utilize the heat of the ground to cook the famous Cozido stew, and also use the mineral waters in several recipes for cheese, pastries, breads, meats and more.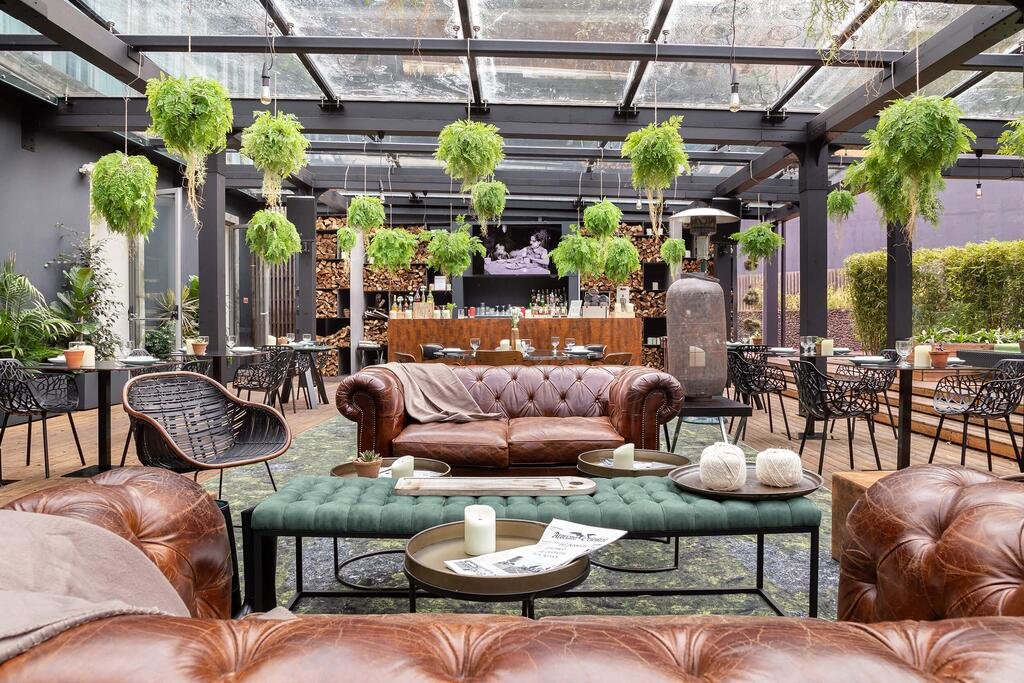 You can reach this hot springs paradise in a relatively short amount of time from just about anywhere you're staying on the island, but it's definitely worth spending a couple of days in Furnas and getting a guided tour around the valley. Azores Getaways partners with lots of different tour and experience providers to offer clients a variety of options to fully explore the area. We also offer travel deals with two of the best hotels in the all island both in the Furnas Valley: Terra Nostra Garden Hotel and Furnas Boutique Hotel & Spa.
So, what is there to see and do in Furnas? We'll give you the inside scoop.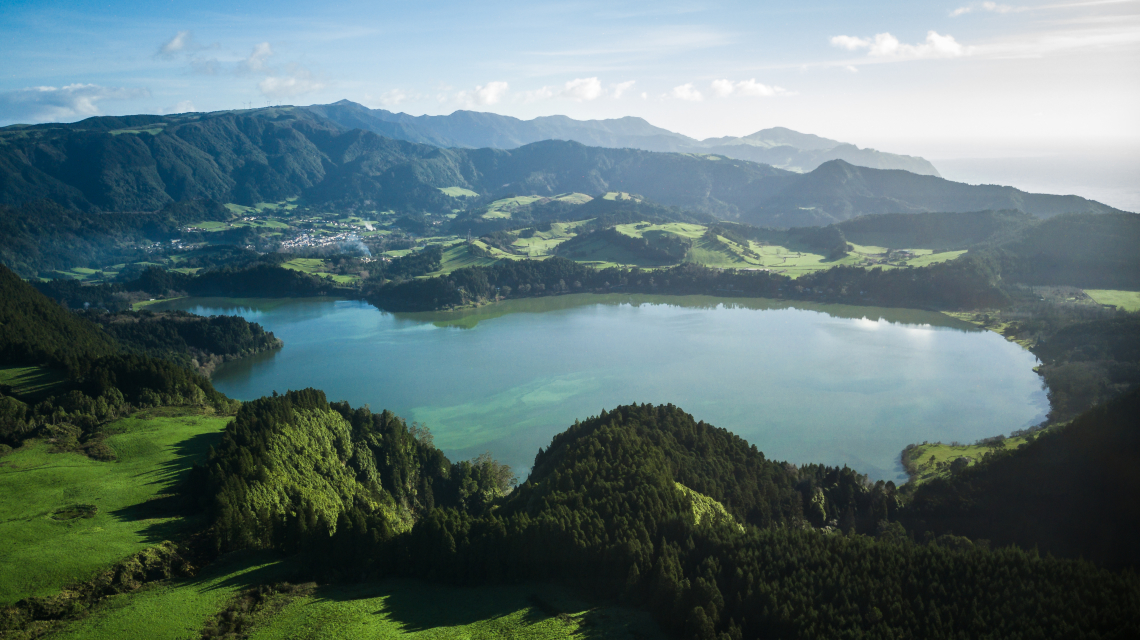 Furnas Lake in São Miguel Island, Azores
This beautiful crater lake is surrounded by the steep peaks of the ancient Furnas mountain and it's lush, green rim. Visitors can enjoy several hiking trails around the lake, as well as several beautiful parks and the iconic Neo-Gothic Chapel of Nossa Senhora das Vitórias. Rent a kayak or paddle board and venture out to the middle of the lake to enjoy 360° views of the breathtaking scenery. While you're there, be sure to stop by the bubbling caldeiras to see the geothermal activity in action and catch the local restaurants coming to cook or pick up their Cozido stew from the fumaroles in the ground.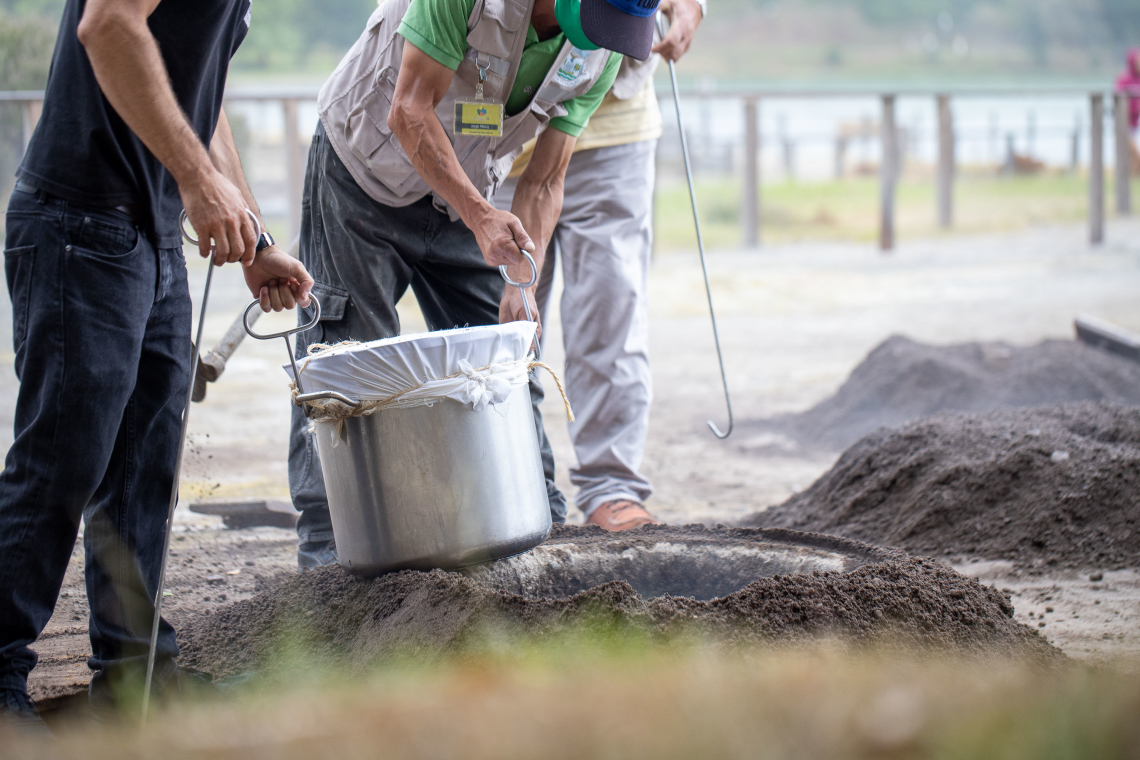 Cozido das Furnas: a traditional meal of São Miguel Island, Azores
A longstanding tradition among the locals, this beloved popular dish is a Portuguese stew (cozido) cooked in holes known as fumaroles that are dug in the hot volcanic soil in Furnas. The stew is comprised of a carefully layered pot of pork, beef, chicken, sausages, potatoes, carrots, cabbage and kale that is cooked slowly in the ground for around 6 hours.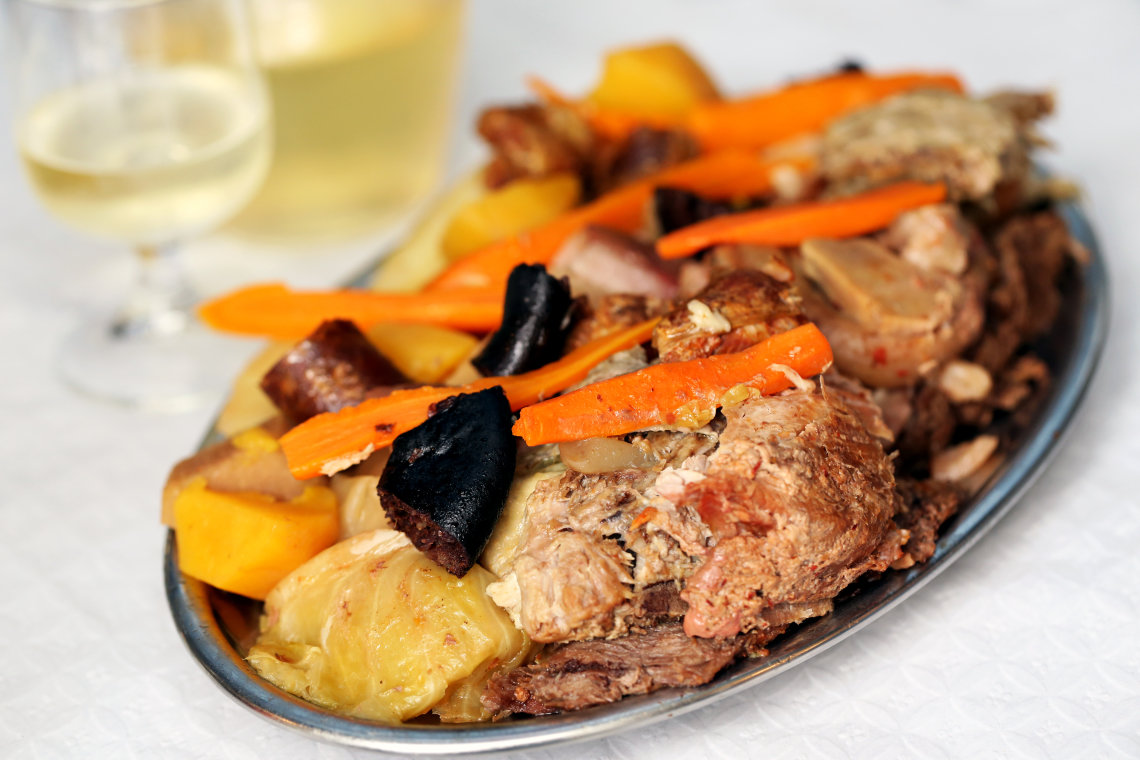 Every restaurant in the town of Furnas serves their own variation of this dish, so there is no shortage of places for you to try it! Just be sure to call ahead and make a reservation 24 hours in advance of your visit. If you're interested in discovering other culinary traditions of the Azores, head over to our post about all the tasty food you can find here.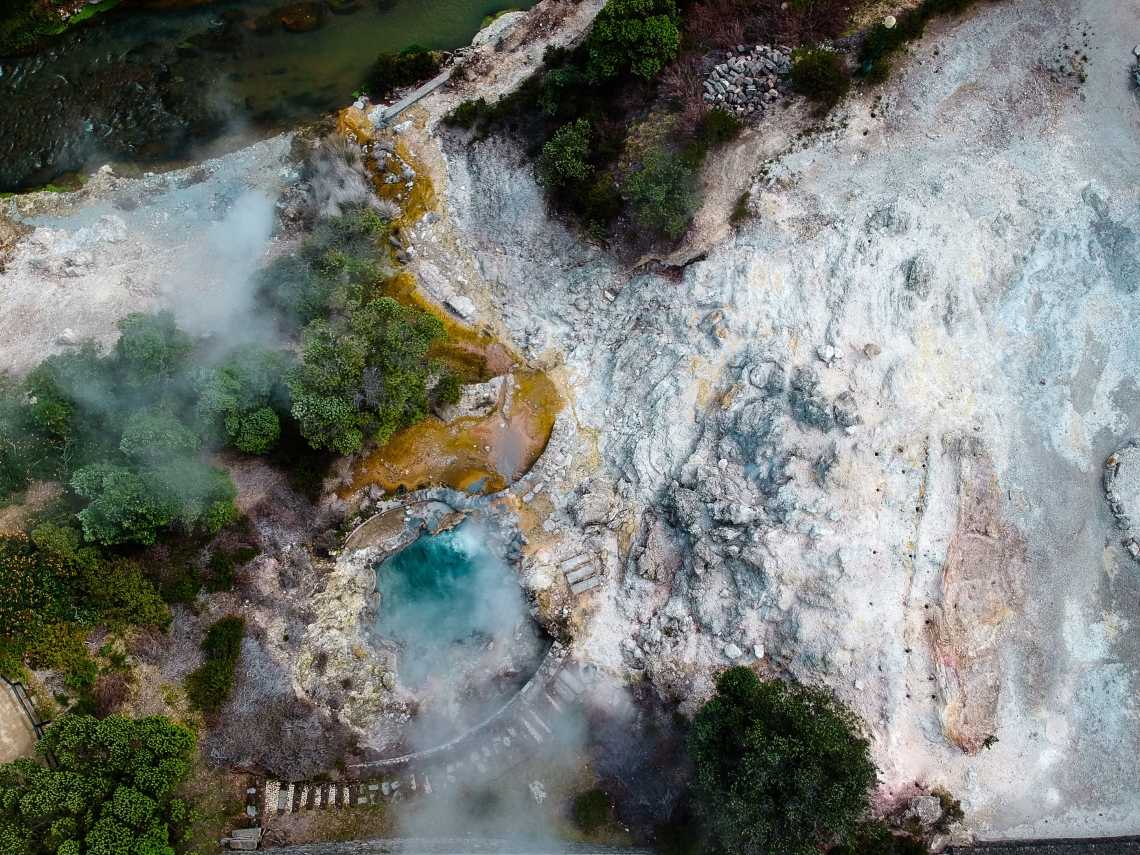 Caldeiras & Geysers of Furnas, São Miguel Island, Azores
In the center of town, Furnas boasts close to 30 bubbling, steaming caldeiras and fumaroles of different temperatures and biological compositions, the strong smell of sulfur wafting through the air at every turn. Unsurprisingly, the locals have made the best of having these natural steam pots around. Temperatures range from 70ºC (158ºF) to 100ºC (212ºF) which is perfect for cooking (but dangerous to get too close to!) You can stop in for a snack of freshly boiled corn on the cobb, cooked in one of the caldeiras in town!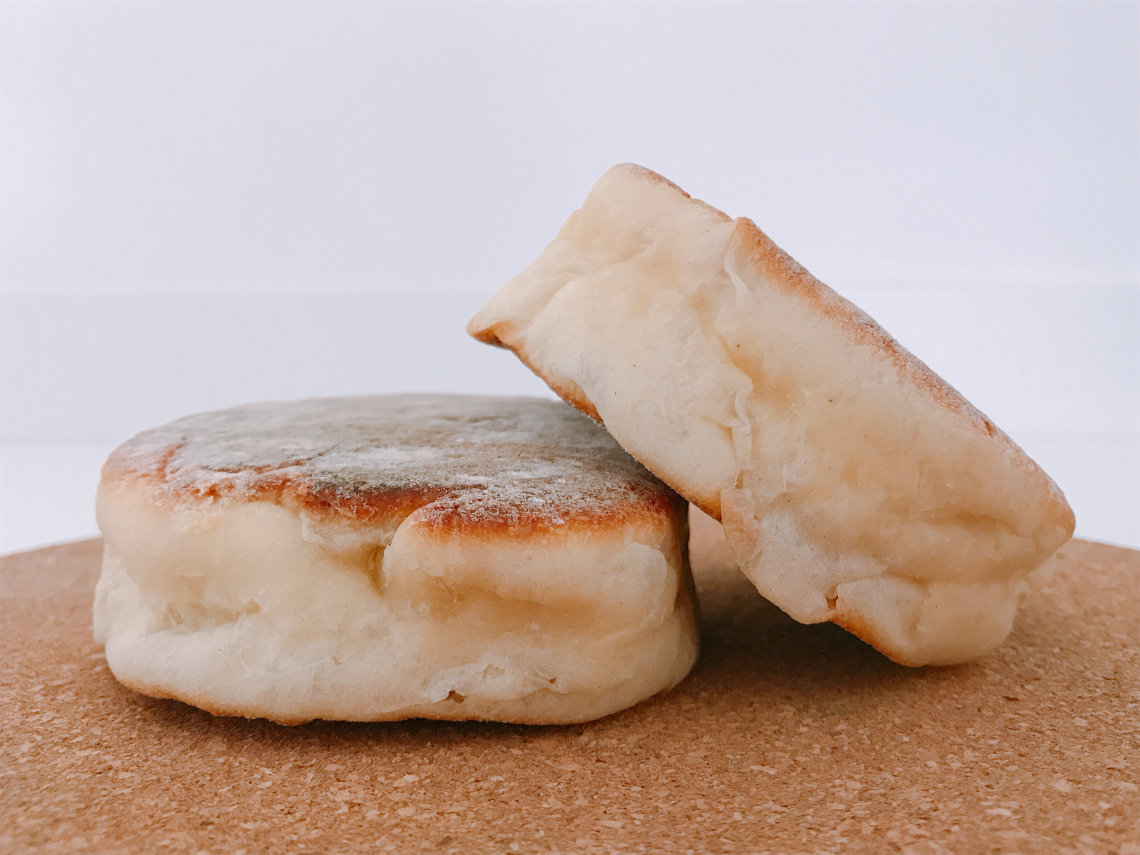 Bolos Lêvedos
Bolos lêvedos are a yummy flatbread from Furnas that are a sweeter, larger version of an English muffin, and there is nothing better than taking a soft, fluffy bite of one fresh out of the oven. These sweet treats make great mini-pizzas, serve as the perfect bun for your burger, or work well with a simple spread of cheese and jam.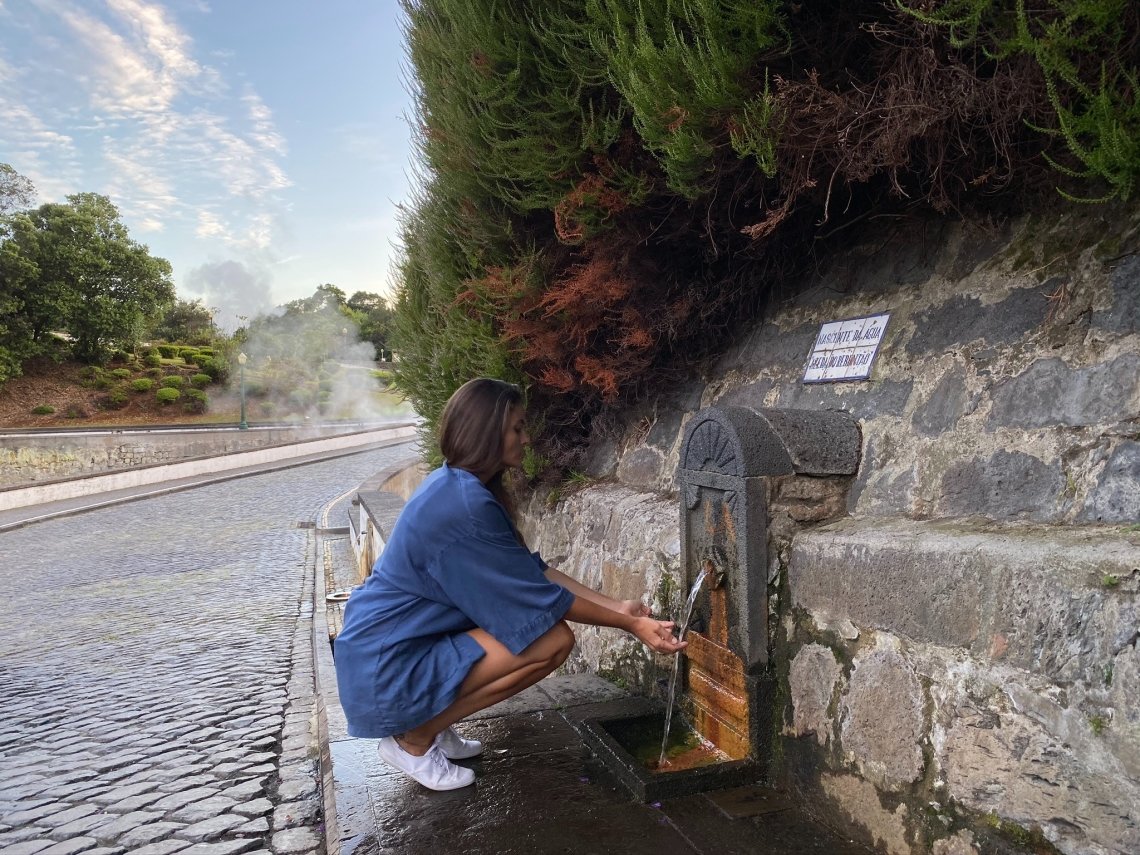 Free Flowing Spring Water in Furnas, São Miguel Island, Azores
Take a stroll through the center of Furnas and you'll come across several spouts of fresh spring water flowing into beautiful little fountains. The locals nicknamed it ''água azeda'' which roughly translates into "sour water". Each one tastes different and is believed to have its own healing properties.
Água Azeda do Rebentão: Cold, acidified spring at a 15.6ºC/60ºF temperature. According to folk medicine, this water cures dandruff and facilitates digestion
Água Azeda: It's one of Furnas most famous spring waters and it's not only recognized by its sour flavor but also for the blue and white tiles behind it; has a temperature of 15.9 °C/60.6ºF and acidic pH
Iron Water: Thermal spring with a temperature of 34.4°C/94ºF and acidic pH, used by the population for therapeutic purposes such as allergy treatments
Água Santa: Spring with a temperature of 95.5°C/203ºF, highly basic pH; mixed with honey, cinnamon and a bit of rum produces excellent syrup for colds, laryngitis and pharyngitis
Água do Caldeirão: Hot spring with a temperature of 75.1°C/167ºF, slightly carbonated. According to folk medicine, this water mixed with honey is effective in the treatment of coughs and colds, including pertussis
Água do Padre José: Located in Chalet da Tia Mercês, with a temperature of 55.4°C/132ºF, this water soothes and heals "surfs" and is also appropriate for treating cholesterol
Água da Morangueira: Slightly acidified hot spring water at 41.2 °C/106ºF, located on Avenida Dr. Manuel de Arriaga and indicated for the treatment of liver and kidney diseases
Água Dr. Bruno: Spring with a temperature of 20.4 °C/69ºF, located on Rua Margarida Eugenia Moniz Oliveira, said to be effective against flatulence and indicated to stop bleeding
Água Glória Patri: You'll likely see this brand of water at the supermarket or even at local restaurants. The spring emerges at a temperature of 17.5°C/63.5ºF, with a neutral pH.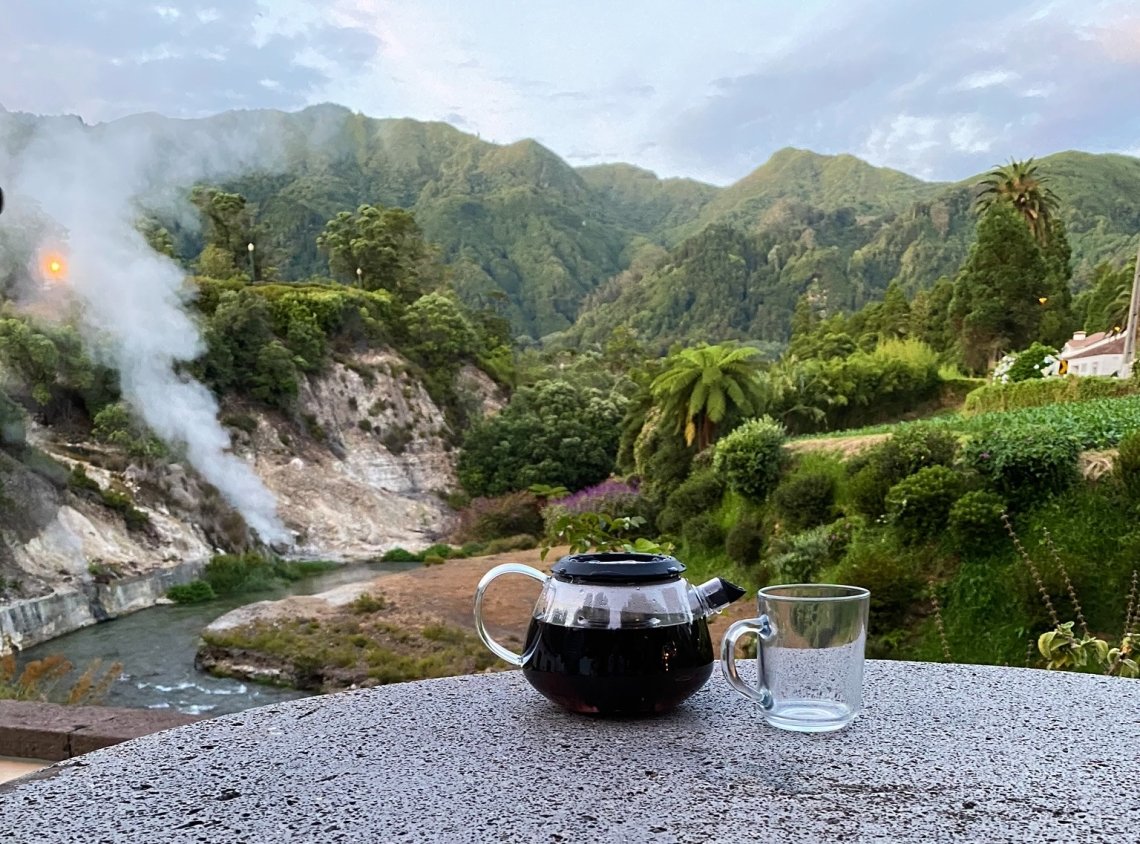 Purple Tea in Furnas, São Miguel Island, Azores
In the Azores, you can do a lot of things straight from a volcano such as taking a dip in natural thermal pools, eating a meal cooked by the geothermal heat, and even hiking through beautiful dormant craters. But probably the one thing you might not expect is being able to enjoy a cup of hot tea, fresh from a natural spring.
At Chalet da Tia Mercês you don't just have a cup of tea, you get a chemistry lesson along with it! Watch the geothermally heated water from the earth transform your green tea into purple. The green tea is sourced locally from one of Europe's two only commercial tea plantations that happen to both be on São Miguel Island: Gorreana and Porto Formoso tea. Enjoy your volcanic purple tea with one of the delicious homemade treats you'll find at Chalet da Tia Mercês.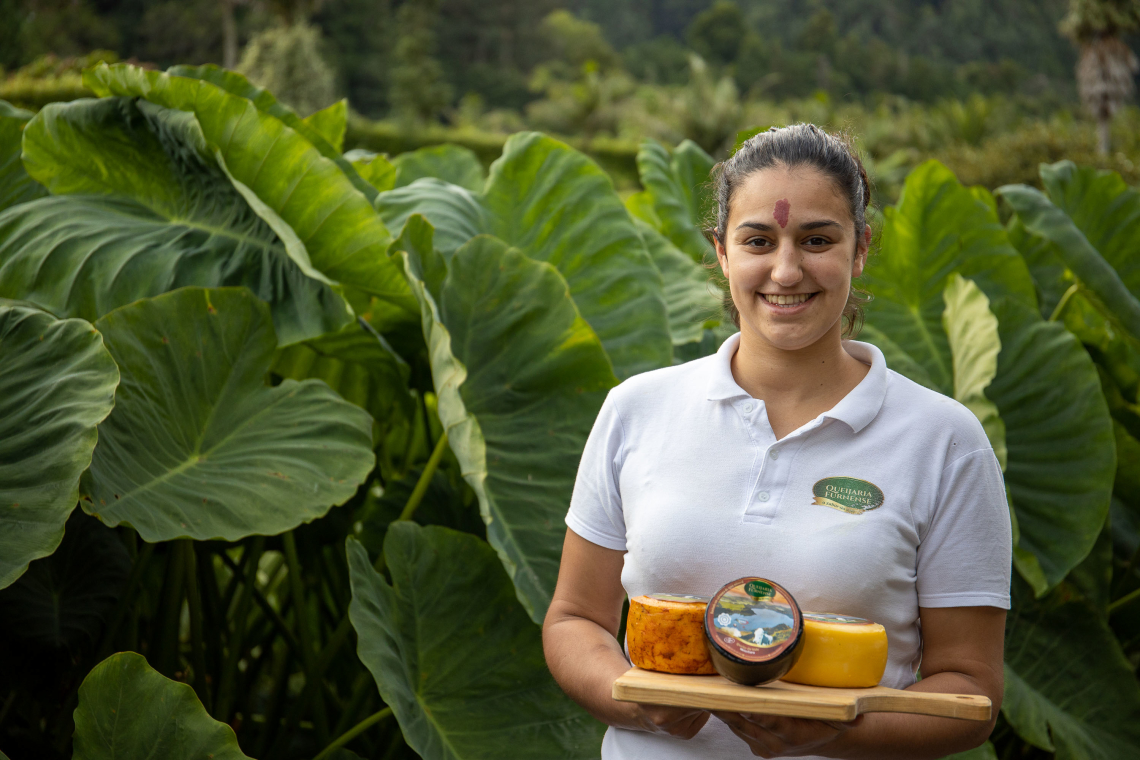 Queijo do Vale in Furnas, São Miguel Island, Azores
This cheese factory is a small, family-run business that started out with just a small dairy farm. The family's young, entrepreneurial teenage daughter saw an opportunity to innovate a new cheese product using locally sourced Furnas ''sour waters'' for a unique brine and flavor. The Queijo do Vale is handmade and the milk used in its confections comes straight from the family dairy farm, where the cows happily graze in the Lagoa Seca Valley in Furnas.
Make sure you try Queijo do Vale available in four different flavors: oregano and garlic, buttery, half cure, and thyme. You can purchase it at the majority of the supermarkets but if you're looking for a more authentic cheese experience make sure you visit the Queijaria do Vale facilities in Rua do Caminho Novo and learn all about this super tasty cheese while supporting a local business!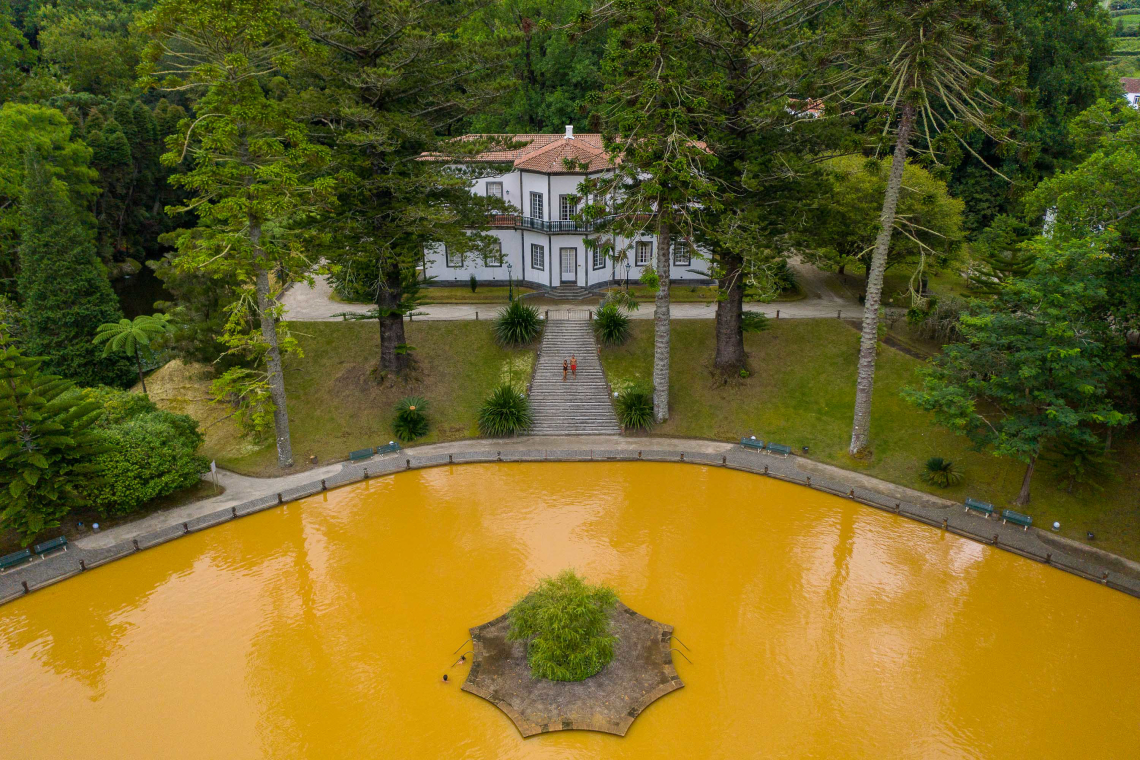 Parks & Gardens of Furnas, São Miguel Island, Azores
Terra Nostra Park in Furnas, São Miguel Island, Azores
Located in the center of Furnas, Terra Nostra Park is one of the largest and oldest gardens in the Azores, covering an area of about 30 acres. First established over 200 years ago, this park is full of fascinating history that is interconnected to the transformation of Furnas into a world-renowned health and tourist retreat. One of the most beautiful gardens in Europe, it's won countless awards, and features a thermal swimming pool and more than 2,000 different types of trees, plants, flora and fauna from all over the world. Today, the park is home to one of the most impressive collections of camillias in the world with more than 600 varieties, making it one of the largest (if not the largest) in Europe.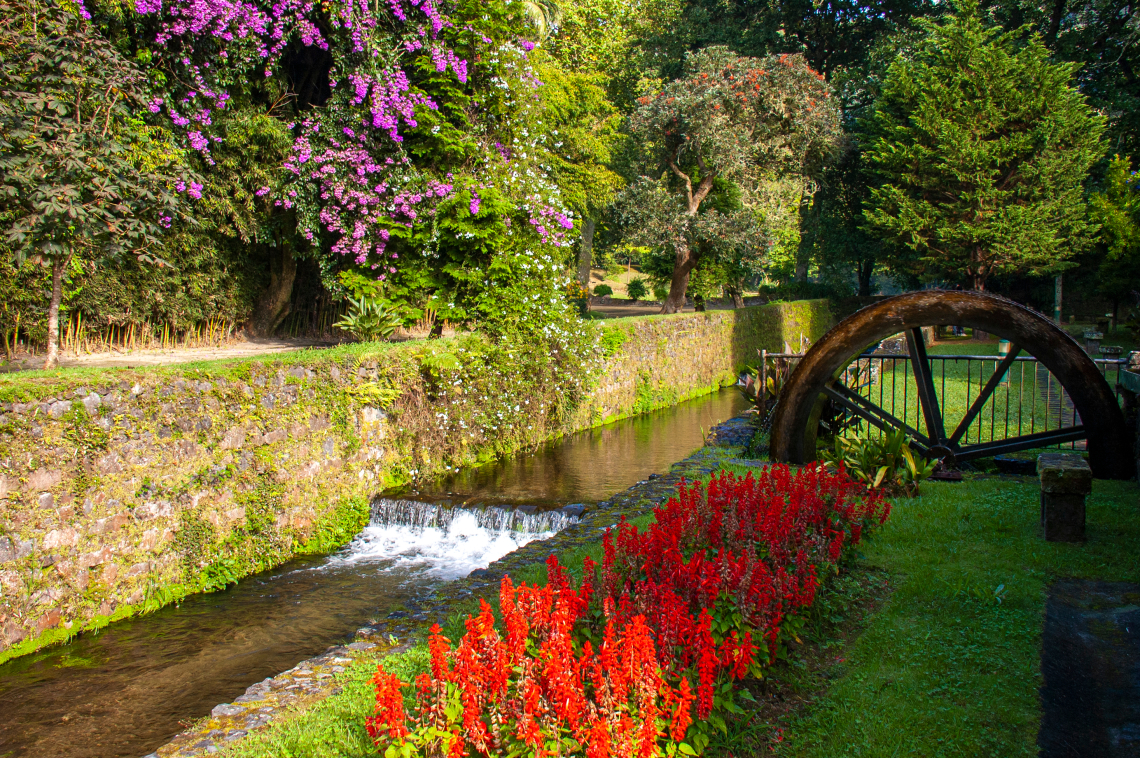 Jardim das Murtas
Another beautiful garden but almost secret garden in Furnas is the ''Jardim Dona Beatriz do Canto'' also known as ''Jardim das Murtas''. It's not as famous as the Terra Nostra Garden and it's only open to the public during August (and it's free). This romantic 1860 garden, located on Rua de Santana, has an area of 3.7 ha and from its botanical heritage stands out the presence of remarkable dimensions threes such as Sequoias. Between all of the lawns, wide paths and dense wooded spots stands out the house of Ernesto do Canto (a famous politician and Azorean historiator) built in 1866 by a French architect. You'll easily identify this garden since it is right above the mill wheel of Ribeira das Murtas.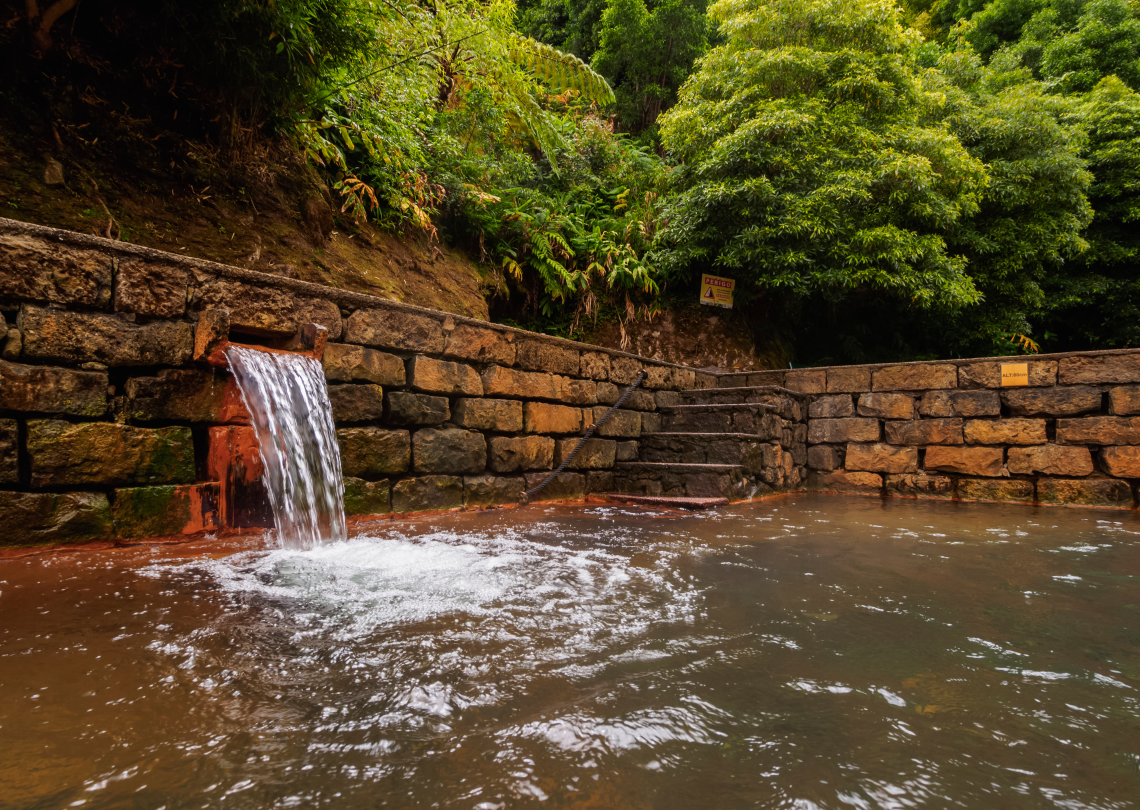 Poças da Dona Beija and Poça da Tia Silvina in Furnas, São Miguel Island, Azores
Aside from the magnificent thermal pool at Terra Nostra Park, you can also relax at Poça da Dona Beija, a small park with six pools that have varying temperatures (and bonus: these pools are open until 11pm!) But of course, we can't leave out the Poça da Tia Silvina. This little hot spring is famous amongst the locals for being the best place to soak your feet, especially after a long day of hiking. This pool is one of the warmest at 40ºC/104ºF, and is said to be excellent for the treatment of dermatosis. For a full list of thermal pools in the Azores, check out our blog about all the places you can cross off your hot springs bucket list while you're here.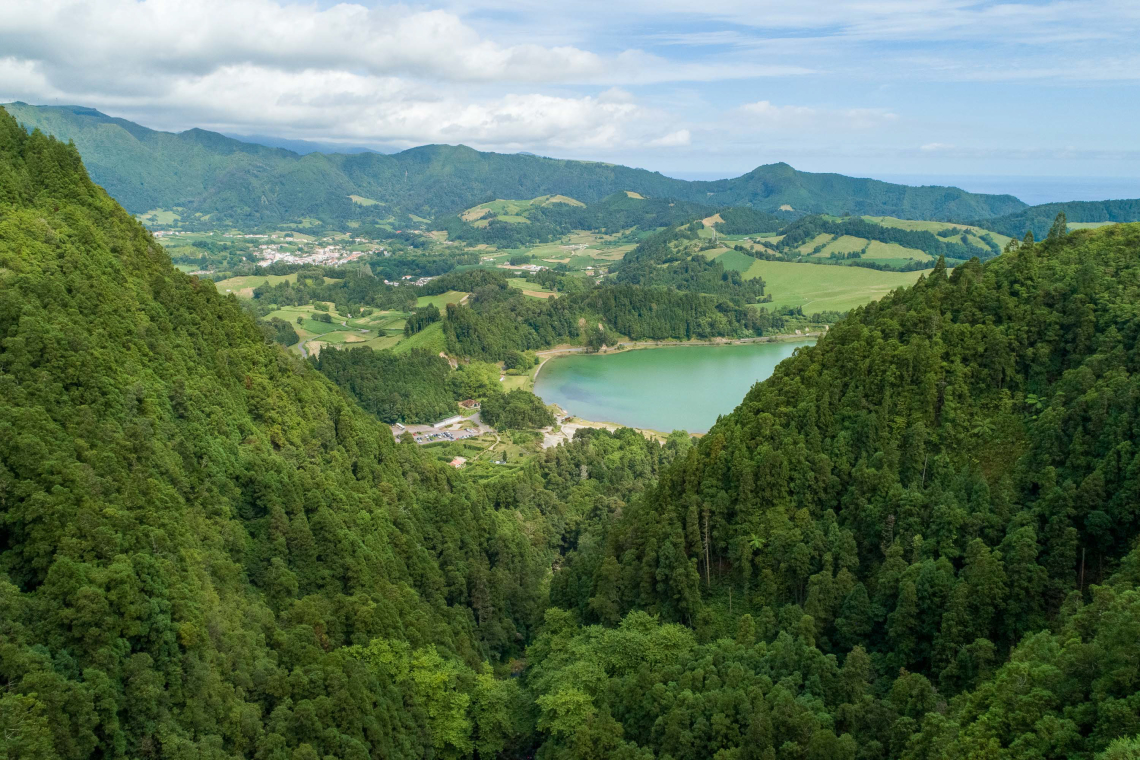 Furnas Viewpoints, São Miguel Island, Azores
Enjoy different perspectives over the same beauty from different viewpoints around Furnas:
Pico do Ferro Viewpoint: Furnas most famous viewpoint and one of the best on the island. At 570m/1,800ft above sea level, the viewpoint offers visitors a clear view over Furnas Lake and mountains. Make sure you visit it when entering or leaving the town through the north route.
Pedras do Galego Viewpoint: Located on the main road above the town, this viewpoint offers a view over the populated area of the village. From here you can actually see that Furnas is indeed in a valley.
Lombo dos Milhos Viewpoint: Both a viewpoint and a picnic area where you can enjoy panoramic views of the surrounding hills.
Lagoa das Furnas Viewpoint: A ground-level view over one of the Azores' most mystical volcanic lakes.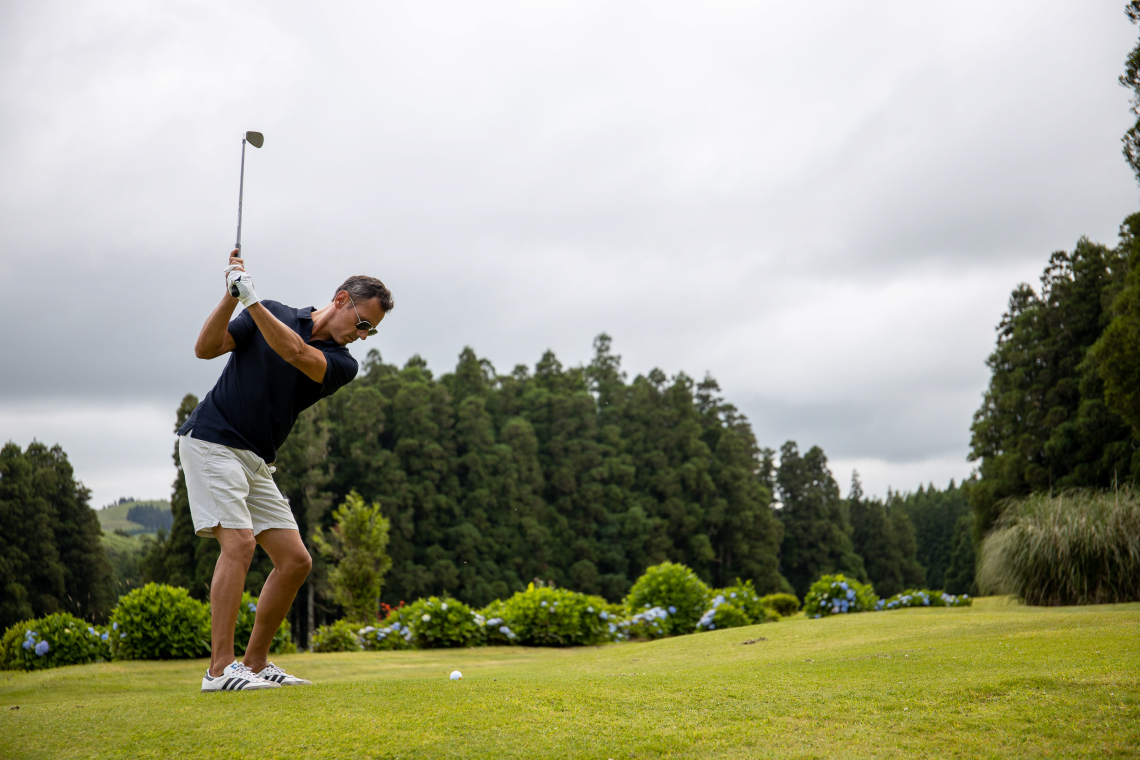 Furnas Golf Course, São Miguel Island, Azores
The breathtaking landscape is the perfect setting for unforgettable rounds of golf in the pure, natural environment of the Azores. There are currently three golf courses on the islands, 2 with 18 holes and 1 with 27 holes. On São Miguel, Batalha overlooks the sea and is the newest and most challenging course while Furnas (located in the mountains at an altitude of 500m/1,640ft) is sprinkled with lakes and stands of Japanese Cryptomeria.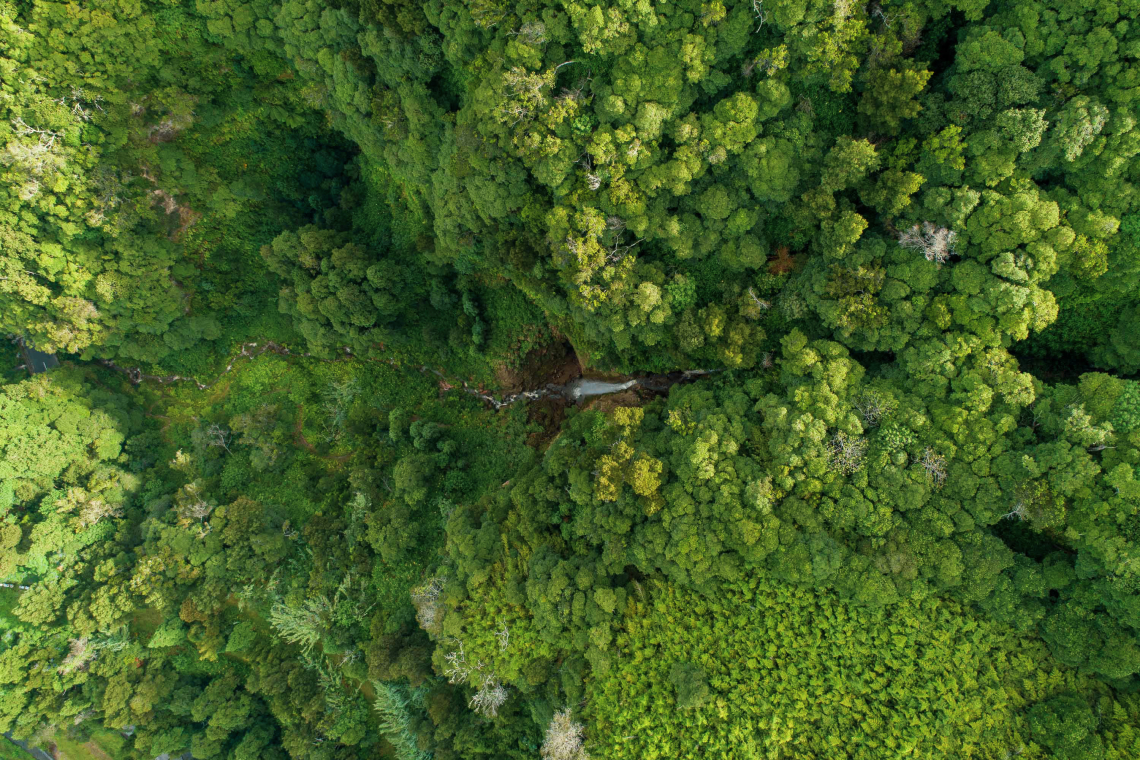 The drive to Ribeira Quente from Furnas, São Miguel Island, Azores
No visit to Furnas is complete without a visit to the neighboring village of Ribeira Quente, and it will only take you 15 minutes by car. As you start your drive, you'll pass through the iconic Ribeira Quente tunnel where it's a local tradition to honk your horn until you see the daylight again.
In the area in between the tunnels, you can spot one of São Miguel Island's most magical hidden waterfalls, tucked away behind dense vegetation. Blink and you'll miss it from the car, so if you want to take your time appreciating this beautiful sight, it's best to park your car and walk to the area.
While in Ribeira Quente, enjoy this little seaside fisherman's village and visit the beautiful Praia do Fogo, or stop into one of the handful of restaurants serving up delicious, fresh seafood.