The Azores | Explore All 9 Islands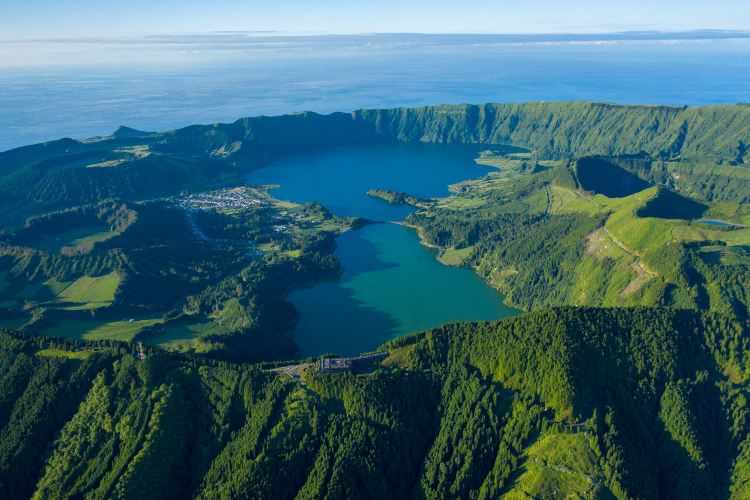 The ultimate island-hopper package has arrived - explore all nine islands!
Traveling between the 9 islands of the Azores is simple and easy with this exclusive travel package!
What's Included?
All flights and connections
Accommodations for your destinations
Boat trip: Corvo + Transfers to Caldeirão (lunch not included)
Why we love this deal:
This travel package saves you the stress of planning everything by yourself. All you have to do is pack your bags and hop on a plane. Just don't forget to bring your adventurous spirit;

"The Azores Islands are an unexpected pleasure and a stepping stone into Europe," says the

New York Times

. These Islands are indeed a real pleasure and a pristine destination yet unspoiled by mass tourism;

This exclusive Azores Getaways package was created for those who have always wanted a truly complete trip through the entire Azores Archipelago. This is a unique experience and an opportunity to have an absolutely unforgettable trip;

This package includes flights and accommodation on all islands

(except Corvo, since this is a day tour);

We have taken care of everything to ensure that you enjoy the trip of a lifetime without having to worry about accommodation and travel between the various islands;

Breakfast may be included during your stay,

depending on the accommodation selected;

We also offer a selection of optional activities that you can choose from on several islands to make your experience even richer;

You can customize your travel itinerary as you wish, adding more nights to your stay, additional experiences, or a car rental to make your trip even more special;

You won't have to worry about anything because we have taken care of everything for you.
Itinerary
1
Day 1
Arrival in Flores Island
Can't Miss Sites in Flores Island:
Poço do Bacalhau
Poço da Ribeira do Ferreiro
Alagoa Bay
The Lakes
Ribeira Grande Waterfall
Rocha dos Bordões
Morro dos Frades
Or book here your Flores guided tour!
Day 2
Boat Trip to Corvo Island with Transfers to Caldeirão
One of the Azores' most beautiful natural landscapes can be found on the smallest and most remote island of Corvo. The island's only paved road leads to the breathtaking Caldeirão, a crater that resulted from the island's single volcano of origin. Boasting an impressive 3.7 kilometer (2.3 mi) circumference and 300 meter (985 ft) depth, this gigantic crater can be reached via spectacular hiking trails, or accessed from the viewpoint above. The crater also has two lakes with a few tiny islets, which locals like to say represent the islands of the archipelago.
2
Day 3
Flight to Faial Island
Suggestion for the day:
Explore Downtown Horta. Stroll around Horta's historical streets and behold the beauty of the old-world architecture of the Azores. Horta, the capital of Faial Island, offers superb views over the neighboring island of Pico from where Mount Pico magnificently stands out. Most of Faial's hotels are located in downtown Horta, so if you choose to stay there you'll be gifted with this incredible view every morning. From the historical buildings in town, we highlight the São Salvador Church and the Nossa Senhora do Rosário Church, easily recognizable by their iconic architectural features.
Highlights:
Peter Café Sport
Porto Pim
Genuíno Restaurant
Monte da Guia
Nossa Senhora da Conceição Viewpoint
Horta's Marine
Day 4
Free Day for Personal Activities
Suggestion for the day:
Explore Faial's Volcanic Landscapes
Highlights:
Ribeirinha Village

Windmills

Almoxarife Beach

Capelinhos Volcano

Norte Beach

Caldeira
3
Day 5
Flight to Pico Island
Suggestion for the day:
Explore Downtown Madalena
Highlights:
Santa Maria da Madalena Church
Pico Wine Museum
Interpretation Center of Pico Wine
Criação Velha Vineyards
Gruta das Torres
Day 6
Free Day for Personal Activities
Suggestion for the day:
Towering at 7,713 ft. tall, unmarred by any surrounding light or pollution, Pico Mountain is Portugal's highest peak, and without a doubt one of the best places in Europe for stargazing. The mountain itself overlooks the islands of Faial, São Jorge, Terceira, and Graciosa. You don't need to hike this impressive mountain to appreciate its beauty, though it is one of the most popular hiking attractions in Europe.
Hiking Pico Mountain is a full day experience, but you can also set up camp and spend the night at the top. You'll be treated to an incredible sunset and sunrise, and in between, you'll get some of the best stargazing in the world. No matter what time of day you make it to the summit, the views will blow you away.
Day 7
Free Day for Personal Activities
Suggestion for the day:
The Azores Islands are known for their unparalleled beauty and biodiversity, adored by outdoor adventure enthusiasts and nature lovers alike. But what people may not know is that the Azores is also one of the fastest-growing whale-watching destinations in the world. Located in the Atlantic Ocean between Portugal and North America, the Azores are a permanent home and natural point of passage to more than 20 different types of whale and dolphin species, making the islands one of the world's largest whale sanctuaries. The Azores' winning combination of unique volcanic origins, deep waters off the coast, and mild air and sea temperatures from the Gulf Stream makes the archipelago the ideal location for visitors to come and spot a wide array of species on a whale-watching adventure. Book here.
4
Day 8
Ferry to São Jorge Island
Suggestion for the day:
Explore Downtown Velas. As most capital cities go, São Jorge Island's capital of Velas is tiny by comparison. But don't let that deter you, despite its small size, Velas has an abundance of life, charm, and charisma that lend it to being among our top spots in São Jorge to make a day of it simply strolling around and soaking up the island's energy and history. You will instantly feel a warm welcome from the locals in this open and inviting porty city, as island residents are known for their affable demeanors and are always happy to tell you all about their beloved island. As far as what there is to see in Velas, definitely don't miss the Jardim da Praça da República, a gorgeous public square found right at the city's center. It seriously looks like it came straight from a movie set, like "Footloose" or some other grandiose film, with its cheery red bandstand and small-town vibe. Just be careful, this city is so appealing, you might just never want to leave!
Day 9
Free Day for Personal Activities
Suggestion for the day:
Discover São Jorge's Fajãs & Culture
Highlights:
Fajã dos Cubres
Fajã da Caldeira do Santo Cristo
São Jorge Cheese Factory
Café Nunes (Artisanal coffee plantation)
Book here your São Jorge guided tour!
5
Day 10
Flight to Graciosa Island
Suggestion for the day:
Highlights:
The City of Santa Cruz da Graciosa
Windmills of Graciosa Island
Queijadas da Graciosa Factory
Praia Islet in Graciosa Island
Ponta da Barca Lighthouse
Baleia Islets
Porto Afonso
Day 11
Free Day for Personal Activities
Suggestion for the day:
Explore Graciosa's Volcanic Itinerary
Highlights:
Furna do Enxofre
Caldeira
Furna da Maria Encantada
Carapacho Viewpoint
Ponta da Restinga Viewpoint
6
Day 12
Flight to Terceira Island
Suggestion for the day:
Explore downtown Angra do Heroísmo, a UNESCO Site.
Highlights:
Capitães-Generais Palace

Angra do Heroísmo City Streets

Garden Duque da Bragança

Alto da Memória Viewpoint

Misericórdia Church

Prainha

Monte Brasil

Duque de Bragança Farmers Market

Silveira Natural Pools

Bordados dos Açores

São Bento Pottery
Day 13
Free Day for Personal Activities
Suggestion for the day:
Explore Terceira's Landscapes
Highlights:
Ponta do Queimado Viewpoint

Vaquinha Cheese Factory
Azulart Pottery
Biscoitos Natural Pools
Wine Museum
Facho Viewpoint
Império da Caridade
Serra do Cume
Serretinha Natural Pools
Algar do Carvão
Gruta do Natal
Furnas do Enxofre
Day 14
Free Day for Personal Activities
Suggestion for the day:
Take this day as an opportunity to do something unique: get inside a volcano! Make sure you don't skip a visit to Gruta do Natal, Furnas do Enxofre and last but not least, the famous Algar do Carvão! Descend 90 m (300 ft) down into one of the only volcanoes in the world that you can actually enter and explore! Algar do Carvão is an ancient lava tube and volcanic chimney that was formed approximately 3,200 years ago, making it quite a sight to behold. For the ultimate geotourism itinerary make sure you don't skip a visit to Gruta do Natal and Furnas do Enxofre.
Book here your Terceira Volcanoes Experience.
7
Day 15
Flight to Santa Maria
Suggestion for the day:
Explore the South Coast of Santa Maria.
Highlights:
Vila do Porto
Macela Viewpoint
Praia Formosa
Gonçalo Velho Lighthouse
Fábrica da Baleia do Castelo
Aveiro Waterfall
Maia's Vineyards
Meloa Plantation
Day 16
Free Day for Personal Activities
Suggestion for the day:
Explore the North of Santa Maria Island
Highlights:
Pico Alto Viewpoint
Anjos
São Lourenço Bay
Praia de São Lourenço
Barreiro da Faneca
Poço da Pedreira
8
Day 17
Flight to São Miguel Island
Suggestion for the day:
Take the afternoon to stroll around Ponta Delgada's city streets. Ponta Delgada, the main city, is not only the hub of the island but the capital of the Azores. Ponta Delgada evokes all the charms of Europe with cobbled streets, sidewalk cafes, and a thriving culinary scene.
Or book here your Ponta Delgada City Tour.
Not to miss:
Portas da Cidade
Louvre Michaelense
Pineapple Plantations
Matriz Church
Day 18
Free Day for Personal Activities
Suggestion for the day:
Visit Sete Cidades (Lagoa das Sete Cidades, Lagoa de Santiago, Lagoa do Canário and Boca do Inferno Viewpoint) and take this opportunity to visit the neighboring village of Mosteiros - ideal for sunset! Once you're in the west part of the island you can also indulge in an ocean thermal bath at Ferraria.
Book here a guided tour around the west part of the island that will have you discovering this and much more in the company of a local guide.
Day 19
Free Day for Personal Activities
Suggestion for the day:
Head to the north side of the island to visit the Protected Natural Reserve of Lagoa do Fogo and take this chance to visit (and maybe bath) the thermal pools of Caldeira Velha. Once you're here you can also visit the Salto do Cabrito waterfall! On your way to Furnas, we recommend that you stop at Porto Formoso and Gorreana Tea Plantations (the only ones in Europe). In Furnas there's just so much to explore, such as the lake, the Pico do Ferro Viewpoint, the Grená Park, the caldeiras, the fumaroles, the Terra Nostra Park, the Dona Beija hot springs and so much more. Make sure to try out the local delicacies: the cozido das Furnas and the bolos lêvedos!
Book a Furnas guided tour here.
Day 20
Return Flight Home
*itinerary presented is a suggestion and the length of stay may vary. All tours are suggestions unless specifically stated.
Flexibility

Policy
No Amendment Fees on Our End
We don't charge for our work in changing the initial itinerary.
Full flexibility on Land Arrangements
Change the initial itinerary or cancel your land arrangements for any reason until 14 days before the trip, without penalty.
Support 7 Days a Week
Our experienced travel agents are are available 7 days a week (16 hours per day) to help with any questions.
About the Destination:
The Azores are often described as "Europe meets Hawaii" with a mix of Iceland's striking volcanic landscapes, but those who visit these islands will quickly realize that they are truly unique beyond comparison. Having remained relatively off the radar for decades, the islands are largely untouched and yet to be discovered by tourists, which explains the reason their natural beauty and authenticity are so impeccably preserved. The locals appreciate and respect the nature of these islands, and they want to protect them just as much as they want to share them with the world. For this reason, sustainability and preservation are top priorities here in the Azores. In fact, the destination is officially the first archipelago to ever have been recognized as one of the "Most Sustainable Tourism Destinations in the World." The pure, unspoiled landscapes of these islands attract visitors from across the globe, and with good reason.
The Azores are an Eco-Friendly Tourist Destination
The Azores is proud to be the world's first archipelago to be officially certified by the EarthCheck Sustainable Destination program. The Azores government, alongside the local community and the tourism industry partners have all committed to preserving the culture, land, and invaluable marine ecosystems by adopting sustainable practices. Initiatives that the Azores are currently focusing on in particular include rainwater harvesting and using renewable energies—like geothermal, solar, wind and hydroelectric energies—to help reduce energy consumption and protect the Azores natural resources and landscapes that we all love so we can continue enjoying them well into the future.
Check out our Azores Travel Guide for more information and tips.
Notice: Estimated price per person based on 2 adults in a double room.
Reward points discount: -$
0
.00
Request to customize this deal
Need help booking?
Mention the Ref. #1967 and let us know your questions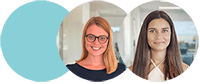 reach us on WhatsApp
Continue in another device
Trust the Local Experts
Hassle-free Experience
Full Support
Save Time & Money
Frequently Asked Questions
Contact us
Have questions?
Contact our Support Team
Everyday:
08:00 AM
to
12:00 AM
The Azores | Explore All 9 Islands
Earn $500*
towards your next trip
Join our Travel Rewards program and receive $500 just for signing up! As a Travel Rewards Member, you'll receive exclusive offers and early access to special deals and sales.