Riding the Waves in the Azores: Unforgettable Surfing Experiences in São Jorge, Terceira, and São Miguel
Riding the Waves: A Guide to Surfing on São Jorge Island, Azores
São Jorge Island is quite unique in many ways—its iconic shape being one of them (The island is 53 km long and only 8 km wide). São Jorge is also quite small, with roughly only 9,000 residents calling this island home. Also quite rare and wondrous is how the island's dramatic coastal cliffs merge to form one of the most impressive landscapes in the entire Azores archipelago, known as the fajãs.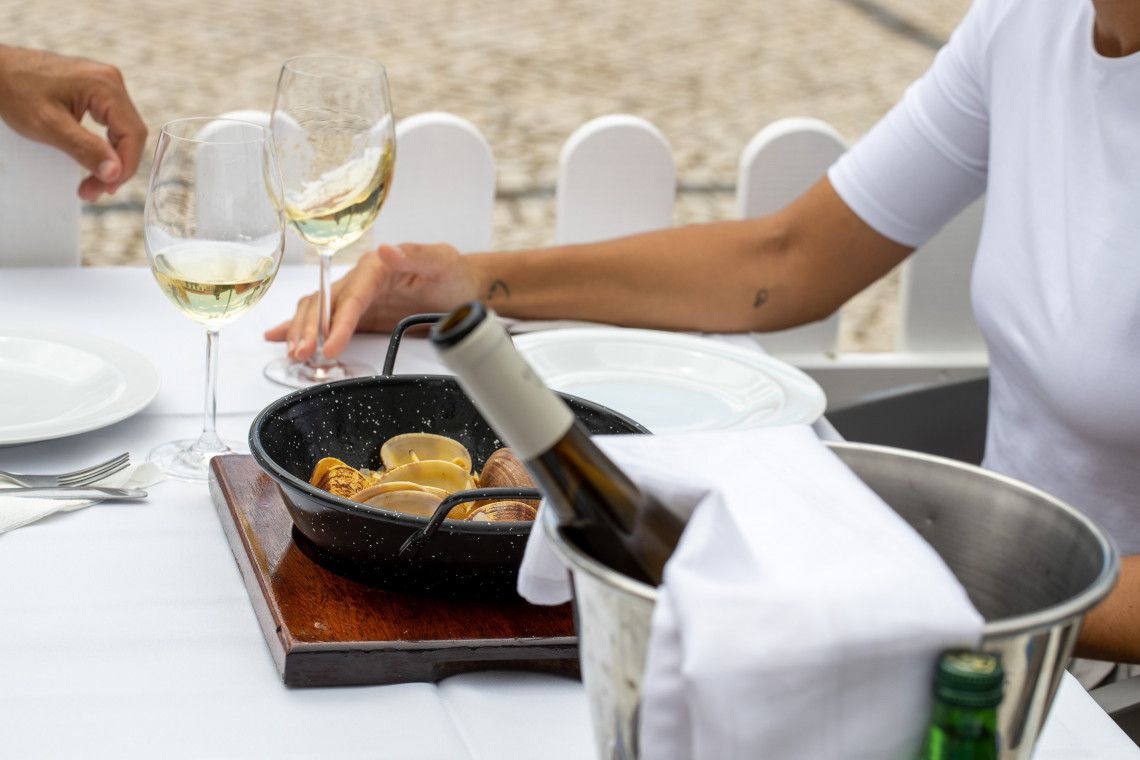 Discover Unforgettable Sites Beyond Surfing in the Azores
While surfing is a definite draw, we would be remiss to not tell you about the other ca n't-miss sites to include as stops during your Azores vacation. The first stop on your must-see list should be Fábrica de Queijo de São Jorge, where the famous cheese named after the island is actually produced. This local delicacy can best be described as a robust cheese that is loved for its slightly spicy flavor. As well as being famous for its delicious cheese, São Jorge Island is also known for its artisanal coffee. In fact, the island is home to the only artisanal coffee plantation in all of Europe! To see—and taste—for yourself, head to Fajã dos Vimes and check out Café Nunes. Here, you can not only sample this high-quality coffee, but you will also get to visit the plantation itself. Making the island even more unique, São Jorge is the only Azores Island where you can find clams that have been caught locally, brought in directly from the sea area of ​​Fajã da Caldeira do Santo Cristo.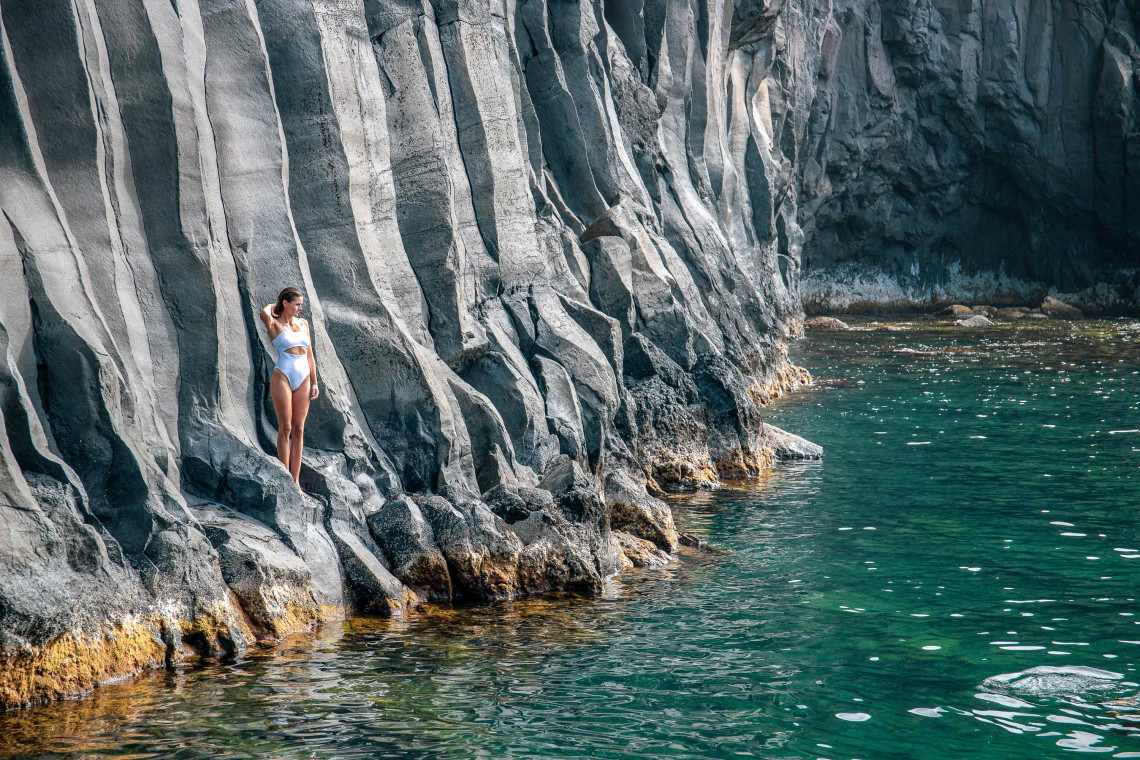 Why Should you Visit São Jorge Island, in the Azores?
If you are looking for a more laidback, less touristy island, but one that is just as lush and lovely, abounding in natural beauty and unexplored corners, São Jorge Island might just be your perfect fit for your Azores vacation. As this article is an Azores surf guide focusing on surfing, we can also attest that the sea areas surrounding São Jorge´s fajãs are primo for taking your pick of epic waves. In fact, this is exactly what has made São Jorge Island a surfer favorite while on their surfing Azores vacation. More on surfing later in this article, but let's talk of just a few more exciting things São Jorge has to offer. The capital of São Jorge is the city of Velas. A visit to Velas is always a must, especially when you take time to wander along its main avenue and soak in the superb views it offers of Pico Mountain and several natural pools. Finally, one more great point of interest on São Jorge Island is Poça Simão Dias, found in Fajã do Ouvidor.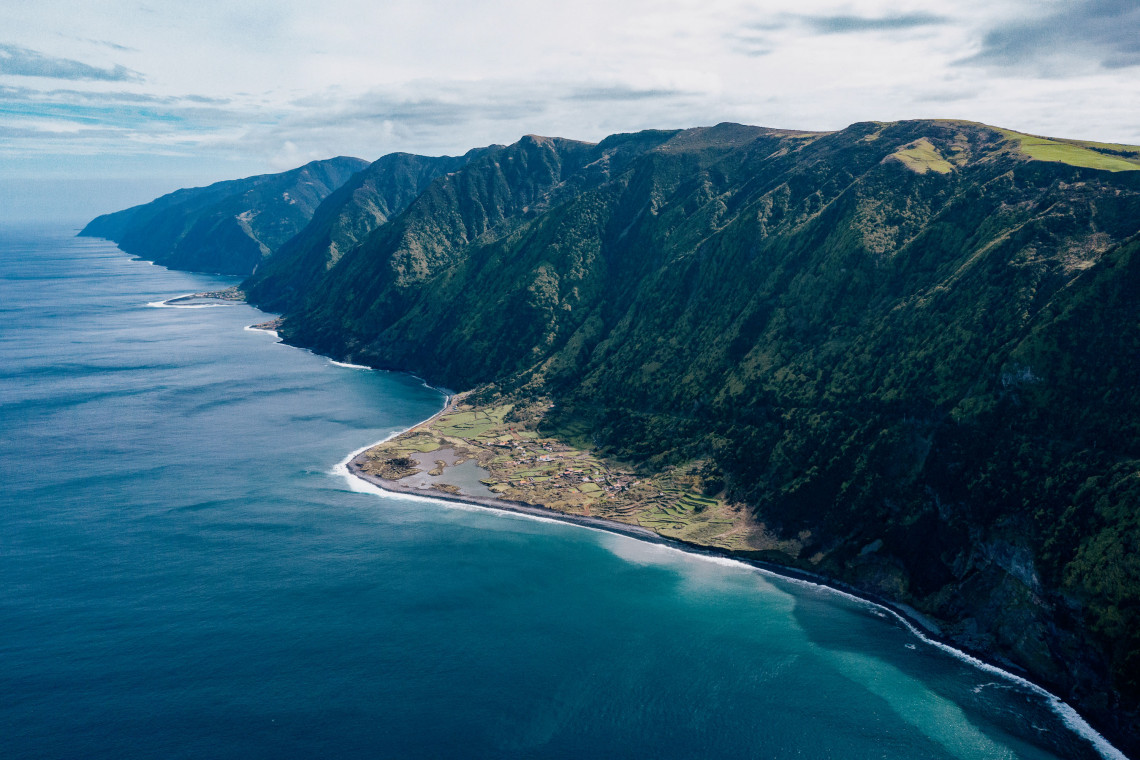 Are you already in love with the Azores? Take a look at our stress-free packages that allow you to book your ultimate island adventure. All our packages are carefully curated by our team of local Azorean Experts so that you don't need to worry about any details – just enjoy your trip!

The Iconic Caldeira da Fajã do Santo Cristo: Among the Best Surf Spots in the Azores
Not only is Caldeira da Fajã do Santo Cristo one of the most beautiful places on São Jorge Island, but its remote location makes it one that is completely off the beaten path and super special. However, this also means that it is not easily accessible.
Getting to this Sao Jorge gem must be done on foot via a pedestrian path or by motorbike. Even though it requires a bit more effort to get here, once you have reached the end of the trail, you arrive at one of the greatest works of art in nature in the Azores.
For those of you unfamiliar with a fajã, it is a plain that is found next to the sea which is created by sediments expelled from the coastal cliff. These natural landscapes are extremely awe-inspiring, however, the fajã do Santo Cristo is especially unusual due to the green sea lagoon it formed. And this news will especially excite the surfers out there: The waves of the sea that beat here are among the best on the island for many water sports, including surfing, windsurfing, and bodyboarding.
As mentioned briefly above, the only way to access this spectacular surf spot is through a pedestrian walk that goes down some steep slopes. As this trek is not easy, it is recommended that you go with a specialized local guide. We also suggest that you consider a stay in Fajã do Santo Cristo. There are suitable accommodations nearby, and nothing can quite describe the peacefulness and serenity that is afforded one who stays here, away from the fray. Imagine catching waves in one of the best Azores surf spots all day, then sleeping amid the calm of the night, away from it all. A surfer's haven, right? And while we are talking about heavenly things, did you know that it is in the lagoon of Caldeira da Fajã do Santo Cristo that local clams are caught—a rare seafood that is only found on this island? It's true! And you must taste them for yourself to really experience the ethereal pleasure they afford! Once in the fajã, take the opportunity to do so by enjoying a meal at the "O Borges'' restaurant.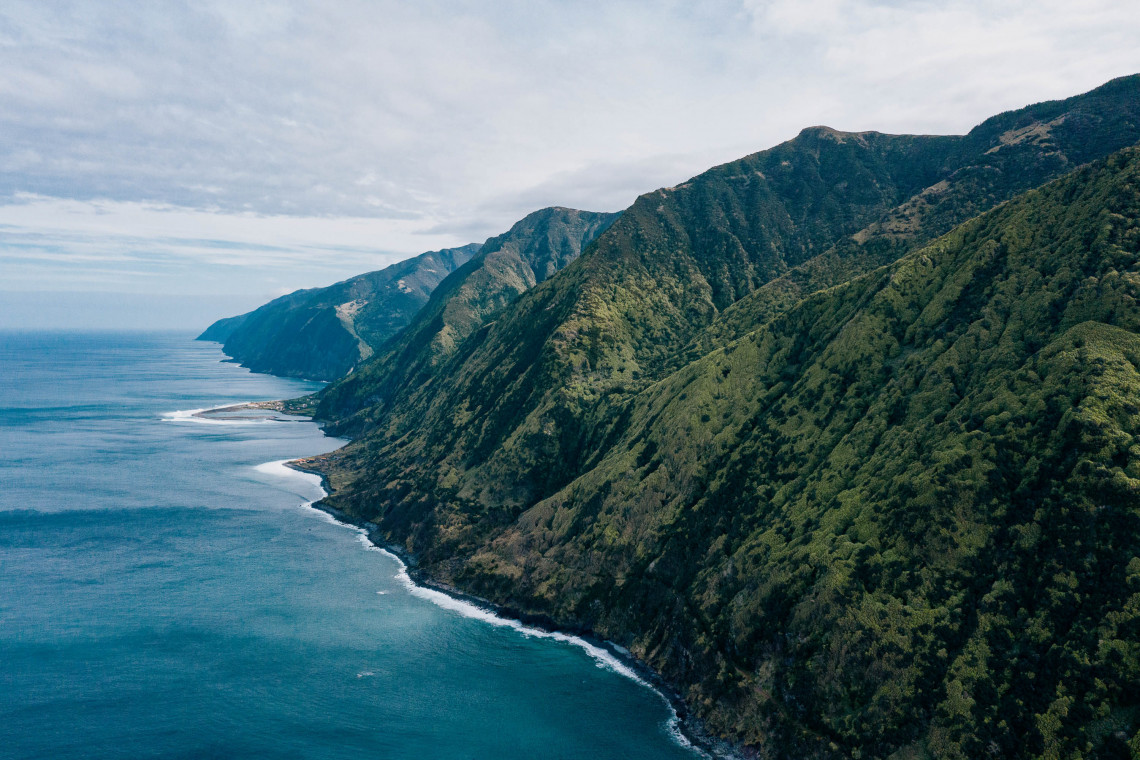 Fajã da Caldeira do Santo Cristo: The Hidden Surfing Paradise in the Azores
For those looking for an Azores Islands surfing retreat, or for an epic spot to go bodyboarding, the waves found here are considered to be an authentic hidden paradise, earning them a spot among the ideal Azores surf spots.
Listed below are some more epic Azores surf spots to consider:
Direita das Feiticeiras: known for rocking rideable waves even with reduced swells, this gem is among the Azores surf spots that allows surfing with swells up to 1.5 or 2 meters.
Left of Sorceresses: Here, it is possible to surf with all swells. In ideal conditions, this wave connects with the Church's Left, thus creating a very long wave.
Church Left: This Azores Island surfing spot offers a greater swell (between 1 and 2.5 meters) compared to the previous spot, while the undulations are formed in the same way.
Lago do Linho: This spot will up the joy factor of your Azores surf season with its beloved features, which include its powerful left, its being long, and its having a good channel. This is where, for many, the best wave of the entire fajã is found.
Direita do Passo: This wave is fun, as it gives rise to some tubes when it's big. It is most often characterized by its right that breaks in front of the opening to the lagoon. Overall, it's a good spot for Azores surfing beginners.
Surfing São Miguel, Azores
Azores surfing can be said to be ideal on São Miguel, the largest island in the archipelago. This should come as no surprise because there are around 10 primo Azores surf spots to be found here, spread throughout the island. Among these excellent Azores surf spots is Praia dos Mosteiros and its fishing port, which is a location that acts as a "point break" and is characterized by the swells from the northeast quadrant to the south. Also of note is the fact that this locale is in the fishing port, allowing the waves to break straight. A word of caution is advised should you choose to catch some waves at this gem, as these tides break on rocks, so surfing them requires some experience and extra care. The good news is that should you desire to venture out but are nervous and feel more help is needed, there are numerous local outlets that can offer aid. For instance, a surf camp in São Miguel Azores or local expert teachers and guides can offer you lessons and resources, even take you on a guided Azores surf adventure if you desire!
Yet another treasure among the most amazing Azores surf spots is São Roque Beach. Sheltered from the west winds, São Roque particularly affords Azores surfing beginners to get their feet wet in the practice, literally! Next on your must-surf spots is the area of Praia das Milícias and Praia do Pópulo: a "beach break" that is characterized by working with any swells from the south, east, and west. Further down the south coast of São Miguel is Praia de Água D'alto, which shares similar heavenly features as the previous idyllic Azores surf spots. In turn, it is in Baixio da Vila, on the right side of the fishing port, allowing you to catch the best waves in Vila Franca do Campo. The conditions at Praia da Ribeira Quente allow the formation of long raised walls when the waves are good.
Journeying up to the north coast, you will find even more amazing Azores surf spots, beginning with the Bay of Santa Iria. This hot spot is characterized by its "point break" with long lefts and rights, and the fact that it has waves suitable for all surfers, whether experienced or beginners. Praia do Monte Verde, on the other hand, works with any swell direction, but caution is advised here since currents can be quite strong. Last but not least is the most famous beach for surfing in all of the Azores, Praia de Santa Bárbara, which has the widest sand in the archipelago, offering waves that are sure to please all types of surfers.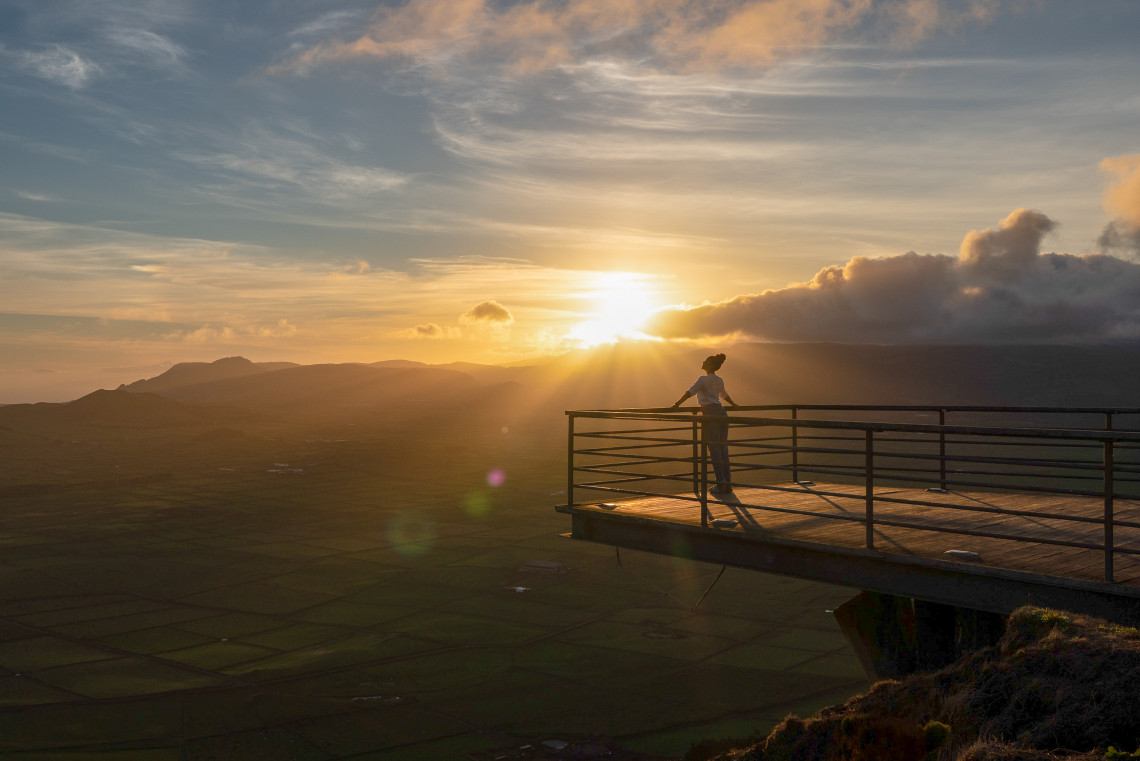 Azores' Surfing: Terceira Island
Terceira Island and its capital of Angra do Heroísmo offers not only epic Azores surf experiences but also an abundance of other amazing experiences. For instance, here you can explore one of the only visitable volcanoes in the world, Algar do Carvão, and you can also discover the region's deep history and rich culture with a visit to the many museums located in Angra de Heroísmo.
But back to surfing, as this is an Azores surf guide, after all! Practitioners of this sport should add the following Azores surf spots to their must-visit list: Quatro Ribeiras, Praia da Vitória, Santa Catarina, Porto Martins, Contendas, and São Mateus. However, there is one that stands out from the others: Santa Catarina. Why? Due to the formation of perfect waves in its "reef break", this is considered the most coveted of all the Azores surf spots, both by local practitioners and tourists.
Discover the Azores at Your Own Pace: Tailor-Made Trips for a Customizable Island Adventure
If you're looking to explore the Azores at your own pace, we have got you covered. Our team of specialists will work with you to create a custom-made trip that suits your preferences and budget. Whether you want to dive into the thriving marine life, hike through stunning volcanic landscapes, or relax on secluded beaches, our tailor-made packages offer the flexibility and freedom to discover the Hawaii of Europe at your own pace. So why wait? Contact us today and let us help you plan an unforgettable trip to the Azores!