Explore the Best Hiking Trails in Pico, Terceira & São Miguel
The Azores Islands off Portugal's coast are a nature lover's dream, particularly for avid hikers and outdoor enthusiasts. In fact, Azores hiking trails offer a chance to meander and ascend varied terrain surrounded by some of the most beautiful and breathtaking scenery in existence. To call nature walking in the Azores an unforgettable and once-in-a-lifetime experience wouldn't be a stretch of the truth at all. You simply must see this stunning island archipelago for yourself in order to truly appreciate its many awe-inspiring qualities.
If an Edenic island haven covered with epic trails entices you, then the Azores is a perfect fit for your next dream vacation getaway, and we at Azores Getaways can help you make that dream vacation a reality! You can explore our pre-made travel packages, or you can take an even easier route and let us build a curated itinerary that fits your specific desires and budget.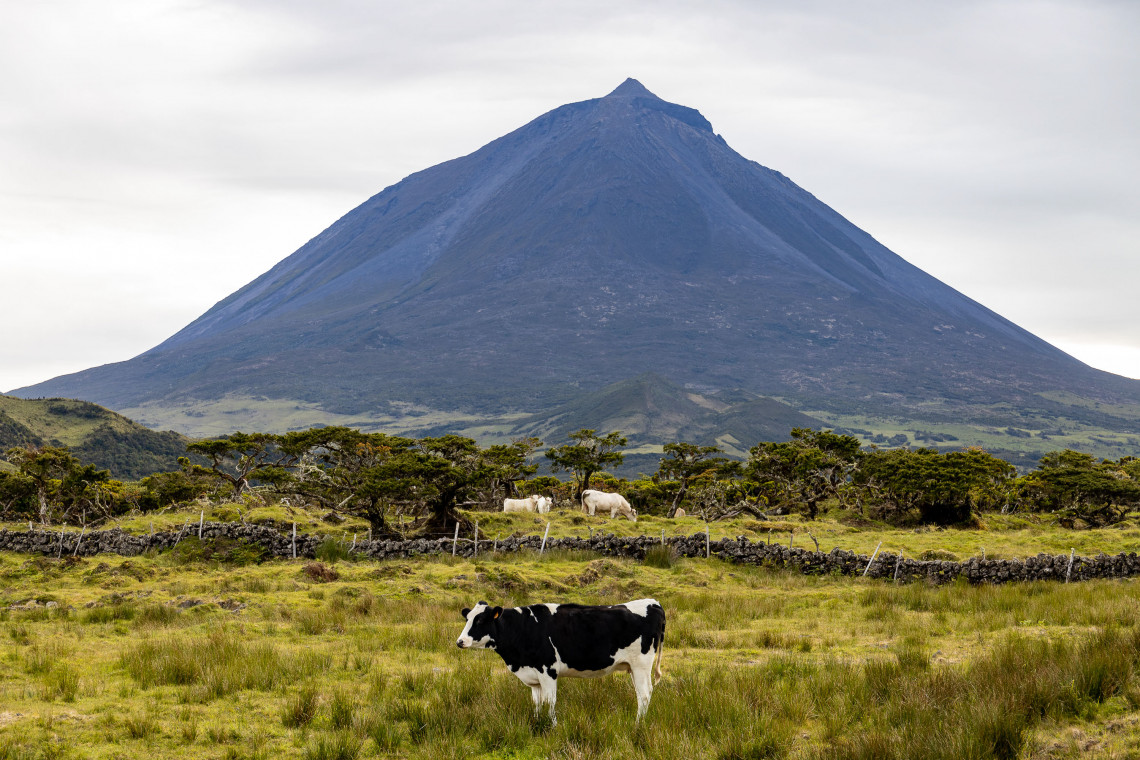 Speaking of amazing experiences, did you know that hiking Azores trails is considered to be one of the best experiences you can have in all of the islands? Much of this fact is due to the mystical volcanic origins of the Azores, which have resulted in the archipelago's jaw-dropping landscapes, among which include the most heavenly enclaves. When you begin planning your Azores hiking vacation, one of the first natural questions you may have is: Which island has the best hikes in the Azores? The simple answer is that every island has a sure to please trek for beginners to pros, ranging from casual and easy nature strolls to far more strenuous climbs.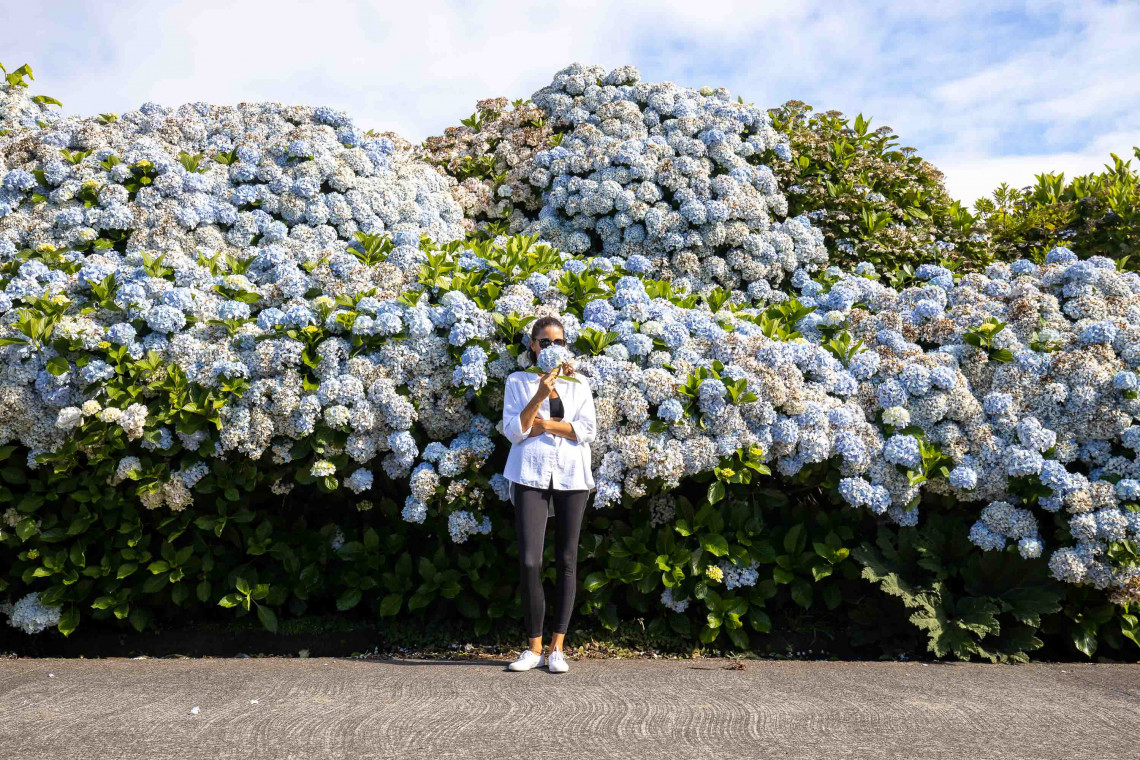 In fact, the Azores boasts more than 60 incredible trails that promise to excite and inspire you—all of which have great conditions for walking safely and are absolute trekking Azores treasures. The official Azores hiking trails are divided into three levels of difficulty: easy, medium, and difficult. Each trail receives its official level classification from the Regional Government of the Azores to help ensure the safety of hikers, as they can use this information to choose the appropriate trails for their fitness level and desires.
Even more, information you can use to find your ideal Azores hiking trail can be found here—in this very article! We have gathered the most amazing picks for nature walking in the Azores, specifically highlighting the top trails on the three Azores Island gems of Pico, Terceira, and São Miguel. First, let's take a look at the awesome São Miguel trails.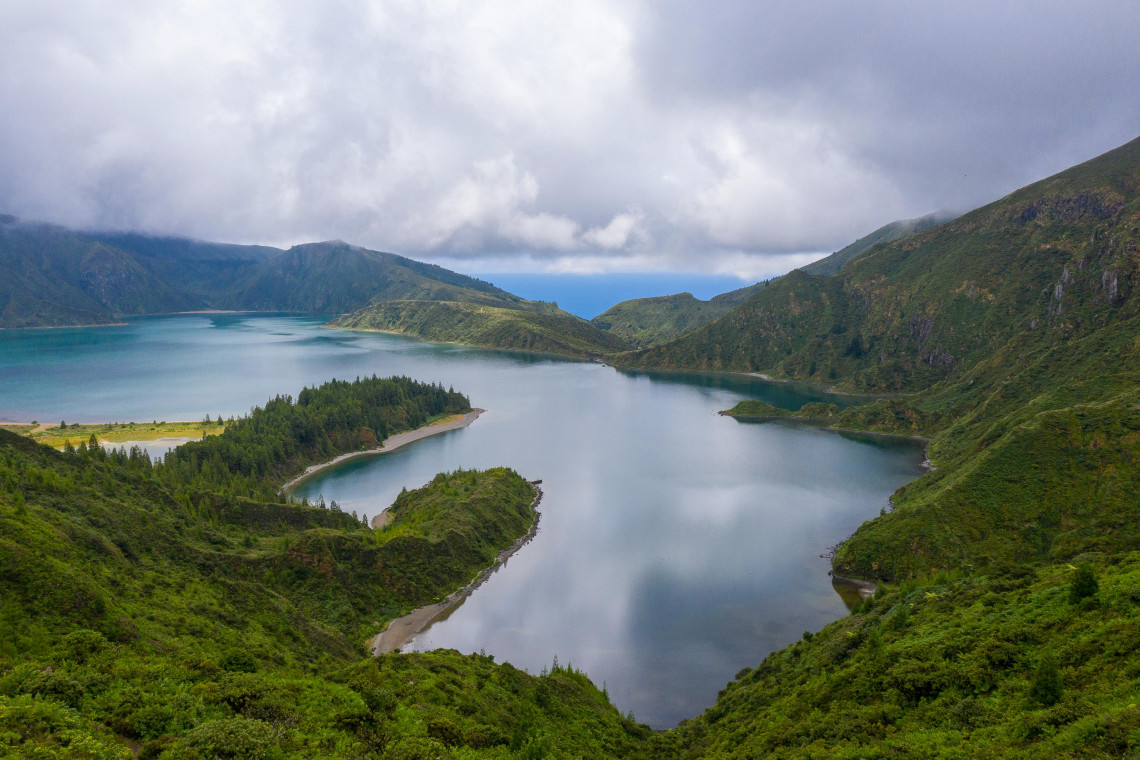 Lagoa do Fogo Trail, São Miguel Island
Whether you join one of the many Azores hiking tours led by a professional local guide, or you strike out on your own, you won't want to miss Lagoa do Fogo Trail. Inserted in a Protected Nature Reserve, the beautiful Lagoa do Fogo is one of the most beloved and popular natural attractions of São Miguel, which happens to be the largest island in the Azores archipelago. As it is perhaps our very favorite among the many São Miguel trails, we could not in good conscience leave it out of this special best hikes Azores article! Nestled away from the hustle and bustle of the world, the only "hubbub" you will hear on this trail is the peaceful sounds of nature. Imagine the birds singing, the wind gently tousling your hair, and nothing but panoramic views of pristine nature surrounding you on all sides—this is what you can expect to await you at Lagoa do Fogo. There are several viewpoints along this trail that allow you to contemplate this landmark's epic beauty, and with a total of 11 km and a level of medium difficulty, you won't want for exercise!
Completing the entire trail takes an estimated 4 hours—a pleasant journey that will find you walking among enchanting, foliage-filled forests, following a course riddled with gently flowing streams leading you to the stunning shores of Lagoa do Fogo. Awaiting you there is the area's famous white sand beach—an idyllic locale you will have to admire up close to truly appreciate. Upon your return trip on the trail, you will finally be able to understand why people from all over the world are fast becoming enraptured by Azores hiking trails, especially this treasure.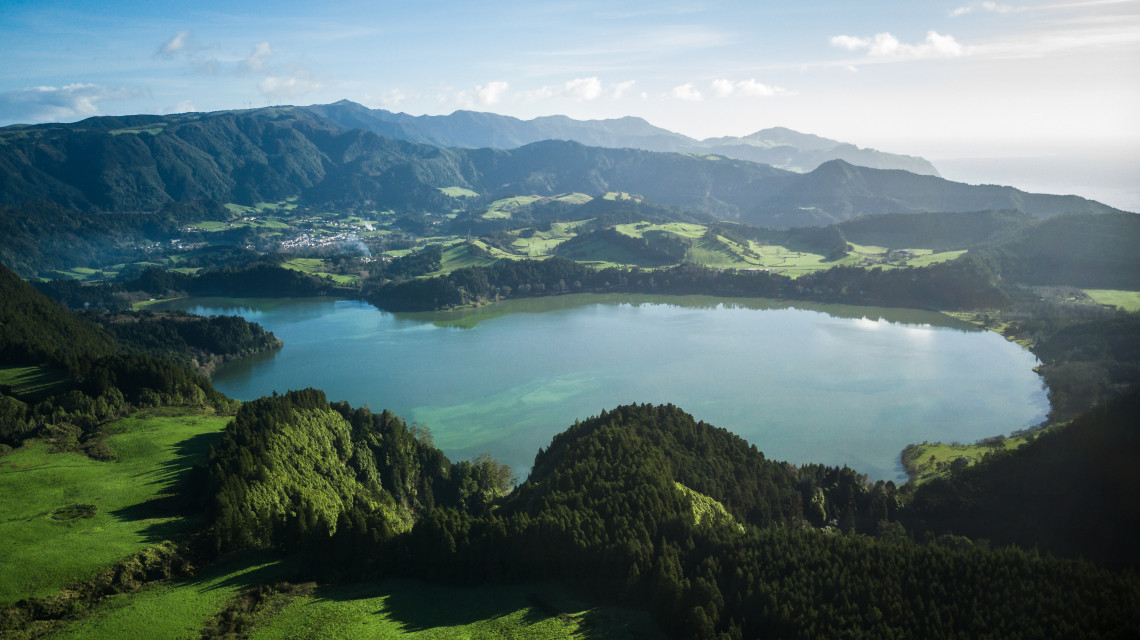 Lagoa das Furnas Trail, São Miguel Island
Another marvel among São Miguel trails is the Lagoa das Furnas Trail. This circular trail—classified as easy and an estimated 9.5 km in length—takes about 3 hours to complete, but is more than worth the effort. Special sites you can look forward to seeing throughout this island trek that takes you on a discovery tour of the interior of the parish include: Poça Dona Beija, the Church of Santana, and the viewpoint of Pico do Milho, as well as the entire area surrounding Lagoa das Furnas and its famed volcanic vents, where the famous stew known as cozido is cooked in a unique and entirely local way. In fact, after you've knocked out this gem among the São Miguel trails, why not make it a point to stop and sample some for an unforgettable gourmet experience, sampling an Azorean specialty?!
Now, let's talk about the waters of the Furnas lagoon, which perfectly reflect the vivid green of the lush vegetation that covers the surrounding mountains and ravines with a dazzling emerald hue. All of this combines to paint a canvas of nature that is so breathtakingly beautiful, it doesn't even seem like it could possibly be real. But… we assure you that it is, and is here awaiting your discovery! But speaking of landscapes and nature, you will notice that the vegetation here is different from the rest of the island. This is due to the presence of many water resources, including the trademark sulfur that is a calling card of the nearby thermal springs!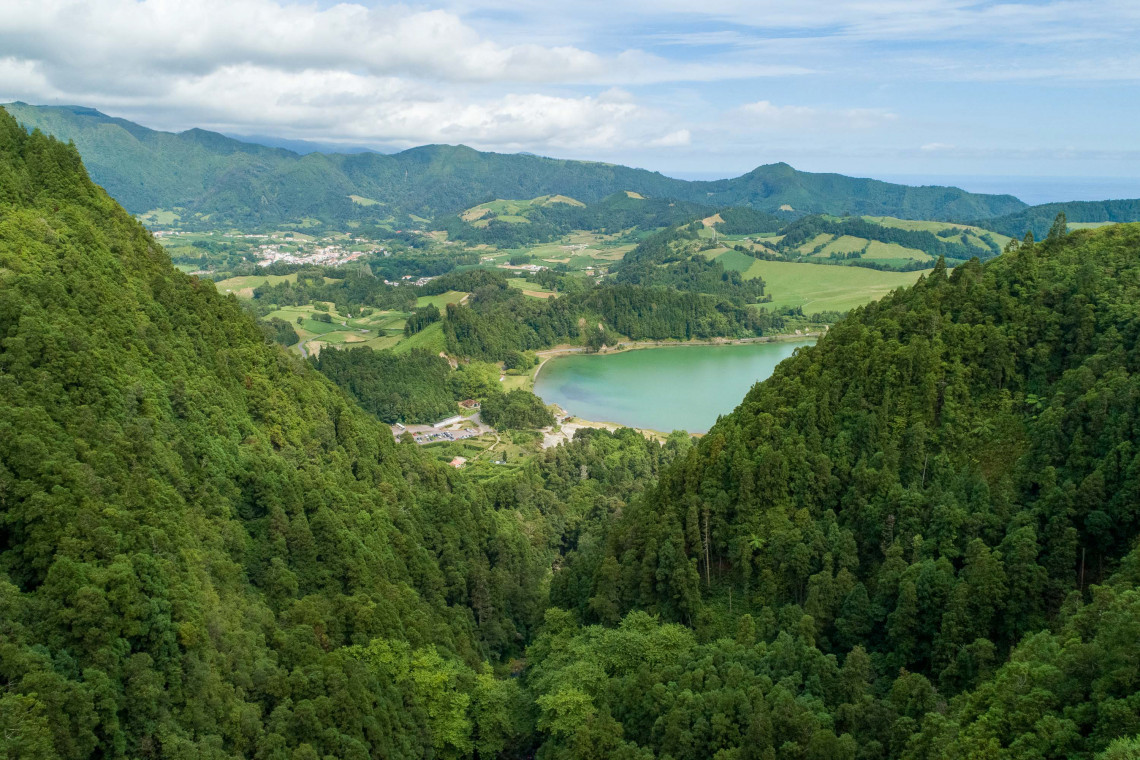 And speaking of things too beautiful to seem real, a truly fairytale site awaits your discovery along the shores of Lagoa das Furnas. Here you will find the iconic Chapel of Nossa Senhora das Vitórias, a neo-Gothic building dating all the way back to 1886. In fact, it is one of the only buildings in Portugal built in this unique style of architecture. José do Canto, who was a prominent figure and integral to the rich culture of São Miguel, ordered its construction on the south bank of the lake: its sole purpose was for him to be buried there, side by side, with his beloved wife, Maria Guilhermina do Canto. It was classified as a Property of Public Interest by the Regional Government of the Azores, and its presence paints a fairytale portrait and emits an aura and unique glow that surrounds the entire landscape of this place with an air of intrigue and mystery.
Speaking of mystery, there is actually a popular legend that explains the original appearance of the Furnas lagoon. According to island lore, the villagers of the old village that was once in the area lived vibrant lives of perpetual partying—their days and nights were filled with revelry, dancing, and music. One day, a young shepherd went to fetch water from the fountains, but much to his surprise, the water tasted saltier than usual. Upon returning home, the young shepherd noticed that the then Ilha das Sete Cidades was approaching and, as the sky darkened, he knew immediately that this was an omen of some misfortune to come.
Together, along with his grandfather, who was the only person who believed him, the pair tried to warn the other villagers of a coming disaster—yet of what kind exactly, they did not know. But alas, the villagers ignored the duo's dismal warnings and kept on with their dancing and wild revelry. The young shepherd and his grandfather left the village for a few days to go to the nearest cattle market, and when they returned, everything was gone. In the place where the village once stood was now a lagoon (the Lagoa das Furnas lagoon!), and new, majestically towering mountains reached high into the sky and looked down upon the landscape. To add to the mystery of this wild phenomenon, it is said that the boiling and bubbling of the volcanic vents are actually the women of the old village cooking for their families deep below the lagoon. Believe what you will, but what a story, right?!?!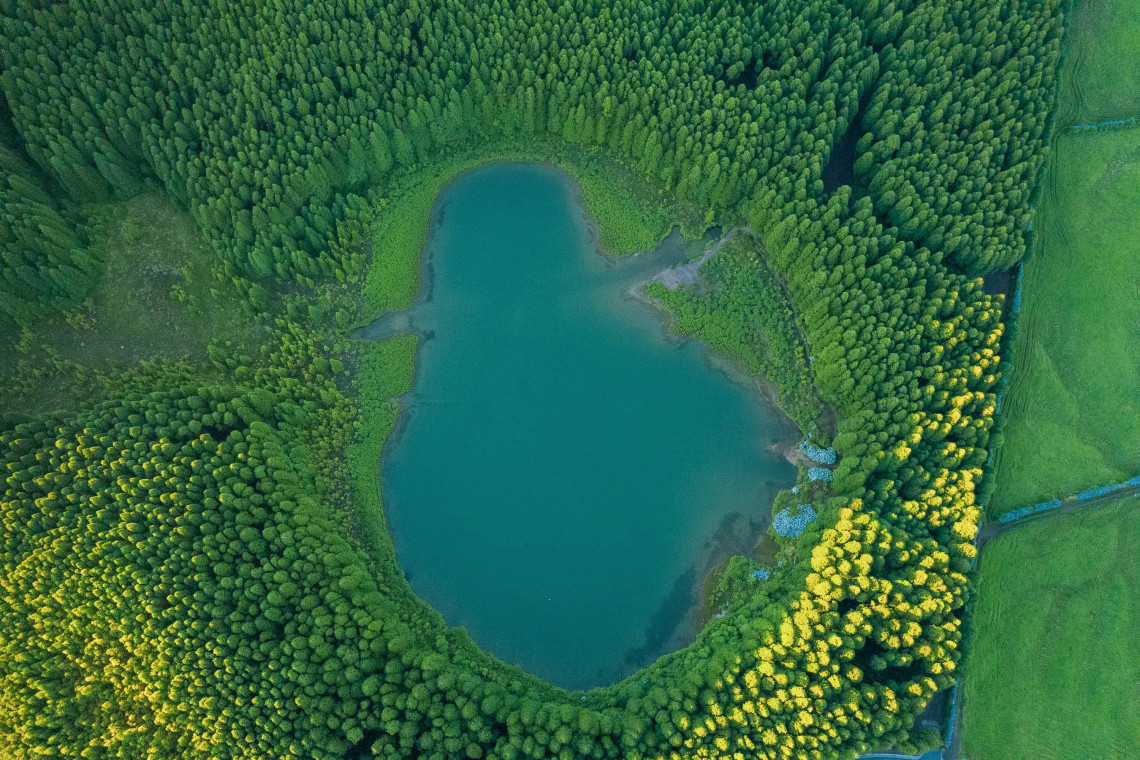 Are you already in love with the Azores? Take a look at our stress-free packages that allow you to book your ultimate island adventure. All our packages are carefully curated by our team of local Azorean Experts so that you don't need to worry about any details – just enjoy your trip!

Lagoa do Canário Trail, São Miguel Island
To adequately discover Lagoa do Canário, you have two excellent choices: the Serra Devassa hiking trail or the Mata do Canário trail. This latter trail is a linear route that is classified as medium in difficulty and runs a total length of about 11.8 km, which will take hikers roughly 3 hours to complete. In contrast, Serra Devassa is a circular route—also classified as medium in difficulty—with a length of 4.9 km that can be covered in about 2 hours. Ideally, as this trail traverses among altitudes that range between 750 and 900 meters, you should only travel it on days with good visibility. And what can you expect to see with that clear visibility? You can look forward to spotting some gorgeous though less-known lakes, such as Lagoa da Égua, Lagoa Rasa, and, at the very end of the trail, Lagoas das Empadadas.
The Mata do Canário trail starts near Mata do Canário and takes you to the interior of the small and peaceful parish of Sete Cidades, bypassing the Blue Lagoon, one of the integral parts of the famous Lagoa das Sete Cidades. This epic Sete Cidades trail ends next to the Church of São Nicolau, which stands out from its counterparts for its amazing architecture. We suggest taking the opportunity to visit Lagoa do Canário and the Boca do Inferno viewpoint (each nearby) before starting out on either of these two pedestrian routes. No matter which way you choose to go about hiking Sete Cidades, you are guaranteed an unforgettable outdoor adventure on one of the best hikes in the Azores.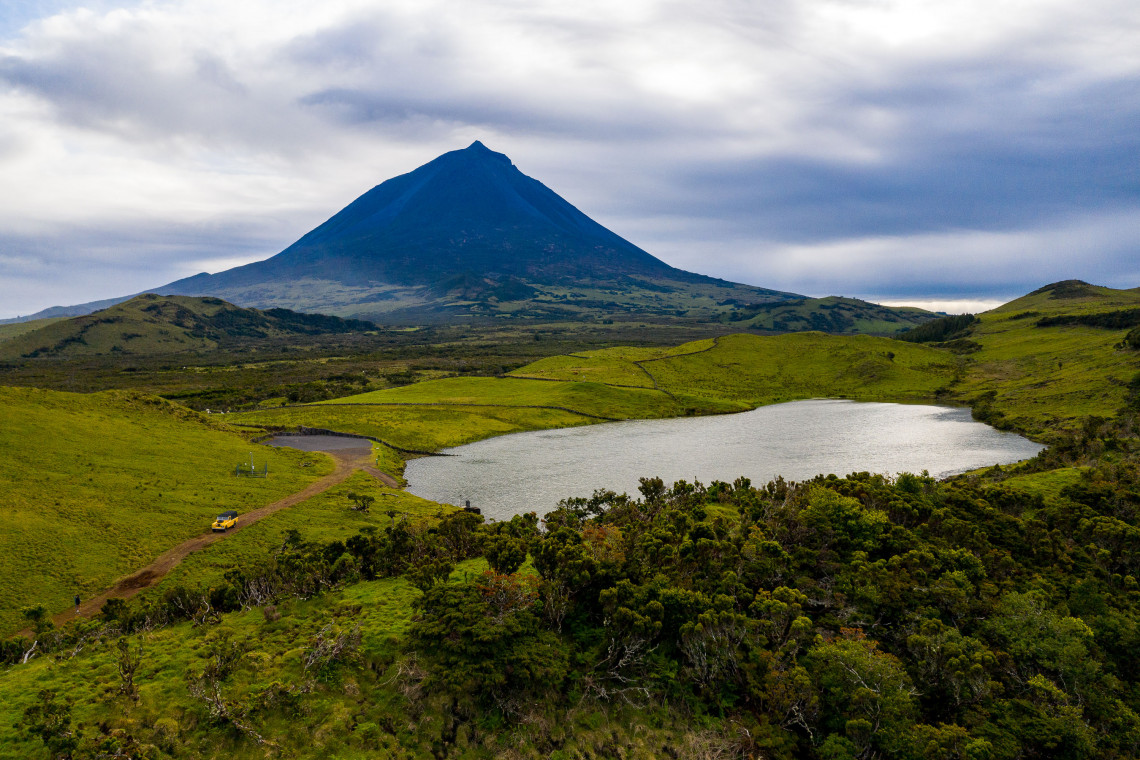 Lagoa do Capitão Trail, Pico Island
Next on the best hikes Azores agenda for your Azores walking holidays? The Primo Pico Island trails! Fun fact: Pico Island boasts the highest peak in all of the Azores. In fact, it is known as the Azores Mountain Island and is home to a mystical beauty that attracts visitors from all over the world.
In fact, Pico Mountain is not only the highest peak in the Azores, but it also just happens to have the revered title of being the highest peak in Portugal as well! At around 2,351 meters high, and being one of the most popular trails in the Azores and Europe, it's no wonder why climbing Mount Pico Azores made our best Azores hikes article. If you're looking for an extreme challenge, adding this epic mountain climb to your itinerary is a no-brainer. You can choose to climb Pico Mountain during the day, at sunrise, or even camp overnight on the mountain and make your trek even more special and unique. Although Pico offers some of the best hiking in Azores Portugal, the mountain is not the only major attraction found here.
Wondering what else is so special about Pico Island? Plenty! For one, Pico is famous for its wine. The immensity of vineyards that grow, flanked by small walls of basaltic stone (the corrals), give the name of Ilha Gray to Pico and form a landscape so emblematic and special that it has earned it a title as an official UNESCO Heritage Site. It is astounding when you learn the history of this delicious libation as well, as the inhabitants of this island, called the Picarotos, have been producing wine here since the 15th century! For those curious to learn more—and who isn't—you can head to the Pico Wine Museum, which gives visitors insights and intriguing info about the evolution of the island's wine production. It is also home to a visitable volcanic cave, Gruta das Torres, where you can see rare stalactites and stalagmites, all of which are illuminated with a magical aura by the natural light that shines down through the natural skylight of the cave.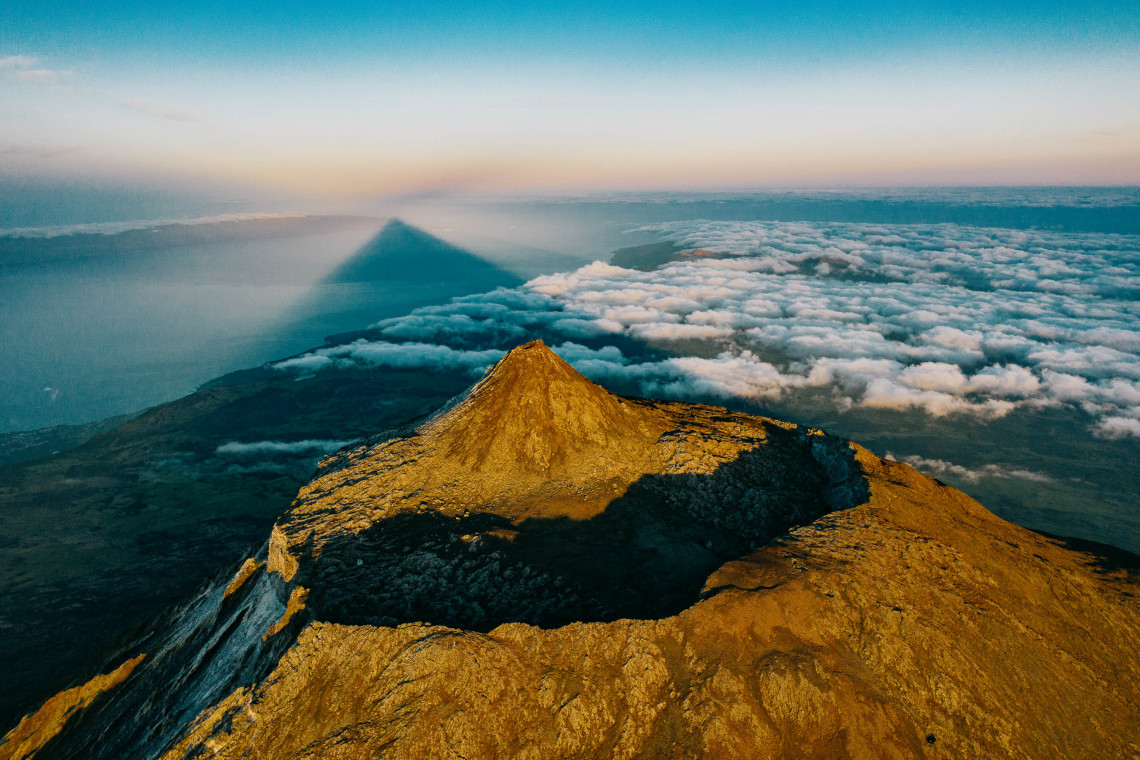 But… back to the trails that make hiking in Pico, Azores such a treat! Starting in the Central Plateau of Pico Island, on a stretch of asphalt, the Lagoa do Capitão trail is a linear trail of medium difficulty that is 9.3 km long. Completing the entire trail will take trekkers about 3 hours. However, it is important to note that Lagoa do Capitão is just the highlight of this trail, and many more exuberant views are on offer for you to marvel at en route. Speaking of marvels, the second attraction you can look forward to will be a wonderful vista over the north coast of the island, which is possible to get a gander at from Cabeço do Piquinho. You will follow trails of endemic vegetation until you arrive at the descent of Cais do Pico and the Convent of São Pedro de Alcântara, which is the endpoint of this pretty-as-a-picture pedestrian route in Pico.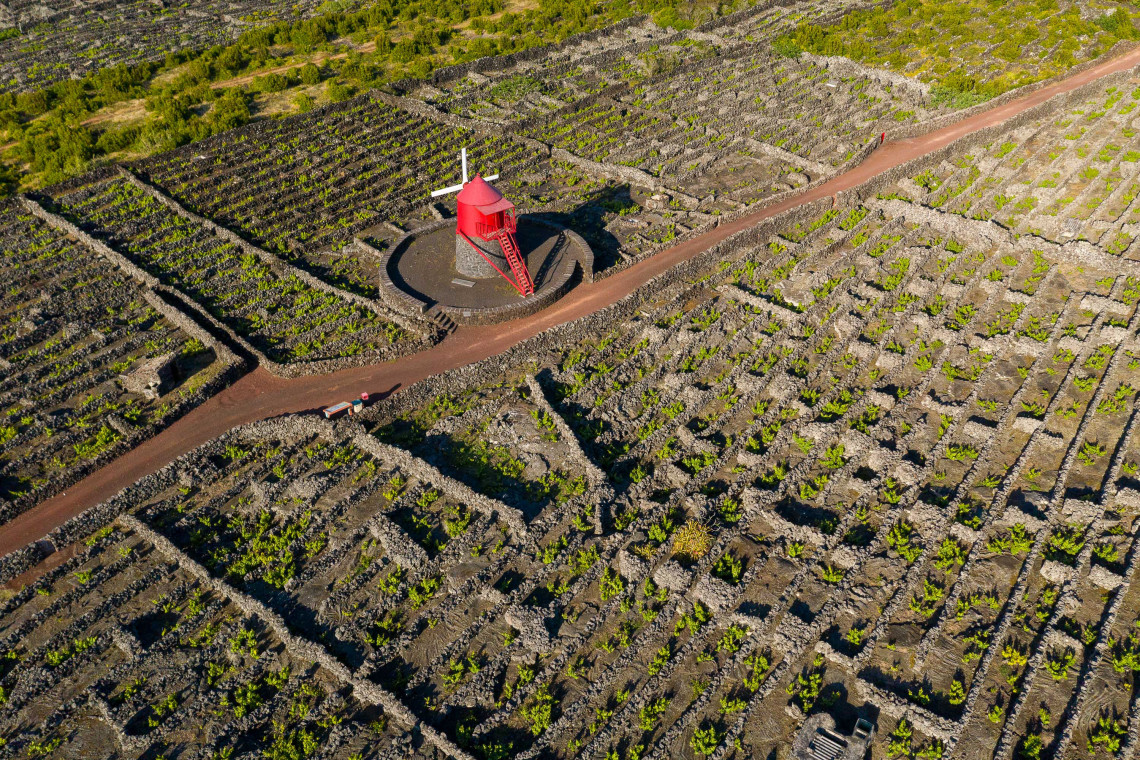 Trail of Caminho das Lagoas, Pico Island
You are invited to take an unforgettable journey through the interior of Pico Island via this magical walking route, easily among the best Azores hikes. Imagine being able to discover a trio of dazzling lakes (Caiado, Seca, Peixinho, and Paúl) in one single hike, all of which are completely surrounded by dazzling scenery belonging to the island's Caveiro Nature Reserve. An added exciting piece of inside info: Along this trail, you are enjoying while on your Azores hiking vacation, it is even possible to see the neighboring islands of São Jorge and Terceira on days with good weather conditions.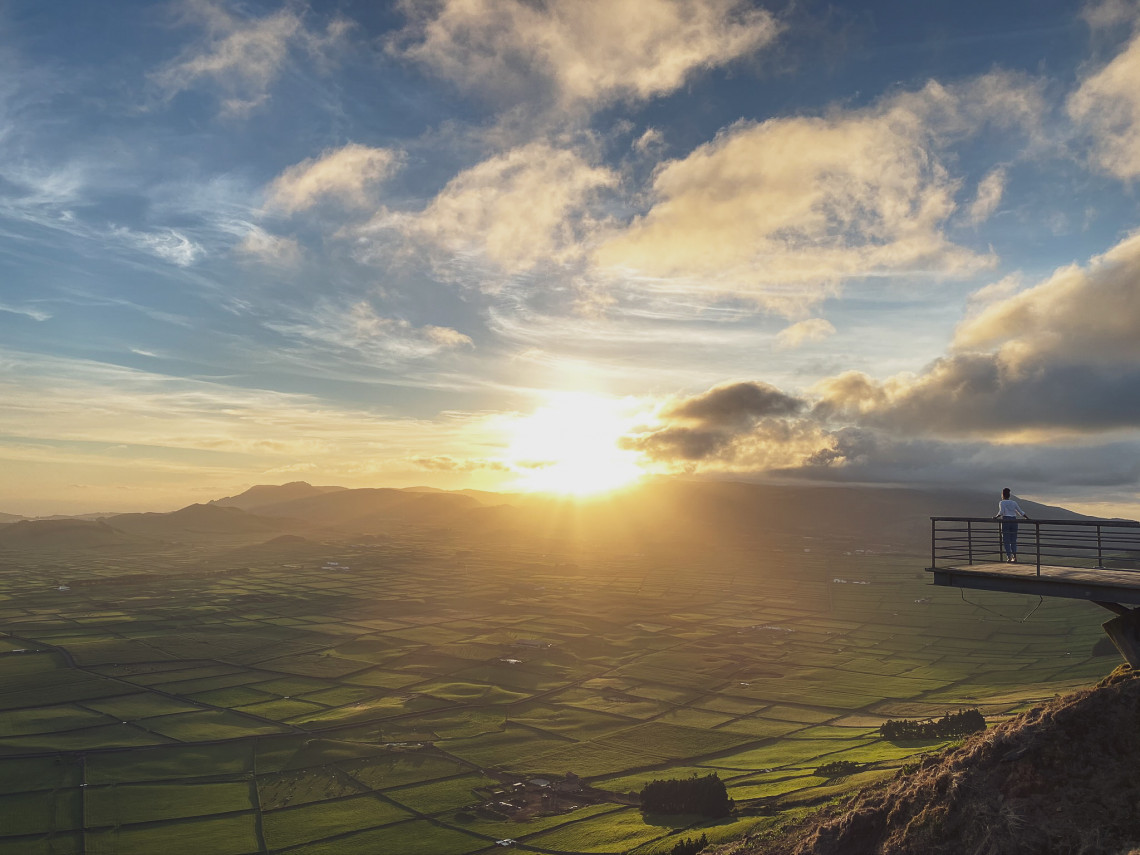 Lagoa dos Mistérios Negros Trail, Terceira Island
Speaking of neighboring island Terceira, its Lagoa dos Mistérios Negros Trail is easily one of the best of the Terceira hiking trails, and the most emblematic of all the walking routes on the island. Why? It just may have something to do with its lush, forested landscape that is worthy of a sci-fi fantasy movie. This pedestrian route that runs along the Serra de Santa Bárbara Natural Reserve begins next to Lagoa do Negro and the support house of Gruta do Natal. Classified as difficult and having a length of 4.9 km., this circular trail can be hiked in about 2.5 hours. Imagine strolling along paths with enchanting endemic vegetation, then reaching postcard-worthy lagoons (known as the Lagoinhas do Vale Fundo, with only one retaining water throughout the year). While hiking Terceira on this lovely jaunt, you can look forward to enjoying the craggy remnants and unique vegetation resulting from the volcanic eruption of 1761. Also to look forward to while hiking Terceira? Observing the central massif of Terceira Island from the highest point of the route, followed by taking a peak from Pico Gaspar. At the end of the circular route, upon returning to the starting point, we suggest you take the opportunity to visit Gruta do Natal, which is a very important place for geotourism in the Azores, along with Algar do Carvão and Furnas do Enxofre.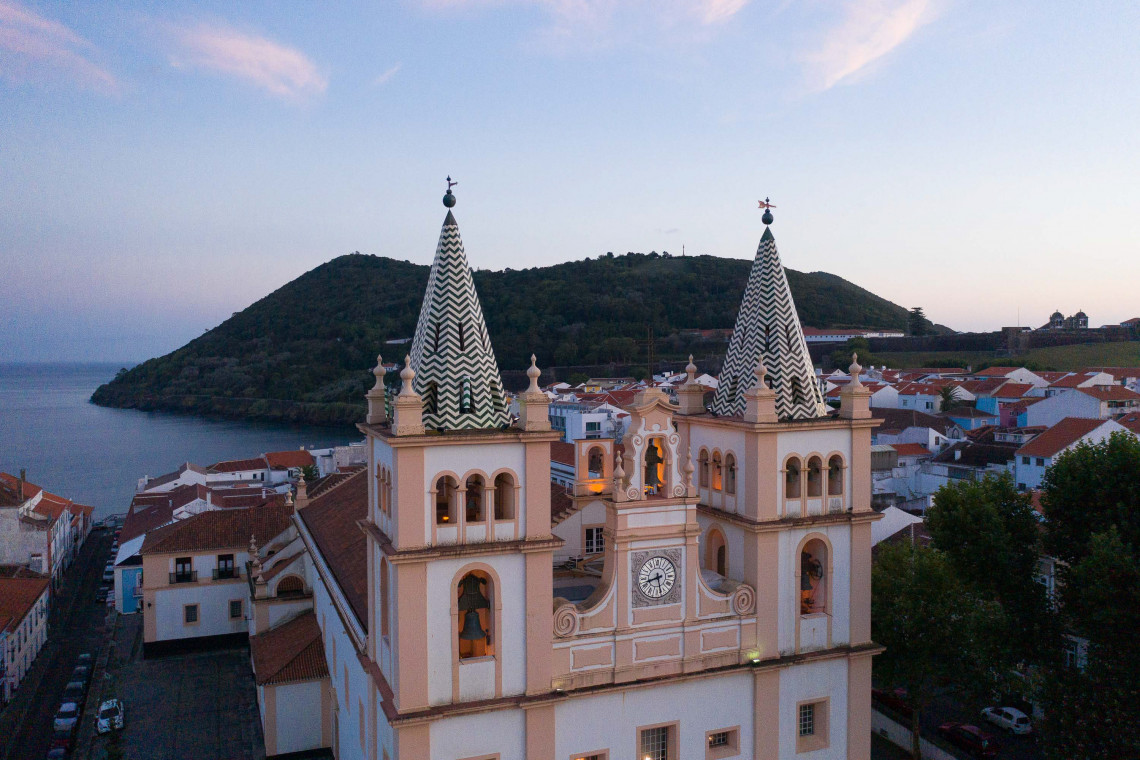 Lagoa das Patas Trail, Terceira Island (Great Western Route)
Looking for more hiking Terceira inspiration for your Azores hiking holidays? This linear route, which takes about an entire day (10 hours) to complete, connects the Lagoa das Patas Recreio Forest Reserve to the Mata da Serreta Recreio Forest Reserve. Of difficult difficulty and having a total length of 31.2 km, things you can look forward to enjoying along this great route include seeing the west half of Terceira Island, the highlights of which include Lagoa das Patas, lovely leisure areas, a captivating coastal stretch, lush forests, and magical mountain areas.
Now that we have really teased you with such amazing trail offerings, you are probably ready to pack your bags and hop on a plane right now! The good news is that we are here waiting to help plan your dream Azores hiking holidays!
Discover the Azores at Your Own Pace: Tailor-Made Trips for a Customizable Island Adventure
If you're looking to explore the Azores at your own pace, we have got you covered. Our team of specialists will work with you to create a custom-made trip that suits your preferences and budget. Whether you want to dive into the thriving marine life, hike through stunning volcanic landscapes, or relax on secluded beaches, our tailor-made packages offer the flexibility and freedom to discover the Hawaii of Europe at your own pace. So why wait? Contact us today and let us help you plan an unforgettable trip to the Azores!