The Best Natural Landscapes of the Azores Islands
The Azores are home to 4 UNESCO Biosphere Reserves, 2 UNESCO World Heritage Sites and endless stretches of breathtaking natural beauty. The pure, unspoiled landscapes of these islands attract visitors from far and wide -- and with good reason.
The Azores are often described as "Europe meets Hawaii" with a mix of Iceland's striking volcanic landscapes, but those who visit these islands will quickly realize that they are truly unique beyond comparison. Having remained relatively off the radar for decades, the islands remained largely untouched and undiscovered by tourists, perfectly preserving their natural beauty and authenticity. The locals appreciate and respect the nature of these islands and want to preserve them just as much as they want to share them with the world. Sustainability and preservation are such a priority here in the Azores, that the destination has been recognized as one of the "Most Sustainable Tourism Destinations in the World."
So, what are the most impressive views and natural landscapes you can see in the Azores? We break it down, island by island, with this list of Best Natural Landscapes of the Azores Islands here.
SÃO MIGUEL ISLAND
1. Sete Cidades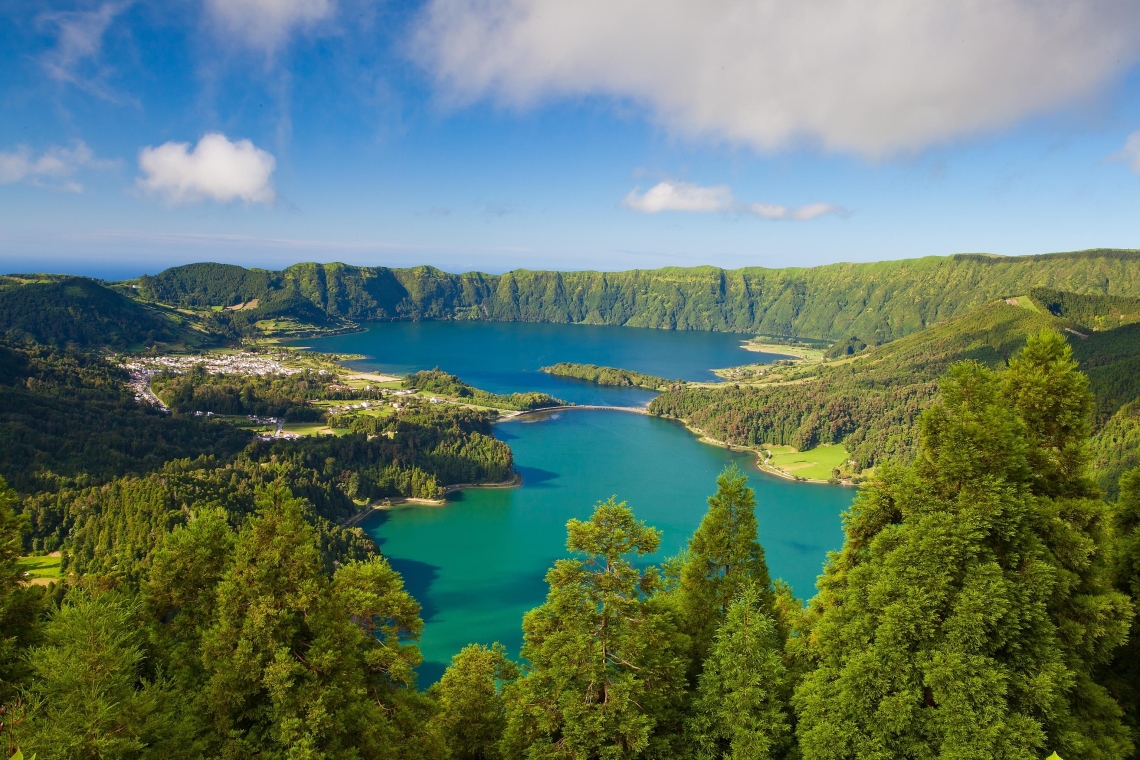 One of the 7 Natural Wonders of Portugal, this show-stopping crater full of lakes has become one of the most emblematic images of the Azores. There are (amazingly) 11 lakes in total around Sete Cidades, but they can only be seen from certain angles at the different miradouros (viewpoints) in the area. To fully appreciate the breathtaking panoramic views over the mystical blue and green lakes, head to the Vista do Rei viewpoint. While you're there, make your way over to the Boca do Inferno for some jaw-dropping 360 views overlooking the Lagoa do Canario and the other lagoons below, Sete Cidades village, and an expansive view of the Atlantic beyond the ridge of the crater.
2. Lagoa do Fogo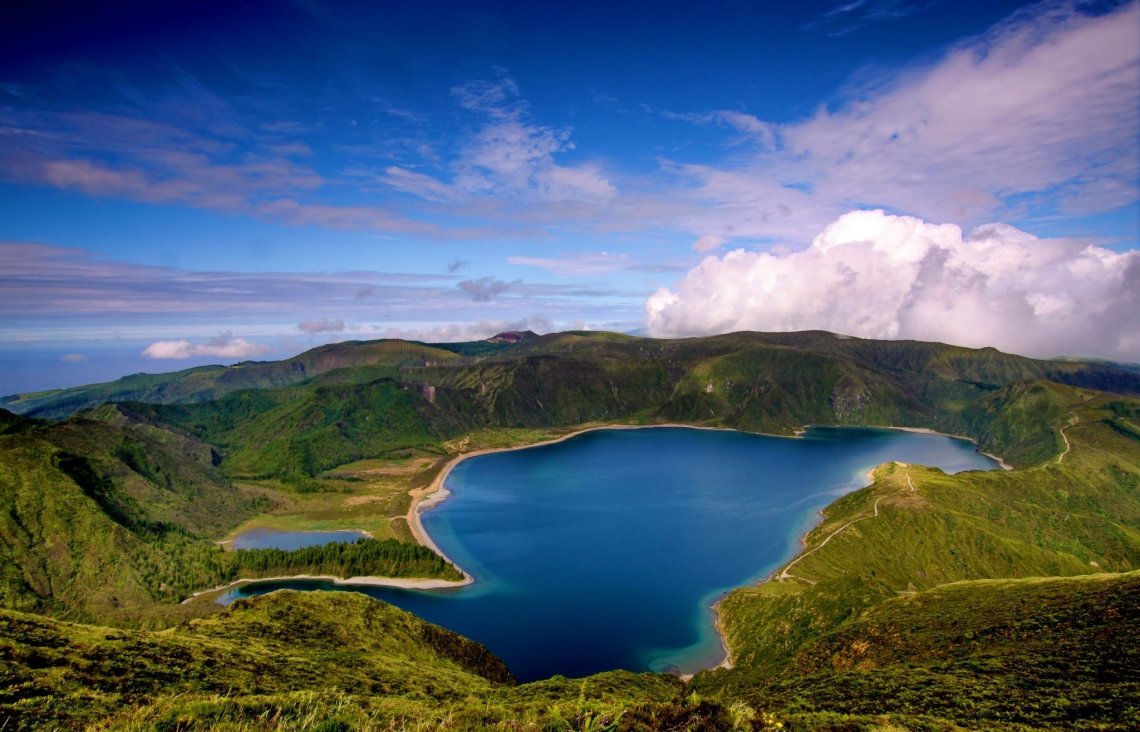 Lagoa do Fogo, which translates roughly into "Lagoon of Fire", is a crater lake at the center of São Miguel Island. This Protected Natural Reserve sits tucked away atop the impressive Pico da Barrosa, far from the civilization and noise below. Lagoa do Fogo's crystal-clear turquoise waters are surrounded by tall mountain peaks, lush vegetation and white sand on all sides. Take in the magnificent views at any of the viewpoints around the mountaintop, or if you're feeling adventurous, venture out on one of the many hiking trails that take you down to the lake's edge.
3. Furnas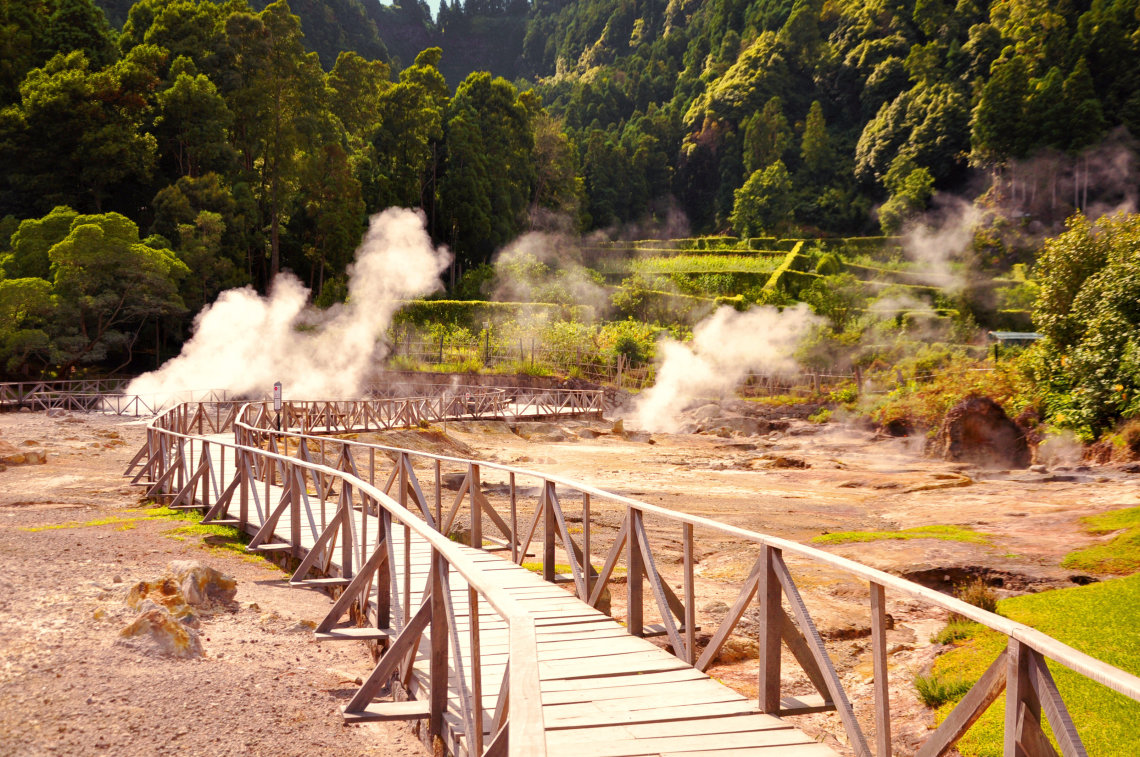 Furnas Valley is famous worldwide for its bubbling caldeiras and hot springs where visitors can relax with a thermal bath at any time of the year, but this mystical volcanic valley is full of interesting surprises. Visitors can take in impressive panoramic views of the lake and village from the Pico do Ferro viewpoint. Head to the lake for a walk around its perimeter and surrounding parks and gardens, and then watch as restaurant workers pull steaming hot pots of Cozido (a traditional Portuguese stew) out of the fumaroles for lunch. Make your way to the charming village of Furnas to enjoy some cozido, and then take a walk around the center of town to see the bubbling sulfur pits and try the mineral spring water spouting around every corner. Nature here is constantly shifting and changing before your eyes as you watch this dormant volcano breathe with activity all around you.
4. Vila Franca do Campo Islet (Ilhéu de Vila Franca)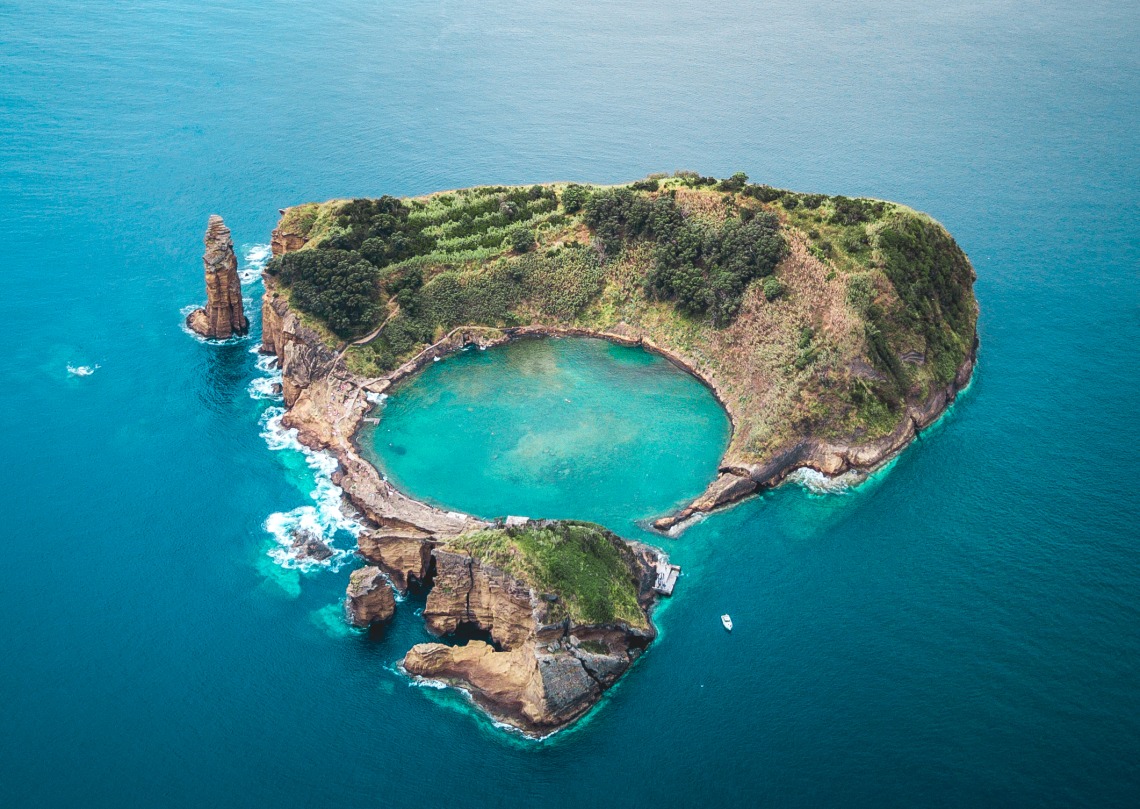 A picturesque nature reserve located approximately 1km off the coast, the Ilhéu de Vila Franca features a salt water inlet created by volcanic crater (perfect for snorkeling!) This little islet is rich in marine biodiversity and home to many unique species. To protect them all, the islet is only open to visitors during the summer months and is limited to 400 visitors per day.
SANTA MARIA ISLAND
5. São Lourenço Bay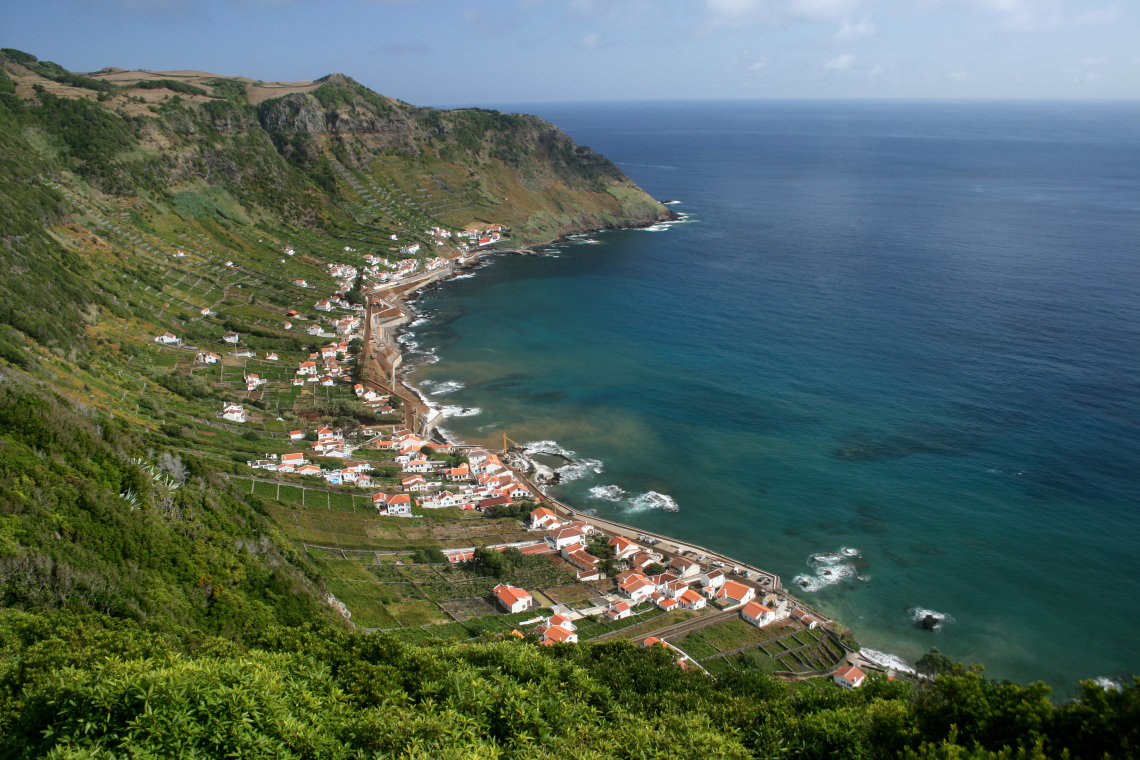 Santa Maria Island is often referred to as the "Algarve of the Azores" and one visit to the dreamy white sand coastline of São Lourenço Bay is enough to understand why. The calm, crystal clear waters are protected by steep, dramatic cliffs on either side, with sweeping vineyards growing up the hillsides behind the bay.
6. Barreiro da Faneca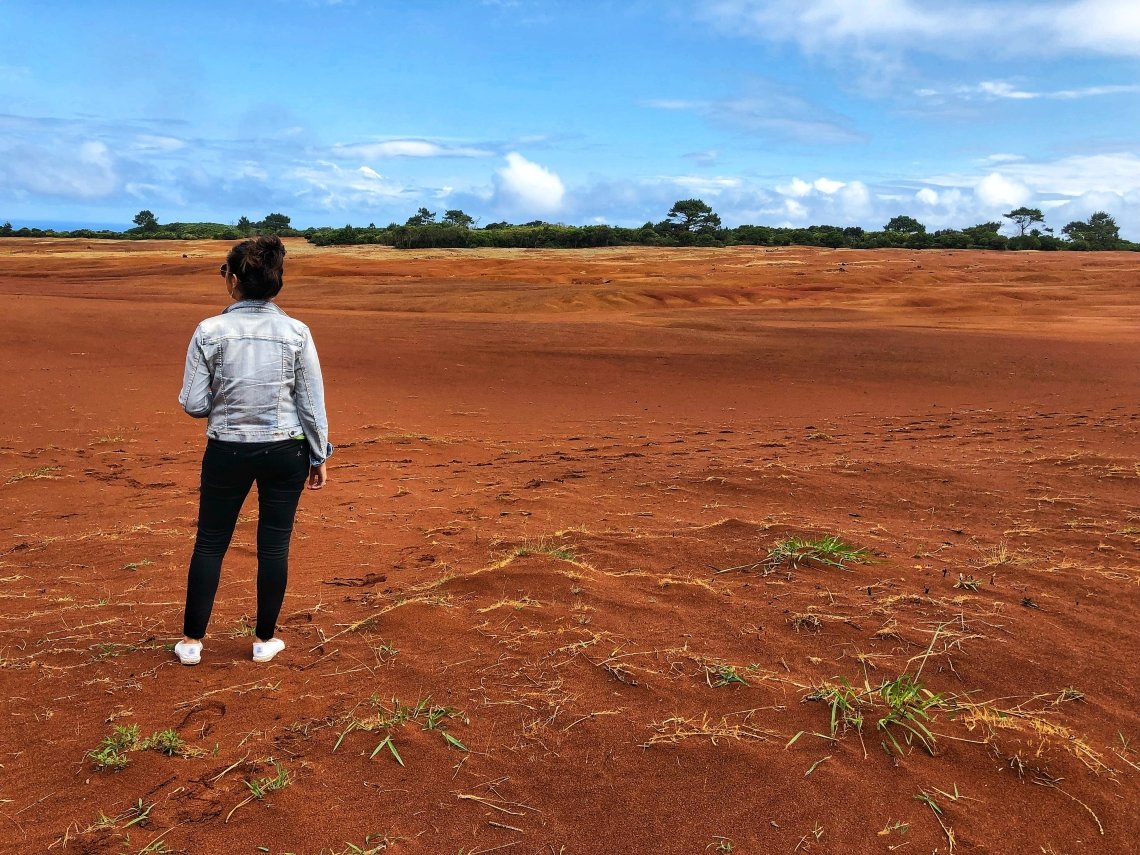 Designated the "Red Desert of the Azores", the Protected Landscape Area of the Barreiro da Faneca is a fascinating sight and a unique piece of geological history. The reddish clay was formed by lava flows, volcanic ashes, and 3 to 4 million years' worth of warm, humid weather -- a rare and beautiful natural landscape.
PICO ISLAND
7. Pico Mountain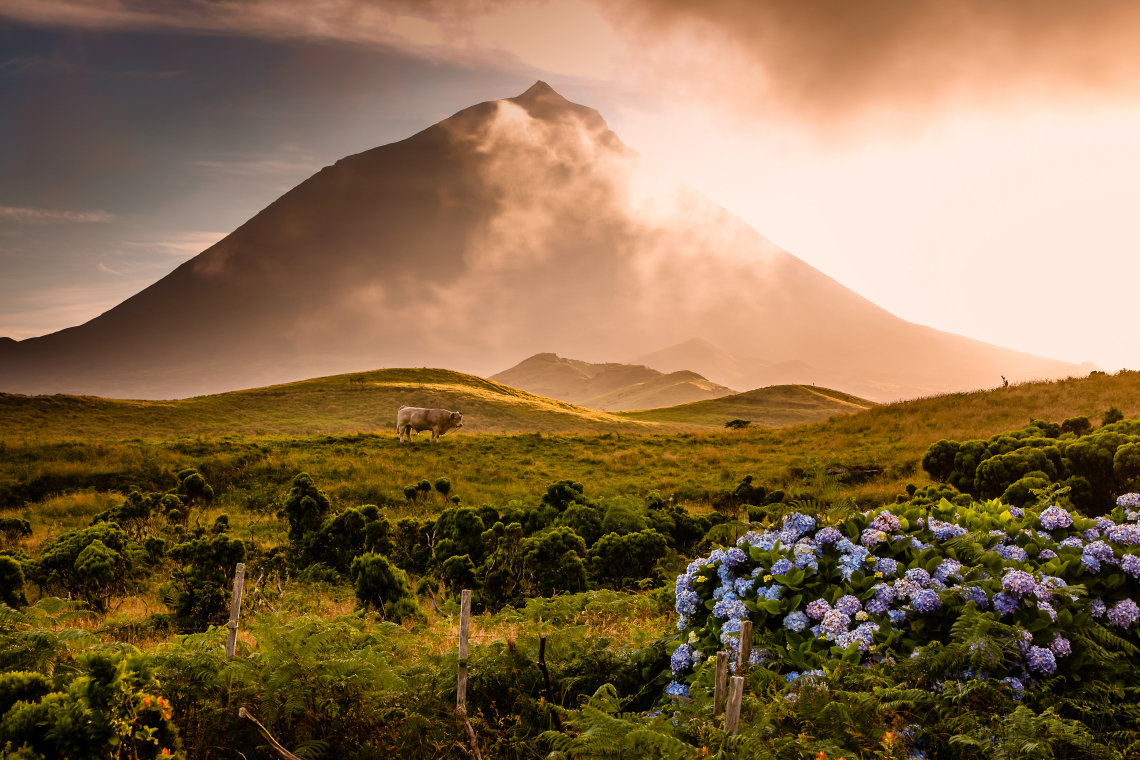 Standing tall at 2,351 m (7,713 ft), Mount Pico looms taller than any other peak in the Azores and is in fact the highest point in all of Portugal. You don't need to hike this impressive mountain to appreciate her beauty, though it is one of the most popular hiking attractions in Europe; Mount Pico can be seen from nearly any spot on Pico Island, as well as nearby islands Faial and São Jorge, and on sunny days, she can even be seen from Terceira and Graciosa.
8. The Vineyards of Criação Velha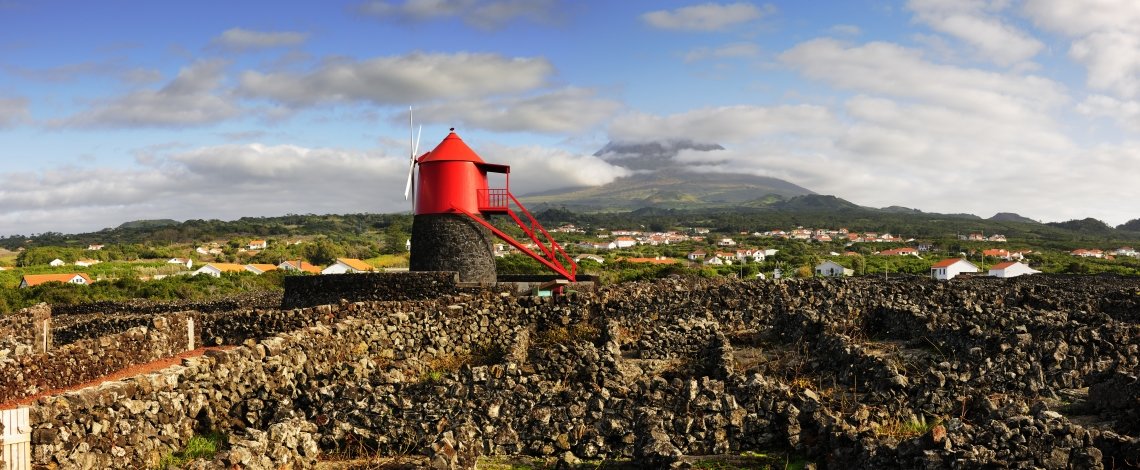 Early settlers began cultivating wine throughout the rocky shores of Pico Island as far back as 1450. Wines were exported through merchants on neighboring Faial Island, allowing the industry to grow and flourish. The vines grow from the mineral-rich lava soil and rock, which absorbs and gives off the heat needed to ripen the grapes. Vintners adapted to the harsh landscape by lining their vineyards with basalt stones to protect the grapes from the fierce winds and salty ocean air. The small plots of land lined with volcanic stones are known as "currais" and these landscapes are protected and classified as a World Heritage Site by UNESCO. Pico's vineyards grow mainly Arinto, Terrantez, and Verdelho grapes to produce a variety of white, sparkling, sweet, red, rosé and forified wines which you can try on one of the island's many wine and vineyard tours around Pico.
SÃO JORGE ISLAND
9. Fajãs of São Jorge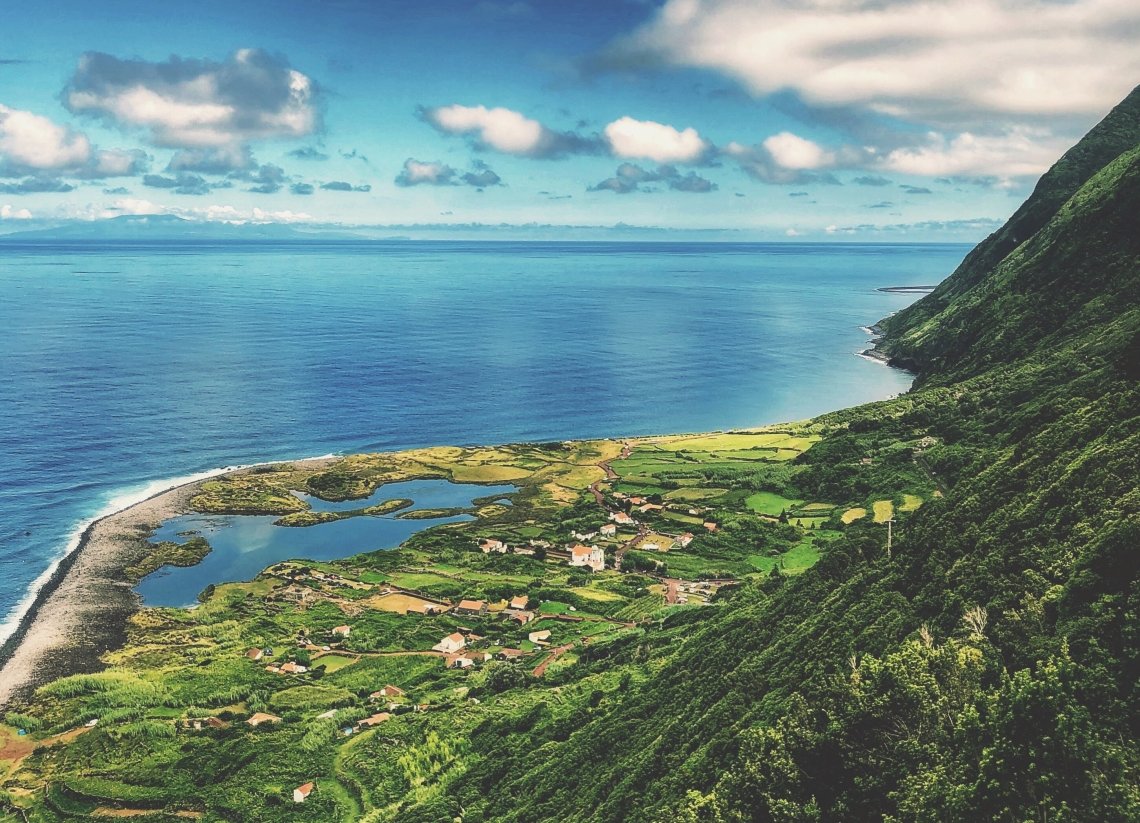 São Jorge is known for its beautiful "fajãs" and coastal views. A fajã is a permanent debris field constructed from landslides or lava flows and there are more than 40 on this island alone. Many can only be accessed through foot trails or by ATVs, but even if you can't make the trek, they are worth admiring from one of the many viewpoints overlooking them all around the island. From the Fajã da Caldeira do Santo Cristo, the most famous because of its delicious local clams, to the Fajã dos Cubres, with its sparkling lagoon, and the Fajã do Ouvidor with its natural ocean pools, you can plan your trip to São Jorge around a fajã itinerary alone!
10. Islets of São Jorge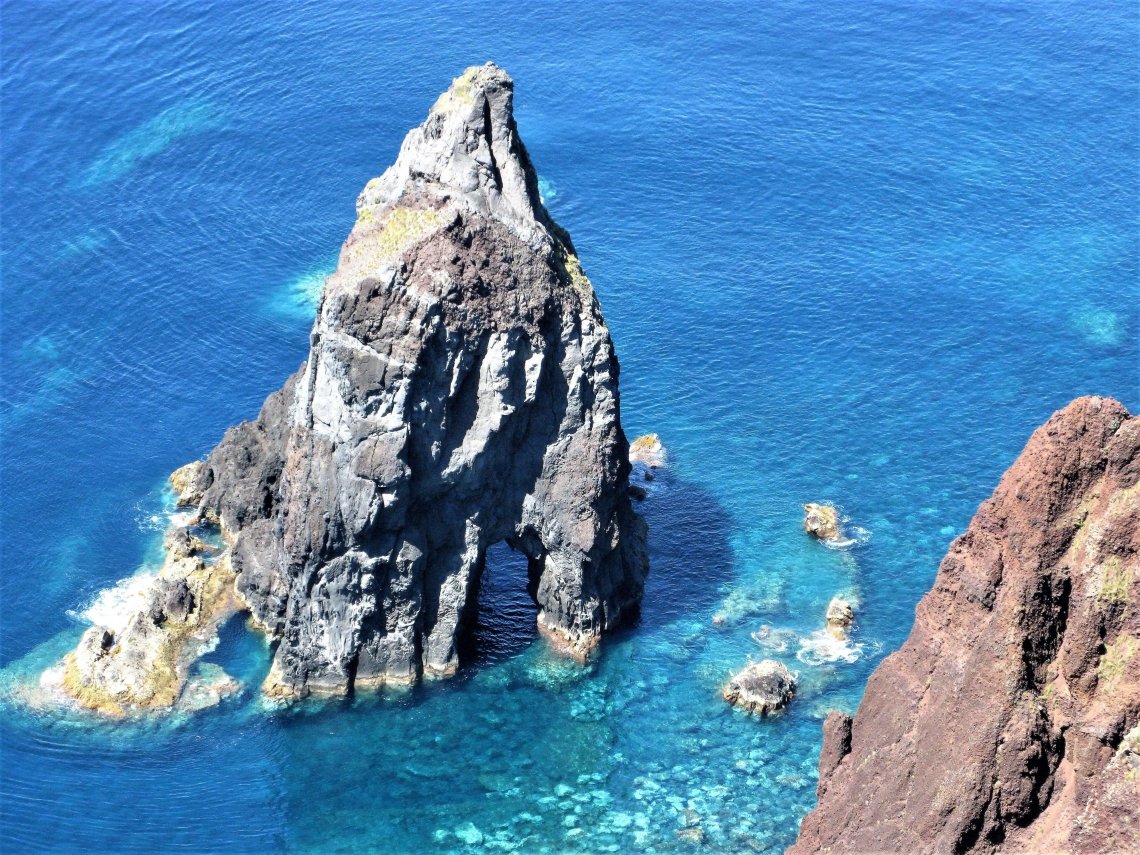 A visit to São Jorge would not be complete without taking some time to admire the beautiful islets off the island's coast. Ponta dos Rosais is a nature reserve and natural monument that stretches from the coastal cliffs of Pico dos Cutelos on the southern coast to northern cliffs and pasturelands of Chã do Areeiro. This beautiful point also has several islets dotting the coast, and is an excellent spot for diving or boat tours. Head to the eastern tip of the island to observe the Islet of Topo, another nature reserve that is a nesting ground for many seabirds and home to some endemic flora of the Azores.
TERCEIRA ISLAND
11. Serra do Cume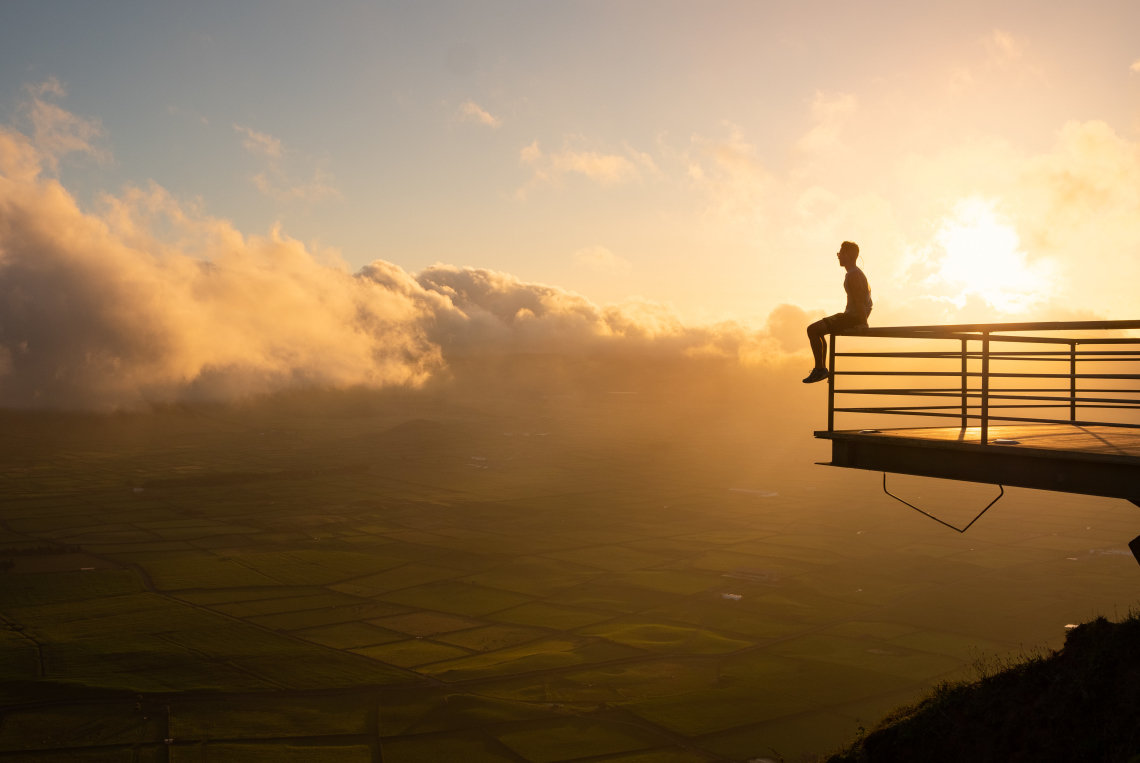 One of the most popular attractions on Terceira Island, the spectacular Serra do Cume is actually the result of a volcanic eruption. This flat "patchwork" plain was once a volcanic crater, and is now a large stretch of vibrant green pasture land divided by basalt rock walls. At its highest point, Serra do Cume rises to 545 m (1,788 ft) in height, allowing for wide, panoramic observation and excellent visibility. From one of its faces you can see the city of Praia da Vitória and its bay, and Lajes Air Base. On the other, the view is of the immense plain and its vegetation, beyond the natural stone walls.
12. Algar do Carvão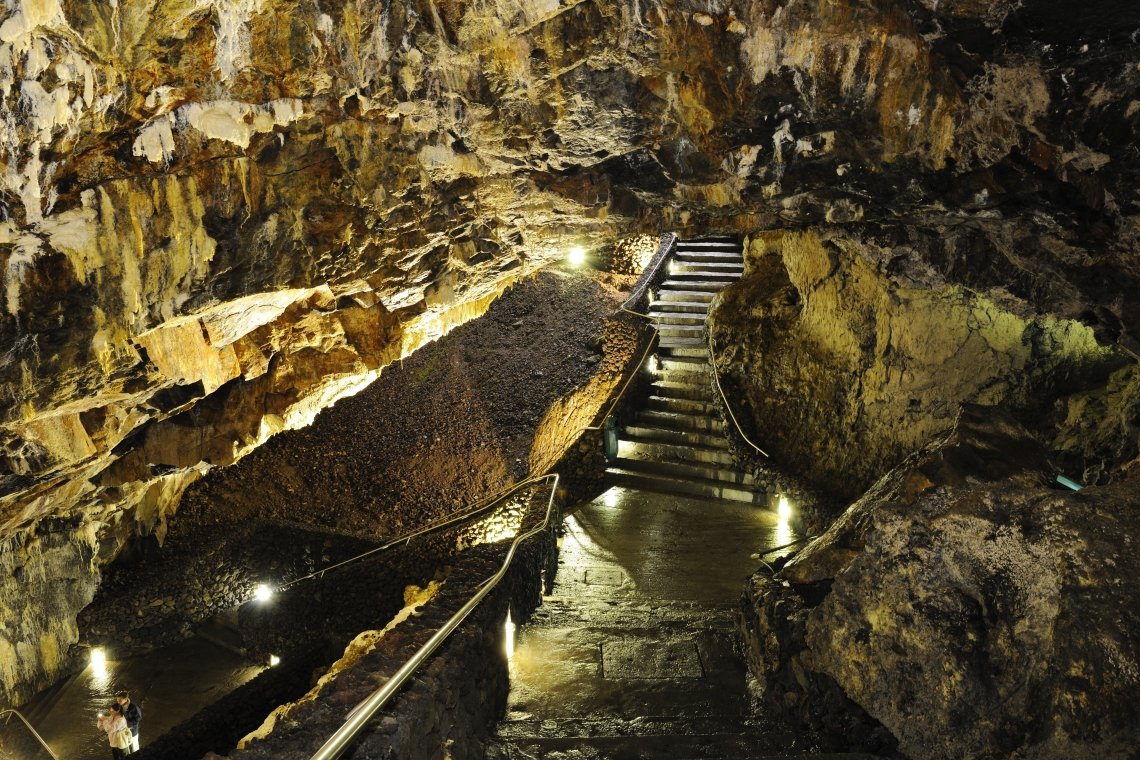 Descend 90 m (300 ft) down into one of the only volcanoes in the world you can enter and explore! Algar do Carvão is an ancient lava tube and volcanic chimney formed approximately 3,200 years ago and it is quite the sight to behold. This popular spot is a natural reserve with limited visiting hours, so be sure to plan ahead and put it at the top of your list.
FAIAL ISLAND
13. Capelinhos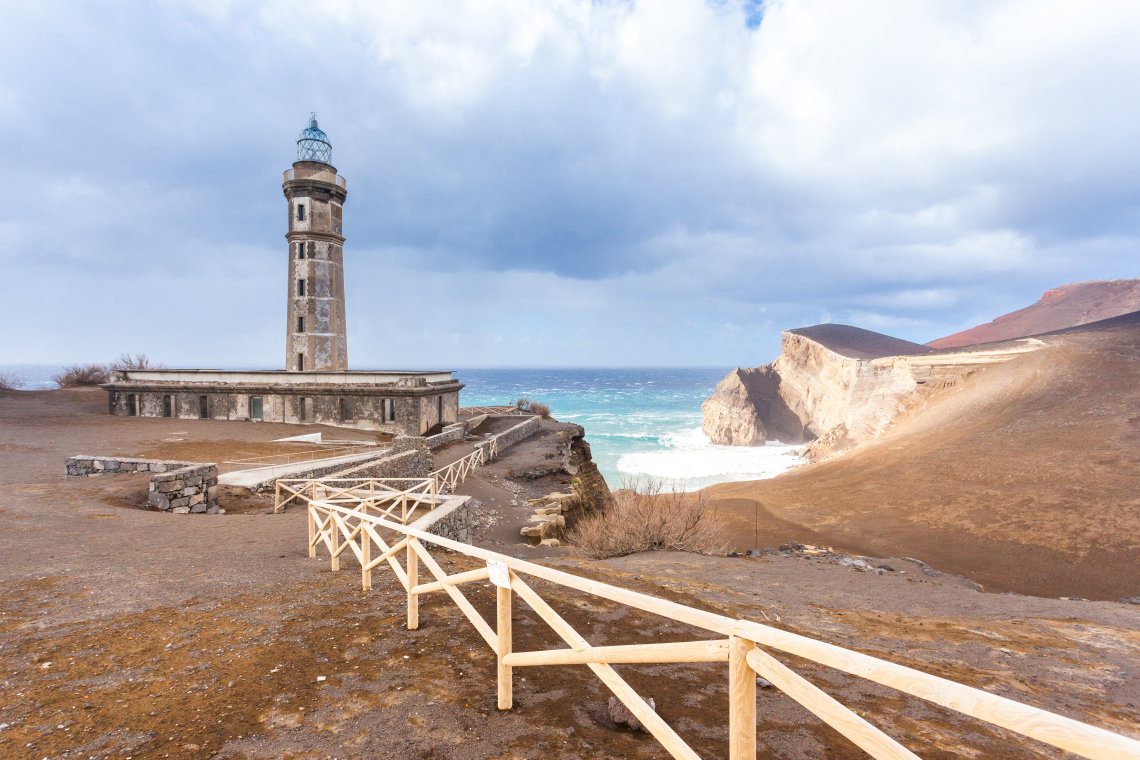 Capelinhos Volcano is located on the western cape of Faial Island, and it is the site of the Azores' most recent volcanic eruption which occured from September 1957 - October 1958. This volcanic eruption started underwater, eventually boiling to the surface. The volcano spewed enough ash, sand and lava to form a new land mass, almost completely burying the nearby lighthouse. Now its lighthouse and underground Visitors Center serve as a popular landmark, and in fact, the Visitors Center was constructed underground so it wouldn't interfere with the stunning volcanic landscape that evokes the feeling of being on Mars. It's full of amazing expositions focused not only on the Capelinhos eruption, but also on volcanic activity in the Azores and beyond.
14. Porto Pim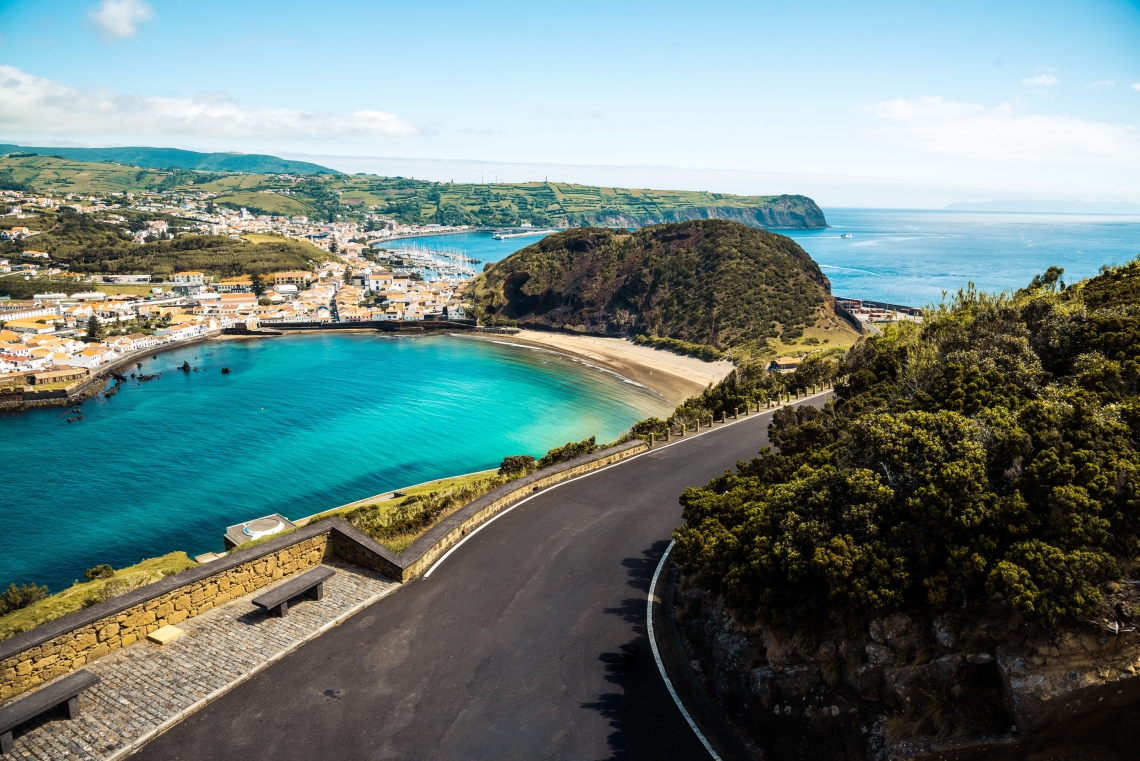 Porto Pim Bay in Horta is home to one of the most frequented and desirable bathing areas of Faial Island. The landscape of this beach of fine sand and calm blue waters is complemented by the imposing volcanic cone of Monte da Guia. A former whaling area, Porto Pim Bay is still of historical importance as it was where Faial's first inhabitants settled on the island.
15. Caldeira

The Caldeira do Faial Nature Reserve is a sanctuary of rare, endemic flora of the Azores. It is a 400 m (1,312 ft) deep crater resulting from the eruption of the largest volcano on the island. Enjoy this view from the viewpoint of Caldeira do Faial, or head out on one of the trails that wind around this impressive landscape for a different perspective.
GRACIOSA ISLAND
16. Furna do Enxofre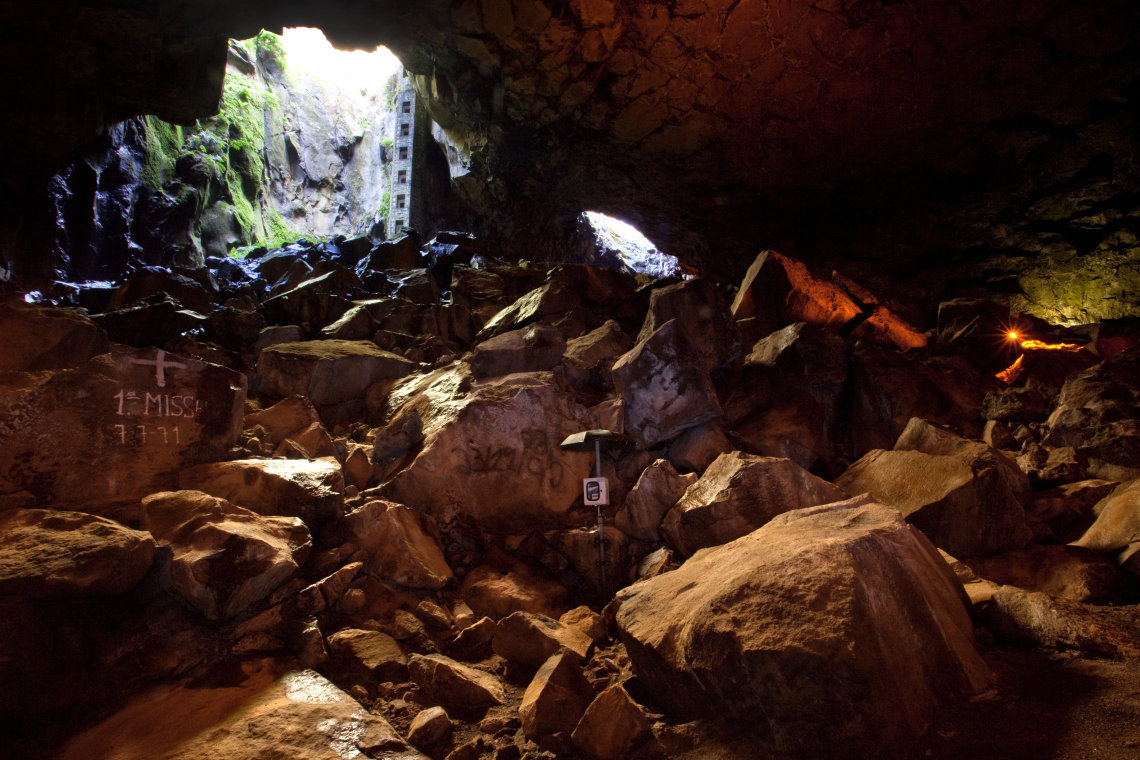 On Graciosa Island, get ready to experience a lava cave of unique beauty. Furna do Enxofre's main feature is its impressive perfectly vaulted ceiling. Before entering the cave, you will walk through a mystical 200 m (656 ft) tunnel and then a 183-step staircase leads you further down on a descent into the Earth. The play of light inside Furna do Enxofre makes this natural setting a complete visual spectacle while allowing you to clearly observe the fascinating details of volcanic activity up close.
FLORES ISLAND
17. Poço das Alagoinhas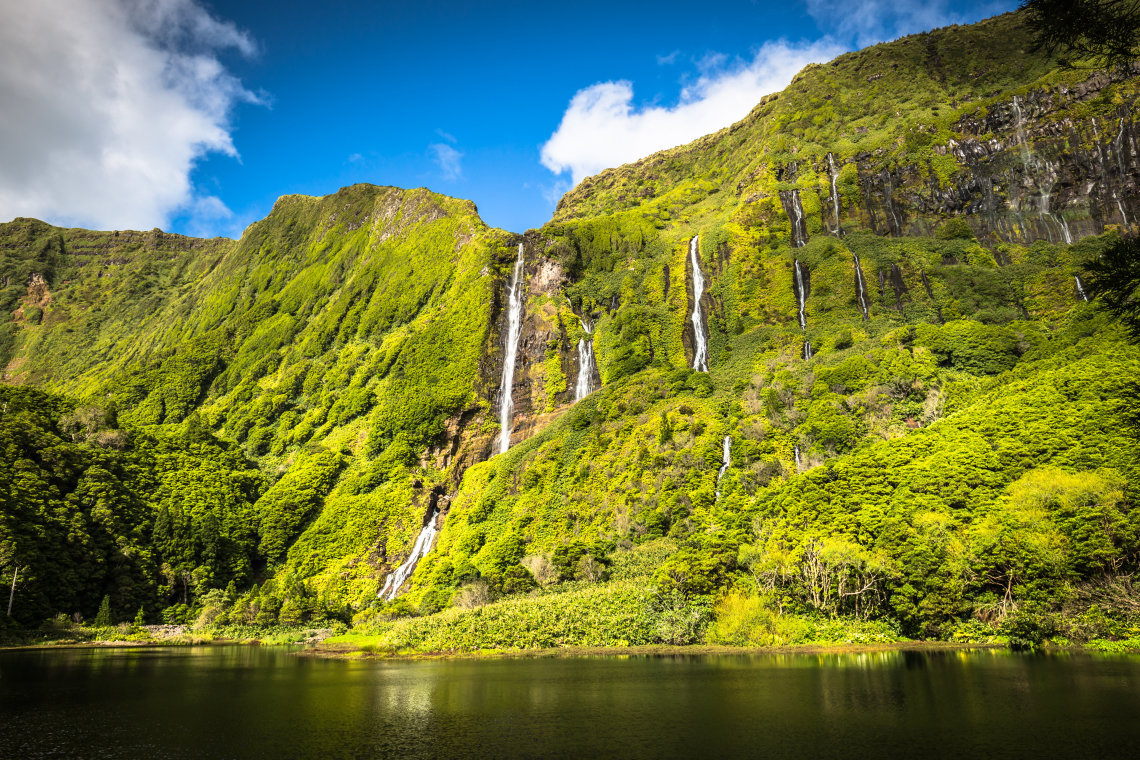 Although Flores Island got its name from the immense stretches of flowers that blanketed the island when settlers first arrived, the main show-stopping attraction of the island is actually its many waterfalls. Poço das Alagoinhas, which is also known as Poço da Ribeira do Ferreiro, is an unbelievable cliffside with 20 waterfalls cascading through lush vegetation, down into a lake that perfectly mirrors this breathtaking view. Poço das Alagoinhas is only accessible by hiking trail, which makes it an even more special and untouched place where the only thing you hear is the rush of running water falling and the birds singing (and maybe a few frogs!)
18. Poço do Bacalhau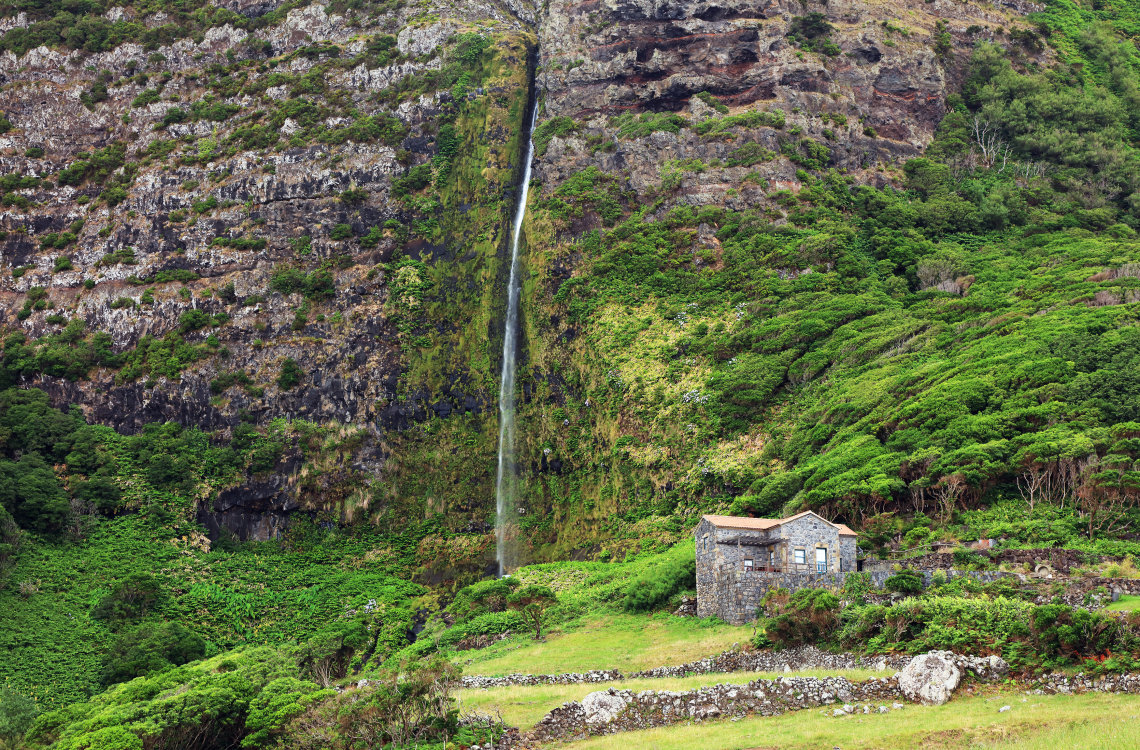 In Fajã Grande, you will find Poço do Bacalhau with its powerful waterfall that rushes down from a height of 90 m (295 ft). At its mouth, you'll find a small lagoon where the bravest dare to take a refreshing bath. Just next door to this waterfall you'll find many charming traditional homes dotted with cows and goats grazing, creating an idyllic storybook setting.
19. Sete Lagoas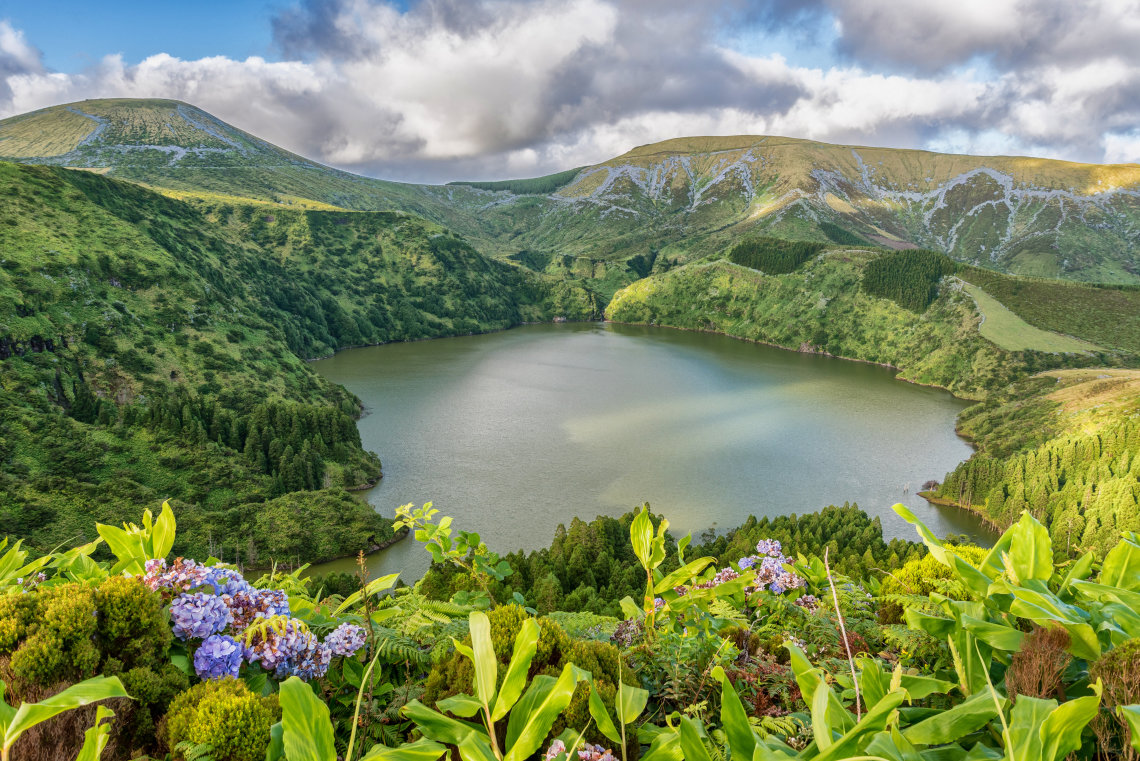 A tour through Flores would not be complete without a visit to each of its seven lagoons. The viewpoint of Lagoa Negra & Lagoa Comprida promises to be one of your favorite places on the whole island, but the lagoons of Rasa and Funda, Lagoa da Lomba, and the Branca and Seca lagoons are not far behind.
20. Rocha dos Bordões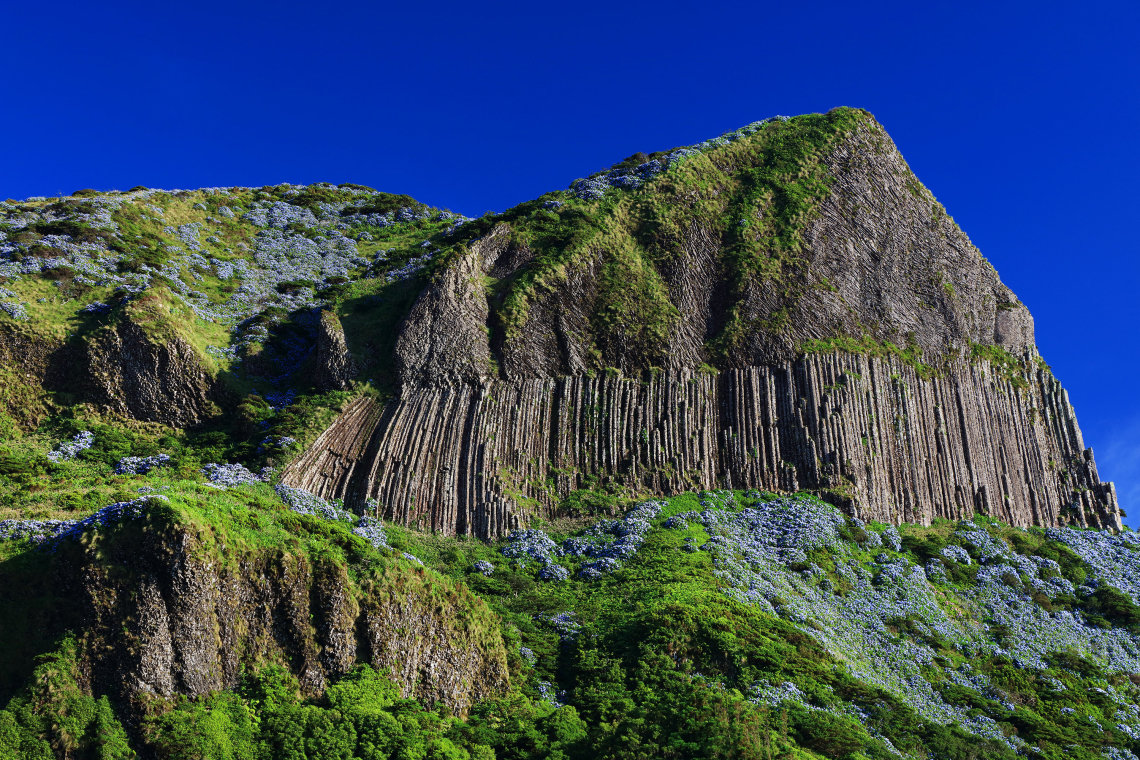 From waterfalls and lagoons to impressive geological formations, Flores is an island full of natural surprises and beauty around every corner. Located in the village of Mosteiro, Rocha dos Bordões is a 570,000-year-old geological monument with vertical columns of about 20 meters. The magic of the place increases tenfold when the hydrangeas bloom in the warm seasons and fill the landscape.
21. Alagoa Islets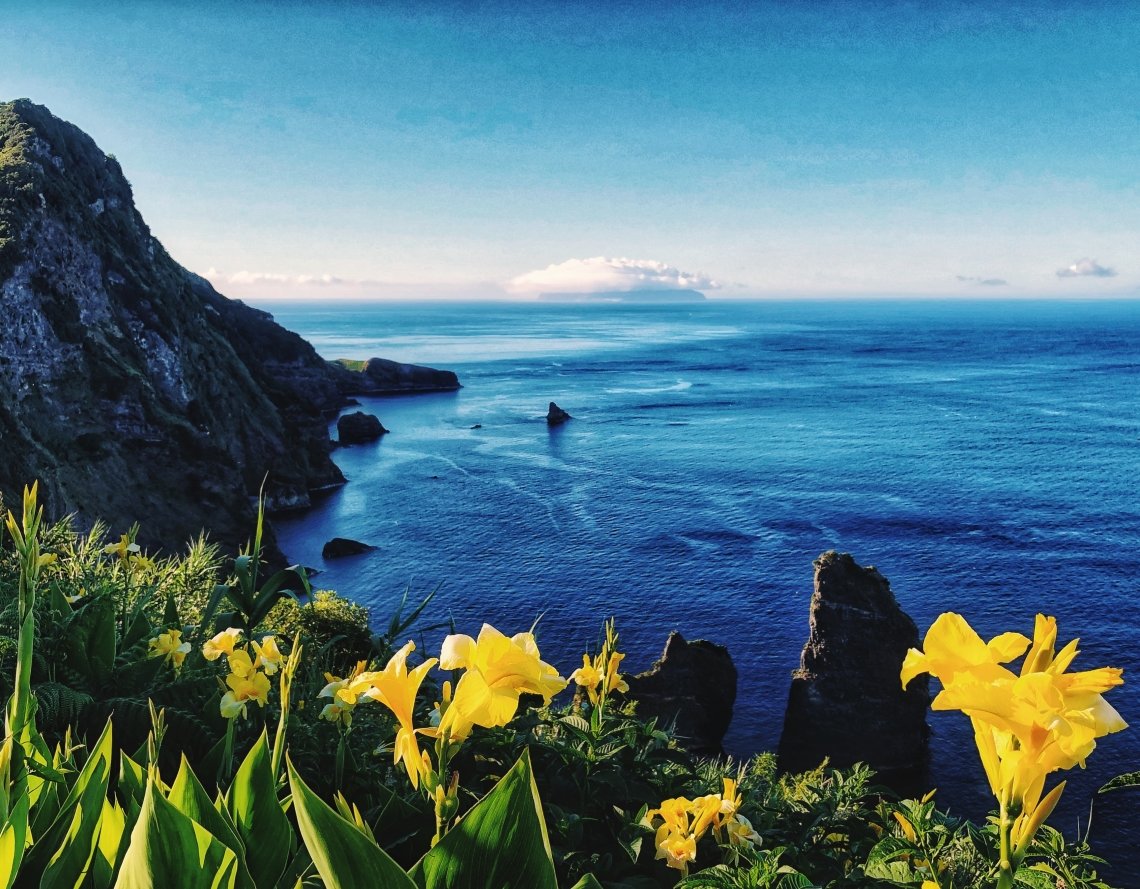 Flores Island is also unique in its coastal formations and cliffs, perfect for scuba diving, canyoning or even to be admired by boat tour. The Nature Reserve of Alagoa Bay is comprised of several islets jutting up from the crystal clear waters of the Atlantic. Flores is an island full of character and its sea coast is home to as many islets including Ilhéu do Garajau, Ilhéu do Pão de Açúcar, Ilhéu de Monchique, Maria Vaz e do Cartários, among others you can discover on a coastal boat trip.
CORVO ISLAND
22. Caldeirão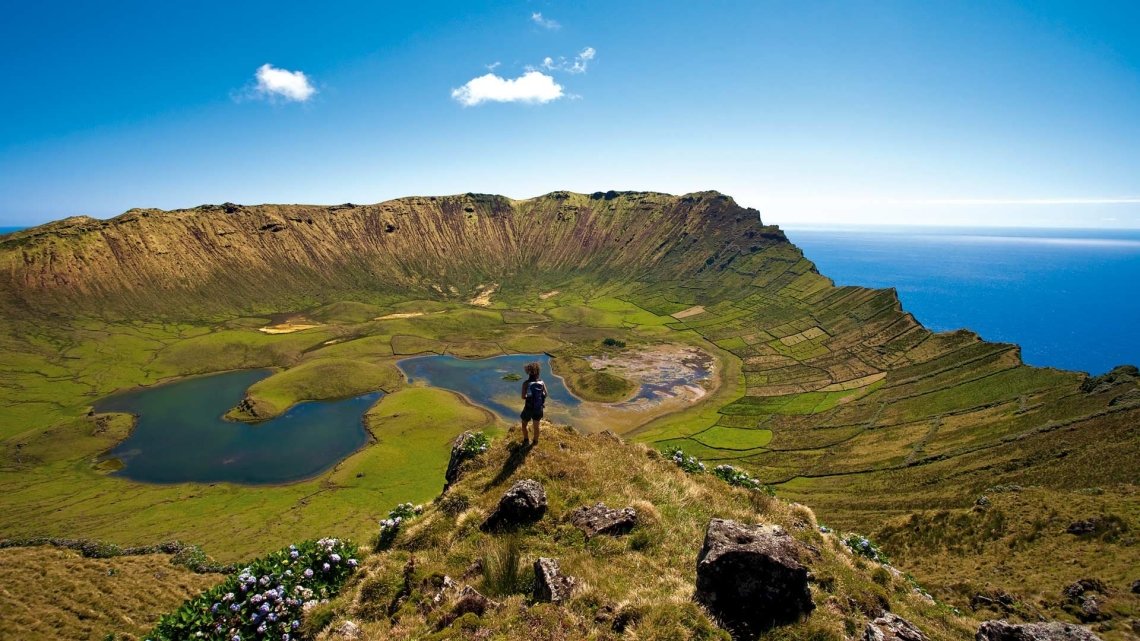 One of the Azores most beautiful natural landscapes can be found on the smallest and most remote island of Corvo. The island's only paved road leads to the breathtaking Caldeirão, a crater that resulted from the island's single volcano of origin. Boasting an impressive 3.7 km (2.3 mi) circumference and 300 m (985 ft) depth, this gigantic crater can be reached by spectacular hiking trails or from the viewpoint above. The crater also has two lakes with a few tiny islets, which locals like to say represent the islands of the archipelago.