Start planning your Azores' hiking adventure
The Azores are a world-class destination for adrenaline seekers and nature lovers alike, and the best way to truly discover all the hidden gems around the islands is by hiking. Whether you book an Azores' hiking tour with a knowledgeable local guide or hit the trails on your own, the Azores have more than 60 hiking trails with all the conditions for walking safely.
Venture out and explore lush forests and ravines, wave hello to friendly cows as you walk across the green patchwork countryside, admire the reflection of the beautiful lakes and lagoons as you hike around volcanic landscapes, and appreciate the salty sea breeze as you pass through UNESCO protected vineyards on your way down to the coast -- everything in a single Azores' hiking experience.
The Azores islands have an excellent network of trails that allow you to explore their most beautiful and unspoiled places on foot. Hike on green and wild paths, discover waterfalls, and take spectacular photographs of stunning landscapes, all of this while breathing the fresh, clean air of the Azores.
The unique volcanic origins of the Azores islands created the ideal natural setting for stunning and vibrant scenery. No matter which island you choose, be it from the Western, Central or Eastern Groups, you'll always be surrounded by some of the world's most beautiful landscapes, as well as the vast blue ocean.
The Azores' hiking trails are divided into three levels of difficulty - easy, medium and hard – and are classified by the Regional Government of the Azores to ensure the safety for walkers of various ages and levels of fitness. All the trails on the islands are clearly marked with trail signs to help keep you on track during your trekking adventures. Due to the mild year-round temperatures of the Azores, hikers can enjoy hitting the trails in any season. If you're planning your trip for the winter, you'll be treated to rushing waterfalls, fuller streams and lakes, and lusher greens. Coming in the spring and summer means you'll be around to see the flowers of the Azores in full bloom. Just be sure to check the weather conditions before you go so you can pack everything you'll need! With stunning verdant landscapes, exotic plants, dormant volcanoes, mesmerizing lakes and amazing views, the beautiful Azores' hiking trails will surely dazzle even the most seasoned hikers.
Our favorite Azores hiking per Azores Island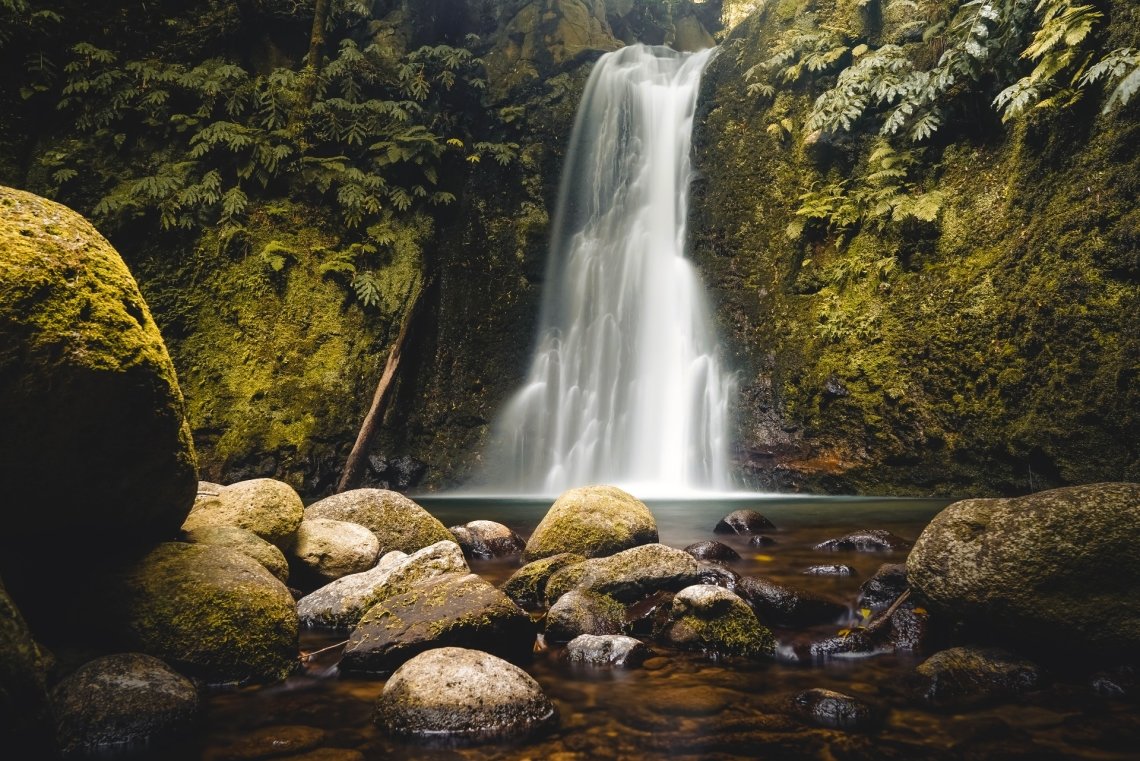 1. The Azores' hiking of Sanguinho in São Miguel Island
One of São Miguel Island's best hiking trails is the Sanguinho one in Faial da Terra - one of the island's most remote and unpopulated places. Faial da Terra is an almost abandoned little magic village that hides one of the Azores' biggest nature gems. Along the course of the trail you'll have the opportunity to appreciate the simplicity of the old village houses and the fruit orchards.
The reward of the trail is the majestic Salto do Prego spring with its crystal waterfall. This scenario seems like it's taken out of a movie like Avatar: the water is cleaner than a crystal and the surrounding nature is so unbelievable green; even the more common stones are more beautiful than usual! Take a break as you prepare to return to the trail initial point and recharge energies and breath fresh air like you've never done before. The bravest usually take a dive without thinking in the cold little lake and refresh their bodies and minds.
Azores' hiking information:
Category - Circular;

Difficulty - Medium;

Extension

-

4.5 km

(2mi 1401);

Time average - 2h00.
2. The Azores' hiking of Santo Espírito - Maia in Santa Maria Island
One of Santa Maria's best hiking trails is the ''Santo Espírito - Maia'' and it ends in one of the most visited places in the all island - Maia's bay. As you walk you'll have the opportunity to appreciate traditional aspects of the Azorean life such as the vineyards separated by little rock walls built artisanally by the locals. From these vineyards they still produce a type of wine - ''Vinho de Cheiro'' that it's prohibited to consume and to sell in the European Union.
The trail starts to get more interesting as you'll be able to see the coastline details of Maia's bay in this non-volcanic island. The sea water is so clear that you immediately will want to dive in but even from the top it is so clean you can actually see the underwater rock details by far. The reward of the trail is the Aveiro Waterfall, a fantastic 65ft tall (20 metres) waterfall. In Areeiro little lake lives a couple of duck families introduced there by the locals. They're said to be friendly very probably because they live in such a beautiful place!
Azores' hiking information:
Category - Linear;

Difficulty - Easy;

Time average - 2h00.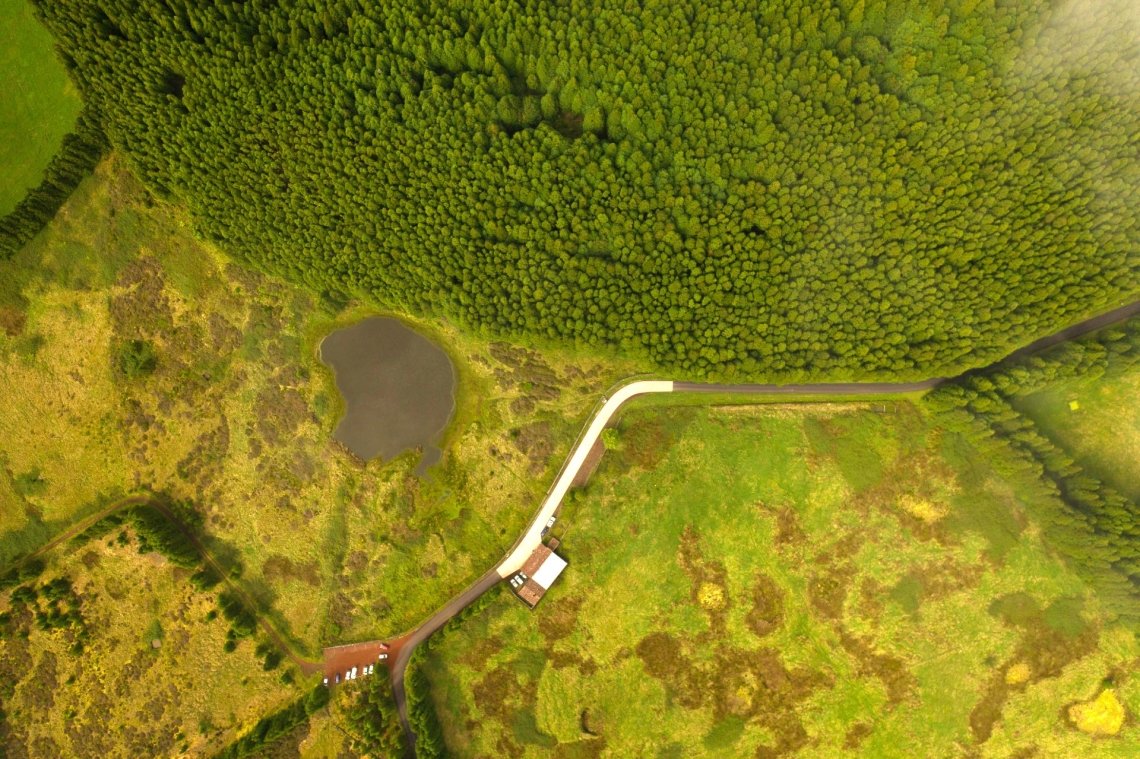 3. The Azores' hiking of Mistérios Negros in Terceira Island
The Mistérios Negros hiking trail in Terceira Island is a discovering experience of secrets lakes that otherwise you wouldn't notice- and you don't want to miss a thing in the Azores! Your hiking adventure begins on the island area where volcanic activity is more recent - nearby Lagoa do Negro - and among lakes and green views you'll appreciate the wild black and white cows that happily live in green fields all groomed by the locals pastors. Let's not forget that in Terceira Island one of the best things to do is just appreciate the large green fields touching the horizon with its different tones contrasting the deep blue ocean.
Fresh air walks side by side with you along the trail path and it is good to breath it in! Fresh air, fresh air! However, you may feel more difficulties in the last part of the hike as you climb Pico do Gaspar, the highest point of ''Mistérios Negros'' at 6116ft (645 metres), where a lot of Azores endemic vegetation can still be found.
Azores hiking information:
Category - Circular;

Difficulty - Hard;

Time average - 2h30m.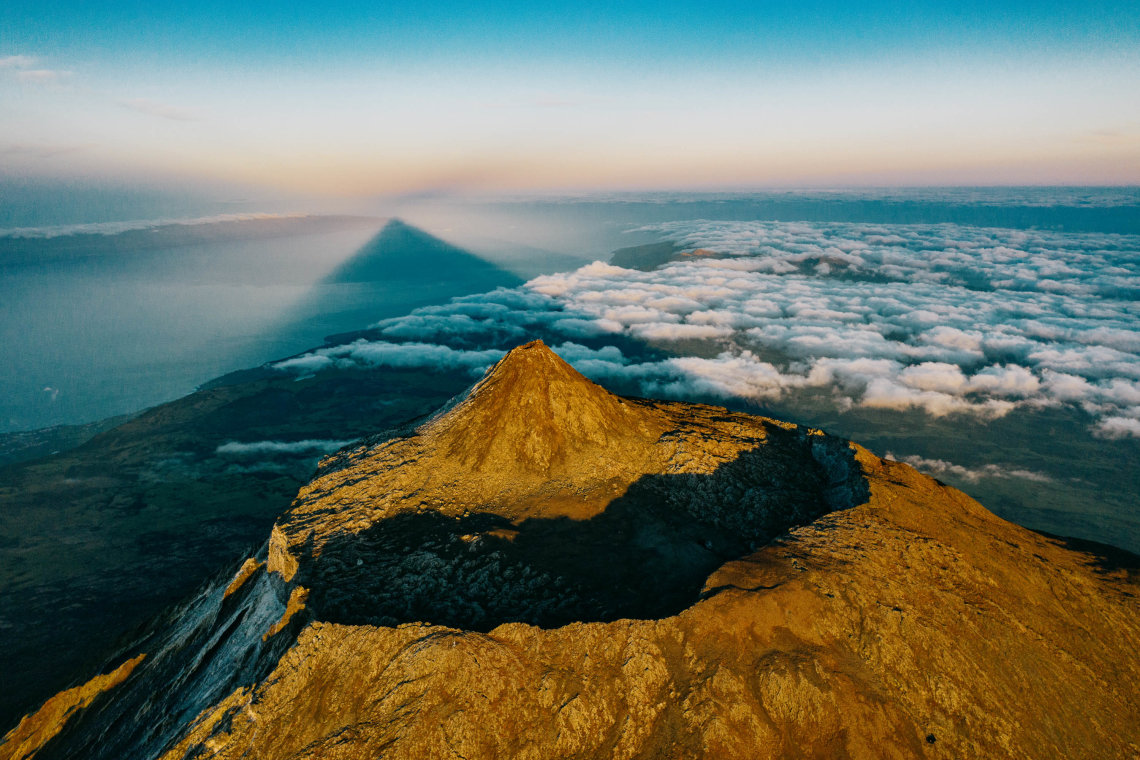 4. The Azores' hiking of Pico Mountain in Pico Island
Important note: it is highly recommended to climb Mount Pico with the help of a local guide due to the changing weather conditions. Click here to choose the best hiking tour for you.
Pico's mountain is Portugal's highest point with some huge 7713ft tall (2.351 metres). It sure stands out in the middle of everything and is a piece of extreme beauty to the eyes marking Pico's and neighbor islands view.
To climb Pico's mountain is one the best radical experiences you can have in the Azores since it is the perfect hiking trail for those who seek adventure and emotion to the fullest. We're talking about Portugal's highest mountain so climbing it won't be just a physical challenge: a big psychological one too. As you go high in altitude struggles and obstacles start to appear and that's why you have to do it with a guide who can help you do your trekk in safety while encouraging you to push a bit harder. If weather is unpredictable on a regular altitude imagine how it is at such altitude. Only mountain guides know its secrets and where to hide and shelter in case things got rough.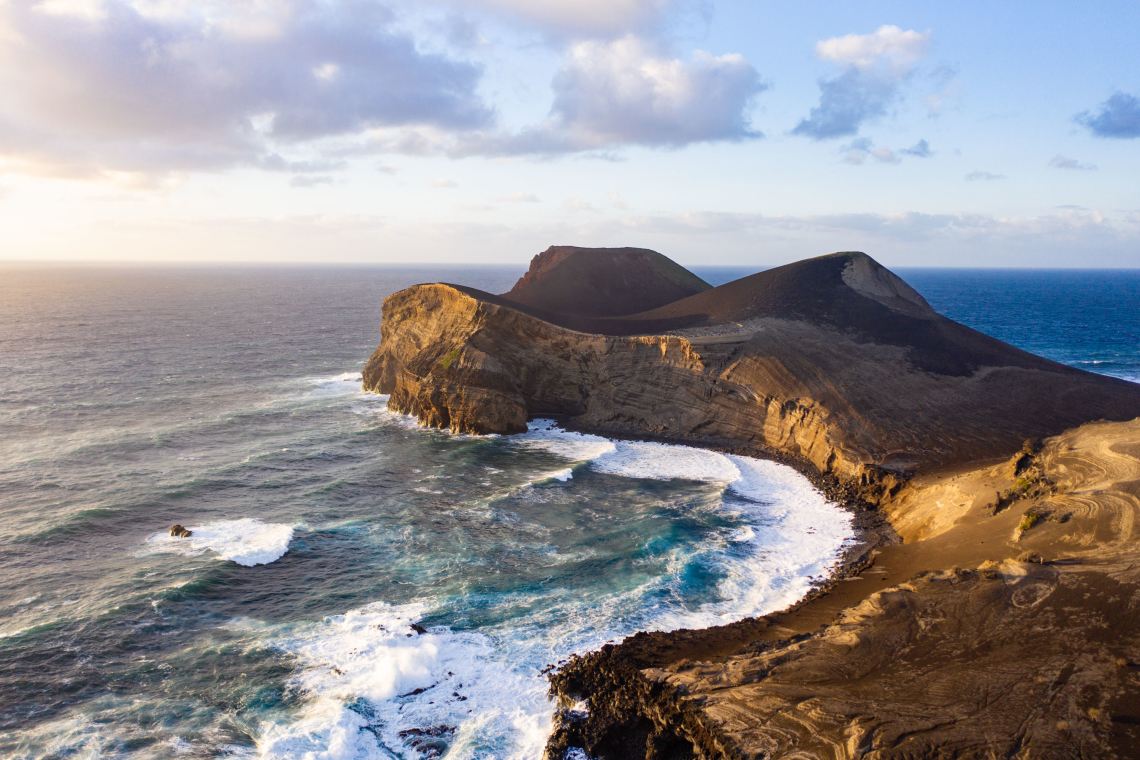 5. The Azores' hiking of 10 Volcanoes in Faial Island
Faial's Island most interesting hiking trail leads you to one of the coolest- if not the coolest- places in all of the Azores archipelago: Capelinhos volcano. The''10 Volcanoes'' trail starts in Caldeira do Faial Natural Reserve in an altitude of2953ft (900 metres), so you may consider to do this hike on clear sky days unless you find a shortcut and start the trail in any other lower altitude point. It ends next to Capelinhos Volcano Interpretive Center which visit is highly recommendable if you're interested in understanding the natural disaster here.
Capelinhos volcano erupted in 1957 and tragically changed the life of Faial's population back then. Capelinhos volcanic activity lasted a long period of 13 months and left behind a lot of geological vestiges that can be found by trekking among the ash paths of this trail.
Trail information:
Category - Linear;

Difficulty - Hard;

Time average - 5h.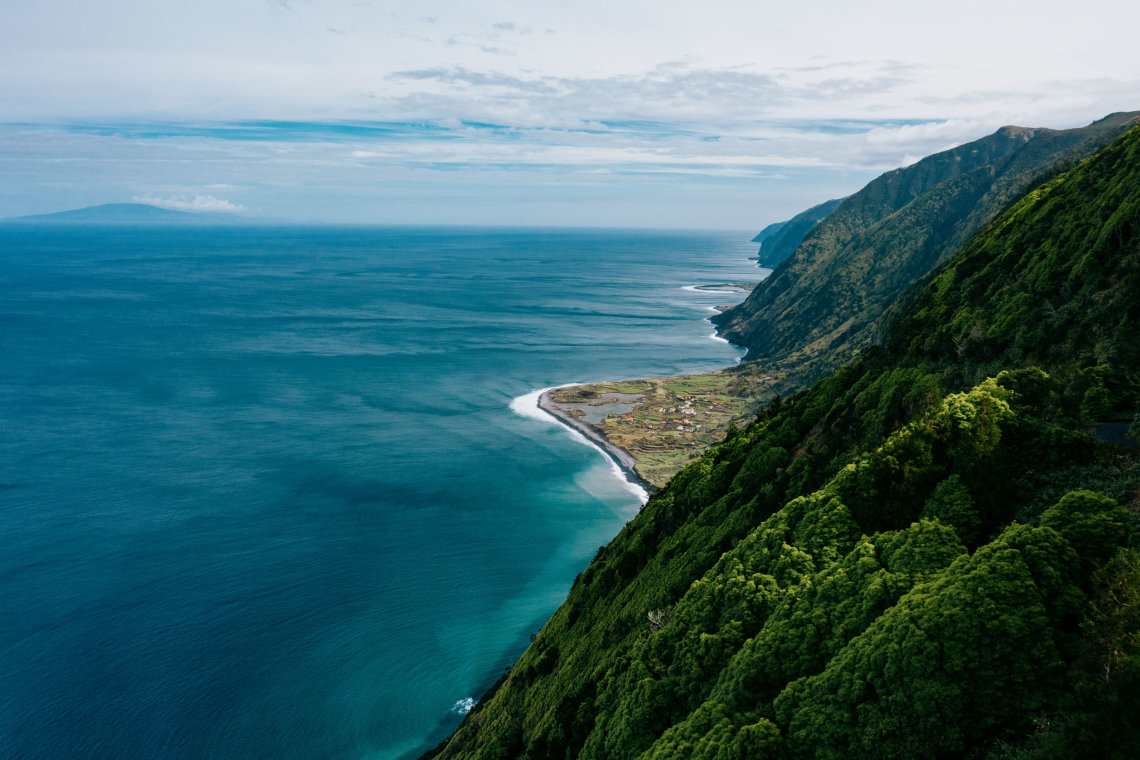 6. The Azores' hiking of Caldeira do Santo Cristo - Fajã dos Cubres in São Jorge Island
Fajã da Caldeira do Santo Cristo Santo Cristo is one of the Azorean nature's best artwork and it's the main attraction of this hike in São Jorge Island. A ''fajã'' is a plan territory formed next to the sea by sediments fallen from the coastline behind it, but Fajã do Santo Cristo is very special due to the green sea lagoon formed down there. The waves crash into it and makes it one of the best spots in the island for surf, windsurf and bodyboard.
The only way to get to know this little green paradise is really through this trail. Getting down the coastline may not be an easy job so you better go accompanied with a tourist guide just to guarantee everything goes on with safety. Don't forget that if you do go down you still have to go up by foot because cars are not accessible to the majority of São Jorge fajãs.
The starting point is the Eolic Station parking lot at Serra do Topo and the decline adventure starts in a dirt road covered with hydrangeas from both sides in the end of Summer; 3 kilometres after you arrive to Caldeira do Santo Cristo viewpoint where you finally start to get an idea of what awaits you down there- even from a long distance it looks beautiful. Once you get to the fajã you'll be speechless with what you see: how can coexist in perfect harmony a quiet lake and such a wavy sea? Fajã da Caldeira do Santo Cristo is a surprising beauty. It's sparse population welcomes every hiker with a smile and lives there very proudly knowing that place is a Natural Reserve so special for them and for the ones who visit it.
Azores hiking information:
Category - Linear;
Difficulty - Medium;
Extension - 9.5 km (5 mi 1589);
Time average - 2h30m.
7. The Azores' hiking of Volta à Caldeira - Furna do Enxofre in Graciosa Island
Graciosa Island - where those sweet addictive cupcakes are made - has a hiking trail that takes you literally inside an old volcano. Gruta do Enxofre is considered unique both to Volcanology and Speciology due to its perfectly vaulted ceiling. A volcano created that perfection! Once you get to Gruta you'll pass by a 200 metres mystic tunnel that will take you to the Visitors Center. As you start to walk down the 183 steps of stairs you're always one step closer to getting to the Earth's interior- and it is so magical! The lighting game set inside the cave is very appropriate as it lets you see clearly the volcanic wall details and provides a complete visual show.
Azores hiking information:
Category - Circular;

Difficulty - Easy;

Time average - 3h.
8. The Azores' hiking of Miradouro das Lagoas – Poço do Bacalhau in Flores Island
The Poço do Bacalhau hiking trail in Flores Island is one of hikers favorite as it is a 3 in 1 experience allowing you to discover 3 of the island main attractions with only one hike: starts in Negra and Comprida lakes viewpoint, has panoramic views over Fajã Grande and ends with a huge 90 metres high (295 ft tall) waterfall.
Negra and Comprida lakes viewpoint is one of the best Flores spots for artistic photos as the day lighting starts to disappear and just by crossing the street you'll find Lagoa Seca which translation is ''dry lake''. Once you'll start getting down to Fajã Grande be careful with the slippery stairs and once there just turn right and you'll find the powerful Poço do Bacalhau waterfall. From the dark rocks covered with green vegetation falls this huge waterfall where the majority of hikers enjoy a cool refreshing bath after a long walk. Poço do Bacalhau is one of the most charismatic attractions in an island with such a peculiar personality as Flores.
Azores hiking information:
Category - Linear;

Difficulty - Hard;

Extension

-

7.3 km

(4mi 943yd);

Time average - 3h00.
9. The Azores' hiking of Caldeirão in Corvo Island, Azores
This Azores' hiking trail of Corvo Island allows you to discover by foot and up close one of the most iconic landscapes in the whole Azores archipelago. Start your Azores hiking adventure on the Caldeirao viewpoint and then descend down to the crater and let yourself be dazzled by such magnificent scenery. At a certain point of this Azores' hiking trail you'll find this big stone from where you get a panoramic view over the whole Caldeirão - and where you can have an amazing photo-op in nature.

Azores hiking information:
Category - Circular;

Difficulty - Medium;

Extension

-

4.8 km

(2mi 1729);

Time average - 2h30m.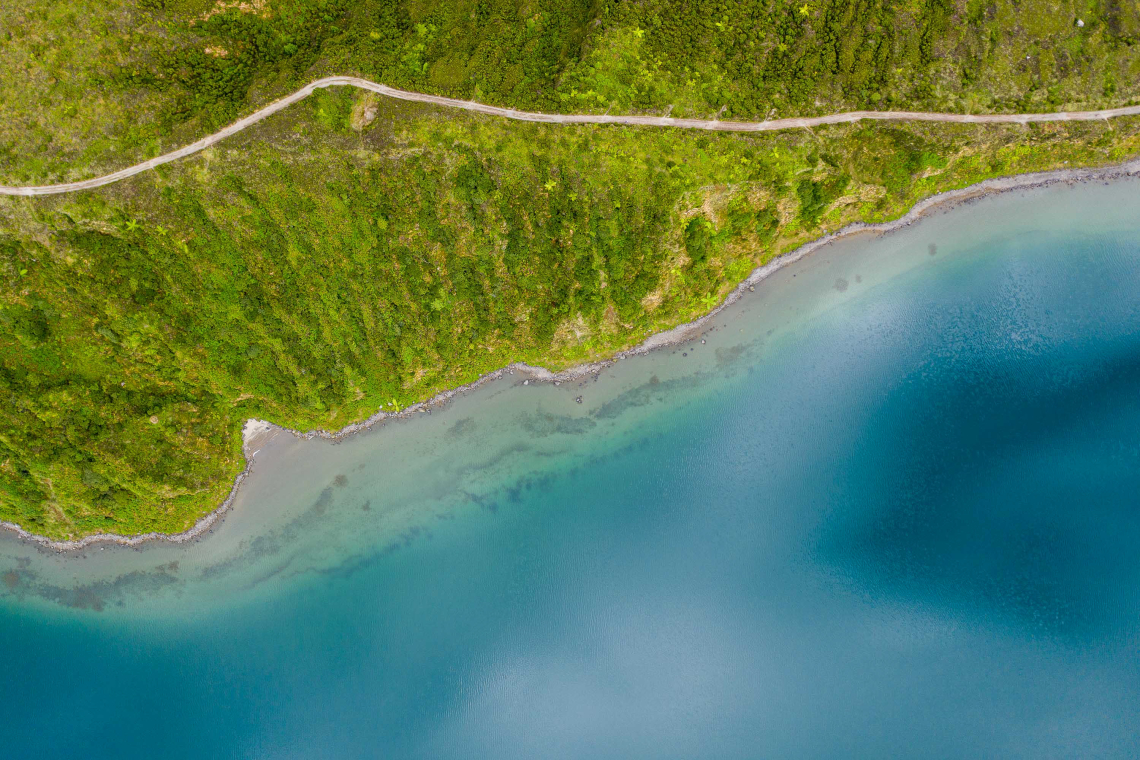 What to pack for your Azores' hiking adventure
An Azores' hiking is a unique experience for itself and the most important thing to wear is an adventurous spirit. Here's what to pack for your Azores' hiking adventure:
Comfortable clothes, impermeable coat and hiking boots;

Backpack with water and snacks;

Hiking stick;

Sunscreen, sunglasses and hat;

Bathing clothes and towel (to dive in the crystal water waterfalls);

Camera.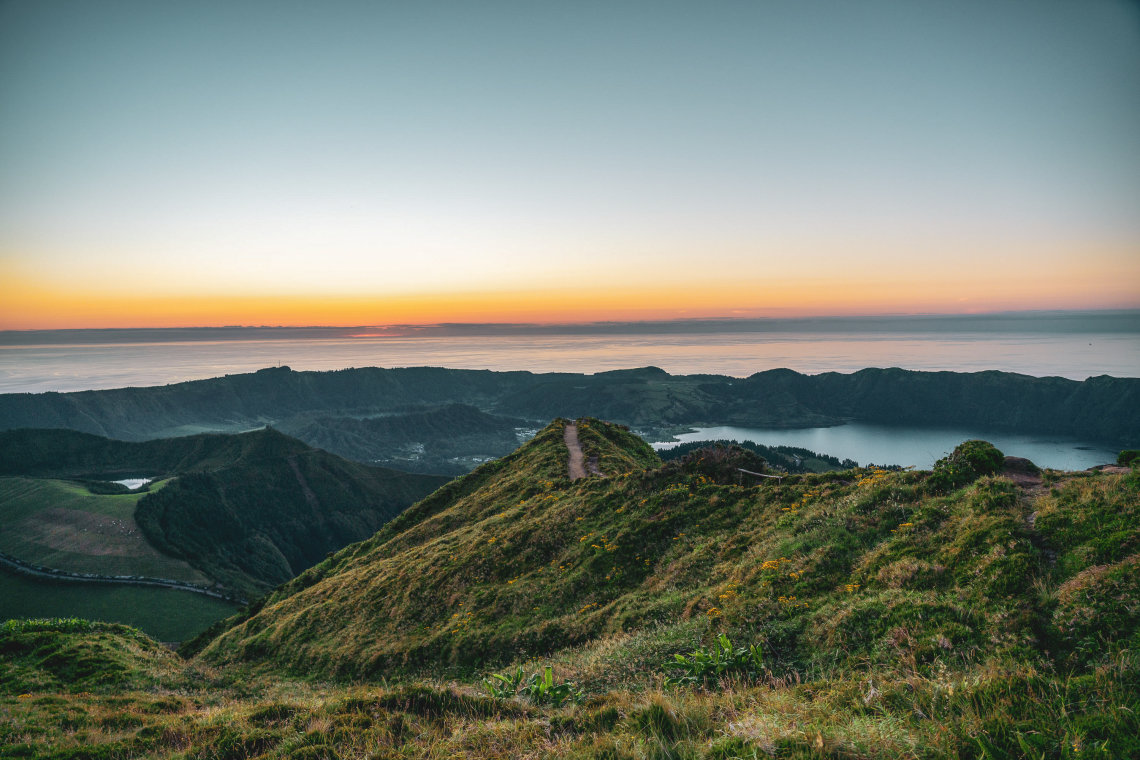 What to know before you go on your Azores' hiking adventure
Weather is really unpredictable in the Azores. We bet you already read about it in your research but that just makes the Azores an even more special destiny and increases the adventure that is to spend a day there. Before you go on your Azores' hiking adventure here's some things you should know to do it safely:
High altitude trails should only be done in clear sky days; if the day is very foggy you should choose instead a low altitude trail for your own safety;

You should always notify someone of the trail you're about to hike in case you do it without a guide. Warn your hotel receptionist and you'll have someone to alert the authorities if you take too long, get lost or injured. Keep your phone localization on in case you need to be tracked;

Respect the trail signs and download its digital sheets;

Note down the emergency contacts before you go.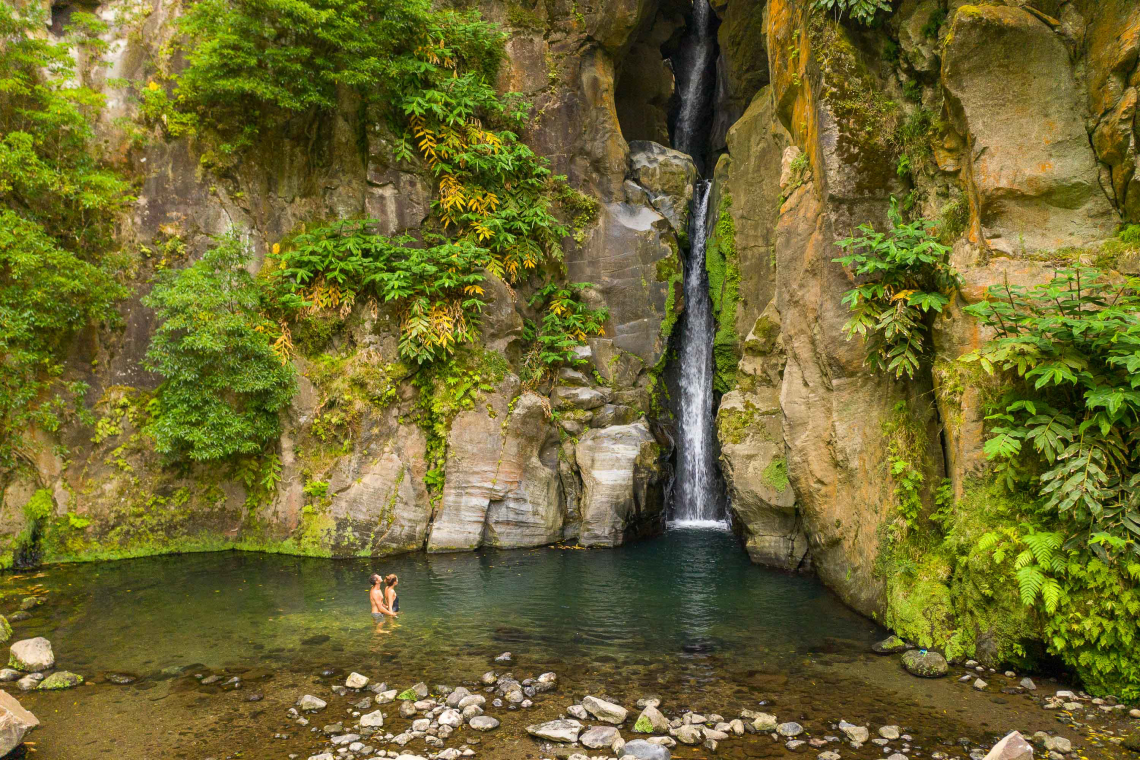 Best time of the year to go on an Azores' hiking adventure
Any time of the year is great for an Azores' hiking adventure. With 4 seasons in a day you can start the trail in Winter and by the end of it it's Summer time. Just be careful and make sure you check the weather and floor conditions because some paths can be very muddy and slippery in Winter and Autumn so you should be extra careful during that time.
Winter, Spring, Summer or Autumn, the Azores' hiking trails have everything to conquer you. From volcanic craters to mysterious lagoons, to vineyards and historical cities or even to Portugal's highest mountain, the choice of where to hike is totally yours!