Arts & Family Activities: Paint a Tile in The Azores
Location: São Miguel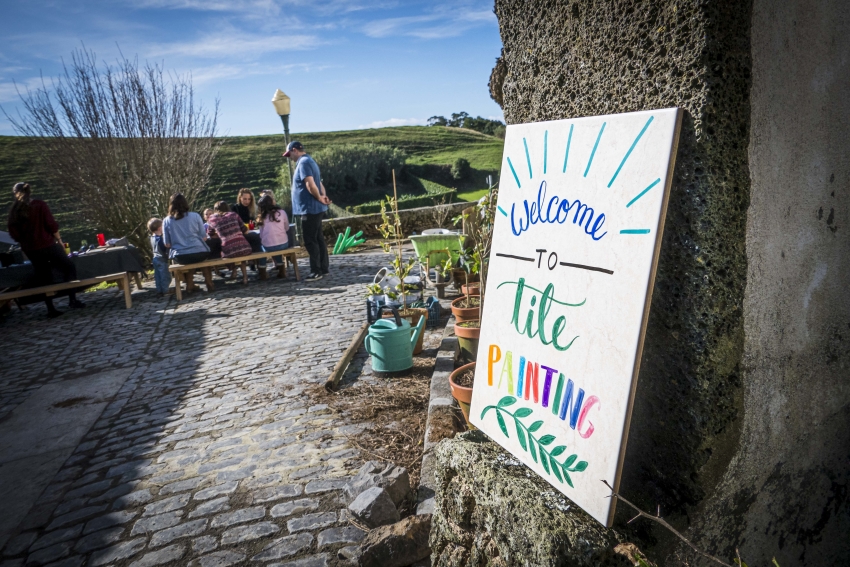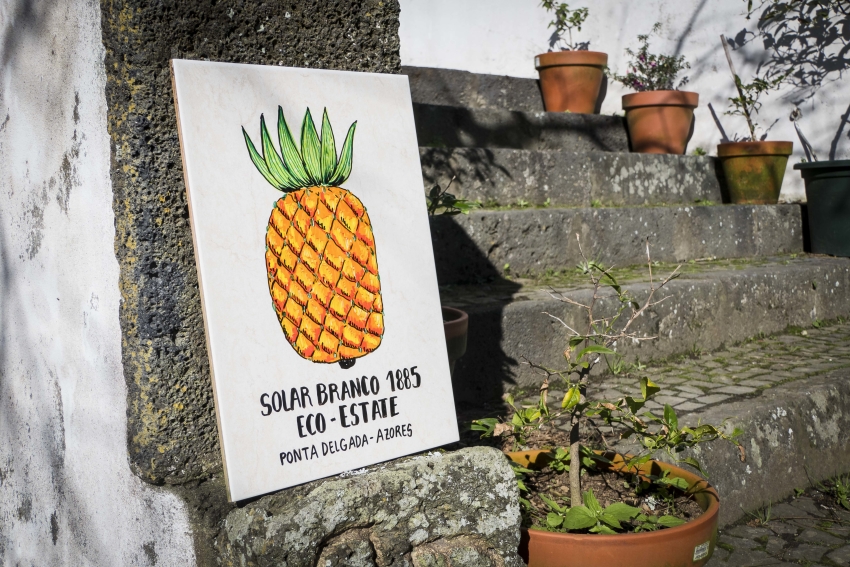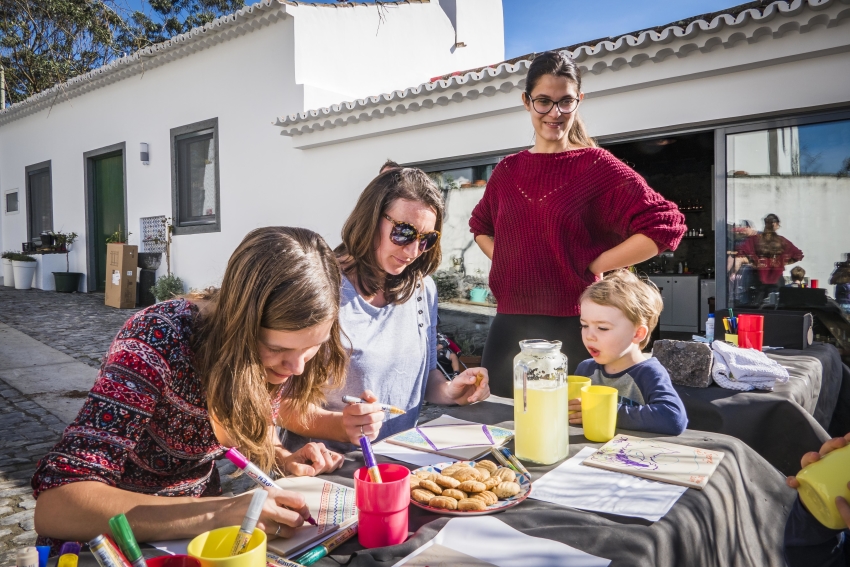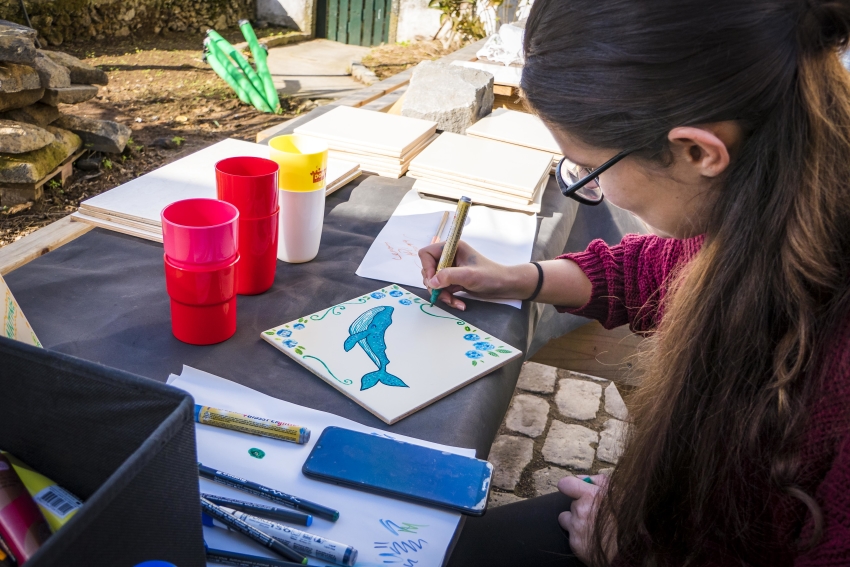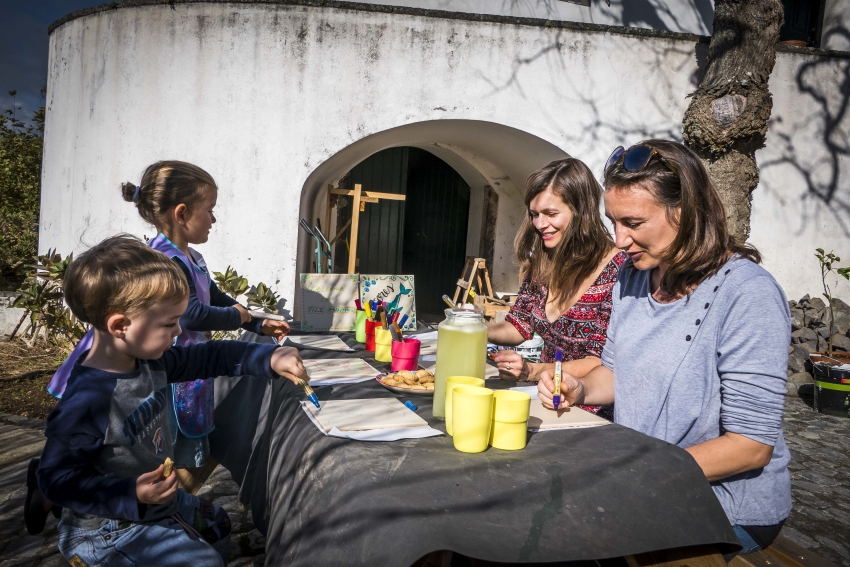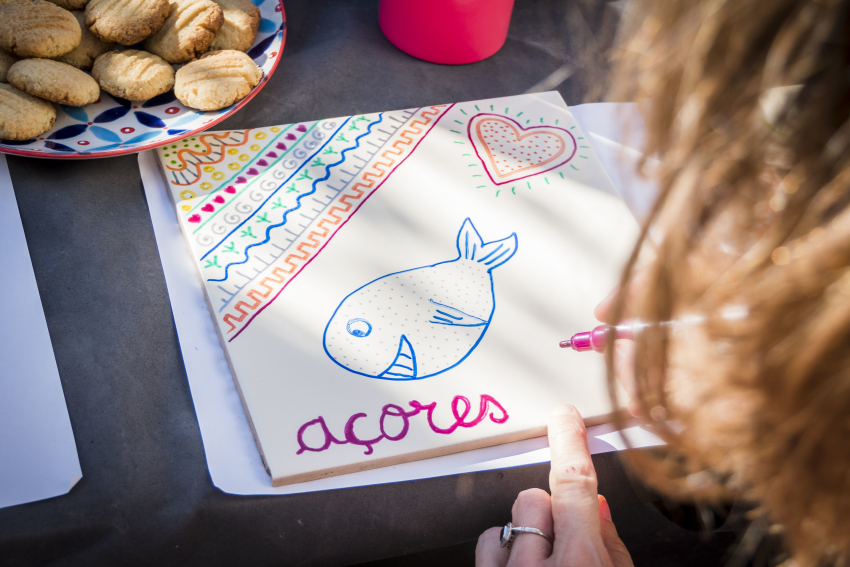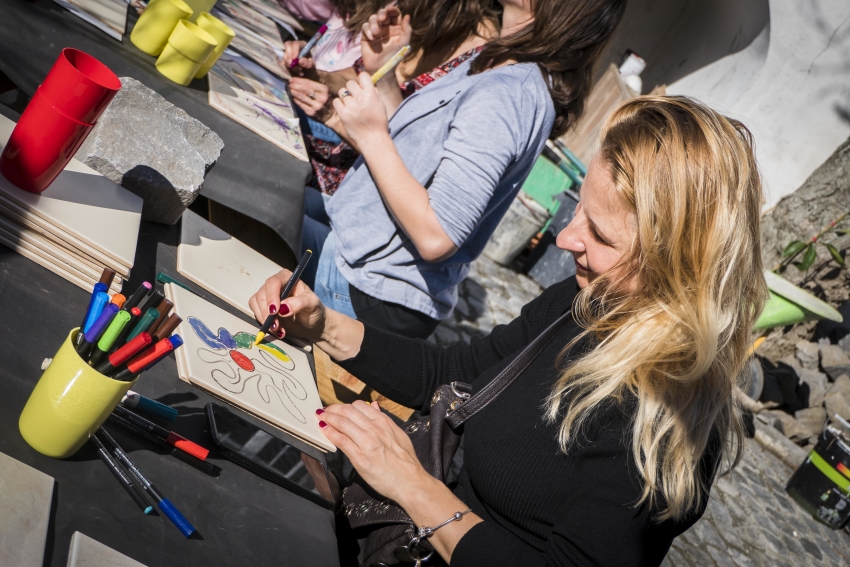 Choose your schedule
10:30 AM - 11:30 AM
$36.05
Choose your schedule
10:30 AM - 11:30 AM
$36.05
03:00 PM - 04:00 PM
$36.05
Choose your schedule
10:30 AM - 11:30 AM
$36.05
03:00 PM - 04:00 PM
$36.05
Choose your schedule
10:30 AM - 11:30 AM
$36.05
Choose your schedule
10:30 AM - 11:30 AM
$36.05
Choose your schedule
10:30 AM - 11:30 AM
$36.05
Choose your schedule
10:30 AM - 11:30 AM
$36.05
03:00 PM - 04:00 PM
$36.05
Choose your schedule
10:30 AM - 11:30 AM
$36.05
03:00 PM - 04:00 PM
$36.05
Choose your schedule
10:30 AM - 11:30 AM
$36.05
Choose your schedule
10:30 AM - 11:30 AM
$36.05
Choose your schedule
10:30 AM - 11:30 AM
$36.05
Choose your schedule
10:30 AM - 11:30 AM
$36.05
03:00 PM - 04:00 PM
$36.05
Choose your schedule
10:30 AM - 11:30 AM
$36.05
03:00 PM - 04:00 PM
$36.05
Choose your schedule
10:30 AM - 11:30 AM
$36.05
Choose your schedule
10:30 AM - 11:30 AM
$36.05
Choose your schedule
10:30 AM - 11:30 AM
$36.05
Choose your schedule
10:30 AM - 11:30 AM
$36.05
03:00 PM - 04:00 PM
$36.05
Choose your schedule
10:30 AM - 11:30 AM
$36.05
03:00 PM - 04:00 PM
$36.05
Choose your schedule
10:30 AM - 11:30 AM
$36.05
Choose your schedule
10:30 AM - 11:30 AM
$36.05
Choose your schedule
10:30 AM - 11:30 AM
$36.05
Choose your schedule
10:30 AM - 11:30 AM
$36.05
03:00 PM - 04:00 PM
$36.05
Choose your schedule
10:30 AM - 11:30 AM
$36.05
03:00 PM - 04:00 PM
$36.05
Choose your schedule
10:30 AM - 11:30 AM
$36.05
Choose your schedule
10:30 AM - 11:30 AM
$36.05
Choose your schedule
10:30 AM - 11:30 AM
$36.05
Choose your schedule
10:30 AM - 11:30 AM
$36.05
03:00 PM - 04:00 PM
$36.05
Choose your schedule
10:30 AM - 11:30 AM
$36.05
03:00 PM - 04:00 PM
$36.05
Choose your schedule
10:30 AM - 11:30 AM
$36.05
Choose your schedule
10:30 AM - 11:30 AM
$36.05
Choose your schedule
10:30 AM - 11:30 AM
$36.05
Choose your schedule
10:30 AM - 11:30 AM
$36.05
03:00 PM - 04:00 PM
$36.05
Choose your schedule
10:30 AM - 11:30 AM
$36.05
03:00 PM - 04:00 PM
$36.05
Choose your schedule
10:30 AM - 11:30 AM
$36.05
Choose your schedule
10:30 AM - 11:30 AM
$36.05
Choose your schedule
10:30 AM - 11:30 AM
$36.05
Choose your schedule
10:30 AM - 11:30 AM
$36.05
03:00 PM - 04:00 PM
$36.05
Choose your schedule
10:30 AM - 11:30 AM
$36.05
03:00 PM - 04:00 PM
$36.05
Choose your schedule
10:30 AM - 11:30 AM
$36.05
Choose your schedule
10:30 AM - 11:30 AM
$36.05
Choose your schedule
10:30 AM - 11:30 AM
$36.05
Choose your schedule
10:30 AM - 11:30 AM
$36.05
03:00 PM - 04:00 PM
$36.05
Choose your schedule
10:30 AM - 11:30 AM
$36.05
03:00 PM - 04:00 PM
$36.05
Choose your schedule
10:30 AM - 11:30 AM
$36.05
Choose your schedule
10:30 AM - 11:30 AM
$36.05
Choose your schedule
10:30 AM - 11:30 AM
$36.05
Choose your schedule
10:30 AM - 11:30 AM
$36.05
03:00 PM - 04:00 PM
$36.05
Choose your schedule
10:30 AM - 11:30 AM
$36.05
03:00 PM - 04:00 PM
$36.05
Choose your schedule
10:30 AM - 11:30 AM
$36.05
Choose your schedule
10:30 AM - 11:30 AM
$36.05
Choose your schedule
10:30 AM - 11:30 AM
$36.05
Choose your schedule
10:30 AM - 11:30 AM
$36.05
03:00 PM - 04:00 PM
$36.05
Choose your schedule
10:30 AM - 11:30 AM
$36.05
03:00 PM - 04:00 PM
$36.05
Choose your schedule
10:30 AM - 11:30 AM
$36.05
Choose your schedule
10:30 AM - 11:30 AM
$36.05
Choose your schedule
10:30 AM - 11:30 AM
$36.05
Choose your schedule
10:30 AM - 11:30 AM
$36.05
03:00 PM - 04:00 PM
$36.05
Choose your schedule
10:30 AM - 11:30 AM
$36.05
03:00 PM - 04:00 PM
$36.05
Choose your schedule
10:30 AM - 11:30 AM
$36.05
Choose your schedule
10:30 AM - 11:30 AM
$36.05
Choose your schedule
10:30 AM - 11:30 AM
$36.05
Choose your schedule
10:30 AM - 11:30 AM
$36.05
03:00 PM - 04:00 PM
$36.05
Choose your schedule
10:30 AM - 11:30 AM
$36.05
03:00 PM - 04:00 PM
$36.05
Choose your schedule
10:30 AM - 11:30 AM
$36.05
Choose your schedule
10:30 AM - 11:30 AM
$36.05
Choose your schedule
10:30 AM - 11:30 AM
$36.05
Choose your schedule
10:30 AM - 11:30 AM
$36.05
03:00 PM - 04:00 PM
$36.05
Choose your schedule
10:30 AM - 11:30 AM
$36.05
03:00 PM - 04:00 PM
$36.05
Choose your schedule
10:30 AM - 11:30 AM
$36.05
Choose your schedule
10:30 AM - 11:30 AM
$36.05
Choose your schedule
10:30 AM - 11:30 AM
$36.05
Choose your schedule
10:30 AM - 11:30 AM
$36.05
03:00 PM - 04:00 PM
$36.05
Choose your schedule
10:30 AM - 11:30 AM
$36.05
03:00 PM - 04:00 PM
$36.05
Choose your schedule
10:30 AM - 11:30 AM
$36.05
Choose your schedule
10:30 AM - 11:30 AM
$36.05
Choose your schedule
10:30 AM - 11:30 AM
$36.05
Choose your schedule
10:30 AM - 11:30 AM
$36.05
03:00 PM - 04:00 PM
$36.05
Choose your schedule
10:30 AM - 11:30 AM
$36.05
03:00 PM - 04:00 PM
$36.05
Choose your schedule
10:30 AM - 11:30 AM
$36.05
Choose your schedule
10:30 AM - 11:30 AM
$36.05
Choose your schedule
10:30 AM - 11:30 AM
$36.05
Choose your schedule
10:30 AM - 11:30 AM
$36.05
03:00 PM - 04:00 PM
$36.05
Choose your schedule
10:30 AM - 11:30 AM
$36.05
03:00 PM - 04:00 PM
$36.05
Choose your schedule
10:30 AM - 11:30 AM
$36.05
Choose your schedule
10:30 AM - 11:30 AM
$36.05
Choose your schedule
10:30 AM - 11:30 AM
$36.05
Choose your schedule
10:30 AM - 11:30 AM
$36.05
03:00 PM - 04:00 PM
$36.05
Choose your schedule
10:30 AM - 11:30 AM
$36.05
03:00 PM - 04:00 PM
$36.05
Choose your schedule
10:30 AM - 11:30 AM
$36.05
Choose your schedule
10:30 AM - 11:30 AM
$36.05
Choose your schedule
10:30 AM - 11:30 AM
$36.05
Choose your schedule
10:30 AM - 11:30 AM
$36.05
03:00 PM - 04:00 PM
$36.05
Choose your schedule
10:30 AM - 11:30 AM
$36.05
03:00 PM - 04:00 PM
$36.05
Choose your schedule
10:30 AM - 11:30 AM
$36.05
Choose your schedule
10:30 AM - 11:30 AM
$36.05
Choose your schedule
10:30 AM - 11:30 AM
$36.05
Choose your schedule
10:30 AM - 11:30 AM
$36.05
03:00 PM - 04:00 PM
$36.05
Choose your schedule
10:30 AM - 11:30 AM
$36.05
03:00 PM - 04:00 PM
$36.05
Choose your schedule
10:30 AM - 11:30 AM
$36.05
Choose your schedule
10:30 AM - 11:30 AM
$36.05
Choose your schedule
10:30 AM - 11:30 AM
$36.05
Choose your schedule
10:30 AM - 11:30 AM
$36.05
03:00 PM - 04:00 PM
$36.05
Choose your schedule
10:30 AM - 11:30 AM
$36.05
03:00 PM - 04:00 PM
$36.05
Choose your schedule
10:30 AM - 11:30 AM
$36.05
Choose your schedule
10:30 AM - 11:30 AM
$36.05
Choose your schedule
10:30 AM - 11:30 AM
$36.05
Choose your schedule
10:30 AM - 11:30 AM
$36.05
03:00 PM - 04:00 PM
$36.05
Choose your schedule
10:30 AM - 11:30 AM
$36.05
03:00 PM - 04:00 PM
$36.05
Choose your schedule
10:30 AM - 11:30 AM
$36.05
Choose your schedule
10:30 AM - 11:30 AM
$36.05
Choose your schedule
10:30 AM - 11:30 AM
$36.05
Choose your schedule
10:30 AM - 11:30 AM
$36.05
03:00 PM - 04:00 PM
$36.05
Choose your schedule
10:30 AM - 11:30 AM
$36.05
03:00 PM - 04:00 PM
$36.05
Choose your schedule
10:30 AM - 11:30 AM
$36.05
Choose your schedule
10:30 AM - 11:30 AM
$36.05
Choose your schedule
10:30 AM - 11:30 AM
$36.05
Choose your schedule
10:30 AM - 11:30 AM
$36.05
03:00 PM - 04:00 PM
$36.05
Choose your schedule
10:30 AM - 11:30 AM
$36.05
03:00 PM - 04:00 PM
$36.05
Choose your schedule
10:30 AM - 11:30 AM
$36.05
Choose your schedule
10:30 AM - 11:30 AM
$36.05
Choose your schedule
10:30 AM - 11:30 AM
$36.05
Choose your schedule
10:30 AM - 11:30 AM
$36.05
03:00 PM - 04:00 PM
$36.05
Choose your schedule
10:30 AM - 11:30 AM
$36.05
03:00 PM - 04:00 PM
$36.05
Choose your schedule
10:30 AM - 11:30 AM
$36.05
Choose your schedule
10:30 AM - 11:30 AM
$36.05
Choose your schedule
10:30 AM - 11:30 AM
$36.05
Choose your schedule
10:30 AM - 11:30 AM
$36.05
03:00 PM - 04:00 PM
$36.05
Choose your schedule
10:30 AM - 11:30 AM
$36.05
03:00 PM - 04:00 PM
$36.05
Choose your schedule
10:30 AM - 11:30 AM
$36.05
Choose your schedule
10:30 AM - 11:30 AM
$36.05
Choose your schedule
10:30 AM - 11:30 AM
$36.05
Choose your schedule
10:30 AM - 11:30 AM
$36.05
03:00 PM - 04:00 PM
$36.05
Choose your schedule
10:30 AM - 11:30 AM
$36.05
03:00 PM - 04:00 PM
$36.05
Choose your schedule
10:30 AM - 11:30 AM
$36.05
Choose your schedule
10:30 AM - 11:30 AM
$36.05
Choose your schedule
10:30 AM - 11:30 AM
$36.05
Choose your schedule
10:30 AM - 11:30 AM
$36.05
03:00 PM - 04:00 PM
$36.05
Choose your schedule
10:30 AM - 11:30 AM
$36.05
03:00 PM - 04:00 PM
$36.05
Choose your schedule
10:30 AM - 11:30 AM
$36.05
03:00 PM - 04:00 PM
$36.05
Choose your schedule
10:30 AM - 11:30 AM
$36.05
03:00 PM - 04:00 PM
$36.05
Choose your schedule
10:30 AM - 11:30 AM
$36.05
03:00 PM - 04:00 PM
$36.05
Choose your schedule
10:30 AM - 11:30 AM
$36.05
03:00 PM - 04:00 PM
$36.05
Choose your schedule
10:30 AM - 11:30 AM
$36.05
03:00 PM - 04:00 PM
$36.05
Choose your schedule
10:30 AM - 11:30 AM
$36.05
03:00 PM - 04:00 PM
$36.05
Choose your schedule
10:30 AM - 11:30 AM
$36.05
03:00 PM - 04:00 PM
$36.05
Choose your schedule
10:30 AM - 11:30 AM
$36.05
03:00 PM - 04:00 PM
$36.05
Choose your schedule
10:30 AM - 11:30 AM
$36.05
03:00 PM - 04:00 PM
$36.05
Choose your schedule
10:30 AM - 11:30 AM
$36.05
03:00 PM - 04:00 PM
$36.05
Choose your schedule
10:30 AM - 11:30 AM
$36.05
03:00 PM - 04:00 PM
$36.05
Choose your schedule
10:30 AM - 11:30 AM
$36.05
03:00 PM - 04:00 PM
$36.05
Choose your schedule
10:30 AM - 11:30 AM
$36.05
03:00 PM - 04:00 PM
$36.05
Choose your schedule
10:30 AM - 11:30 AM
$36.05
03:00 PM - 04:00 PM
$36.05
Choose your schedule
10:30 AM - 11:30 AM
$36.05
03:00 PM - 04:00 PM
$36.05
Choose your schedule
10:30 AM - 11:30 AM
$36.05
03:00 PM - 04:00 PM
$36.05
Choose your schedule
10:30 AM - 11:30 AM
$36.05
03:00 PM - 04:00 PM
$36.05
Choose your schedule
10:30 AM - 11:30 AM
$36.05
03:00 PM - 04:00 PM
$36.05
Choose your schedule
10:30 AM - 11:30 AM
$36.05
Choose your schedule
10:30 AM - 11:30 AM
$36.05
Choose your schedule
10:30 AM - 11:30 AM
$36.05
03:00 PM - 04:00 PM
$36.05
Choose your schedule
10:30 AM - 11:30 AM
$36.05
03:00 PM - 04:00 PM
$36.05
Choose your schedule
10:30 AM - 11:30 AM
$36.05
Choose your schedule
10:30 AM - 11:30 AM
$36.05
Choose your schedule
10:30 AM - 11:30 AM
$36.05
Choose your schedule
10:30 AM - 11:30 AM
$36.05
03:00 PM - 04:00 PM
$36.05
Choose your schedule
10:30 AM - 11:30 AM
$36.05
03:00 PM - 04:00 PM
$36.05
Choose your schedule
10:30 AM - 11:30 AM
$36.05
Choose your schedule
10:30 AM - 11:30 AM
$36.05
Choose your schedule
10:30 AM - 11:30 AM
$36.05
Choose your schedule
10:30 AM - 11:30 AM
$36.05
03:00 PM - 04:00 PM
$36.05
Choose your schedule
10:30 AM - 11:30 AM
$36.05
03:00 PM - 04:00 PM
$36.05
Choose your schedule
10:30 AM - 11:30 AM
$36.05
Choose your schedule
10:30 AM - 11:30 AM
$36.05
Choose your schedule
10:30 AM - 11:30 AM
$36.05
Choose your schedule
10:30 AM - 11:30 AM
$36.05
03:00 PM - 04:00 PM
$36.05
Choose your schedule
10:30 AM - 11:30 AM
$36.05
03:00 PM - 04:00 PM
$36.05
Choose your schedule
10:30 AM - 11:30 AM
$36.05
Choose your schedule
10:30 AM - 11:30 AM
$36.05
Choose your schedule
10:30 AM - 11:30 AM
$36.05
Choose your schedule
10:30 AM - 11:30 AM
$36.05
03:00 PM - 04:00 PM
$36.05
Choose your schedule
10:30 AM - 11:30 AM
$36.05
03:00 PM - 04:00 PM
$36.05
Choose your schedule
10:30 AM - 11:30 AM
$36.05
Choose your schedule
10:30 AM - 11:30 AM
$36.05
Choose your schedule
10:30 AM - 11:30 AM
$36.05
Choose your schedule
10:30 AM - 11:30 AM
$36.05
03:00 PM - 04:00 PM
$36.05
Choose your schedule
10:30 AM - 11:30 AM
$36.05
03:00 PM - 04:00 PM
$36.05
Choose your schedule
10:30 AM - 11:30 AM
$36.05
Choose your schedule
10:30 AM - 11:30 AM
$36.05
Choose your schedule
10:30 AM - 11:30 AM
$36.05
Choose your schedule
10:30 AM - 11:30 AM
$36.05
03:00 PM - 04:00 PM
$36.05
Choose your schedule
10:30 AM - 11:30 AM
$36.05
03:00 PM - 04:00 PM
$36.05
Choose your schedule
10:30 AM - 11:30 AM
$36.05
Choose your schedule
10:30 AM - 11:30 AM
$36.05
Choose your schedule
10:30 AM - 11:30 AM
$36.05
Choose your schedule
10:30 AM - 11:30 AM
$36.05
03:00 PM - 04:00 PM
$36.05
Choose your schedule
10:30 AM - 11:30 AM
$36.05
03:00 PM - 04:00 PM
$36.05
Choose your schedule
10:30 AM - 11:30 AM
$36.05
Choose your schedule
10:30 AM - 11:30 AM
$36.05
Choose your schedule
10:30 AM - 11:30 AM
$36.05
Choose your schedule
10:30 AM - 11:30 AM
$36.05
03:00 PM - 04:00 PM
$36.05
Choose your schedule
10:30 AM - 11:30 AM
$36.05
03:00 PM - 04:00 PM
$36.05
Choose your schedule
10:30 AM - 11:30 AM
$36.05
Choose your schedule
10:30 AM - 11:30 AM
$36.05
Choose your schedule
10:30 AM - 11:30 AM
$36.05
Choose your schedule
10:30 AM - 11:30 AM
$36.05
03:00 PM - 04:00 PM
$36.05
Choose your schedule
10:30 AM - 11:30 AM
$36.05
03:00 PM - 04:00 PM
$36.05
Choose your schedule
10:30 AM - 11:30 AM
$36.05
Choose your schedule
10:30 AM - 11:30 AM
$36.05
Choose your schedule
10:30 AM - 11:30 AM
$36.05
Choose your schedule
10:30 AM - 11:30 AM
$36.05
03:00 PM - 04:00 PM
$36.05
Choose your schedule
10:30 AM - 11:30 AM
$36.05
03:00 PM - 04:00 PM
$36.05
Choose your schedule
10:30 AM - 11:30 AM
$36.05
Choose your schedule
10:30 AM - 11:30 AM
$36.05
Choose your schedule
10:30 AM - 11:30 AM
$36.05
Choose your schedule
10:30 AM - 11:30 AM
$36.05
03:00 PM - 04:00 PM
$36.05
Choose your schedule
10:30 AM - 11:30 AM
$36.05
03:00 PM - 04:00 PM
$36.05
Choose your schedule
10:30 AM - 11:30 AM
$36.05
Choose your schedule
10:30 AM - 11:30 AM
$36.05
Choose your schedule
10:30 AM - 11:30 AM
$36.05
Choose your schedule
10:30 AM - 11:30 AM
$36.05
03:00 PM - 04:00 PM
$36.05
Choose your schedule
10:30 AM - 11:30 AM
$36.05
03:00 PM - 04:00 PM
$36.05
Choose your schedule
10:30 AM - 11:30 AM
$36.05
Choose your schedule
10:30 AM - 11:30 AM
$36.05
Choose your schedule
10:30 AM - 11:30 AM
$36.05
Choose your schedule
10:30 AM - 11:30 AM
$36.05
03:00 PM - 04:00 PM
$36.05
Choose your schedule
10:30 AM - 11:30 AM
$36.05
03:00 PM - 04:00 PM
$36.05
Choose your schedule
10:30 AM - 11:30 AM
$36.05
Choose your schedule
10:30 AM - 11:30 AM
$36.05
Choose your schedule
10:30 AM - 11:30 AM
$36.05
Choose your schedule
10:30 AM - 11:30 AM
$36.05
03:00 PM - 04:00 PM
$36.05
Choose your schedule
10:30 AM - 11:30 AM
$36.05
03:00 PM - 04:00 PM
$36.05
Choose your schedule
10:30 AM - 11:30 AM
$36.05
Choose your schedule
10:30 AM - 11:30 AM
$36.05
Choose your schedule
10:30 AM - 11:30 AM
$36.05
Choose your schedule
10:30 AM - 11:30 AM
$36.05
03:00 PM - 04:00 PM
$36.05
Choose your schedule
10:30 AM - 11:30 AM
$36.05
03:00 PM - 04:00 PM
$36.05
Choose your schedule
10:30 AM - 11:30 AM
$36.05
About the Experience
This experience is about bringing families and friends of all ages together to celebrate your time in the Azores. Each visitor can paint a tile as a special memory that can be left here on the Solar Branco 1885 Eco-Estate as a visual record and as inspiration for future visitors.
Your tile will be mounted on our wall of memories. Take part and celebrate the diversity of visitors to the island and capture a moment of time from your stay on São Miguel.
This activity is inspired by the painted stones in the harbor of Horta where sailors paint their boat names and countries of origin.
The proceeds will be used towards the restoration of the estate.
Please note:
(1) Entry fee includes one tile for each participant, home-made cookies and a complimentary tea, coffee or healthy soft drinks.
(2) All children under 16 must be accompanied by an adult.
Refund Policy / Terms and Conditions
Up to 7 days or more in advance: full refund
Up to 48 hours: 50% refund
Less than 48 hours: no refund available
Meeting point:
16A Canada Francisco Cabral, Livramento
9500-604 - Ponta Delgada

Activity provider policies
Refund Policy / Terms and Conditions
Up to 7 days or more in advance: full refund. Up to 48 hours: 50% refund. Less than 48 hours: no refund available