Food you have to try on your visit to São Miguel Island, Azores
What can you expect from the traditional cuisine of the Azores? Have you ever wondered about what to eat in São Miguel Island in the Azores? Here's a list of the São Miguel delicacies' you have to try on your Azores trip!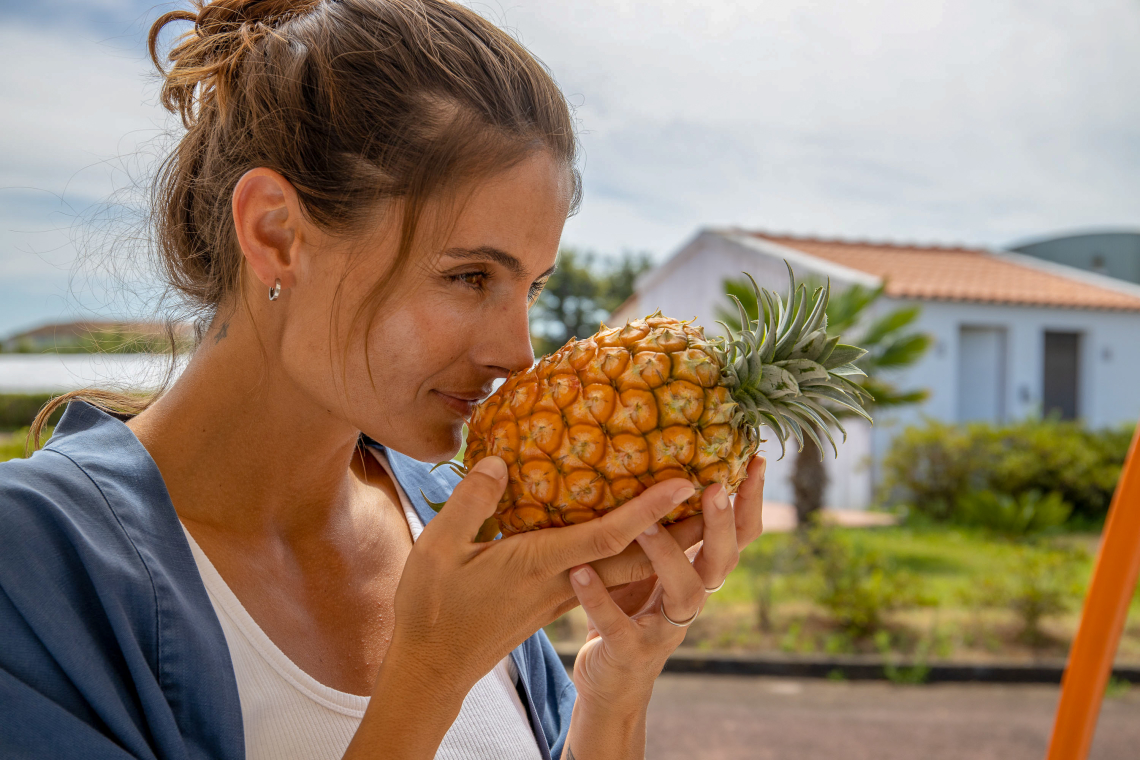 1. Azores Pineapple
The Azores pineapple is a perennial plant that only produces 1 single fruit every 2-3 years. After about 6 months of growth, the seedlings will undergo a special fertilization: fumigation by smoke! The origin of using smoke to cause fertilization seems to have originated as a fluke, as producers discovered the smoke caused the plants bloom more quickly and efficiently after a fire. While in Ponta Delgada city in São Miguel, Azores, make sure you don't skip a visit to one of the iconic pineapple plantations of the Azores Islands, the only place in Portugal where it is produced.
Where to eat in São Miguel, Azores: Pineapple
You can eat the delicious Azores' pineapple at almost every restaurant in São Miguel Island, but for a truly different and authentic experience we would recommend that you visit the Pineapple Plantations and Greenhouses! Only a select few are open to the public, including Ananás Arruda, Plantação de Ananás dos Açores and Ananás de Santo António.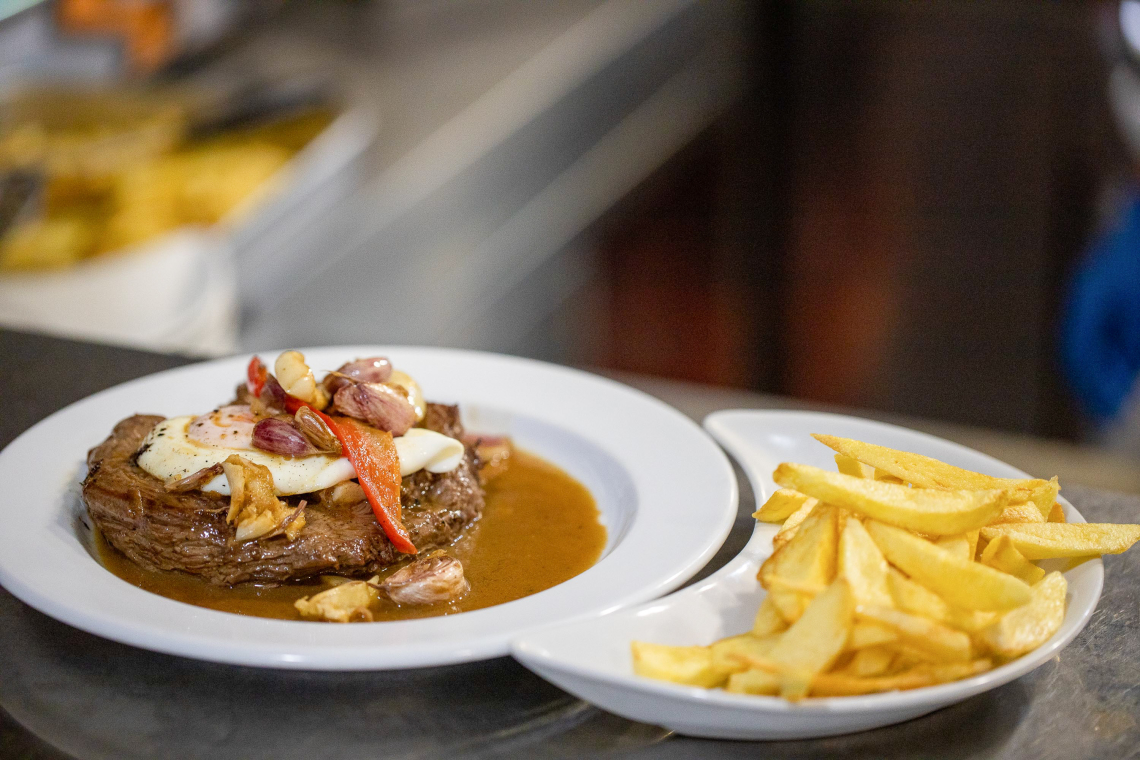 2. Bife à Regional (beef steak)
Like the happy dairy cows you'll find on all the Azores Islands, Azorean cows destined for the plate lead idyllic lives grazing on green grass, which means you can get some delicious grass-fed beef on the islands. Have your steak with roasted garlic gloves, sautéed red peppers and French fries (Bife á Regional) and you will be dying for more.
Where to eat in São Miguel, Azores: Bife à Regional
We recommend this restaurant because it is the original ''bife à regional'' steak house, meaning this beef dish of the island was born here. Make sure you book a table at Alcides restaurant in downtown Ponta Delgada, São Miguel Island.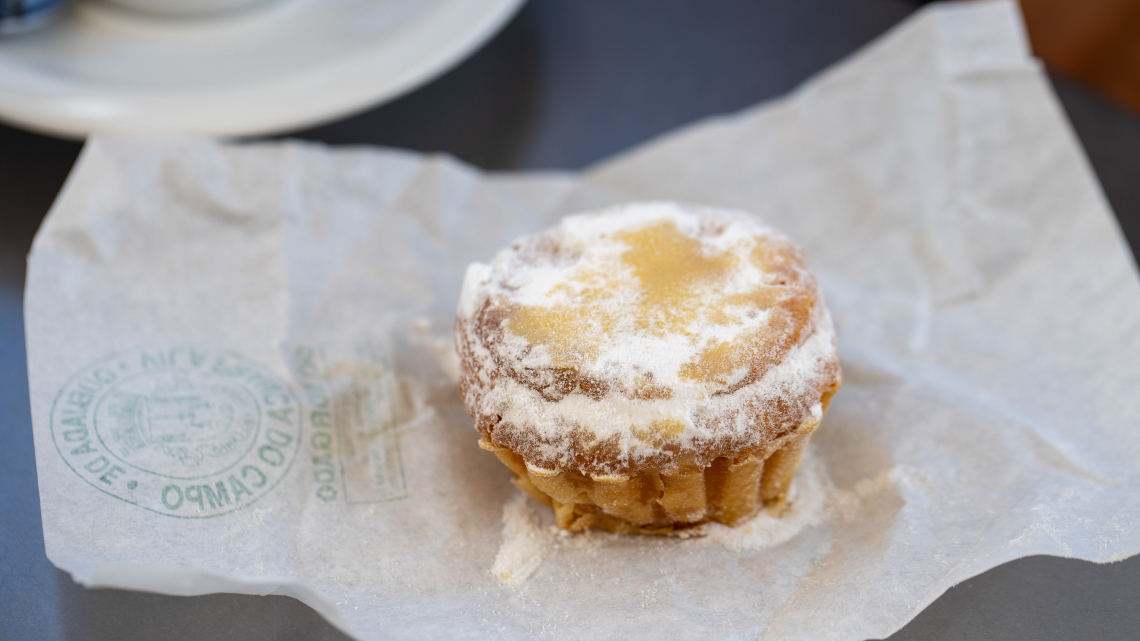 3. Queijadas da Vila
These delicious round-shaped queijadas will have your tastebuds dancing, and coming back for more and more, so make sure you buy a whole box at least! Originally from Vila Franca do Campo in São Miguel Island you can visit the factory and sit at the local cafe for a sweet taste of São Miguel and the Azores Islands overall.
Where to eat in São Miguel, Azores: Queijadas da Vila
Even though boxes of this delicacies are sold at every supermarket, head to the original shop in Vila Franca do Campo to savor it hot straight out the factory. Queijadas da Vila await your visit!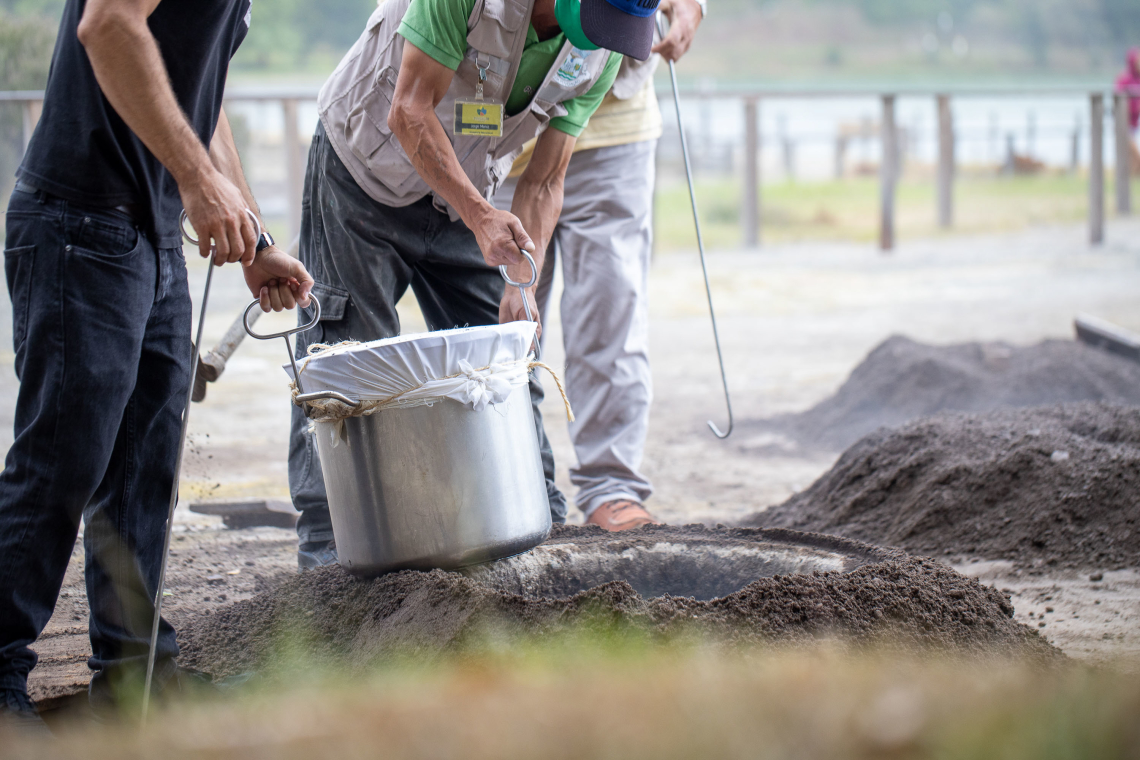 4. Cozido das Furnas
A longstanding tradition among the locals, this beloved popular dish is a Portuguese stew (cozido) cooked in holes known as fumaroles that are dug in the hot volcanic soil in Furnas. The stew consists of a carefully layered pot of pork, beef, chicken, sausages, potatoes, carrots, cabbage and kale that is cooked slowly in the ground for around 6 hours. Every restaurant in the town of Furnas serves their own variation of this dish, so there is no shortage of places for you to try it! Just be sure to call ahead and make a reservation 24 hours in advance of your visit.
Where to eat in São Miguel, Azores: Cozido das Furnas
For a fine dining experience you should head to Terra Nostra Hotel - our partner, where you'll feast the cozido das Furnas in a way you never thought!
Outside of that, we recommend Tony's restaurant for another feast. Both places offer vegan and vegetarian cozido das Furnas!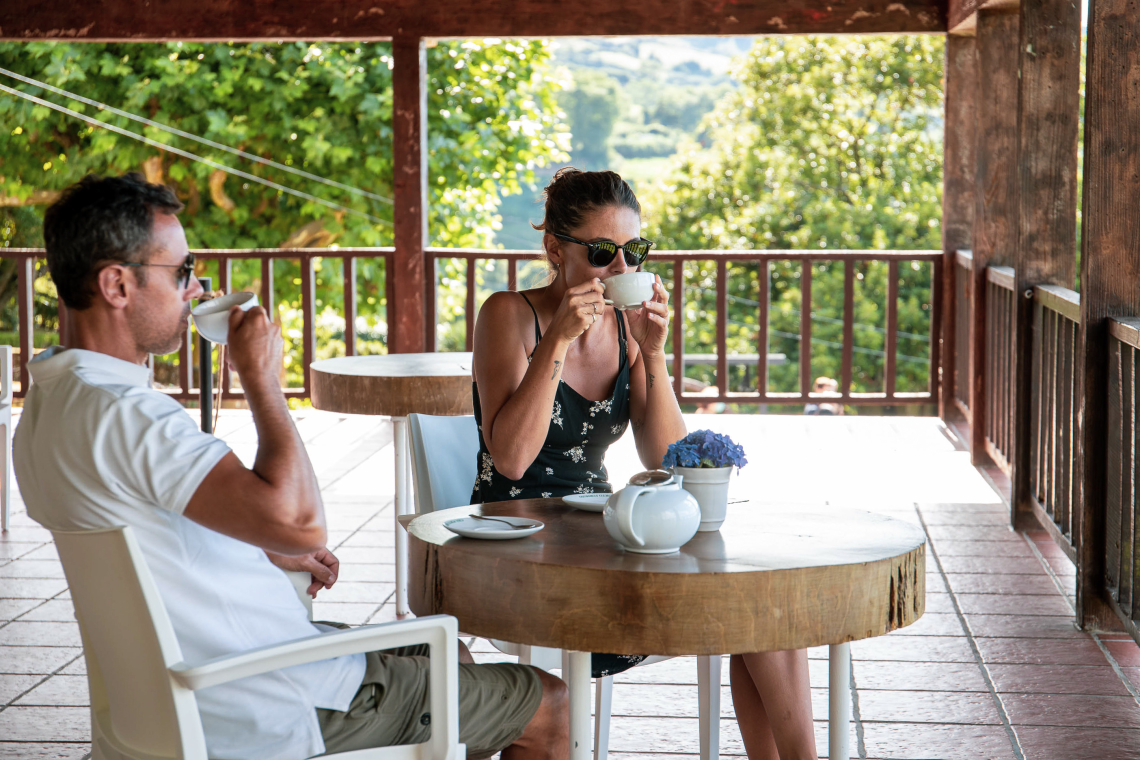 5. Tea
The Azores Islands are known for their breathtaking natural beauty, unique volcanic properties, delicious food and endless potential for adventure. Though tea has been grown here for almost 200 years, the Azores have quietly reigned as Europe's secret tea capital. In the middle of the Atlantic, roughly 900 miles from the coast of mainland Portugal, you'll find Europe's only two commercial tea plantations sprawling along the hillsides of São Miguel Island's north coast.
Where to drink in São Miguel, Azores: Tea
You can savor the Azores tea at every spot in every Azores Island, but the places where you can have the ultimate authentic Tea O'clock experience in the Azores are only 2: Gorreana Tea Factory and Porto Formoso Tea Factory in São Miguel Island!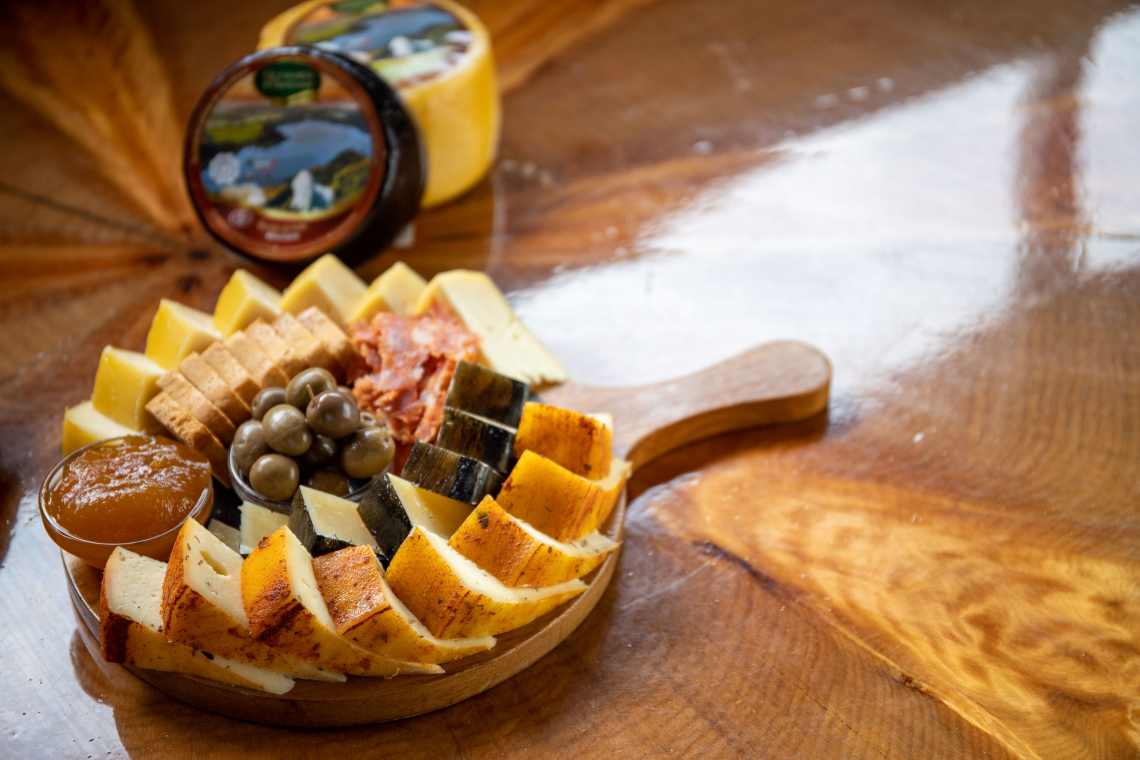 6. Sour cheese from Furnas
This cheese is made exclusively in a small, family-run factory that first started out as just a tiny dairy farm. The family's young, entrepreneurial-minded teenage daughter saw an opportunity to innovate a new cheese product using locally sourced Furnas ''sour waters'' for a unique brine and flavor, and the rest is delicious history. The Queijo do Vale is made by hand, and the milk used to fuel its distinct flavor comes straight from the family dairy farm in Furnas, where the cows graze freely and happily amid the lush Lagoa Seca Valley.
Where to eat in São Miguel, Azores: sour cheese from Furnas
For a perfect combination, culinary adventure, you can book an Azorean cheese & wine experience in magical São Miguel Island! If you're on a visit to Furnas, make sure you stop at Queijaria Furnense to taste all of their cheese varieties.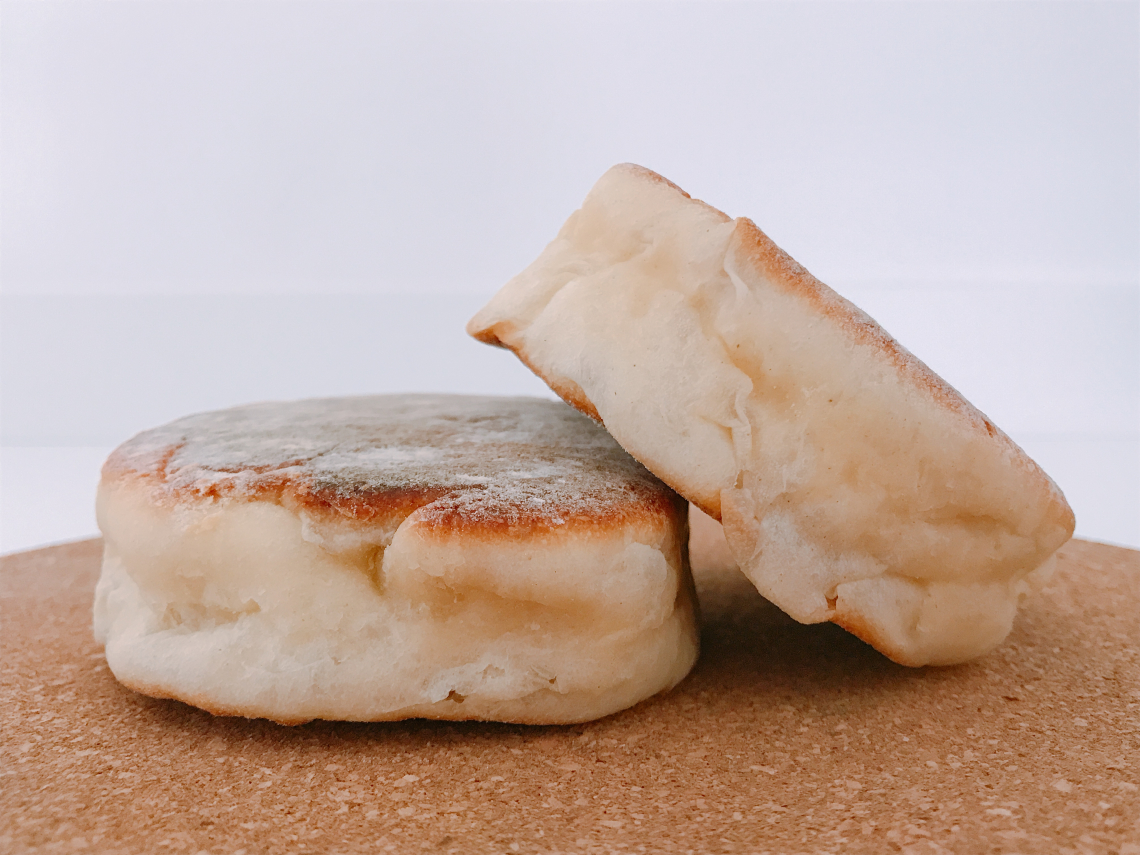 7. Bolos Lêvedos
Versatile, slightly sweet Portuguese style English muffins originally from Furnas – you can have them with jam, cheese, or burgers.
Where to eat in São Miguel, Azores: bolos lêvedos
Originally from Furnas you can buy those at every shop in the village, or at any other supermarket and restaurants.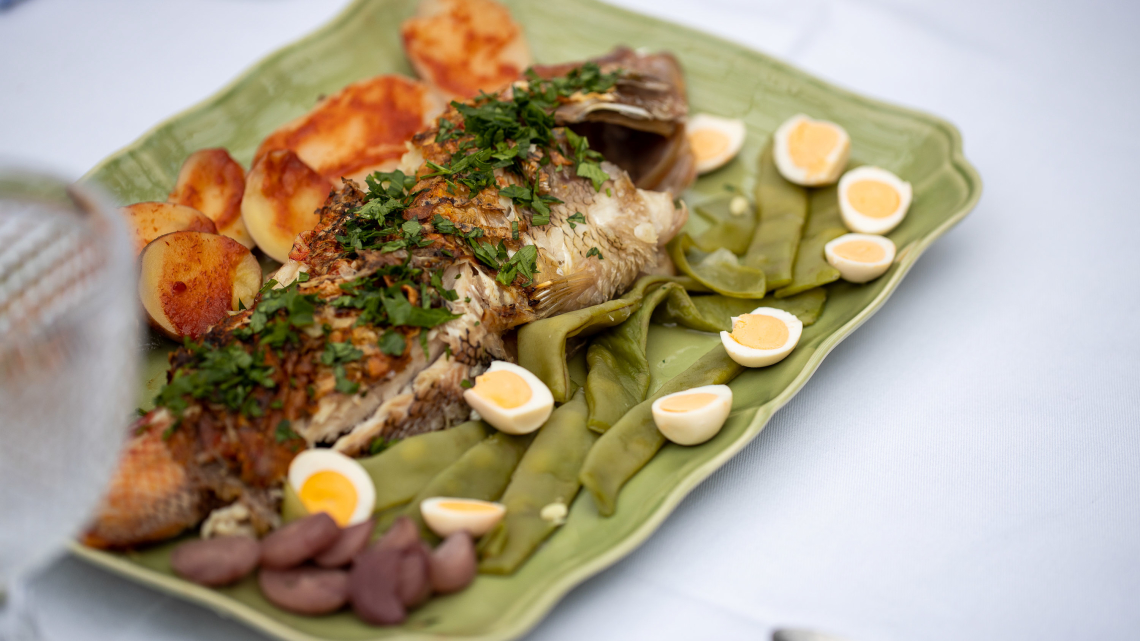 8. Tuna Steak and lots of fresh fish
If you love fish, then the Azores is the place for you. With an abundant marine life, you can sample a variety of fresh fish on your visit to the islands. From jack-guelly, grouper, forkbeard to eel, barracuda and tuna, you will surely find your perfect tasty catch of the day. Make sure you try a delicious tuna steak. The tuna from the Azores is so good, it's shipped to the famous fish-market in Tokyo.
Where to eat in São Miguel, Azores: tuna steak and fresh fish
Caloura Bar is a cool ambiance restaurant by the sea in one of the most exquisite areas of São Miguel Island - Caloura. Fresh fish is their speciality, so make sure you book a table there to try the Azores' amazing tuna steak!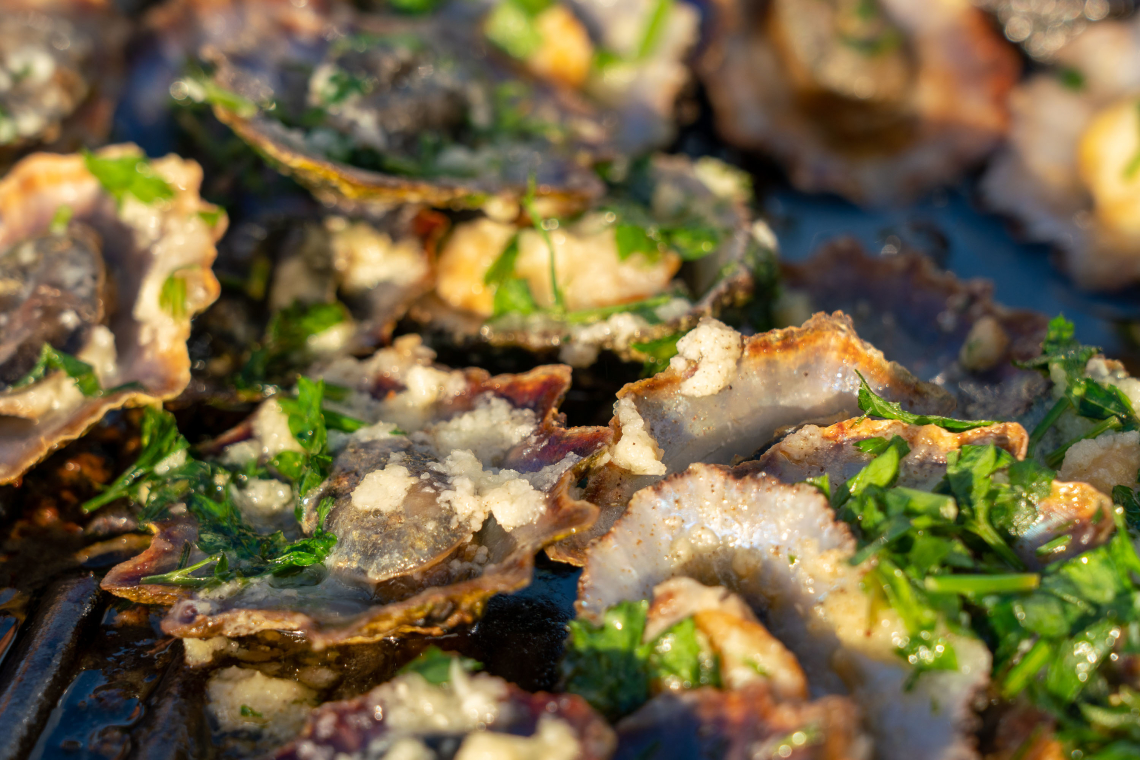 9. Limpets (and lots of seafood)
Not surprisingly, the Azores islands surrounded by cool Atlantic waters haul in a lot of seafood. Make sure you try the lapas (limpets) that are usually served grilled in a butter, garlic, and spicy red pepper sauce, or just have them raw with some lemon. Also try a type of barnacle known as cracas, which can easily be mistaken for chunks of rocks. These are boiled in seawater and served chilled. A local variety of lobster is the cavaco- very delicate and tender.
Where to eat in São Miguel, Azores: limpets
In Caloura Bar you'll find all the great options of seafood to really have a full idea of the Azores sea-cuisine, but every other restaurant in the island serves this treat. Our advice: a meal, no matter what kind, always tastes better with a sea view! For a truly beach-vibe while enjoying your meal we recommend you go to TukaTulá restaurant-bar.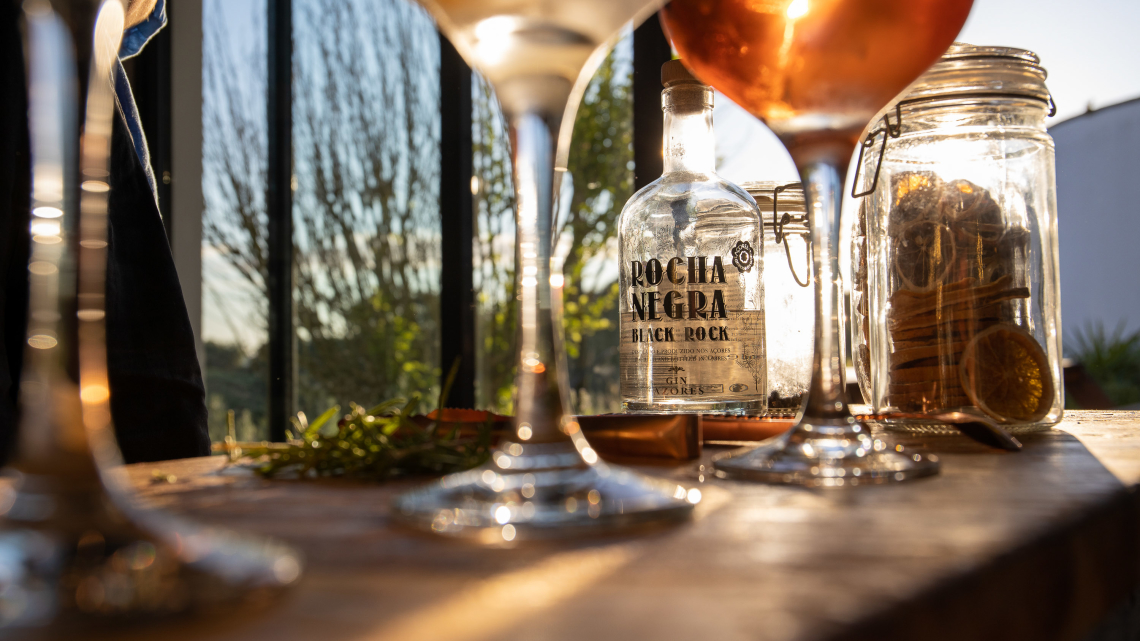 10. Local Sprits
Though São Miguel Island is not the most famous Azores Island on wine, it also has - not surprisingly - a great production of wine and yes, the São Miguel Island wine is also delicious! The island's several microclimates make it just perfect. For kids, locally produced fruit juices such as Kima Maracuká (passion-fruit flavor) and Laranjada (orange flavor) are options that won't disappoint.
Where to drink in São Miguel, Azores: local spirits
Everywhere you eat! Make sure you always ask for local wines and help the Azores grow in every sense -- plus, you won't regret it because Azorean wine is really outstanding. Looking for a Tasting Menu experience? Book here your ''Chef's 4-Course Tasting Menu'' or ''Chef's 6-Course Tasting Menu'' or even a Rocha Negra Gin Tasting experience!