Van Tours: Full Day Faial with lunch and Interpretation Center of Capelinhos Volcano
Location: Faial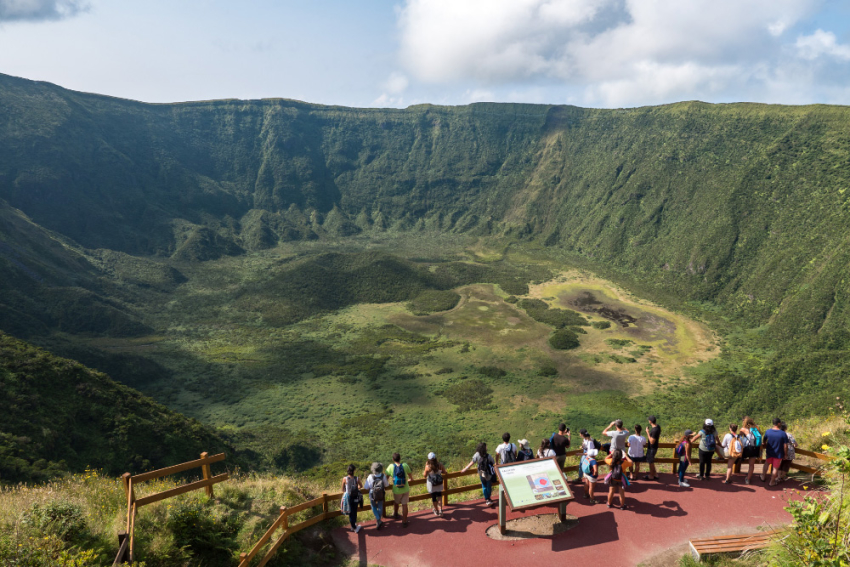 Choose your schedule
09:30 AM - 05:00 PM
£171.36
Choose your schedule
09:30 AM - 05:00 PM
£171.36
Choose your schedule
09:30 AM - 05:00 PM
£171.36
Choose your schedule
09:30 AM - 05:00 PM
£171.36
Choose your schedule
09:30 AM - 05:00 PM
£171.36
Choose your schedule
09:30 AM - 05:00 PM
£171.36
Choose your schedule
09:30 AM - 05:00 PM
£171.36
Choose your schedule
09:30 AM - 05:00 PM
£171.36
Choose your schedule
09:30 AM - 05:00 PM
£171.36
Choose your schedule
09:30 AM - 05:00 PM
£171.36
Choose your schedule
09:30 AM - 05:00 PM
£171.36
Choose your schedule
09:30 AM - 05:00 PM
£171.36
Choose your schedule
09:30 AM - 05:00 PM
£171.36
Choose your schedule
09:30 AM - 05:00 PM
£171.36
Choose your schedule
09:30 AM - 05:00 PM
£171.36
Choose your schedule
09:30 AM - 05:00 PM
£171.36
Choose your schedule
09:30 AM - 05:00 PM
£171.36
Choose your schedule
09:30 AM - 05:00 PM
£171.36
Choose your schedule
09:30 AM - 05:00 PM
£171.36
Choose your schedule
09:30 AM - 05:00 PM
£171.36
Choose your schedule
09:30 AM - 05:00 PM
£171.36
Choose your schedule
09:30 AM - 05:00 PM
£171.36
Choose your schedule
09:30 AM - 05:00 PM
£171.36
Choose your schedule
09:30 AM - 05:00 PM
£171.36
Choose your schedule
09:30 AM - 05:00 PM
£171.36
Choose your schedule
09:30 AM - 05:00 PM
£171.36
Choose your schedule
09:30 AM - 05:00 PM
£171.36
Choose your schedule
09:30 AM - 05:00 PM
£171.36
Choose your schedule
09:30 AM - 05:00 PM
£171.36
Choose your schedule
09:30 AM - 05:00 PM
£171.36
Choose your schedule
09:30 AM - 05:00 PM
£171.36
Choose your schedule
09:30 AM - 05:00 PM
£171.36
Choose your schedule
09:30 AM - 05:00 PM
£171.36
Choose your schedule
09:30 AM - 05:00 PM
£171.36
Choose your schedule
09:30 AM - 05:00 PM
£171.36
Choose your schedule
09:30 AM - 05:00 PM
£171.36
Choose your schedule
09:30 AM - 05:00 PM
£171.36
Choose your schedule
09:30 AM - 05:00 PM
£171.36
Choose your schedule
09:30 AM - 05:00 PM
£171.36
Choose your schedule
09:30 AM - 05:00 PM
£171.36
Choose your schedule
09:30 AM - 05:00 PM
£171.36
Choose your schedule
09:30 AM - 05:00 PM
£171.36
Choose your schedule
09:30 AM - 05:00 PM
£171.36
Choose your schedule
09:30 AM - 05:00 PM
£171.36
Choose your schedule
09:30 AM - 05:00 PM
£171.36
Choose your schedule
09:30 AM - 05:00 PM
£171.36
Choose your schedule
09:30 AM - 05:00 PM
£171.36
Choose your schedule
09:30 AM - 05:00 PM
£171.36
Choose your schedule
09:30 AM - 05:00 PM
£171.36
Choose your schedule
09:30 AM - 05:00 PM
£171.36
Choose your schedule
09:30 AM - 05:00 PM
£171.36
Choose your schedule
09:30 AM - 05:00 PM
£171.36
Choose your schedule
09:30 AM - 05:00 PM
£171.36
Choose your schedule
09:30 AM - 05:00 PM
£171.36
Choose your schedule
09:30 AM - 05:00 PM
£171.36
Choose your schedule
09:30 AM - 05:00 PM
£171.36
Choose your schedule
09:30 AM - 05:00 PM
£171.36
Choose your schedule
09:30 AM - 05:00 PM
£171.36
Choose your schedule
09:30 AM - 05:00 PM
£171.36
Choose your schedule
09:30 AM - 05:00 PM
£171.36
Choose your schedule
09:30 AM - 05:00 PM
£171.36
Choose your schedule
09:30 AM - 05:00 PM
£171.36
Choose your schedule
09:30 AM - 05:00 PM
£171.36
Choose your schedule
09:30 AM - 05:00 PM
£171.36
Choose your schedule
09:30 AM - 05:00 PM
£171.36
Choose your schedule
09:30 AM - 05:00 PM
£171.36
Choose your schedule
09:30 AM - 05:00 PM
£171.36
Choose your schedule
09:30 AM - 05:00 PM
£171.36
Choose your schedule
09:30 AM - 05:00 PM
£171.36
Choose your schedule
09:30 AM - 05:00 PM
£171.36
Choose your schedule
09:30 AM - 05:00 PM
£171.36
Choose your schedule
09:30 AM - 05:00 PM
£171.36
Choose your schedule
09:30 AM - 05:00 PM
£171.36
Choose your schedule
09:30 AM - 05:00 PM
£171.36
Choose your schedule
09:30 AM - 05:00 PM
£171.36
Choose your schedule
09:30 AM - 05:00 PM
£171.36
Choose your schedule
09:30 AM - 05:00 PM
£171.36
Choose your schedule
09:30 AM - 05:00 PM
£171.36
Choose your schedule
09:30 AM - 05:00 PM
£171.36
Choose your schedule
09:30 AM - 05:00 PM
£171.36
Choose your schedule
09:30 AM - 05:00 PM
£171.36
Choose your schedule
09:30 AM - 05:00 PM
£171.36
Choose your schedule
09:30 AM - 05:00 PM
£171.36
Choose your schedule
09:30 AM - 05:00 PM
£171.36
Choose your schedule
09:30 AM - 05:00 PM
£171.36
Choose your schedule
09:30 AM - 05:00 PM
£171.36
Choose your schedule
09:30 AM - 05:00 PM
£171.36
Choose your schedule
09:30 AM - 05:00 PM
£171.36
Choose your schedule
09:30 AM - 05:00 PM
£171.36
Choose your schedule
09:30 AM - 05:00 PM
£171.36
Choose your schedule
09:30 AM - 05:00 PM
£171.36
Choose your schedule
09:30 AM - 05:00 PM
£171.36
Choose your schedule
09:30 AM - 05:00 PM
£171.36
Choose your schedule
09:30 AM - 05:00 PM
£171.36
Choose your schedule
09:30 AM - 05:00 PM
£171.36
Choose your schedule
09:30 AM - 05:00 PM
£171.36
Choose your schedule
09:30 AM - 05:00 PM
£171.36
Choose your schedule
09:30 AM - 05:00 PM
£171.36
Choose your schedule
09:30 AM - 05:00 PM
£171.36
Choose your schedule
09:30 AM - 05:00 PM
£171.36
Choose your schedule
09:30 AM - 05:00 PM
£171.36
Choose your schedule
09:30 AM - 05:00 PM
£171.36
Choose your schedule
09:30 AM - 05:00 PM
£171.36
Choose your schedule
09:30 AM - 05:00 PM
£171.36
Choose your schedule
09:30 AM - 05:00 PM
£171.36
Choose your schedule
09:30 AM - 05:00 PM
£171.36
Choose your schedule
09:30 AM - 05:00 PM
£171.36
Choose your schedule
09:30 AM - 05:00 PM
£171.36
Choose your schedule
09:30 AM - 05:00 PM
£171.36
Choose your schedule
09:30 AM - 05:00 PM
£171.36
Choose your schedule
09:30 AM - 05:00 PM
£171.36
Choose your schedule
09:30 AM - 05:00 PM
£171.36
Choose your schedule
09:30 AM - 05:00 PM
£171.36
Choose your schedule
09:30 AM - 05:00 PM
£171.36
Choose your schedule
09:30 AM - 05:00 PM
£171.36
Choose your schedule
09:30 AM - 05:00 PM
£171.36
Choose your schedule
09:30 AM - 05:00 PM
£171.36
Choose your schedule
09:30 AM - 05:00 PM
£171.36
Choose your schedule
09:30 AM - 05:00 PM
£171.36
Choose your schedule
09:30 AM - 05:00 PM
£171.36
Choose your schedule
09:30 AM - 05:00 PM
£171.36
Choose your schedule
09:30 AM - 05:00 PM
£171.36
Choose your schedule
09:30 AM - 05:00 PM
£171.36
Choose your schedule
09:30 AM - 05:00 PM
£171.36
Choose your schedule
09:30 AM - 05:00 PM
£171.36
Choose your schedule
09:30 AM - 05:00 PM
£171.36
Choose your schedule
09:30 AM - 05:00 PM
£171.36
Choose your schedule
09:30 AM - 05:00 PM
£171.36
Choose your schedule
09:30 AM - 05:00 PM
£171.36
Choose your schedule
09:30 AM - 05:00 PM
£171.36
Choose your schedule
09:30 AM - 05:00 PM
£171.36
Choose your schedule
09:30 AM - 05:00 PM
£171.36
Choose your schedule
09:30 AM - 05:00 PM
£171.36
Choose your schedule
09:30 AM - 05:00 PM
£171.36
Choose your schedule
09:30 AM - 05:00 PM
£171.36
Choose your schedule
09:30 AM - 05:00 PM
£171.36
Choose your schedule
09:30 AM - 05:00 PM
£171.36
Choose your schedule
09:30 AM - 05:00 PM
£171.36
Choose your schedule
09:30 AM - 05:00 PM
£171.36
Choose your schedule
09:30 AM - 05:00 PM
£171.36
Choose your schedule
09:30 AM - 05:00 PM
£171.36
Choose your schedule
09:30 AM - 05:00 PM
£171.36
Choose your schedule
09:30 AM - 05:00 PM
£171.36
Choose your schedule
09:30 AM - 05:00 PM
£171.36
Choose your schedule
09:30 AM - 05:00 PM
£171.36
Choose your schedule
09:30 AM - 05:00 PM
£171.36
Choose your schedule
09:30 AM - 05:00 PM
£171.36
Choose your schedule
09:30 AM - 05:00 PM
£171.36
Choose your schedule
09:30 AM - 05:00 PM
£171.36
Choose your schedule
09:30 AM - 05:00 PM
£171.36
Choose your schedule
09:30 AM - 05:00 PM
£171.36
Choose your schedule
09:30 AM - 05:00 PM
£171.36
Choose your schedule
09:30 AM - 05:00 PM
£171.36
Choose your schedule
09:30 AM - 05:00 PM
£171.36
Choose your schedule
09:30 AM - 05:00 PM
£171.36
Choose your schedule
09:30 AM - 05:00 PM
£171.36
Choose your schedule
09:30 AM - 05:00 PM
£171.36
Choose your schedule
09:30 AM - 05:00 PM
£171.36
Choose your schedule
09:30 AM - 05:00 PM
£171.36
Choose your schedule
09:30 AM - 05:00 PM
£171.36
Choose your schedule
09:30 AM - 05:00 PM
£171.36
Choose your schedule
09:30 AM - 05:00 PM
£171.36
Choose your schedule
09:30 AM - 05:00 PM
£171.36
Choose your schedule
09:30 AM - 05:00 PM
£171.36
Choose your schedule
09:30 AM - 05:00 PM
£171.36
Choose your schedule
09:30 AM - 05:00 PM
£171.36
Choose your schedule
09:30 AM - 05:00 PM
£171.36
Choose your schedule
09:30 AM - 05:00 PM
£171.36
Choose your schedule
09:30 AM - 05:00 PM
£171.36
Choose your schedule
09:30 AM - 05:00 PM
£171.36
Choose your schedule
09:30 AM - 05:00 PM
£171.36
Choose your schedule
09:30 AM - 05:00 PM
£171.36
Choose your schedule
09:30 AM - 05:00 PM
£171.36
Choose your schedule
09:30 AM - 05:00 PM
£171.36
Choose your schedule
09:30 AM - 05:00 PM
£171.36
Choose your schedule
09:30 AM - 05:00 PM
£171.36
Choose your schedule
09:30 AM - 05:00 PM
£171.36
Choose your schedule
09:30 AM - 05:00 PM
£171.36
Choose your schedule
09:30 AM - 05:00 PM
£171.36
Choose your schedule
09:30 AM - 05:00 PM
£171.36
Choose your schedule
09:30 AM - 05:00 PM
£171.36
Choose your schedule
09:30 AM - 05:00 PM
£171.36
Choose your schedule
09:30 AM - 05:00 PM
£171.36
Choose your schedule
09:30 AM - 05:00 PM
£171.36
Choose your schedule
09:30 AM - 05:00 PM
£171.36
Choose your schedule
09:30 AM - 05:00 PM
£171.36
Choose your schedule
09:30 AM - 05:00 PM
£171.36
Choose your schedule
09:30 AM - 05:00 PM
£171.36
Choose your schedule
09:30 AM - 05:00 PM
£171.36
Choose your schedule
09:30 AM - 05:00 PM
£171.36
Choose your schedule
09:30 AM - 05:00 PM
£171.36
Choose your schedule
09:30 AM - 05:00 PM
£171.36
Choose your schedule
09:30 AM - 05:00 PM
£171.36
Choose your schedule
09:30 AM - 05:00 PM
£171.36
Choose your schedule
09:30 AM - 05:00 PM
£171.36
Choose your schedule
09:30 AM - 05:00 PM
£171.36
Choose your schedule
09:30 AM - 05:00 PM
£171.36
Choose your schedule
09:30 AM - 05:00 PM
£171.36
Choose your schedule
09:30 AM - 05:00 PM
£171.36
Choose your schedule
09:30 AM - 05:00 PM
£171.36
Choose your schedule
09:30 AM - 05:00 PM
£171.36
Choose your schedule
09:30 AM - 05:00 PM
£171.36
Choose your schedule
09:30 AM - 05:00 PM
£171.36
Choose your schedule
09:30 AM - 05:00 PM
£171.36
Choose your schedule
09:30 AM - 05:00 PM
£171.36
Choose your schedule
09:30 AM - 05:00 PM
£171.36
Choose your schedule
09:30 AM - 05:00 PM
£171.36
Choose your schedule
09:30 AM - 05:00 PM
£171.36
Choose your schedule
09:30 AM - 05:00 PM
£171.36
Choose your schedule
09:30 AM - 05:00 PM
£171.36
Choose your schedule
09:30 AM - 05:00 PM
£171.36
Choose your schedule
09:30 AM - 05:00 PM
£171.36
Choose your schedule
09:30 AM - 05:00 PM
£171.36
Choose your schedule
09:30 AM - 05:00 PM
£171.36
Choose your schedule
09:30 AM - 05:00 PM
£171.36
Choose your schedule
09:30 AM - 05:00 PM
£171.36
Choose your schedule
09:30 AM - 05:00 PM
£171.36
Choose your schedule
09:30 AM - 05:00 PM
£171.36
Choose your schedule
09:30 AM - 05:00 PM
£171.36
Choose your schedule
09:30 AM - 05:00 PM
£171.36
Choose your schedule
09:30 AM - 05:00 PM
£171.36
Choose your schedule
09:30 AM - 05:00 PM
£171.36
Choose your schedule
09:30 AM - 05:00 PM
£171.36
Choose your schedule
09:30 AM - 05:00 PM
£171.36
Choose your schedule
09:30 AM - 05:00 PM
£171.36
Choose your schedule
09:30 AM - 05:00 PM
£171.36
Choose your schedule
09:30 AM - 05:00 PM
£171.36
Choose your schedule
09:30 AM - 05:00 PM
£171.36
Choose your schedule
09:30 AM - 05:00 PM
£171.36
Choose your schedule
09:30 AM - 05:00 PM
£171.36
Choose your schedule
09:30 AM - 05:00 PM
£171.36
Choose your schedule
09:30 AM - 05:00 PM
£171.36
Choose your schedule
09:30 AM - 05:00 PM
£171.36
Choose your schedule
09:30 AM - 05:00 PM
£171.36
Choose your schedule
09:30 AM - 05:00 PM
£171.36
Choose your schedule
09:30 AM - 05:00 PM
£171.36
Choose your schedule
09:30 AM - 05:00 PM
£171.36
Choose your schedule
09:30 AM - 05:00 PM
£171.36
Choose your schedule
09:30 AM - 05:00 PM
£171.36
Choose your schedule
09:30 AM - 05:00 PM
£171.36
Choose your schedule
09:30 AM - 05:00 PM
£171.36
Choose your schedule
09:30 AM - 05:00 PM
£171.36
Choose your schedule
09:30 AM - 05:00 PM
£171.36
Choose your schedule
09:30 AM - 05:00 PM
£171.36
Choose your schedule
09:30 AM - 05:00 PM
£171.36
Choose your schedule
09:30 AM - 05:00 PM
£171.36
Choose your schedule
09:30 AM - 05:00 PM
£171.36
Choose your schedule
09:30 AM - 05:00 PM
£171.36
Choose your schedule
09:30 AM - 05:00 PM
£171.36
Choose your schedule
09:30 AM - 05:00 PM
£171.36
Choose your schedule
09:30 AM - 05:00 PM
£171.36
Choose your schedule
09:30 AM - 05:00 PM
£171.36
Choose your schedule
09:30 AM - 05:00 PM
£171.36
Choose your schedule
09:30 AM - 05:00 PM
£171.36
Choose your schedule
09:30 AM - 05:00 PM
£171.36
Choose your schedule
09:30 AM - 05:00 PM
£171.36
Choose your schedule
09:30 AM - 05:00 PM
£171.36
Choose your schedule
09:30 AM - 05:00 PM
£171.36
Choose your schedule
09:30 AM - 05:00 PM
£171.36
Choose your schedule
09:30 AM - 05:00 PM
£171.36
Choose your schedule
09:30 AM - 05:00 PM
£171.36
Choose your schedule
09:30 AM - 05:00 PM
£171.36
Choose your schedule
09:30 AM - 05:00 PM
£171.36
Choose your schedule
09:30 AM - 05:00 PM
£171.36
Choose your schedule
09:30 AM - 05:00 PM
£171.36
Choose your schedule
09:30 AM - 05:00 PM
£171.36
Choose your schedule
09:30 AM - 05:00 PM
£171.36
Choose your schedule
09:30 AM - 05:00 PM
£171.36
Choose your schedule
09:30 AM - 05:00 PM
£171.36
Choose your schedule
09:30 AM - 05:00 PM
£171.36
Choose your schedule
09:30 AM - 05:00 PM
£171.36
Choose your schedule
09:30 AM - 05:00 PM
£171.36
Choose your schedule
09:30 AM - 05:00 PM
£171.36
Choose your schedule
09:30 AM - 05:00 PM
£171.36
Choose your schedule
09:30 AM - 05:00 PM
£171.36
Choose your schedule
09:30 AM - 05:00 PM
£171.36
Choose your schedule
09:30 AM - 05:00 PM
£171.36
Choose your schedule
09:30 AM - 05:00 PM
£171.36
Choose your schedule
09:30 AM - 05:00 PM
£171.36
Choose your schedule
09:30 AM - 05:00 PM
£171.36
Choose your schedule
09:30 AM - 05:00 PM
£171.36
Choose your schedule
09:30 AM - 05:00 PM
£171.36
Choose your schedule
09:30 AM - 05:00 PM
£171.36
Choose your schedule
09:30 AM - 05:00 PM
£171.36
Choose your schedule
09:30 AM - 05:00 PM
£171.36
Choose your schedule
09:30 AM - 05:00 PM
£171.36
Choose your schedule
09:30 AM - 05:00 PM
£171.36
Choose your schedule
09:30 AM - 05:00 PM
£171.36
Choose your schedule
09:30 AM - 05:00 PM
£171.36
Choose your schedule
09:30 AM - 05:00 PM
£171.36
Choose your schedule
09:30 AM - 05:00 PM
£171.36
Choose your schedule
09:30 AM - 05:00 PM
£171.36
Choose your schedule
09:30 AM - 05:00 PM
£171.36
Choose your schedule
09:30 AM - 05:00 PM
£171.36
Choose your schedule
09:30 AM - 05:00 PM
£171.36
Choose your schedule
09:30 AM - 05:00 PM
£171.36
Choose your schedule
09:30 AM - 05:00 PM
£171.36
Choose your schedule
09:30 AM - 05:00 PM
£171.36
Choose your schedule
09:30 AM - 05:00 PM
£171.36
Choose your schedule
09:30 AM - 05:00 PM
£171.36
Choose your schedule
09:30 AM - 05:00 PM
£171.36
Choose your schedule
09:30 AM - 05:00 PM
£171.36
Choose your schedule
09:30 AM - 05:00 PM
£171.36
Choose your schedule
09:30 AM - 05:00 PM
£171.36
Choose your schedule
09:30 AM - 05:00 PM
£171.36
Choose your schedule
09:30 AM - 05:00 PM
£171.36
Choose your schedule
09:30 AM - 05:00 PM
£171.36
Choose your schedule
09:30 AM - 05:00 PM
£171.36
About the Experience
Be delighted with the island's amazing landscapes.
We will visit the main touristic points of the island, the viewpoint of Nª SRA. Conceição where we can contemplate the view to Almoxarife beach, Horta City, Marina, Monte Queimado and Monte da Guia. In the center of the island, we have Caldeira, one of the highlights of the island. Caldeira has a diameter of about 2 km, a depth of around 400m and is covered with Laurissilva vegetation. It has been classified as a Nature Reserve since 1972. We continue to Praia do Norte and stop at Ribeira das Cabras Viewpoint where we can see Fajã da Praia do Norte and part of the Capelo Peninsula volcanoes alignment.
We continue to the area of Capelinhos Volcano, where the landscape has been completely changed and where the houses and fields were covered by the volcanic ash from the 1957/58 eruption and visit to the Capelinhos volcano interpretation center (closes on Monday). Pass through Capelo Forest Park, Capelo Handicraft School and return to the city of Horta and visit Monte da Guia (only for groups until 8 people). LUNCH INCLUDED DURING THE TOUR.
Approximate duration: 7 to 8 hours
Departure: Hotels in Horta
Departure Time: 09h30
Includes: Transport, Guide, Entrance to the Capelinhos Volcano Interpretation Center and Lunch.
Terms of the company providing the service
Cancellations
Cancellations in the 48 hours before the activity 50% of the value will be applied
In case of no-show, the total value of the activity will be charged
Subject to weather conditions
Pick-up: Included in hotels in Horta
Terms and Conditions
Cancellations only up to 3 days prior to activity.
Activity provider policies
Cancellations
48 Hours before the tour no charges will be applied.
Between the 48 hours 50% of value of the tour will be charged.
In case of No-show 100% of the tour will be charged.
Unlock a World of Exclusive Perks
Unlock a world of privileges with our Travel Rewards Program. Sign up and instantly enjoy.