Pedaling Through Paradise: A Cycling Adventure in the Azores - São Miguel, Terceira, and Pico
If you are looking to get back to nature and really connect on a spiritual level with a truly special place, the Azores Islands is your ideal destination. Even better? For avid outdoors people looking to spend more time in the sunshine and getting active, destinations like this Portuguese archipelago are exactly what the doctor ordered. With more than 60 walking routes, many of which can also be traversed via Azores mountain biking or a bike tour of the Azores, your Azores cycling holidays have just met their match!
A trio of islands—the largest three in the Azores archipelago (São Miguel, Pico, and Terceira)—boast numerous trails that are perfectly suited for cyclists, and did we mention that an Azores bike tour gives you a unique way to discover in detail some of their most iconic Azores attractions. Imagine cycling your way around shimmering lakes, pedaling past panoramic viewpoints and excellent bathing areas, and even discovering historic vineyards and other amazing places that make this island destination such a rare and wondrous place. Not only are the Azores Islands beyond beautiful due to their lush scenery and lovely landscapes, but this archipelago is also an ideal locale for cycling thanks to its huge and varied network of user-friendly routes.
So, what can individuals expect when coming here for the Azores cycling holidays? Follow paths that connect mountains to beaches and fajãs, or opt for road cycling along thoroughfares that, in the warmer months, are blooming to burst with vibrant and colorful hydrangeas—a floral feast for the eyes and nose that form one of the most characteristic scenarios of the Azores.
For this article, we have gathered details about some of the most famous cycling routes on the Azores Islands of São Miguel, Terceira, and Pico. Read on to learn all you need to know to ensure your Azores' cycling holidays are nothing short of epic.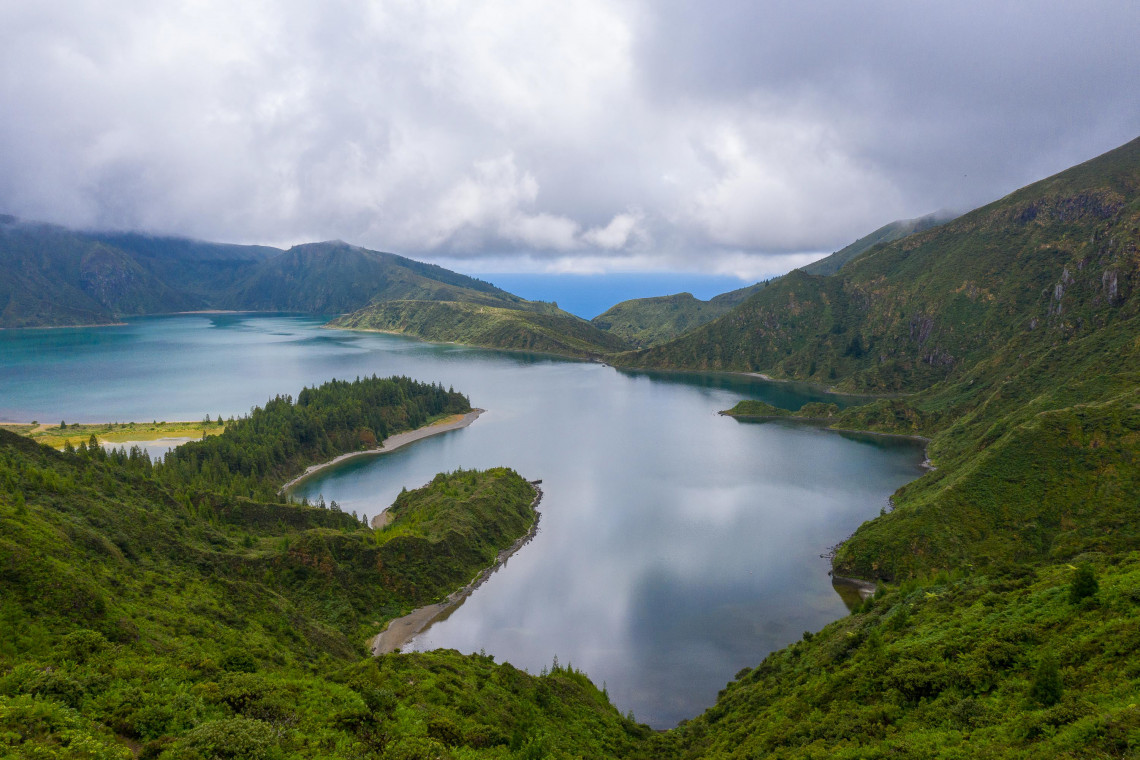 Ascent To Lagoa do Fogo, São Miguel Island
Starting out on the largest island of São Miguel, this bike tour of the Azores is a one-of-a-kind road tour that connects the historic center of Ponta Delgada to the beautiful Lagoa do Fogo before returning to its finale—full circle—in Ponta Delgada. Cyclists will be able to complete this cycling Azores adventure in approximately 3 hours and will have—when all is said and done—covered a total distance of almost 50 km, with the highest elevation being 1,349 meters.
Starting from the historic center of Ponta Delgada, you can head towards the Avenida do Mar bike path and follow it to Pópulo, where you will find two wonderful dark sand beaches. After sunning yourself a bit, continue along the bike route until you reach the city of Lagoa, where you will then head towards Cabouco. Take a few snapshots and pause for a sip of water or two, then continue on to the industrial area of ​​Chã do Rego da Água, go down towards Santa Bárbara, and after two crossings, turn right to reach Rua da Lagoa do Fogo, where you will start your ascent to its top. We suggest that you take a break from the lagoon's incredible viewpoint to contemplate its beauty. Also, a strong suggestion is to take time to relax a bit at this juncture of the cycling adventure to relax for a moment in the thermal pools of Caldeira Velha, located a mere minute's cycle downhill. If you are feeling more adventurous, we suggest that you also visit the Salto do Cabrito waterfall. But, back to the cycling Azores extravaganza tour: After the viewpoint of Lagoa do Fogo, your ascent continues until you reach the descent of the parish of Remédios, where you will then take the regional road until passing through the parish of Santa Cruz in Lagoa, followed by a déjà vu bike past Pópulo beaches, again, as you take the coastal route back to the center of Ponta Delgada, where this remarkably fun cycling Azores romp meets its end.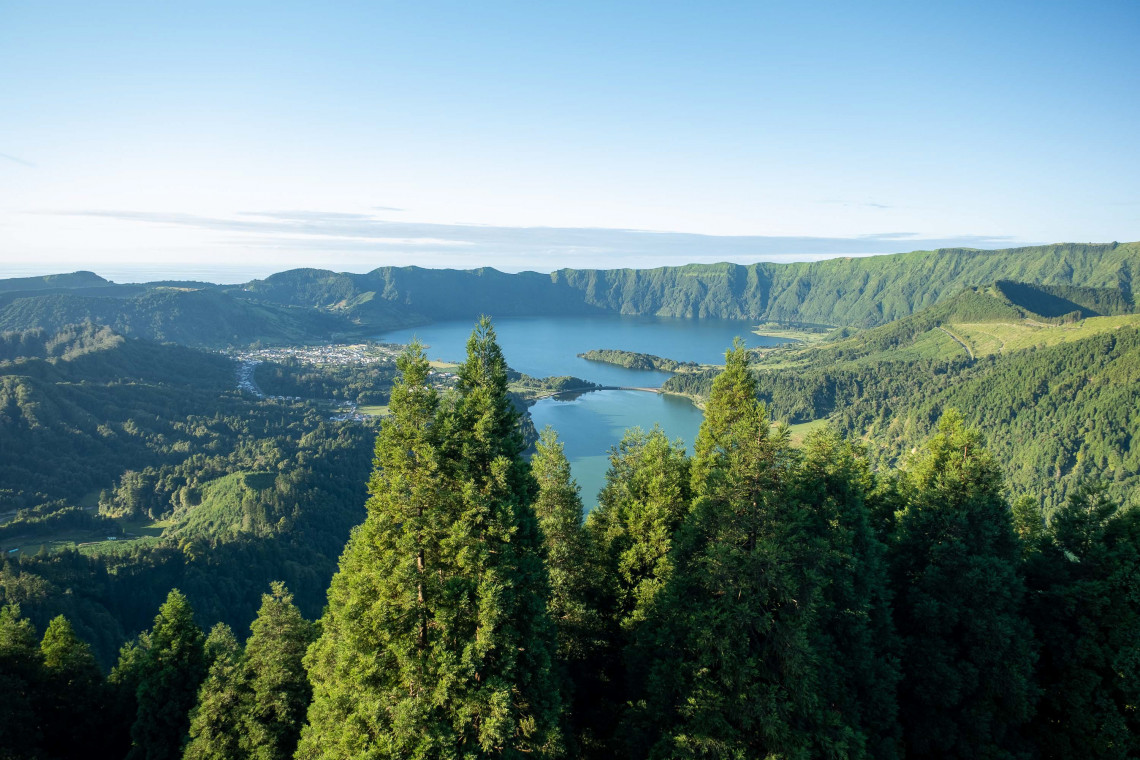 Cumeeiras, Sete Cidades, São Miguel Island
This cycling route is one of the most popular among Azores biking enthusiasts, perhaps because it takes place in one of the archipelago's most iconic and stunning landscapes, the Lagoa das Sete Cidades. Starting on the west bank of the blue lagoon, this awe-inspiring Azores cycling route takes approximately 2 to 3 hours to complete, with a total length of about 25 km and a maximum elevation of 751 meters.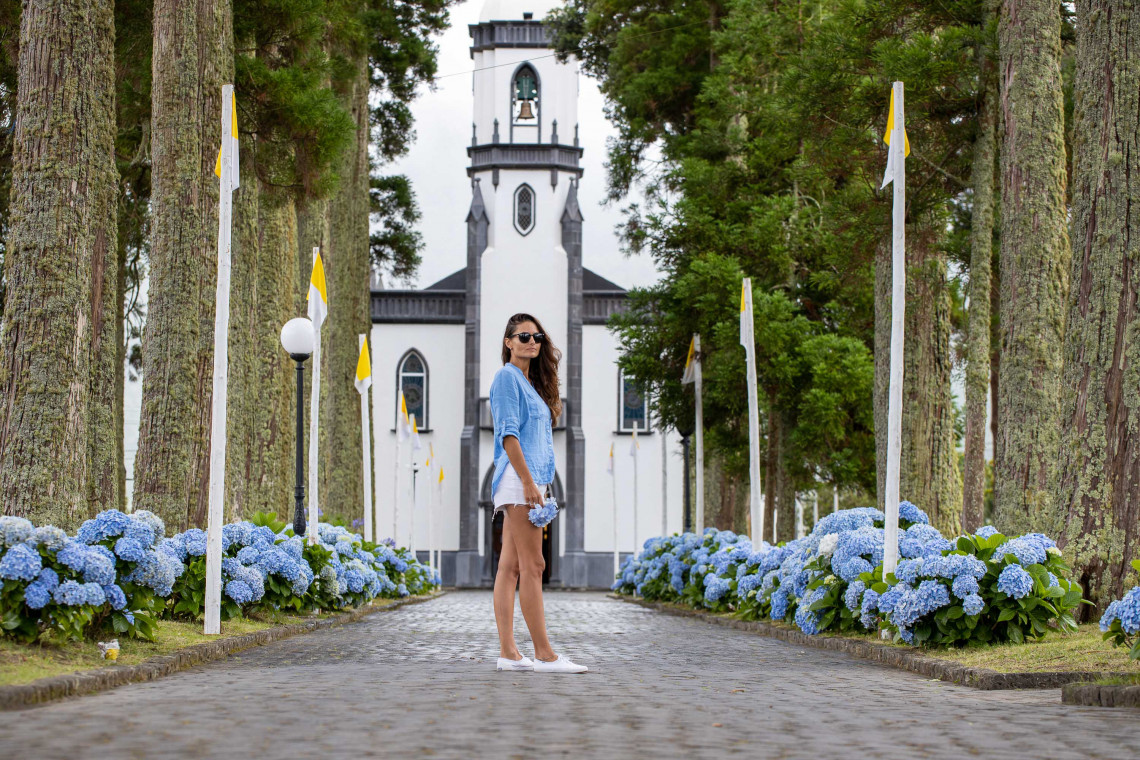 This particular bike tour of the Azores begins as you head toward the Church of São Nicolau, one of the most famous sites on the entire island due to its distinctive architecture and lovely surrounding garden. Upon reaching the church, head right toward Cumeeira Pequena at the 3.7 km marker and pedal your heart out until you reach the iconic Vista do Rei viewpoint, which just happens to be the most famous lookout perch in all of the Azores. This biking Azores tour continues on a straight and uber-scenic path until you reach Lagoa do Canário—an idyllic lake known for its famed shape—and its neighboring Vista do Inferno viewpoint. At the 12.8 km marker, you will head toward Muro das Nove Janelas, then start an ascent as you turn left and head toward Pico da Cruz. After reaching the top of Pico da Cruz, the route is mostly downhill, where you will descend all the way to view the sparkling waters of Lagoa Azul before turning right to return to your original starting point.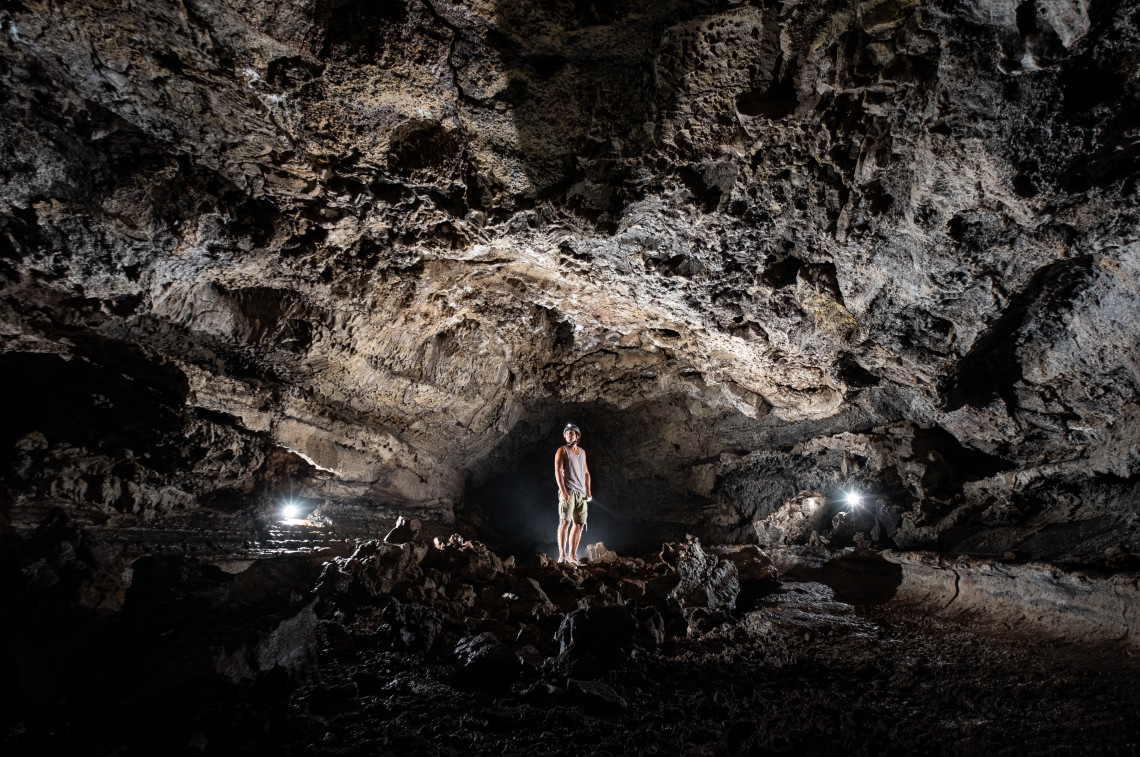 Angra do Heroísmo – Serra de Santa Bárbara, Terceira Island
Not to be overshadowed by Sao Miguel, Terceira brings its own unique brand of magic when it comes to wowing bikers during their Azores cycling holidays. This bike path in particular is a true winner, as it has you crossing Terceira's rural paths on a journey into the mystical and lush interior of Terceira Island. A total length of 38 km, this route will wow you with some of the loveliest scenery known to this "Lilac Island" of the archipelago—an Azorean hamlet characterized by its high-density forests that are filled to the brim with near-endless endemic vegetation to admire. This particular cycling Azores route offers you the opportunity to admire landscapes within the stunning area of Serra de Santa Bárbara, including such awe-inspiring locales as Lagoa das Patas and Gruta do Natal, which happens to be among the most important places for geotourism in all of the Azores. We highly suggest combining a stop and visit here with at least one of two other highly lauded geo-tourist experiences: Algar do Carvão and Furnas do Enxofre.
Are you already in love with the Azores? Take a look at our stress-free packages that allow you to book your ultimate island adventure. All our packages are carefully curated by our team of local Azorean Experts so that you don't need to worry about any details – just enjoy your trip!

Stunning Serreta - Praia da Vitória, Terceira Island
Leaving Serreta, this Azores cycling route follows along the coast in the direction of Biscoitos, where we suggest you visit the island's Wine Museum and natural pools—a sparkling and ultra-pure bathing area that is among the most famous and beloved attractions in all of Terceira Island. The cycle route ends in Praia da Vitória, making your total Azores cycling journey a round-trip trek of 47 km.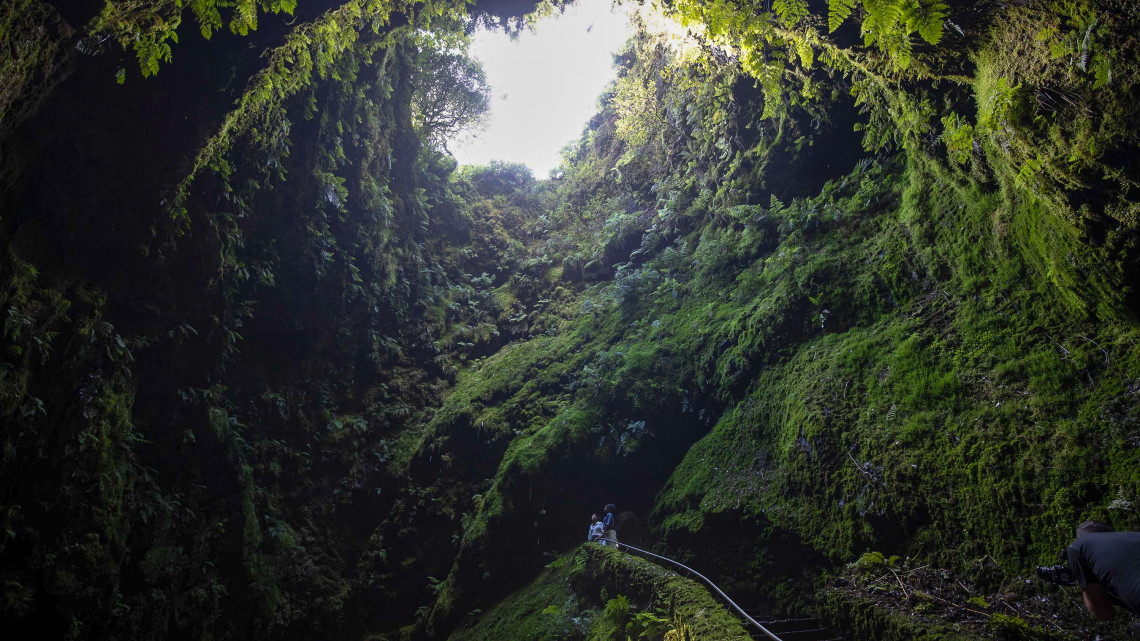 Praia da Vitória to the Center of Terceira Island
Even more fun Azores cycling awaits in Terceira as you head to the center of the island from Praia da Vitoria, then put the bike down to visit the lava tube of Algar do Carvão, a beloved landmark that's incredibly unique due to its natural features. Following this once-in-a-lifetime stop are even more exciting attractions, including Furnas do Enxofre and Lagoa do Negro. You can even add more fun to your Azores' cycling holidays romp by venturing out on the Mistérios Negros pedestrian path. Finally, on your way back to Praia da Vitória, you can opt to add on a guided tour offering one of many adventures that this city offers—choose among thrilling excursions that range the entire spectrum, from whale watching to surfing, and more. (This specific cycling route has a total length of 47 km).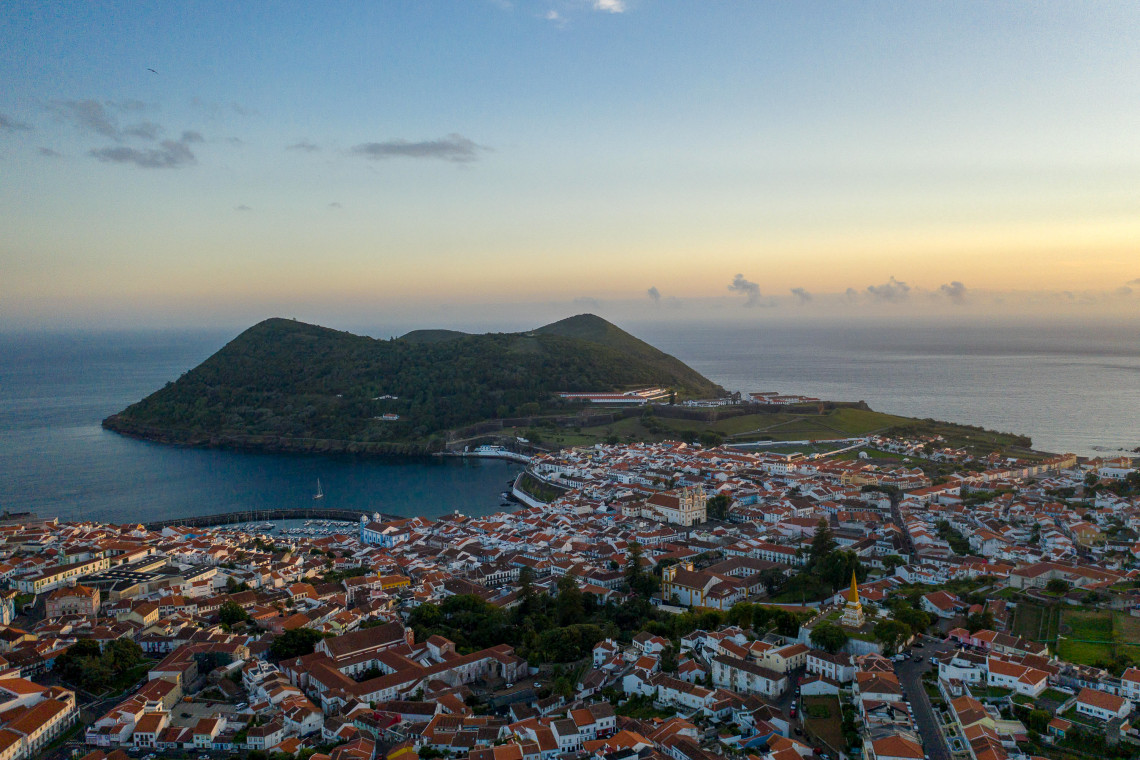 Pedal from Praia da Vitória to Angra do Heroísmo, Terceira Island
This interesting 30 km biking Azores route is mostly flat and invites you to visit Porto Moniz and Porto Judeu while providing some of the clearest scenic views of the Ilhéus das Cabras that the entire island affords. In fact, those stunning scenic views are available to bless your entire biking journey, until you reach your final destination: the city of Angra do Heroísmo, and a fantasy all its own. Take a break from cycling while here and stroll around this charming spot, officially listed as a UNESCO heritage site.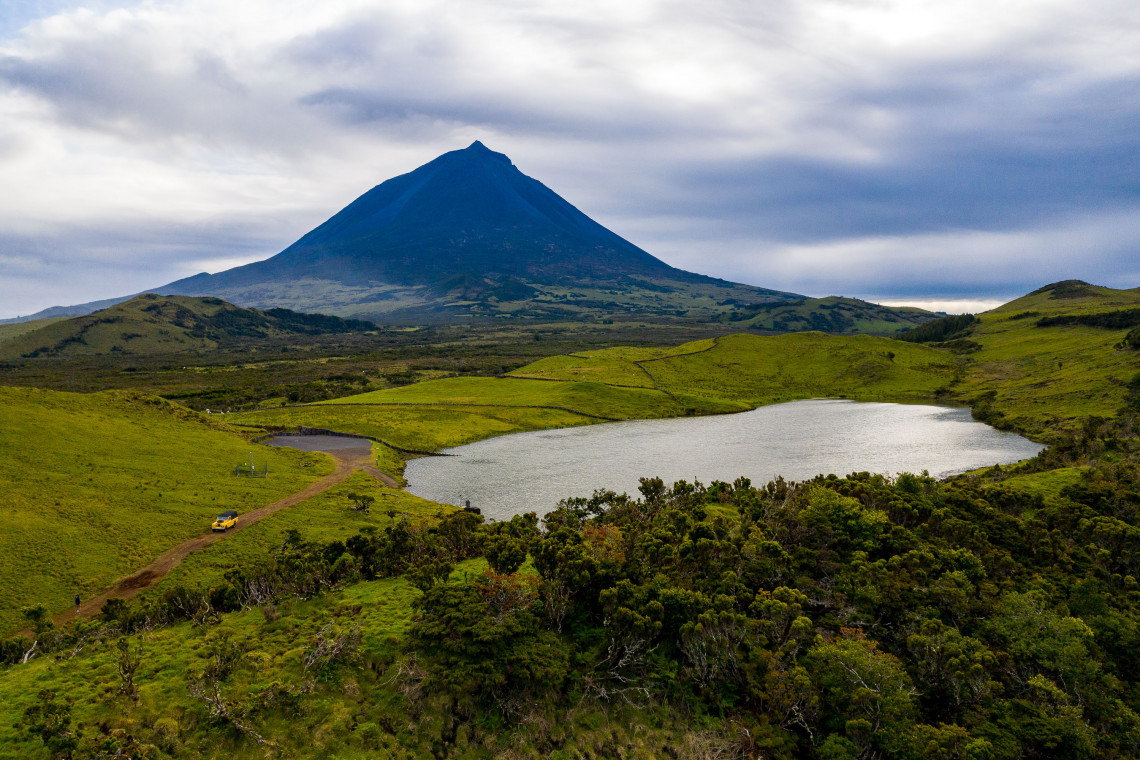 Lagoas Route, Pico Island
Last but not least, we have a pretty picture of Pico Island. This 25 km route is listed as difficult and takes you through Pico's picturesque central plateau and journey into the interior of the island. Your Azores cycling adventure begins at Lagoa do Capitão and culminates in the parish of Ribeirinha. As you pedal your way through this lush paradise, sites awaiting to dazzle you include several magical lagoons: Lagoa do Capitão, Lagoa do Caiado, Lagoa Seca, Peixinho, and Paúl. But that's not all! On days with good visibility, you can see the neighboring islands of São Jorge and Terceira peeking at you on the horizon.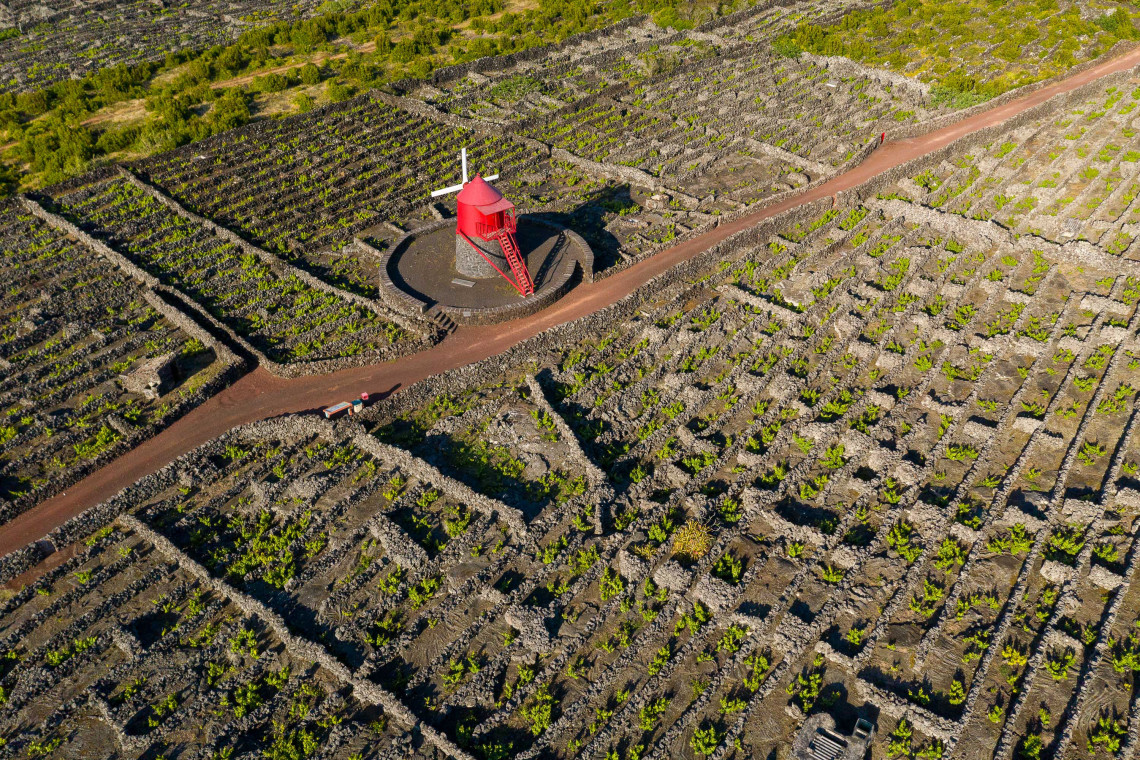 Route of the Vineyards, Pico Island
Many do not realize the amazing fact that Pico Island produces one of the best wines in all of Europe. Another intriguing and fun fact is that the landscape the vineyards are comprised of has enjoyed an official UNESCO Heritage status since 2004. Lajido da Criação Velha and Lajido de Santa Luzia are the ex-libris of the Cultural Landscape of Vinha do Pico, as they are excellent representations of the traditional architecture of the vineyards.
Okay, are you ready for just a few more fun facts? Great! Did you know that Pico wine was the drink of choice for European nobility and Russian tsars? Moreover, the wine's mere existence—not to mention its impeccable quality—is also proof of the determination of the people of Pico, known as the Picarotos, as even when these islanders were faced with the stony soil of the land, they were still able to get innovative and figure an ingenious way to creatively cultivate the vines. Wondering about how this creative solution worked? The islanders created corrals of volcanic stone to overcome the obstacles the unruly soil posed in order to produce what is now one of the best wines in Portugal if not all of Europe as well! The corrals are particularly fascinating to look at, resembling a picturesque patchwork, with small walls of volcanic rocks parallel to the shoreline that extend towards the center of the island.
A second bicycle route to mention is the Rota das Vinhas, which winds its way through these very corrals. Starting at the place of Mirateca, this bike route travels along the coastal area until it reaches Lajido de Santa Luzia, where you can (and should!) visit the Vine and Pico Culture Landscape Interpretation Center. This route has a total length of 26 km and takes around 2.5 hours to complete.
Now that you have heard about so many exciting cycling Azores options on three incredible islands, we're sure you are itching to get out there and put the pedal to the…. road and trail! Once you are ready to start planning your dream Azores cycling holiday getaway, you can count on the help of our team of experts to make the process easy, smooth, and one that will result in your ideal Azores vacation.
Discover the Azores at Your Own Pace: Tailor-Made Trips for a Customizable Island Adventure
If you're looking to explore the Azores at your own pace, we have got you covered. Our team of specialists will work with you to create a custom-made trip that suits your preferences and budget. Whether you want to dive into the thriving marine life, hike through stunning volcanic landscapes, or relax on secluded beaches, our tailor-made packages offer the flexibility and freedom to discover the Hawaii of Europe at your own pace. So why wait? Contact us today and let us help you plan an unforgettable trip to the Azores!