Why the Azores is Considered the Best Scuba Diving Destination in Europe
Dive into Paradise: The Best Time to Explore Azores' Thriving Marine Life
The Azores is known as one of the best diving destinations in Europe, offering an abundance of marine life and unique underwater landscapes. The island's location in the middle of the Atlantic Ocean attracts a variety of pelagic species, including several species of sharks, whales, and dolphins. In addition to the captivating marine life, diving in the Azores also offers a chance to explore underwater volcanic formations, caves, and tunnels.
The best time to dive in the Azores is from mid-July to mid-October, when the water is warmer and calmer, visibility is at its best and chances of pelagic sightings such as mantas, mobulas, and whale sharks are highest. However, diving is possible all year round with varying conditions depending on the season.
Dive into Adventure: Exploring the Underwater Beauty of Graciosa Island in the Azores
The tiny island haven of Graciosa more than lives up to its name (Graciosa means charming). The sweet island treasure is home to an estimated 4,000 residents, known as Graciosians, who are proud to live in a beautiful, serene setting that has actually been officially classified as a Biosphere Reserve. Beyond excellent diving opportunities, Graciosa also graciously affords its visitors a chance to sample the famous (and delicious) Queijadas da Graciosa—sweet, heavenly confections that actually originate from this wee island. Also to be included on the itinerary—between the best Azores dive sites—is a stop by the lava cave Furna do Enxofre and the small lava tube known as Furna da Maria Encantada.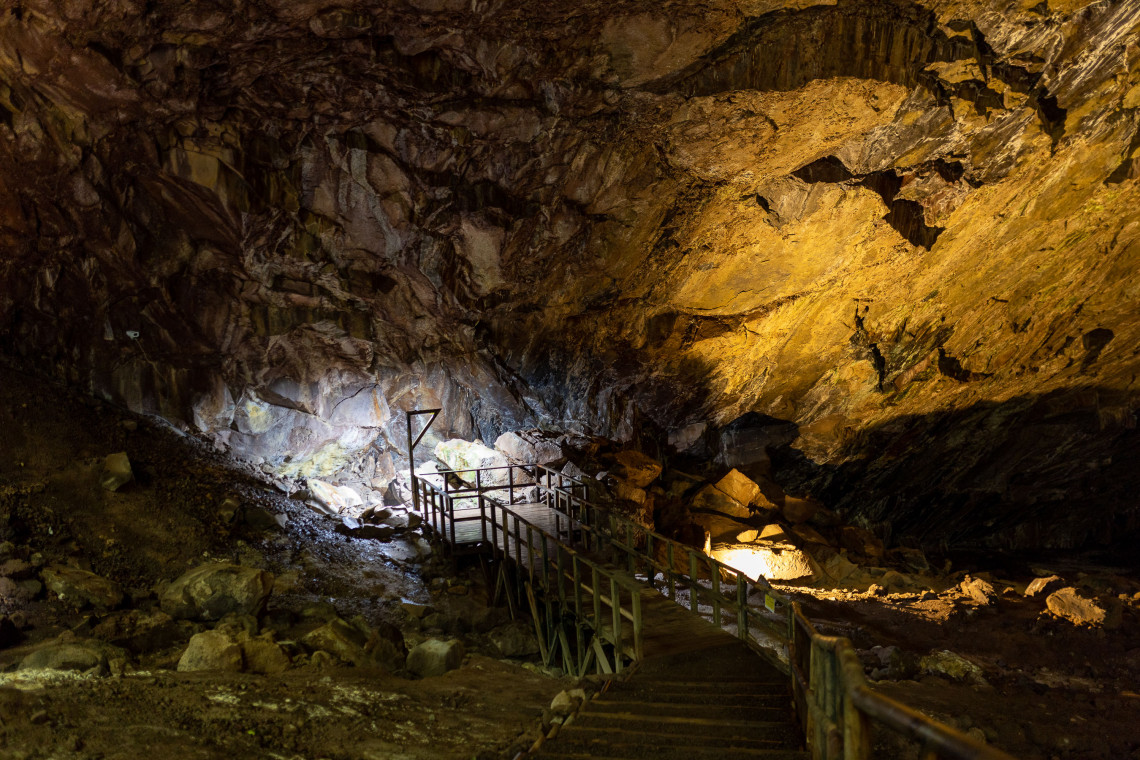 Besides offering some of the best Azores Islands diving, Graciosa also boasts an enviable landscape and a truly rich history. The island's whitish rocks that make up its coast are truly stunning with the contrast they create, especially when measured against its red-painted windmills that dot the island´s serene and lush landscape. Fun fact: the island's windmills are Flemish-influenced and are a favorite, especially among tourists and visitors looking for a differentiating and authentic experience while on their Azores vacation.
But, there is still more! While São Miguel Island is the island most thought of when you mention amazing thermal pools, many are surprised to learn that Graciosa also offers its own sensational offerings via a small spa known as Termas do Carapacho, which is located in the charming parish of Luz. Could there be a better way to wind down after spending the day exploring Azores' dive sites during your Azores diving holidays? We think not!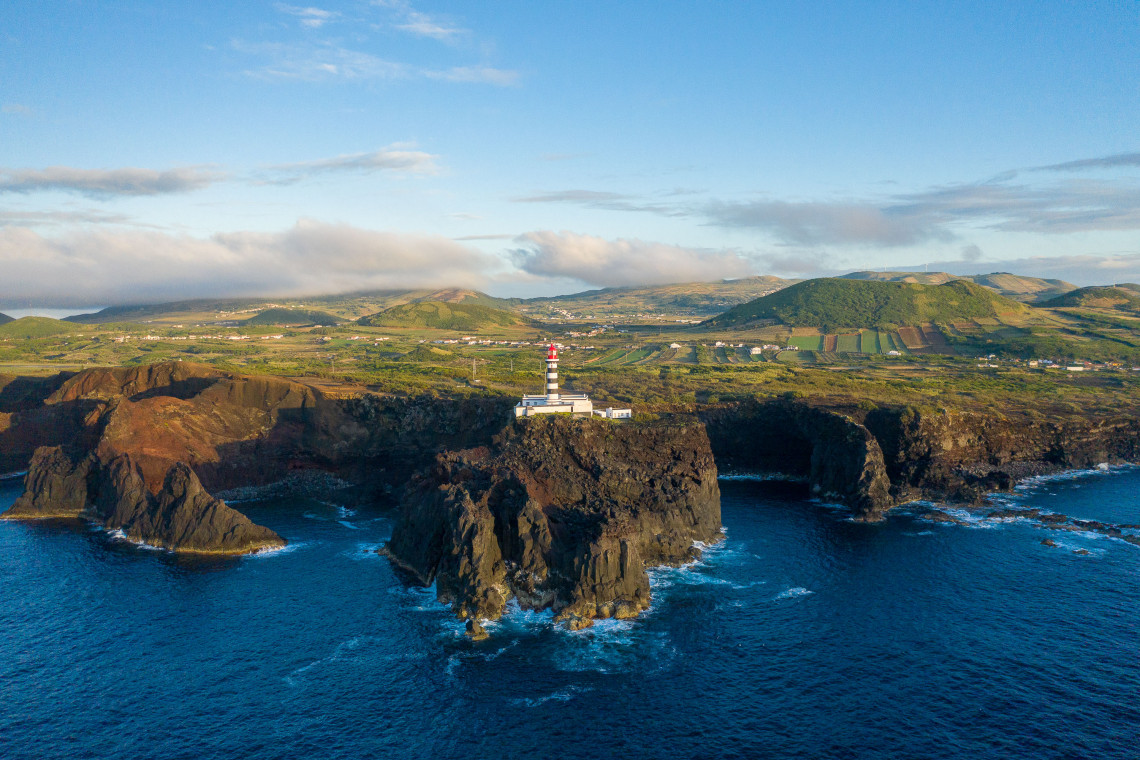 Wherever you dive on Graciosa Island, also called the White Island of the Azores, you are sure to be amazed by the structural complexity of the environment: its rocky tips that alternate with pebble clusters and caves, and its sandy bottom marked by reefs and casualties. Also, the marine macroalgae found here display vibrant shapes and colors, covering the rocks almost entirely. And even more, excitement follows by the way of numerous species of invertebrates that reside here, such as starfish. In the lowlands, even more, amazing marine magic may be found in the form of manta rays, turtles, and sharks! Needless to say, the coast of Graciosa Island is so rich and diverse, every diving experience here ensures your Azores diving holidays will be a truly unique, colorful, and unforgettable adventure.
Now, let's talk about the best spots for you to visit on your Azores diving holidays.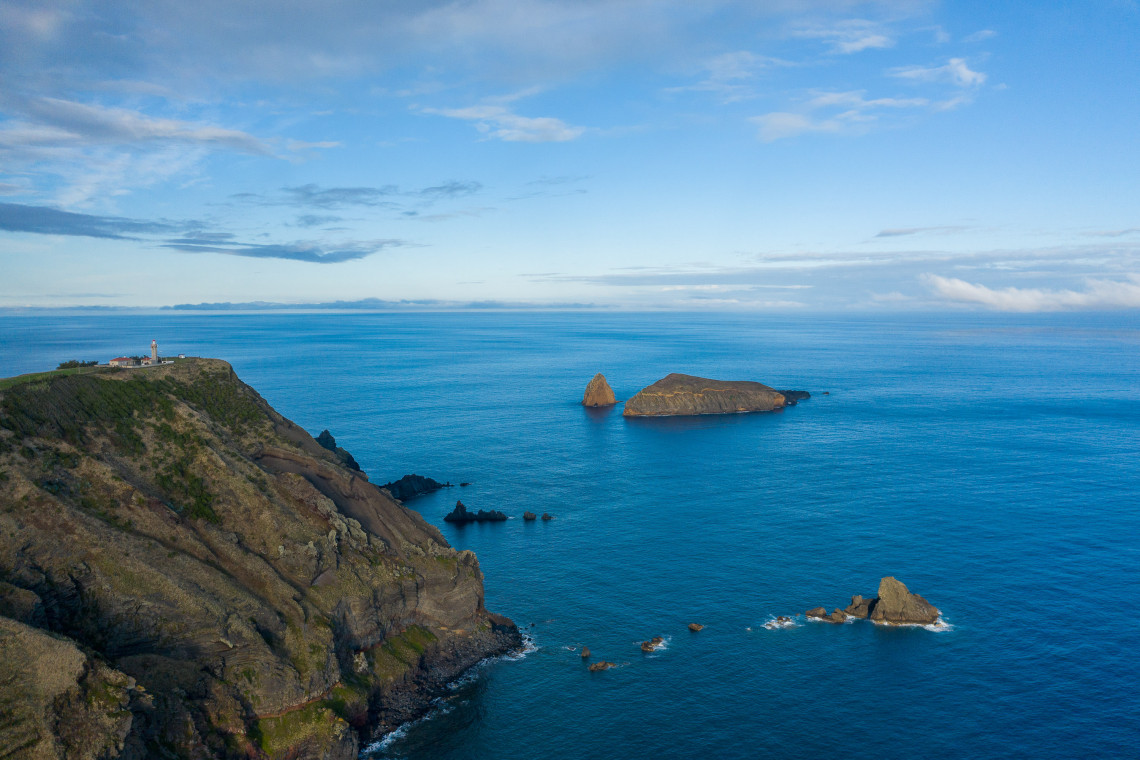 Baixa da Senhora da Guia is an excellent choice for divers of all experience levels. Located only 200 meters from Vila da Praia and 50 meters from the famous and picturesque Ilhéu da Praia, the depth at this hot spot varies between 3 and 32 meters. Next, with depths between 14-15 meters at the top of the low, Baixa do Farol is also a good choice for all types of divers. Next, we have Baixa do Pesqueiro Longo, which boasts depths varying between 6 and 96 meters, and at 20 meters, there is even a mystical platform that invites you to pause to observe the pelagic species that are known to swim there.
The great news is that the Carapacho Cave can be explored from the surface and without any specification in terms of experience level. Next, in the crevice of the largest islet of Carapacho, is found Gruta do Ilhéu do Carapacho – also among the Azores dive sites that are well worth a visit. More diving excitement awaits at Naufrágio Terceirense, which is actually a shipwreck of a vessel launched from Terceira that sank at the entrance of Porto da Praia in 1968. It now lies here at a depth of 21 meters deep, just awaiting your discovery!
Other choices the Azores dives sites not to be missed include: Baixa do Ferreiro de Dentro, Baixa do Ferreiro de Fora, Baixa do Terceirense, Ilhéu da Gaivota and Restinga do Freire.
Are you already in love with the Azores? Take a look at our stress-free packages that allow you to book your ultimate island adventure. All our packages are carefully curated by our team of local Azorean Experts so that you don't need to worry about any details – just enjoy your trip!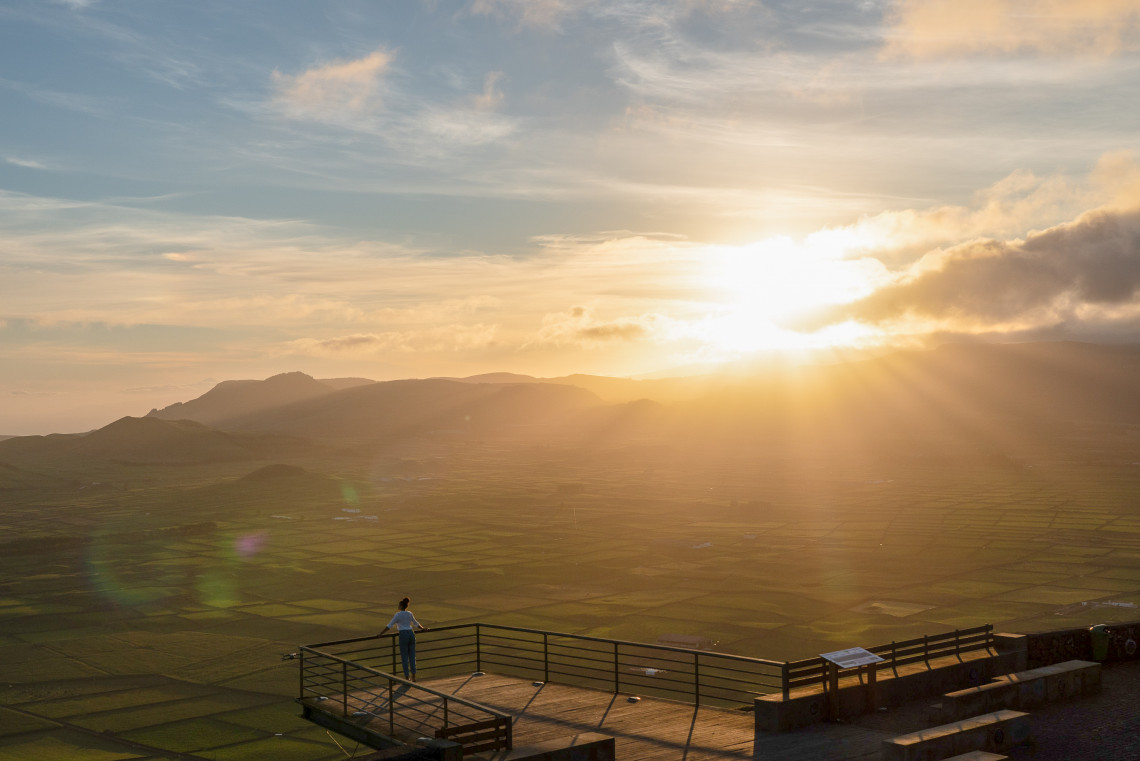 Uncovering the Hidden Gems Underwater: Scuba Diving in Terceira Island, Azores
Located in the central group of the Azores and featuring lush volcanic landscapes and charming seaside towns, Terceira Island is a true Azorean treasure. Classified as a World Heritage Site by UNESCO, the capital of Terceira, Angra do Heroísmo, is dotted with historic buildings, colorful houses, restaurants, shops, and cafes that you will instantly adore. Also adorable are Praia da Vitória and its beautiful beaches, as well as the stunning Serra do Cume, which offers one of the best views of the island.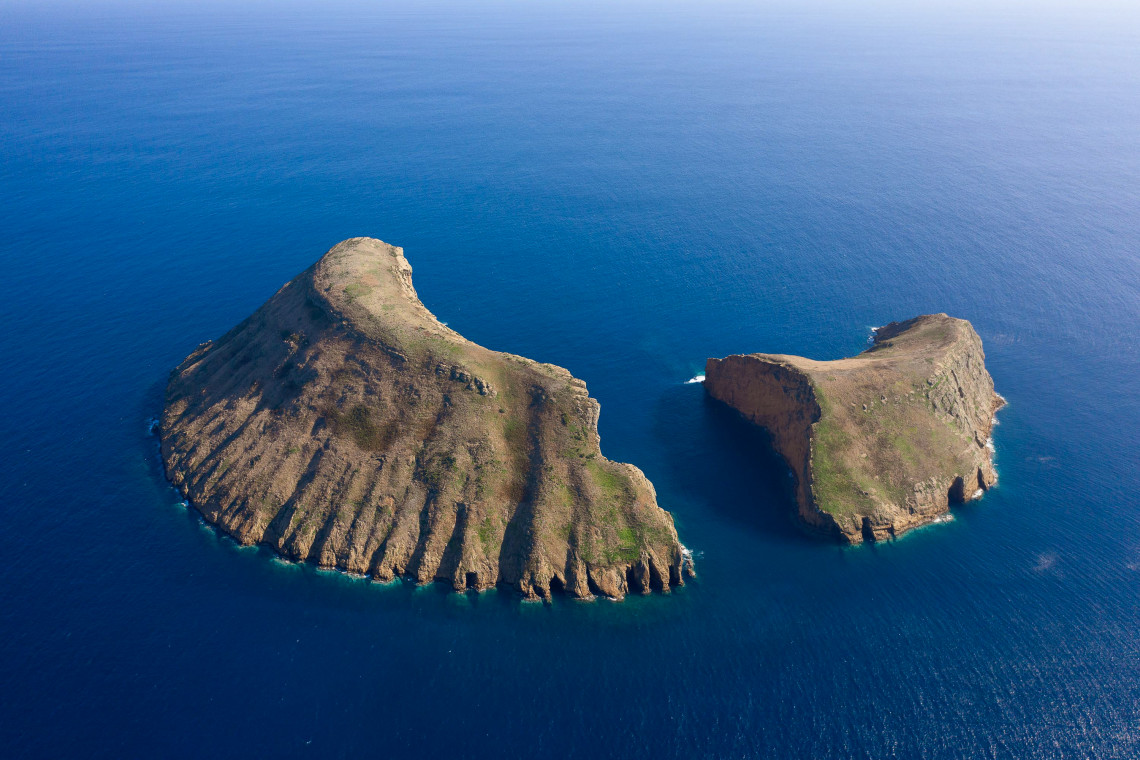 Now, let's talk about how Terceira fits into your ideal Azores diving holidays! It is in front of the island's Ilhéus das Cabras, located in Arcadas do Judeu, that you will find a place with unique characteristics due to its rock formations, with low depths and accessible to divers with or without experience. In Calheta do Lagador, you can practice coastal diving which is accessible to all types of divers. This locale is also ideal for those who enjoy night diving, underwater photography, diving baptisms, and snorkeling. Access to this area is via the Biscoitos bathing area, which happens to be one of the most famous areas on the entire island. Next on the must-visit Azores dive sites in Terceira is Quatro Ribeiras, which is also a great spot for coastal and cave diving, boasting average depths that vary between 12 and 16 meters. It should be noted that exploring this site's underwater cave complex is only recommended for divers with a higher level of experience.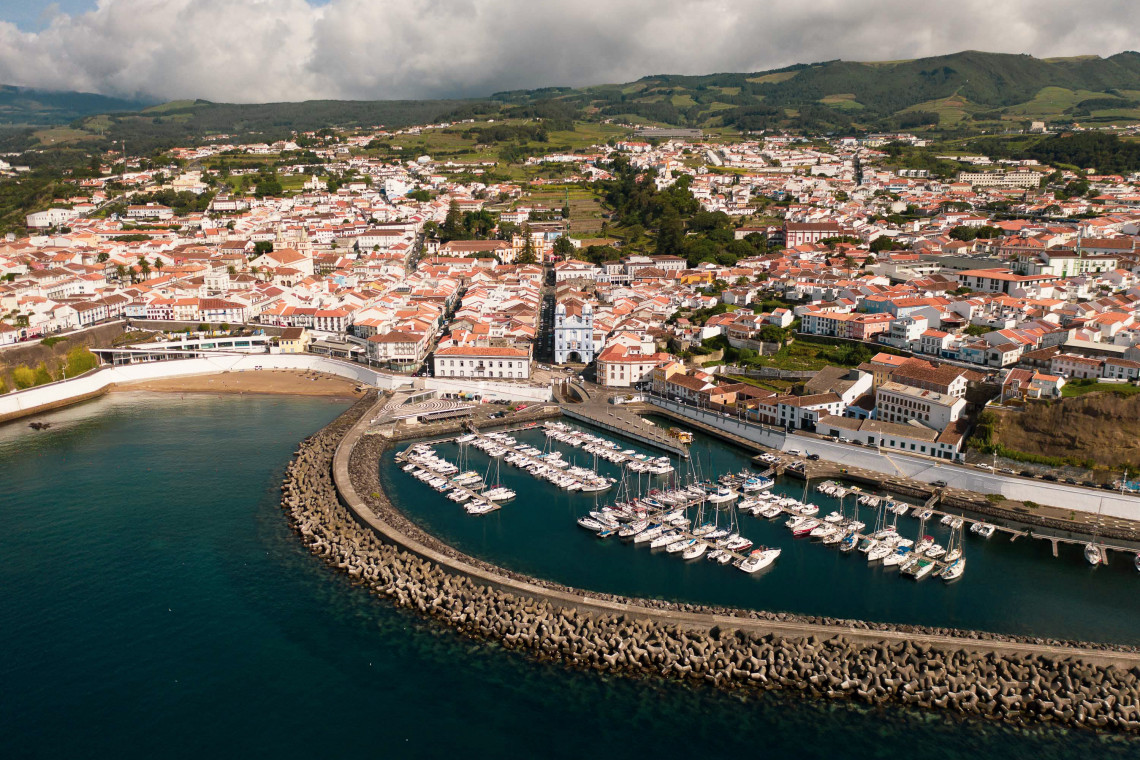 Next on our local guide for your Azores diving holidays itinerary is the Gruta dos Ilhéus das Cabras, a cave that has water depths that vary in depth between 15 and 24 meters. We also suggest you add a stop at Angra do Heroísmo Bay Archaeological Park to your itinerary—a visit that must include a stop by the Lidador, a 78-meter ship that sunk all the way back in 1878 and now lies at rest at 8 meters deep and 50 meters from the coast. This jaunt is a perfect beginning dive for less experienced divers, as well as those seeking diving baptisms and snorkeling opportunities! Also on Terceira Island and well worth a visit is the Santa Catarina dive site. A favorite spot for surfing and located just 5 minutes by boat from the Porto da Praia da Vitória, this gem is characterized by its weak current, making it an ideal option for night diving.
To round out our list of amazing Azores dive sites that can be found on the island of Terceira, we must mention: Baixa da Vila Nova, Cemitério das Âncoras, Fradinhos, Mina Islet, and also Pedra Perdida.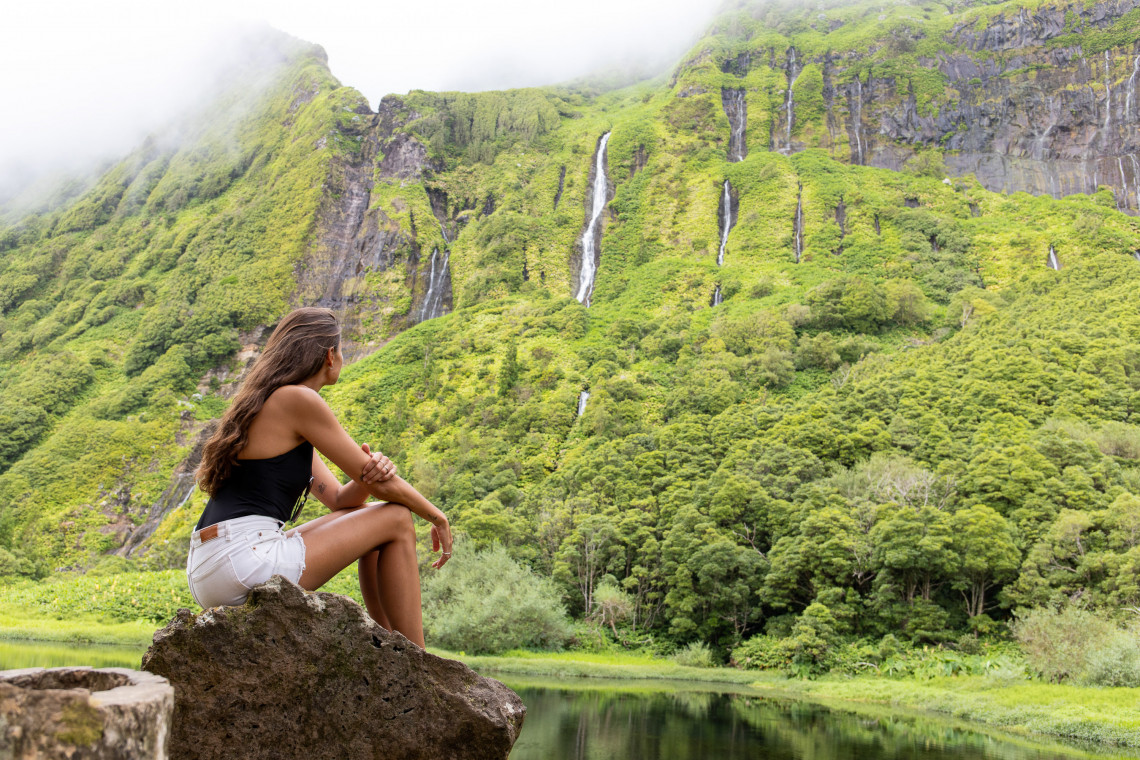 Azores Islands Diving: Discovering the Stunning Underwater World of Flores
Flores Island receives its flowery name due to its lush and stunning landscapes, which are covered with a smattering of breathtaking pink and blue flowers—a feature that practically makes the whole island transform into an immense botanical garden of beauty and rainbow color. Located at the western tip of the Azores archipelago, Flores Island is home to just under 4,000 residents (known as Florentines).
Flores Island is one of the few UNESCO Biosphere reserves in the world and is known as the "Island of Cascades", as it is a particular favorite of nature enthusiasts and lovers of the great outdoors. Among the highlights found here include: the Poço do Bacalhau waterfall, located in Fajã Grande, the Poço da Ribeira do Ferreiro and its more than 20 waterfalls, and many more.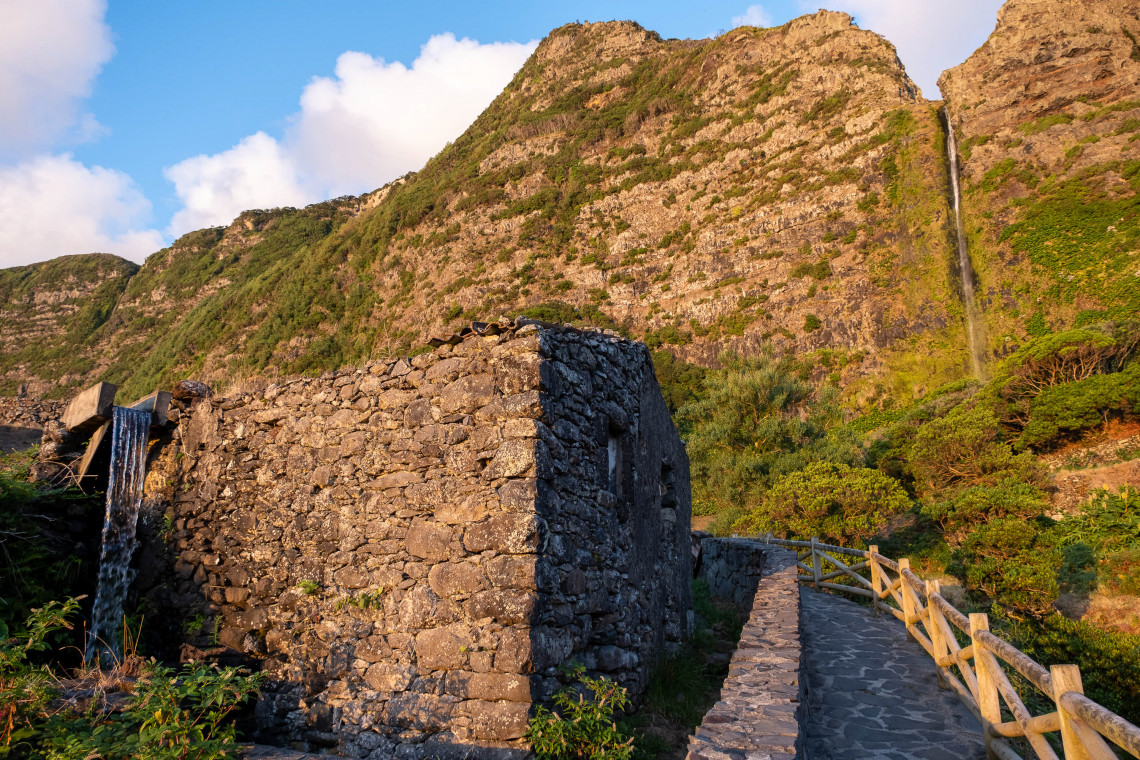 Flores is also the rainiest island in the Azores archipelago, a fact that explains its abundance of awe-inspiring waterfalls and lagoons. And speaking of lagoons, no trip to Flores—for an Azores diving holiday or otherwise—would be complete without a visit to the Sete Lagoas das Flores. Also, a must when visiting Flores? A visit to Corvo Island via boat. Yet another boat excursion to add to this ever-growing to-do list? Booking a boat trip along the coast of Flores, which will allow you to discover its captivating caves and the wondrous waterfalls that flow into the surrounding sea.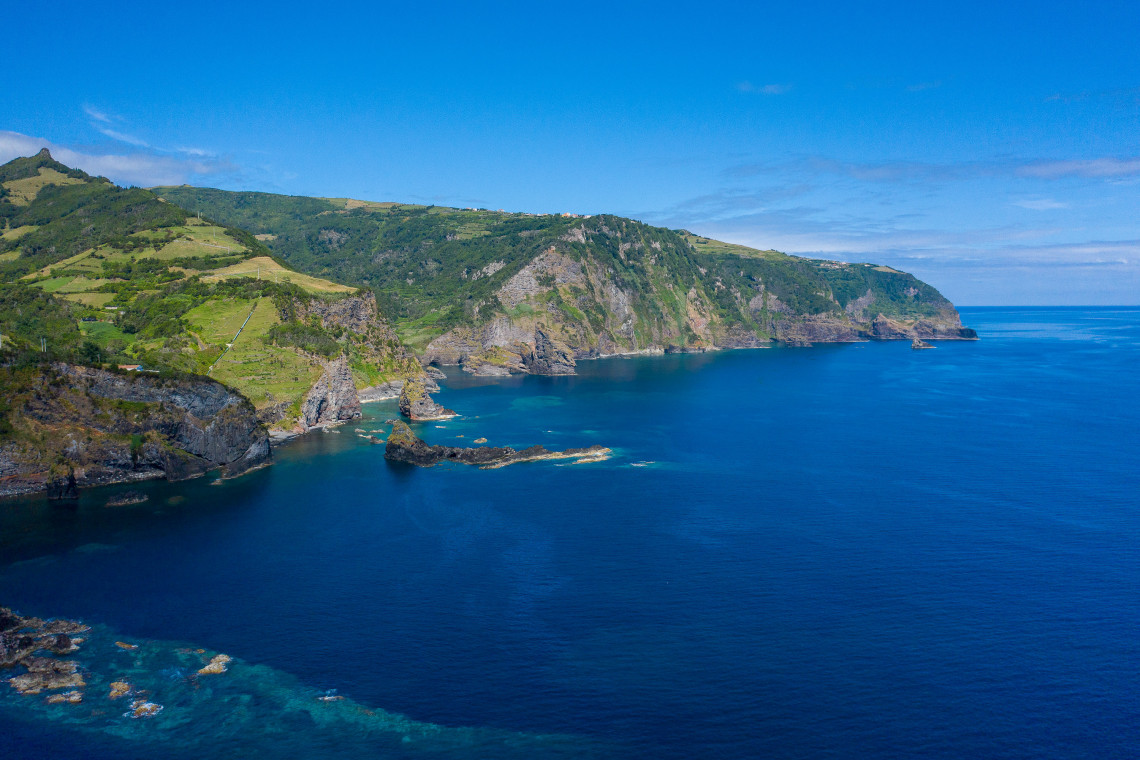 When it comes to the best Azores dive sites in Flores, let's start by highlighting Baixa do Amigo, located 15 minutes by boat from the Port of Santa Cruz, with depths between 18 and 40 meters. Although the more shallow areas are suitable for inexperienced divers, it is recommended that only the most experienced divers explore the deeper areas, which reach 40 meters. Also only recommended for more experienced divers is diving in Baixa Rasa, a site that is a 10-minute boat ride from the Port of Fajã Grande, which is accessed via an islet on the northwest coast of Flores Island (depths here vary between 27 and 30 meters). One site that is suitable for divers of all experience levels is Gruta do Galo, characterized by its type of coastal and cave diving, and known to be an ideal locale for experiences such as underwater photography and diving in open waters (depth here varies between 18 and 25 meters). Next, we have Ilhéu do Garajau, an ideal site for coastal diving that is suitable for divers with all types of experience (depths here vary between 16 and 30 meters).
Our Flores Island itinerary list for the best Azores dive sites simply wouldn't be complete without listing these remaining gems: Baixa do Morro, Catedral, Gruta dos Enxaréus and Ponta da Caveira.
Discover the Azores at Your Own Pace: Tailor-Made Trips for a Customizable Island Adventure
If you're looking to explore the Azores at your own pace, we have got you covered. Our team of specialists will work with you to create a custom-made trip that suits your preferences and budget. Whether you want to dive into the thriving marine life, hike through stunning volcanic landscapes, or relax on secluded beaches, our tailor-made packages offer the flexibility and freedom to discover the Hawaii of Europe at your own pace. So why wait? Contact us today and let us help you plan an unforgettable trip to the Azores!